Top 15 restaurants for best pho in Ho Chi Minh city
Pho is a traditional dish that represents Vietnamese cuisine and brings it closer to the global eaters. Discovering a restaurant that sells the perfect bowl of best pho in Ho Chi Minh city is an ultimate quest for any foodie that is excited to discover the Vietnamese eating culture. Pho in Vietnam is sold everywhere, from street vendors to luxury fine dining restaurants, but not all bowls of pho are equally delicious. The two main types of Pho in Saigon are Northern Pho (which mostly follows Hanoi's recipe, brought to Saigon by immigrants from the North) and Southern Pho (which has been adapted to fit Southern peoples' tastes). Depending on personal preference, each will define their perfect pho differently. For those who want to explore as many types and variations of Pho as possible, our guide below will be very valuable as we'll show you 15  restaurants for the best pho in Ho Chi Minh city, as recommended by locals.
1. Pho Dau
Pho Dau has been known among locals as the most authentic Northern pho in Ho Chi Minh for more than 50 years as the founder was Northern herself. The current owner is the oldest son of the lady who started it all, and he's already 70. Though operated for a very long time in Saigon, it still retains the original recipe of Hanoian style with lots of beef, no sprouts and herbs or black sauce like the Southern style and they use glutamate (a familiar spice of Northern families) for seasoning instead of sugar. Locals in past generations usually refer to Pho Dau as Nguyen Cao Ky's phở (who served as the chief of the Vietnam Air Force in the 1960s, before leading the nation as the prime minister of South Vietnam in a military junta from 1965 to 1967) as he usually paid his visits here. Rumor has it that everytime Nguyen Cao Ky craved for pho, he always took a flight  to visit there. The restaurant still stays humble inside an old apartment complex down a small alleyway, as it has since the first day of opening. However, it is always crowded and challenges your patience whilst waiting to be served for a best Pho in Ho Chi Minh city.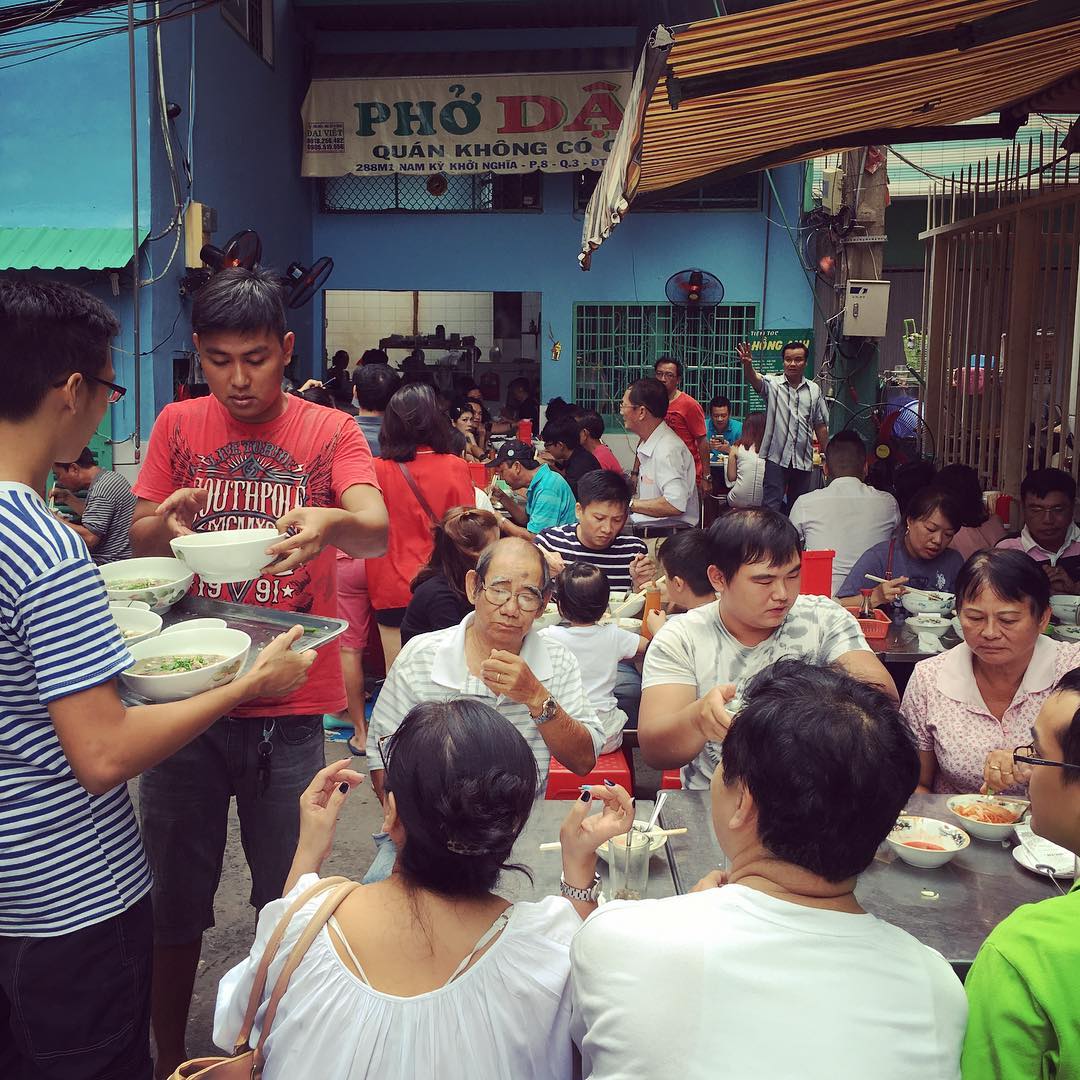 Address: Alley 288 Nam Ky Khoi Nghia, District 3
What to order: The restaurant solely sells beef noodle but you can either choose sliced well done beef noodle, sliced medium-rare beef noodle or oxtail noodle.
Price range: starts from 65,000vnd/bowl. The price is rather above average but if you try them, you'll understand why it's worth the price.
Special note: only opens in the morning from 6am to 11am.
2. Pho Hoa Pasteur
If Pho Dau is the most known Northern noodle amongst locals, then Pho Hoa is probably the most popular amongst travelers. What makes this restaurant the best pho in Ho Chi Minh city is because it's located on Pasteur street, where numerous Pho restaurants gathered in the past. The current owning family was passed on the recipe by Hoa, who used to sell pho on a tuk tuk, hence the restaurant was named after him in honor of his special recipe. Pho Hoa became even more famous since it was mentioned in many travel guidebooks and recommended on many travel forums or blogs. Because of this, many eaters here are foreigners, that's why the bowl size at Pho Hoa is slightly bigger that most of the local pho vendors, it's a mega meal that can keep you full for the whole morning. Pho Hoa is more of a Southern style with lots of noodles, herbs and sprouts, sweet broth, and a bowl of Chinese cruller served as a side dish. Besides serving a delicious Pho, the restaurant's' decor also has the vibe of the traditional Vietnam from the 60s, which is a huge plus for travelers when visiting.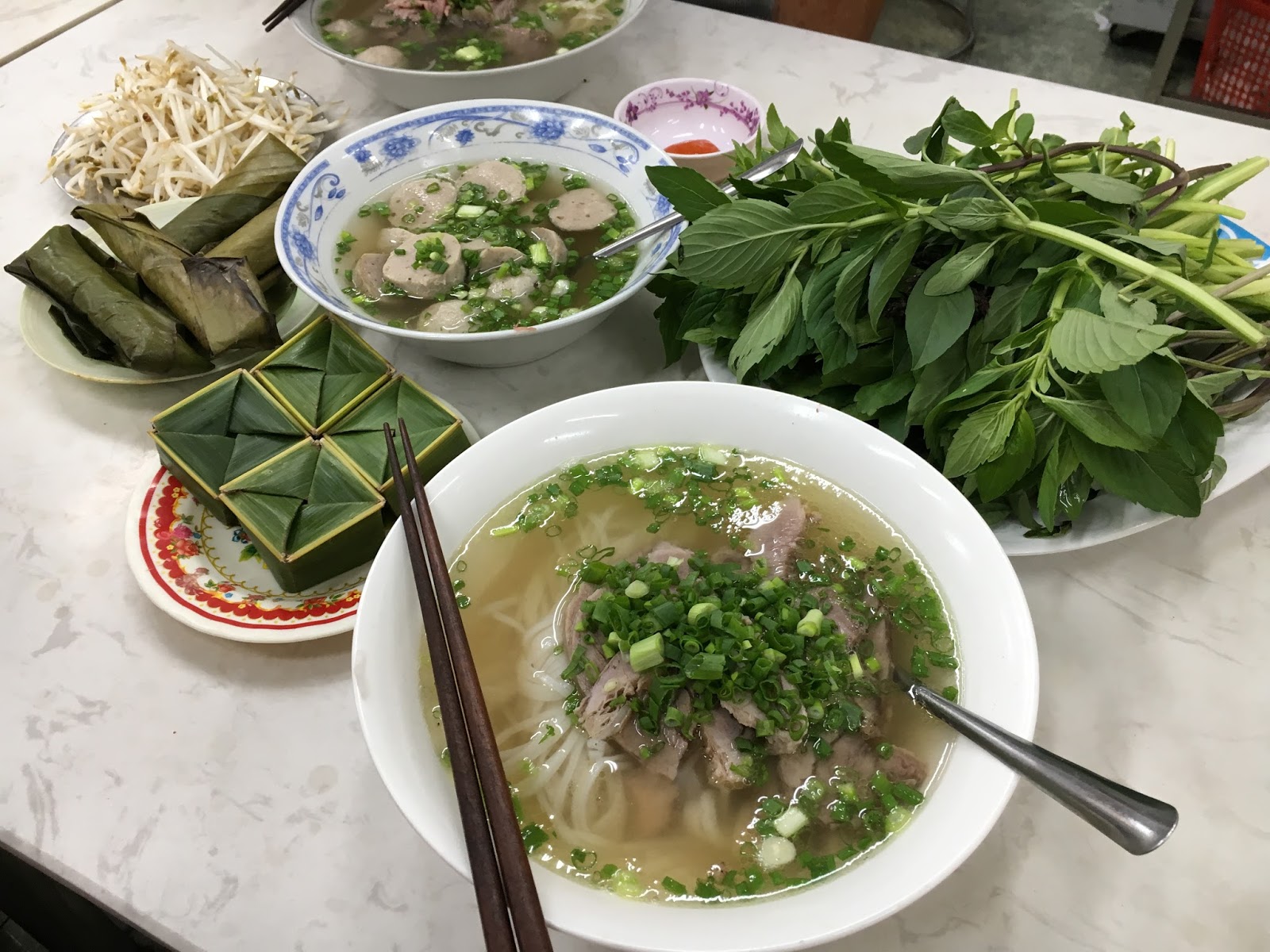 Address: 260 Pasteur, Ward 8, District 3.
What to order: Beef noodle, chicken noodle, noodle soup with meatballs. You can try out some other specialties such as flan cake, spring rolls or coconut jelly.
Price range: 60,000vnd/ regular bowl and 70,000vnd/big bowl, excluding size dishes. The price is a bit high but still quite reasonable for its location and popularity.
Special note: the restaurant opens from 7am to 10pm so you can stop by anytime during the day. Note that you will be charged for parking, about 5,000vnd/motorbike.
3. Pho Le
Among the authentic pho restaurants in Saigon, Pho Le is one of those selling Southern pho that is favored by the people here. Compared to others, Pho Le restaurant appears much cleaner, more premium and the tables are always full, from early morning until midnight. That's why Wall Street Journal called it "The crowd pleaser" amongst the best pho in Ho Chi Minh city. Pho Le opened in 1950, with the first store in Nguyen Trai street District 5 (China Town) and now has another store in District 3. Interestingly, the owner is from QuangZhou and his wife has relations with Cambodian royal family, however, they can deliver a excellent bowl of pho that suits the Saigonese taste impressively well. The broth is made from cow's bones with cinnamon, cumin and cilantro, hence why the bowl is always flavorful but doesn't make you satiated.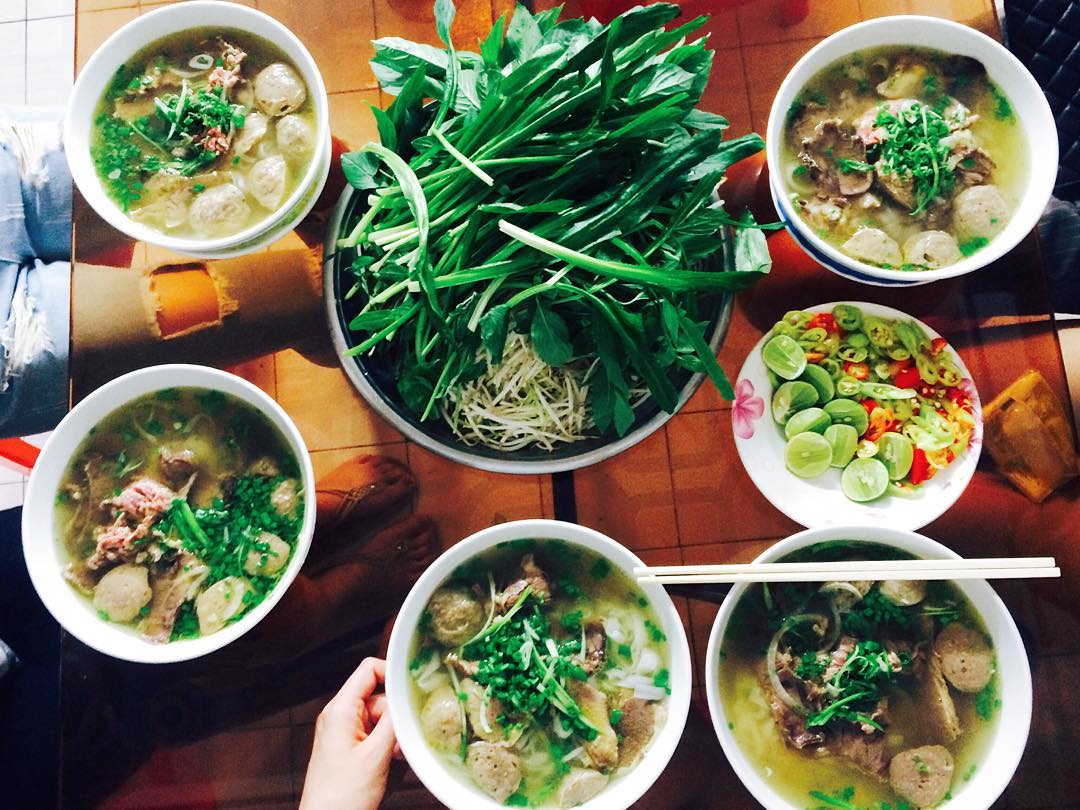 Address: Branch 1: 413 - 415 Nguyen Trai, Ward 7, District 5. Branch 2: 303 -305 Vo Van Tan, Ward 5, District 3.
What to order: beef noodle, noodle soup with meatballs. You can ask to have 1 or  2 eggs in your soup if you would like.
Price range: around 60,000 per bowl
Special note: open from 5.30am - 1am next day.
4. Pho Minh
It's located on the same busy Pasteur street with Pho Hoa, yet the vibes that this 60 year old restaurant gives you is totally different from the outside hustle and bustle. Pho Minh stays humble in a small alleyway, so you can easily bypass the place without noticing it and miss a chance to taste the best pho in Ho Chi Minh city. Same as Pho Dậu or Pho Hoa, Pho Minh played a prominent role in the Saigon cuisine in in the old days, since alley 63 (Pasteur street) used to be a heaven of Northern cuisine. Phở Minh was at the peak of its popularity in the 1950s, where it was a favourite place for many politicians and artists in the South. Nowadays, lots of restaurants that operated in the same period closed but Phở Minh still exists and welcomes many guests everyday. Pho at Pho Minh is served in 5 ways: eye round steaks, well done steaks, flank, tendon, or tripe. The broth is not given too much spice but simply made with ginger and grilled dry onion. The decoration is also really simple and airy with several wooden tables and chairs, guests are mostly locals so the restaurant is not often crowded.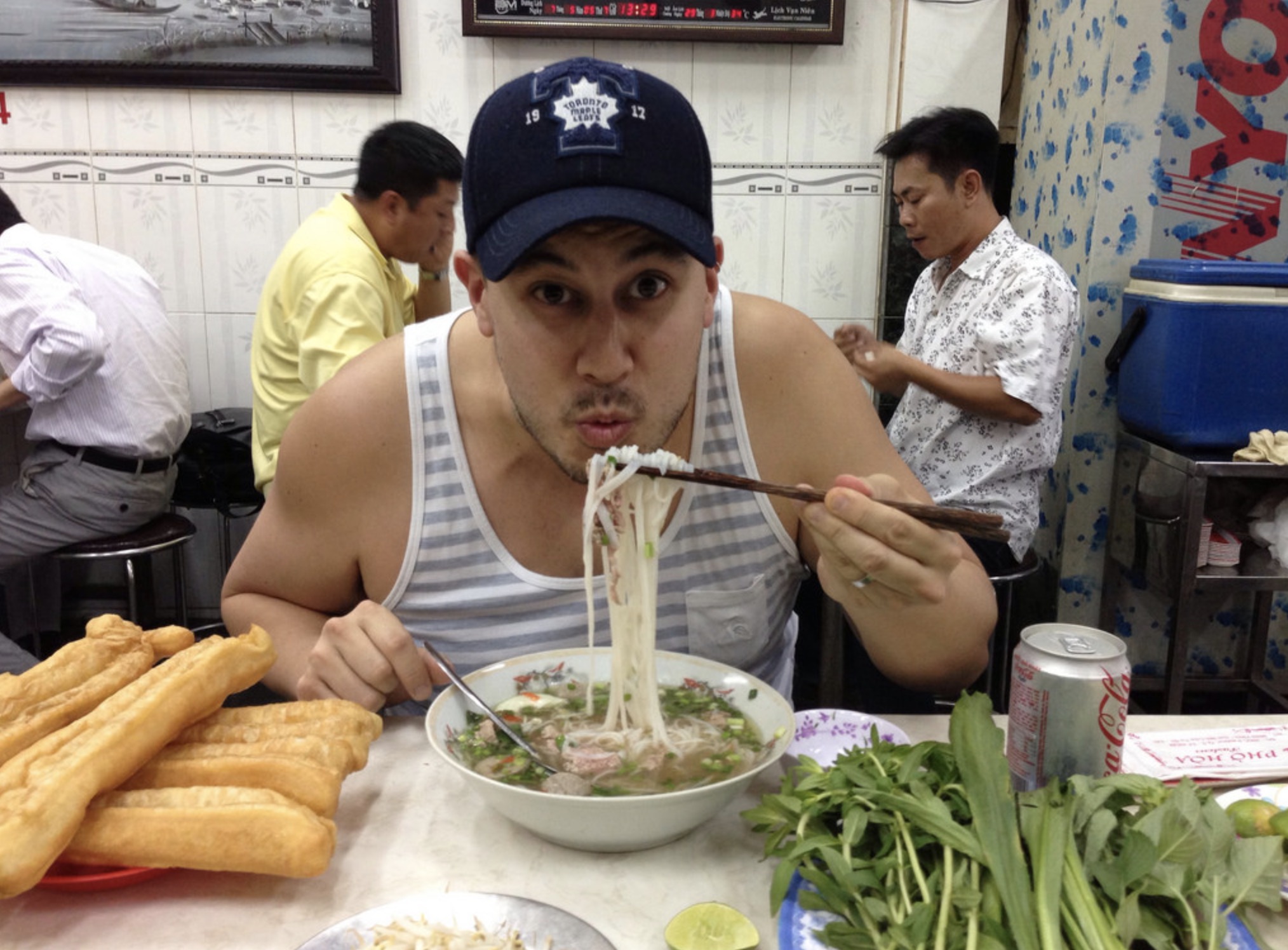 Address: Alley 63 Pasteur, Ben Nghe Ward, District 1.
What to order: Beef noodle, served in 5 ways.
Price range: 50,000 - 75,000vnd/bowl, price range is similar to other popular pho brands.
Special note: only open from 6.30 to 10 am, let's come for breakfast!
5. Pho Cao Van
When mentioning Pho Cao Van, people will immediately associate with the image of the 90 year old owner of the restaurant. He's one of the first people who brought pho from Hanoi to Saigon. He started selling pho on a small tuk-tuk, he had opened the restaurants on Tran Cao Van street  before moving to Mac Dinh Chi street, hence naming the restaurant "Pho Cao Van". Foodies say only a Northern pho lover will favor the taste of Pho Cao Van: lots of beef, the broth is clear and not fatty. The ingredients are strictly selected by the owner in order to deliver the best quality, combined with his long-time cooking experience, Pho Cao Van has a very special taste that can satisfy any guest, whether they are loyal ones returning or first time visitors.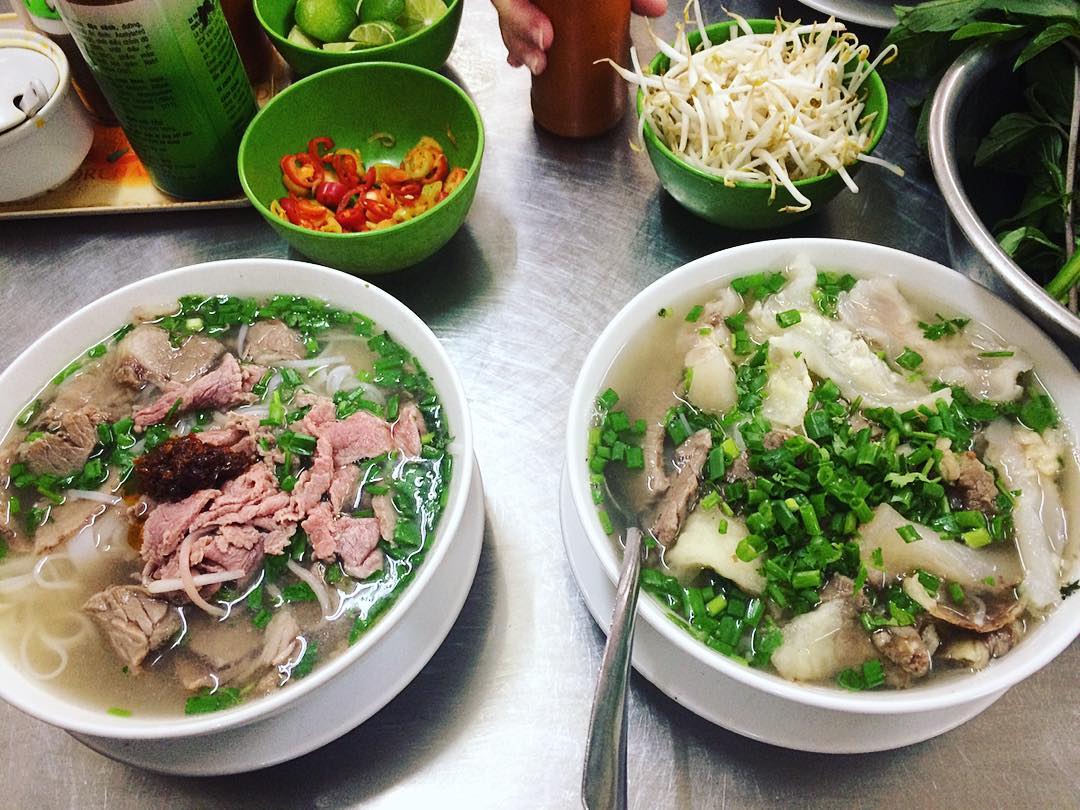 Address: 25 Mac Dinh Chi District 1.
What to order: Beef noodle, chicken noodle
Price range: 40,000 - 65,000vnd/bowl, a bit more affordable than Pho Hoa or Pho Dau
Special note: open from 6 - 22.30. However, the restaurant space is a bit small so it's quite hot at some points during the day.
6. Ky Dong chicken noodle
If you're looking for a new variation of pho to try out then the chicken noodle is a great option. And Ky Dong chicken noodle is the best pho in Ho Chi Minh city. The restaurant specializes in serving various types of chicken from pho, hu tieu to bun (rice vermicelli) or mien (vermicelli made of cassava). Chicken here is always fresh, tender and tasty with fatty, yellowish skin. If you truly want to enjoy to test out the real quality of the chicken, opt for a chicken salad, in which boiled chicken is mixed with veggies and herbs in order to elaborate the chickens exquisiteness. The restaurant is actually a family business, established by the parents of the current owner. They worked for the army's kitchen during war time, and started selling chicken noodles on a small tuk-tuk after 1975. Gradually, the vendor had more and more customers, that was when they hired a location on Ky Dong street to open the restaurant. Today, the restaurant is bigger but the capacity is always full. However, you don't have to wait for too long for your food, normally around 3 minutes after ordering to having bes int pho in Ho Chi Minh city in front of you.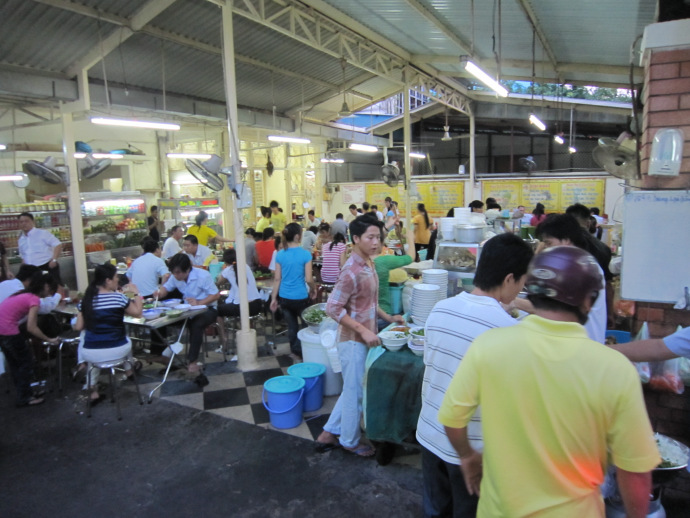 Address: Alley 14 Ky Dong Street, Ward 9, District 3
What to order: chicken noodle, you can order which part of the chicken you want, but the most favorite is chicken thigh noodles. The chicken salad is excellent as well, you can eat that with noodles if you wish to.
Price range: from 35,000 - 40,000/vnd/bowl of noodle, 70,000vnd/serving of chicken salad
Special note: open from 5.00am - 0.00am the next day, a nice place for midnight hungers, very quick service.
7. Pho Tau Bay (Airplane noodle)
Phở Tàu Bay was opened in 1954, rooted deep within Saigons' cuisine as one of three best pho restaurants at that time (the other one was Pho Dau while the second was closed). Pho Tau Bay restaurant was originally named as Pho Nhan (after the owner's name), however, Mr.Nhan was alway wearing a pilots hat back then, hence, people called him Tau bay (airplane) to refer to his hat. As time has gone by, people started to call the restaurant Pho Tau Bay and it's now even more popular than the original name. A regular size bowl here can be equal to a big size bowl at other restaurants, which is full of noodles and beef. The chef doesn't add vegetables, bean sprouts and black sauce into the soup, he thinks too much will devalue the delicacy of the pho. The only spices served at the restaurant are chilli sauce, fish sauce and limes. Located on the busy street of District 10, local people have gotten used to seeing the crowded restaurant for around 60 years. It only opens from 6am to 11am though, the restaurant sells around 400 bowls/day, the number seems to verify everything you need to know about the pho's quality here.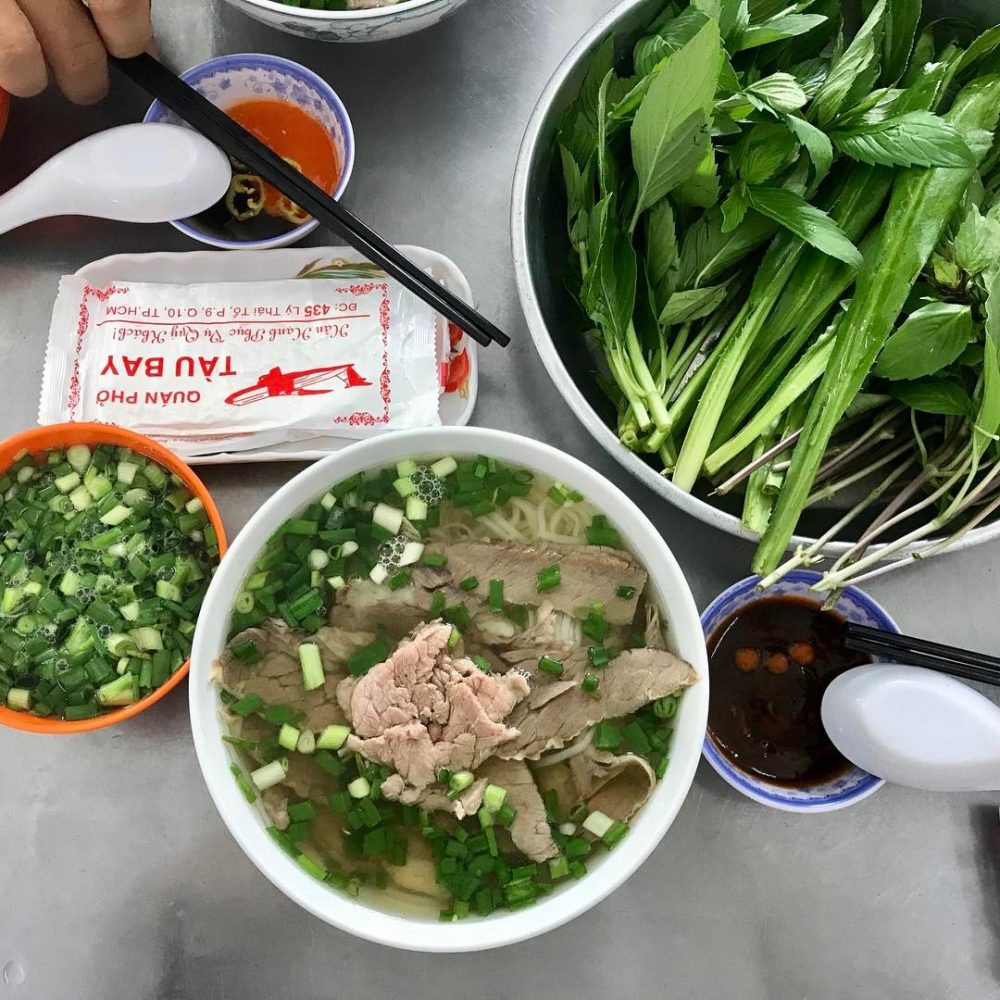 Address: 433-435 Ly Thai To Street, Ward 9, District 10, opposite to Nhi Dong Hospital
What to order: the only course served is beef noodle, however you can order either well-done or medium-rare.
Price range: 60,000vnd/regular bowl, 70,000vnd/big bowl
Special note: open from 6.00am - 11.00am, especially crowded during the weekend.
8. Pho 2000 (Pho for President)
Located right next to Ben Thanh Market, Pho 2000 operates the best location amongst pho restaurants in Saigon, a centrally located and easily noticeable place. Pho 2000 owned by Le Trung Tan, a successful businessman who owns lots of Westernized restaurants in Ho Chi Minh city since the 1990s. He founded Pho 2000 in the September of 1999, with the statement that if the US president visited Vietnam, he would have to eat pho at Pho 2000. And it became true when Bill Clinton visited here during his trip to Vietnam in 2000. At Pho 2000, customers will enjoy the traditional dish amongst contemporary decor and quick customer service. It feels like eating pho in a McDonald's.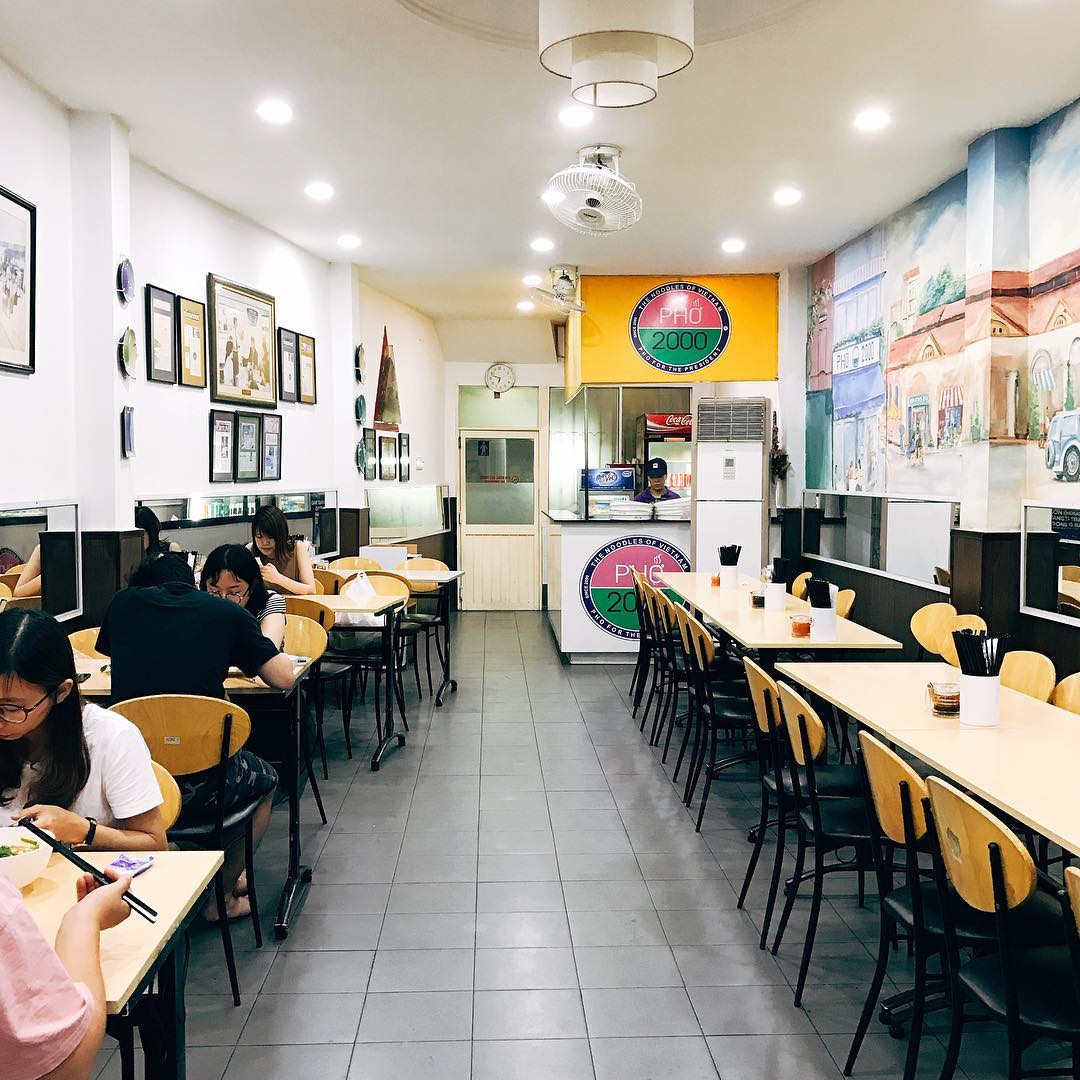 Address: 1-3 Phan Chau Trinh Street or 226-228 Le Thanh Ton, District 1
What to order: beef noodle, curry chicken or beef sautéed with mixed vegetables over steamed rice.
Price range: 75,000vnd - 97,000vnd/bowl of pho. That's quite a premium price.
Special note: opens from 6.00am - 1pm, especially crowded during the weekend.
9. Pho Son Nga
It started as a small food stall on Mac Dinh Chi street. Nowadays, Pho Sn Nga has become a restaurant chain with 10 branches, managed by family members throughout the city. Similar to Ky Dong chicken noodle, Pho Son Nga specializes in chicken dishes with even more variety. The chicken quality here is always on point, very sweet and tender while the skin is crunchy. The broth follows a Northern cooking style so it's very light with almost no fat.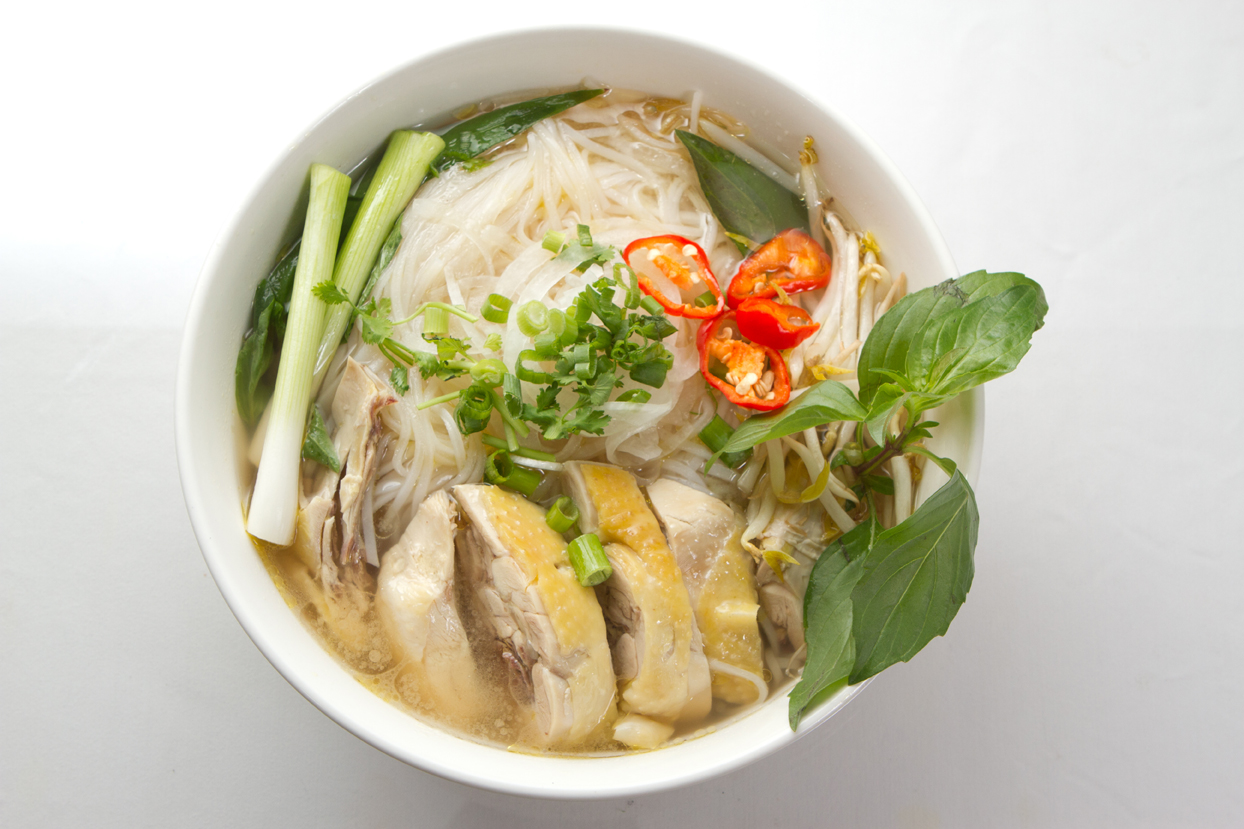 Address: Feel free to refer to the image below to find out the nearest restaurant.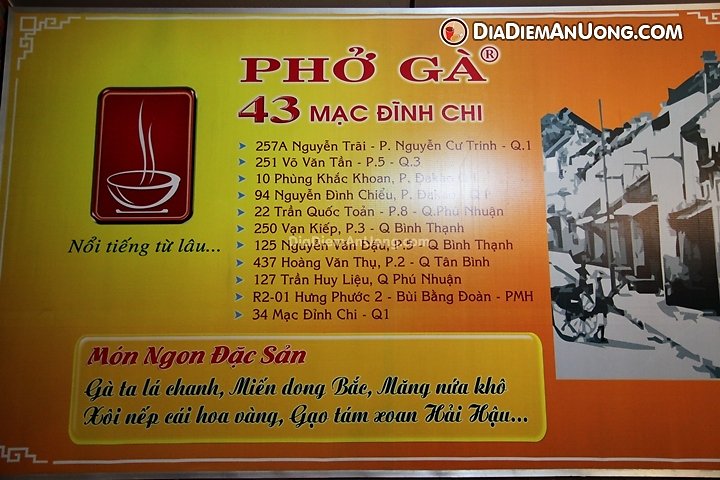 What to order: chicken salad, chicken noodles with immature eggs or chicken sticky rice.
Price range: 28,000vnd/regular bowl, 37,000vnd/bowl if you order chicken thigh.
Special note: opens from 6.00am - 9.00pm.
10. Pho Truong Minh Ky
Not many people notice the small restaurant which is located right on the T section of Ba Huyen Thanh Quan and Nguyen Thi Dieu streets and which has actually been there for decades. Previously, Nguyen Thi Dieu was Truong Minh Ky street, hence, the restaurant was named after the street at that time. The restaurant serves beef noodle and beef hotpot, customers are mostly loyal ones and surrounding officers. The kitchen is quite small but clean and neat, the chefs let you take as many pictures of the kitchen as you like, which rarely happens elsewhere. But what's more interesting is that you can order any part of the cow for your soup, from steak, oxtail to brain or organs. A bowl of noodle here contains lots of noodles, tender steak and green onion. The chilly sauce is freshly cooked following the Northern style so it's quite spicy.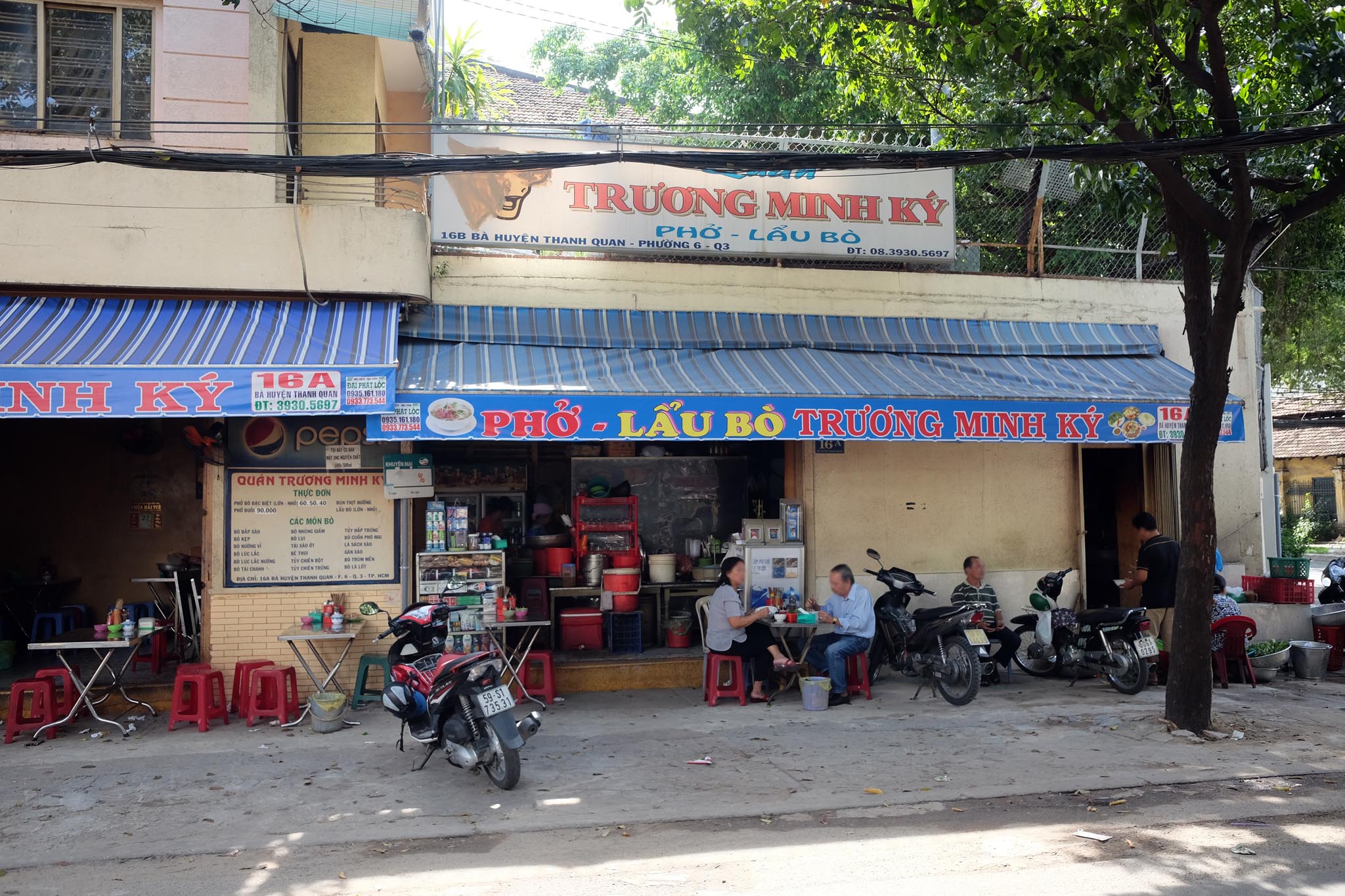 Address: 19a Nguyen Thi Dieu street, Ward 9, District 3.
What to order: beef noodle and beef hotpot.
Price range: 40,000vnd - 55,000vnd/bowl
Special note: opens from 6.00am - 11.00pm. However, there are usually not many customers during the daytime so you don't have to wait long.
11. Pho Cuong
Located near the Cao Dat apartment (district 5) and only opens late at night, it's a bit tough to pay a visit here. However, if you're curious and want to try out the authentic Nam Dinh's pho, this is the place. People say Nam Dinh was where pho was born but Hanoi Pho is more famous, yet Nam Dinh pho is still very much favoured by pho lovers. A bowl of pho noodle soup only has noodle, steak, onion and green onion but the flavorful broth, which is the key that makes it so tempting, a typical Northern style pho.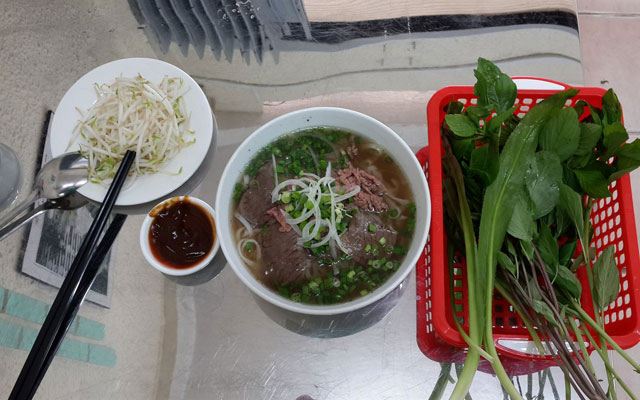 Address: 149 Cao Dat, District 5
What to order: Nam Dinh style beef noodle
Price range: 30,000vnd - 50,000vnd/bowl
Special note: opens from 10.00pm - 5.00am next day, an ideal place for late night eaters.
12. Pho Thin
Pho Thin is a famous brand in Hanoi, which is mentioned a lot in Vietnamese literature. Founded in 1979, the owner - Mr.Thin is not a cook himself but rather a sculptor. Hence, the decision to open a pho restaurant took him a lot of time to learn and create something that distinguishes his restaurant from others. Thin's restaurant sells only one and also the signature which is medium-rare stirfried steak noodle thanks to his special secret formula in seasoning. To talk a bit more detail about medium-rare stirfried steak noodle, the chef uses a saucepan, adds ginger and garlic first and beef later then quickly stirs evenly in a short amount of time. The steak is then added to the bowl and the broth then poured in. The dish has a very typical taste, combined with the meaty tasty of broth making it more flavorful than the regular type of pho even though they both look exactly the same. The Phở Thìn restaurant in Saigon also sells medium-rare stirfried steak noodle and offers black sauce and bean sprouts to fit with Southern people's appetite. I'm not sure if this restaurant shares the same owner with the one in Hanoi, but the quality of the signature dish is still retained. Phở Thìn Saigon also sells regular pho and other Hanoi's specialties as well.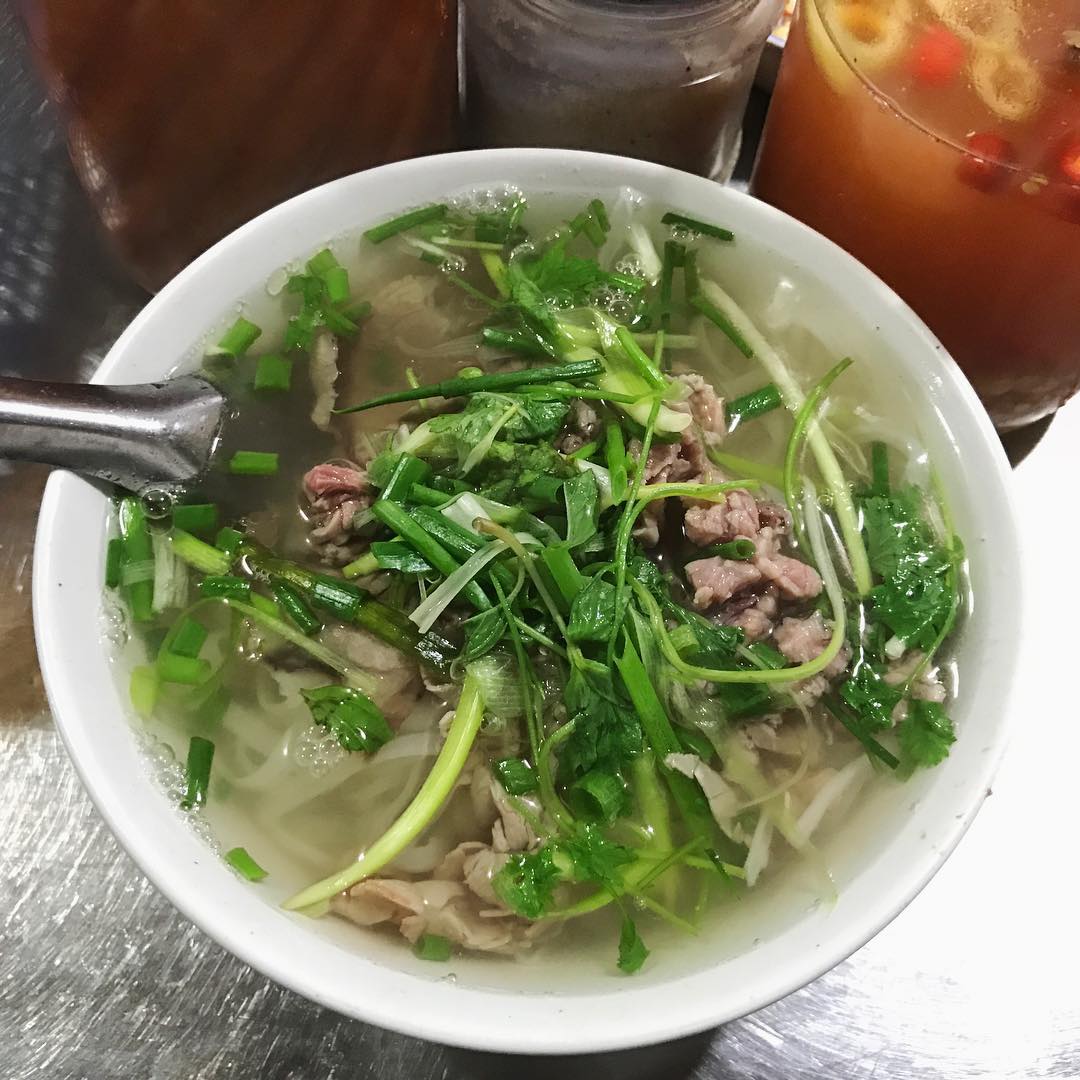 Address: 170 Nguyen Dinh Chieu, Ward 6, District 3, next top Co.opmart supermarket.
What to order: medium-rare stirfried steak noodle of course, regular beef noodle, steamed glutinous sticky rice and sticky yogurt shakes.
Price range: 40,000vnd - 70,000vnd/bowl.
Special note: opens from 7am to 2pm, 4pm - 10pm, so don't come here in the mid afternoon.
13. Pho Binh
Pho Binh was famous in Saigon before 1975, however, it was known for not only a regular pho restaurant but rather a historical site itself, which was officially recognized by the government in 1989. The restaurant was actually the headquarter of Vietnamese army during Mau Than campaign, aimed to attack US embassy in Spring of 1968. Hidden as a pho restaurant, the house was the base of operation of soldiers for information exchange and meetings. Visiting Pho Binh will give an unparalleled experience as you enjoy your pho while surrounded by war stories. Then bonus a tour to the room upstair, a tribute to the epic attack happened in 1968, to travel deep into the history. The tour is usually led by the current owner personally, whose family participated in the history event, as he passionately explained the role of each person who was photographed with great pride. The pho quality is also great with fresh, tender beef, crispy Chinese crullers to eat along, plus the flavourful broth. Don't let the fame of the restaurant fool you as it's price is also very reasonable.
Address: 7 Ly Chinh Thang Street, Ward 8, District 3
What to order: beef noodle, and don't forget to order a few sticks of cruller for extra deliciousness
Price range: 30,000vnd - 55,000vnd/bowl
Special note: opens from 6am to 9pm everyday.
14. Pho chua Lang Son (Lang Son sour noodle)
Pho chua, by its name, causes lots of curiosity from people as the dish is not sold commonly in the South. The most popular restaurant that offers this specialty is a small one near Ban Co market, which is named after the dish, and known thanks to word of mouth by frequent visitors. Unlike regular pho, the noodle is not boiled through hot water beforehand. A layer of noodle is put on top to cover a mix of veggies including morning glory, cucumber, basil. The core consists of chicken, pig's boiled stomach, tongue and heart. The bowl of sour noodle is also topped with grilled onion, grilled peanuts and sliced papaya. However, what creates the distinctive sourness of the dish is its sauce, which is made from vinegar, sugar and tomato (however, in the South, tomato is replaced by tamarine sauce). A bowl of sour noodle is served with a bowl of broth, however, the seller recommends to only use the broth after you have eaten up the noodles.
Address: 242/101 Nguyen Thien Thuat street, Ward 3, District 3
What to order: Lang son sour noodle, pyramidal rice dumpling (filled with meat, onion, mushroom) and rice gruel with pork ribs. Quick fact: these are all Northern specialties but have entered Saigon for over 50 years.
Price range: 35,000vnd/ bowl of sour noodle, 17,000vnd/ piece of pyramidal rice dumpling, 25,000vnd/ bowl of rice gruel with pork ribs
Special note: opens only from 3.30pm - 7.30pm.
15. Bonus for Best pho in Ho Chi Minh city: Pho Hong Gia Lai
The restaurant specializes in selling dried noodle - a specialty of Gia Lai, a province located in Vietnam's central highland and it's very different from any other type of pho you will see in Vietnam. The noodle string is as thin as hu tieu's, softened by being steeped in hot water then mixed with soy sauce and bean sprouts. The chef also adds a bit of vinegar and cracklings, so you can taste the sourness of the noodle. The main type of meat used for dried noodle is chicken. A serving also has one bowl of broth, which consists of pork ribs, meat balls, beef and tendon. The cook doesn't use sawleaf for the broth but usually will opt for lettuce. Before eating, you should mix everything up by adding some black sauce, chilli sauce or even the broth.
Address: 82 Dong Nai Street, Bac Hai residential area, District 10.
What to order: Authentic Gia Lai's dried noodle, opt for a special bowl if you want to add further meat (pork, beef) into your bowl besides chicken.
Price range: 35,000vnd/ regular bowl and 55,000vnd/special bowl
Special note: opens from 6am to 11pm