10 Delicious Traditional Vietnamese Food You Must Try While In Vietnam
The recipes was passed down from generation to generation, and now become daily staples. The recommended list is long, but we have curated the ten most popular traditional Vietnamese food to sample on your adventures.
You can't visit Vietnam without spending time exploring Vietnamese foods. Traditional Vietnamese food is all about the balance of fresh ingredients, intense flavors, and ease of cooking and preparation. Each dish has a rich history and represents a regional specialty, yet a varied taste depends on where you have it.
The recipes was passed down from generation to generation, and now become daily staples. The recommended list is long, but we have curated the ten most popular traditional Vietnamese food to sample on your adventures.
1. Pho (F-uh)
The origins of pho can be traced back to Northern Vietnam from hundreds of years ago. Legend has it that pho was created as quick and easy sustenance for the army troops during the wars. The key element of any bowl of pho is the broth made of cloves, cinnamon, and star anise simmered with the beef bone for days at a time. This may seem like extensive preparation, however, it is thanks to the length of time creating the broth that it has such a sweet and complex flavor.
When pho is served, you immerse layers of thin rice noodles and thinly sliced beef cooked medium rare in the hot broth, and in the South of Vietnam you season the soup with fresh Thai basil and mint ripped into the bowl. Northerners prefer their pho with no herbs or vegetables, and let the flavors of the broth guide the meal. You can find a bowl of pho anywhere in Vietnam as it is one of the most popular meals for breakfast or lunch, and if you go to a local street vendor it will only cost you $1 to $3 a bowl.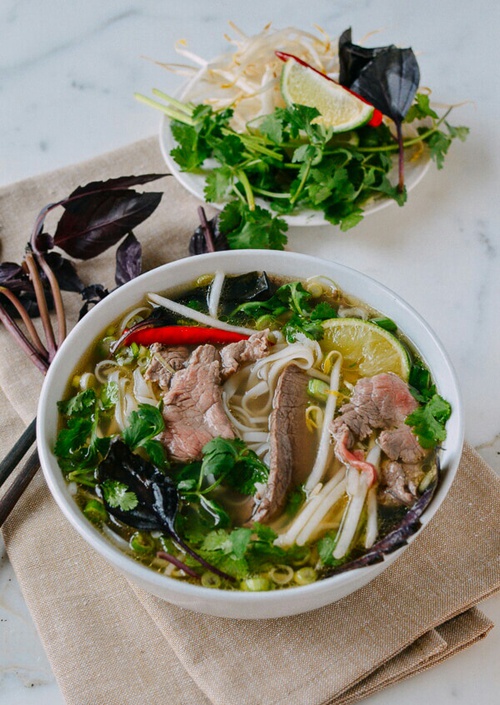 There is a famous pho restaurant in Ho Chi Minh City that all the locals know about. Unchanged over the past half a century, this pho restaurant is revered for its high-quality beef, large portions, and fast service. Head on down to Pho Hoa Pasteur, 260C Pasteur Street, Q3, HCMC to sample for yourself the soup that has passed the test of time.
2. Com Tam (Broken rice)
A favorite of millions, com tam is a simple delicacy developed during the French colonial period by the Vietnamese working class. The Southern workers discovered they could use the fractured rice grain as a delicious, dietary staple. Com tam, or broken rice, includes grilled pork chop, steamed egg, shredded pork, as well as cucumber, pickled vegetables, and fish sauce.
This dish is typically served with a fork and spoon, as opposed to chopsticks, due to the French influence from where it originated. A Southern classic, com tam is notoriously hard to find in the center or north of Vietnam, but when you can find a vendor is will only cost you about $1.5 - 2 and make it one of the most affordable traditional Vietnamese food.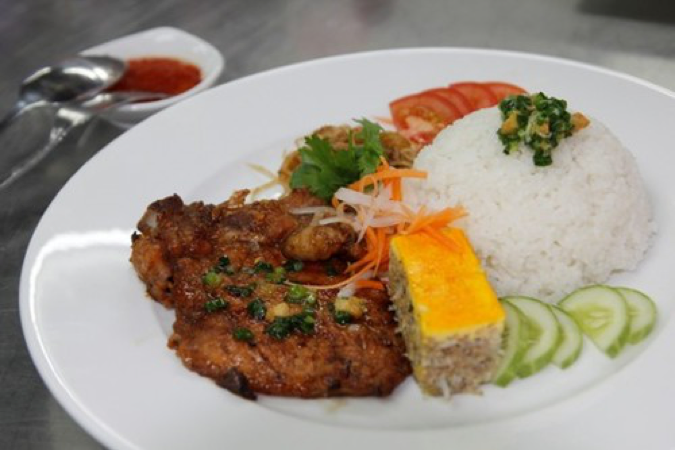 Though you can find com tam on almost any Saigonese street corner, there are some outstanding places to find an extraordinary experience. Our favorite is hidden away from the usual tourist traps in the center in District 3 and the family running the restaurant for more than 40 years, with most of their reputation garnered from word-of-mouth praise. If you're craving a cheap yet satisfying meal, be sure to check out this spot. The address is 260 Vo Van Tan, District 3, Ho Chi Minh City, and is reachable by a taxi in ten minutes from District 1.
3. Banh Mi
Driving through the streets in Vietnam early in the morning, there is one dish you will see more than anything- the fantastically simple banh mi. This sandwich can also be traced back to the French colonial period, even though the roots of the name; banh is pronounced similarly to the French word for bread pain and literally translates into "bread made from wheat."  
Initially, this dish was imported and only sold by expensive bakeries, however, it began to spread to the masses when the Vietnamese working class discovered ways to change the ingredients and make it more accessible. Today the typical Vietnamese banh mi consists of mayonnaise, pate, sliced ham and pork, pickled vegetables, coriander, and hot sauce. The fusion of flavors between the Vietnamese fillings and French baguette makes this delicious meal a favorite of many.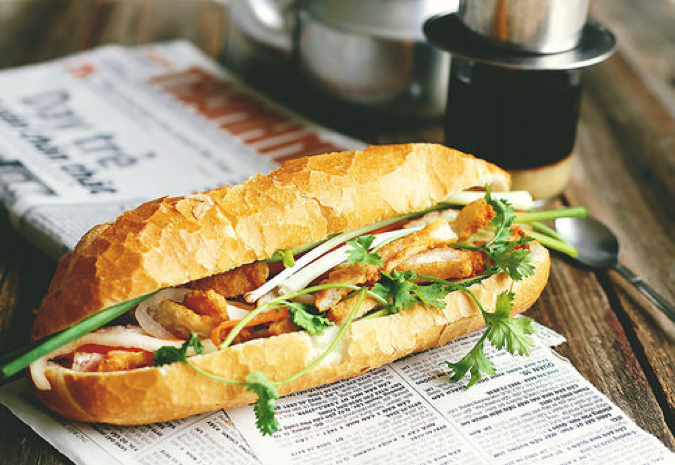 In Vietnam, you can easily find banh mi stalls in almost any corner of the busy intersection for less than $2. When you visit, there is one shop that you cannot miss out on as it has been voted the best banh mi by Anthony Bourdain when he visited Vietnam: Banh Mi Phuong, 2B Phan Chau Trinh – TP, Hoi An.https://www.youtube.com/watch?v=dUMlwNHNXp0
4. Bun Bo Hue
Bun Bo Hue literally translates as beef noodle soup from Hue, a central city in Vietnam that was once the ancient capital and the main base of many Vietnamese flavors. The history of bun bo Hue is relatively unknown, but it is rumored that it was invented hundreds of years ago by people moving from Northern Vietnam to the South.
The broth is the backbone of bun bo Hue, as is typical with many distinct Vietnamese soups like pho. To prepare the broth beef bones must be simmered for hours with lemongrass and seasoned with fermented shrimp sauce. It is this combination that creates the distinct taste of the dish, which is then served with rice vermicelli noodles, thin slices of beef shank, cha, a mix of mint, basil, coriander, and bean sprouts.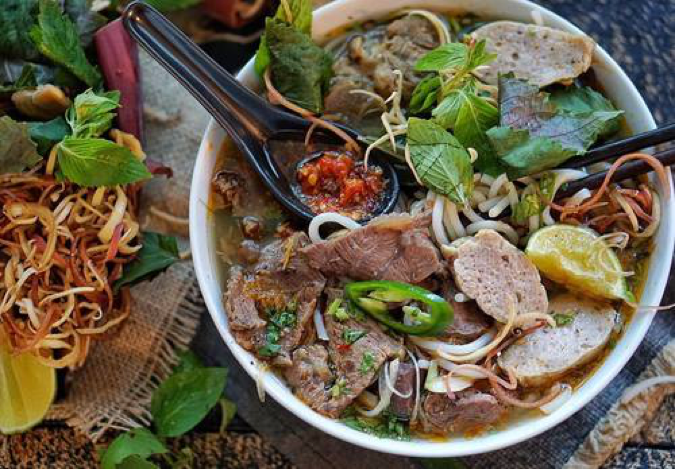 Though this dish originated in Hue, there are delicious versions of it all over Vietnam, and in our opinion, some of the best bun bo Hue in Ho Chi Minh City can be found. Take a visit to Nhan Tri (295 Le Hong Phong, Ward 2, District 5) which is only 15 minutes away from the center of Saigon, to discover the rich taste and large portions that are adored by locals.
5. Bun Cha
Bun cha became international attention overnight after US President Barack Obama and celebrity chef Anthony Bourdain were pictured eating the dish together in Hanoi. Their choice of this dish is now a surprise as bun cha originated from the Old Quarter in Hanoi and has been one of the city's signature dishes for hundreds of years. What makes this dish special is the intense preparation involved in making it; minced pork must be marinated overnight to fully absorb the flavor of herbs and shaped into balls, keeping attention to make sure the meat is tender and juicy.
The sauce is what makes the dish spectacular; a good sauce will give a balance between the sweetness of the meat and the saltiness of the fish sauce. The Hanoi traditional dish is served only at lunchtime and comes with rice vermicelli, fresh vegies and herbs such as basils, coriander.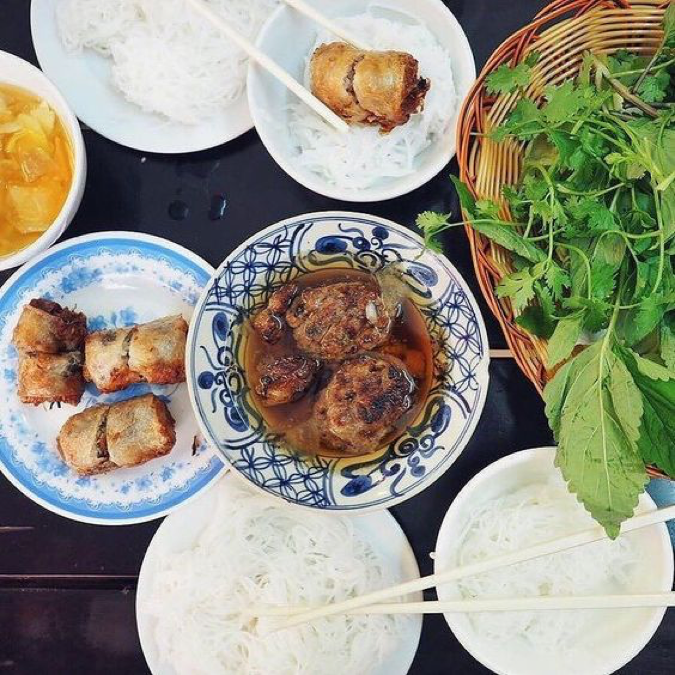 Bun cha can be found almost anywhere in the Old Quarter area of Hanoi, however, if you want to dine where Obama and Bourdain did you will want to check out Bun Cha Huong Lien on 24 Lê Văn Hưu, Phạm Đình Hồ, Hai Bà Trưng, Hà Nội and just order Obama combo (including 2 portions of bun cha and spring roll, plus 2 beers) which set them back $6.If bun cha itself cannot satisfy your Hanoi food crave, visit our top 10 Hanoi authentic food experiences and add to your bucket list.
6. Banh Xeo
This savory pancake originates from the Mekong Delta and is extremely popular in the Southern and Central regions of Vietnam. The dish gets its name as xeo is the sound of the batter sizzling in the hot oil as it cooks to crispy perfection. Each region and city has its own variations on banh xeo, but the typical core is made from bean sprouts, sliced papaya, boiled pork, and shrimp or chicken, and eaten in a wrap style with mustard leaf, lettuce, Thai basil, and mint. The sauce contains the perfect mixture of spice, fish sauce, and salt to balance the textures and flavors of the dish.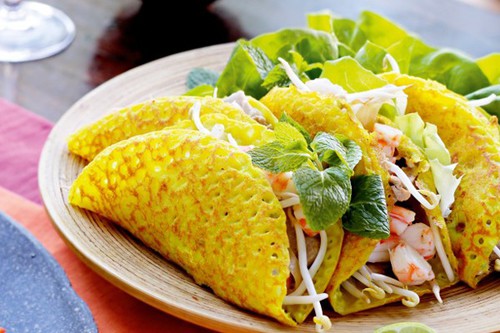 You truly have to use all five senses to enjoy banh xeo: listen to the sound of the crispy pancake when you take the first bite, observing and appreciating the stunning colors of the yellow flowers, orange sauce, and green herbs. Let your nose savor the intense smells, and your hands must caress the food as you roll it up, dip it in the sauce, and guide it to your mouth. Banh xeo is a group activity and represents the union of friends and family, it's a shared experience instead of an individual experience and is used to celebrate holidays and special occasions.
A legendary place to get banh xeo in Ho Chi Minh City, and also a favorite of Anthony Bourdain, is Banh Xeo 46A Dinh Cong Trang in District 1. This is a popular location for locals and tourists, and should only set you back $4 per person for banh xeo. The restaurant also specializes in other specialties from the Mekong Delta such as spring rolls, stir-fried beef noodles, and chicken salad. [embed]https://www.youtube.com/watch?v=1zt-WaDveX8[/embed] Beauty blogger Michelle Phan reveals this place is her favorite restaurant to enjoy Banh Xeo.
7. Cao Lau noodle
Cao Lau is less well known when it comes to traditional Vietnamese food. This ancient Hoi An dish appears no different from other kinds of noodles on the surface, however, there are some differences that stand out once you know what to look for. It is reasonable to say the cao lau noodle is a combination of the three distinct cultures present in Hoi An: Japanese, Chinese, and Vietnamese.
The noodles are thick and yellow, similar to udon noodles, and the barbecued pork, char sew, however, there is not as much broth as you would expect in a quang noodle.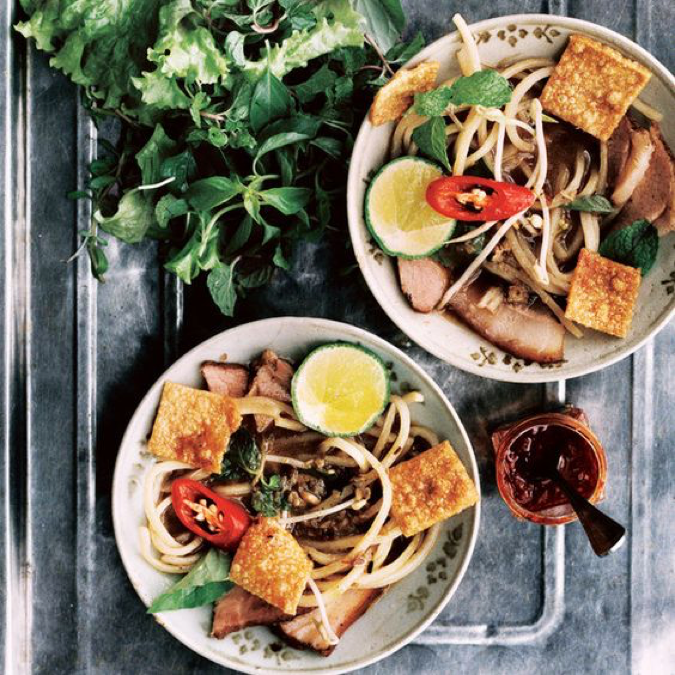 Similar to Quang noodle, you can taste cao lau with a little or without broth, however, you cannot call a dish cao lau without the BBQ pork, cut from the pig's thigh for the best, firm cut, to produce the sweet broth. The pork is marinated in 5-flavour spice to create unique flavors that tantalize the eater. Cao lau is best eaten with bean sprouts, fresh herbs, peanuts, and bbq pork sauce on top, with chili sauce, lemon, and fish sauce added to taste.
Cao Lau can be found in almost restaurants in Hoi An yet Trung Bac restaurant, 87 Tran Phu, is the place you should visit. The restaurant is a piece of cultural heritage itself as it's an ancient house that has existed for over 100 years. A bowl of cao lau here costs you $.1.5, but there is no chance you will leave having eaten only one bowl.
8. Bun dau mam tom
Bun dau mam tom is a rural food of Northern Vietnam. Rice vermicelli is served with fried tofu, pork, chả cốm, and shrimp paste. Chả cốm is a kind of Vietnamese sausage, a mix of pork and young rice that is fried. It is crispy and a bit greasy, it decides how delicious a Bun dau mam tom tray is. Bun dau mam tom is a must-try dish for what to eat in Hanoi.
Vietnamese dishes attach special importance to the balance of ingredients. Bun dau mam tom, with a large amount of protein, would be served with numerous kinds of raw vegetable including but not limited to perilla, Vietnamese balm, Thai basil, escarole, stink vine, and fish herb.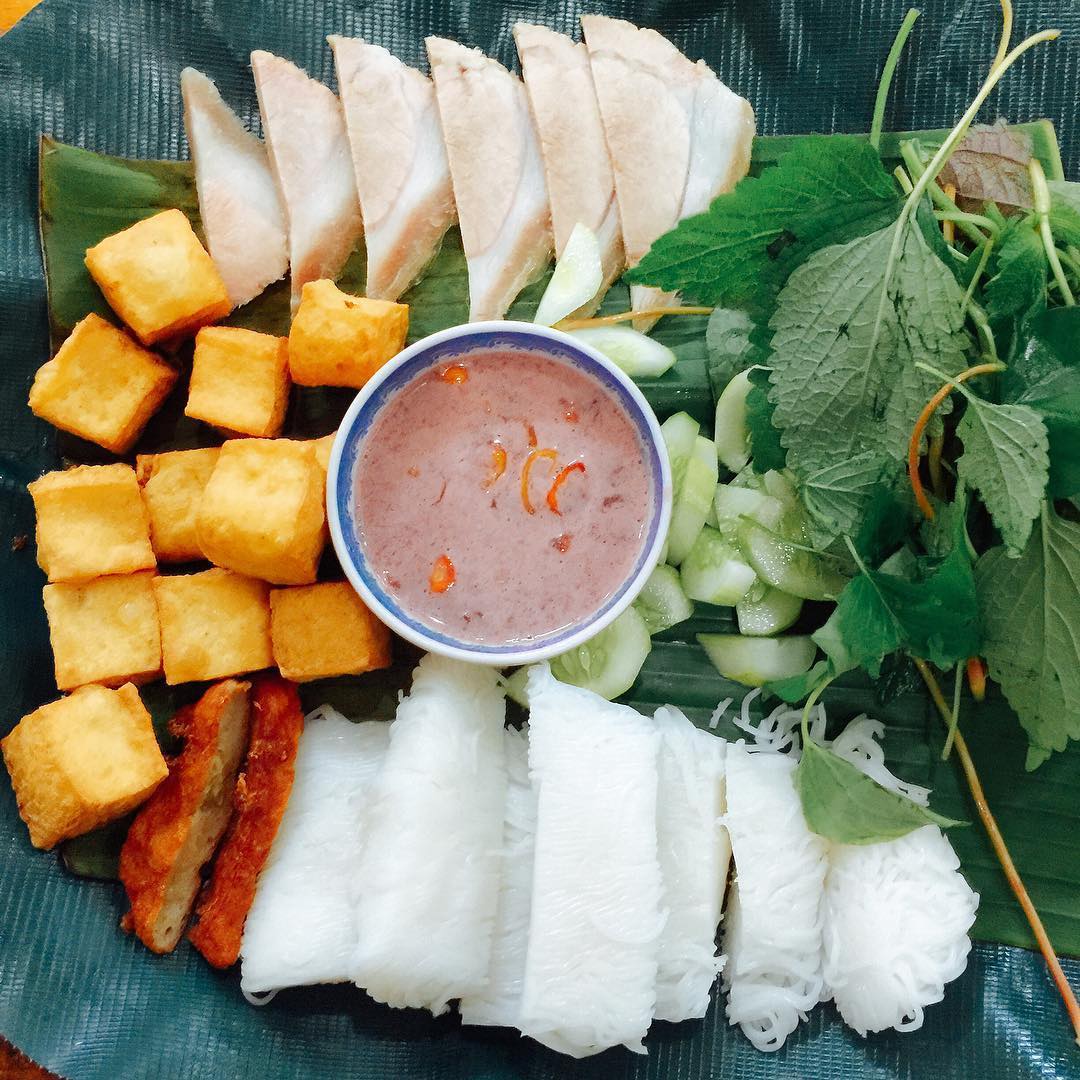 To eat Bun dau mam tom, add sugar, chili, and kumquat juice into a shrimp paste bowl, stir them up and pour the mix into the main ingredients. You can easily find Bun dau mam tom restaurants anywhere in Northern Vietnam. There're some famous restaurants in Hanoi such as Ma May Bun dau mam tom restaurant, 1B Ngo Tram restaurant, Ho Tung Mau restaurant. The price of a tray usually is around $2-$3.In Ho Chi Minh City, you can find some Bun dau mam tom restaurants of Hanoian emigrants; for example, Ha Noi restaurant on Ngo Tat To street, Rau Kinh Gioi restaurant on Pham Hong Thai street and so on.
9.  Bun/com hen (Baby clam noodle/rice)
Bun/com hen are well-known traditional dishes of Hue, Vietnam's ancient capital. Eaters can choose white vermicelli, rice, or congee to eat and order a bowl of baby clam soup to have with it. The fresh baby clam is picked up at Perfume River, soaked in rice water so the clams will get rid of mud and sand then boiled until they open their shells.
The boiled water will be added some spices to be served and called baby clam soup. The dishes are served with rice, congee or vermicelli, raw vegetables, and various ingredients such as cooked peanut, mango, sesame, fried pork skin, and shrimp paste.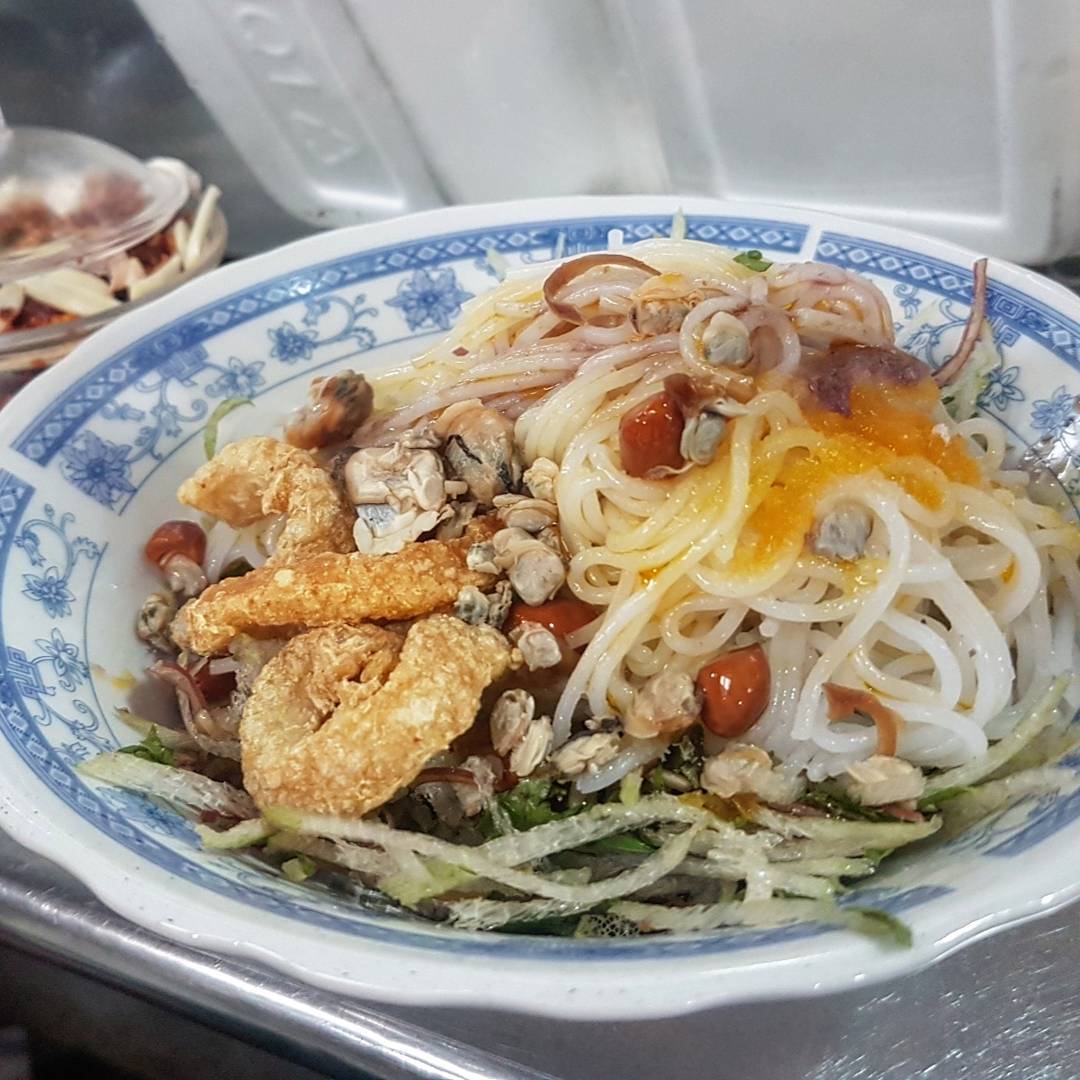 Bun hen is cheap, a bowl costs around $1. Here are some authentic Bun/Com hen restaurants in Hue: Ty Hon Restaurant (3 Han Mac Tu Street), 171 Restaurant (171 Tran Phu Street), or Ba Cam restaurant (2 Truong Dinh Street).
10. Che
Che is a traditional sweet dessert of the Vietnamese with various recipes using different ingredients. We can categorize Che into 6 types due to their ingredients.
Che using beans and pulses: This type of Che is usually condensed and hot, some served with ice. The Vietnamese can cook Che with any kind of beans: mung beans, white black-eyed peas, azuki beans, red beans, moon beans (an imperial dish) peanuts, and so on.
Che cooked with rice, grains, tubers, and cereals: usually served hot. This kind of Che comes with various ingredients from corn, cassava, young rice, water lily bulbs, basil seed drink, lotus seeds to taro. Especially, the Vietnamese have Com Ruou (mildly alcoholic chè), it's made of rice that is not sweetened with sugar but let fermented, served with ice so it has a special taste.
Jellies: including agar jelly, jelly with Tiliacora triandra extract, grass jelly, and vermicelli-like jellies.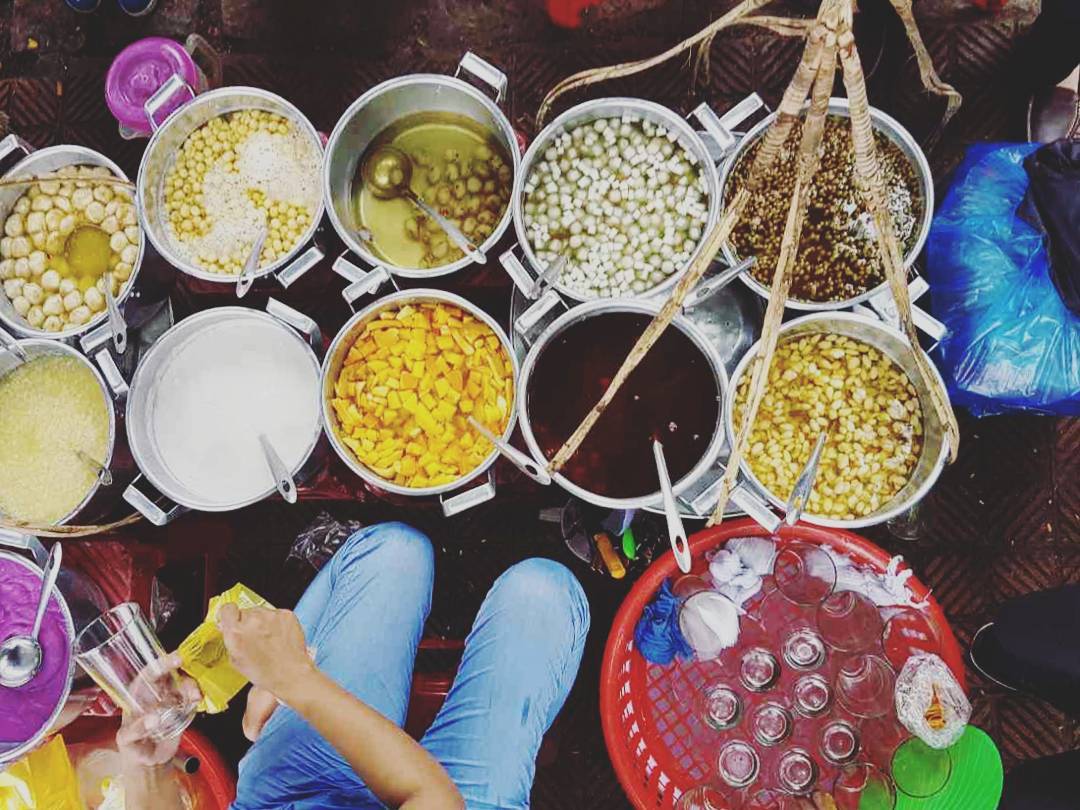 Dumplings: There are Chè bột lọc (with small cassava and rice flour), Chè con ong (from glutinous rice, ginger root, honey, and molasses), Chè bánh xếp (a tapioca skin dumpling eaten in coconut milk), Chè trôi nước (balls made from mung bean paste in a shell made of glutinous rice flour).
Che made from fruits and plants: the most favorited fruit che is Chè hoa quả (mixture of different fruits including watermelon, apple, pear, mango, lychee, jackfruit, dried banana and dried coconut) which is served with milk, yogurt, and syrup. Other remarkable Che dishes are logan, mango, lychee, grapefruit, banana, durian, and so on.
Savoury Che: Chè lạp xưởng (made from Chinese sausage), Chè bột lọc bọc thịt heo quay (made from roast pork) and Chè trứng đỏ (made from eggs).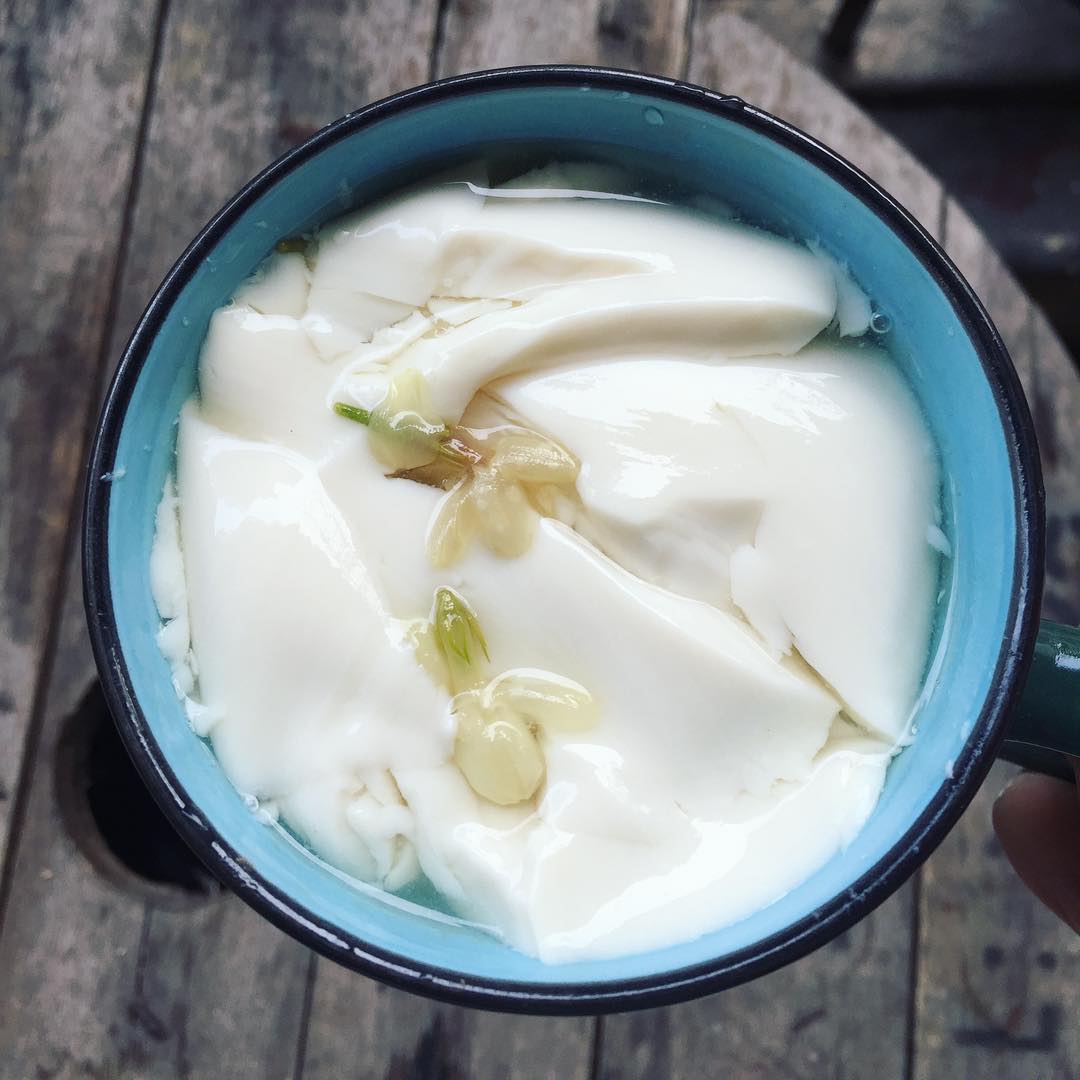 There are also some foreign Che come from Thailand, Malaysia, Singapore, and China that are popularly sold in Vietnam.