Wonder if a Mekong Delta day tour is worth it? Read this!
I arrived in Ho Chi Minh City on a national holiday weekend. It was Reunification Day in Vietnam and International Workers' Day. Although I am very interested in Vietnamese history, my arrival on Reunification Day was not intentional. I was drawn to this country after watching the musical, Miss Saigon. One of the best memories of my trip was the Mekong Delta non-touristy tour I took with a local insider that I accidentally found via Inspitrip.
Meet my Local Insider
The Mekong Delta is certainly large enough to be its own country, making navigating the area an impossible endeavor to do alone. I wanted to travel conveniently, so I hired a tour guide. I did some research prior to venturing to Vietnam when I stumbled upon a rather helpful blog. It listed locations travelers could venture to in order to see where iconic Vietnam War photographs had been taken. The blog was managed by Inspitrip, a Saigon-based startup that pools local guides around the country available to hire and venture on tours with.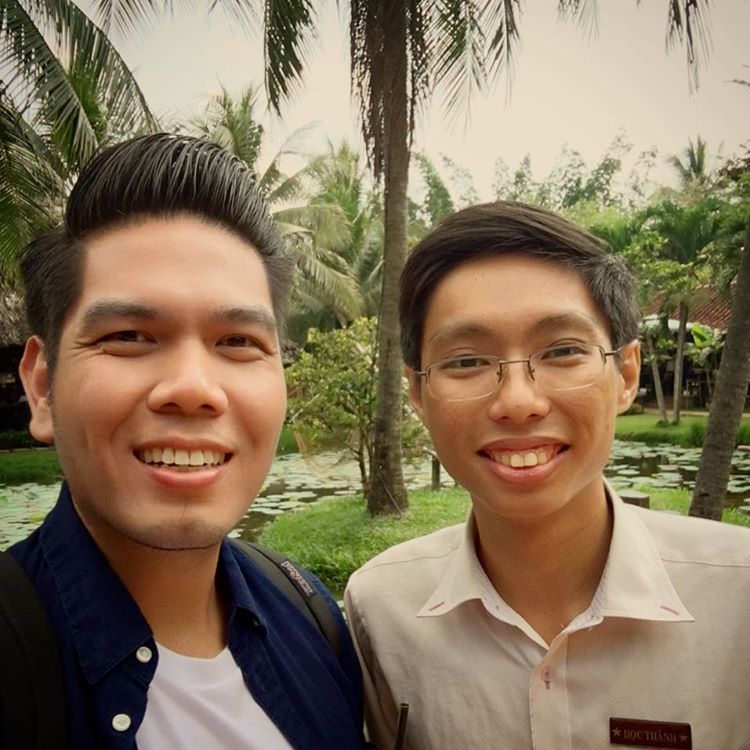 Jack picked me up from my hotel on my second day in the country. We rented a private car and headed to Cai Lay, a rural district of the Tien Giang province. The lotus pond seen behind us was just one of the natural wonders we came upon during our visit to the Delta. This particular flower is a vital part of Vietnamese culture and is also the national flower.
Our Journey Through Vietnam's Countryside
The Cai Laylocal market was the first stop on our journey. The Mekong Delta produces plenty of fruits because of its fertile lands. In addition, the market is equipped with flowers, dried fish, seafood, and other seemingly strange finds, including mice and snakes.Coconuts are abundant in the region. Coconut trees are oftentimes referred to as "trees of life," because every part of a coconut is used and many locals have their own coconut trees planted in their backyards in hopes of reaping the benefits. The nón lá, or leaf hat, can be seen being worn by many people throughout the market, making every vendor picturesque.
A Traditional Vietnamese Home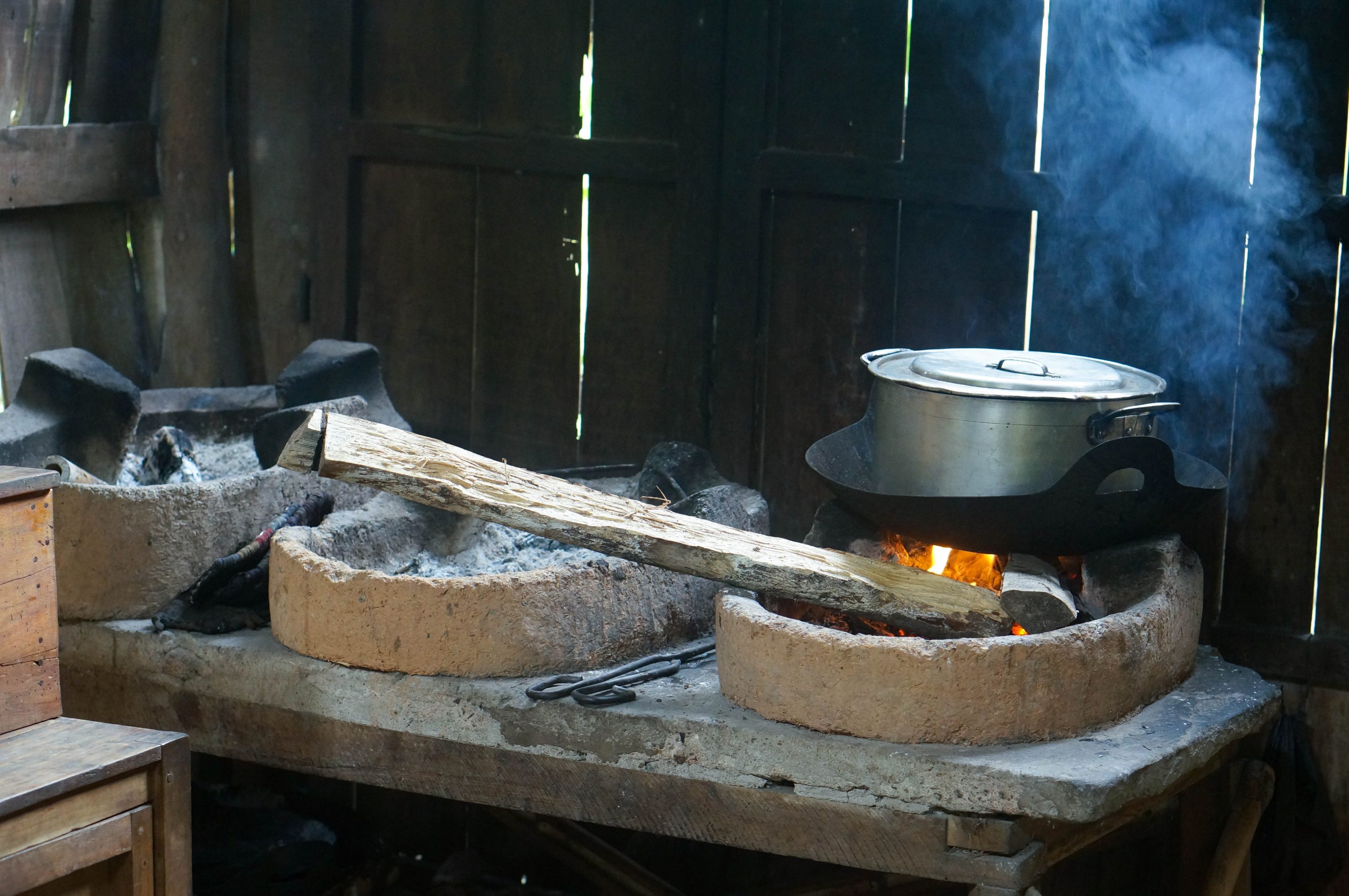 We later arrived at our host's home. His home, which sits just adjacent a small canal, was used by the Viet Cong to infiltrate this same camp, as they would wade into the still water and utilizing the element of surprise. He could remember details from the war as if it was yesterday.Inside the home's garden was yet another reminder of the war, as a small pond sat at the house's core. This was not a means of decor, however, as the hole for the pond was actually created by a bomb that had left a large crater. Inside were lotus flowersand mud fish, swimming through the tranquil water as if nothing had ever happened. The Vietnamese home here have a traditional floor plan where the family elders normally stay in the room closest to the front of the home, while the youngest of family members remain in the back. The living room doors open to up to a large veranda, a place where families oftentimes entertain guests. The living room of these homes usually houses a family shrine or altar. Vietnamese worship their ancestors, and this is a cultural practice rather than a religious one. Almost every Vietnamese household will maintain an altar to worship their ancestors, regardless of their religion.These were my hosts: uncle Như, Mrs. Nhu, and their two daughters. Mrs. Nhu would later teach me how to cook local tea time snacks, and she would also prepare a traditional family lunch for me. Uncle Nhu taught me how to catch fish on the river and showed me his village while we were cycling. He was also the photographer for most of my upcoming posts. What a great host!Mrs. Nhu taught me how to grill a traditional snack known as bánh tráng dứa nướng, meaning grilled coconut cake, though it mostly resembles a cracker. She had the coconut paper at the ready for us to grill, with the end result being crispy, slightly sweet, and fragrant crackers equipped with slightly burned edges and a fluffy surface. It was the perfect snack to accompany our tea. Many of the villagers still use a wood-fired clay stove, making the cooking experience that much more memorable. She also taught me how to make bánh in, meaning pressed cake. The delicious treat is made with tapioca flour and sliced pandan leaves. These ingredients are parched on a dry pan until it is fragrant and becomes powdery soft. The pandan leaves are then removed, the flour put into a bowl, and mixed with a few spoons of coconut cream. You then have to press down firmly on the cake in order to mold it into different shapes and designs. Bánh in is similar to a Filipino snack known as puto seko, another great snack perfect for tea time.
Fishing on the River
We used a vó cá to fish, a type of fishing net built on bamboo sticks and wooden frames. Those using it must balance their weight and act as a lever of sorts in order to lift the net out of the water. It is similar to the salambao, a device used by Filipinos during the Spanish colonial times. Fishing is one of the biggest industries in the Mekong Delta, providing almost 52 percent of the country's freshwater fish supply. We did not catch any fish, but I was grateful to see how the authentic vó cá works. https://www.instagram.com/p/BTvH7i1lS8_/?taken-by=gk18_antalan After that, uncle Nhu led me around the local village by bicycle. The typical Mekong Delta village has very few paved roads, making for a bumpy ride. There was a lot of stuff to see along the way. Fruit bearing trees, dogs, pigs, ducks, chicken, and even locals relaxing on hammocks in the shade. The locals here live a relaxed way of life. Whenever I passed any elderly members of the community, they would return my greeting. Children shouted from their homes, and I would wave back. A simple "hello" from these locals felt like so much more than a simple greeting, and I was reminded of how warm and kind they are. Be a native Mekong delta for one day? Why not?
An Unexpected Surprise
One household we passed was celebrating a wedding. They even invited us in for a few drinks! We politely declined, but they was persistent, so we agreed to having a beer (they were drinking Tiger). The head of the house also let me try their sticky rice wine. It was fun, despite the language barrier. A loud and hearty, "mot, hai, ba, yo," which translates to "one, two, three, yo," is then shouted. This saying is similar to how we would say, "cheers!" This phrase is followed by synchronized drinking, and participants did not stop until all of the glasses were empty. It was so much fun.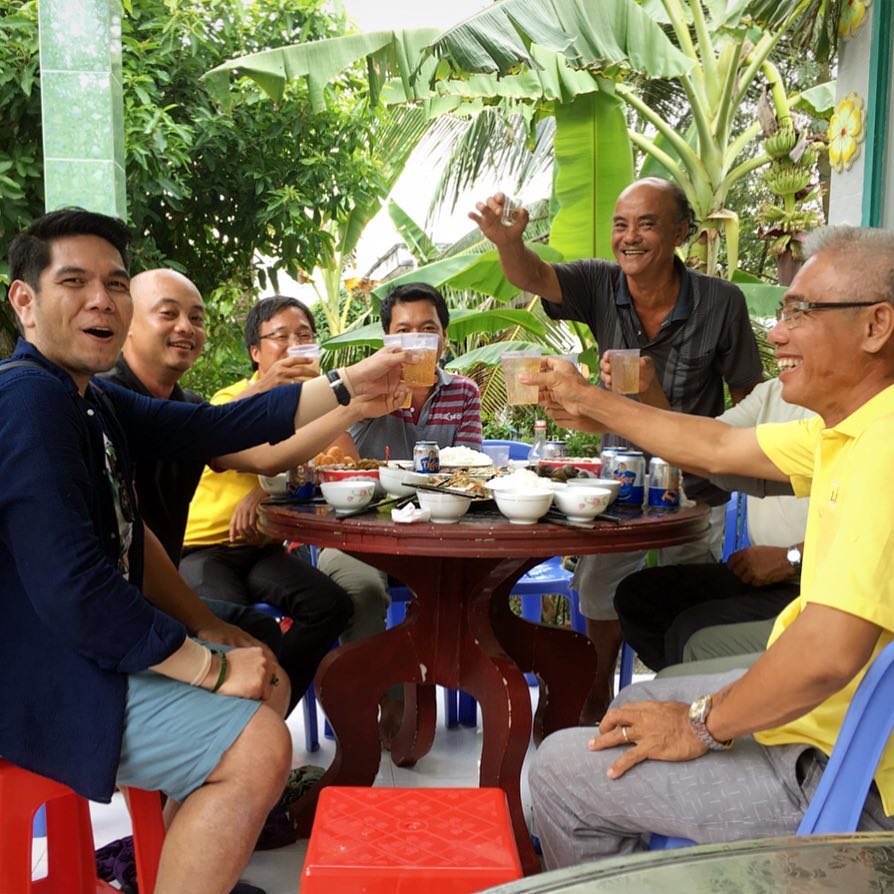 At the wedding, I met some children who were attending. They tried so hard to communicate with me, asking me what my name was and where I was from. They were incredibly curious about where I was from, as they said that I did not look that different from them. I wanted to take photos with them, but they were extremely shy at first. Later on, they warmed up to me, and I eventually got a photograph with all of them. I am not sure if I will ever return to this quaint, countryside village, however, the locals I met here will long stick in my memory. Heartwarming experiences are hard to come by while traveling, but this is exactly what I had.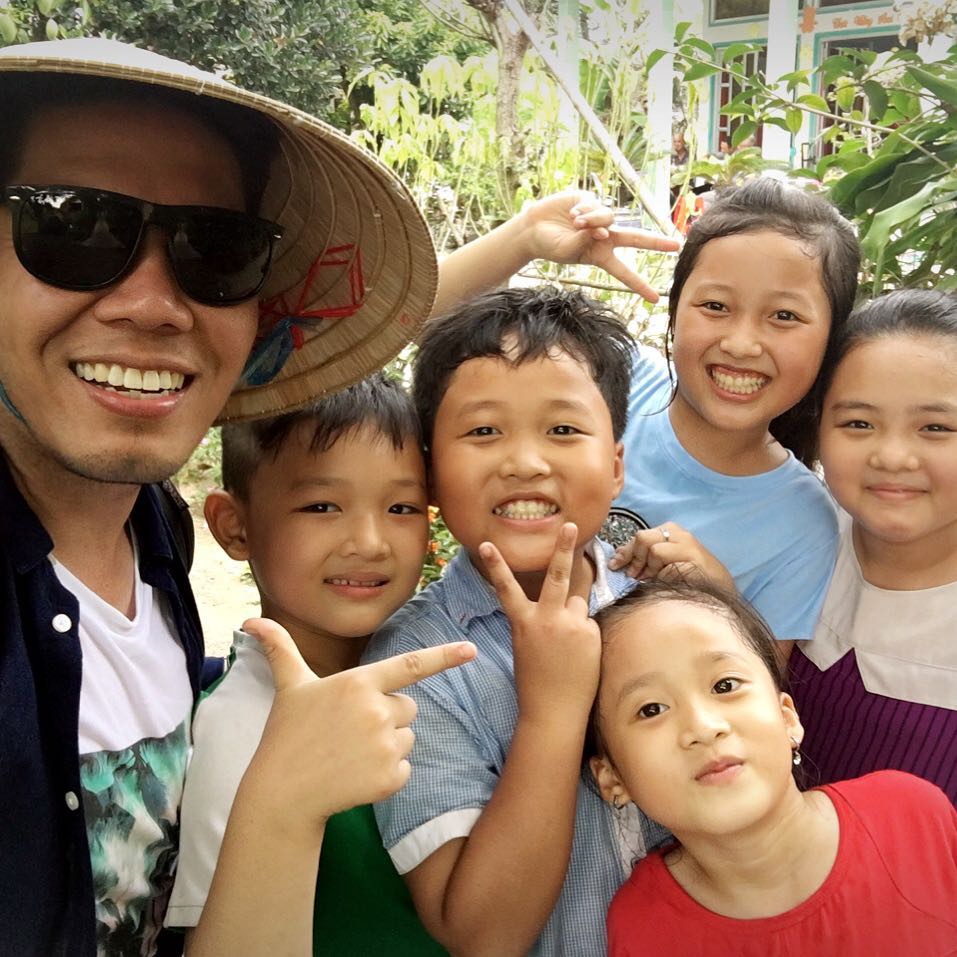 I had hoped for a non-touristy trip and indeed got what I wanted. I was the only traveller around in the village during that time. We finished the last leg of the biking trail. This time, the speed is faster, because I roughly had seen most of the daily activities around here. I am sure there could be more than what I have seen and experienced, but you have to spend more time in order to see all. There is no point regretting now, but I hope I arranged my visit to Vietnam longer so I could at least spend more time here in Cai Lay, by the river, with the locals.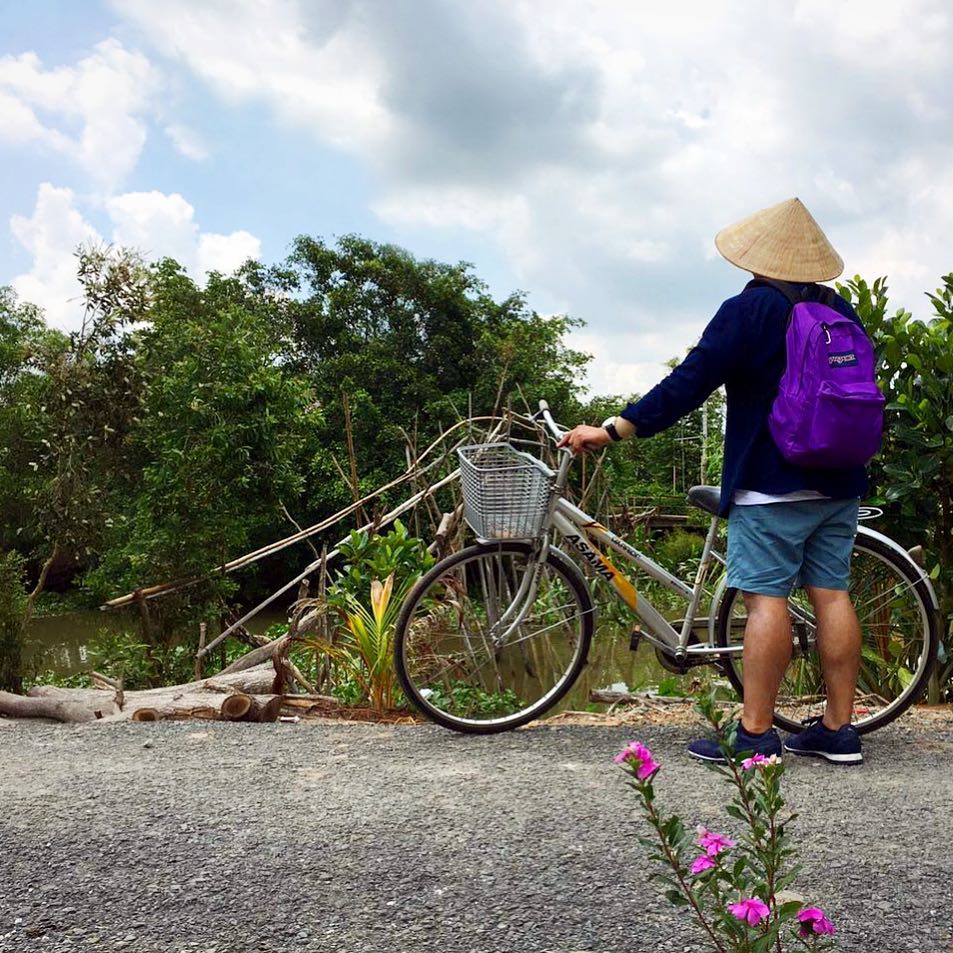 We once again boarded our boat to venture back down the river to return to our host's home. We spent so much time exploring that our planned late lunch had become an early dinner, and I could not wait to return back to enjoy a family-style meal. There was sliced fresh fruits for dessert, as well. I am most grateful to Mrs. Nhu for preparing the delicious meal. If these dishes are "common" Mekong Delta meals, than surely every meal is a feast.
The Journey Home
It took us 1.5 hours to get back to Ho Chi Minh City. I cannot thank Jack, my guide from Inspitrip, enough for showing me a very authentic Vietnam. I also want to thank our driver, Mr. Thuận, for working overtime on Labor Day. I had so many feelings as Jack and I made our trip back to the city. This area, which was so unfamiliar at the beginning of the day, had become recognizable. I seemingly felt safe in the unknown. Leaving the Mekong Delta, like any other place we venture to as travelers, was certainly bittersweet. Goodbye is hard, but I hope to return to this stunning country with Jack for another amazing experience. About the author: Gian Karlo Antalan is an engineer from Philippines who is currently working in Singapore. He loves traveling and keeps track of his trips by photos. You can check out his heartwarming photo diary on Instagram. Wanna listen to another authentic journey with Inspitrip? Visit our article on one day Mekong delta tour experience Interested in vivid local life of Mekong Delta? Book the non-touristy Mekong Delta tour now!