Why you should get off the beaten path in Mekong Delta Vietnam
During my seven-month trip to Southeast Asia, Australia, and New Zealand, I unexpectedly found a job in Ho Chi Minh City. I decided to stay and call this place my new home. My parents came for a visit while I was teaching here. As I had already been to most places so I was not interested in joining them for the entirety of the trip. However, my mum heard of Mekong Delta was really excited about going there. It was also very close to where I was living so I only needed one day off from work. As I had never been there and it was a perfect destination for a day trip, so we decided to have a Mekong Delta tour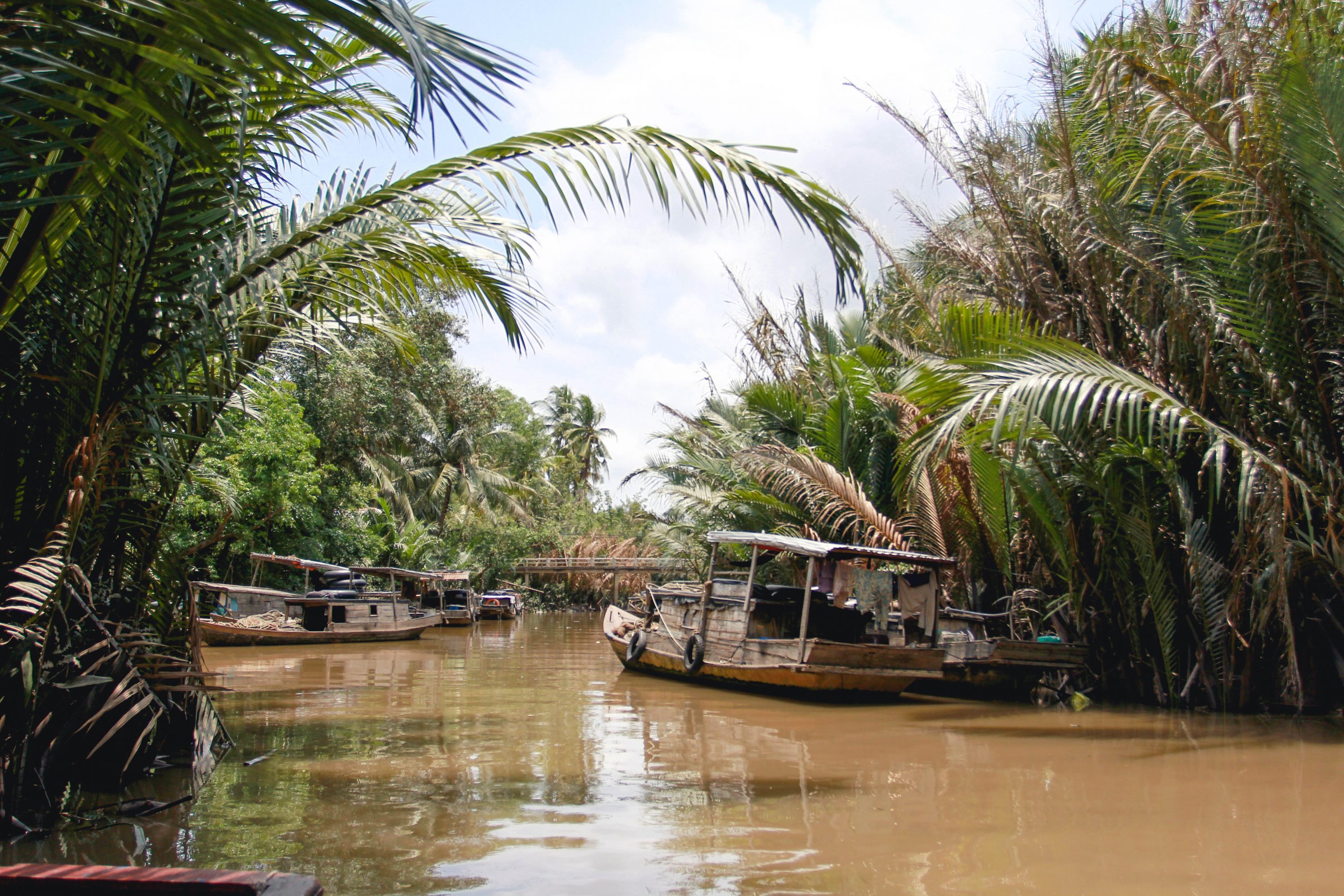 Avoiding the touristy path was my best decision
I had heard of the famed floating markets. I was excited to venture down the river, as the boats are able to meander down the waterway with lush greenery on all sides. The "Nón lá" (Vietnamese conical hat) is symbolic here as well as the rich cuisine culture, all of which I was looking forward to devouring. I could not wait to leave the bustling city behind me for the day to enjoy the Vietnamese countryside.
Unlike the hectic drama in the metropolis, Mekong delta exudes a friendly and genuine vibe that makes me to feel that I truly live the life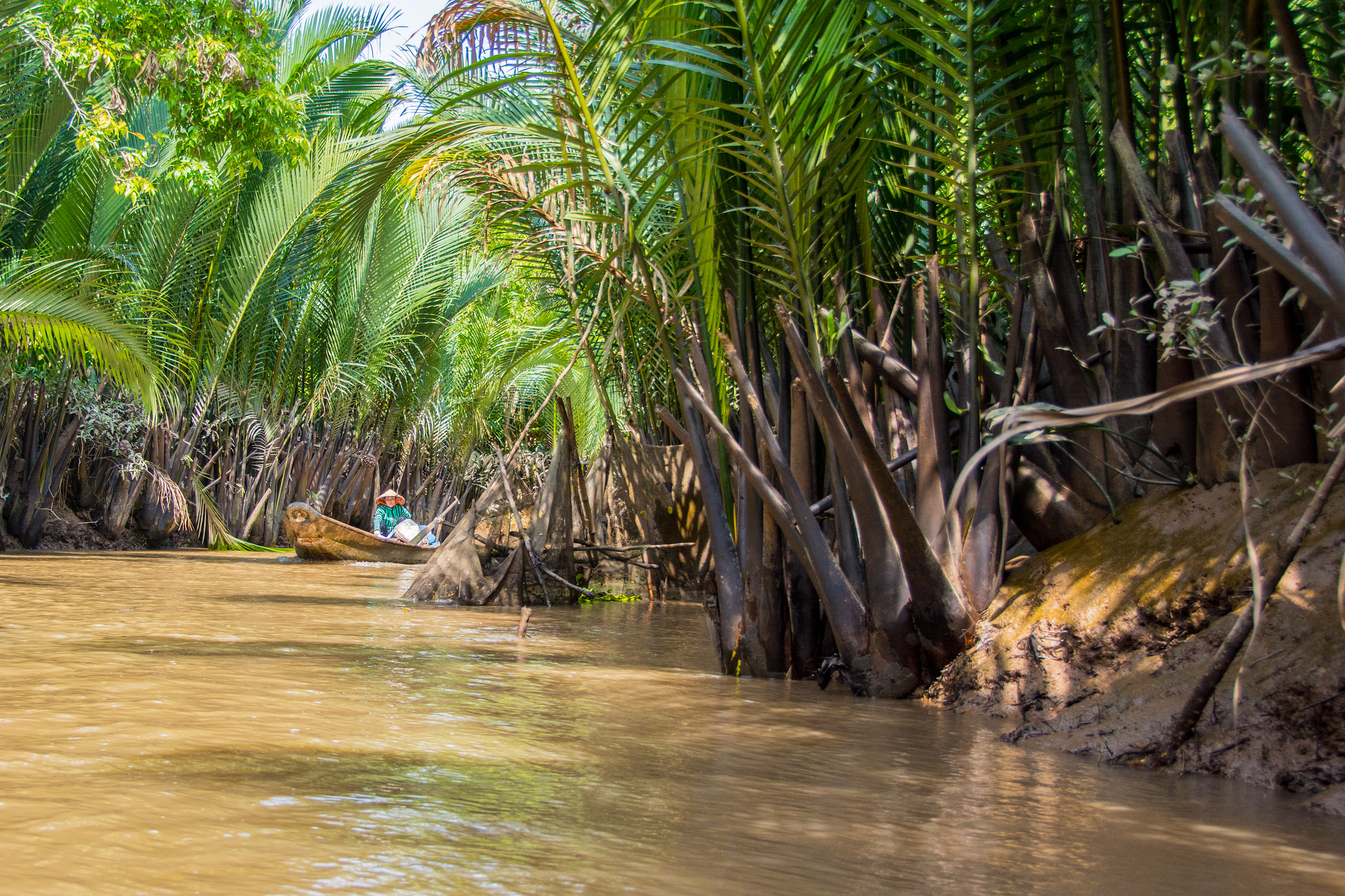 I am a backpacker myself, so I had no problem planning the trip on my own in typical backpacker fashion. That being said, my parents did not want to be crammed onto a bus or sitting on a boat surrounded by other tourists. We feared that if we booked a package with a tour company, we would be bombarded with things that were less than authentic. My parents finally asked if we could look for a private tour. It was then that I stumbled upon a blog post shared in an expat community group. The article reviewed a day trip to Mekong Delta, where visitors were not taken to any of the tourist hot spots and the groups were small and intimate. This was exactly the type of tour I was looking for: one that was authentic and led by a real local.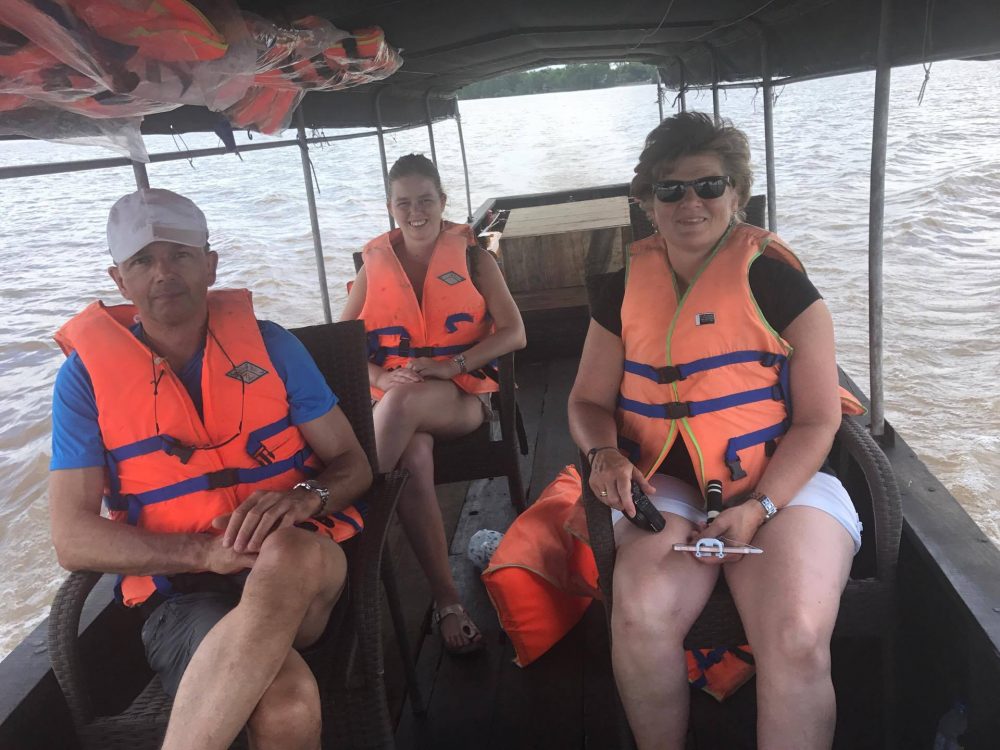 I had every intention of booking the guide I had read about in the article, but to my dismay, he was unavailable at the time. The Inspitrip support team was quick to connect me with Vi. She has loads of experience in organising family-friendly tours, and all of her reviews were excellent. Through some exchange messages, I could sense that Vi was friendly, reliable, and was knowledgeable about the area.
I'm glad to have Vi as my dearest companion to explore all the hidden gems of this land
Vi helped me have the most authentic experience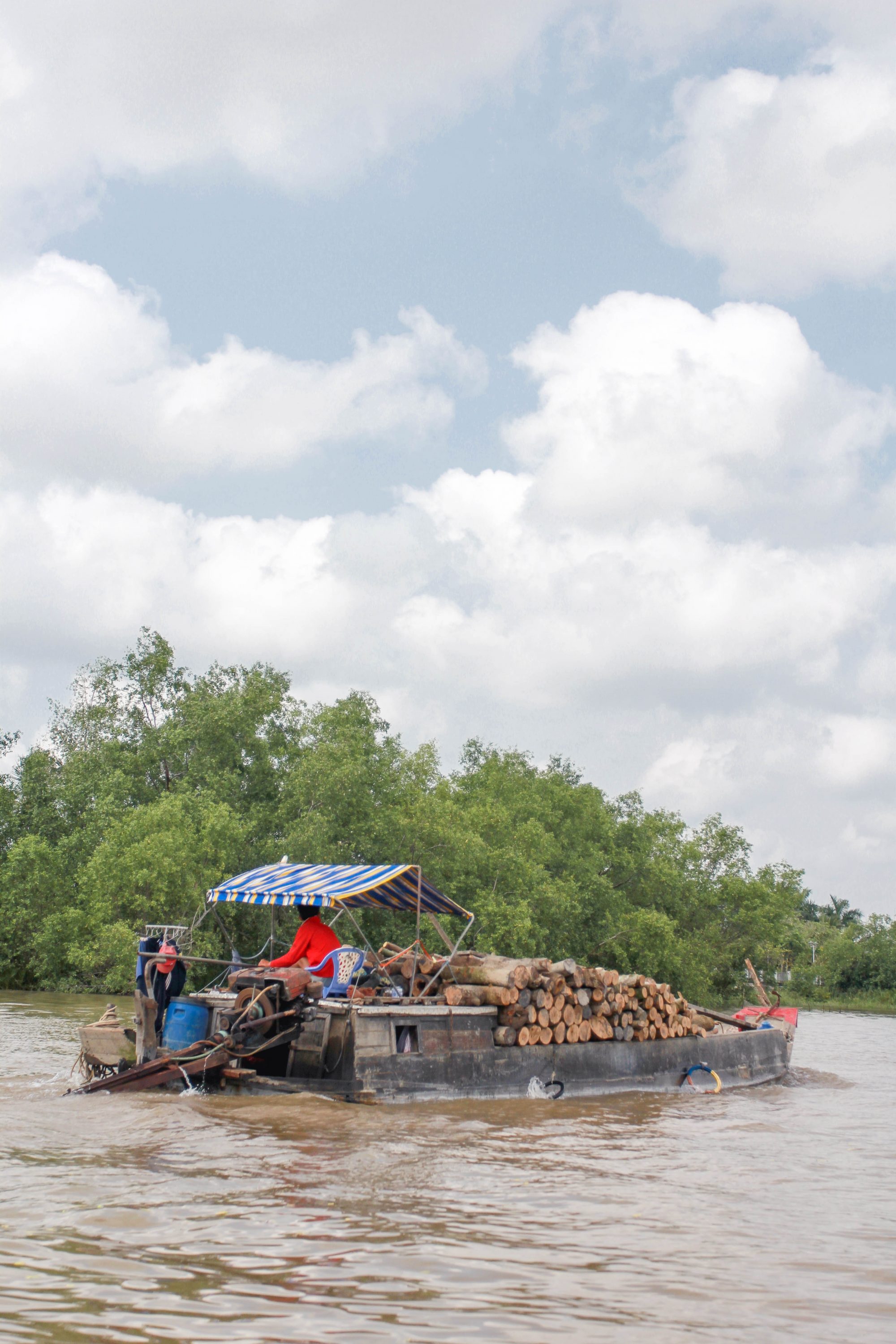 Tired of chaotic crowds of tourists? No worry at all, let Inspitrip help you get your non-touristy dream escape to Mekong delta!
Our journey began at 9:30 a.m. Vi picked us up from my parents' hotel. During the commute, Vi gave us loads of information about the Mekong Delta and Vietnam. She told us about the tombs we saw a lot on farmland. She also explained how elderly people oftentimes want to be buried on their own land so the children cannot later sell it and that it stays with the family. My parents' English isn't great, but Vi spoke clearly and slowly. They were easily able to understand everything.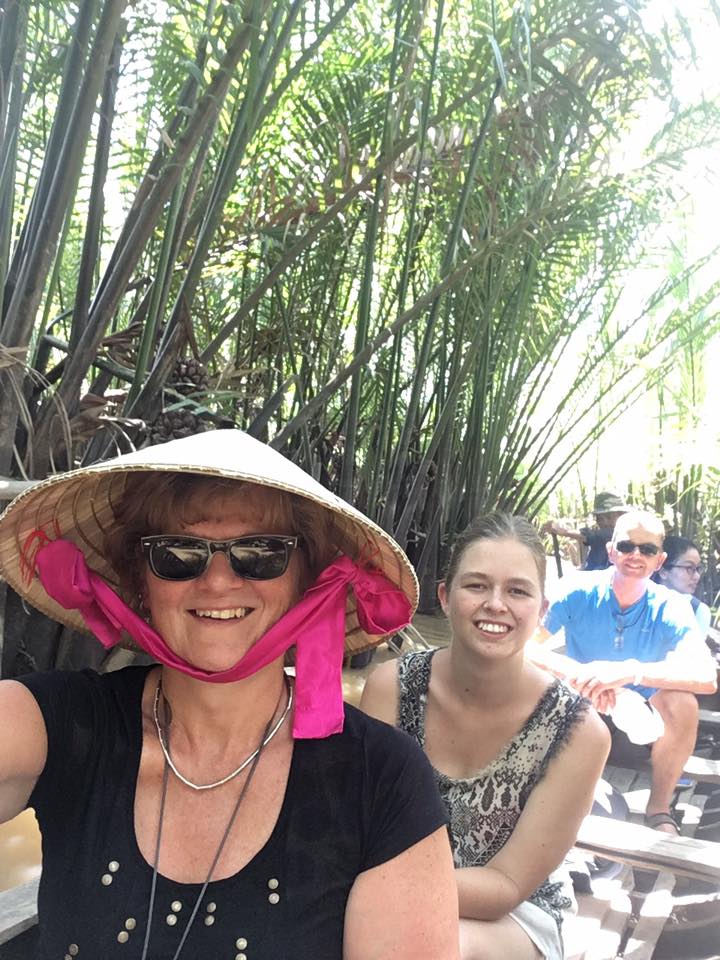 Upon arrival, the four of us climbed aboard a small boat and began our journey through the Delta. I fell in love with the landscapes. We had finally managed to escape the city, and I could see how delighted my parents were to leave the noise, traffic, and chaos behind them as we travelled down the river. We exited the boat at a coconut stall, and Vi told us about how symbolic and important the coconut is to those locals who dwell on the Mekong Delta. That is why coconut trees can be found lining the banks of the river.We then visited a broom workshop. It was impressive to see how the locals work here. It was so different from what I was used to seeing in Saigon and even back home. We really got to experience what local life is like here on the Delta and learn what is it that people do on a daily basis to make an income.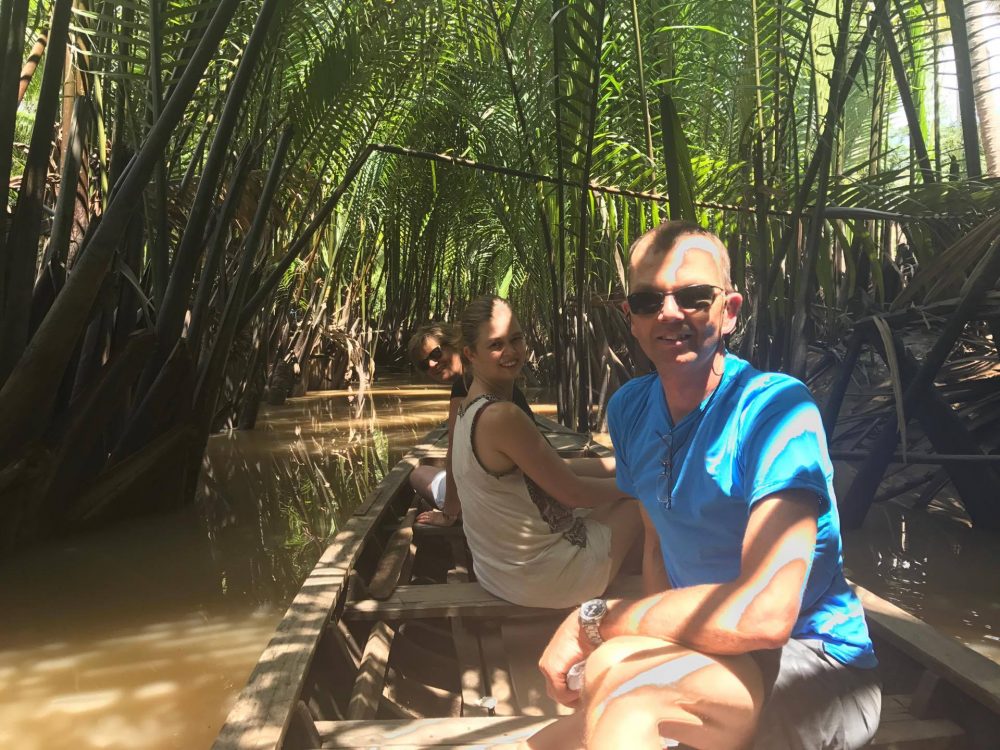 After the broom workshop, we climbed aboard yet again for another boat ride through the scenic and dense forest. We purchased tropical fruit at a picturesque stop and later had a delicious lunch. The amazing cuisine was one of the highlights of our trip. Pomelo, one of the fruits we devoured on our journey, is my absolute favourite. The coconut was also delicious. While we were eating, the woman from our homestay showed us how to make our own spring rolls with noodles, fish, and vegetables. I was told that this dish is a speciality on the Mekong Delta. The fish was absolutely amazing. We took to our bicycles after lunch and rode around town to see how the locals live. Riding a bicycle compared to taking a car is a much easier to see the surrounding area, as you can stop and observe as you please. A local man gave us a lesson on how to climb a coconut tree, and his skills were so impressive as he shimmied up to the top of the tree to retrieve the fruit.
I feel very connected with the locals
I learned so much about how the locals live in the Mekong Delta, and Vi was an excellent guide. By booking a private tour, we had the chance to ask all of the questions that came to mind without worrying about slowing a group tour down. She explained everything to us and we did not miss a single detail because the experience was so intimate. It is hard to interact with the locals because I speak very little Vietnamese. Thus, it was amazing to have Vi there with us so we could actually interact with the locals. I was able to ask Vi questions that she could relay to them, and it was truly an amazing experience.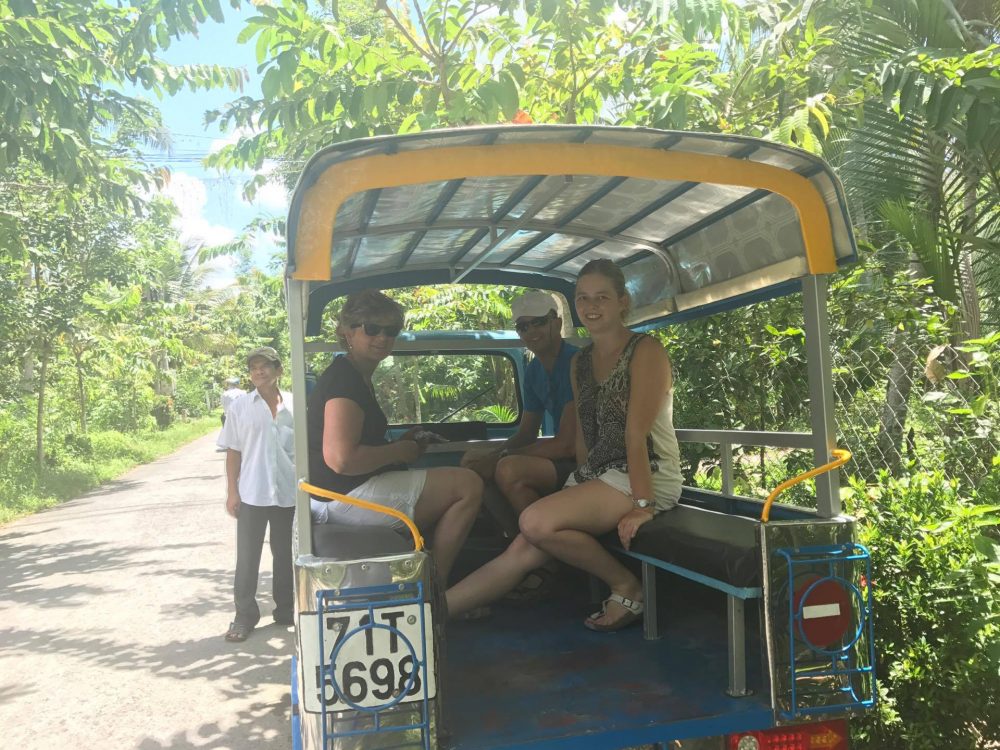 We were on a tight schedule so we did not have much time to interact with the locals. Thanks to Vi, however, the time we did spend meeting the locals was certainly memorable. We got to ask them questions, and they asked us questions in return. All of the locals were hard-working and were extremely friendly. We all really connected with the woman who made us lunch. We even left the meal with some cooking skills of our own. The host spoke no English but still made everyone feel comfortable. We never felt like a tourist during the entirety of our trip. Our interactions with the locals were authentic and respectful. In the end, it was truly an amazing experience.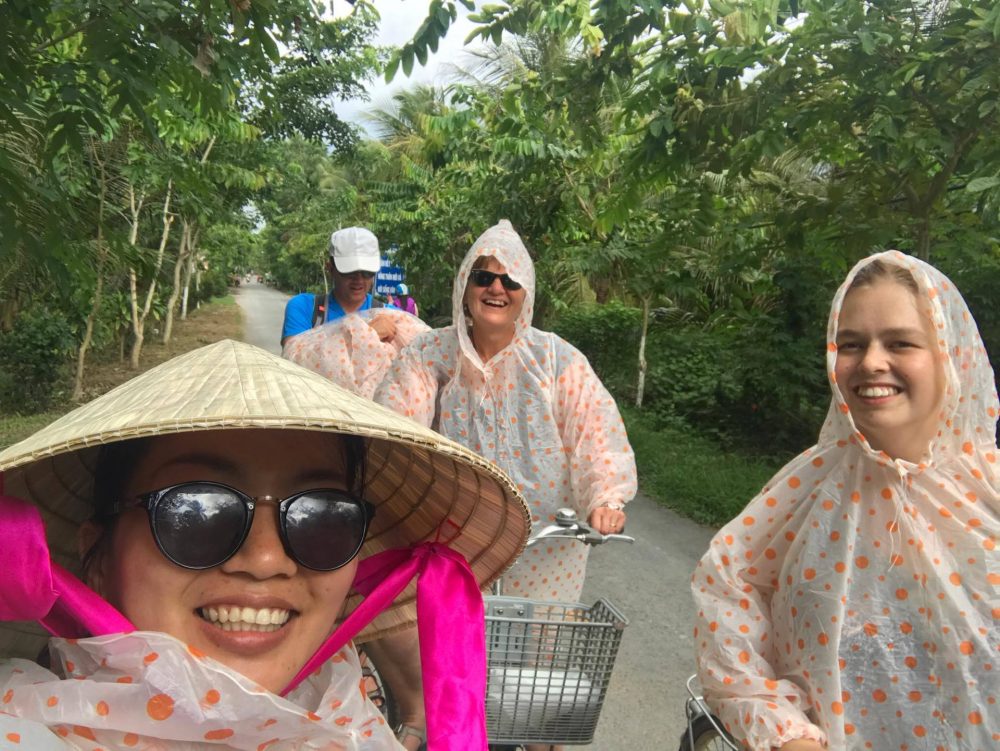 Conclusion
My family and I had an amazing journey with Vi. My parents had impressive first impressions of Vietnam because of her.  I highly recommend everyone to book locals like Vi via Inspitrip for off the beaten path experiences. Even though I have been abroad for quite some time, this has been one of my most memorable travels. Written by Angela Tol on 26th June 2017. The article is part of Inspitrip's local series in which we caught up with travellers and encouraged them to share their stories with our readers.