Visit Venice of Bangkok- Amphawa Floating Market
If you happen to be in Bangkok on Friday, Saturday, or Sunday, then visiting Bangkok's weekend market must be in your "To Do" list. Tourists can easily find plenty of open markets in the weekend right in Bangkok center. Floating markets, on the other hand, require a day trip to the rural area of the city, where foreign visitors can witness the most traditional and authentic trading methods of Thailand. Damnoen Floating Market, the most well-known floating market in Bangkok, however, has become less traditional and more touristy lately. Amphawa Floating Market, on the contrary, keeps a perfect balance between locals and tourists. For a touch of the most authentic Thailand, this is your best bet.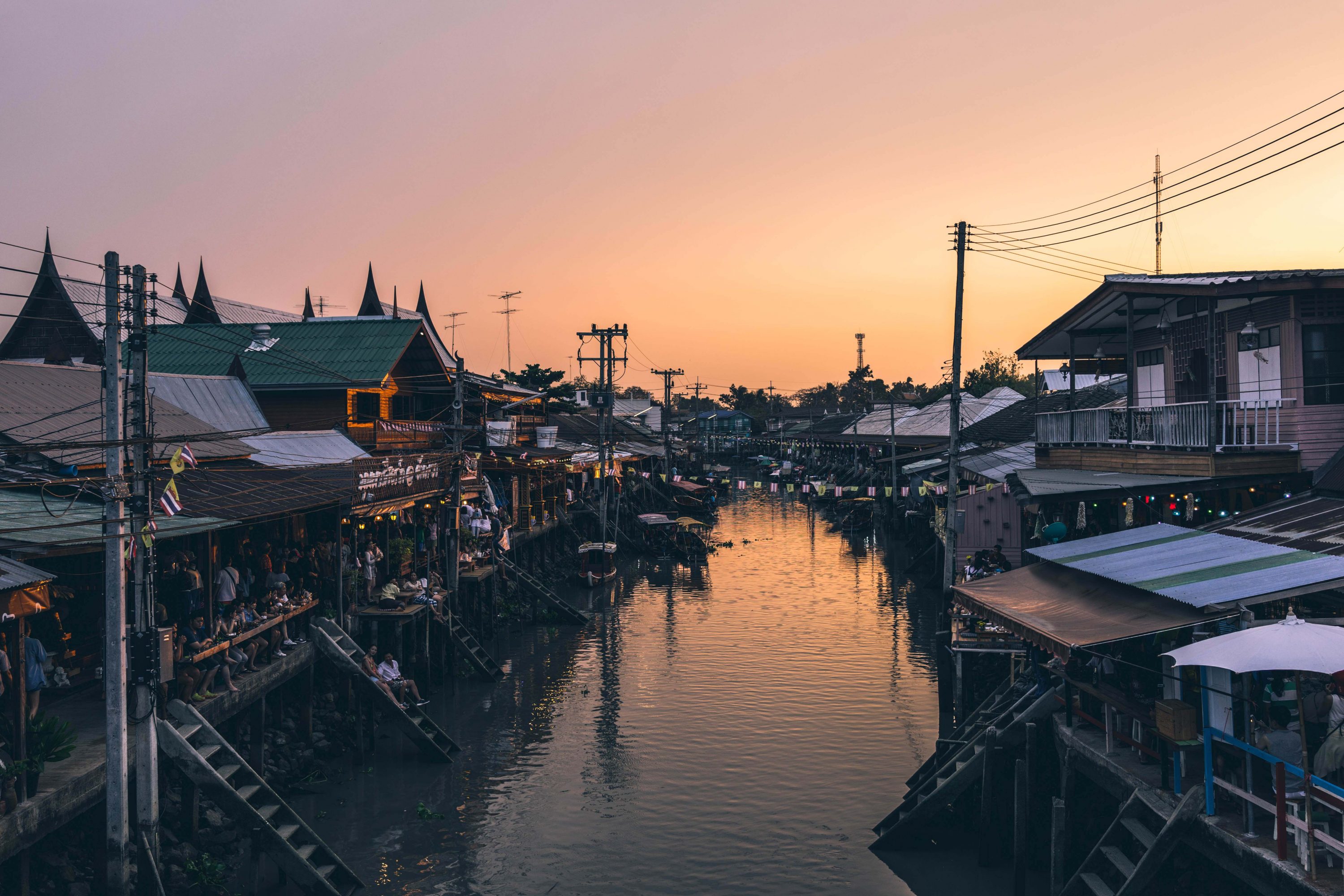 Around 90 minutes by bus from Bangkok Center, in Samut Songkhram, lies your city escape. The market is 50 km long and the canal is filled with boats that offer visitors all kinds of food, (from grilled seafood, fresh tropical fruits to sweets) as well as hand-made souvenirs.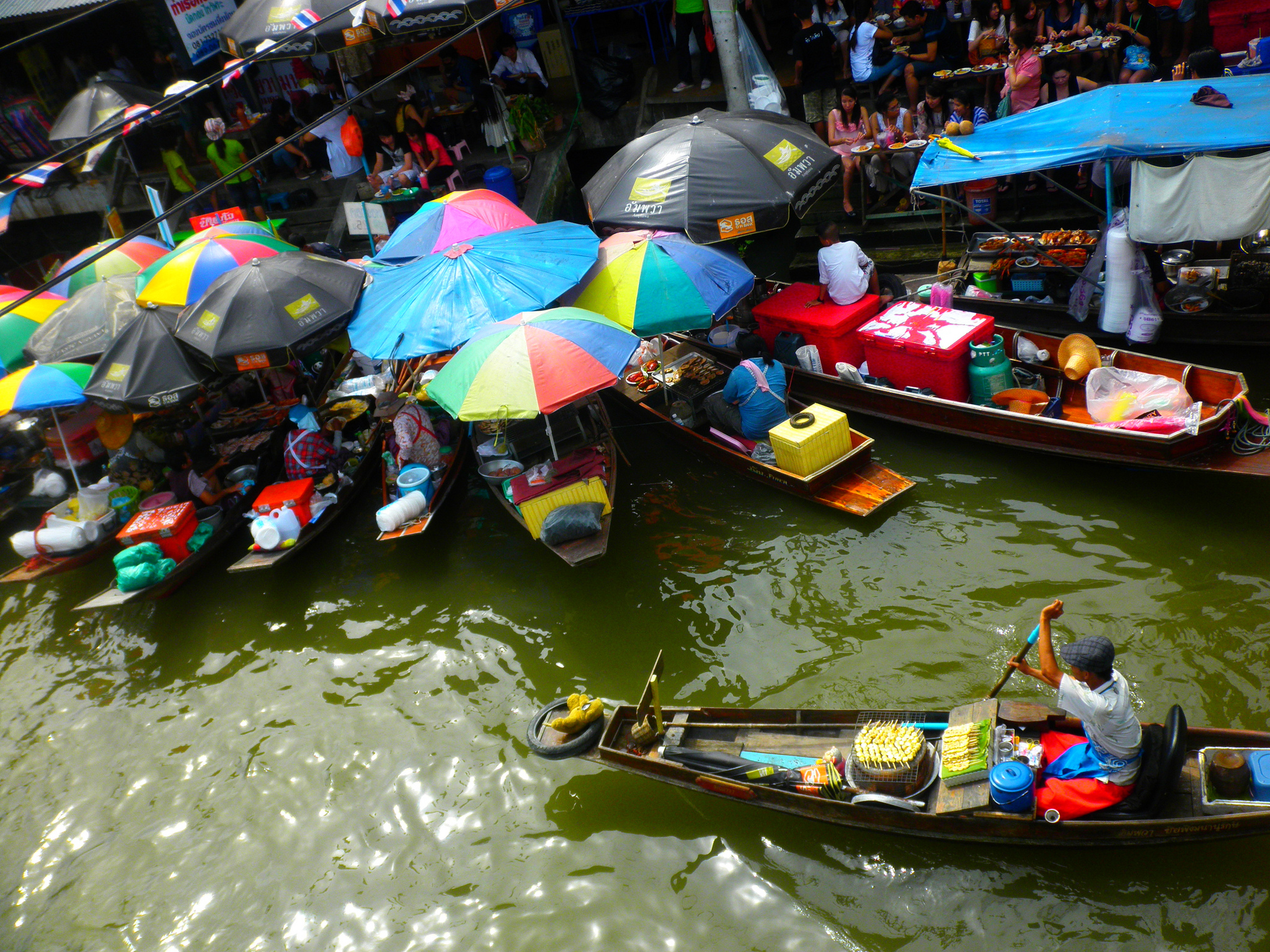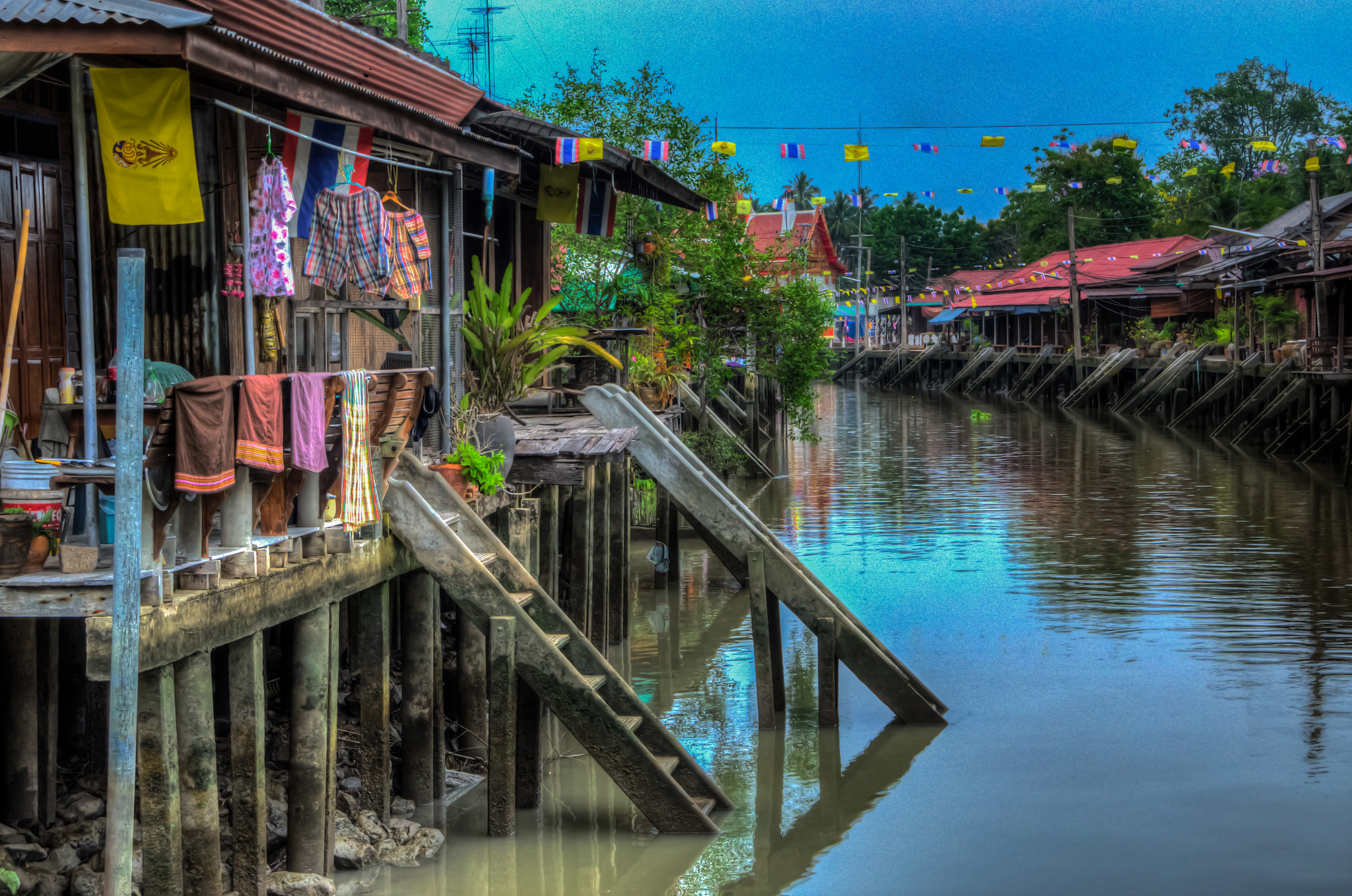 When to go?
The market is open on Friday, Saturday, and Sunday, from 9 AM to 9 PM. The last bus going back to Bangkok center leaves at 9 PM as well. Depends on what you want to experience at the market, should you choose when to visit.
10 AM- 3 PM is the best time for getting the best fresh food of the day. However, this is also the rush hour of the market. Under the Thai summer, it can be unpleasant to walk in the crowd and listen to all the noise.
4 PM onwards is the best time for exploring the market and its surroundings. It is not as busy as some boats will be leaving at this time.
In the evening, the market is much less crowded, with less trading activities. However, at night, the market looks exactly like in any old Chinese movies, with the lanterns lit up along the canal side, as well the bridges.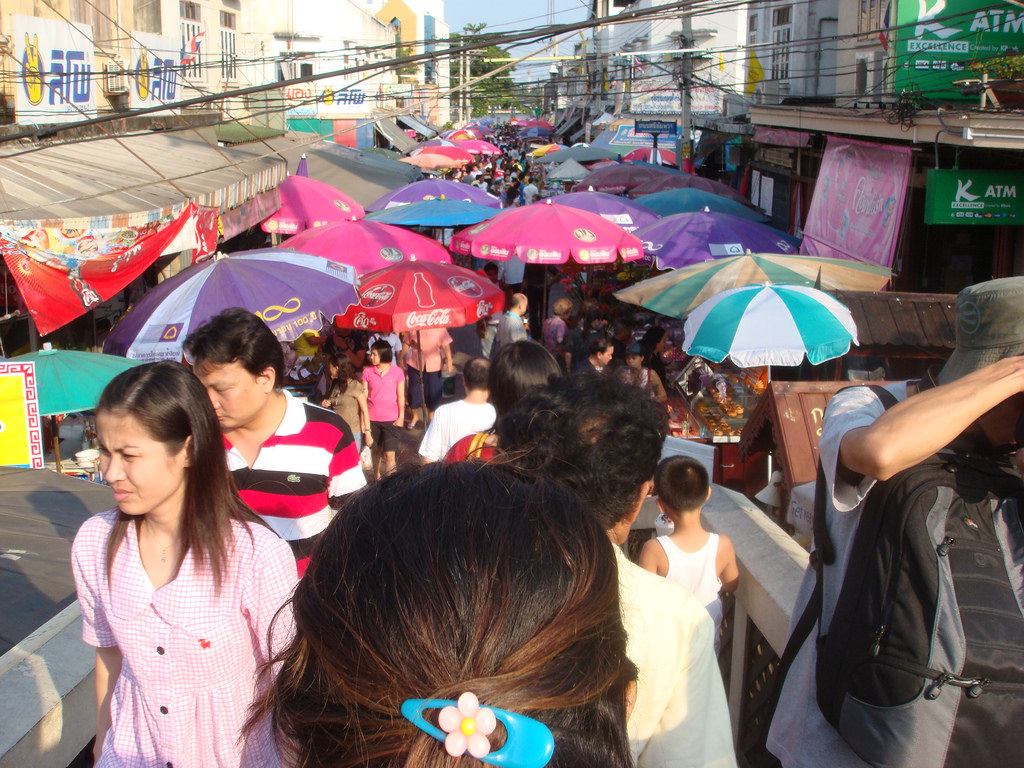 How to get there?
Minibuses are the easiest and cheapest means of transport to the market. The buses leave Bangkok at 2 stations: Mo Chit bus station and Southern (Sai Tai Mai) bus station. The price should be 90 baht for getting there and 100 baht for coming back. Depending on the traffic, it can take from 1.30 to 3 hours to travel between Bangkok and Amphawa Floating Market. Check out these best Bangkok floating market tours offer by Inspitrip to truly enjoy tons of local insightful:
What to eat?
The abundance and diversity of food are what puts Bangkok on the map. Amphawa market is no exception, possibly even giving you better options than what you would find in the city center. One of the specials at floating markets in Thailand is seafood. They are purchased directly from the fishermen, or at the seafood market in the early morning, where they are still alive or were just caught the night before. Walking through the market, visitors can find fish, squids, prawns, crabs, snell and many other seafood options being grilled. Seafood is incorporated into numerous of dishes, creates a party for food lovers.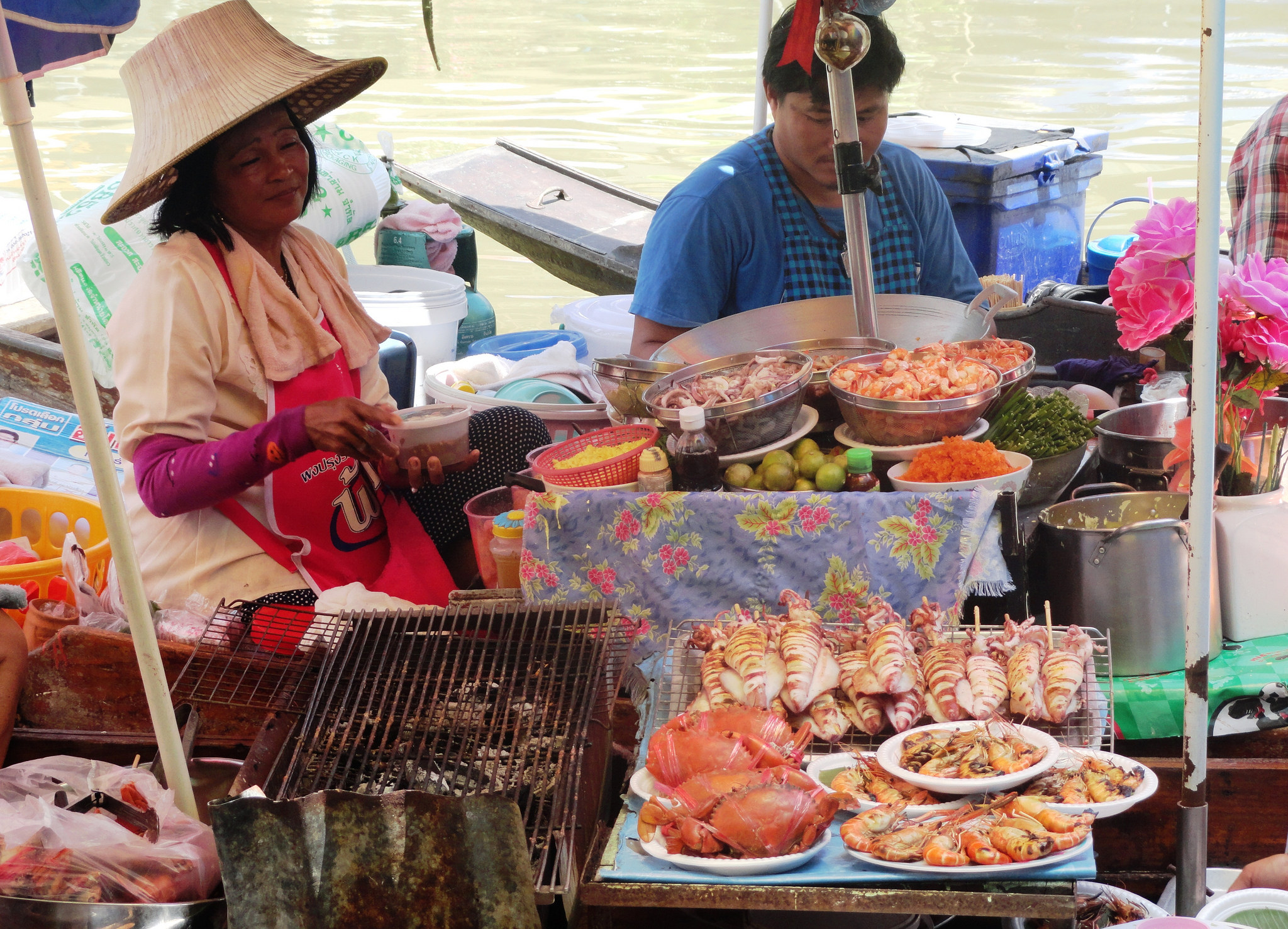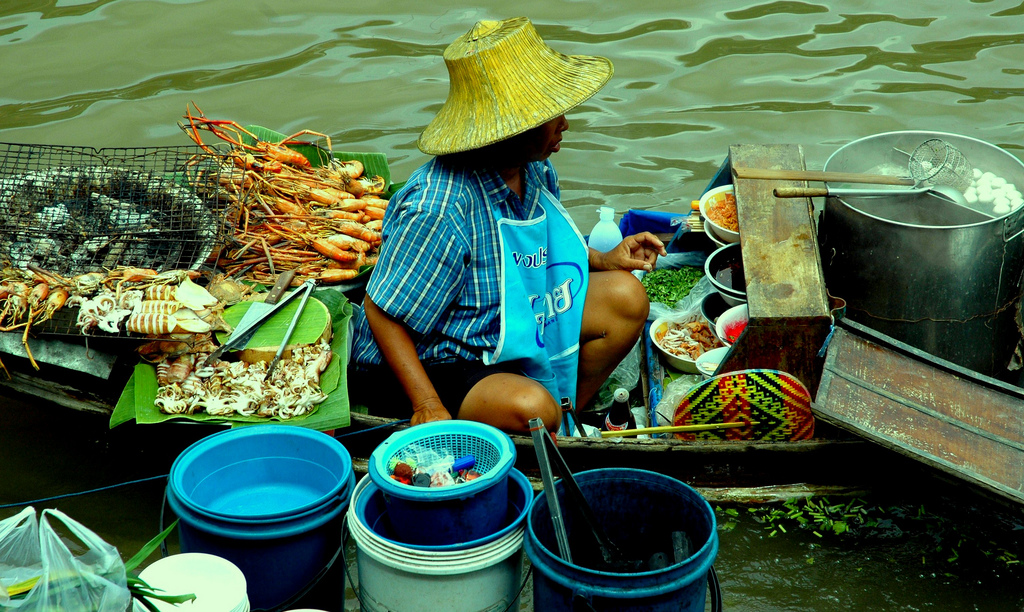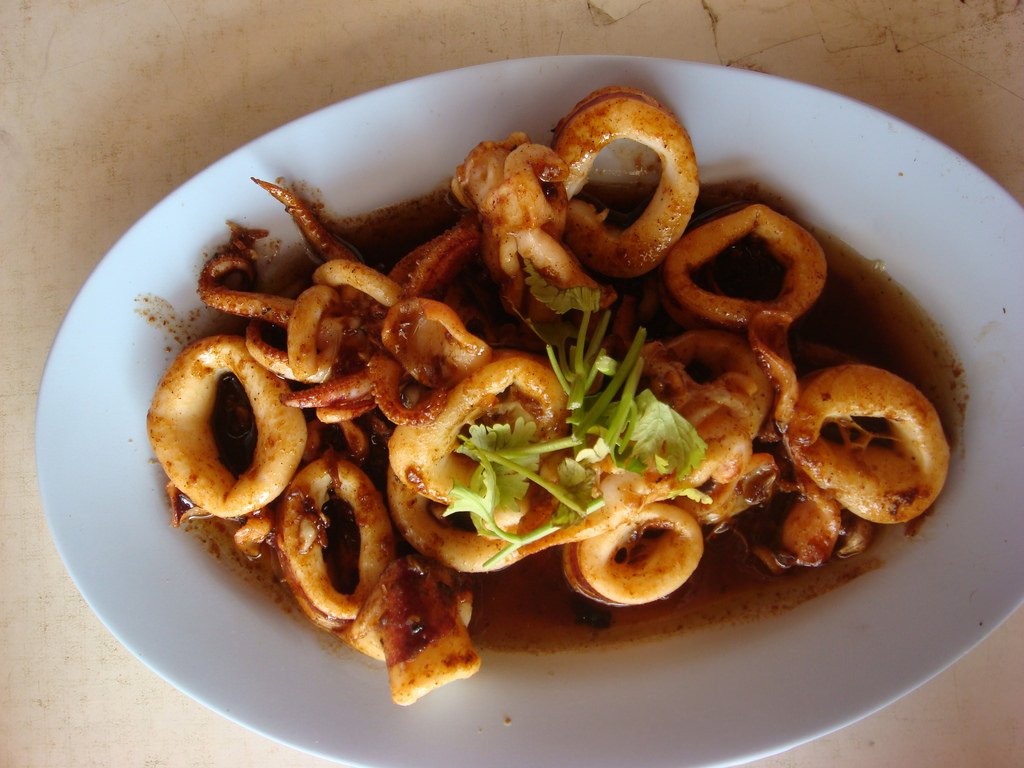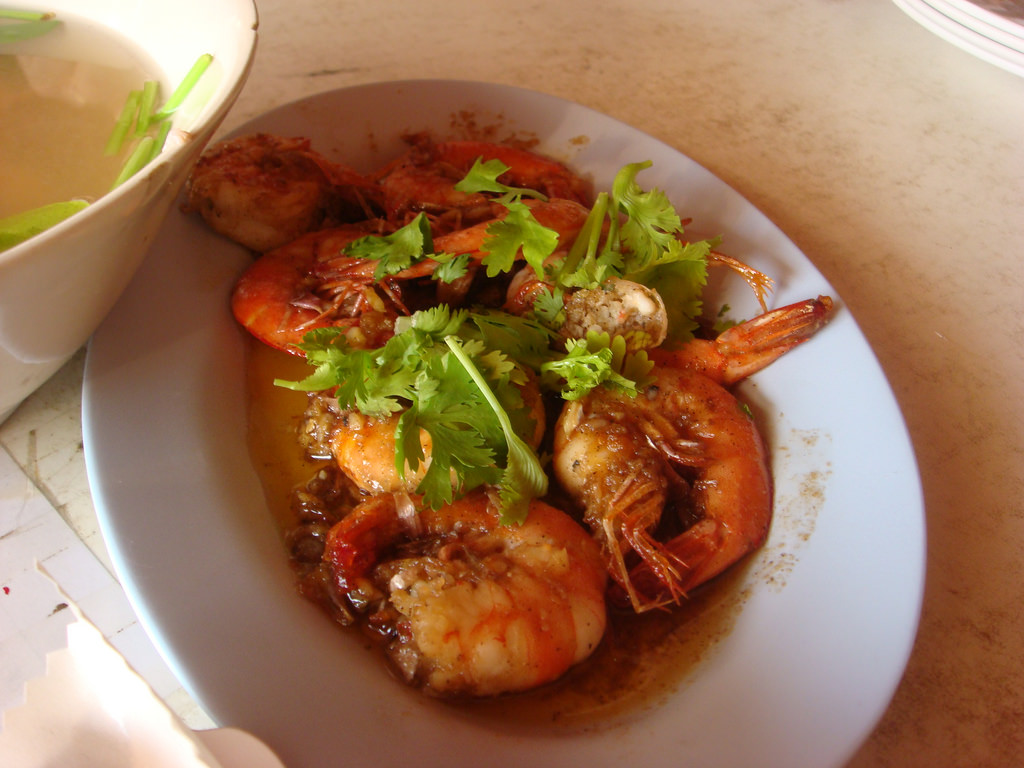 At the market, food section is not limited to just seafood. Visitors can find every traditional Thai dishes, like Pad Thai, Tom Yum Soup or Papaya Salad. The average price for one such dishes is around 50 baht. It is normally around 300 baht to get a big set grilled seafood as your choice.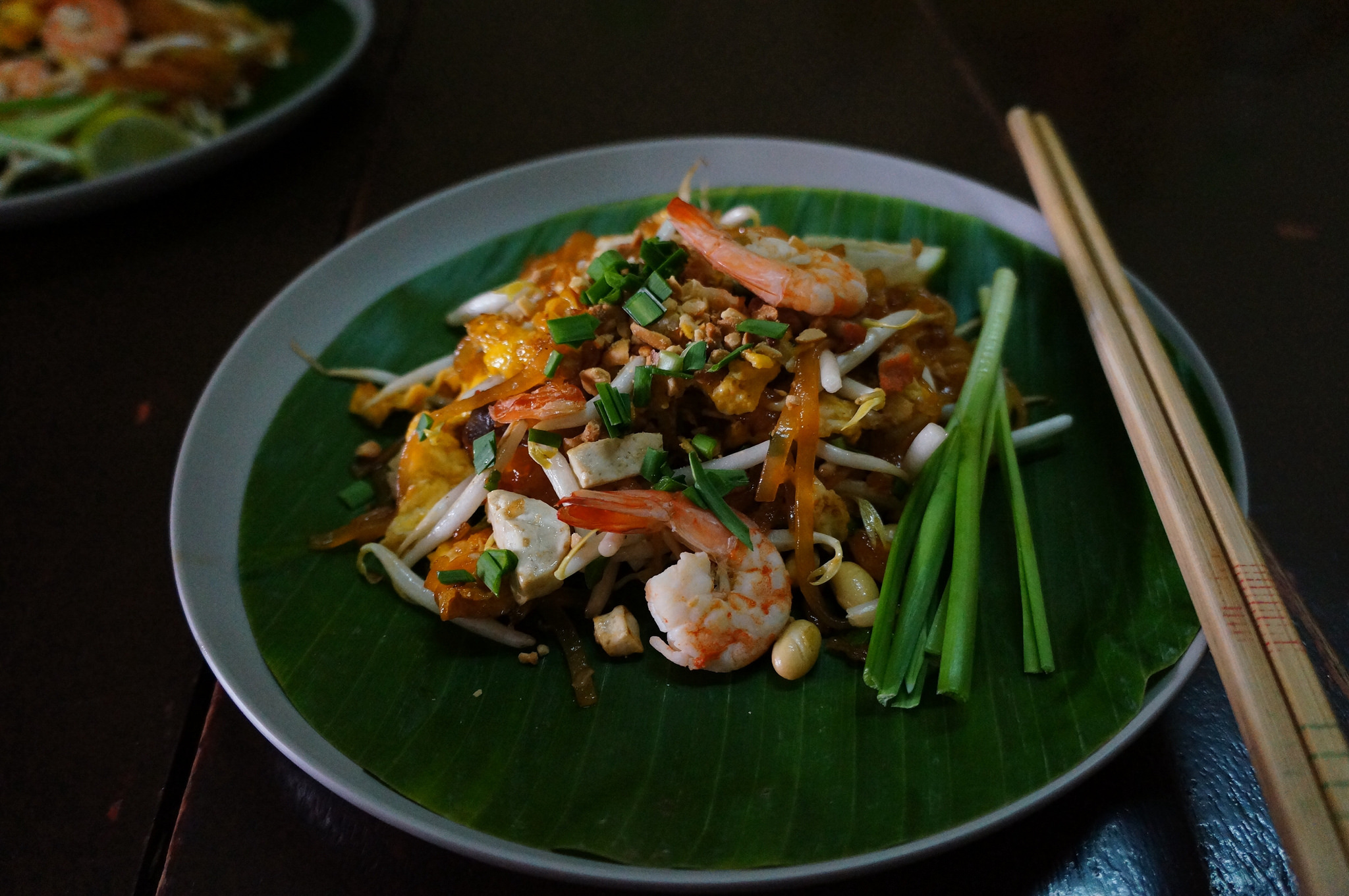 Tourists can choose to sit at small plastic tables and chairs by the side of the canal that ar provided by the boat owners or order food in actual restaurants. The restaurants are a bit further from the canal area, where most of the activities take place. Besides seafood, you can also find fresh fruits.Thai fruits are obviously too famous among tourists already, so you certainly don't want to miss the chance. A fresh coconut, from which you can drink is 20 baht. You also should try coconut ice cream, which is topped with peanut and dried coconut at around 30 baht. Overall, with less than 700 baht, ~$22, you can feel confident that you can eat from morning straight to evening without the worry of running out of food or money. It would be even less if you just visit for half a day.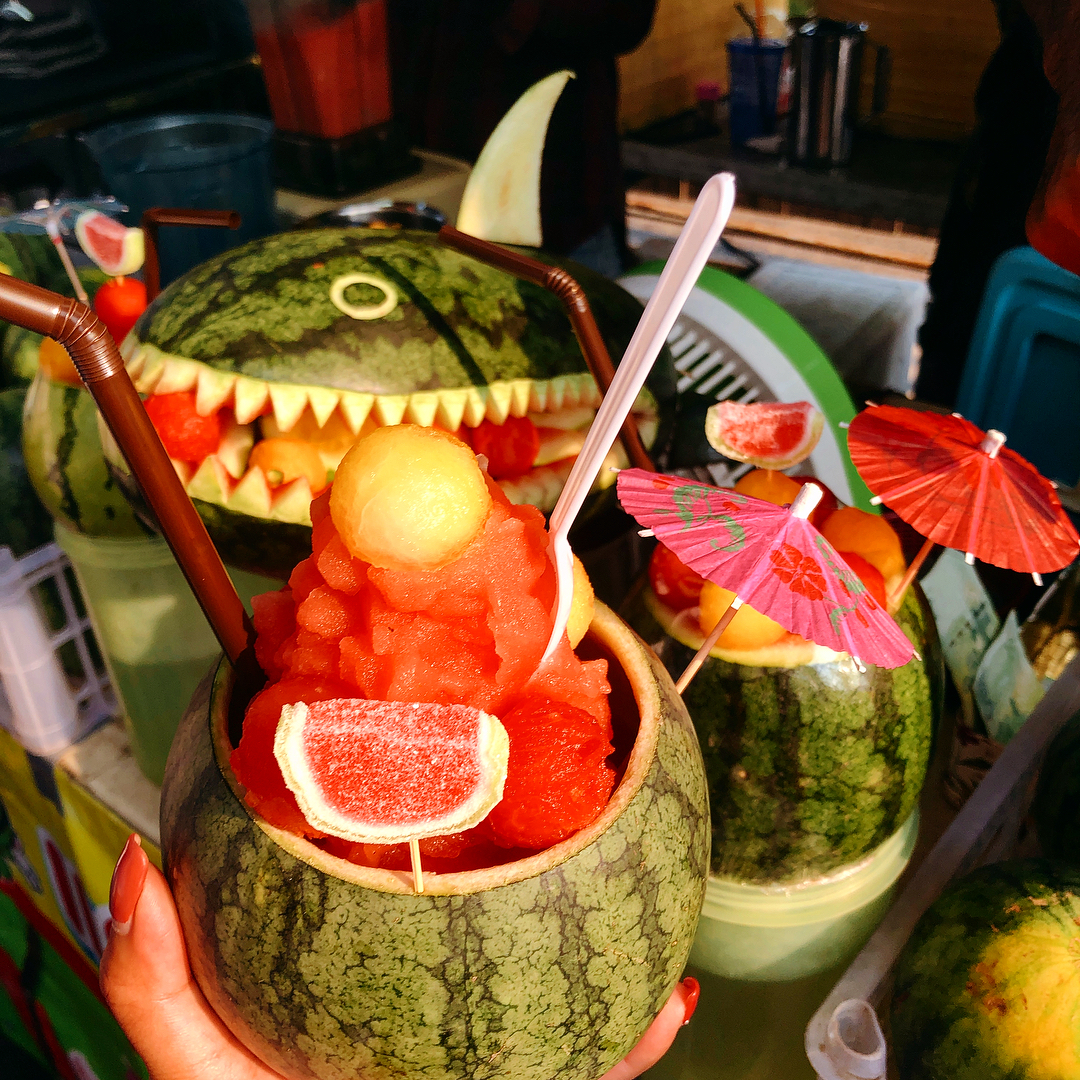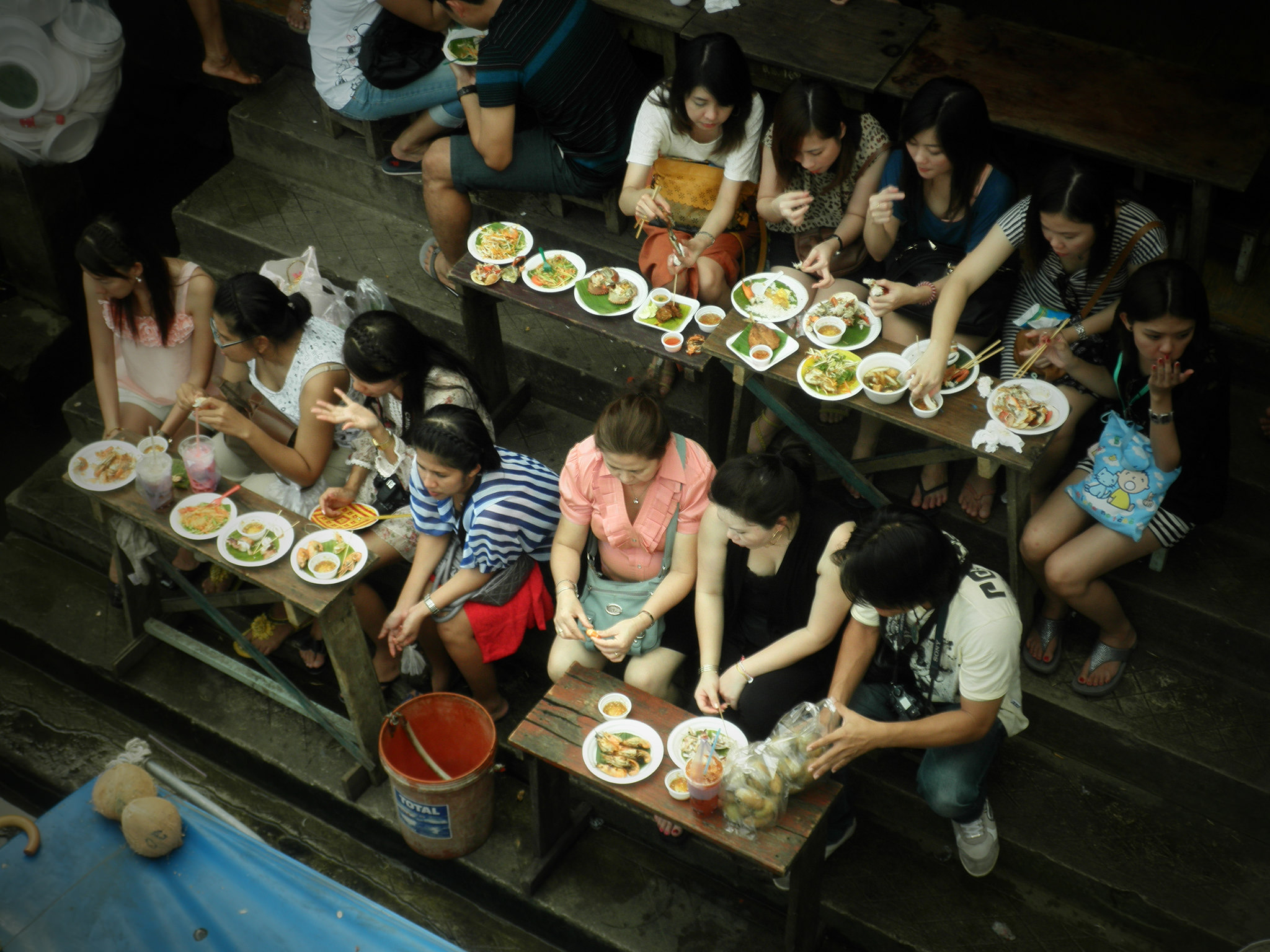 Where to visit?
The floating market is not the only attraction this area offers. Here are some fun places to explore and some marvelous sites to visit: Boat tour: A private tour can cost around 500 baht, but with less than 80 baht you can you get yourself a seat on a shared Thai long-tail boat. The boat tour will take tourists around the area surrounding Amphawa market. You will be able to see rice fields, coconut palms, and some traditional buildings loacated by the riverside. It is a very rural Asian view that is extremely different from the busy and noisy Bangkok Center. The boat will also take you to visit a famous temple, Wat Bang Kung. The tour should take around 1 hour.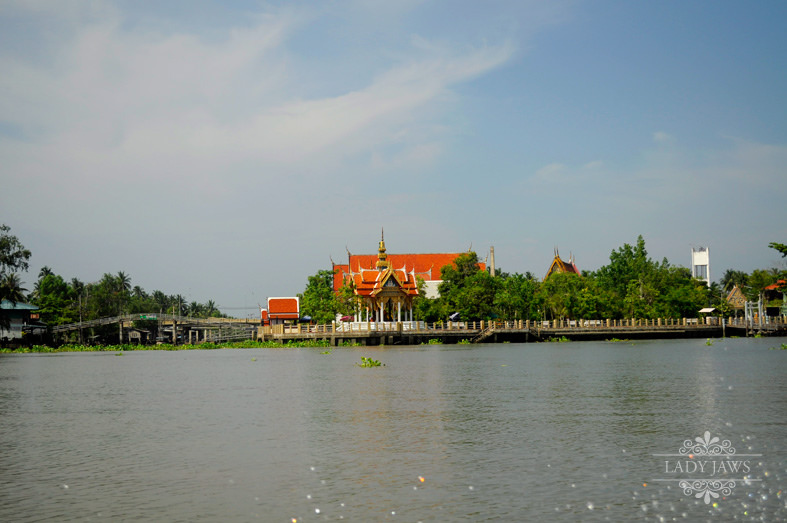 Wat Bang Kung: Is a temple hidden within the roots of a banyan tree.The temple is like a small version of Cambodia's Angkor Wat. The area is preserved by the government as it is a historical and memorial site dedicated to heroic warriors of the Siamese and Burmese war in the 18th century. Nearby the temple is a small zoo, home to animals such as monkeys, birds, and camels. There are also some impressive temples within walking distance. The boats normally wait around 1 to 2 hours to take passengers back to the starting pier. Meaklong Railway Market: A bit further away (around 30 km) from Amphawa Floating Market is a market that sets on two sides of a railway line (which of course has ceased operating). If you are a true explorer, here would be worth a visit. You can reach the railway area by taking a taxi right in front of Amphawa Floating Market. It is a very traditional market where buyers are mostly the locals. There is not much of in terms of ready-to-eat food as it is literally a fresh market, and not much of a tourist site. However, you can always buy fruits at a cheaper price here. Bear in mind, the locals here most likely won't be able to understand English. The atmosphere is much more relaxing, quiet, and slow compared to the Amphawa Floating Market, which makes it a perfect and unique site for your photography. It would be wise to visit the Maeklong railway market before moving to the floating market.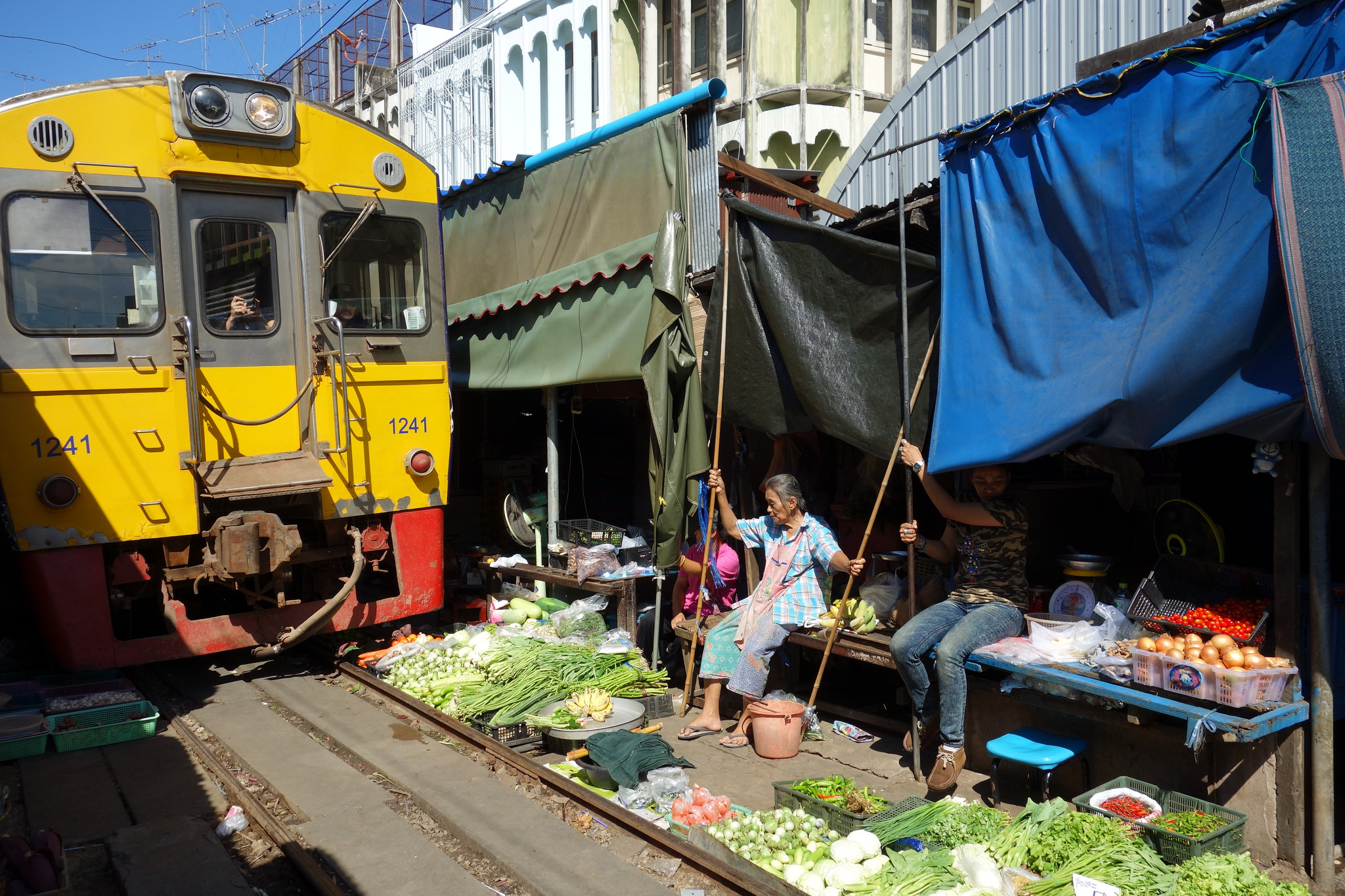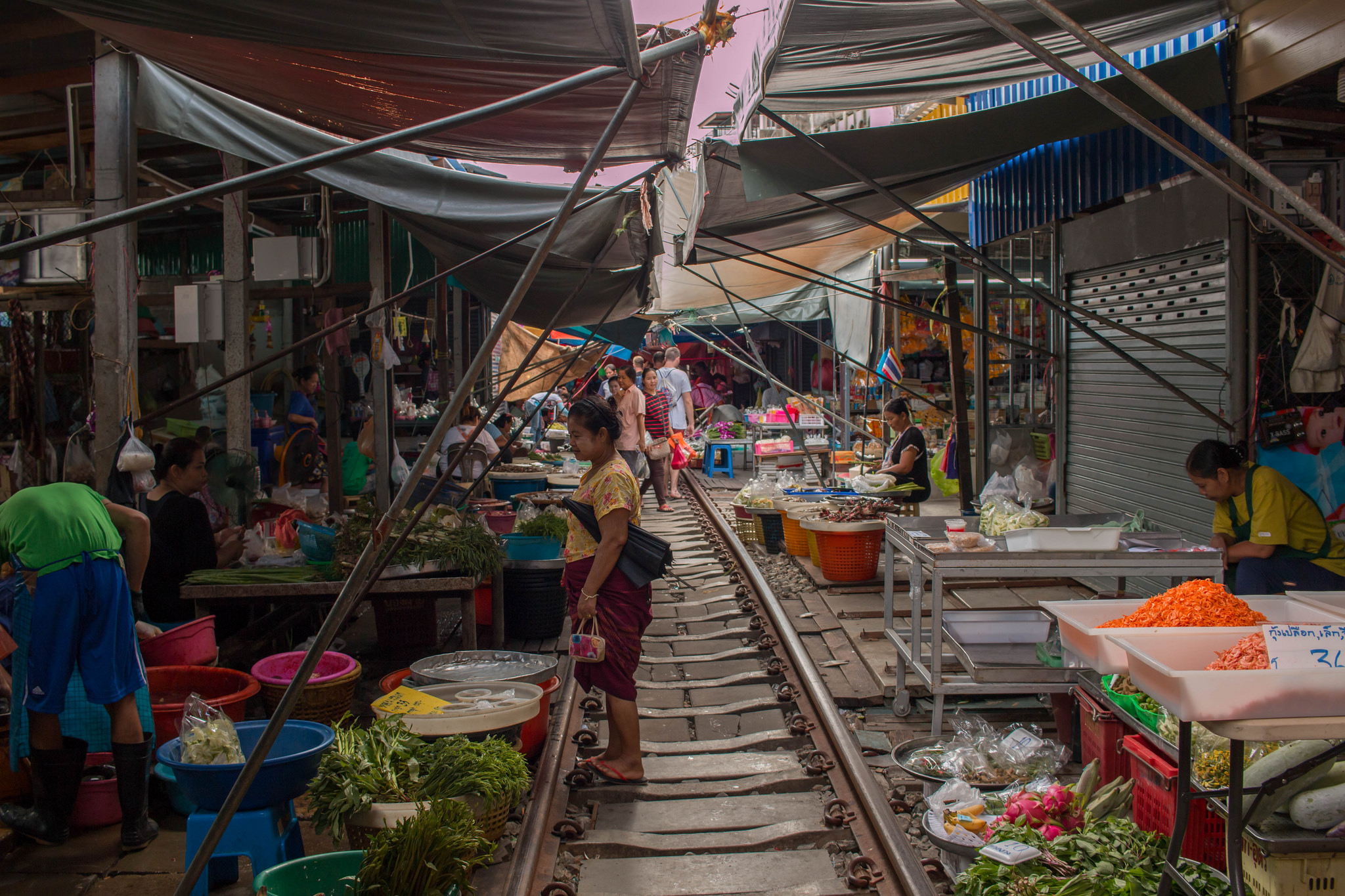 There you have it, a quick, fun and delicious day away from the hustle and bustle of Bangkok Center costing you less than 1000 baht (~$32). Keep in mind, this price is for a whole long day at the market, which you might not even need. Amphawa Floating Market is a very traditional spot that offers tourists good and cheap food, historical places, nature, and the lovely Thai locals. It is no surprise the market is getting more and more famous in the tourism industry. In the near future, the market can be in the same situation as the current most famous floating market- Damnoen, where it is now full of overpriced services and scammers. Moreover, as the area is not yet extremely well-organized for foreign visitors, it can be a bit complicated to explore around. Maybe it is not such a bad idea to make a local friend or local tour guide! Find your local buddy right here!