Vinpearl Land Nha Trang - All in One Destination That You Don't Want To Miss
If you have put Nha Trang - a coastal city with gorgeous sandy beaches in your bucket list this year, you should definitely add Vinpearl Land Nha Trang to your top things to do in Nha Trang list. Let's check out this ultimate guideline to discover Vinpearl Land Nha Trang - a perfect destination with a myriad of outdoor and indoor activities that will ensure you a day full of fun with your family and friends.
About Vinpearl Land Nha Trang
Vinpearl Land Nha Trang, which was opened in 2006 by Vingroup Corporation, a complex tourist destination includes 5-star resort, world-class amusement park, shopping street, food courts, luxury restaurants located on Hon Tre island of Nha Trang Bay. Vinpearl Land Nha Trang welcomes around 12,000 visitors per day and up to 95,000 visitors on public holidays. Because of its total area of around 200,000 square meters and stunning location on one of the most beautiful bays in the world, many tourists called Vinpearl Land Nha Trang is an entertainment paradise.
How to get there
You'll never find it hard to identify the location of Vinpearl Land because the huge symbol "VINPEARL" lies on the island and appeals as an iconic landmark when you're on Tran Phu Street. Located independently on Hon Tre Island, tourists almost choose cable car to save time and look around Nha Trang beach from above. In addition, you can also choose to travel by speed boat or canoe to Vinpearl Land in one way and take the cable car for the return.
Nha Trang Private Car Charter
Book now!
Cable Car
Start your journey with the world's longest cable car with a length of a whopping 3,320m that will take you across the sea from Nha Trang mainland to Hon Tre island. The stunning ocean view seen from 100 meters above, will certainly take your breath away. Each cabin contains 8 people and takes around 10 minutes to get to the entrance of Vinpearl Land.
Working hours: 08:30 AM - 09:00 PM, daily (last entry at 07:00 PM; last return at 08:30 PM)
Address: the cable car terminal has no specific address, it is located at the end of Tran Phu Street. You can check the map below for more detail.
Speed boat
Vinpearl Land has equipped many luxury and modern high-speed boats that will take visitors to the island quickly and smoothly. It takes about 7 minutes from the pier to arrive at Hon Tre Island. Enjoy the ocean breeze while you're on board!
Working hours: 24h / 24h (30 minutes/trip)
Address: Cau Da Marina - 01 Tran Phu Street
Ticket price: 350,000 VND (~ $16 USD) / one way/ person
Canoe
You can also choose canoe service for the journey from the mainland to Hon Tre Island and vice versa and it takes about 7-10 minutes.
Working hours: 8:00 AM - 10:00 PM
Address: Cau Da Marina Nha Trang - 01 Tran Phu Street
Ticket price: 1,000,000 VND (~ $45 USD) /one way/ canoe
Opening hours and ticket prices
Opening hours:08:00 AM to 09:00 PM, daily
Where to buy the tickets?
At ticket counter
Below are ticket prices applied for purchasing directly at Vinpearl Land Nha Trang ticket counter.
| | | | | |
| --- | --- | --- | --- | --- |
| Ticket type | Child (under 1m) | Children (Height between 1m-1.4m) | Adults | Seniors (above 60 year old) |
| Vinpearl Land Ticket + Round Trip Cable Car | Free | 700,000 VND ($31 USD) | 880,000 VND($39 USD) | 700,000 VND ($31 USD) |
| Vinpearl Land Ticket + One Way Cable Car | Free | 650,000 VND($29 USD) | 800,000 VND($35 USD) | 650,000 VND($29 USD) |
| Vinpearl Land Ticket + Round Trip Cable Car (after 04:00PM) | Free | 350,000 VND ($16 USD) | 450,000 VND ($20 USD) | 350,000 VND ($16 USD) |
Notes:
Visitors from above 60 years old. Please present identification to confirm.
For one-way cable car tickets, visitors have to self-sufficient the transport (speed boats, canoes, etc.) from the mainland to the island.
Online ticket
Another faster and more convenient way is to buy an online entrance ticket to Vinpearl Land Nha Trang via Inspitrip beforehand so that you can skip the line and get access directly.
Explore Nha Trang city in one day
Things to do in Vinpearl Land Nha Trang
Vinpearl Land Nha Trang amusement park
The amusement park is divided into 6 main areas: Water Park, Outdoor game area, Indoor game area, aquarium, Movie Castle and Performance Stage.
Tips from Local insider:
You should come to Vinpearl Land early in the morning because it will take you the whole day to explore the full range of activities and services here.
During peak season (June, July, and August), visitors are very crowded, for that reason you should go early to line up around 8:30 AM.
Water park
With a total area of over 50,000 square meters, the Water Park is the first and only seaside water park in Vietnam. It has an artificial mountain system measuring 30,000 square meters along with many unique modern water games, is divided into three zones: amusement rides area, family and children's games area, and beach sports games – suitable for visitors of all ages.
Kamikaze slide gives you free fall from a height of 21 meters while Tsunami's powerful force, Space Holes, 6-lane Multi Slide, Flying Boat, Body slide and many colorful slides will make your adrenaline going up.
Beach sport games will make your heart dropped with many thrilling activities such as sailing, jet-skiing, parachute, flyboard, kayaking, etc. The most unique spot is the Splash Bay - the world's largest marine floating park with a total area of 4,200 square meters, surpassing the record of 3,000 square meters of Dubai buoy park. Designed and arranged in colorful VINPEARL letters, the Splash Bay is able to accommodate up to 750 people playing at the same time.
The professional rescue force of Vinpearl Land will ensure visitors an absolute safety experience when exploring inflatable obstacle courses such as balance bridge, action tower, cliff climbing, giant steam ball, basin, roller, swing, slide, etc.
Outdoor game area
Vinpearl Land's outdoor play area will surely attract tourists who like to conquer, discover and affirm their bravery. You can start warm-up with the giant Sky Wheel - top 10 highest ferris wheels of the world, bungee jumping, bumper cars, then gradually challenge the thrilling games like free fall tower, 3-way swing, Mine Adventure, Evolution ride, Swing Carousel, Roller coaster, Pirate ship, etc.
Especially, Vinpearl Land's Alpine Coaster – Asia's first island alpine coaster system and the largest in Southeast Asia – is very popular worldwide with a total length of 1,760 meters, two spirals on the same way down and height difference between two stations up to 133 meters.
Already felt the adrenaline rushing through your veins? Take a break and stroll around Blooming Hill, the most unique botanical park in Vietnam that houses a vast collection of thousands of faunas and floras from all continents. The Garden is decorated with different themes that open up a wonderful, colorful and natural worlds such as Japanese Garden, Africa Desert, Rose Garden, Orchid Paradise and more.
When night falls, make your way to Luminary Square to see all the castles light up with music is playing throughout the park. For a moment, you'll certainly feel like stepping into the European fairy tale.
Indoor playground
Built in a 24 meters artificial mountain, the Indoor playground offers tons of exciting games that cater to all ages and personalities. From the interactive 3D museum, bull riding, screaming contest to hundreds of electronic game machines, this indoor playground will surely give you the most relaxing hours during the noon when the outdoor temperature starts to rise.
Aquarium
Traveling to Vinpearl Land Nha Trang but not visiting the most modern aquarium in Vietnam is a pity. The aquarium covers an area of up to 3400 square meters, nurturing and displaying over 3000 species of rare marine species from many countries around the world.
The aquarium tunnel moves by escalator so you will feel like being on the ocean floor, watching variety of colorful sea creatures and get lost in the marine world. They are sorted and divided into different zones: Northern Asian climate zone, Southern Asian climate zone, Amazon climate zone, and Coastal climate zone.
Opening hours: 09:00 AM – 09:00 PM
You cannot miss the Mermaid show in the aquarium, where visitors can admire the beautiful mermaid swimming around the fish. In addition, fish feeding is a highlight session with divers play and take care of the aquarium critter.
Mermaid show: 11:00 AM – 11:10 AM; 03:00 PM – 03:10 PM
Fish feeding session: 10:00 AM – 10:15 AM; 05:00 PM – 05:15 PM
See more: The Ultimate Nha Trang Travel Guide for your perfect Tropical Getaway
Performances
Vinpearl Land Nha Trang also has many sophisticated performances, in which the most prominent highlight must include a musical water fountain stage with a capacity of over 5,000 seats and equipped with modern water, sound, lighting and fire systems. Don't miss the water music show starts from 07:00 pm – 07:30 pm every day to enjoy the wonderful artworks from the truly remarkable technology.
More interestingly, Vinpearl Land Nha Trang has highly interactive shows such as Street Magic, Stilts show, Dolphins show that take place in the Dolphin Square and Oceania Square.
Movie castle
For the first time, you will have the opportunity to contemplate ultra-crisp cinema technology with 4D reality effect in a giant cinema room equipped with 200 seats and 3 domed screens in the 320 square meters area.
The audience will feel like living in the ocean world and joining the adventure with sea creatures and mermaids in the "Fantasy Coral Island" film – exclusively at Vinpearl Land Nha Trang.
Opening hours: 10:00 AM- 07:30 PM
Shopping Street
The shopping street has been inspired by peaceful and poetic scene of European ancient town. This shopping street sells jewelries, souvenirs, swimwear, decorations, handicrafts and traditional products of Vietnam.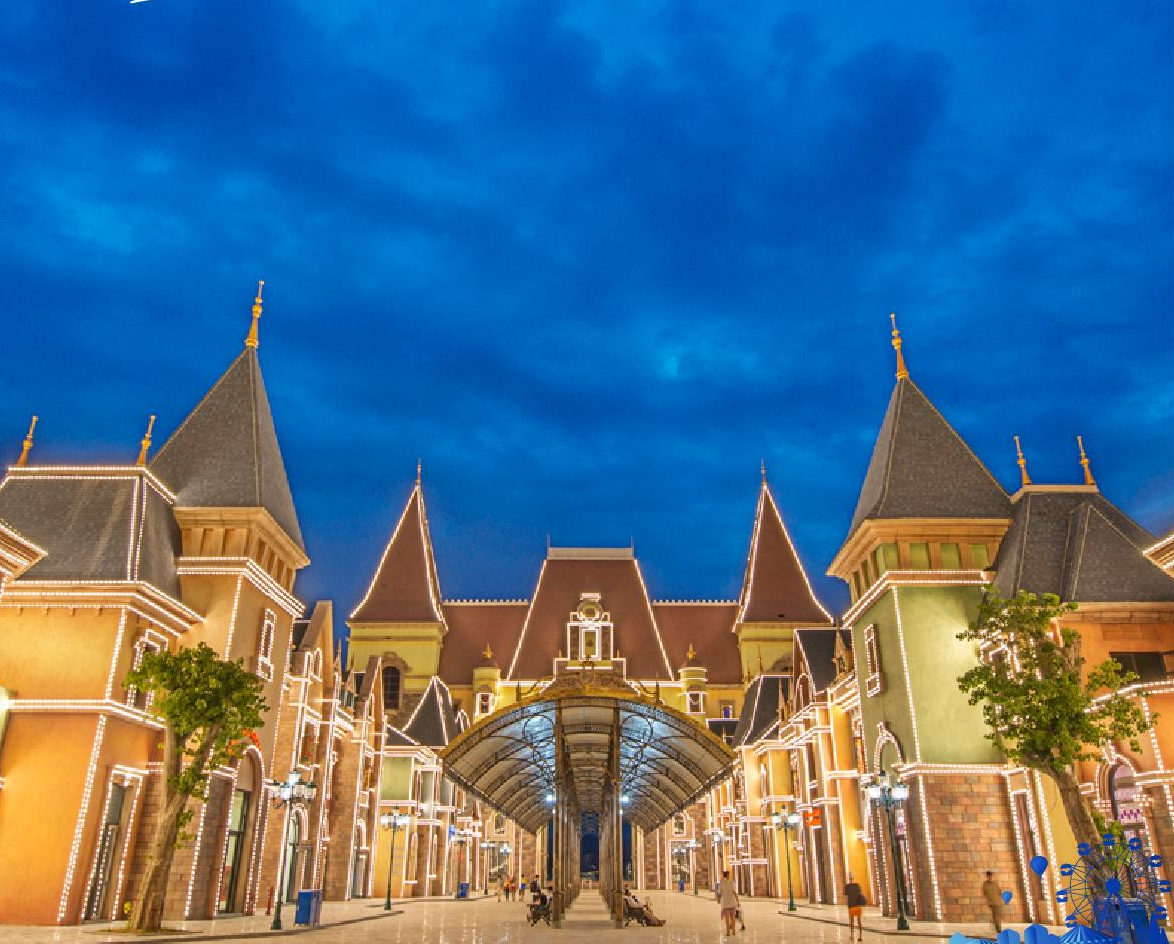 Opening hours: 09:00 AM - 09:00 PM
Discover a wide range of eateries available at Vinpearl Land Nha Trang
Vinpearl Land has many choices for you like food courts, fast food chains, restaurants, cafes, and bars. You can easily find many delicious Vietnamese dishes at Cho Que restaurant, Ngon Corner. If Vietnamese food is not your taste, there are Wind & Sea restaurant specializes in seafood dishes; BBQ Express restaurant specializes in traditional grilled dishes from Russia and German restaurant.
Depending on your style, you can choose even luxurious restaurant or relax in an open-air courtyard overlooking the romantic beach, you can just lay back and enjoy tasty meals that are prepared by professional chefs.
Note: Vinpearl Land does not allow visitors to bring food, water (each person can carry 1 bottle of 500ml) into Vinpearl Land.
Spend a night at Vinpearl Land Nha Trang, why not?
Vinpearl Land Nha Trang houses not only amusement park but also 5-star resorts with modern amenities in galore. The resorts are connected with the amusement park that make it more convenient when you book for a stay here.
Vingroup Corporation has built different kind of resorts on Hon Tre island, depending on the location, references and scale, the prices will be different.
You can book rooms in the hotel system of Vinpearl Land Nha Trang such as Vinpearl Nha Trang Bay Resort & Spa, Vinpearl resort Nha Trang, Vinpearl Luxury, Vinpearl Golf Land Nha Trang, Long Beach Vinpearl Resort & Spa. Enjoy the luxury stay and top services at Vinpearl Land that offer an unforgettable discovery that you'll never forget!
Vinpearl Land Nha Trang's map:
Tip: There are a lot of interesting things to do in Nha Trang that you don't want to miss before leaving. After a long day in Vinpearl Land, exploring the four islands in Nha Trang or Nha Phu Bay day trip from Nha Trang will widen your eyes with the hidden beauty of Nha Trang.