Traveling to the wrong place during Vietnam raining season can really dampen your experiences. It is possible to get stuck in a storm or a flood, which is definitely something you would want to avoid. Here is all you need to know about the weather and best things to do in Vietnam during this time of the year.
When is the raining season in Vietnam?
Vietnam has 2 distinct seasons, dry and raining season (monsoon season). Vietnam raining season starts from around end of May to end of October, heaviest during July and August.  Make sure to check our comprehensive guide for the best time to visit Vietnam before your trip. In general avoid the North of Vietnam, especially Ha Long Bay during raining season as there are storms during this time and not it's not worth taking the risk. However, there are a few places to travel that are not impacted much by the raining season and you still have a great time as long as you know where to go.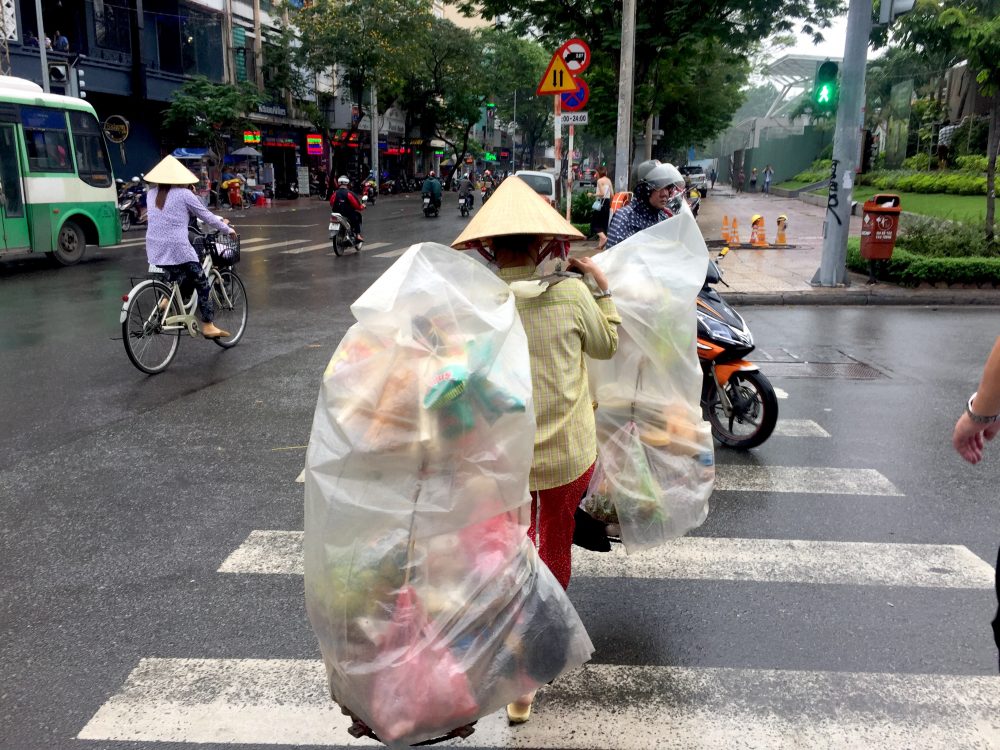 1. Nha Trang - best place to enjoy beach activities during the Vietnam raining season.
Surprisingly, it's sunny between May and Sep and the best time to go to Nha Trang is around July to Sep. The weather is pleasant 25 degrees on average with less rain. Nha Trang is a city with lots of small islands nearby. Make sure spend time discovering some of the famous ones.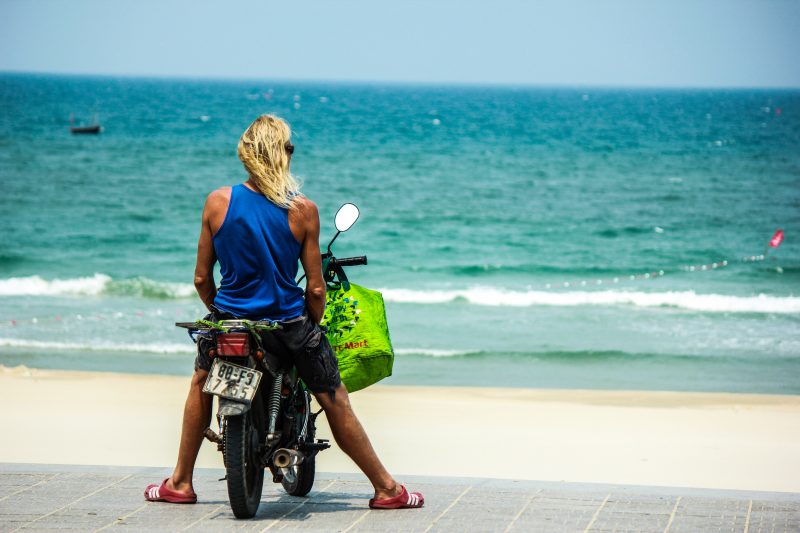 Go Scuba DivingOnce you get here, can't miss the beach stretching for 7km. Choose a spot and deep dive in. Heaps of activities along the beach, such as Jetski, Kayaking and parasailing. Vietnam is the cheapest place to earn a scuba diving license, make sure do it here in Nha Trang.Take cable car to VinPearl LandOne of the popular tourist spots in Nha Trang is Vinpearl Land. This is an entertainment theme park located on Hon Tre Island. You can go straight to Vinpearl Land by cable car or canoe and should spend at least half day there to maximise your experience. Besides luxury hotels and beautiful gardens, Vinpearl Land has a water park, adventure games and many other family activitiesHave a drink at the floating bar in Hon MunLocated just out of the city centre is Hon Mun Island. The island offers a gorgeous coral range, which has some of the world's most diverse ocean life, as classified by the WWF. Besides breathtaking views, this is a great spot for floating bars and scuba diving. Hon Mun tours can be found at almost all hotels in Nha Trang and are available daily. Simply contact reception and they will book a tour on your behalf.Take a boat to Hon Tam islandThis island is about 7km from Nha Trang so you will need to take a boat. It is an isolated island resort where you can spend the whole day. It has really great facilities with heaps of water sports activities, golf driving ranges and a kids zone. A perfect place for any families with kids. You can easily walk around the island to discover them. When you're finished grab any of the boats coming and out the islands.
---
2. Mui Ne - light short rains should not stop you exploring this charming traditional fishing village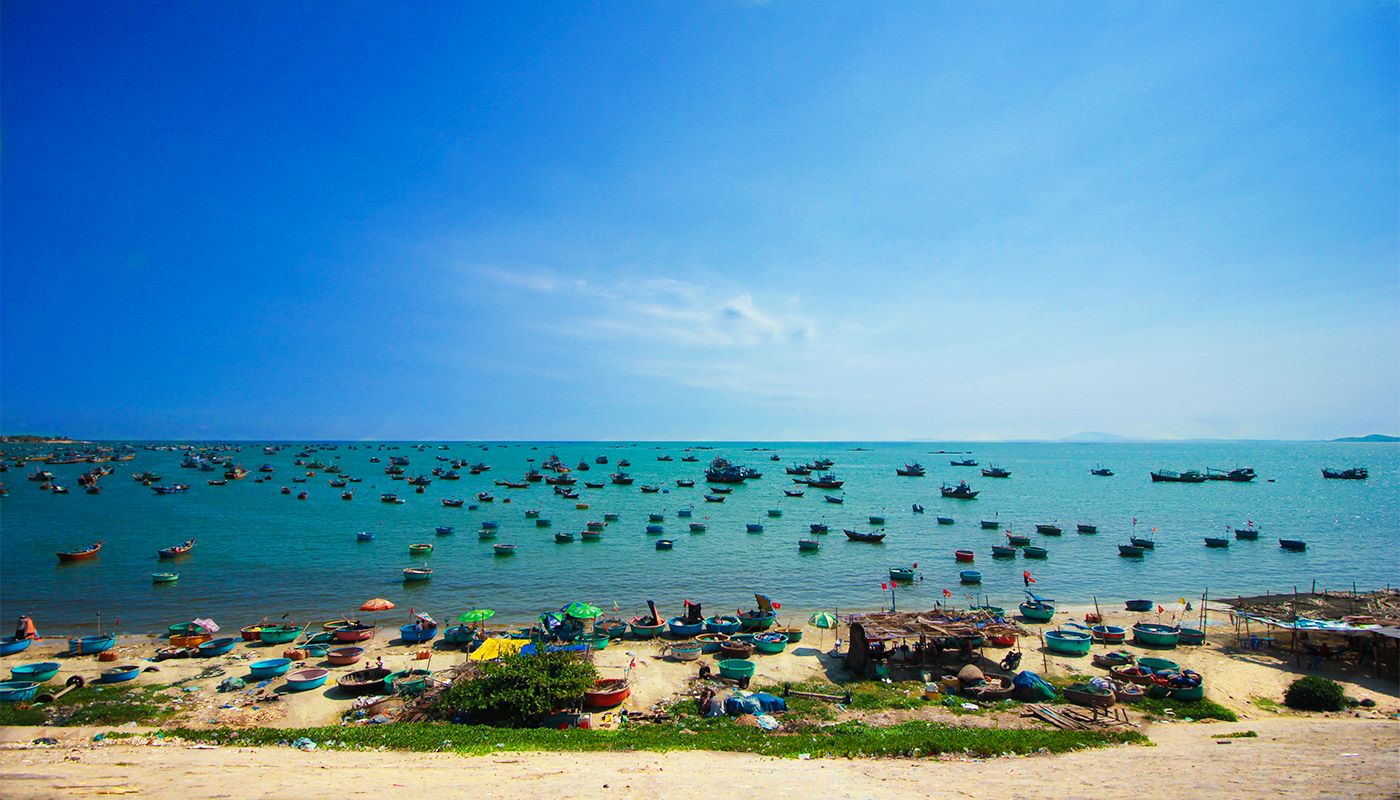 The weather is pleasant at Mui Ne all year round. There might be rain during the period but only in short bursts (less than 1 or 2 hours). It shouldn't be enough to interfere with any travel plans anyway. In fact, the best time to go is around July and August. Apart from relaxing all day on the beautiful beaches, there are some wonderful activities to do.Rent a bike and explore local lifeOne of the best things to do here is to rent a bike and ride around the small beach town. It's the main street is a tourist trap, so if you want to explore this area you can rent a bike to go to the countryside. Here you can visit the fishing village in the morning and visit the fish markets to see locals trade off their fishing catches. Alternatively, go to the village around sunset and have a beer watching the sun go down.Eat fresh seafood along the beachAt night you can visit one of much local seafood restaurants next to the beach. The best ones are the local shops around the Boke (Burh Ke) area where there are a lot of local Vietnamese shops with a wide selection of seafood to choose from. Prices are reasonable and tasty. You can dine in a pop-up shop or a local house that has been converted into a restaurant for a real Vietnamese experience.Ride a quad bike in the white sand dunesThis is one of the best things to do in Vietnam. The surreal white sand dune sitting next to a water and grassland is a one of a kind vista. Grab a bike and tear through these scenic views. With endless sand dunes for miles around, you can have unlimited fun in your very own sandbox.
---
3. Hoi An - The best time to visit this UNESCO World Heritage Site is actually during the raining season.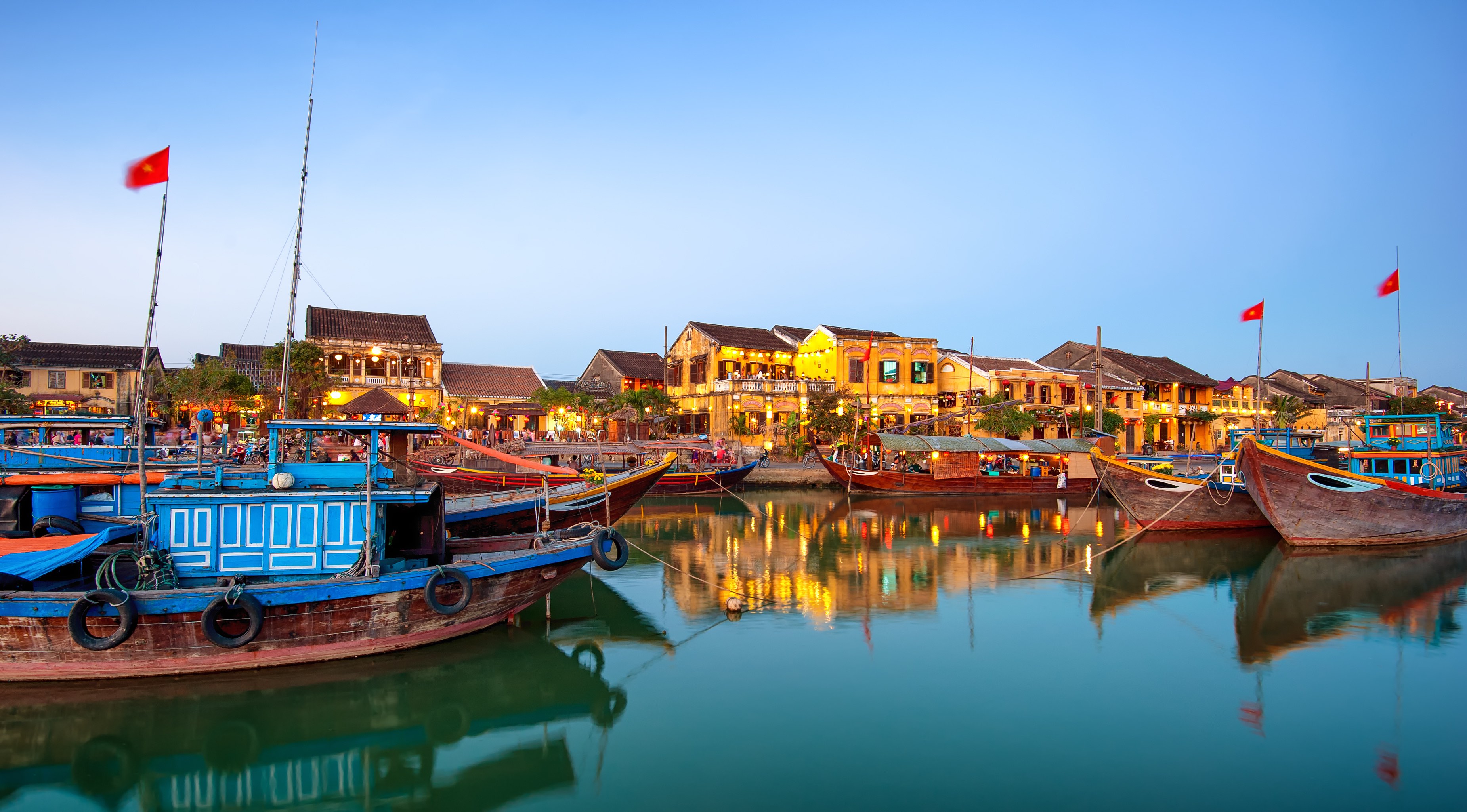 Unlike the rest of Vietnam, the raining season in Hoi An starts around October. The weather in August and September is mixed so you should travel between from early May to early August. This is the best city to visit in Vietnam and is one of the biggest tourist destinations in the country, so make sure you get off the beaten track here.Wander around the ancient townRent a bike and get a map to explore Hoi An. Once upon a time, this city used to be a crowded trading port. There are plenty of things to do around the old town. Some of the great spots in the town are the Japanese bridge, the night market and the ancient houses (101 Nguyen Thai Hoc) that have been built and well preserved the last 200 years. Hoi An has a really lovely atmosphere, especially at night when lanterns light up the whole town. All you need is to wander around the town to feel the romantic vibe and blend into a culture only available in Asia.Ride a bike to Cua Dai beachOnly 5 km from the old town is Cua Dai beach, one of the most beautiful beaches in Vietnam. From the old town, you can cycle to the beach and cross the rice fields. It is an interesting journey and allows you to get a feel for the Vietnamese countryside.Explore the unique food scenesHoi An is the home of the most delicious Vietnamese food that you can find elsewhere. There are 2 banh mi stalls that voted to have the best sandwich in Vietnam, perhaps the world. Also, you should try 2 foods unique to Hoi An, Chicken rice and Cao Lau.
---
4. Ho Chi Minh City (Saigon) - best place for night-life even during the raining season.
A lot of south Vietnam is quite wet during the raining season. Usually, these downpours are in the afternoon and only last around 2 hours. After, the sun comes out again. So, don't be too discouraged to travel to this region. Saigon should be everyone's first stop when travelling South Vietnam. Everything in this city is quite close by so the rain doesn't have too much of an effect on potential visitors. There is a really big list of things to see and do here as well as Vietnam's best nightlife.Shop as Ben Thanh MarketBen Thanh Market is a world famous. The market is massive and has everything from souvenirs to basketball jerseys. It is also home to some very talented tailors, so if you are looking for clothes this is a good place to pick some up. Notre Dame Cathedral and The Central Post Office.Located close to the market is the Notre Dame Cathedral and Central Post Office. Both of these are well worth a look for their stunning French colonial period architecture. The cathedral is a replica of the Notre Dame that is located in Paris.  You should pick up a postcard on the neighbouring book street and send it back home through the post office, which despite being built in 1886, is still functioning as one today.Experience the Bars and Nightlife.Saigon is known for its nightlife and what better activity is there to do if it is indeed raining. Bui Vien is a hive of activity at night and is an excellent place to meet both travellers and locals. Lots of bars nearby this street offer live music and food, all at reasonable prices. There's also the option of the slightly fancier sky bars which offer stunning 360-degree views of the city.
---
5. Phu Quoc - best place to relax during the Vietnam raining season.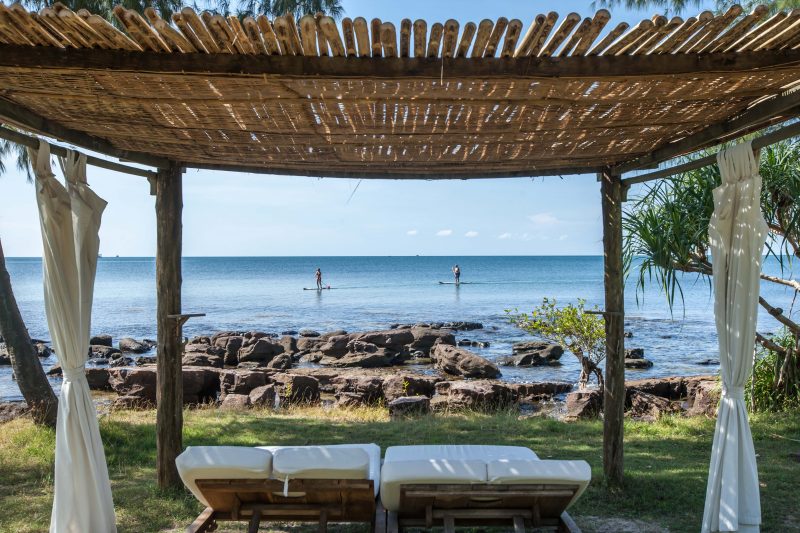 Phu Quoc offers one of the best escapes in Vietnam. You can enjoy white sand beaches and is one of the few places in Vietnam with a resort feel. Also over half the island is a nature reserve and you can go on Safari or climb the island's highest peak. You can also book tickets to visit the smaller islands at the pier. Again, it is important to check the forecast and bring some wet gear in case you get caught out in a downpour.Relax at Mango Bay Resort at Long Beach.This is a great place to stay for anyone looking to get back to nature. This eco-friendly resort allows travellers to stay in bungalows near the beach without technology or air conditioning. If you do need to stay connected there is a business area at the resort.Walk along Sao Beach.This could possibly be the best beach in Vietnam. You can walk up and down the beach looking for shells and generally just relax in the beautiful surroundings. If you're interested in getting the adrenaline pumping a little but there is also a lot of water sports on offer here.
---
Essential tips to help you travel through Vietnam raining season
Check the weather in advance. There are plenty of sunny days without rains during this time of the year.
Pack umbrella and zip bags to carry your phones and wallets.
Bring a hair dryer.
Bring water resistant light jacket.
Wear flip flops or water resistant shoes with strong grips.
Bring and disposable raincoat can be easily bought from convenience stores.
Avoid riding the motorbike in Vietnam during raining season. Crazy traffic and rain can be super heavy and intense at time. You might even be stuck in the flood.
Avoid going to islands or climb up mountains by yourself.
Pack a raincover for your backpack.