Two weeks Vietnam Itinerary: for first time traveler
Wondering about the best time of year to travel? Simply check our guide for handy tips and tricks about any time of year.
From the grandeur of Ha Long Bay to the wonder that is the Cu Chi Tunnels, Two Weeks in Vietnam gives you a taster of what Vietnam has to offer. At Local Insider, we've mapped a 14-day itinerary to discover Vietnam for you.
Wondering about the best time of year to travel? Simply check our guide for handy tips and tricks about any time of year.
The capital of Vietnam, Hanoi is the political heart where all government offices are based. Hanoi is known for its French colonial architecture, delicious food and traditional Vietnamese lifestyle.
Over 1,000 years old, Hanoi has served as the nation's capital for most of that time, resulting in some of the best architecture and history within Vietnam.
The Old Quarter is the city's centre, and divided into 36 streets, each specialising in a certain type of goods. For instance, if you walk onto "Hang Dao" (Silk Street), you will find the street packed with shops selling silk products and fabrics. You can easily spend an afternoon roaming The Old Quarter alone.
If you are short on time, here is our guide to discover Hanoi within one day.
Where to stay
Try staying around the Hoan Kiem and West Lakes. Known as the city of lakes, Hanoi has more than 26 lakes spanning across the metropolitan areas. As a keen runner, I often go for a jog around the lakes in the morning to get a feel of the city. You can also watch the very Vietnamese activity of group public exercise.
Old Quarter
Located next to the Hoan Kiem Lake, the Hanoi Old Quarter is the heart of the city and a popular tourist attraction. While there are many boutique hotels and hostels in the Old Quarter, it can be noisy at times as the roads are narrow and frequently busy.
Food Culture
The sophistication of Hanoian culture is reflected through famous dishes originating from the city. Pho, Vietnam's most famous food export, is a fine example of a classic Hanoian dish.
There is a local saying that one has never been to Hanoi if you haven't eaten the pho. One of the best pho I've eaten is from a small food stall on Hang Trong street, which has been selling pho for nearly 20 years. The stall only sells in the afternoon and charges about $1USD for a bowl of beef pho. A local friend also recommends the street vendor at 45 Cau Go street.
If you want to try something other than beef, you can attempt the chicken pho instead. There are several good restaurants on Quan Thanh street, but the best one is an unnamed family business restaurant at 42 Quan Thanh.
Don't forget to try Cha Ca La Vong, a grilled fish dish originating from Hanoi. Cha Ca La Vong constitutes of fish balls, grilled pork vermicelli stuffed pancake, fried tofu vermicelli and eaten with shrimp sauce.
Another dish you should not miss out is Bun Cha. This refreshing grilled pork vermicelli dish originated from the Hanoi Old Quarter and has won the hearts of many food lovers, including Obama when he visited the city in 2016.
Bat Trang Pottery Village
If you want to travel nearby, both Bat Trang pottery village and Duong Lam old village are great choices.
Bat Trang, approximately 20km away from city centre along the Hong River, has existed for hundreds of years and is famous for its high quality pottery, which it distributes both domestically and internationally. Take a walk around the village, where you can shop for souvenirs, learn to make pottery and understand more about the pottery production process.
Duong Lam Village
Duong Lam is well-known for its timeless traditional architecture and lifestyle. If you have time, rent a bike and wander around to feel the rural Vietnamese ambience. Residents here are very friendly and often offer visitors a meal and even homestay. If you have a chance, try to speak to the locals to listen to their stories to understand more of the Vietnamese culture.
Tips
Time to visit: September to November
Hidden gems: Long Bien night market, explore Hanoi café culture: egg coffee (Giang cafe) or coconut latte (Cong Café).
Restaurants & Cafe: Giang cafe for egg coffee, Cong cafe for Coconut latte, Eel restaurant on Yen Ninh street for eel dishes
Things to do: Spend time at Ba Dinh square, the Literature Temple and museums, wandering around the Old Quarter
How to get there? There are several ways to travel from Ho Chi Minh City to Ha Noi, but the fastest and most convenient is by airplane since all airlines offer this route. The average price for a one-way ticket is from $60 USD to $100 USD, depends on the airline and booking time.
Transport from the airport: As Noi Bai ticket is very far from city central, it may take you up to $20-25USD for a taxi drive. There's also a bus to the city centre.
Others: One of the most interesting tours in Hanoi is to discover old quarter on cyclo. Each tour lasts between 1 to 2 hours, carrying customers through around 50 streets and attractions such as: 36 streets inside the Old Quarter, Sword lake, Literature Temple, St. Joseph's Cathedral Church, etc.
---
Day 3 - 4: Ha Long Bay (3 hour drive from Hanoi)
Listed as one of the New Seven Wonders of the World and recognised as a World Heritage Site by UNESCO, Ha Long Bay is known for its stunning bays, natural caves and Limestone Island.
3.5 hours away from Hanoi by car, this is usually the must-see on every tourist agenda, and with good reason. Book an overnight stay on the water if you can! The legislation is set to change shortly.
Bai Chay
Ha Long offers lots of beaches, but the most popular is Bai Chay. This beach is great for sun-bathing and relaxing as the average temperature is always about 20 degrees celsius. Island hopping is the one of the favourite things to do here.
Tuan Chau island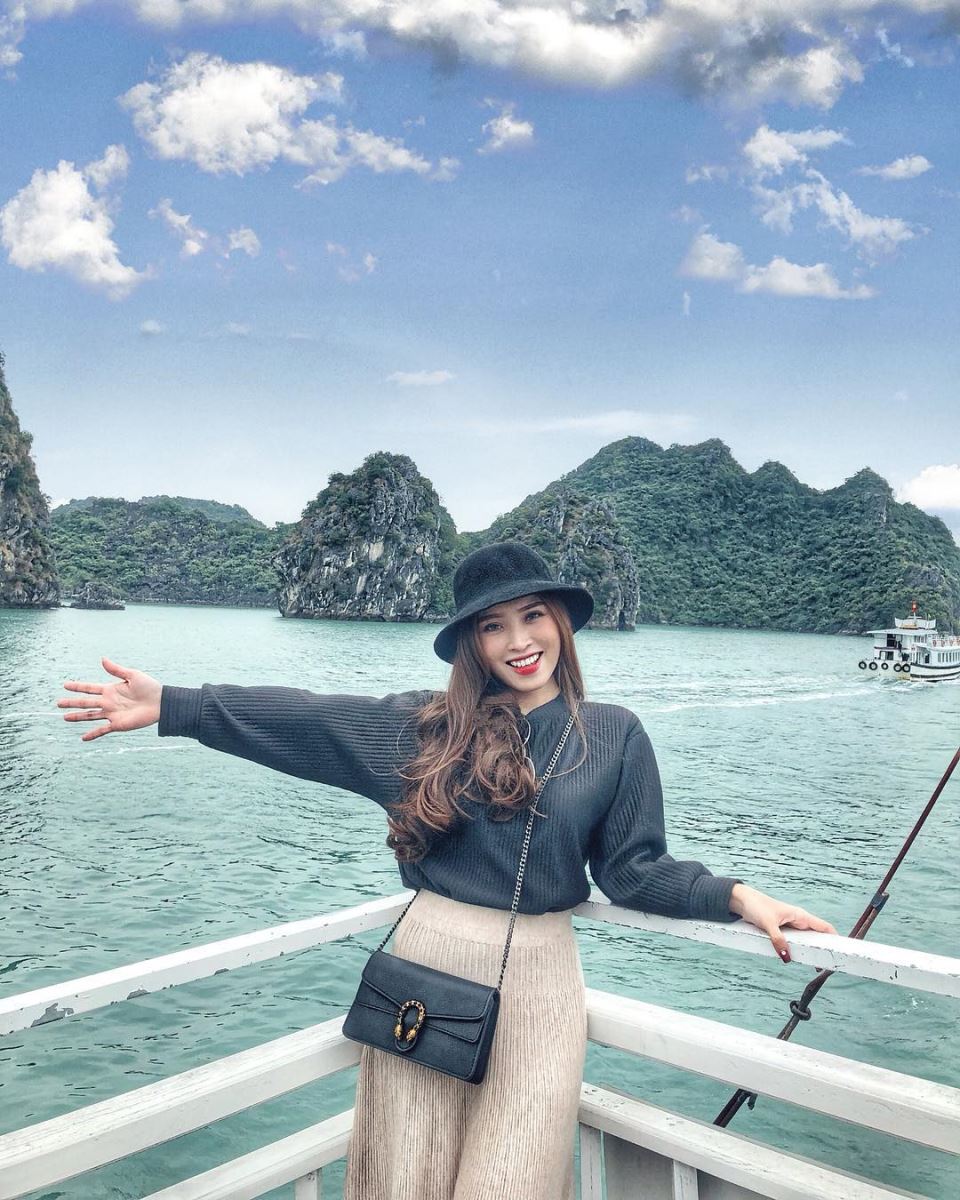 Most people usually head to Tuan Chau, one of a few inhabited islands. You may cruise along the bay and explore its natural caves. Ha Long Bay is surrounded by a dense cave network offering many opportunities for exploration. Among those, Hang Luon and Hang Sung Sot (Grotte des surprises) are the most famous and recognised as World Heritage Sites by UNESCO.
Food
When visiting Ha Long, you should not miss the seafood, which is always fresh and affordable. King-crab: A seafood specialty of Ha Long which can be cooked in many ways: king-crab salad, king-crab with barbecue sauce, grilled king-crab, stir-fried king crab noodle, stir-fried king crab with herbs, etc. The best places selling king crab is Gieng Don or Cao Xanh area.
Tips
Time to visit: the best time visit is from May to August during Summer time, but make sure you watch out for the storms.
Hidden gems: Bai Tho mountain, Old Town coffee, Ha Long by Night lounge
Things to do: explore the caves, sun bathe on the beach, book an island tour and scuba dive.
Foods to eat: seafood, especially king crab
Transportation:
Car: from Ha Noi, the fastest route is through the Bac Ninh provinces, which is about 150km and 3 hour drive.
Bus: Available from 6am to 5pm at either Luong Yen or My Dinh bus station in Hanoi. Each bus departs 5 to 15 minutes away from each other, stops at Bai Chay station. A one way ticket costs $8-10USD.
Train: The Ha Long Express departs from Gia Lam railway station. Trains start running at 7am daily and will take you there in 5 hours. The cost of a one way ticket is $15USD for foreign passengers.
---
Day 5 - 7: Sapa (8 hour drive from Hanoi)
A small town located on the north west of Hanoi, Sapa is called a "stairway to heaven" thanks to its foggy weather. The average temperature all year round is between 15 – 18 Celsius. If you have the time, try to spend a little more time in Sapa, as this charming town has so many attractions to discover.
Love Market
Sapa is most crowded on Saturday nights when the local Love Market takes place. Single ethnic youths dress up, gather and show affection for each other. They meet at the central market to hang out, have fun and potentially find a partner.
Sapa Stone Church
Another heritage site you cannot miss is Sapa Stone Church. Built in 1895, the church is a clear evidence of French colonial architecture.
Ethnic Minority Villages
Located within 10kms from the city centre, Ta Van, Ta Phin, Cat Cat and Sin Chai are great villages to visit. These villages are still relatively untouched, offering opportunities to have a closer look at the variety of Vietnamese ethnicities and their lifestyle and culture.
Fansipan Mountain
Looking for an opportunity to challenge yourself?
Try a to conquer the Fansipan mountain. There are a few routes to climb; and trekking time varies between 2 to 3 days. If you aspire to reach Fansipan summit but are short on time, the cable car is the best choice as it only takes you 15 minutes instead of 2 days to get there. This cable system is recognised by UNESCO to be the longest in the world (6292.5m).
Tips
Time to visit: Best time to travel here from March to May or September to November (sunny at day and a bit cold at night). From April to May is when local residents start on new rice raising season on terraced fields. It's also blooming season hence if you're a photography nut, it's such an opportunity to capture wonderful pictures. September and October is the harvesting season; the whole town is covered in the yellow hue of ripening rice. You should visit Sapa within September to not to miss the scene. December to February is the coldest time of the year when it snows occasionally.
Hidden gems: Muong Hoa valley, May bridge, Bac Ha market.
Things to do: climb to Fansipan mount, driving motorbike on mountain, visit minor ethic villages, drink local liquor.
How to get there from Hanoi:
Buses: normally depart in the early morning or afternoon daily at Giap Bat, My Dinh or Yen Nghia stations. A ride takes you about 8 hours and you have to pay about $12 for a one-way ticket. To note, it's harder to book ticket from Sapa back to Ha Noi than the other way around, hence, you'd better book return ticket in advance to avoid them being sold out.
Train: head to Ha Noi station if you prefer to go there by train. Depends on seat comfortability, prices vary from $9 – 20/person/one way ticket. Trains usually departs around 9 or 10pm and arrive next early morning.
---
Day 8 - 11: Hoi An, Danang (1 hour flight from Hanoi)
The guide to travel Vietnam will definitely be incomplete without a mention of Hoi An. Located about 30km from Danang city, this charming old town is well-known for its beautiful beaches, distinct prehistoric architecture, amazing traditional Vietnamese food and talented tailors. Walking around Hoi An, get lost in the feeling of a timeless small fishing village from hundreds of years ago.
Cua Dai Beach
Cua Dai beach has been consistently voted one of the best beaches in Vietnam. Crystal clear water, extended soft sandy beaches and a peaceful ambience are some of the features that lure travellers here. I find it most enjoyable to rent a bike and ride to the coast which is only 5kms away.
Cam Thanh Coconut Island
If you want to blend in with the locals, buy tickets and go to Cam Thanh Coconut Island where you can experience how to row a boat and catch crabs just like locals do.
The ancient town
The best place to stay in Hoi An is close to the ancient town where you can rent a bicycle to stroll around. At night, the whole town is lit with traditional lanterns. Standing on Japanese Covered Bridge which connects 2 sides of the town and looking down, the entire ancient town looks like a painting. There are also floating lanterns that people put down onto the water wishing for good luck.
Shopping
If you are into shopping, you can stop by one of many local handmade leather shops offering from everything from handbags, suitcases to other leather accessories. All the products here are locally made so buying products here is also a way to support the local economy. I bought a wallet here, and the quality has not disappointed me.
Tailors
Visitors flock to Hoi An to have their suits tailored. Yaly on 358 Nguyễn Duy Hiệu street is a popular choice for many visitors. Although their prices are not especially cheap, they are well known for high quality products and efficient service.
Drinks
One of the hidden gems of Hoi An is the rooftop of Faifo coffee at 130 Tran Phu where you can view the entire town. If you are a photographer and want to have the best sunset photo, the view from here will not disappoint you. Another to check out is a cosy quite tea house called Reach Out. The uniqueness of the shop is that you are served by friendly staff who suffer from hearing impair.
Food
Hoi An offers many great Vietnamese cuisines.
Cao Lau
One of Hoi An's signature dishes is Cao Lau, a pork noodle dish served with fresh vegetables. It is native to the region and difficult to find elsewhere. Its special taste is rumoured to come from the well water from a particular spot. The stall at 26 Thai Phien is the local favourite.
Chicken Rice
Com Ga (chicken rice) is a local specialty not to be missed. Shredded free range chicken is served with Vietnamese coriander and special yellow rice cooked from chicken broth. This is a favourite dish of mine, and my favourites are Com Ga Ba Buoi on 22 Phan Chu Trinh and Com Ga Nga on 8 Phan Chu Trinh.
Banh Mi
Although Banh Mi can be found anywhere in Vietnam, Hoi An is the home of two world famous Banh Mi stalls- Banh Mi Phuong and Banh Mi from Madam Khanh. Banh Mi Phuong, from 2B Phan Chu Trinh, is Anthony Bourdain's favourite, while Banh Mi from Madam Khanh (aka The Banh Mi Queen) is on 115 Tran Cao van. Madam Khanh is in her 80s and has been making them for the last 30 years.
Che
If you have a sweet tooth, wander around the ancient town and try the Vietnamese dessert Che sold by street vendors. I find Che "Hat Sen" or lotus seed che to be the most refreshing and delightful.
Tips
Time to visit: all year round
Hidden gems: Faifo coffee, Banh Mi Madam Khanh, Banh Mi Phuong
Restaurants: Com Ga Nga (8 Phan Chu Trinh), Com Ga xi (47/2 Tran Hung Dao)
Things to do: Bike ride, wander around ancient town, visit Cua Dai beach, have Tailor suits, visit My Son holy land
How to get here: The only way to go to Hoi An is from Danang. As Danang (central Vietnam) is a big city, flights are frequent and take about 1 hour. Alternatively, coaches are available and take about 20 hours from Saigon or Hanoi to Danang.
Airport Transportation: The town is about 30 kms from Danang city centre. You can buy a shuttle bus ticket directly from the airport for around $20. Alternatively, you can always use taxis. Taxis fare is around 250,000 VND but you can always negotiate with the drive for the fix price. An acceptable one is from 200,000 to 250,000 VND ($12 USD). If you plan to stay in Danang, you can rent a motorbike and ride there. The road is straight forwards and safe.
---
Day 12 - 14: Ho Chi Minh City (1 hour flight from Danang)
Ho Chi Minh City (aka Saigon) is one of the most vibrant cities in South East Asia and Vietnam's largest commercial hub. Saigon is famous for its hustle and bustle lifestyle, exciting nightlife and amazing coffee and food culture. Pham Ngu Lao and Bui Vien street are backpacker district, where you can easily hangout with travel fellows or meet up with local people.
Transportation from the airport
Once you land in Tan Son Nhat airport, there are a few options to the city centre.
Taxi
The easiest option is to take a cab from the taxi ranks. The most popular taxi brands here are Vinasun Taxi (white and green) and Mai Linh Taxi (Green). The airport is only about 6kms from city centre so make sure you do not spend more than 150.000 VND to get to District 1.
Bus
You can take a yellow shuttle bus in front of the terminal. Take route 109, which will drop you off right in front of Ben Thanh market and backpacking areas – the heart of the city. The fare per person is 20,000 VND (< $1 USD). The bus is clean, new and leaves every 15 minutes.
Landmarks
The best place to stay in Saigon is in District 1, as all the landmarks are located within the area. Popular hotels can be found around the backpacking area, Bui Vien, and Ben Thanh Market. I suggest spending half a day exploring the city landmarks on motorbike.
Start with Ben Thanh market, where you can buy souvenirs and have a suit tailored. Watch your belongings, as the market is the known for the hub of petty thefts. In the event you are approached by street vendors in this area, just politely apologise and walk away.
If you're feeling adventurous, try crossing the street at the busy intersections around the market. The secret is to keep walking straight and let the motorbikes avoid you.
From the market, walk along Le Thanh Ton street to the Nguyen Hue walking street and City Town Hall. The walking street is home of many good coffee shops and restaurants. Try the hidden café apartment on 42 Nguyen Hue, where you can explore many great coffee and fashion boutique shops hidden in a run down building.  From there, head to the Notre Dame Cathedral and Central Post Office, both built during the French colonial period. The Notre Dame Cathedral is a replica of the one in Paris, and the Central Post Office still functions as one! You'll be able to buy a postcard from the surrounding kiosks, and the Book Street right next to the post office. If you are into in Vietnam War history, the Reunification Palace (former South Vietnam parliament house) and the War Museum are both just a short stroll away.
Nightlife
In the evening, take advantage of Saigon's reputation for the best nightlife in Vietnam. You can kick off your night wandering around Ben Thanh night market where street vendors offer a wide range of goods- from dried foods to suit cases. Rooftop bars are a Saigon highlight, and my favourites include Glow Bar (corner Nguyen Du and Pasteur street), Chill Sky Bar (on 76 Le Lai) and Hotel Des Arts (on 76 Nguyen Thi Minh Khai). The best time of the day to visit these rooftop bars is at around 6pm, when you can watch the sunset and look down to the busy streets below.
If you are a fan of live music, try Acoustics Bar (6E Ngo Thoi Nhiem). This local favourite is hidden at the end of an alleyway, but offers a cosy local atmosphere. If you are a fan of Jazz, Sax n Art (28 Le Loi) has the best music in town. The world famous saxophonist Tran Manh Tuan play here occasionally, if you're lucky enough.
Coffee Culture
You cannot leave Saigon without exploring its great coffee culture. Exploring and finding new exciting coffee shops is a hobby of many locals. Coffee shops in Saigon compete with each other not only on their menus but also on decoration.
Many of the coffee shops are hidden in run down buildings built from the French colonial era.
L'usine cafe (151 Dong Khoi and 70 Le Loi) is a small French boutique coffee shop with an attached gallery, fashion boutique hidden in an old loft and great spot for relaxing brunching and dining. In order to get to it, you have to walk through an art gallery and a parking area.
The building at 26 Ly Tu Trong offers a similar experience. Once inside the building, try Loft café on 1st floor, Cong on 2nd floor and walk around to explore small boutique shops and art galleries. ID café on 34 Thu Khoa Huan (behind Ben Thanh Market) is another great cafe to try. The ambience here brings back the memory of an old Saigon making you feel being lost touch with the hustle & bustle environment outside.
Food
Great food plays a big part in Saigonese life. If you crave for a hot bowl of Pho noodle soup, Pho Hoa on 260 Pasteur Street is the best place to be. Unchanged over the past half century, this pho restaurant is revered for its high quality beef, large portions, and fast service. On the other end of Pasteur Street at number 158, Secret Garden restaurant is hidden on top of a crumbling building. A great find for Vietnamese food seekers, the yummy cuisine and countryside atmosphere make the five storey climb to get here worth it.
Another highly recommended restaurant for authentic Vietnamese food is Cuc Gach restaurant on 10 Dang Dung. The restaurant brings you back to a traditional Vietnamese country style with its clever design and menu.
Cu Chi Tunnel
When in Ho Chi Minh City, don't forget to spend half a day visiting the Cu Chi tunnel. About 50km from city centre, Cu Chi tunnel is a network of connected underground tunnels used by the Viet Cong as hiding spots during the Vietnam War.
Tips
Once you land in Tan Son Nhat airport, there are a few options to the city centre.
Taxi: the easiest option is to take a cab from the taxi ranks. The most popular taxi brands here are Vinasun Taxi (white and green) and Mai Linh Taxi (Green). The airport is only about 6kms from city centre, make sure you do not spend more than 150.000 VND to get to District 1.
Bus: you can take a yellow shuttle bus in front of the terminal. Take route 109, which will drop you off right in front of Ben Thanh market and backpacking areas – the heart of the city. The fare per person is 20,000 VND (< $1 USD). The bus is clean, new and leaves every 15 minutes.
Best time to visit: from November to April
Things to do: Cu Chi Tunnel, War Museum, Reunification Palace, Notre Dame Cathedral, Sit behind a motorbike,
Hidden cafés & restaurants: Pho Hoa (260 Pasteur), L'usine café (Dong Khoi), Secret Garden Restaurant (Pasteur), Cuc Gach Quan (10 Dang Dung)
Shopping: Ben Thanh market, Saigon Square
Massages: Ngoc Anh Spa (29/11 Nguyen Binh Khiem),
Nightlife: Glow Skybar, Chill Skybar, Broma, Lush (2 Ly Tu Trong), Piu Piu (97 hai Ba Trung)