Top Bars and Nightclubs for An Incredible Nightlife in Phu Quoc
With its long white coastline and gorgeous blue waters, Phu Quoc Island definitely is a perfect place for you to sit back and have a quality drinking time with your beloved ones while watching daylight turn into dusk. In case you're looking for things to do for a nightlife adventure on Phu Quoc Island, here is our list of some great bars and nightclubs that are most loved by the locals.
Find yourself chilling at the beach bars
After a full day of sightseeing, what can be more relaxing than spending your time at a beachside bar and sipping a glass of cocktail?.
Beach bars in Phu Quoc are often located in front of the beach resorts. Taking advantages from the ocean night scenery and cooling breeze, beach bars in Phu Quoc offers all visitors an excellent view and interesting nightlife experience.
1.Rory's Beach Bar
Rory's beach bar is located at Long Beach and is one of the famous beach bars in Phu Quoc. Not only does it impress people by the gorgeous ocean view and open-air decorations, but also offers various choices of great drinks and foods.  This bar belongs to two Australians so you may find many Western drinks, cocktails, wine, and cuisine here, giving you a chance to experience many fantastic food and drinks but also the great services by lovely owners and staffs.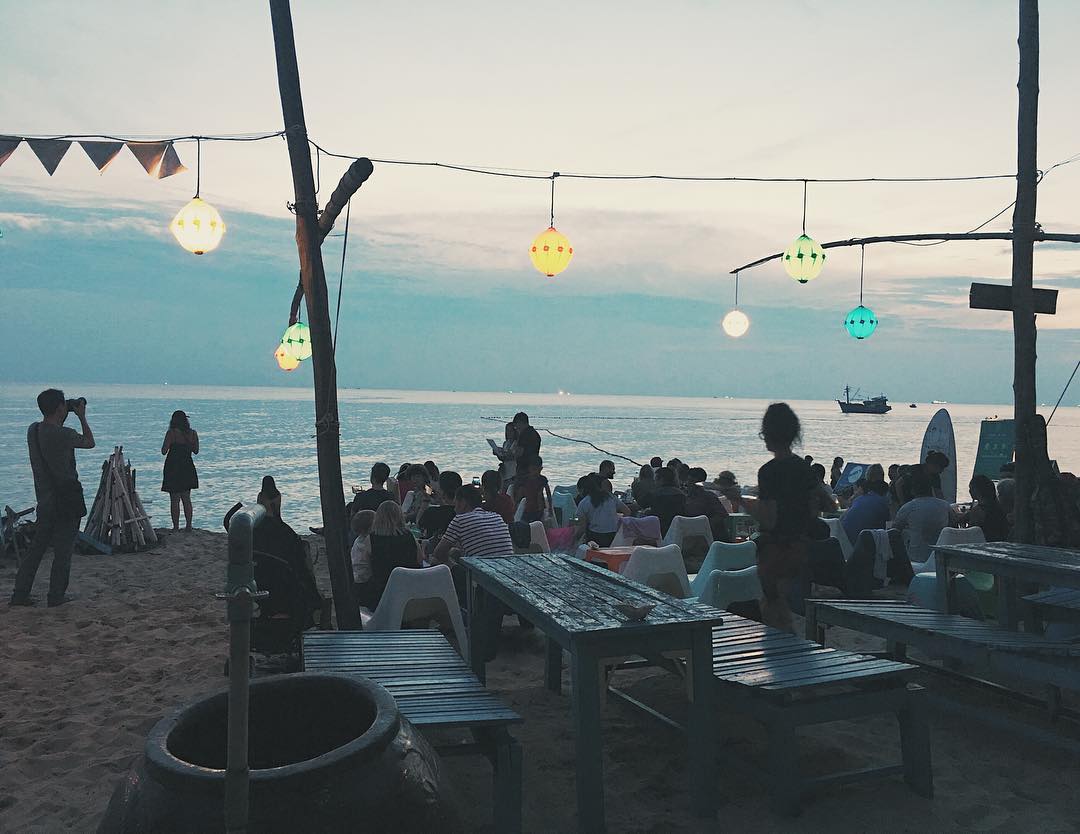 Address: Group 3, Cay Sao, Duong Dong, Phu Quoc Island
Tel: (+84)91 933 32 50
Opening hours: 11:00 AM – 1:00 AM
Price range: $ - $$
2. Mango Bay Bar
The gentle sea view of Mango Bay bar will definitely charm you at the first. Here, you can enjoy the sunset vibe while listening to good music. The menu provides many outstanding cocktails that combined with tropical fruit. All of those things have created a wonderful nightlife ambiance in Phu Quoc. Sitting inside the Mango Bay Resort, therefore, Mango Bay Bar will be an ideal place to those who want to have a private and relaxing experience.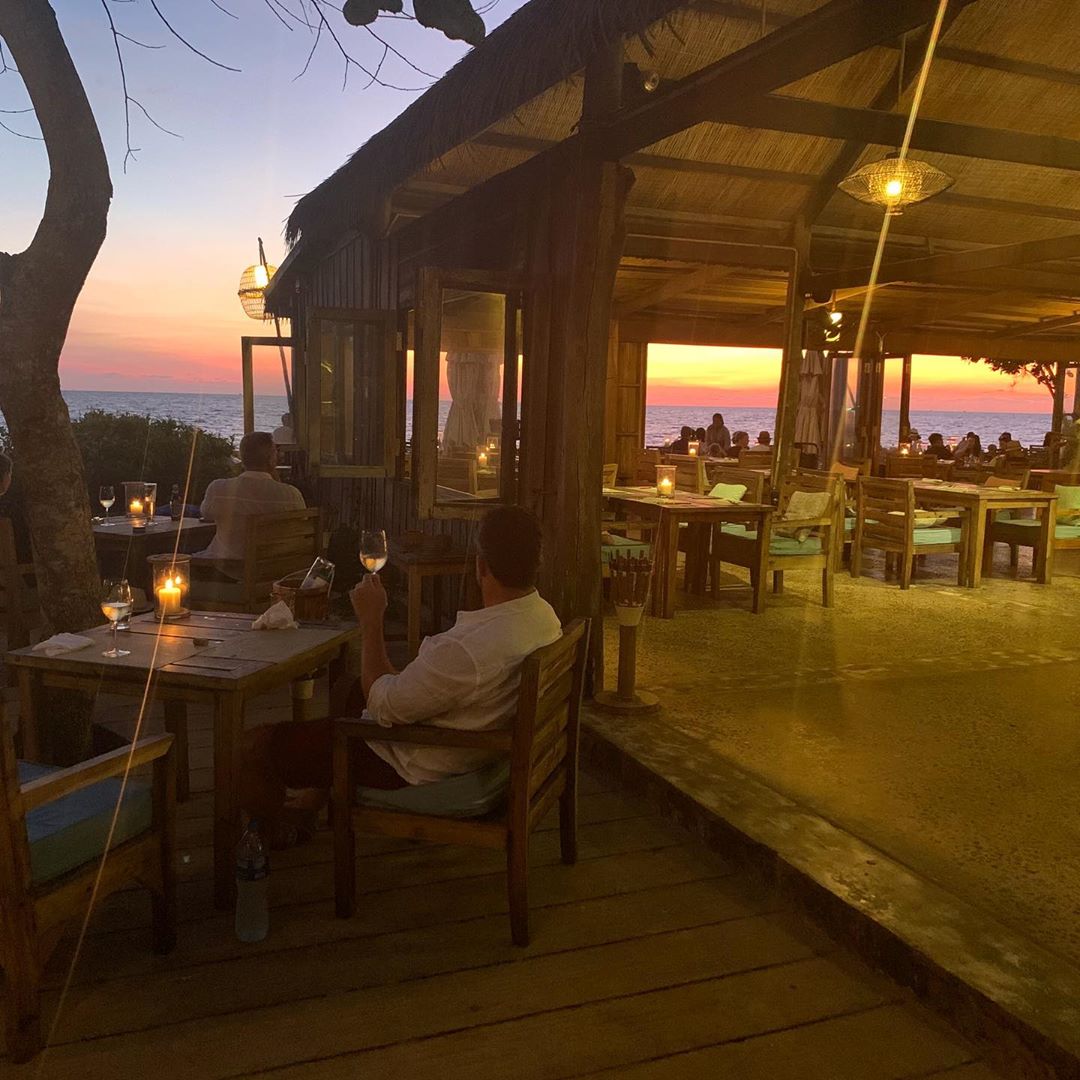 Address: Mango Bay Resort Phu Quoc, Ong Lang Beach, Phu Quoc Island
Tel: +84 773 981 693
Opening hours: 11:00 AM – 12:00 AM
Price range: $$ - $$$
3. Golden Sand Bar
Golden Sand is known as the little Hawaii of Phu Quoc thanks to its harmonious blend of colorful decorations on a pristine beach setting. If you're looking for an awesome drinking place to throw a beach party with a high-class bar and skilled bartenders, Golden Sand Bar is a great fit for you. The fancy decoration and impressive ocean view make this bar become an ideal venue for chilling and drinking time. The price of drinks here is also pleasing for both locals and foreign visitors, ranging from 2 - 7 dollars.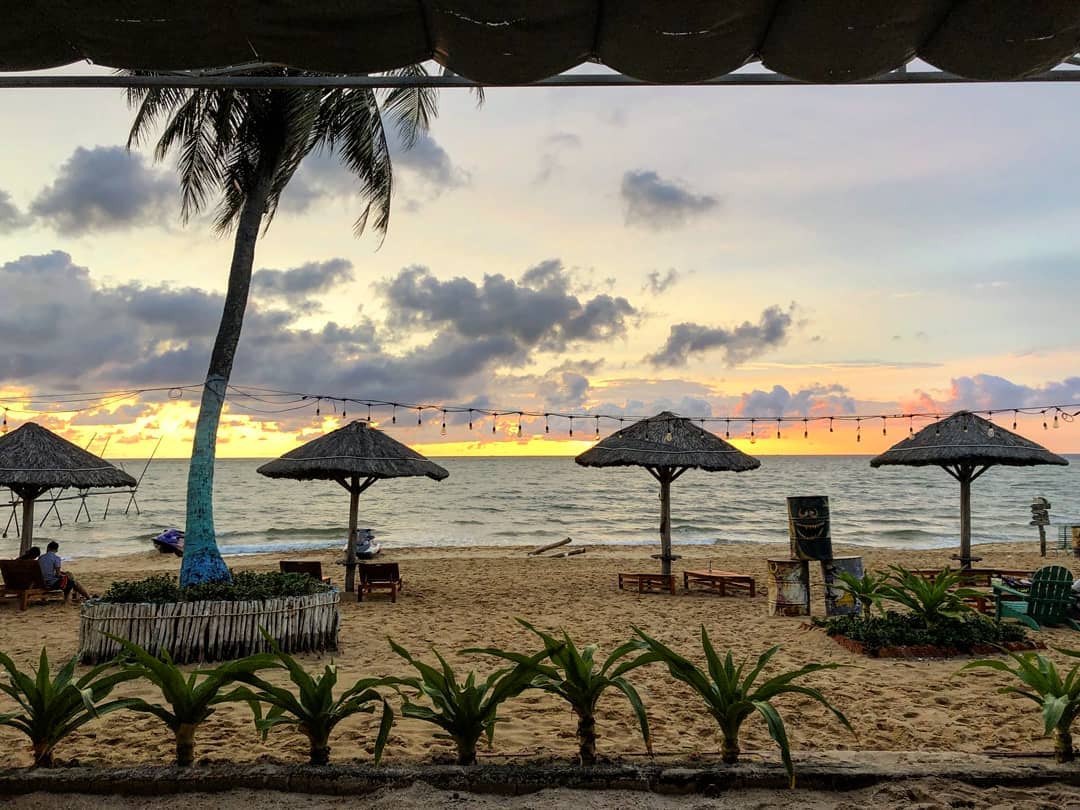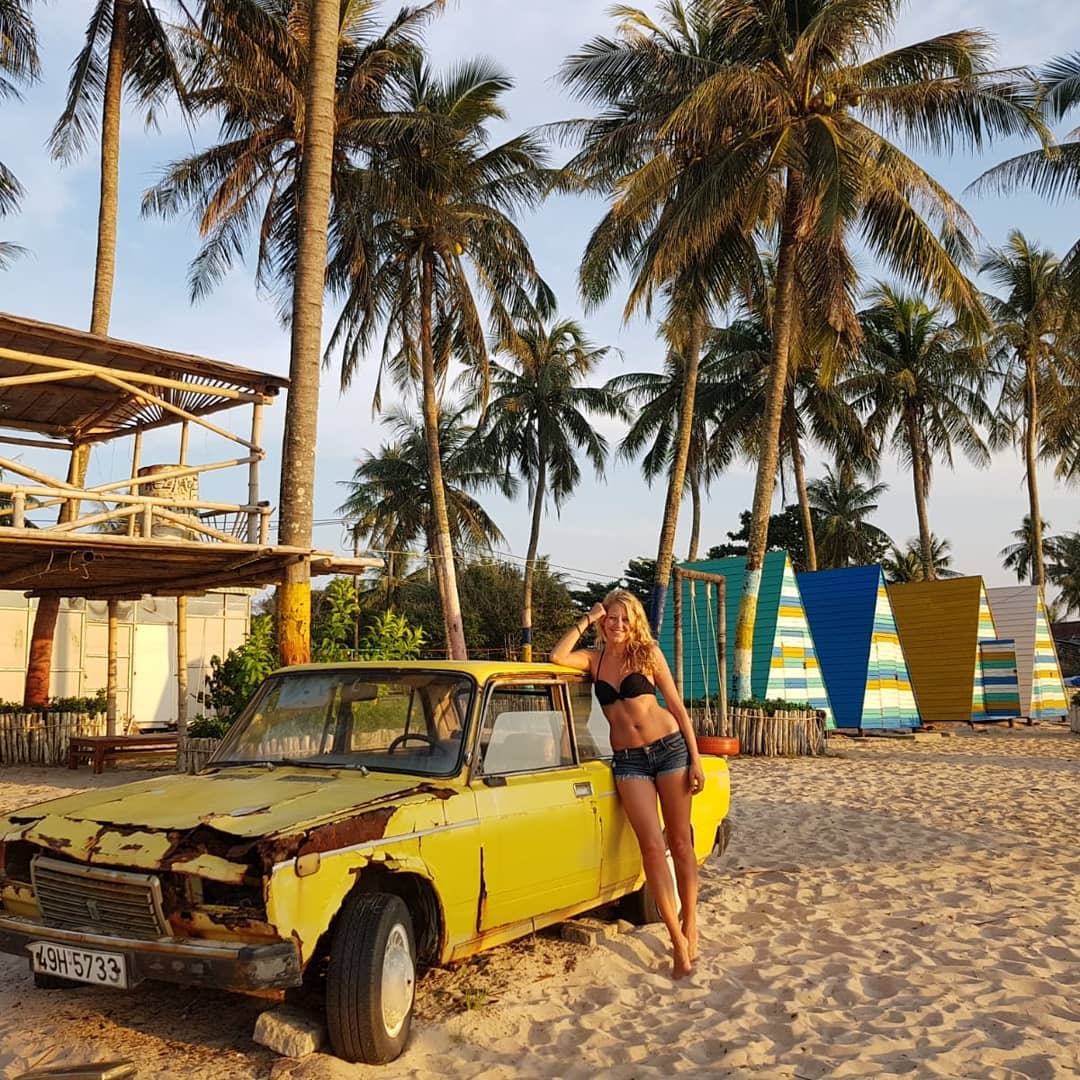 Address: Duong Bao - Duong To, Phu Quoc Island
Tel: +84 93 386 38 36
Opening hours: 10:00 AM – 10:00 PM
Price range: $$ - $$$
4. Shri restaurant & lounge
Shri Phu Quoc is a group of luxurious restaurants, beach clubs and bars with a perfect oceanside setting on the serene Ba Keo Beach. Coming to Shri, you can experience various styles of relaxation, from a vibrant atmosphere with live music performances from international DJs to the delightful menu that is inspired by Asian & Mediterranean cuisines in order to deliver a unique yet outstanding culinary experience to the customers.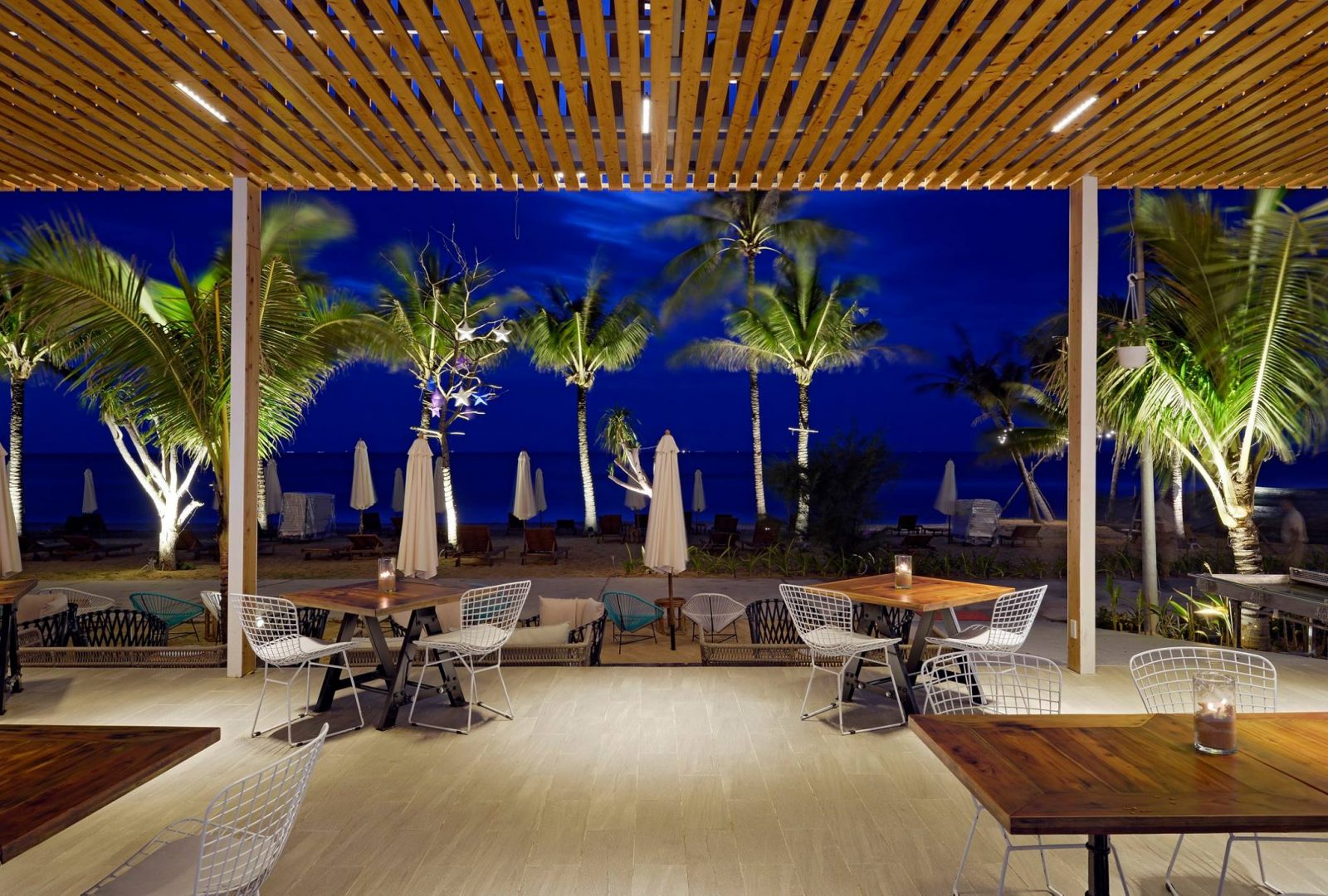 Address: Ba Keo Beach, Phu Quoc Island
Tel: +84 297 2233 555
Opening hours: 8:00 AM – 12:00 AM
Price range: $$ - $$$
Enjoy the amazing nightlife at flashy clubs
Besides the stunning view of the beach bars, Phu Quoc also provides visitors vibrant nightlife experiences through a wide range of nightclubs and lounges where you can chill out with electronic or house music played from many talent DJs.
5. Skye Bar
Skye Bar is located on Tran Hung Dao street and is an entertaining hub of many bars, clubs and nightlife activities in Phu Quoc Island. Placed on floor 10th of the Ocean Pearl, Sky Bar offers an expansive bird's eye view of the city and a stunning sunset spot from the top.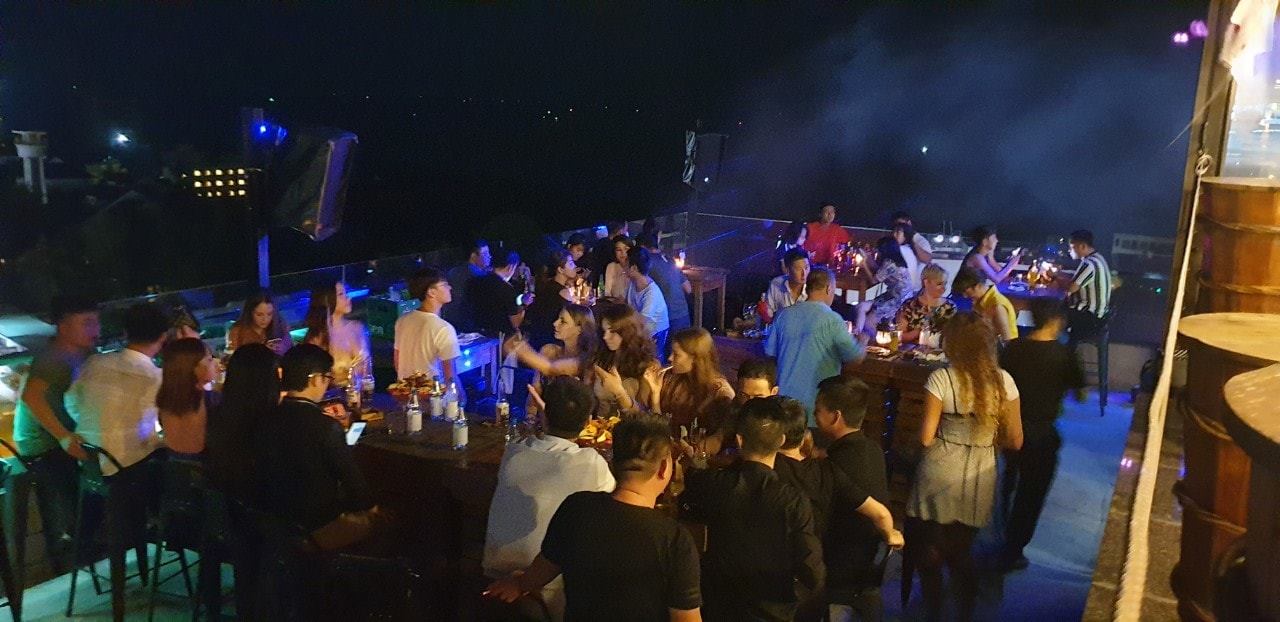 When coming to Skye  Bar, you will get a chance to recharge the energy with various choices of cocktail, alcohol, and snacks. The performances from DJs with techno music will give you a burning-out night from the top of Phu Quoc. The estimated price of each visitor is ranged from 10$ to 20$, not really high to experience a vibrant night.
Address: 99 Tran Hung Dao street, Duong Dong town, Phu Quoc Island
Tel: +84 91 180 68 97
Opening hours: 17:00 till late
Price range: $$ - $$$
6. Happy Buddha Club
Happy Buddha Club is one of the most attractive bars for those who want to enjoy electronic music and grab a special cocktail. It is also located on Tran Hung Dao street which takes you 10 minutes walking from Phu Quoc night market. Upon arrival, their underground DJs will serve you an excellent playlist from deep house, jazz, fusion to techno music.
Additionally, you can also savor many kinds of sophisticated cocktails and snacks on the menu while immersing yourself in the ambiance of the music. However, this place is just open on Saturday from 20:00 until late night, therefore if you want to have a fancy weekend night, Happy Buddha Club will be a great choice.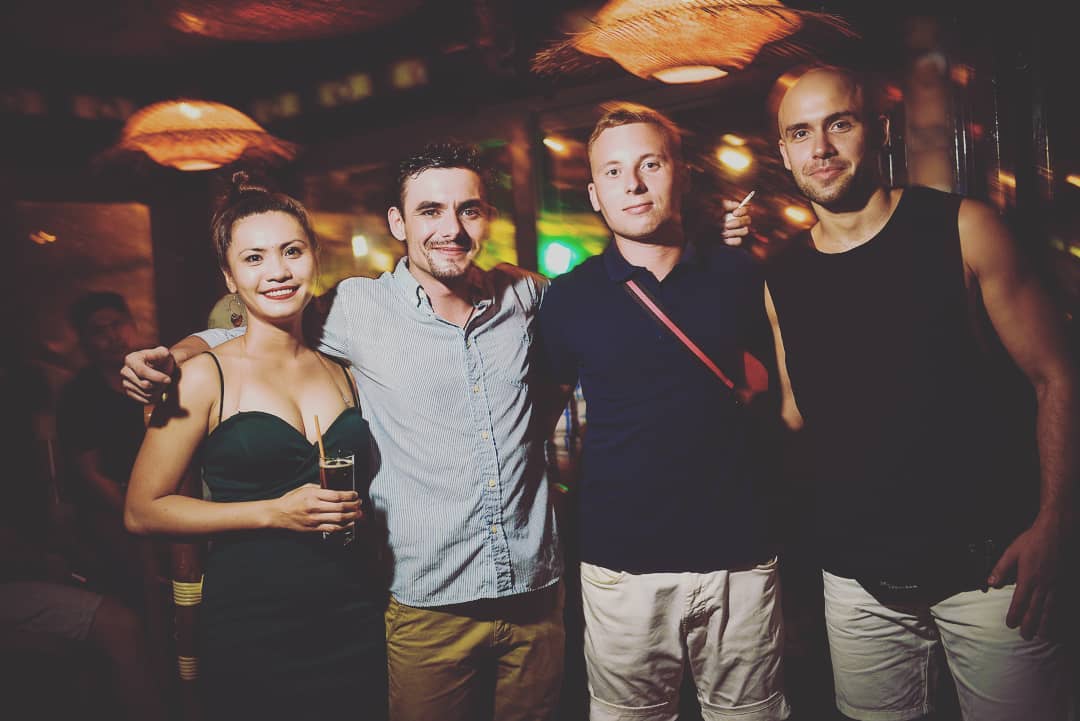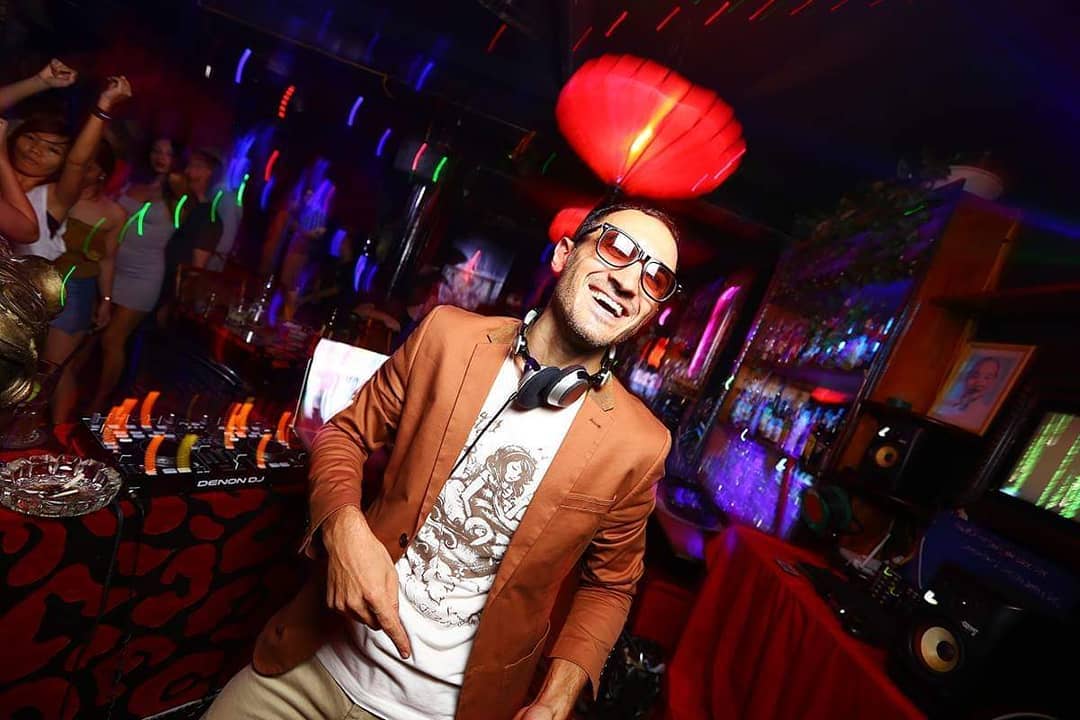 Address: 92 Tran Hung Dao, Duong Dong town, Phu Quoc Island
Tel: +84 166 405 3830
Opening hours: Saturday - 8:00 PM till late
Price range: $$ - $$$
Have yourself a perfect drink and meet your buddies
After the whole traveling day, Phu Quoc also provides you many great destinations for an excellent glass of craft beer and low-volume music vibe if thrilling clubs and bars are not your taste.
7. Coco Bar
Coco Bar is situated at Long Beach and really famous for its homemade rum and wines as well as abundant choices of snacks ranging from Vietnamese to Europe style. The bar is set up as an open-air bar with the modern interiors, some chairs set on the pavement for a lively street view and a pool table for those who want to have a match with their friends. Coconut rum, passion fruit rum, and tri-colored rum shot are signature beverages you should try in the drinking list. Beside those fabulous drinks, you also can join fascinating board games with your friends or take it as a chance to make new friends for your trip.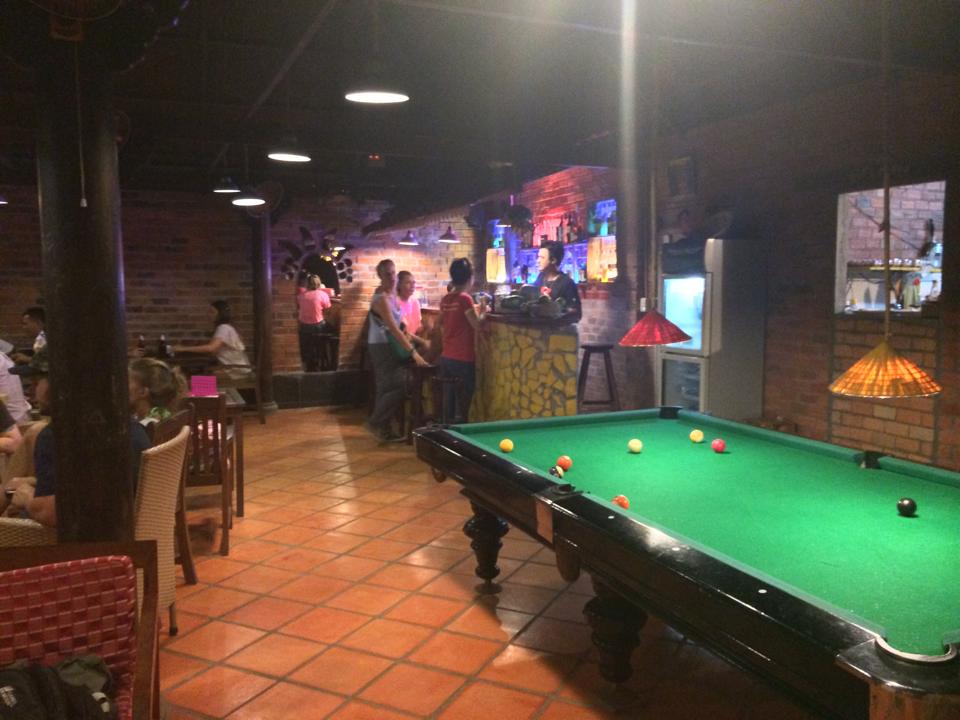 Address: 118 Tran Hung Dao Street, Long Beach, Phu Quoc Island
Opening hours: 8:00 PM - 2:00 AM
Price range: $ - $$
8. BitterSweet Cocktail Bar
Located inside Salinda Resort Phu Quoc, BitterSweet Cocktail bar is a hidden gem for a laid-back and relaxing experience after a long travelling day. Their talented bartenders will satisfy you by the variety of outstanding cocktails and wines which can be personalized to your own taste. Although the bar offers the customized drinks, the price is quite affordable so you don't have to worry much about your budget. Another big plus here is their lovely staffs who are always ready to support or have a friendly talk with you.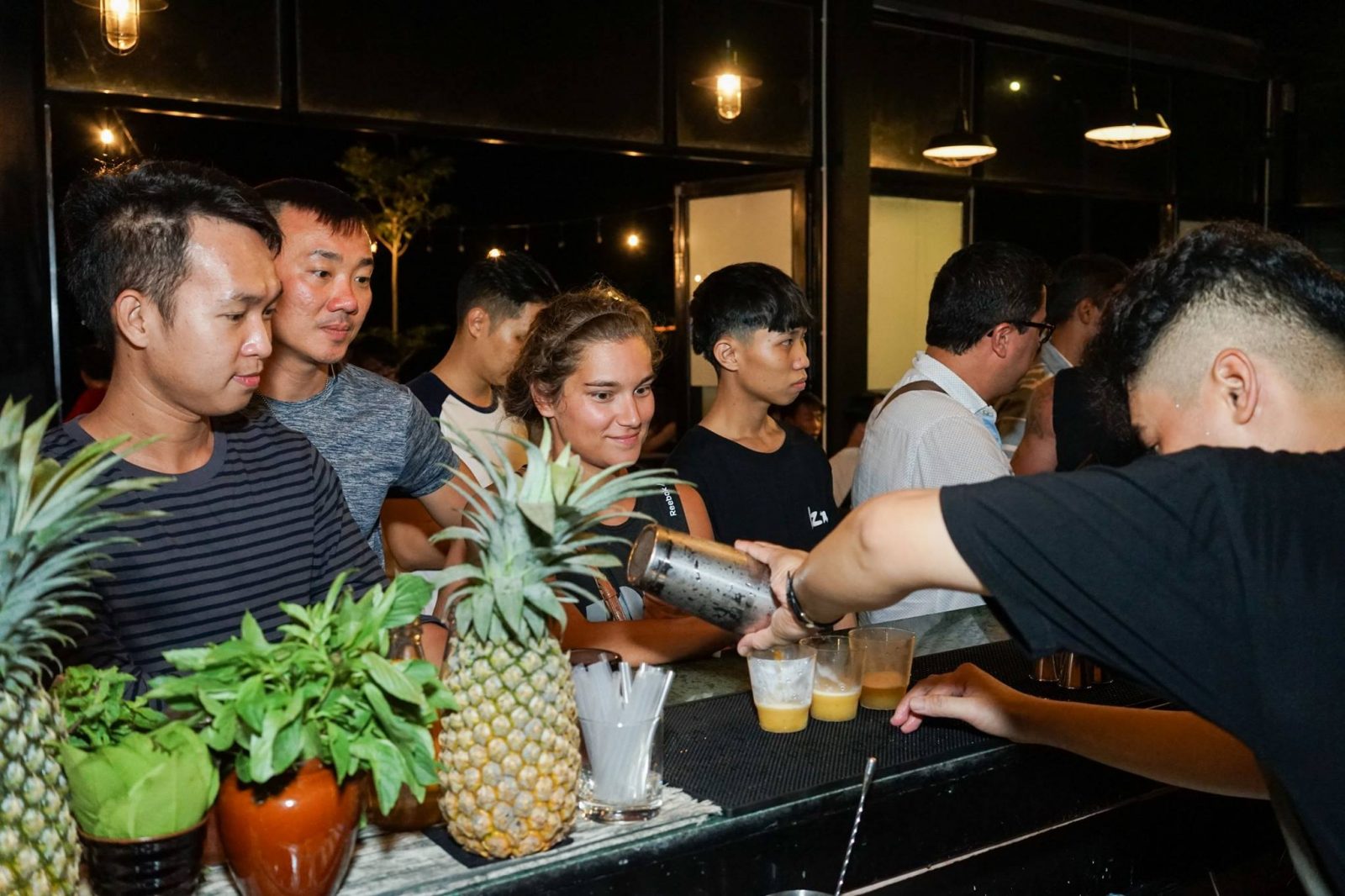 Address: Salinda Resort Phu Quoc, Cua Lap Hamlet, Duong To, Phu Quoc Island
Tel: +84 93 578 45 05
Opening hours: 4:00 PM - 12:00 AM
Price range: $ - $$
9. Dinh Cau Night Market
This destination is quite special because it is not a specific bar or pub, however, when coming here, you will have a numerous choices to taste fresh seafood and enjoy authentic  Vietnamese beer. Along the road, there is plenty of seafood restaurants where you can pick the fresh seafood right at the spot and choose the cooking styles (boil, grill, fried, etc.). Additionally, a visit to Dinh Cau night market will also let you experience the drinking culture of local people, in which you'll sit in a small table at a local restaurant, enjoy a glass of Vietnamese beer and mingle with the locals. This market is open every night from 5PM till 12 AM with the price is around 5 - 20$ per dish depending on the type of seafood that you choose.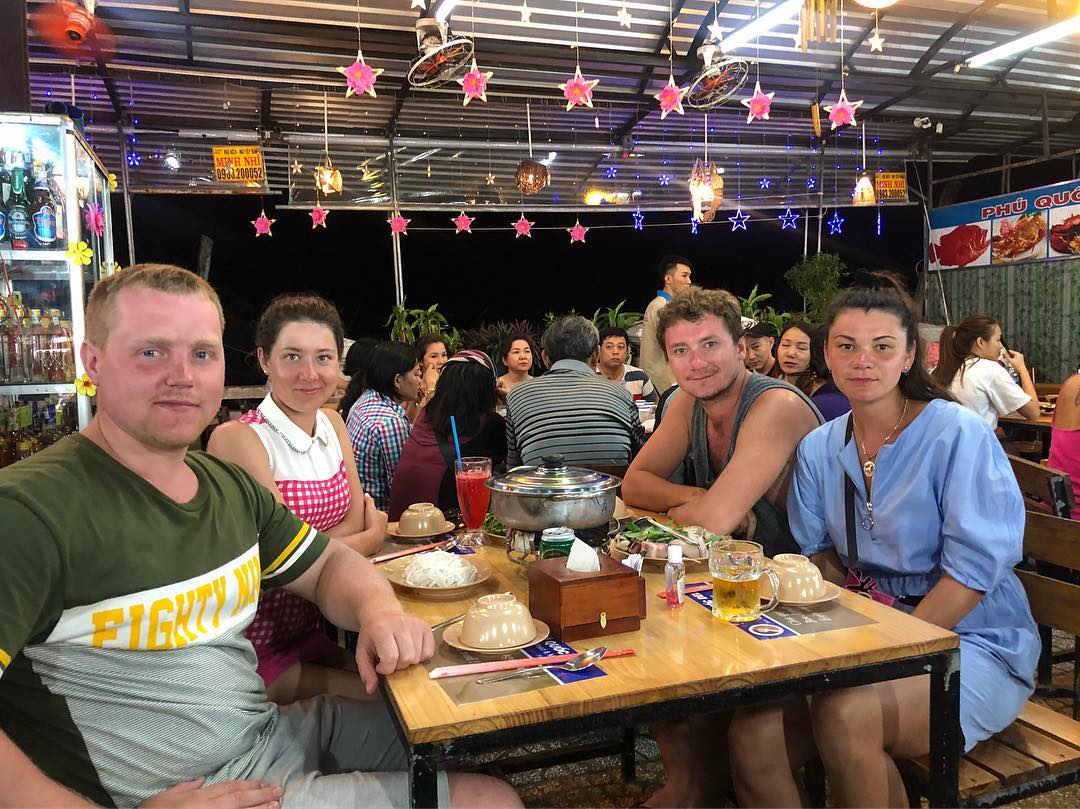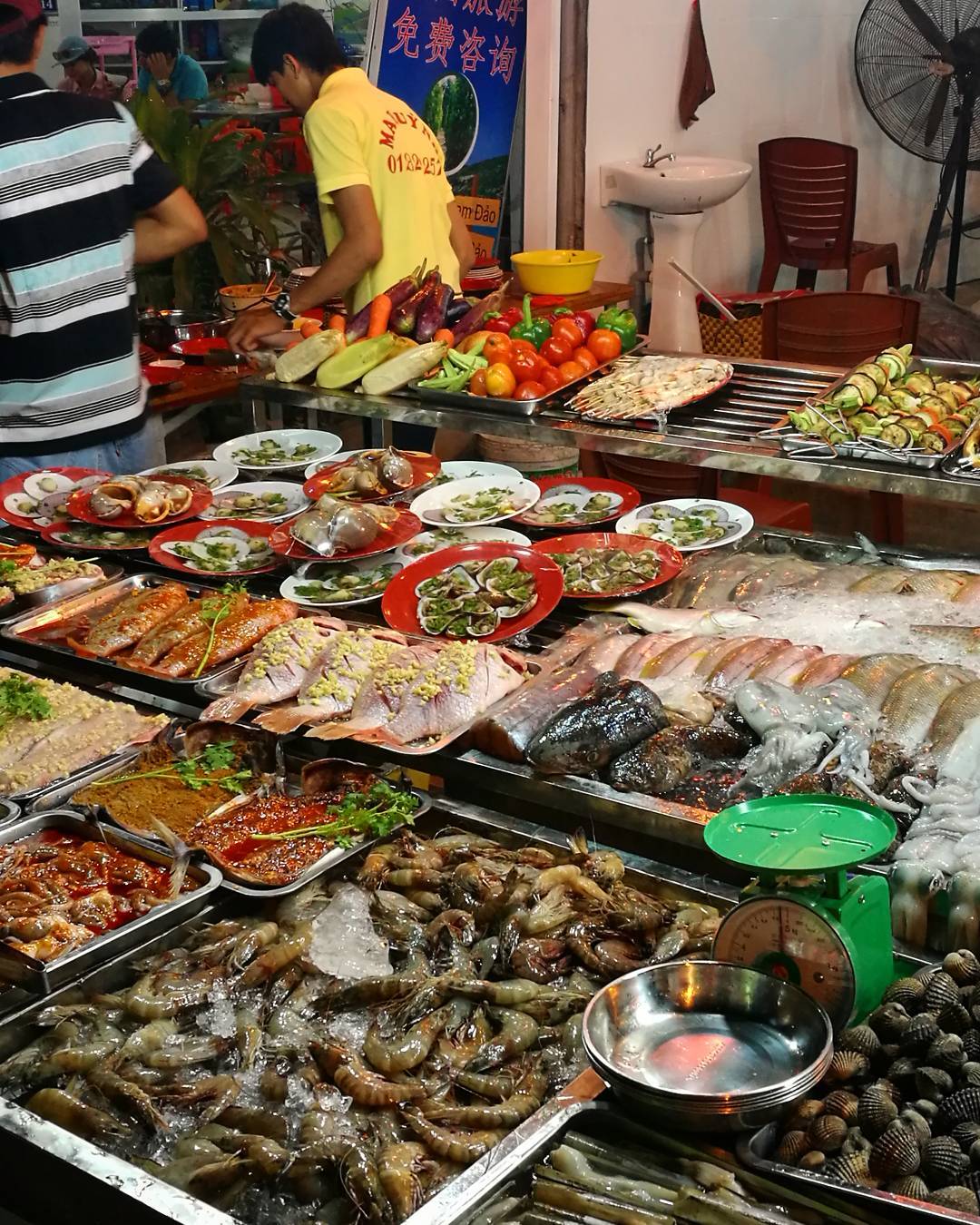 Address: Vo Thi Sau street, Duong Dong, Phu Quoc Island
Opening hours: 5:00 PM - 12:00 AM
Price range: $ - $$
Some useful tips from Inspitrip
Tran Hung Dao street is the main area that gathers many bars and nightclubs, therefore, you can also experience Phu Quoc nightlife on this street.
If you go home late, we recommend you catch a taxi that is from well-known brands to avoid being overcharged.
Be careful with your belongings when walking down the street or joining the bar at night . And don't bring valuable items.
If you drink alcohol, please don't ride a bike as it is illegal in Vietnam.
Phu Quoc is a wonderful island and a great destination for an ocean trip in Vietnam. Hope that through our suggestions you can have amazing experiences in this beautiful place.