Top 5 Bangkok floating markets shouldn't be missed
The capital of Thailand has not only popular night markets like Chatuchak and  Khlong Lod, and large commercial centers like Siam Paragon, Central World, Terminal 21, but it even has floating markets! These river markets are a must-go destinations for tourists to buy fresh tropical fruits and interesting souvenirs while experiencing what it's like to take an essential hub of daily life out onto the water. Here is the list of top 5 Bangkok floating markets you shouldn't miss.
1. Damnoen Saduak - The most famous floating market in Bangkok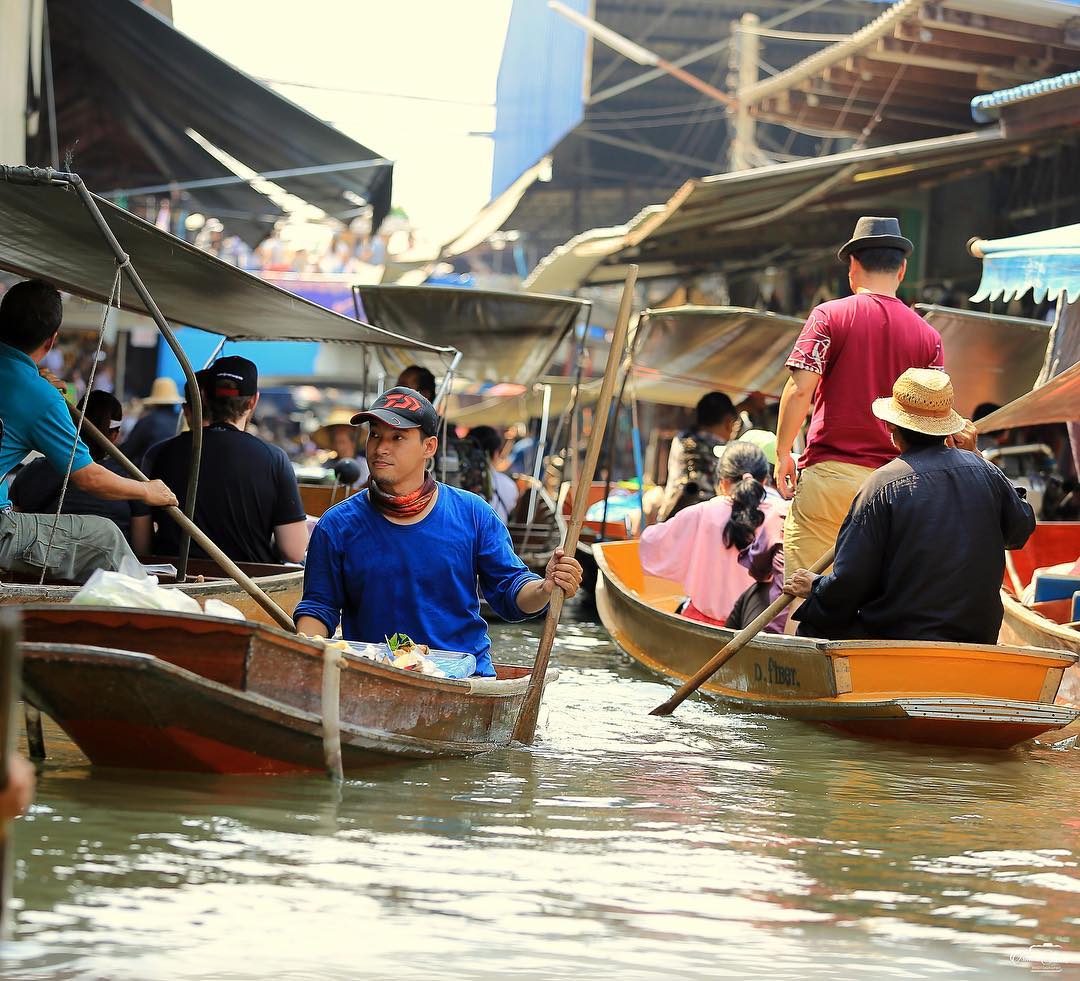 Popular commodities include Thai handicrafts, various kinds of fruits, regional agricultural products, and delicious dishes that will satisfy your travel expectations. The area for visitors often has special street performances. The local area gathers large boats selling all kinds of tropical fruits: rambutan, whip, mangosteen, bananas, etc.
Address: Damnoen Saduak, Ratchaiburi, Damnoen Saduak 70130
Opening time: 7.00 AM - 12.00 PM on weekdays
Check out Damnoen Saduak Floating Market Tour from Inspitrip
Advantages
Damnoen Saduak floating market is extremely crowded and full of boats selling food and fruit, creating a colorful scene among the common images of a floating market. On the sunny days, when the water surface is brighter, the characteristic color of the goods will be more prominent. If you have a passion for photography, this is a great opportunity to take summer vibe photos.
Disadvantages
It is not really a market anymore because most of the activities are for tourism. Hence, shopping here is also becoming more costly than in the local weekend markets. In terms of location, Damnoen Saduak is quite far. With a distance of 100km from Bangkok suburbs, it takes you more than an hour of driving that requires you to wake up early in the morning. Also, because so many tourists come here, it attracts a lot of scammers. Be careful to avoid theft or purchase medium quality goods at high prices.
2. Amphawa Floating Market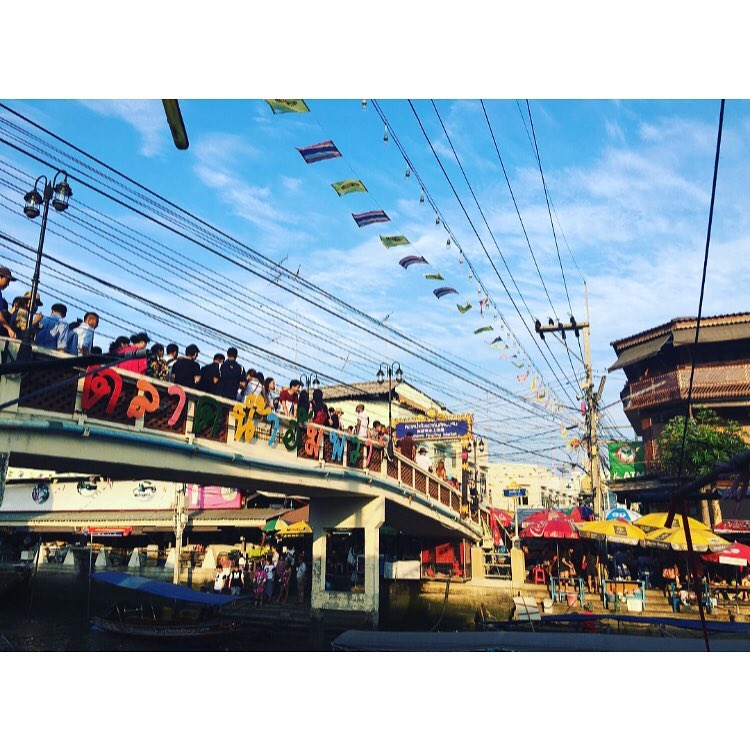 Amphawa is located 50 km southwest of Bangkok. Amphawa is not as large as Damnoen Saduak but gives you the distinct feeling of a Thail local market. In addition, Amphawa's cuisine is considered as one of the top dining areas on the waterways. The most delicious food is the grilled seafood from wooden boats. If you are lucky, you can enjoy the very freshest prawns, scallops, and grilled squid at cheap prices.
Address: Amphawa 75110
Opening time: 2.00 – 8.00 P.M on Friday – Sunday
Check out Amphawa Floating Market half-day tour from Inspitrip
Advantages
Amphawa floating market is full of indigenous nature with small wooden houses lying closely along the canal, offering plenty of souvenirs, snacks, and sweets. Travelers do not need to get up early for Amphawa since it is not as far as Damnoen Saduak. You can come here at 9.00 am but still feel the busy atmosphere. People in Amphawa are quite friendly, visitors can buy seafood and have them cook it while experiencing Thai traditional music or local puppet shows. Do not miss the small temple called Wat Bang Koong, located near the big ancient tree on the other side of the river with the golden sitting-Buddha statue. Wat Bang Koong also has a small park dedicated to children with camels, African ostriches, deer, wild boars, sheep, and peacocks.
Disadvantages
Amphawa is often in a crowded state, especially at noon. Its distance from the city center is about 50km. So it's best to visit Amphawa in the morning, enjoy a seafood lunch early on the river, then walk on the long tail boat.
3. Taling Chan Floating market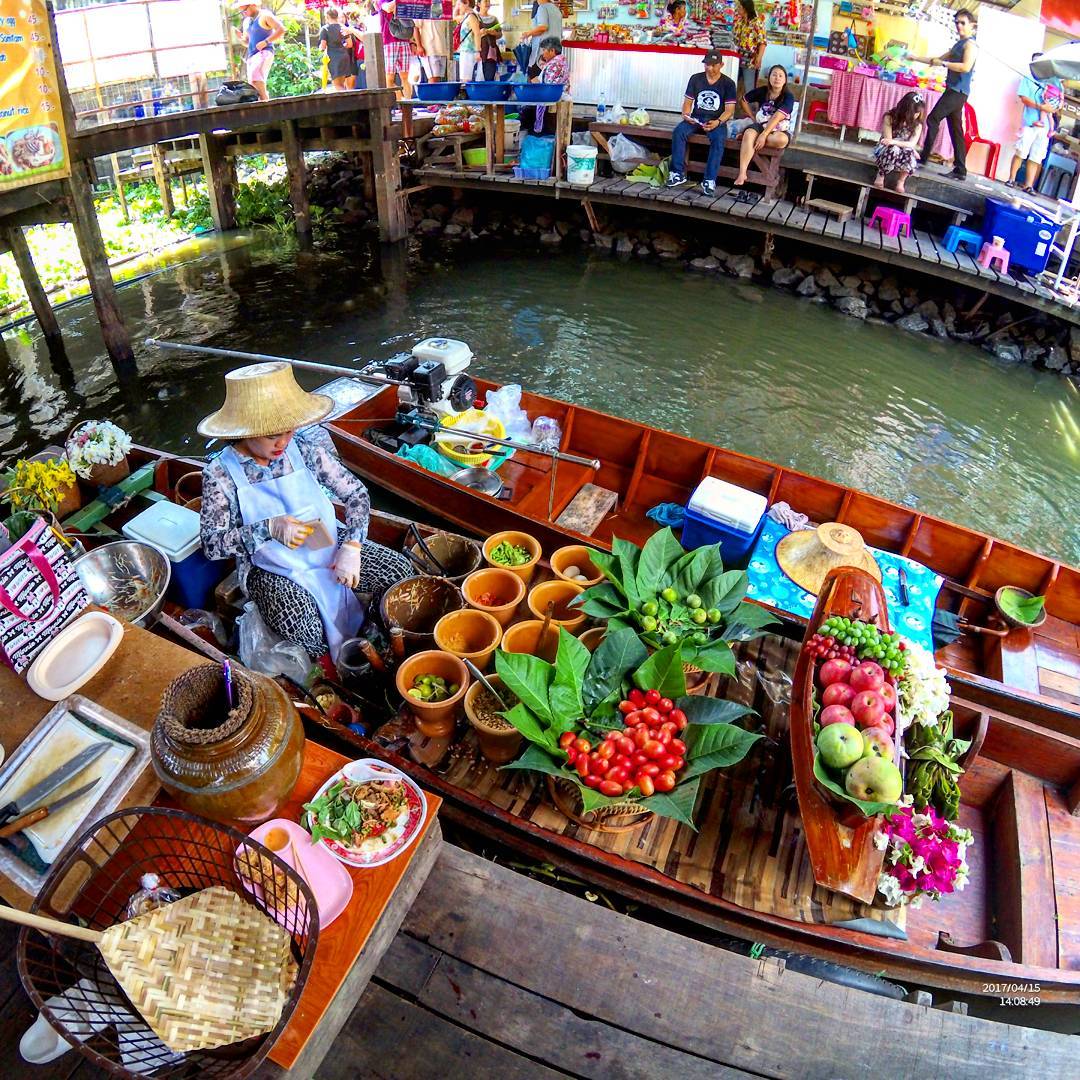 Just a few kilometers from Bangkok but far enough that keeps Talin from attracting the huge crowds of tourists that typically visit Amphawa and Damnoen Saduak. However, Taling Chan has all the features that you would expect at a floating market. With just over 100 baht, you can buy many unique crafts, and a lot of delicious food. The most famous dish in Tailing Chan is the grilled Panda shrimp. The price of four to five jumbo shrimps is just about 200 baht, served on a small grill. For dinner try eating like a local on a wooden pedestal and low tables, and order the Som Tum seafood salad! Moreover, in Talin, you can even have a cheap massage in the inner city that costs only about 200 baht.
Address: 300 Soi Chak Phra 17, Khwaeng Khlong Chak Phra, Khet Taling Chan, Krung Thep Maha Nakhon 10170
Opening time: 9.00 A.M - 05.00 P.M on weekends
Advantages
Only 12km from the center, Tailing Chan operates all day and sells many domestic items. In addition, there are small longtail boats that can take you around to relax on the waterways.
Disadvantages
Talin Chan lacks traditional charm, with fewer wooden houses and tourist boats than Amphawa.
4. Khlong Lat Mayom Floating market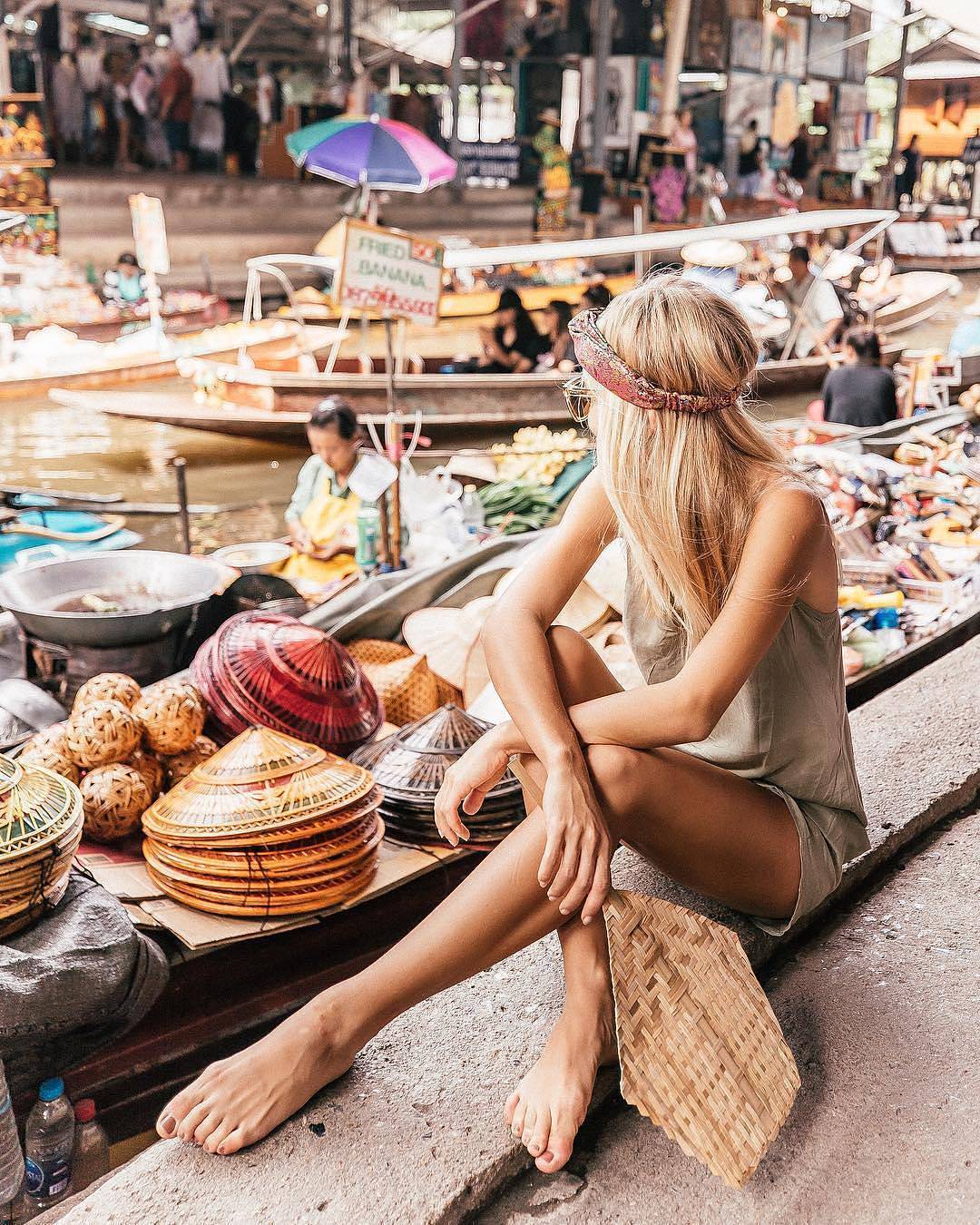 Khlong Lat Mayom is one of three floating markets located near Bangkok, only about 20 km from the capital. This location is also very convenient if you want to explore on your own but are afraid to get lost, because you can catch a taxi straight from the last BTS of Silom - Wongwian Yai. You'll have the opportunity to enjoy popular food dishes like "bowl" noodles (noodles with Khao Soi curry),  Pla Pao (grilled salted fishes), or Goong ob woon sen mixed with sauce, prawns and vermicelli, from about 150-250 Baht.
Address: Soi Bang Ramat, Bang Ramat, Taling Chan, Bangkok 10170
Opening time: 9:30 A.M to 4:30 P.M on Saturdays, Sundays and major holidays
Advantages
Khlong Lat Mayom isn't plagued by the hordes of tourists like some of the other markets. The main area is located on land with all kinds of fruits and sweets, but is also near Tailin Chan floating market, which gives you the opportunity to visit the two markets in the same day.
Disadvantages
Khlong Lat Mayom is quite small to be called as a floating market, having only about 10 boats and no longtail boats to take you around.
5. Bang Nam Pheung Floating Market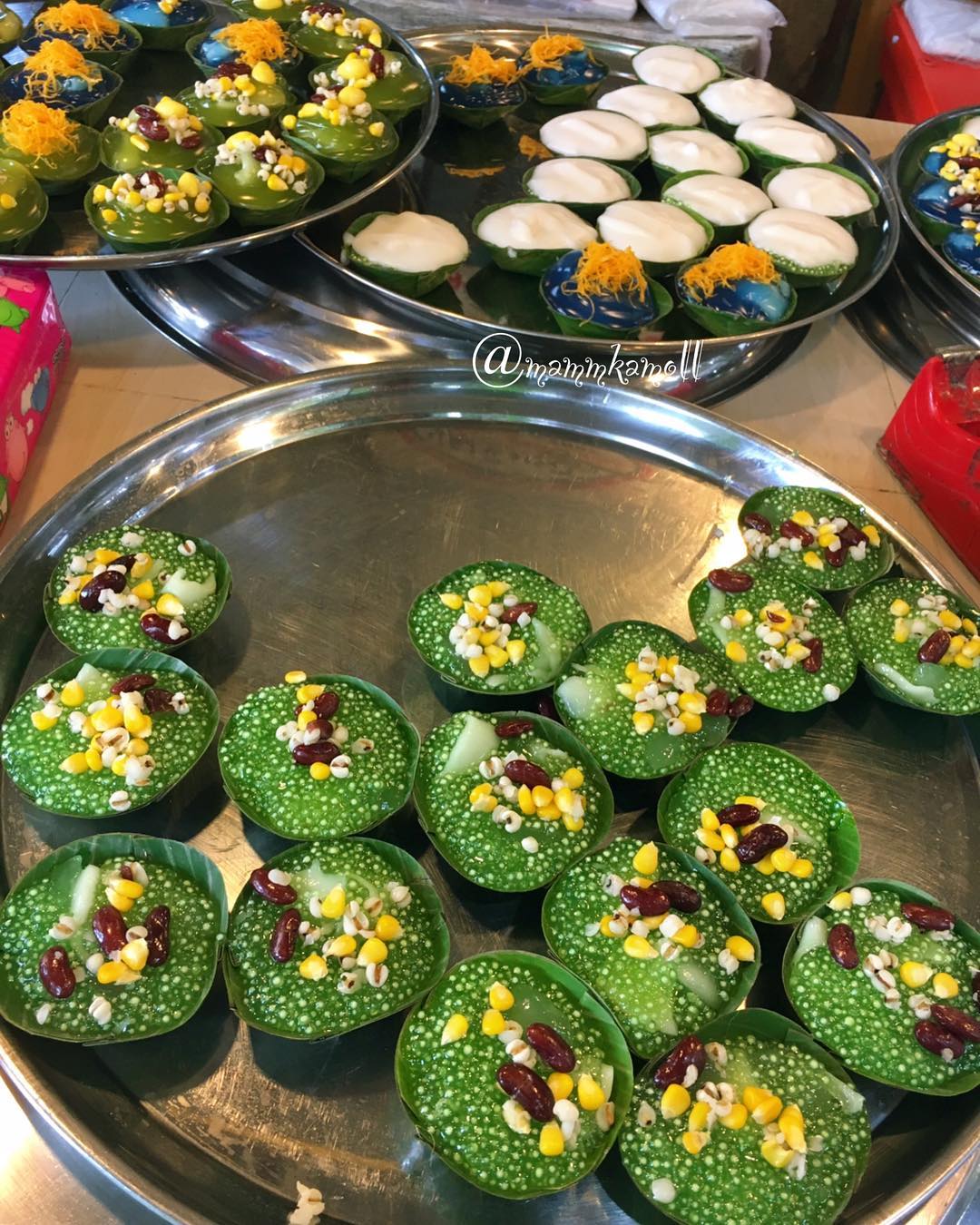 Bang Nam Pheung is the smallest one of Bangkok floating markets, but also the nearest one if you are in the East of capital. But the small scale does not prevent Bang Nam Pheung from becoming an attractive place. Located on the banks of the Chao Phraya River with small stalls, this is an interesting stop for those who love street-style Thai food in a quiet atmosphere.
Address: Soi Bua Phueng Phatthana, Bang Kobua, Phra Pradaeng 10130
Opening time: 8:00 A.M to 2:00 P.M on Saturdays, Sundays
Advantages
Nam Pheung is very close to Bangkok, about 20km and the market is quite easy to explore. It is located in "Bangkok's Lung" which is a relatively untouched nature reserve, surrounded by a river. Walking around under the shade of trees and crossing the mangrove forest is a unique experience that you should try.
Disadvantages
There are only 6 boats without long tail boats. Moreover, Nam Pheung is near Bangkok but quite hard to find. You'll need to study a map or have a reliable taxi driver. Bangkok floating markets still retain the typical Thai culture through hundreds of years of history and culture. You can choose a destination based on your taste, needs and location: Damnoen Saduak and Amphawa is suitable for dynamic travelers, but in contrast, if you want to enjoy the peaceful countryside, you should visit Tailing Chan, Khlong Lat Mayom, or Bang Pheung.