Top 20 restaurants in Nha Trang 2021
Wherever you come from, whatever your budget is, here is our local guide to Top 20 best restaurants in Nha Trang.
Being known as the Riviera of the South China Sea, Nha Trang is not only famous for its stunning tropical beaches and tranquil seasides resorts but also popular for its a variety of delicacies for travelers worldwide. c
1. Sandals
Fancy for a dinner at the beach front in the iconic Sailing Club at Nha Trang? Sandals is one of the highest rated restaurants in Nha Trang. Serving intimate menu of Vietnamese and Mediterranean dishes, Sandals delivers sophisticated perfection on every delicacy. You can choose to enjoy your meal on the veranda with magnificent views of the East Sea or inside with well-decorated luxury dining area.
In your visit to Sandals, don't forget to order their signature dish: Sandals Seafood Platter. This is a combination of fresh seafood: lobster, prawns, calamari and mussels tailored with imported wine and beers for the best dining experience.
Address: 72-74 Tran Phu street, Nha Trang
---
2. Lanterns
Lanterns becomes one of the most favorite luxury restaurants in Nha Trang thanks to its traditional Hoi An-style decoration and close proximity to Tran Phu Beach. The restaurant stands out with its colorful Hoi An lantern which implies the source of their food supplies from local fishing villages. Lanterns offers a sophisticated mix of Vietnamese and Western cuisine. You can find yourself dining with pasta, salads as well as Vietnamese curry, seafood claypots or hotpot. Besides, the restaurant also supports the local community with free weekly lunches and scholarship programs.
Address: 30A Nguyen Thien Thuat street, Nha Trang
---
3. Pita Greek
Ranking on the top 3 out of over 250 Nha Trang restaurants on TripAdvisor, Pita Greek is a place to eat when you're looking for some Greek dishes. Dining with Pita Greek, you can find yourself in a Asian nostalgic area with antique sewing machines, faucets and birdcages. Our recommendation for your at this restaurant is Athens-style souvlaki, a mixture of meat, tomatoes, onions, fries and tzatziki sauces inside a grilled pita bread. Then, you can treat yourself with a delicious Greek pudding.  Except from Tuesdays, this Greek venue opens from 8am and welcomes you for breakfast, lunch and even dinner. Make sure you book a table in advance.
Address: 7G3 Hung Vuong street, Nha Trang
---
4. Lac Canh
Being famous for its BBQ beef, this Nha Trang restaurant, Lac Canh brings you a memorable dining experience with local feast on meat. This restaurant has no kitchen but one on every table. Come to this restaurant and experience your do-it-yourself meals. You can choose from diverse ingredients: richly-marinated-with-spices beef, fresh seafood, chicken cuts, etc. All meat are raw and you will grill them on charcoal at your table. Don't forget to get yourself a banh mi as side dish with your grilled meat.
Address: 77 Nguyen Binh Khiem, Nha Trang
---
5. Ganesh Indian Restaurant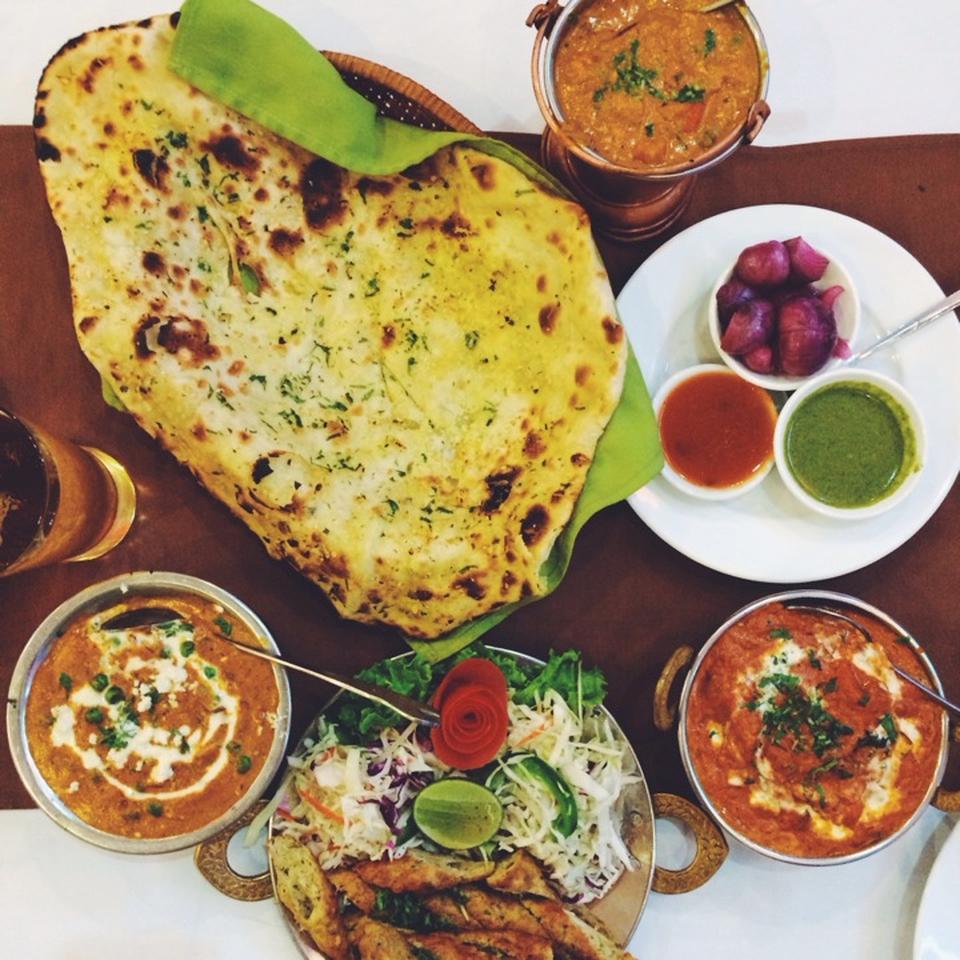 Ganesh is a well-known Indian restaurant chain across Vietnam and they have one in Nha Trang. This Nha Trang restaurant becomes a favorite dining place for both foreign tourists and expats thanks to its nice decoration, delicious dishes and excellent service with friendly staff. Its Indian menu includes flat breads of all sorts, paneers and plenty of appetizers such as curries or biryani dishes. Vegan or vegetarian are welcomed in this restaurant.
Address: 82 Nguyen Thien Thuat street, Nha Trang
---
6. Yen's Restaurant
Yen's Restaurant specializes in authentic Vietnamese dishes from claypots, noodles, pho, banh xeo to spring rolls or ribs and rice dishes. With talented chefs and attentive staffs, this place are recognized with its delicious traditional dishes with a modern twist. This Nha Trang restaurant soon earns its fame among locals and expats thanks to the tranquil atmosphere. Not only being well decorated with traditional Vietnamese style, this venue brings customers with soft lining, traditional music and soft-spoken staff in "ao dai".
Address: 73/6 Tran Quang Khai street, Nha Trang
---
7. Refuge Restaurant
For those who love Swiss-French fare, this place is a must-try. Within a couple minute of walking from the famous Tran Phu beach, you can find yourself inside a wooden cabin-style restaurant. Offering a warm and cozy ambiance to customers, this Nha Trang restaurant allows you to feel right at home. To enjoy your calm and relaxing evening, you can choose from diverse Western cuisines such as crepes, salads, imported cheeses, grilled beef, lamb steaks, mountain sausages, and even crocodile.
Address: 148 Hung Vuong street, Nha Trang
---
8. Mix
A small but always packed with diners restaurant, Mix is another Greek restaurant for you to crave some delicious Mediterranean cuisine in Nha Trang. This place offers you an alternative lunch and dinner option to the typical Vietnamese and even Russian restaurants that dominate this coastal city. If you are first-timer there, don't hesitate to order their signature dishes which are Melitzanosalata known as Greek eggplant dip and Hummus, Chicken Pitogyros and Britzola. All can bring you the authentic delicious Mediterranean taste.
Address: 77 Hung Vuong street, Nha Trang
---
9. Kiwami
You can miss sushi once you are in a coastal city. In Nha Trang, you can visit one of the best sushi restaurant in town, Kiwami. Proudly to presents the beauty of authentic Japanese cuisine to locals and expats, this place use the fresh ingredients right at this coastal city and turns them into delicious sushi dishes. The decoration is intimate and authentic. You can enjoy your dishes while watching the specialist sushi master chef preparing the delicious rolls. Also, alcohol drinks includes Sake and Sapporo are available.
Address: 136 Bach Dang street, Nha Trang
---
10. Coconut Garden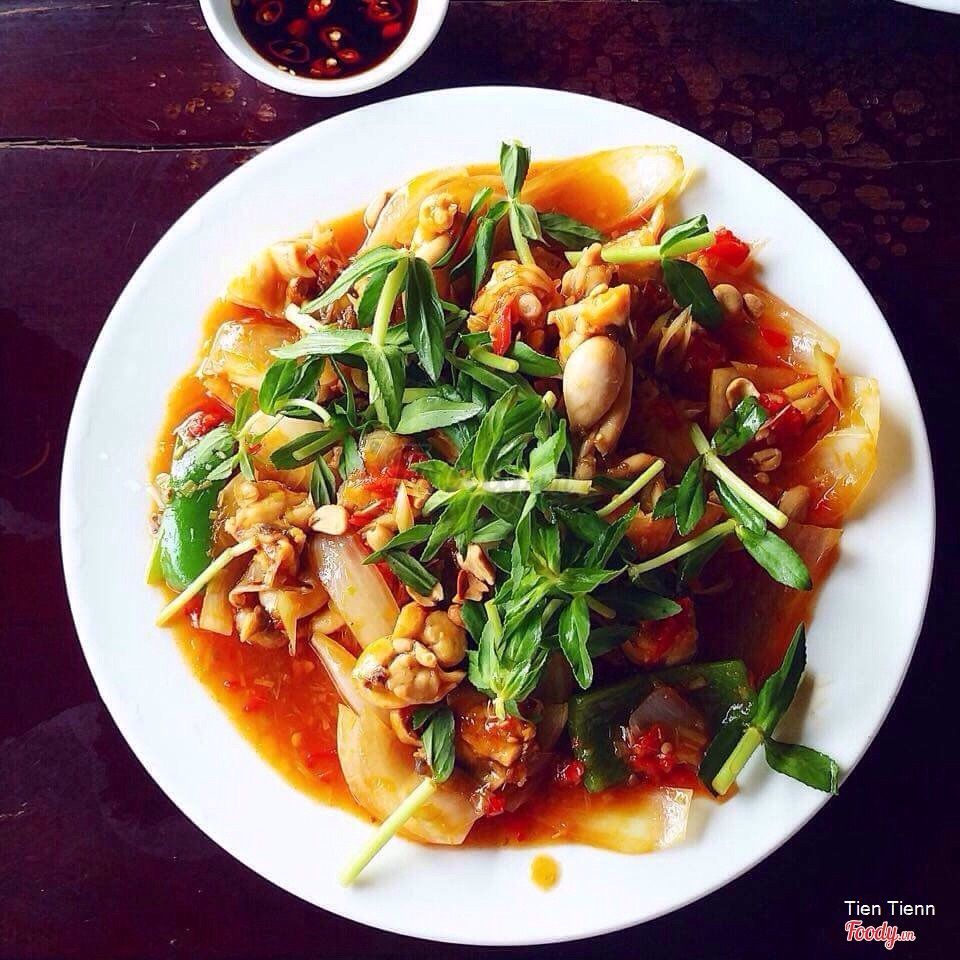 Forget about luxury restaurant and dine as a pro local at Vuon Dua - Coconut Garden Restaurant. In this Nha Trang restaurant, you can eat drink beer, compete in a singing contest and enjoy the spectacular river view. Alike its beautiful view, Coconut Garden also offers fresh and delicious seafood with plenty of cooking methods. You can choose to fry, roast, grill, steam or served with hotpot. For seafood lovers, this restaurant brings you a wide range of choice with oysters, crabs, snouts, fish, prawn, etc. at affordable price.
Address: Ngoc Thao Dune, Nha Trang
---
11. Thanh Hien Seafood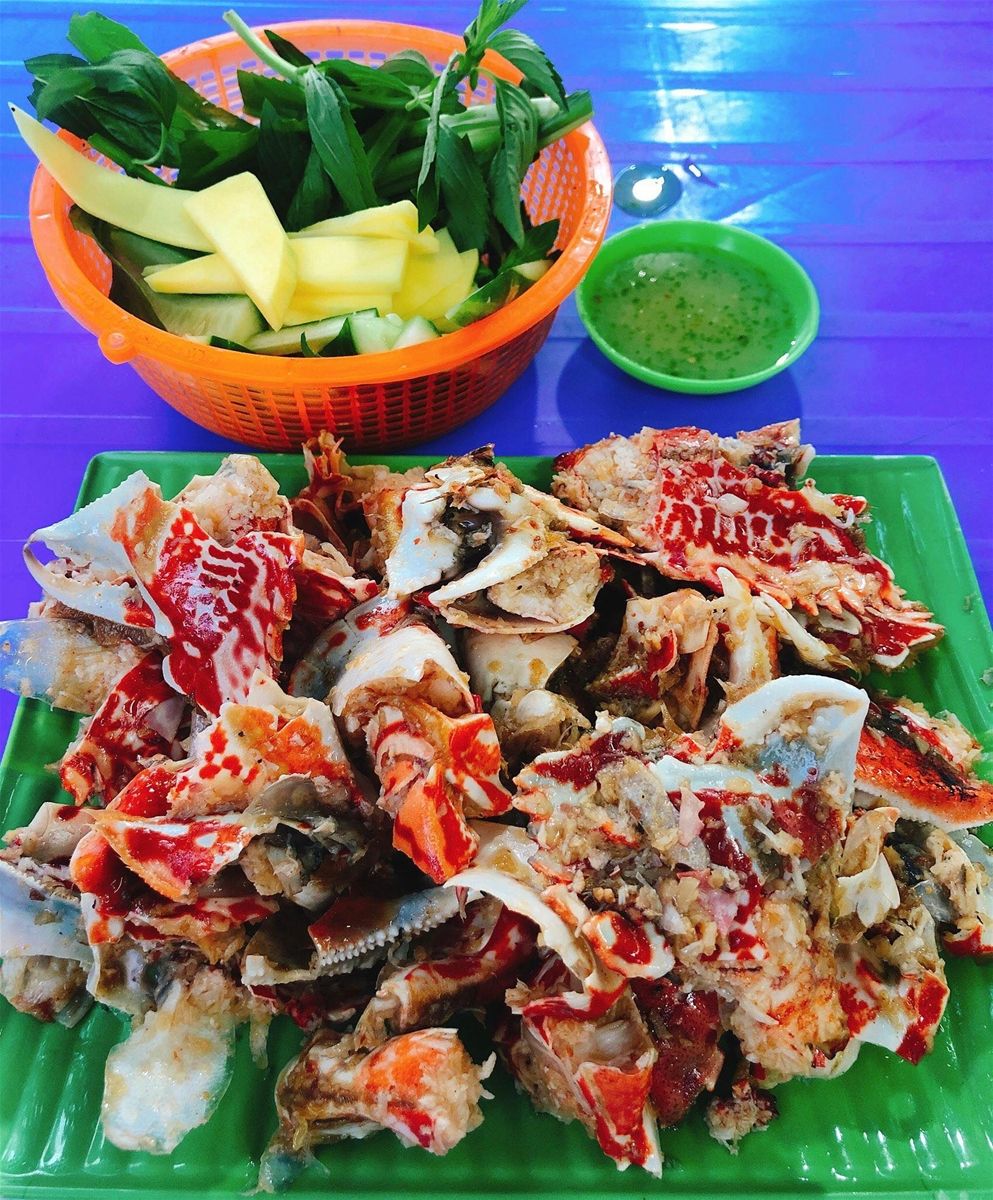 Unlike other restaurant, Thanh Hien Seafood offers you a lively menu inside the venue. You are offered to choose live seafood which are kept alive in the glasses aquarium. It's a 3-step process to your meal. First, you choose your desired seafood such as lobsters, crabs, shrimps, fish, octopus, etc. Secondly, you give them the quantity of that seafood in kilogram. Then, you decide how they cook them. And in a couple minutes of waiting, you can enjoy the fresh and delicious dishes. Don't forget to try their featured dishes which is grilled shrimp dipping into special sauce of chill, garlic and fish sauce.
Address: 9KA Pham Van dong street, Nha Trang
---
13. Hanh Xuan Seafood
Hanh Xuan Seafood is a must go place if you want to eat like a local. Being well-known for its fresh crab and fish hotpot, this restaurant also serves other decent seafood at affordable price. It is considered as a local habit when having the steam crab and drinking beer. The recommended dishes in this Nha Trang restaurant is fish hotpot. The fish called "Cá hú" in Vietnamese is served with rich flavored and spicy fish broth. The restaurant welcomes you all day but you are recommended to visit for dinner to avoid the daylight heating. The staff is friendly, helpful and speaks your language so don't worry when ordering.
Address: 36 Cu Huan, Nha Trang
---
13. Xuan Anh Snail
Beside well-known seafood such as crabs, lobsters or fish, snail is popular in Vietnam. Xuan Anh snail is a must-go restaurant when you want to try snail in Nha Trang. Snail are considered as cheap ingredients but can be deliciously cooked in diversity ways. One of the best dishes in this Nha Trang restaurant must be the wool snails which is steamed with coconut water. This dish brings you a sweet, spicy and creamy flavor. To eat this, you firstly taste the creamy sauce around the snail and then strongly suck the snail inside. Some foreign tourists may find it difficult in their first try. Therefore, you can ask the attentive staffs for help.
Address: 9C Thap Ba, Nha Trang
---
14. Banh Can
Banh Can is a type of small cake made of rice flour and additional eggs, squid, shrimp and meat. The cake will be fried in a round-shape pan and usually served 2 pieces as one. Also, you can have the crunchy cake with sweet chili fish sauce, side vegetable and herbs. This dishes is usually served as afternoon snack or dinner. In Nha Trang, one of the most famous Banh Can restaurant is Banh Can 51 To Hien Thanh. The restaurant opens from afternoon to 9pm and is always crowded with customers. Thus, you can expect some waiting time and come earlier.
Address: 51 To Hien Thanh street, Nha Trang
---
15. Ngoc Anh Seafood
One of the most signature dishes in Nha Trang is jellyfish salad. The delightful combination of fresh jellyfish, vegetables, peanuts, chili, and lemon will make your tongue sweet and spicy at the same time. Besides, this Nha Trang restaurant offers you an ordinary Vietnamese meals with soups, main course and vegetables. The restaurant becomes well known thanks to its delicious dishes, generous serve size and friendly English & Russian speakers staffs.
Address: 3 Thap Ba, Nha Trang
---
16. Nha Trang View Restaurant
In case you are looking for a luxury restaurant with alfresco seat and panoramic beach view, Nha Trang View Restaurant is a must-go. Dining with this seaside venue, you can enjoy the precious dishes with a touch of sea breeze and gold waves crashing at the sunset. With the beautiful view and delicious seafood in reasonable price, this restaurant is a middle-class one Nha Trang offering you.
Address: Lau Ong Tu, Tran Phu, Nha Trang
---
17. Chef's Club @Skylight Nha Trang
Located on the 43th floor of Skylight Nha Trang tower, this restaurant provides you with a spectacular view of Nha Trang's cityscape and the curve of the coastline. This Nha Trang restaurant only opens from the evening to midnight so you are recommended to go there for a dinner. The menu is mixed of Vietnamese and international cuisine and served by chef Michael Bao, the famous Iron Chef. Beside dining, you can experience the Skywalk on transparency glass and visit one of the highest lighthouse in Vietnam.
Address: 38 Tran Phu, Nha Trang
---
18. Champa Garden Restaurant
Nha Trang once called Ya Trang in Khmer language and used to be the capital city of the Champa Empire until the 19th century. Therefore, you can find many Champa signs such as buildings, pagodas, temples and obviously, cuisine. Champa Garden Restaurant not only is well decorated with Champa traditional style but also offers seafood in Champa cooking ways. Also, the attentive staffs and excellent service make the restaurant become a unmissable eatery when travelling to Nha Trang.
Address: 304 April 3rd street, Nha Trang
---
19. Qui Cuisine Mixology
A perfect combination for lunch at day and hanging out at night is Qui Cuisine Mixology. This Nha Trang restaurant offers customers with luxurious, elegant and sophisticated in both menu and decoration. The menu is served with a combination of Vietnamese and Western cuisine at the perfect level. Besides, alcohol drinks such as seasonal cocktail, wine, whisky and beer are available. Daily live music is played at night with diverse genres: Deep House, Hip Hop, R&B, etc.
These are top 20 restaurants from local budget one to luxury one you can explore in Nha Trang. If you are planning a trip to Nha Trang, here are our guidance on Nha Trang airport arrival and top recommended hotels.