It is often said that a city is best enjoyed through the eyes of its residents, that is to say the locals, who have seen and lived every nook and cranny as well as every aspect of it. With that in mind, here are 20 non-touristy things to do in Ho Chi Minh City to the fullest.
1. Get your "mandatory" bowl of Pho
Pho is the dish that help put Vietnam on the international culinary map. The fact that it is so well-known, more often than not, disinterests people. However, you have not tasted Pho until you have tried it here in Vietnam, its original birthplace. And it is not in fancy restaurants will you find the best Pho, but rather in the places that locals frequent. One of which is 'Pho Hung Vuong'. Visit this non-touristy joint and you will get the chance to experience the authentic, soulful taste of Pho.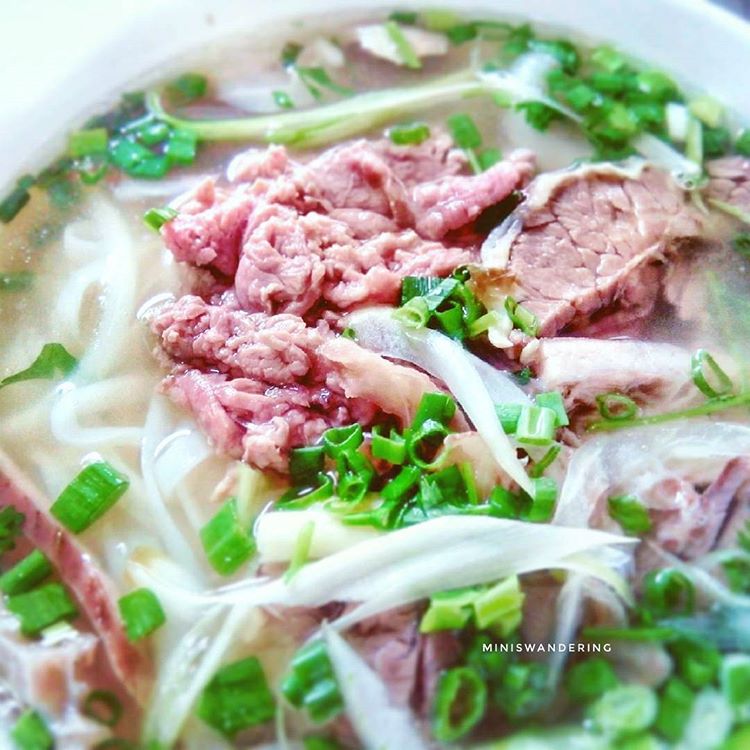 A normal bowl of Pho at this restaurant will cost about 2 to 4 USD, a bit more expensive than at other joints, but the taste is worth the price. You can also order a side of blanched bean sprout, extra noodle or even beef. Fortunately, the menu here is both in Vietnamese and English so you don't have to struggle when ordering.Address: 339 Le Van Sy street, Ward 1, Tan Binh district. If you want to have a wider range of choices, visit our article on "Top 15 restaurants for best pho in Ho Chi Minh city".
2. Try 'Com Tam'
In spite of its praises, Pho is not all there is to Vietnamese cuisine. Here in Sai Gon, a nostalgic name of Ho Chi Minh City, Com Tam is also a ubiquitous dish with the natives. A combination of fragrant broken rice, enticingly charred-edge, savory pork chop, sweet and sour fish sauce, topped with pickled veggies, Com Tam is something that is worthy of a detour. Head over to 'Com Tam Ba Ghien', which is quite popular with the locals, to have some of the best Com Tam in Sai Gon.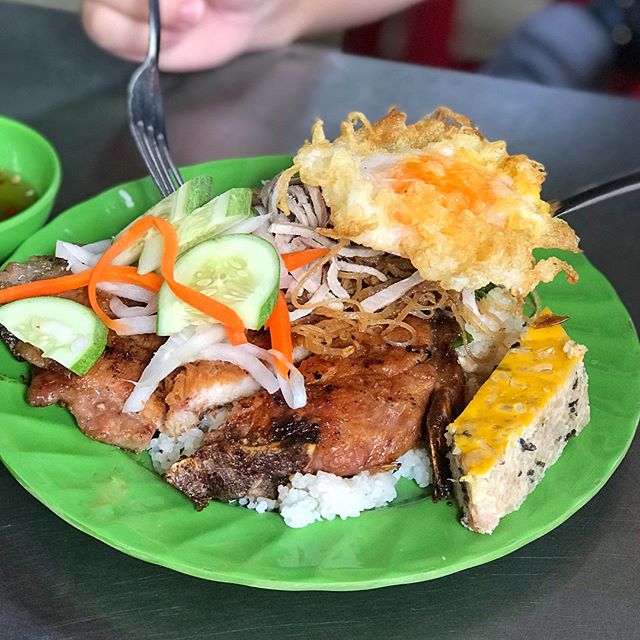 A serving at this spot is anywhere between 2 and 3.5 USD. Besides the traditional enormous pork chop, you can heighten this already scrumptious dish with the addition of a crispy fried egg or Cha, Vietnamese meatloaf with vermicelli and cat's ear mushroom.Address: 84 Dang Van Ngu street, Ward 10, Phu Nhuan district.
3. Grab a bite of Vietnamese pancakes – 'Banh Xeo'
Each region in Vietnam has their own interpretation of the dish. In the southern parts of Vietnam, especially Sai Gon, Banh Xeo has its signature crispy edges and stir-fried pork and shrimps in the chewy center, complimented by an assortment of fresh herbs and eaten with sweet and citrusy fish sauce. This simple, rustic treat is sure to satisfy your appetite.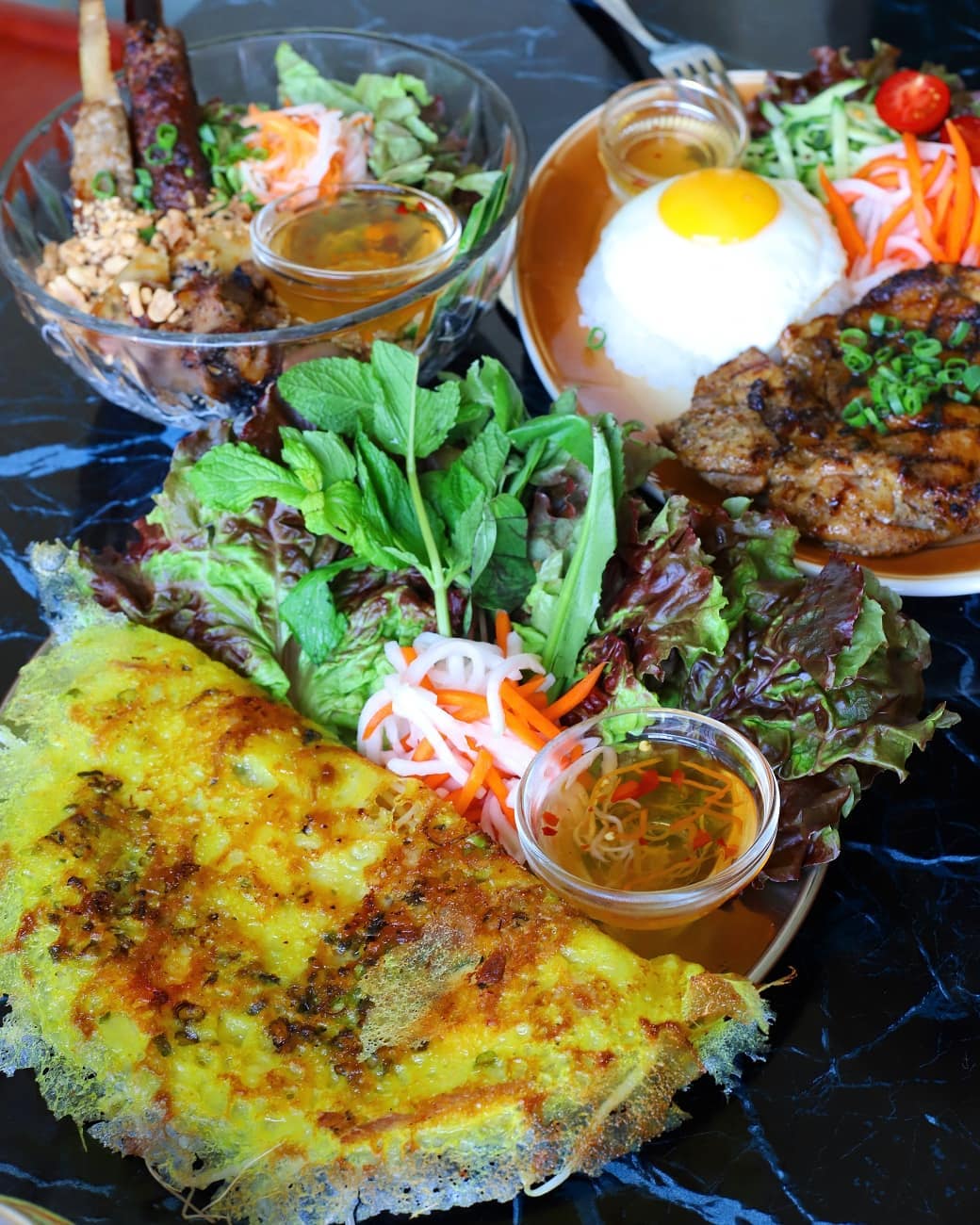 4. Get your 'Banh Mi' – Vietnamese baguette
Before receiving international recognition, Banh Mi was considered a meal for the working class due to its inexpensiveness, compact size and simple ingredients. Now, though it is loved by locals and foreigners alike, 'Banh Mi' still stays true to its commoners' root. So, while you are in Ho Chi Minh City, have a true feel of Vietnam, grab a Banh Mi and savor every bite of it; you'll immediately crave another one once you are finished.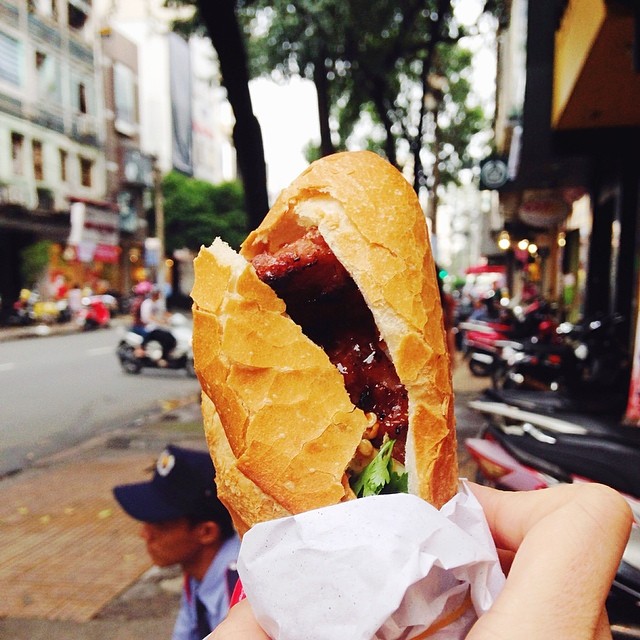 Among the best Banh Mi stalls in Sai Gon is Banh Mi Hong Hoa on Nguyen Van Trang street. Go there early in the morning and you will get to enjoy the newly baked breads from the adjoining bakery. For your first Banh Mi, go for the classic combination of cucumber, cilantro, pickled radish and carrot, with Cha Lua, Vietnamese sausage, and pork slices, elevated with a smear of liver paté. Once you are finished, move on to the more famous version of Banh Mi of this stall, the BBQ pork and mixed meat. For less than a dollar, you can have this delicious treat as breakfast, lunch or on-the-way snack.Address: 62 Nguyen Van Trang, Ben Thanh ward, District 1.
5. Have your morning cup of joe, Vietnamese style
Another thing to cross off your bucket list is to try Vietnamese coffee. It is not your usual Americano or Cappuccino, but make no mistake, it is still strong enough to give you a wake-up call. The roasted coffee beans, originating from Thai Nguyen and Buon Ma Thuot provinces, are grounded, giving off a strong, warm and uplifting aroma, before being put in a phin filter and have boiling hot water poured over. As the anticipation builds up with every drop, the flavor increases. Mix that with ice and condensed milk and you are ready to jump start your morning.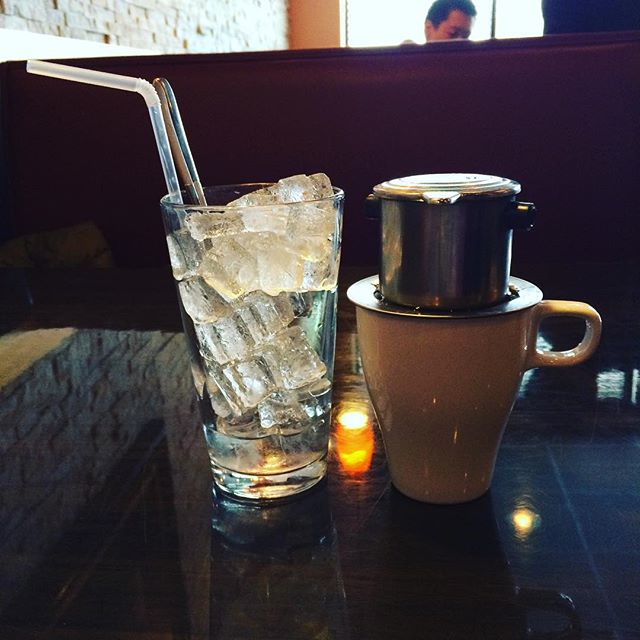 6. Go on a street food extravaganza
Ho Chi Minh City still has a lot in store for you in terms of food. So, find yourself a guide and go on a street food extravaganza in District 4, on Xom Chieu street and Ton Dang street. These two streets are known for a wide variety of street food delights, ranging from sweet to savoury. Other renowned street food heavens in Sai Gon are Phan Xich Long street (Phu Nhuan district) and 284 Le Van Sy street (District 3). Travel to these spots and an adventure is guaranteed for your taste buds.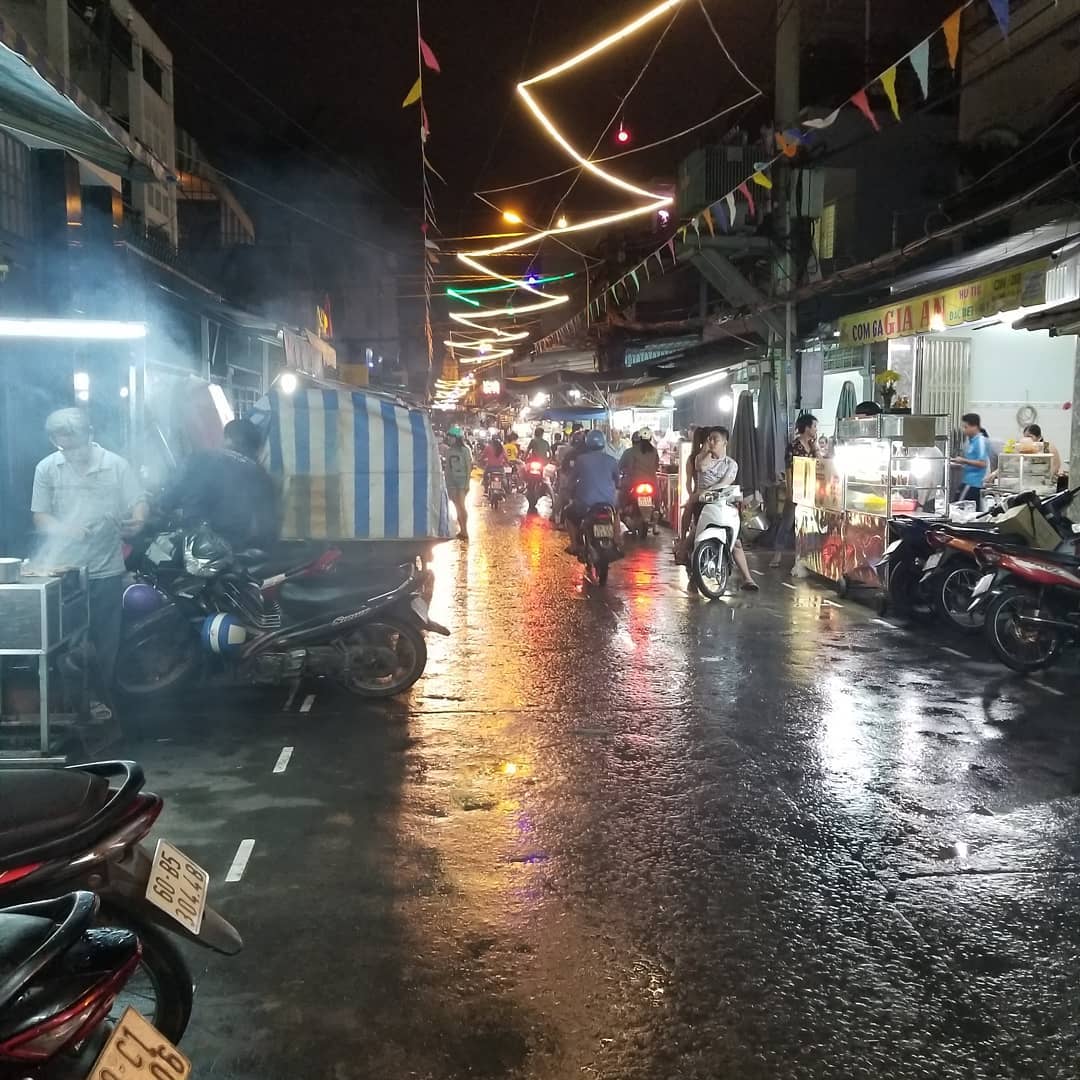 7. Visit an unsual pet café
Although the concept of a pet-populated café is not new in Ho Chi Minh City, these establishments can still deliver a wonderful time to visitors. You can either prepare to have your heart melted when greeted by a barrage of furry cuteness or be mildly alarmed yet pleasantly intrigued at the sight of more exotic companions. Some of the most popular pet cafés are Pet Me in Thao Dien and Babo Café on Pham Van Hai street.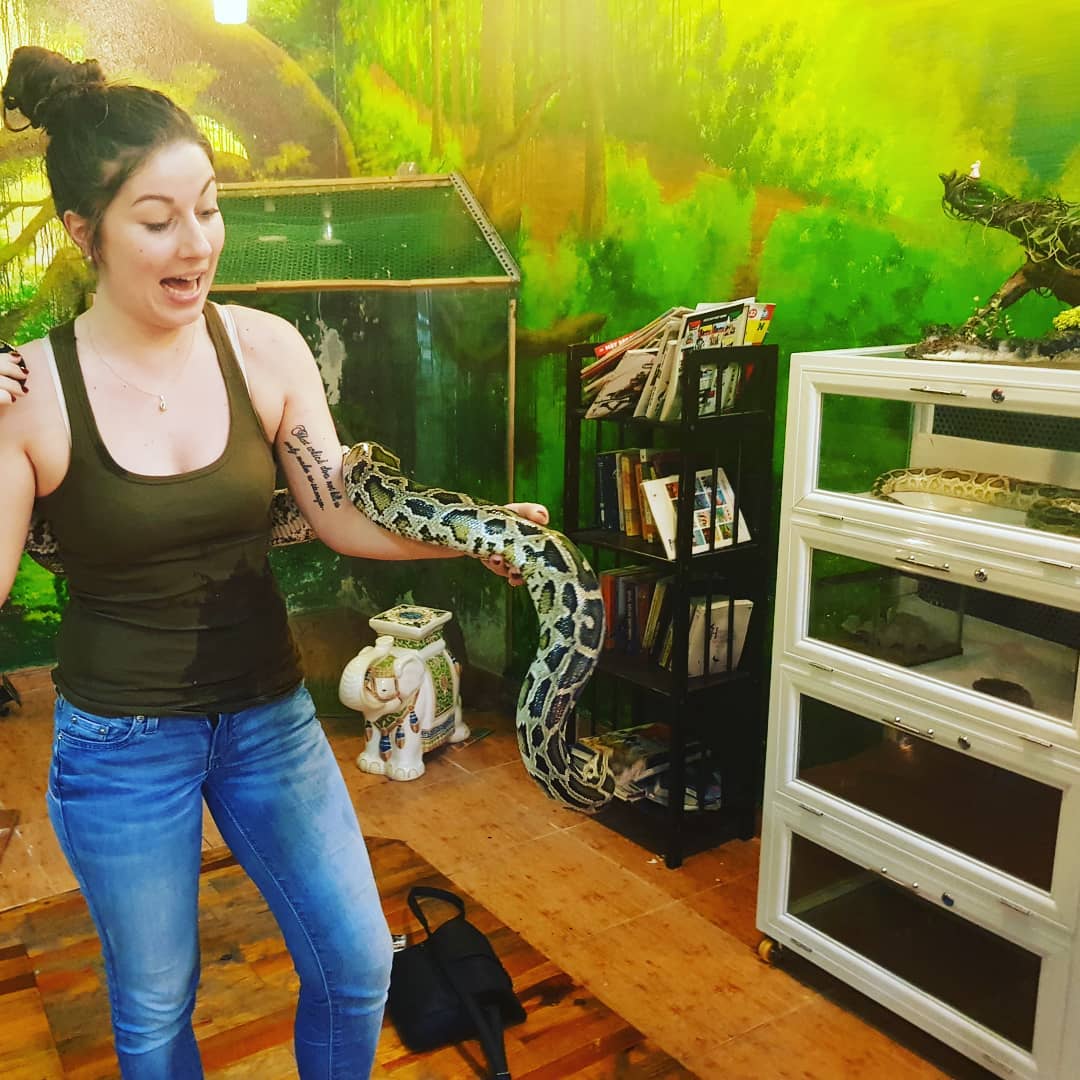 With prices ranging from 1 – 3 USD, adding in the great variety of beverages, these cafés are a great place to relax and find shelter from the heat of Saigon. Nevertheless, the main attractions are the critters themselves. With that in mind, these cafés offer a menagerie of pets.Most of us relish the sight of conventional household companions, such as cats, dogs or parrots, which are always present in these shops. But for the more daring minority of visitors, these places also provide  reptitilian and arachnid company, such as rosy boa, iguanas and, yes, tarantulas. There will also be guides providing you with the unique characteristics of the pets and how to take care of them.Address: BaBo Café: 93/18, Pham Van Hai street, Ward 3, Tan Binh district.Pet Me café: 198 Nguyen Van Huong street, Thao Dien ward, District 2. Wanna explore the culinary secrets of Ho Chi Minh? We have two options for you:
8. Ride a bike around the city
When in Rome, do as the Romans do. The same goes for Vietnam. Be adventurous and hop on a motorcycle, the number one mode of transport in Vietnam, to maneuver through the endless flow of traffic and explore the city. Chauffeured by a trusted, knowledgeable and English-fluent tour guide, you will know what it feels like to be part of the daily commute in Ho Chi Minh City while getting a better understanding of the city's rich history and culture. Also, hopping on a bike will enable you to discover every corner of Ho Chi Minh city.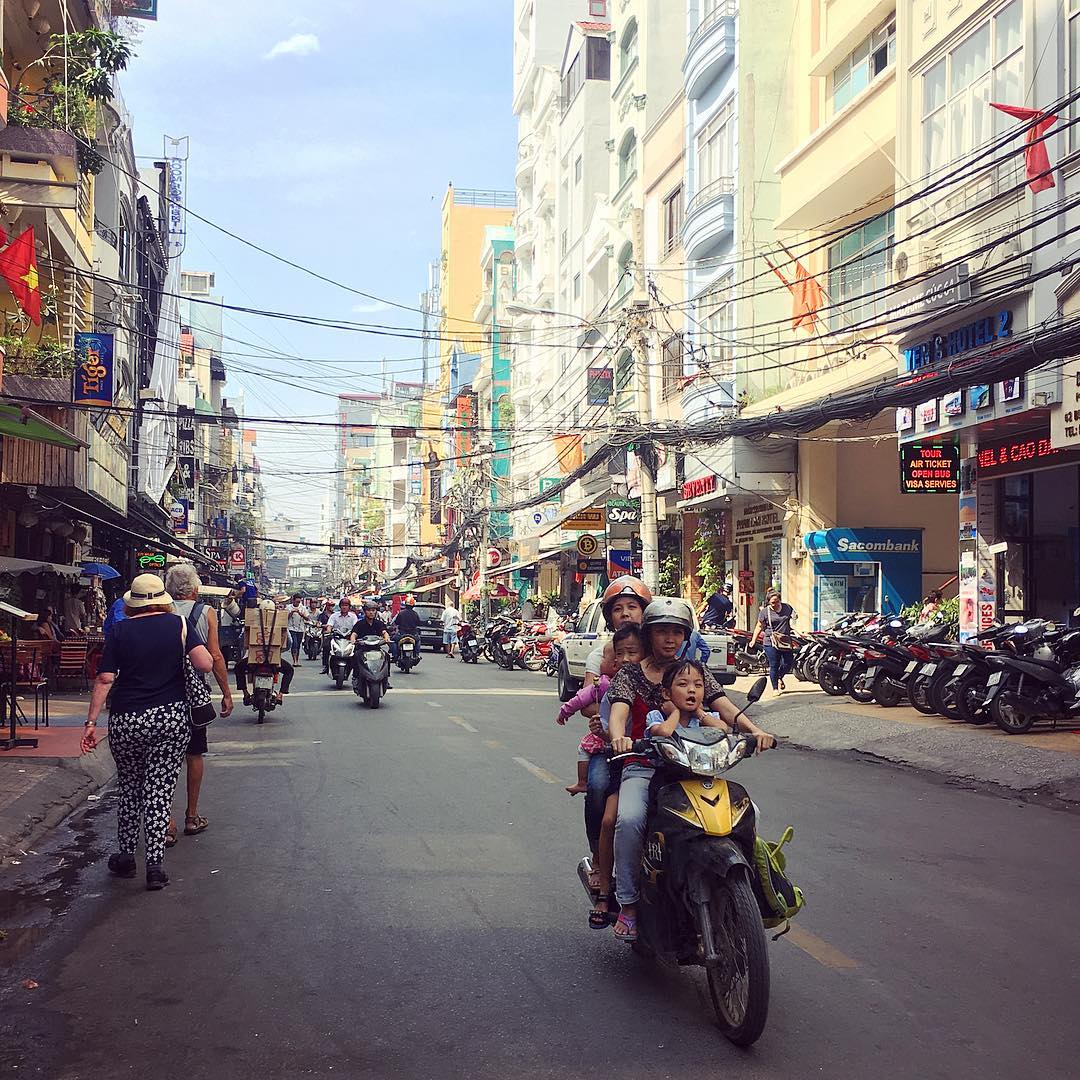 9. Experience homestay with the locals
Nothing can be more non-touristy than this. Those looking for short accommodation can stay with a host family and gain lots of insights into the daily life of Vietnamese. A night can cost anything from 10 to 27USD. In exchange you will have the chance to enjoy home-cooked meals, take part in family activities and, better still, learn about more non-touristy destinations.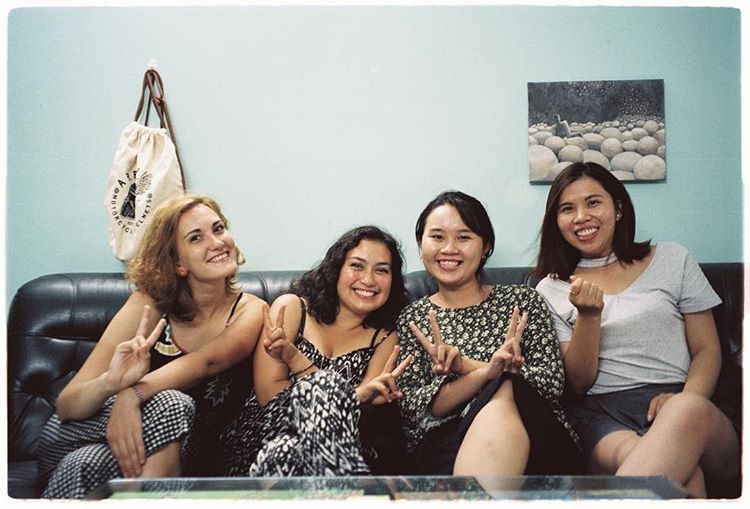 10. Pay a visit to the 3D Art Gallery
The museum currently exhibits the works of 15 Korean artists. Filled with amazing and clever optical illusions, this exhibition promises an unforgettable experience by challenging your senses and your creativity to come up with the most absurd of poses.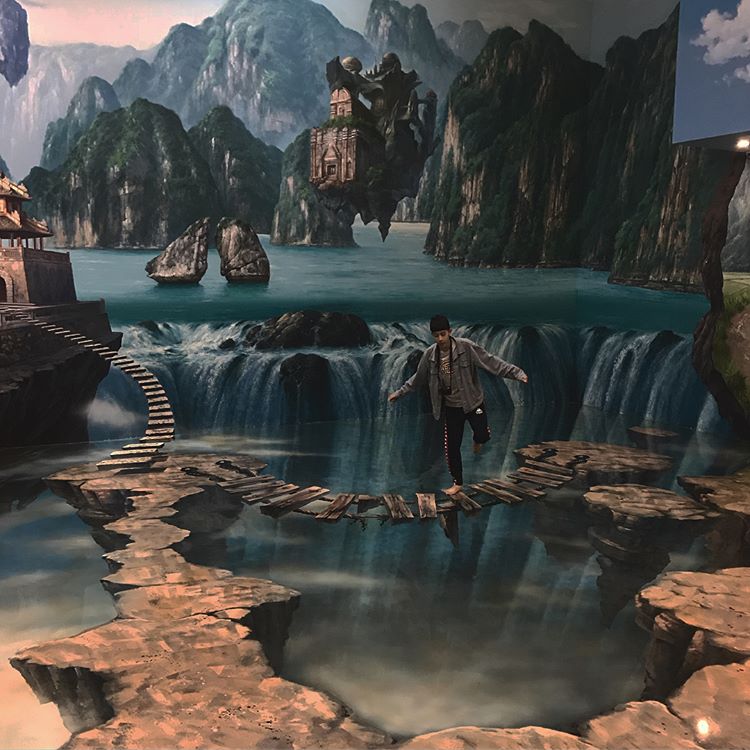 11. See the city's skyline from across the river
After you have immersed yourself in the hustle and bustle that is Ho Chi Minh City, take a step back, an across-the-Saigon-river step, and view the city from a whole new perspective. Only about 15 minutes from city central District 1, go through Thu Thiem tunnel, a collaboration between Vietnam and Japan which took 3000 days of labor to complete, and you will be face to face with an impressive and imposing view of the city. The area is only well-known among locals. Therefore, it is, indeed, a true non-touristy attraction.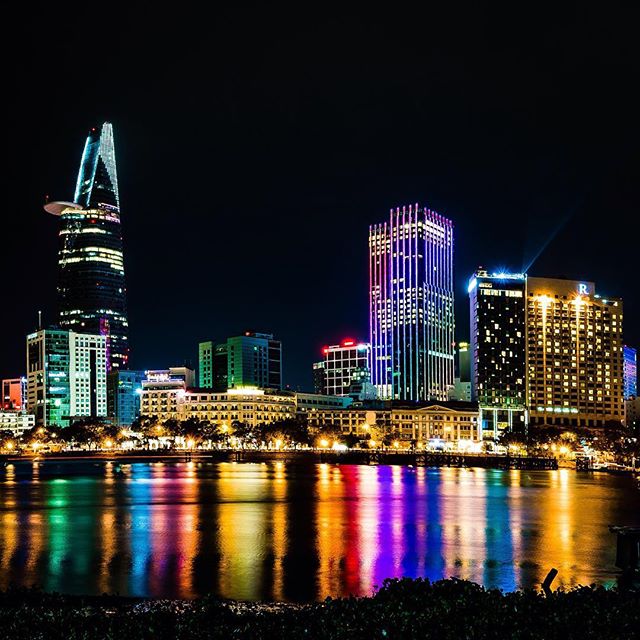 After your journey under the Saigon River via Thu Thiem tunnel, emerge and find yourself in District 2, Mai Chi Tho street. Travel up further a bit until you meet an intersection. Take a left turn and travel the opposite direction of Mai Chi Tho street to Ong Cay Bridge. On the said bridge, you will be able to take in the spectacular view of Saigon. Cay Bang street, which is close by, also offers great spots for those in search of this amazing view of Ho Chi Minh City.
12. Admire Saigon from a new vantage point
Phu My bridge is the largest suspension bridge built in Ho Chi Minh City in recent years. Spanning 2.1 kilometers, the bridge connects District 7 and 2.  At an impressive height of over 145 meters, you will be able to witness Sai Gon in all its grandeur, from the majestic Sai Gon river to the audacious Bitexco tower.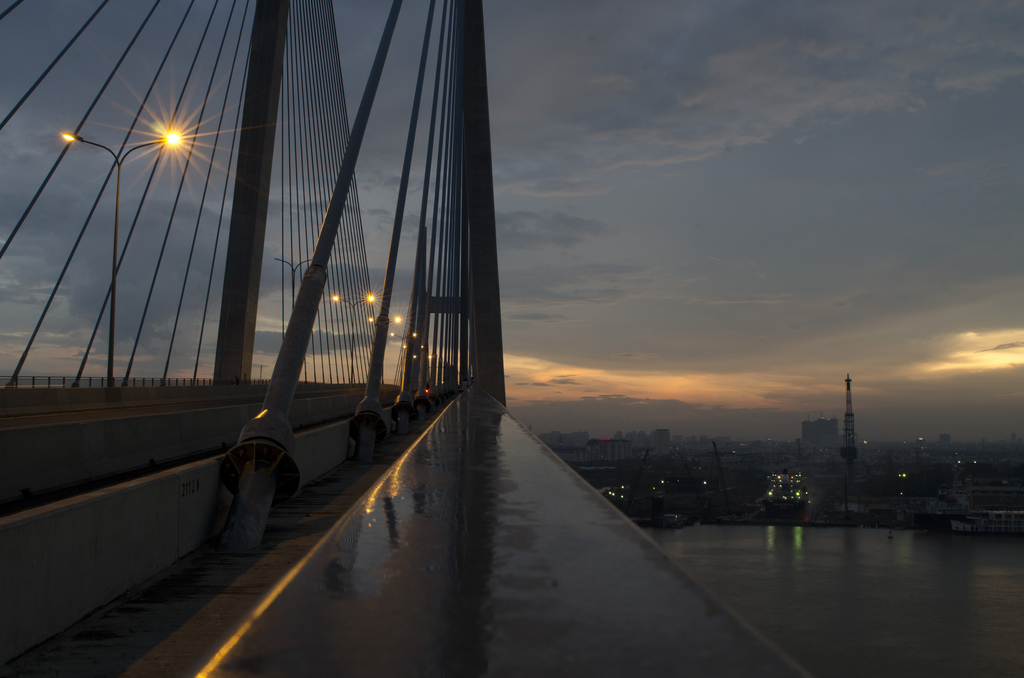 13. Buy local specialties in Tan Dinh market
Instead of Ben Thanh market, which is now packed with foreigners, why not go to Tan Dinh market for a more non-touristy vibe of Ho Chi Minh City. The market, established in 1926 during the French colonial epoch, houses a diverse selection of goods, especially materials in bulk. As you wander from one stall to another narrowly situated stall, be ready to haggle and bring home some memorable gifts.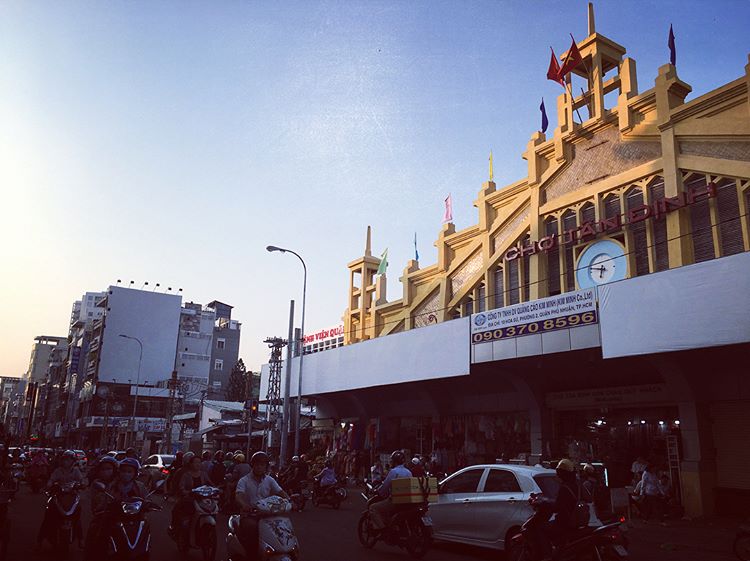 14.Take a walk on starlight
Ever since its completion in 2005, the site has been a bona fide hit with young folks in Ho Chi Minh City. Located in Phu My Hung, a developing part of District 7, it connects the Crescent Mall area and the adjacent Crescent Park with the Thay Tieu Canal in between. The bridge has built-in LEDs which induce the sensation of walking on starlight, hence the name 'Starlight Bridge'. Beneath the railing is a nocturnal spectacle of light and water that further intensifies the sensation.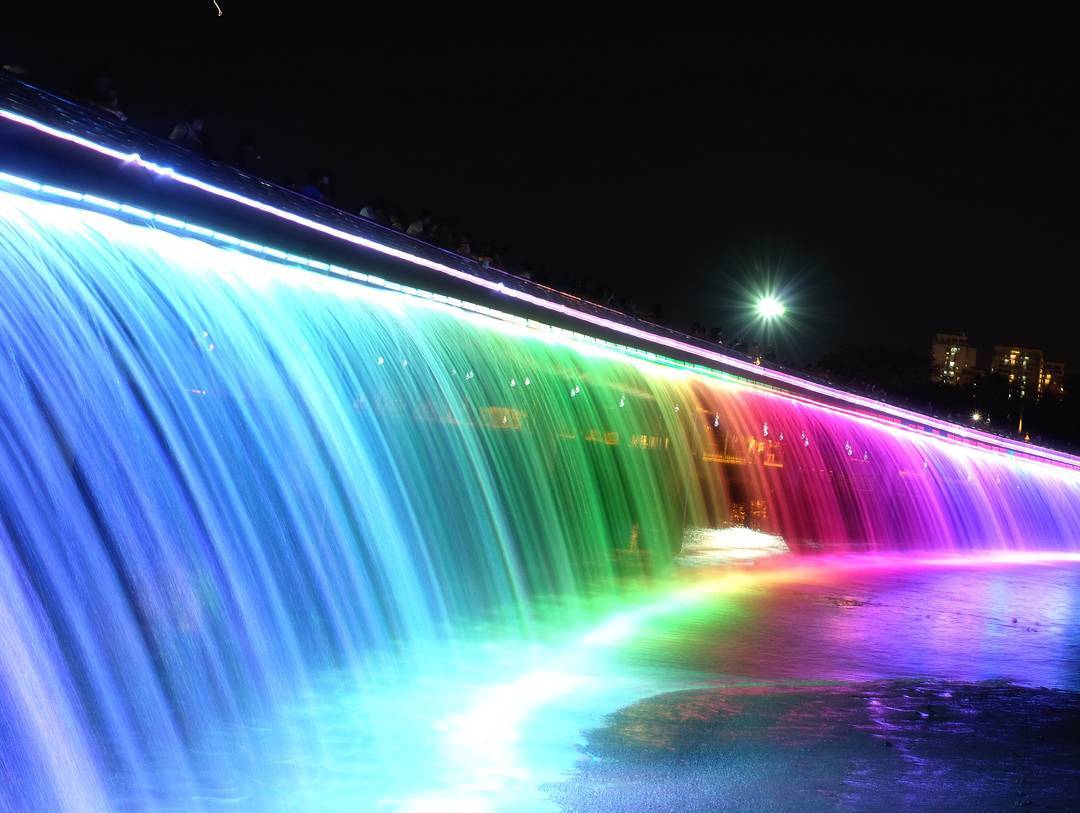 15. Visit Cu Chi tunnels
Once you have seen it all in the city, get off the beaten path and explore the Cu Chi Tunnels. Situated in the northeastern part of Ho Chi Minh City and only about a 70-kilometer drive from the city, it is an elaborate, interwoven network of hand-dug tunnels created by Viet Cong guerrillas in their fight against US soldiers. See for yourself this testament of human ingenuity, consisting of a 250-kilometer stretch of tunnels and ingenious ventilation. All of which still hold their structural integrity to this day. Check out experience in Cu Chi tunnels tour with Inspitrip.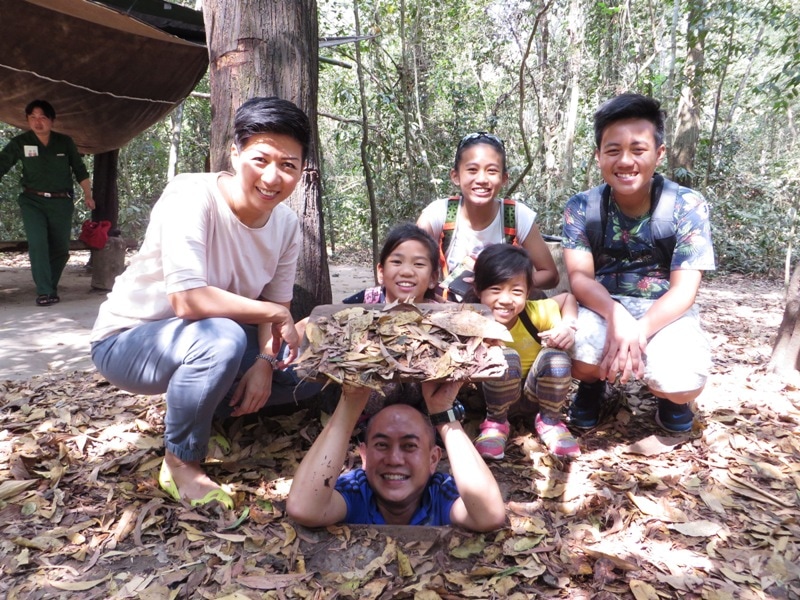 16. Spend a day in the non touristy Mekong delta
With only a 2-3 hour drive south of Sai Gon, the Mekong Deta promises a perfect tropical escape from the pace and hectic rhythm of the city life. Regarded as the 'rice bowl' of Vietnam, the Mekong Delta is among the largest supplier of rice for export and domestic demands. The region has its own captivating and charming features such as the vast rice fields, the floating market, a diverse collection of floras and faunas and the effusive hospitality of the locals. If you are still in two minds, you can refer to Mekong Delta review of veteran travelers.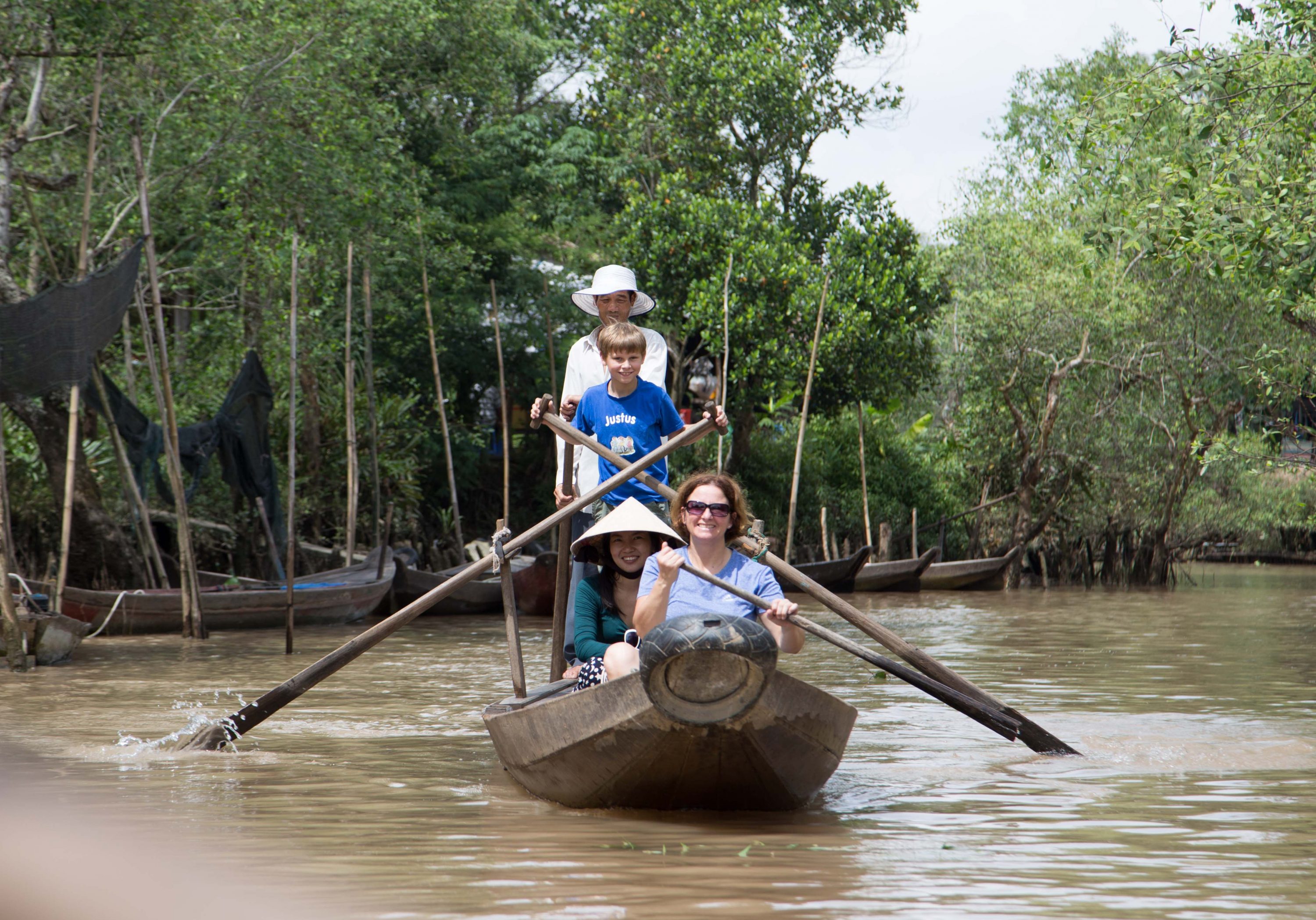 Discover Mekong delta & Cu Chi tunnels with us now!
17. Take a stroll through China Town
Sai Gon's famous China Town is found in district 5, 11 and part of district 6. Its inhabitants, all of whom are of Chinese ancestry, bring with them a unique addition to the city, from the distinct architecture of temples and houses to their distinguished culinary art. Travel to the 'Lantern Street' – Luong Nhu Hoc and you will have the opportunity to feast your eyes on the lantern-filled street while marveling at their exceptional craftsmanship. Visit Thien Hau temple on Nguyen Trai street or many others to admire the authentic Chinese atmosphere.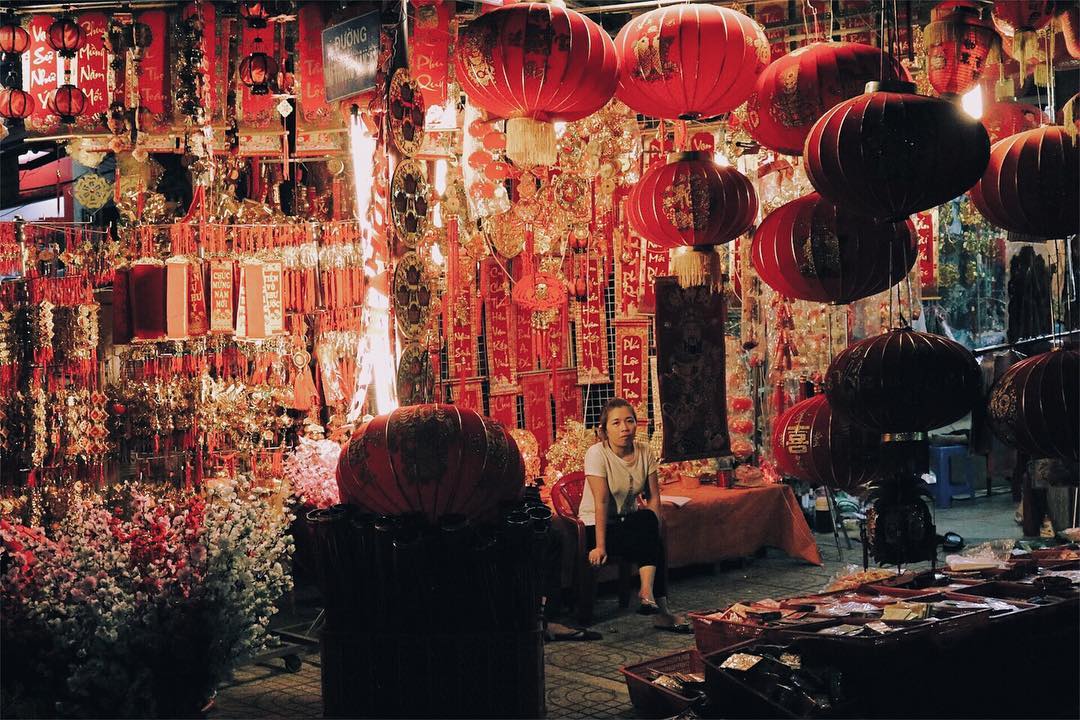 18. Visit the Grand Central Post
Sai Gon Central Post is one of the remaining buildings from the French Colonial period and a prominent example of French architectural influence. Go inside the giant cylindrical dome to enjoy the fascinating interior emblazoned with intricate iron work and pay tribute to the beloved leader of Vietnam, Ho Chi Minh.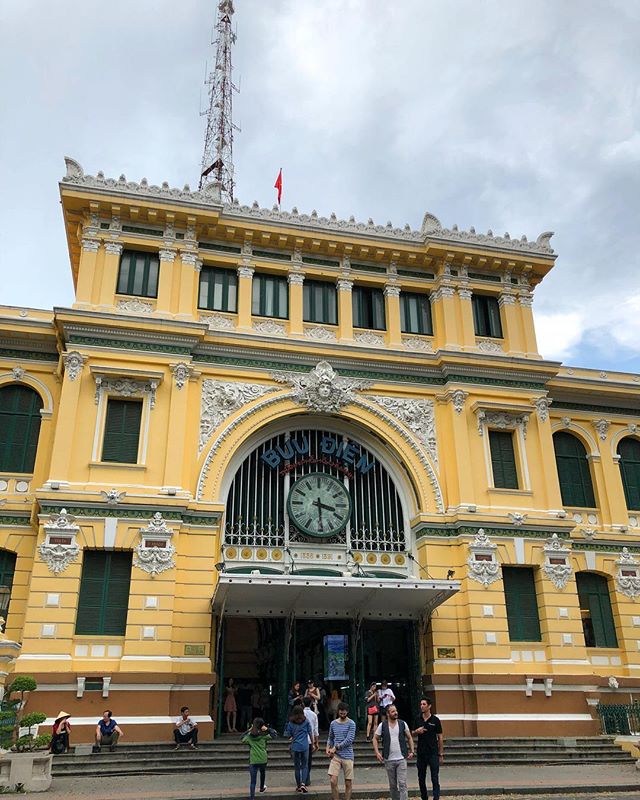 19. Visit Suoi Tien theme water park
What better ways to escape the sweltering hot of Sai Gon than a trip to a water park? Suoi Tien theme park, which includes our aquatic funland, is located at District 9, East of  Ho Chi Minh City. Since the water park design is based on Vietnamese folklore and myths, you can learn more about the culture and, at the same time, mingle with the locals.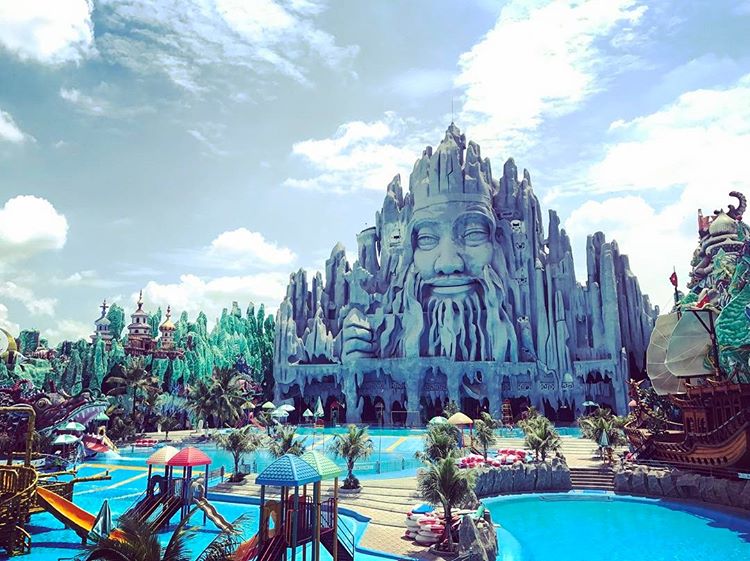 20. Explore religious sites of Ho Chi Minh City
From the Muslim mosque Jamia Al-Musulman to Vinh Nghiem temple, from Tan Dinh Church to the Jade Emperor Pagoda, Sai Gon has more than its fair share of religious architecture that makes it worthy of the title as Vietnam's 'melting pot'. Go on a tour with an English-speaking guide and enjoy the aesthetic appeal as well as the rich cultural backgrounds.