Top 15 awesome things to do in Myeongdong: A guide to the most vibrant shopping street in Seoul
Heading to South Korea? You are landing in a paradise of brand cosmetics, the most trendy and fashionable clothes, mouth-watering foods, famous K-pop stars and picturesque distinct four season landscape. If you are really a huge fan of them all, hit up Myeongdong first! Myeongdong in Korean means "bright tunnel" or "bright cave", and it's located in Jung-gu, Seoul. A neon light shopping street at nighttime or a full of sunshine at daytime with thousands of things to do in Myeongdong surely will not disappoint you. One night or one day at Myeongdong? It is too short for a foodaholic and shopaholic to shop at Myeongdong district with vivid and bustling lines of food stalls, retail shops, and department stores.  In the 1960s, after the Korean war, Myeongdong was formed during the expansion of Namdaemunro and Euljiro. Myeongdong soonly became a commercial, fashion and trendy center in 1970s due to the economic and financial development of Korea. Check our top things to do in Myeongdong to have a closer look of this spotlightand immerse yourself in the best shopping street of Korea.
1. Searching for your favorite clothes: one of awesome things to do in Myeongdong
Myeongdong is a familiar shopping destination for people from neighboring countries like Japan, Chinese. You can find clothes in different styles, such as minimalistic, trendy, preppy, or even streetwear… with a brand name stores like H&M, Zara, America Apparel, and Forever 21. The stores are really attractive with eye-catching mannequins and colorful decorations.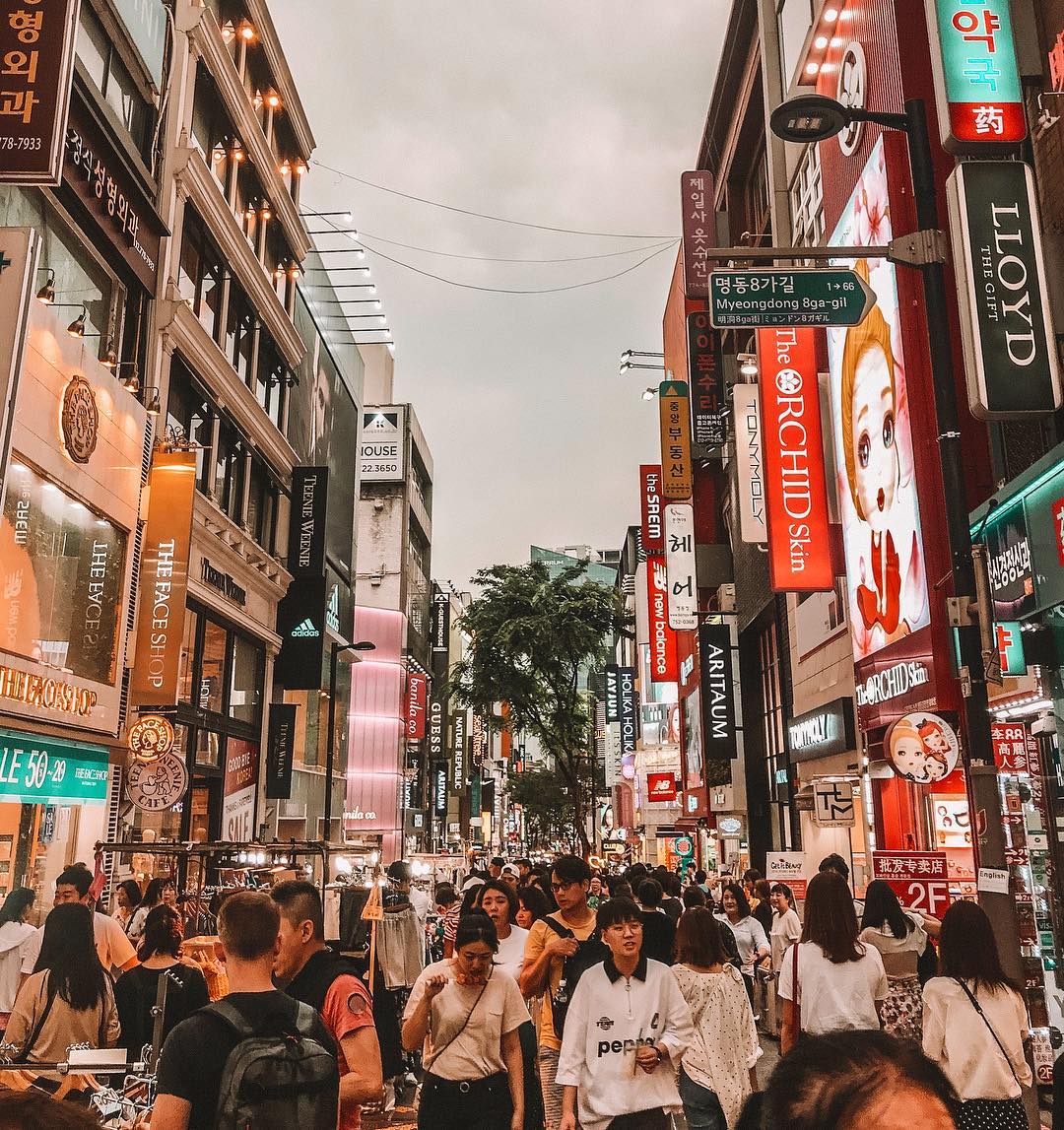 Tip
Be careful when buying at the stores, because some of the Korean staff don't speak a lot of English, often using calculators to convey the price. It is often very crowded at counters. Make sure you familiarize yourself with Korean currency well before stepping into Myeongdong district to avoid confusion or potential scams.
2. Brand name cosmetics: Secrets to get a flawless and dewy complexion like Song Hye-Kyo
Though skin types and skin properties are different in each person, no one can deny that Korean women and men look shiny, young and beautiful thanks to their skincare and makeup routines. That is why both small cosmetics shops and departments stores at Myeongdong are always packed with many shoppers. Here is a list of a variety of Korean famous brand name cosmetics at Myeongdong: The Faceshop, Innisfree, Missha, Nature, Tony Moly, Etude House.... It can cost about 3.000KRW(2.8USD) ~ 28.000KRW(26.17USD) for each product.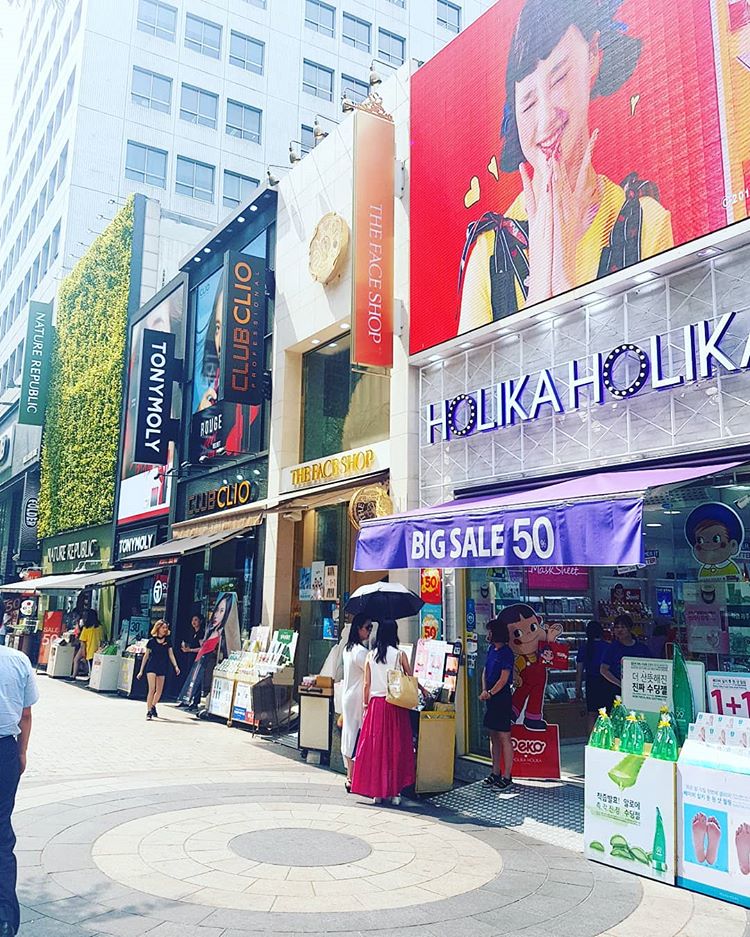 Tip
Don't forget to ask for samples at cosmetics stores. You could get a huge haul of these just be visiting! One thing you should put on your amazing things to do in Seoul list, is to bring a big shopping bag with you if you want to grab thousands of products. Believe me! This is indeed a paradise for cosmetics fans and beauty bloggers. Blow away your worries about fake products. Here, you get the most authentic ones at the most affordable price! But remember to choose wisely and just get the ones suitable for your skin. Do not be lured by promotion. That is guilty pleasure later on.
Try Hana Mud Spa Experience: you get to choose from various packages that all include a mud mask treatment, where therapists will coat your entire body in Boryeong mud, which will help cleanse your skin and have it as soft as a baby's bottom after you're washed. This experience is for women only!
How to explore street foods at Myeongdong
From stalls to stalls, you could hunt for finger foods like: Dakgangjung (sweet and sour chicken), seawoo twigim (deep fried shrimp), sundae (sausage), dak ggochi (pieces of chicken and scallions grilled on a skewer), hweori gamja(sausage rapped with potatoes), eomuk tang (fish cakes with soup), ojingeo twigim (fried giant squid)…. the price of street food is usually 3.000 KRW~5.000KRW/each. Wanna spend money on something luxurious? Lobsters with cheese are the best choice. It costs you about 15.000KRW.Read more: Myeongdong street food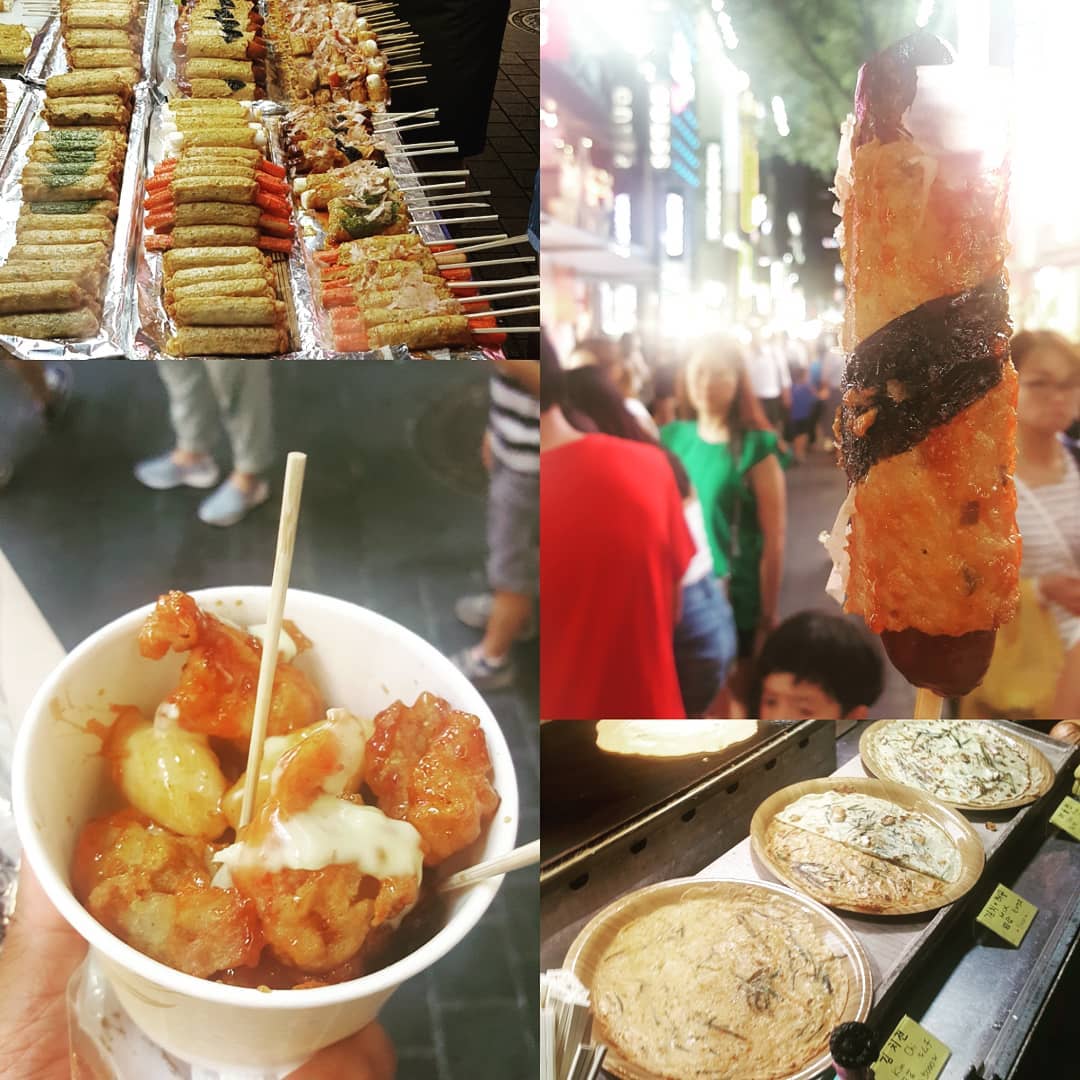 If you are travelling to Myeongdong in the winter, a sip of hot fish soup while walking in the middle of Myeongdong street is really a life worth living. It is a cultural, yummy, cozy and happy taste.
How to get drinks at Myeongdong wisely
When you feel too thirsty after indulging in all the tasty and flavorful foods, you can stop and buy a small zipped drink with different flavors as lemon, orange, pomegranate, grape… definitely a great way to balance out the palette!
Tip
Exchange money before the trip! Prepare yourself with small change of Korean money, so you could easily grab any food or drinks whenever they catch your eyes on Myeongdong street.
Bring a small wallet for coins and papers! Make sure you do not drop your money when in a rush to eat or drink.
K-Pop music at Myeongdong: the street of inspiration
Amateur K-Pop young singers and bands often gather to rehearse and perform in front of passengers. They are all fashionable in their ton-sur-ton pink dress. There is no doubt why Korea is so well-known for their style. Just spend about 10-15 minutes standing at Myeongdong and listening to their songs, might fall in love Korean songs and their dances. They are modern, sexy, adorable and energetic. When discussing K-Pop on Conan O'Brien, Emma Stone, a big fan of K-Pop said: "beyond excellent, and the best thing you've ever seen." After this trip, you might be obsessed with K-Pop. Who knows?
Tip
There are some times in a year, the street is the place for holding the special festivals with music, dance, performance. Just check information before your trip.
Enjoy unique landscape
Believe it or not! A breathtaking landscape is not only a tranquil one, but anywhere you can find beauty. Myeongdong has unique beauty dependent on the season and you can use that as a picture perfect background. Imagine walking through lines of stores, listening to people tweeting, seeing vendors selling items, sparkling lights at night. Spectacular! Soon, you'll find yourself falling in love with this energetic district.
7. Tax-free guide:
One of benefits of shopping in Myeongdong is that most of shops are exempt from taxes. You can get your money back if your purchase is more than 30.000KRW and less than 1.000.000KRW at the Duty free or Tax free shops for your entire stay in Korea. You get cash by showing the appropriate documents at Tax refund booths before leaving the country.
Tip
Always remember to ask for VAT refund receipt at stores in case there are so many people at counters and cashiers miss you.
Necessary documents for refunding: receipt, VAT refund receipt and your passport. At Incheon International Airport, Tax refund booth: 4F Tax Refund Zone by Gate 27
8. Ice cream and sweet things:
Coming to Myeongdong in the summer, ice creams and sweet things are awesome. Here are the magical foods: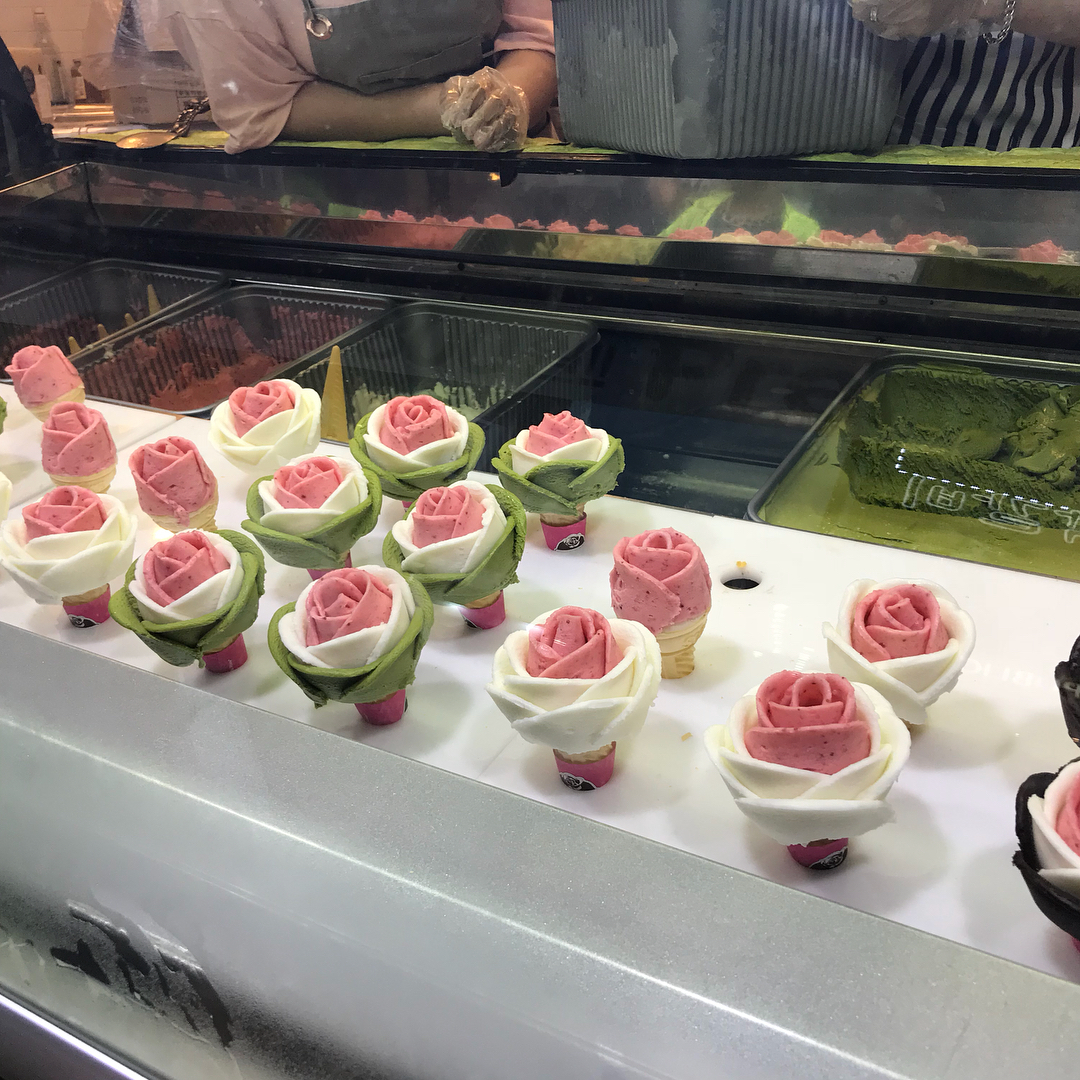 Rose gelato is made with flavors of strawberry, yogurt, chocolate and green tea. Price is about 5.500KRW. If you want, you can order the foot long ice cream cones that come with all sorts of different flavors like strawberry, chocolate, vanilla, tiramisu.For girls who are fans of Rainbow Dash, a cotton candy in Myeongdong will surely light up your day. It gives you the image of holding a rainbow cloud in different shapes. Lick it and feel it melt on your tongue. Marvelous! There are other sweet things you should try as bbopkki (sugar lollipop), mochi, and fish breads.
9. Photo time with Line friends: this is actually one of the best things to do in Myeongdong
If you are big fan of Line friends, you might shout out loud and jump right at this giant teddy bear for a shot! The big brown bear with little Sally duck on its head stands in front of Line friends store welcomes you. Line friend's fans feel fulfilled with a sea of this cartoon type items inside this stores. Even you are not a Line friends fan, you could not pass a big brown bear that cute. It's the perfect picture memory of your trip to Myeongdong.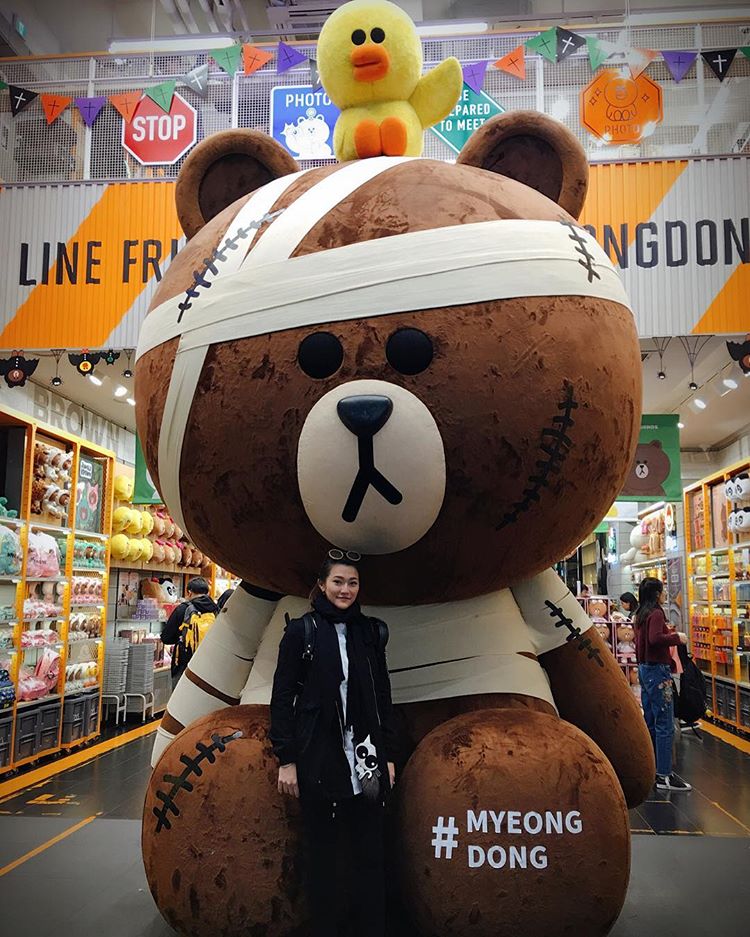 Tip
It is free of charge to take picture.
10. Snacks at Lottemart
Going shopping at supermarket is a must for every traveler. You can find tons of chips, snacks, candies, cookies… from Lottemart in Myeongdong with a variety of flavors. Really good!Here is the recommended list: honey butter dried squid, Lotte yogurt chewy candy, honey butter chips, honey almond crackers, Patisserie Heim Rare Cheese, market O real brownie matcha, Korean waffle mate… The sweet and flavored tastes of them surely bring your heart a joy.
11. Style Nanda Hotel
One of the bestthings to do in Myeongdongis to step into Style Nanda Hotel world. This is the third flagship store in Korea with a 1950s theme. With a nostalgic decoration of white and pink, this might make passengers confused. This is actually not a hotel; Style Nanda Hotel is built for coffee shops and shopping. Each floor of this 6 -story house brings you distinct feelings of a dreamy film-based hotel with storage, lobby, spa, rooms, pool and laundry and pink pool café.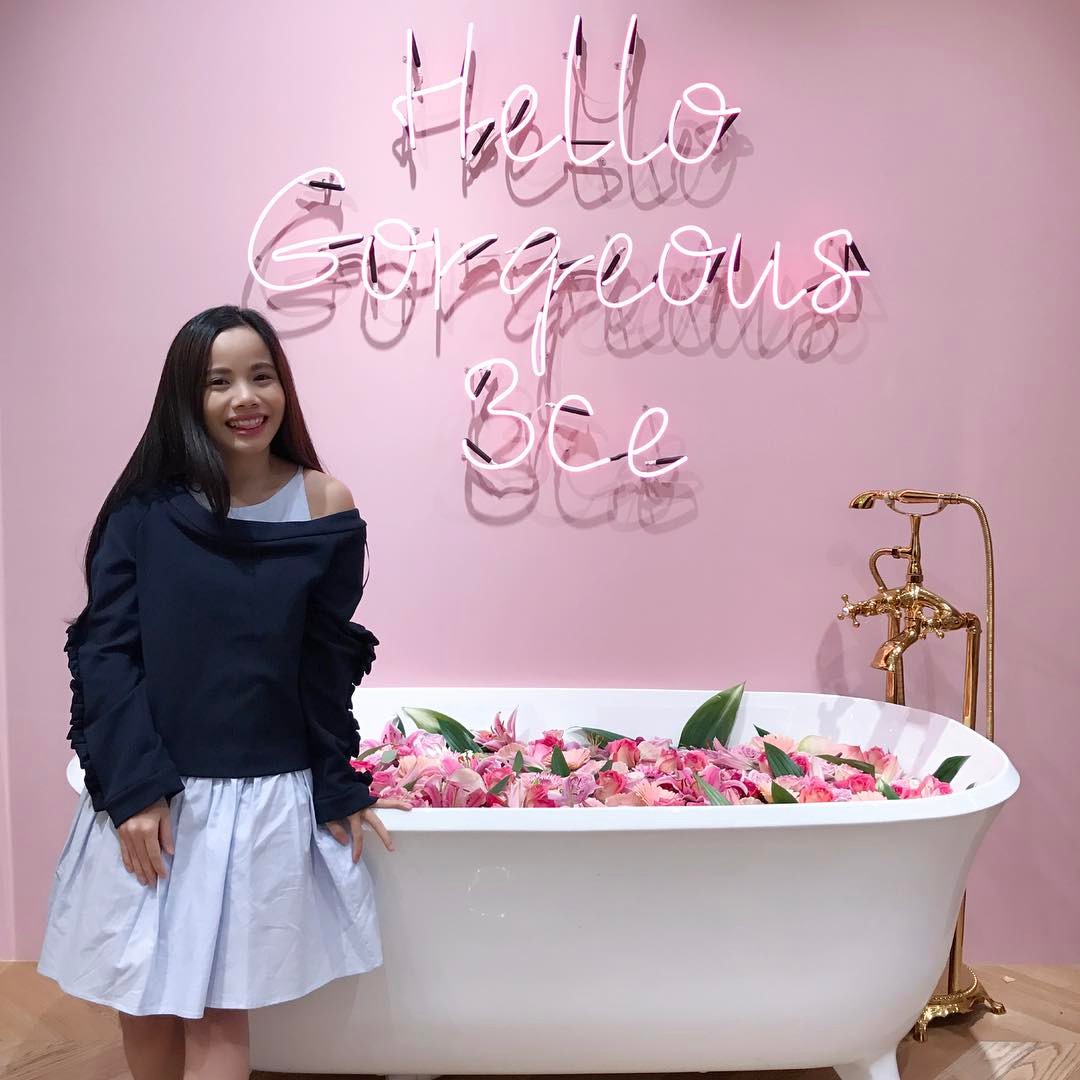 Tip
Pink pool café on the rooftop is very cozy with comfy bean bags outside that you can use to take a rest after long shopping walking. Just drop in for coffee, shopping or photos as celebrities.
12. Don't forget to shop at Daiso
Wonder why I recommend this as one of 15things to do in Myeongdong?For your stay in Korea, you want to bring home a lot of souvenirs at affordable prices. Daiso is the first recommended one that has everything on your shopping list. At Daiso, Japanese megastore, you can get stuff at a high quality for under $4. From household items like pans, lunchboxes, ice cube trays…to personal accessories as socks, headphones, comb, mirrors…, There are a wide range of products with cute cartoon characters.
Tip
You should buy an egg timer, a best-seller. With three levels of soft, medium and hard, you will know your egg's condition while boiling it. The egg timer is so cute!
13. Lotte Department store
If Daiso is full of affordable stuff, Lotte Department Store offers luxury products and duty free restaurants and shops. Lotte Department Store opened in 1979, situated right at Myeongdong, Lotte is known as a cultural, shopping industrial and commercial center of Seoul. It attracts thousands of visitors per year. With 14 floors, Lotte offers travelers the chance to shop in a very comfortable atmosphere. If you are shopaholic, this is an excellent place for high-end bags, cosmetics, perfumes, clothes, jewelry and shoes.
14. Art box: paradise for cartoon fans
The Art box was founded in 1984 with more than 100 Korean brands and other imported products. It is the ideal place to find adorable cartoon character items as: gudetama, Korean bride and groom, Line friends…The store is divided into areas of photos, pet/home/health, stationary and bags/accessories. You will surely fall head over heels in love with the characters on stickers, pens, notebooks, little cute things…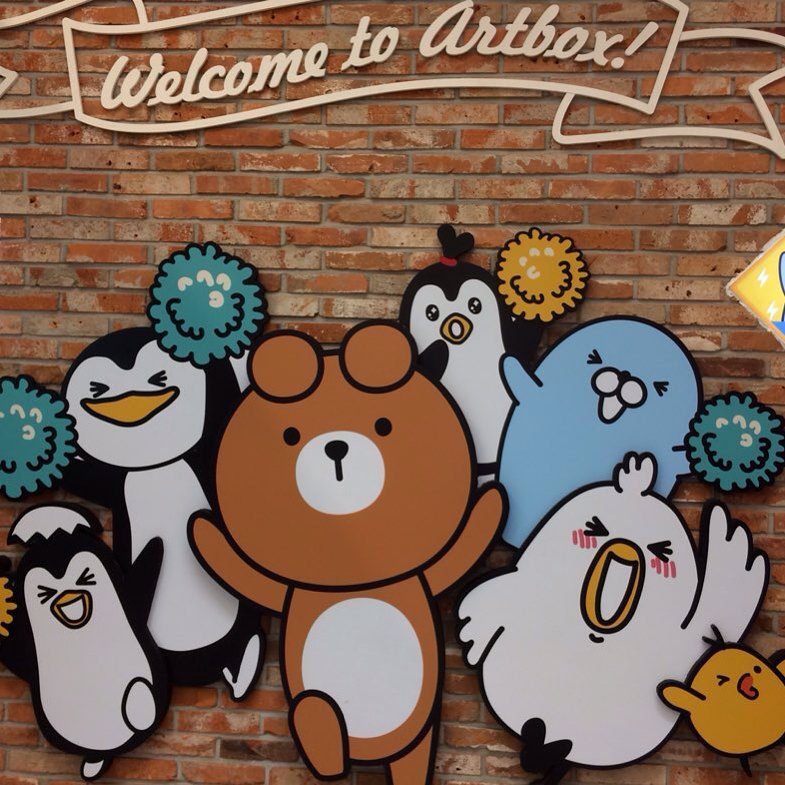 15. Back to basics: Myeongdong Cathedral
For those who want to explore more things to do in Myeongdong besides visiting shopping street and crowded surroundings, just head to the end of Myeongdong street, and you will find Myeongdong Cathedral, one of the oldest Catholic Churches in Korea. Myeongdong Cathedral used to be the place of political and protest demonstrations in 1980s and 1990s. Reaching here, you'll not only find a more peaceful spot, but also understand more about Korean history.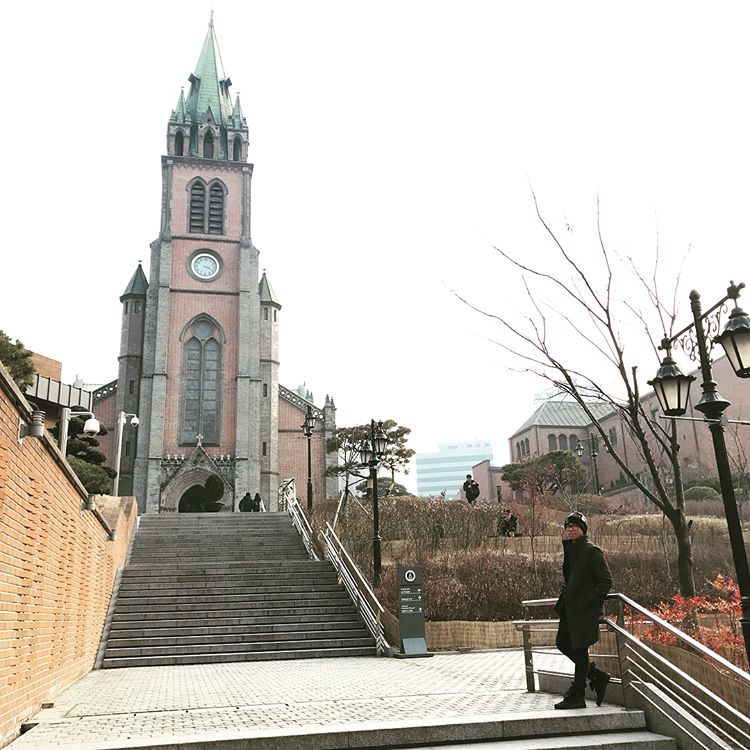 What to do if you get lost in this maze?
Do not worry! There are guys in red clothes with the name tags Tourist Information standing around Myeongdong street. They could speak English well and show you directions. Now, keep these valuable things in your adventure pocket tips to have the most enjoyable route and tell your friends when you are back. A journey with thousand things to do in Myeongdong makes you are the person with not only the most interesting stories but also the loveliest gifts to give to family and friends! A well worthy visit!