Top 10 Things To Do in Hue at Night
Embracing the historically rich values and long-lasting traditions of Vietnam's former capital, Hue at night is also mystical yet charming in a strange way. When the sun has set, the poetic town of Hue becomes awaken with tons of fun activities. In this article, we've put together a checklist of the top 10 things to do in Hue for you to have an unforgettable night out in this dreamlike city.
1. Listening to Hue folk songs on a dragon boat on the Perfume River
Have you ever experienced being a royalty, sitting on the dragon boat, listening to the sweet melody of Hue folk songs and watching lotus lanterns flowing on the river? I did, and it was one of the most interesting experiences for its uniqueness I have ever had in my life.
Hue folk song is a form of classical Vietnamese music in the Hue region, which has been well-preserved and developed by the locals for centuries. Each song is written as a story, handed down from generation to generation by words of mouth. Thus, along with the messages conveyed metaphorically to the audience, all of these factors are likely to make this art form become much more fascinating and meaningful in term of cultural aspects.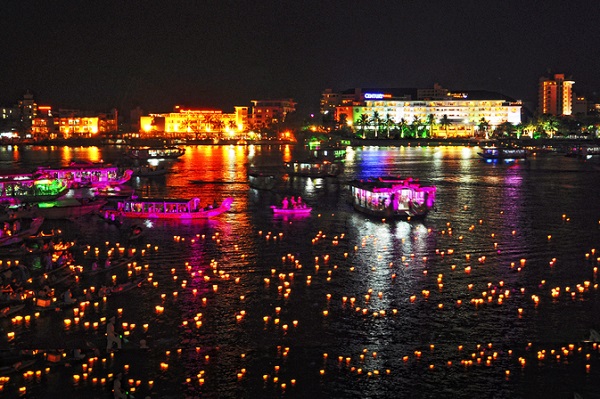 When the night comes, the dragon boats push off silently and floats on the light-reflected sparkling surfaces of the Perfume River. That truly is the magical moment when the local performers, beautifully dressed in Vietnamese traditional Ao Dai, start to sing folk songs and play special instruments to produce elegant sounds for the lucky audience who has a chance to enjoy the performance on that day.
2. Releasing lotus lanterns on the dreamy Perfume River
Another memorable activity worth to try in Hue at night is releasing lotus lanterns on Huong River. This occasional activity is not only for tourism purposes but also considered a traditional act of the locals to pray for luck, prospect, and happiness.
In fact, the Lantern Festival, organized annually as one of the most important cultural events in Hue Festival, is where Buddhists and the residents come to pray and wish for their happiness as well as the national peace and prosperity.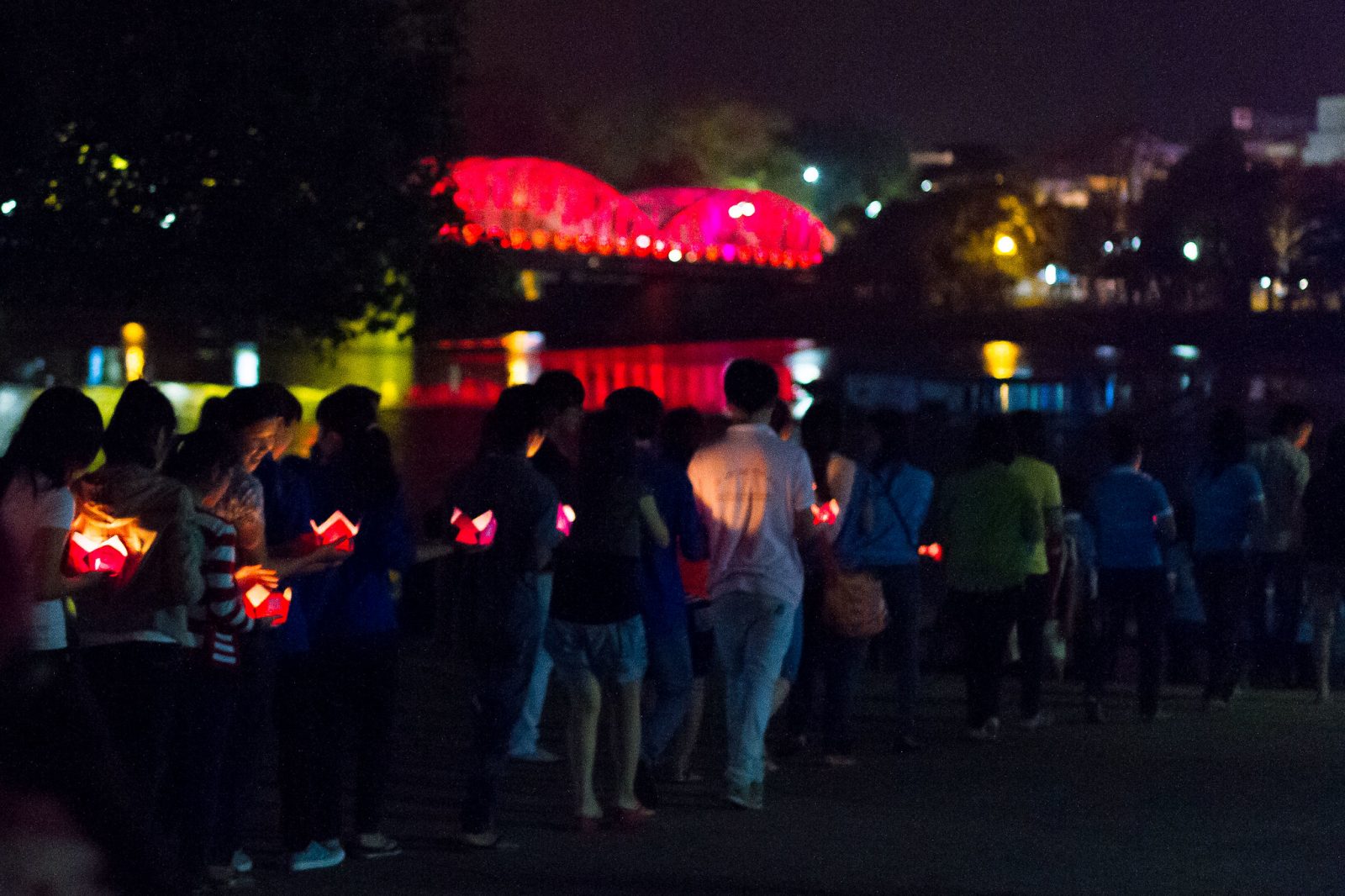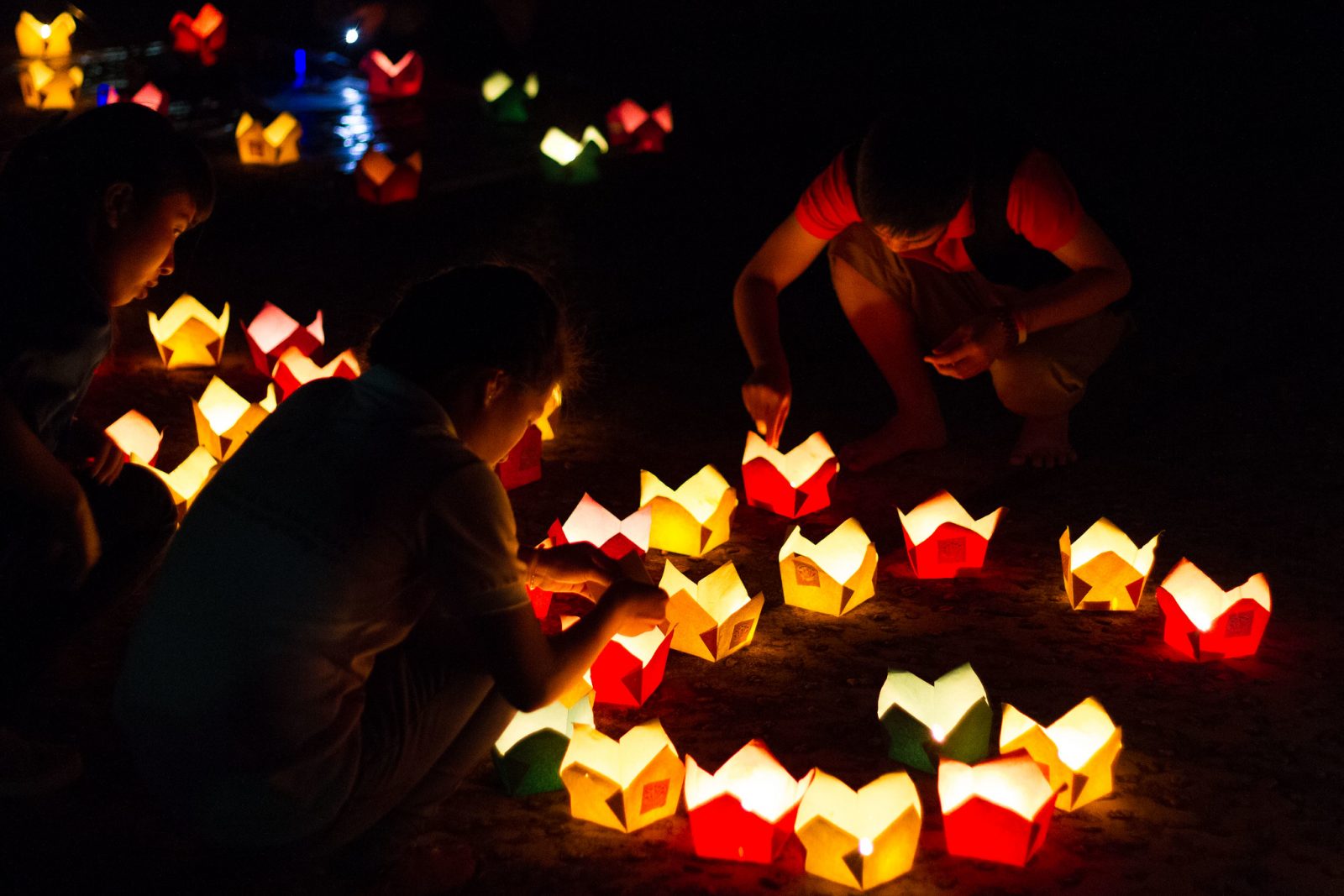 3. Getting a beer on Nguyen Dinh Chieu walking street
Sipping a glass of beer on the busy walking street is surely one of the most local ways that you should not miss out while exploring Hue nightlife. No pubs or even proper tables, but Nguyen Dinh Chieu street unconditionally brings a vibrant atmosphere for your lovely night drinks with small plastic chairs and tables along with tasty street food served as side dishes.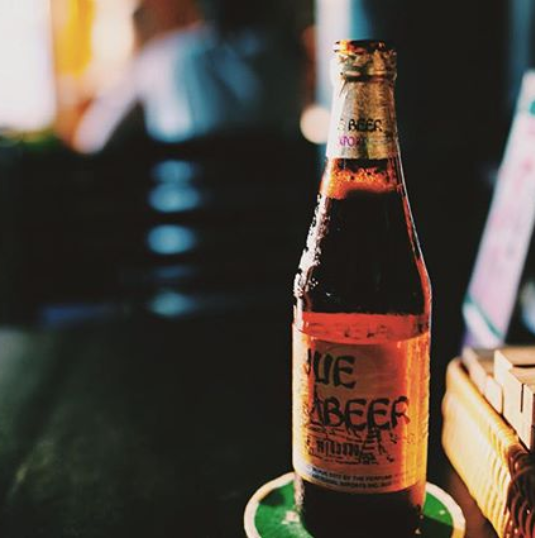 The pedestrian street consists of a variety of businesses and traders selling local souvenirs and specialties on house blocks. Additionally, there are different forms of street performances offered by young locals, which may include art plays, acoustic covers, flash mob dances and street paintings on the street. As a result, this unique feature of Nguyen Dinh Chieu street has attracted many young people and tourists and turned itself into one of the best spots for anyone who wishes to spend high-quality evening time after a hard-working week. I guarantee this would be one of the most unique local Vietnamese experiences that you could hardly find at anywhere else around the world.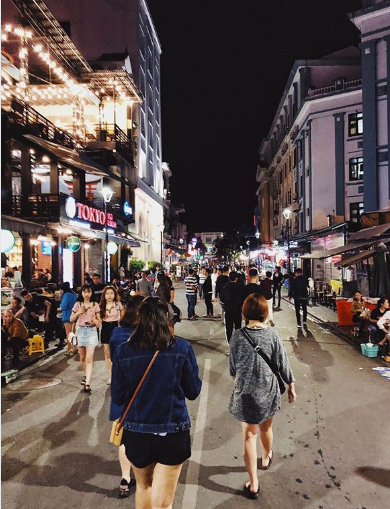 4. Tasting authentic street food at Hue night market
Who got excited when hearing the word "street food"? If you are a fan of street food, Vietnam, particularly Hue, is definitely food heaven that you could ever dream of. While it is easy for you to find Dong Ba market and try some authentic street food there at daytime, all the best credits for a terrific dinner go to the Hue night market. From delicious specialties such as Hue beef vermicelli noodles, steamed rice cake, grilled ground pork on sticks and grilled pork wrapped in wet rice paper to yummy desserts like Hue fresh seasonal fruits, lotus seeds sweet soup, everything is possible to be discovered here in the heart of the city.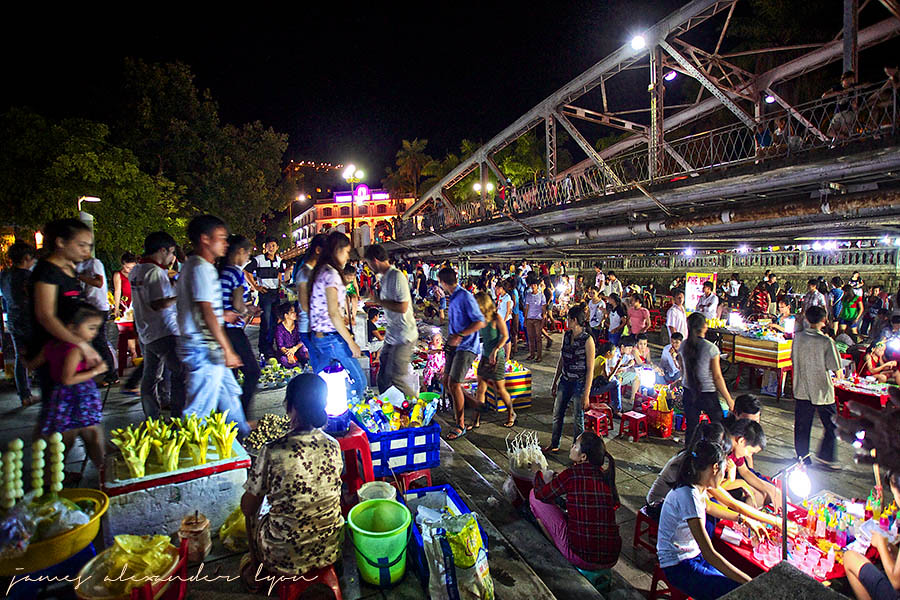 Experience the taste of Hue street food as a local and learn how to cook tempting local dishes of Central Vietnam with Inspitrip special tours right today!
5. Pubbing on Pham Ngu Lao - the backpacker's street
When the night falls, head to the Western part of the city center to discover all the dynamic vibes in a hidden gem of Hue. Located near the bank of Huong River, Pham Ngu Lao street is famous for its nickname "backpacker's street" due to its ideal location and reasonable accommodation prices for foreign backpackers who just only want to spend a few nights or to travel on a budget.
Pubs on Pham Ngu Lao street are special for its extensive alcoholic offerings and live entertainment till late night. From old-fashioned, hippy pubs to elegant, luxury bistros, whatever you want after a full day of sightseeing, Hue nightlife has it all. Here is a list of everyone's favorite bars and pubs in Hue.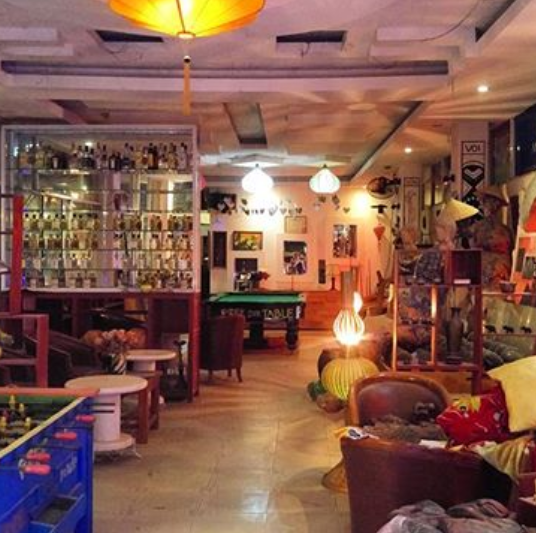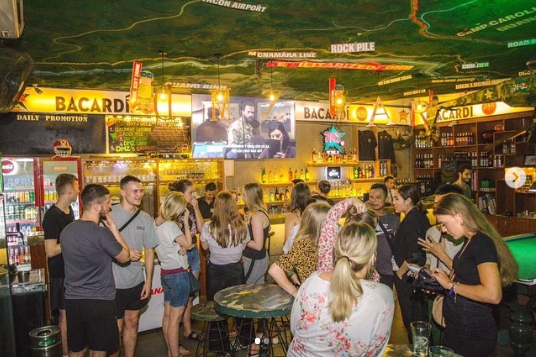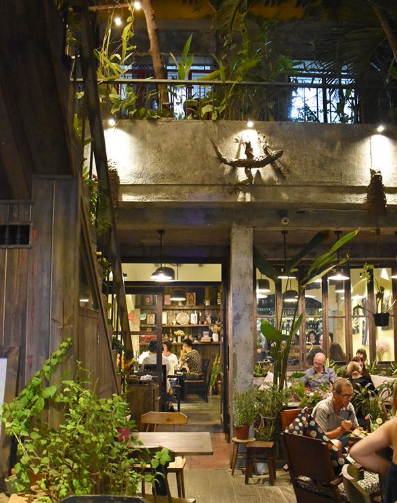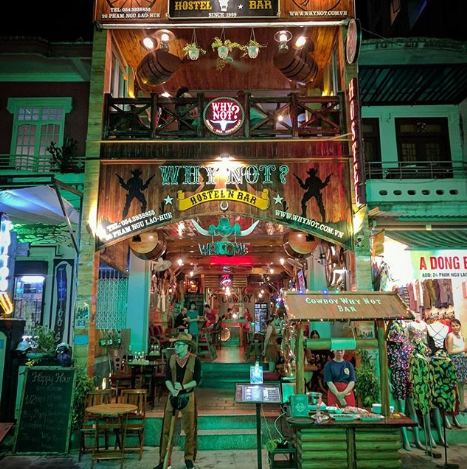 6. Exploring Hue Imperial City on a Thursday night
Hue Citadel is certainly an interesting place to explore at day time but it is even more exquisite in the evening when the whole complex is lightened up.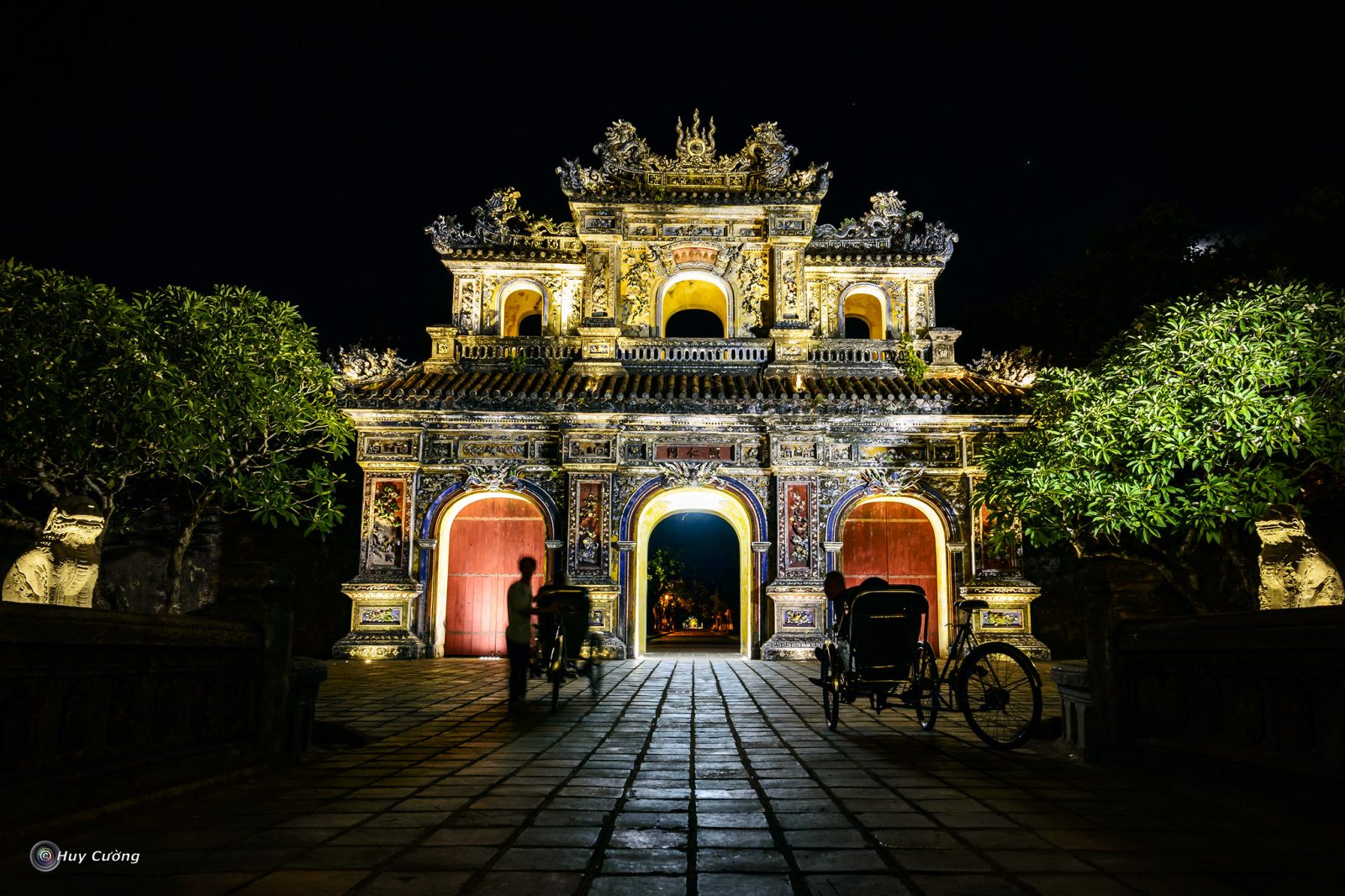 The Citadel was built in stages, with the Purple Forbidden City and the Imperial City being built in 1804, while the outer Citadel was built over a decade or so from 1805 to 1821. Not only famous for its unique architectural buildings, but Hue Citadel is also an amazing spot for its waterways including ponds, lakes, and canals that run through the greater city until today.
In the evening, lightings are turned on, and reflect on the sparkling water surfaces, creating a spectacular scenery of the whole ancient complex. On the hottest summer days, wandering along the part of Huong River in Hue Citadel at night is definitely the best way to run away from the extreme heat in this city.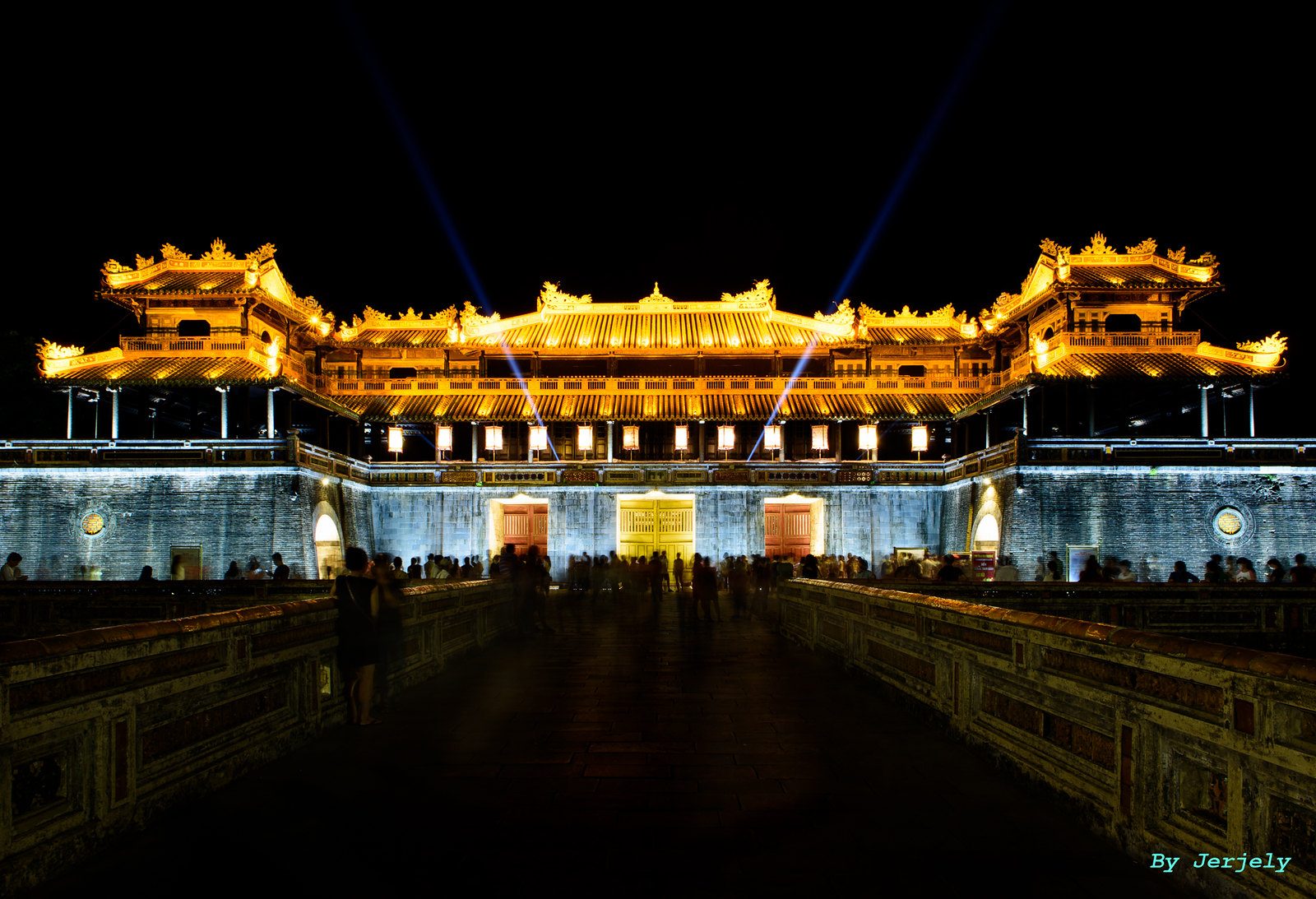 The parts that are open at night locate from Ngo Mon Gate to Thai Hoa Palace, which consist of The Mieu Temple, Dien Tho Palace, Truong Sanh Palace, Tu Phuong Vo Su, and Hoa Binh Door. The opening of Hue Citadel at night has officially begun in 2017 on Thursday only, and the opening time is from 8:30 AM to 10 PM. The fares are unchanged from daytime.
More interestingly, there is "Hue Citadel Night" where royal cultural activities on Doan Thi Diem street, An Dinh palace and Hien Lam Cac (The Citadel) are performed along with the local interpretation for royal worship. If you are a history geek, do not miss out on attending the historic stories of the Nguyen dynasty - one of the longest-lived empires in Vietnam by taking a tour with Inspitrip.
7. Having coffee beside Truong Tien bridge
Another thing to do in Hue that gets me excited every time I visit this city is to stop by a coffee house near Truong Tien Bridge and grab a drink while chatting with friends. Given the prime location right in the heart of the city, Truong Tien Bridge's surroundings are the ideal places for your night out. Nothing is better than having a cup of Vietnamese coffee or a fresh juice, listening to Hue folk songs and enjoying the sparkling Huong River under Truong Tien Bridge.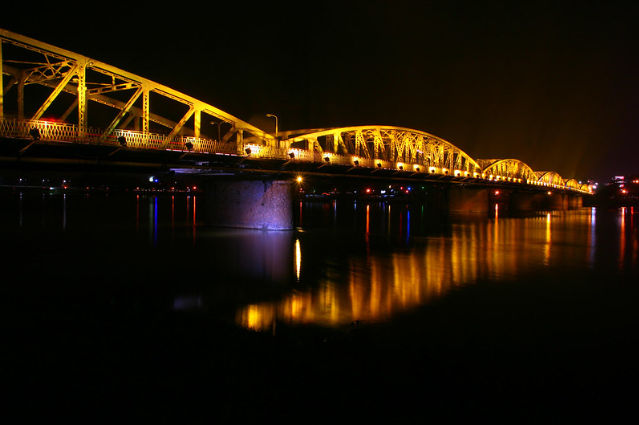 Here are some of the popular cafe places you might want to check out: Cafe cóc 6A, Window Cafe,  T' House Coffee, Nina's Cafe, Up Cafe, The One Coffee & Bakery.
8. Visiting Embroidery Art Museum of XQ Hue
Situated on 1 Pham Hong Thai walking street, Embroidery Art Museum of XQ Hue is a marvelous place that features Vietnamese embroidery art through a number of paintings embroidered on the cloth. Each piece contains a story where Vietnamese traditions and people are depicted with good qualities and their hometown love.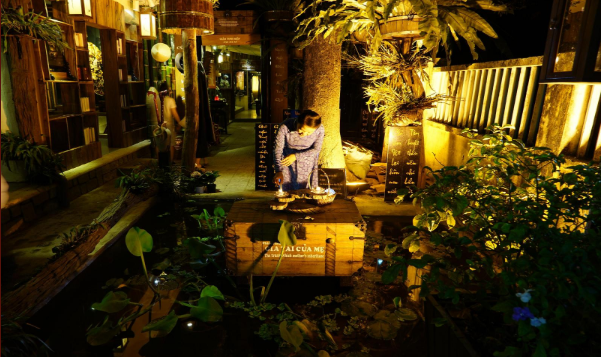 Upon arriving at the gallery in the evening, you will be immersed in a lighting space full of lanterns as well as the nostalgic atmosphere they bring back. Not only do these embroidered paintings bring a new direction for the traditional embroidery of Vietnam, but they are also meaningful and lovely gifts for your family, friends or even yourself as a reminder of this charming city.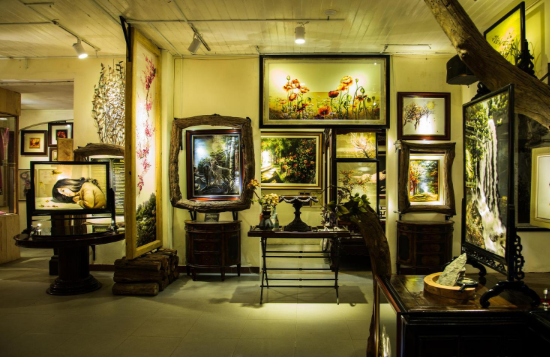 9. Sightseeing Hue by cyclos
After a long day of walking around for sightseeing, what is the better way to see a city but doesn't include a walk? Our certain answer for you is taking a cyclo ride.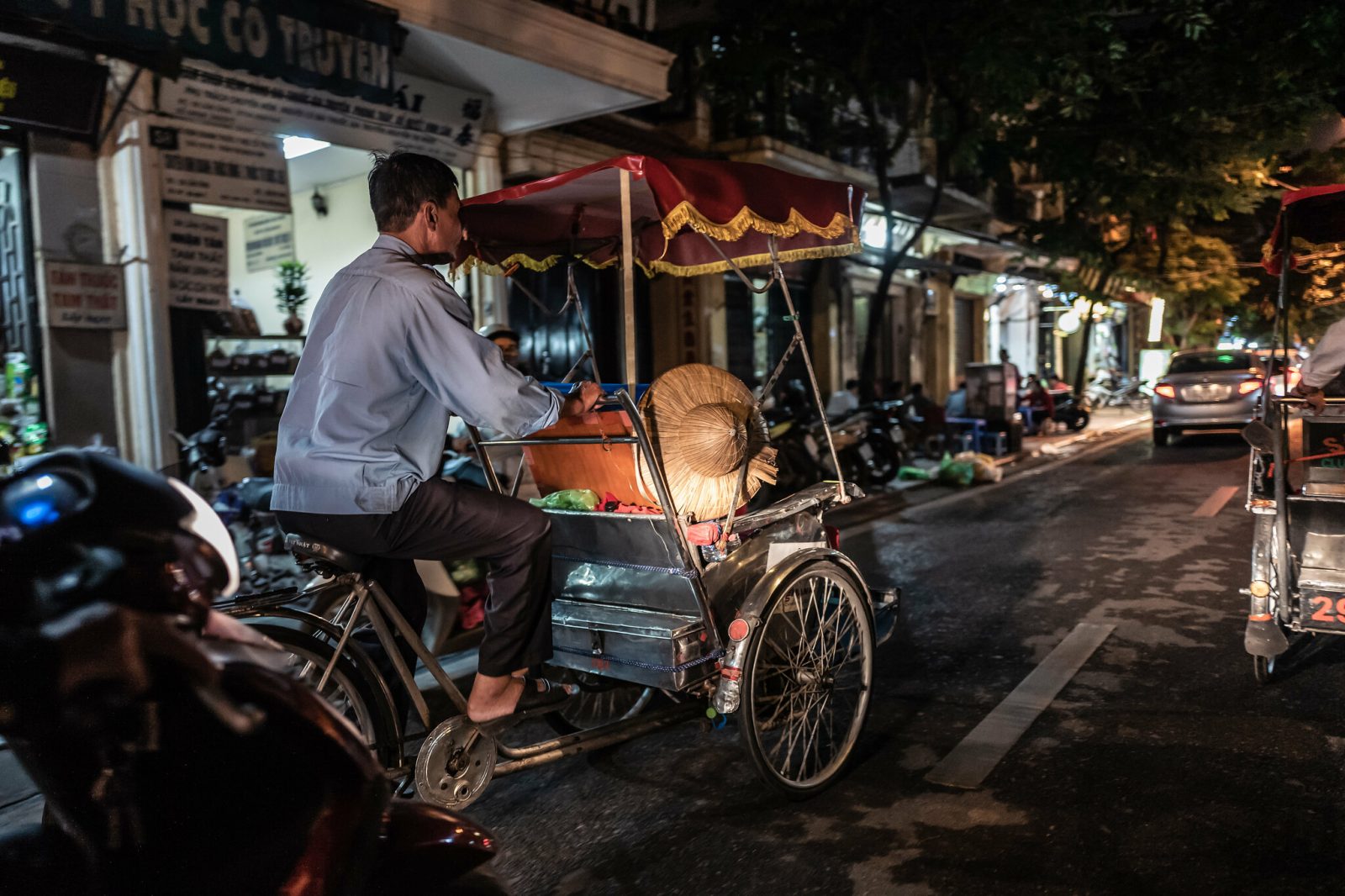 With a cyclo, you can leisurely go sightseeing, explore every Hue corner and get a glimpse into the daily life of the local people.  You may notice a number of street food vendors on the sidewalk, motorbikes going in different directions and a lot of local families walking along the Huong River after dinner. Problem solved!
And if this does not sound appealing enough, consider taking a cyclo tour for an immersive local food experience combined, which I promise it will be a lifetime experience that you should not miss out in your list of top things to do in Hue at night.
10. Enjoying the spectacular view from rooftop bars/cafes
I have been talking a lot about how glowing the city could be when the night comes. But, did I mention what could be the best way to have a spectacular view of the city and chill out after a full day of exploring historic places? From the rooftop of riverfront bars, restaurants, and cafes around, you can see the whole shimmering city and feel the cool breezes blowing. Having a fancy glass of wine or a strong iced coffee on the top of Hue at our wide range of rooftop spots should definitely be put on your trip planner.
Here are some of our favorite rooftop bars and cafes in Hue for an amazingly romantic night out.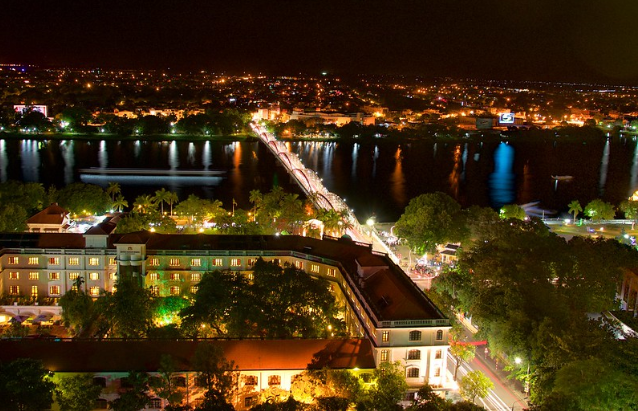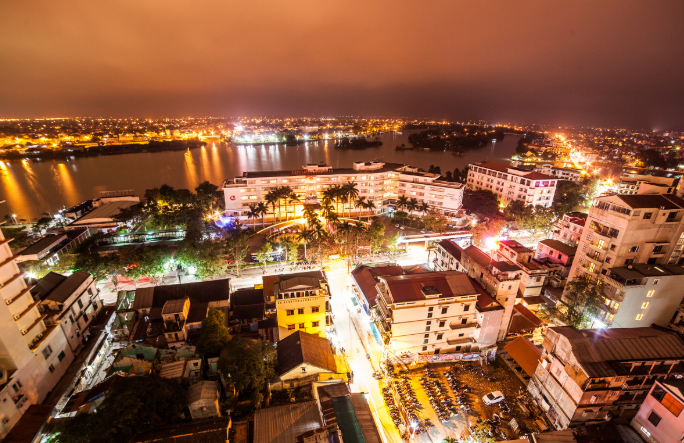 Hue may not be the first name people recall for the vibrant nightlife lifestyle but what it can offer is definitely worth a visit. Start with our top 10 things to do for an unforgettable night out in Hue!