Top 10 romantic things to do in Dalat, Vietnam
Surrounded by hills, lakes and waterfalls, Da Lat is an ideal spot to enjoy nature, cold fresh air, coffee, hiking other outdoor activities in a romantic way.
Da Lat is a popular destination for many visitors who want to escape the heat of Saigon. Located 300km north of Saigon, this south central highland city used to be the favorite holiday choice of the French and Vietnamese royal family. Tourists visit for its green landscape, European-style architecture, pleasant temperature and organic farming. Surrounded by hills, lakes and waterfalls, Da Lat is also an ideal spot to enjoy nature, fresh air, good food and coffee in a romantic way.
Wander around Xuan Huong lake at night
The best place to stay in Da Lat is around Xuan Huong Lake or close to the Dalat Market where you can hire a bike and explore the city. You can start with Xuan Huong lake and walk up the hill all the way to Dalat market where you can buy all local fresh products at a bargain price.
---
Ride a short cable car and enjoy peaceful moments at Truc Lam Zen monastery
You should also spend half a day visiting Robin Hill cable station to observe the city landscape from above. You can also visit peaceful Tuyen Lam Lake and Truc Lam Zen Monastery – the largest Zen institution in Vietnam. Lovely walk around when you can view flowers and romantic scenery to the lake and birds chipping.  If you are from local farms, you should visit Lat village where you can see how the ethnic tribes plant coffee and cultivate their flowers.
---
Cock Church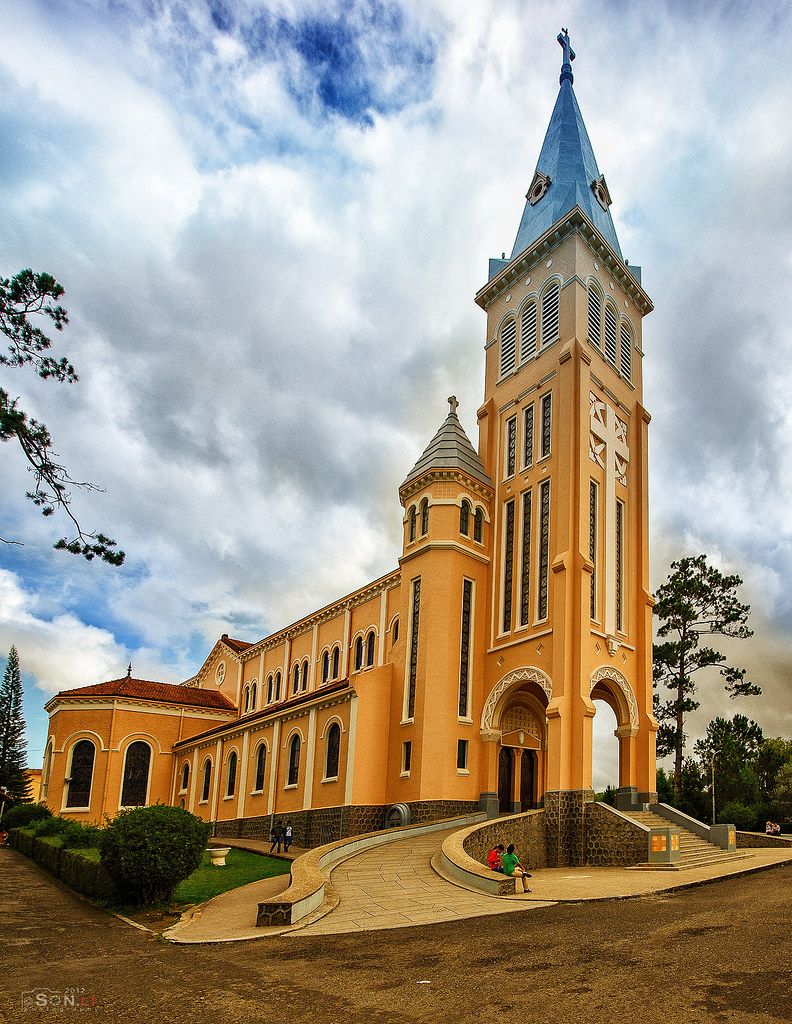 The French influence on Da Lat is reflected clearly through the architecture. The most famous building is Cock Church (St. Nicolas Cathedral of Da lat), also the city biggest church. This Gothic Catholic Church derived its nickname from the silver rooster statue on top of the tower.
---
Take a short heritage train journey from Dalat railway - the most unique train station in South East Asia.
Another famous establishment is Da Lat Railway Station built in 1932 on Yersin street. The station was inspired by French architecture combined with the Langbian Mountains. Although the trains have been commercially inactive for years, there is a 7km route that still takes tourists. The tour takes approximately an hour and costs 85,000 VND ($3.50 USD) per person.
---
Da Lat market
Da Lat at night is very quiet but there is one place that always busy – Da Lat market. There are many street vendors here selling food, souvenirs and farming products. When it gets a bit colder at night, the best experience here to sit on the steps in front of the market and have a bowl of hot noodle soup and drink soy milk. If you want a cup of coffee, there is a café not too far from the market with romantic views over Xuan Huong Lake. During weekdays, they are perfect places for you to read a book.
---
Trekking
One of my favourite things to do in Da Lat is trekking. Thanks to its natural landscape, there are many routes that you can choose. The most popular ones are the Langbiang and Tiger Cave treks.  As most of the routes are not too physically taxing, you have a lot of time to observe the local farmers. I highly recommend booking a local guide to assist, as the routes are not always straightforward and some are quite unsafe if you are not a local. It costs about 1,000,000 VND ($50USD) for an 8-hour trekking tour including food and a local guide. I highly suggest you tip your guide generously if they do a good job.  Most of them are friendly locals who love travellers and only earn 200,000 to 300,000 VND ($10 -$15 USD) for an 8-hour tour of fewer than 10 people.
---
One hidden gem that I accidentally discovered when cycling around Da Lat is a coffee shop behind Dinh 2, a palace on Tran Hung Dao Street, only 2km from city centre. If you go up the road behind it, you will find a complex of private mansions on the right hand side. If you keep going uphill on the right, you will find a coffee shop with stunning views to the valley below.
---
Tips
Time to Visit: All year round.
Hidden Gems: Me Linh coffee gardens – 20, thôn 4, xã Tà Nung, TP. Đà Lạt.
Local Restaurants:  Dalat market, Ba Nghia grilled pork (4 Bui Thi Xuan), Phan Rang chicken rice (28 Tran Nhat Duat), Quan Cu Duc (6 Nguyen Luong Bang).
Things to do: Tuyen Lam Lake, Crazy House, Da Lat market, Railway station, Cock church, Da Lat Market, Trekking tours, Rock climbing.
Transportation: There are 2 common ways to get to Dalat from Saigon.  If traveling by road, you can take the coach which will take approximately 8 hours. You should take the night sleeping bus to arrive early morning next day. Alternatively, there are short frequent flights from Saigon (45 minutes).
Airport Transportation: You need to take shuttle bus or taxis from the airport to the city centre. This trip clocks in at around 30kms. Shuttle bus will drop you off close to city centre, next to Xuan Huong lake.