The new Seminyak - District two's thriving expat community
Developing fast after the completion of the Thu Thiem bridge in 2008 and Thu Thiem tunnel in 2011, District 2 has become a central area in Saigon next to District 1. Just crossing Saigon bridge, you will step into the urban land of everything from modern skyscrapers and luxurious malls to cozy bars and vintage handmade shops. Wealthy citizens and foreigners choose District 2 to live because of its fresh, environmentally friendly atmosphere and convenience. Considered "the place of expat community" or also nicknamed "District 2 expat community", this hotspot is compared with Seminyak in Bali for small, green residential streets, healthy food stores, cool shops, and iconic bars. Don't knock it until you try it, District 2 expat community is sexy and attractive with streets of peaceful stores throughout the day and bustling restaurants at night.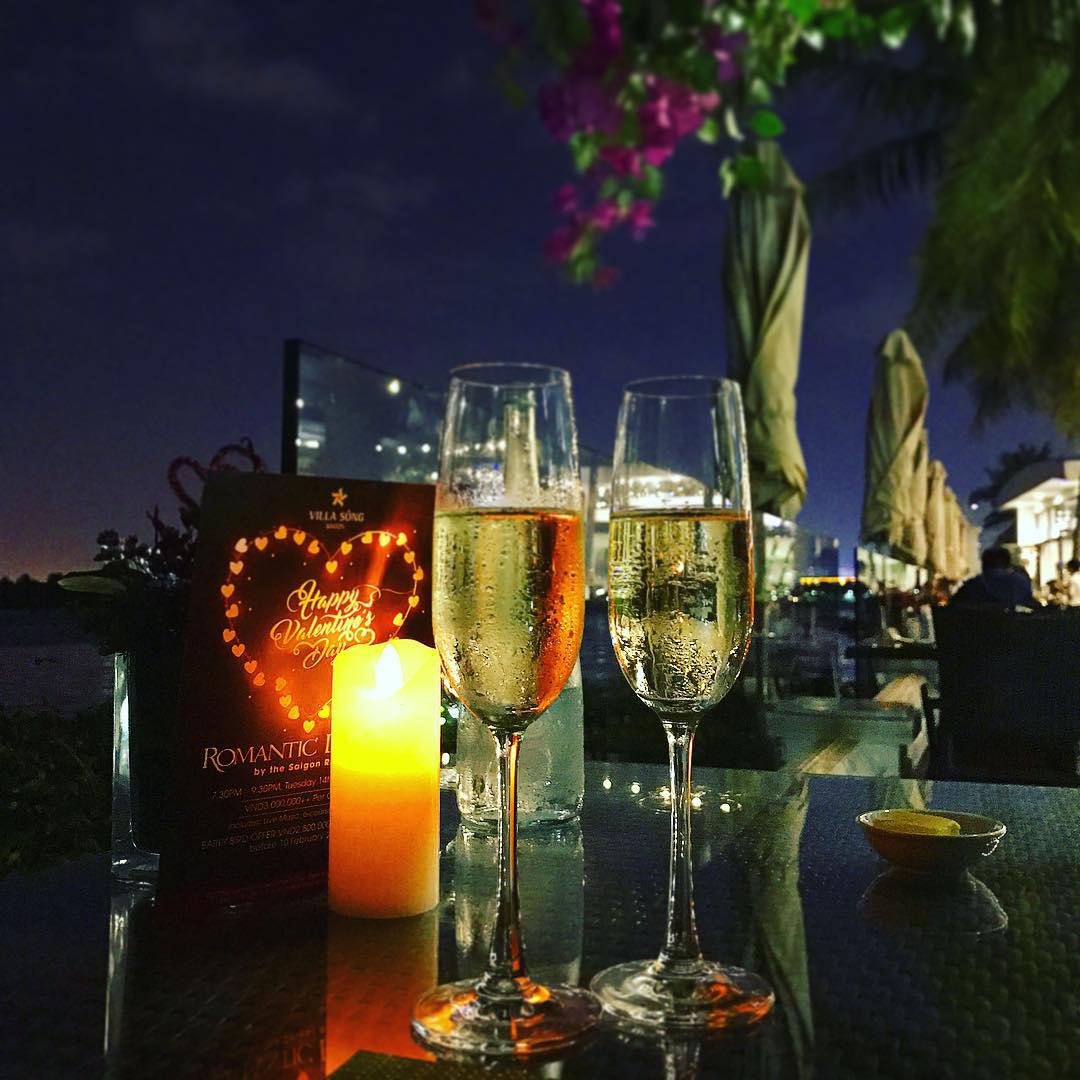 Villa Song Saigon: all things you'd expect from an awesome resort in District 2 expat community
If you want to escape from the frenzy of center of Ho Chi Minh city and enjoy river winds, take a boat to and enjoy the atmosphere of the French Colonial Villa Song Hotel. With a wide range of such services as a spa, restaurant, hotel, shuttle boat, Villa Song Saigon is actually an oasis of tranquility, relaxation and culinary art for visitors. Let's go through a mini tour to Villa Song Hotel departing from Pier. The shuttle boat is available from 9.00 am to 7.00 pm on a regular schedule. It takes about 20 minutes to reach the beautiful Hotel by boat or taxi. Walking through palm trees you can see the big swimming pool right in front of the Hotel. Travelers can enjoy swimming pool view or river view from one of the luxurious 23 rooms spread across three floors. The elegant rooms are equipped with air-conditioners, flat-screen cable TV and beddings, private bathrooms and showers. Your sunny day starts with delicious breakfast and ends with a tranquil dinner at the Bistro Song Vie, Villa Song Saigon Restaurant. Common main dishes are priced between $11-$25USD. With the modern international cuisine focusing on Vietnamese and Asian dishes and a selection of wines and beverages, Bistro Song Vie surely pleases visitors. Foods and drinks are offered at reasonable prices, about $13 for Villa Song Signature and $10 for a common cocktail.Relaxing at Villa Song Hotel is amazing with a wide range of offering, such as a salt water swimming pool, modern gym, and spa. Your health benefits from mineral-rich water pool, exercises (even on holidays), and from head to toe spa therapies.  Though Villa Song Saigon Hotel is listed one of expensive Hotels in District 2 expat community and Saigon, but it is worth it because of its picturesque views and excellent services. Detailed info
Address: 197/2 Nguyễn Văn Hưởng, Thao Dien, Ho Chi Minh City, Vietnam
Phone: +842837446090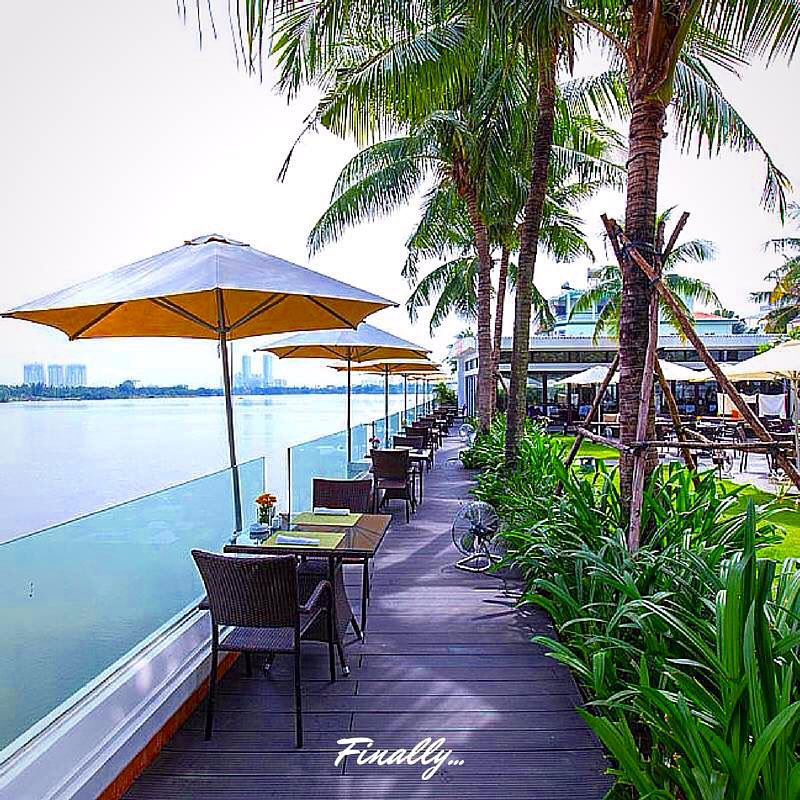 The Deck Saigon: A great place to eat in District 2 expat community
Take a 20-minute ride on a speedboat and arrive in a culinary art oasis. Now it is the time for you to find a seat on The Deck restaurant and enjoy the Saigon River view. It will be a truly memorable moment on your trip to Vietnam, guaranteed. With a strong and passionate team of 65 trained staff and experienced Western management team in restaurants, bars services, The Deck Saigon is not just outstanding for its hospitality but for its spirit. Most visitors find their excitement, happiness and contentment at The Deck Saigon in the fresh and weekly-changing menu. Oozing with contemporary Pan-Asian style recipes, The Deck Saigon offers guests with the finest quality ingredients such as seafood from Phu Quoc island, vegetables from Dalat, and meat from the U.S and Australia. Drinks at The Deck Saigon are fabulous for their unique creations. Excellent bartenders at The Deck Saigon always know how to please their honorary guests with diverse mixtures and well-known wines and vinegars.The Deck Saigon is an expat enclave since they offer here a tranquil sanctuary contrasting with the busy center of Saigon. One of the best things of District 2 expat community is that it still keeps its own rural spirit in the midst of modern development. Come to Saigon, sit at the The Deck Saigon restaurant, and look at the passing barges and the skyscrapers in the distance towards the sunset. Keep in mind, The Deck Saigon is always very crowded on the weekends. Price: One regular dish is about $13-$25.Detailed info
Address: 38 Nguyễn Ư Dĩ, Thao Dien, Ho Chi Minh City, Vietnam
Phone: +842837446632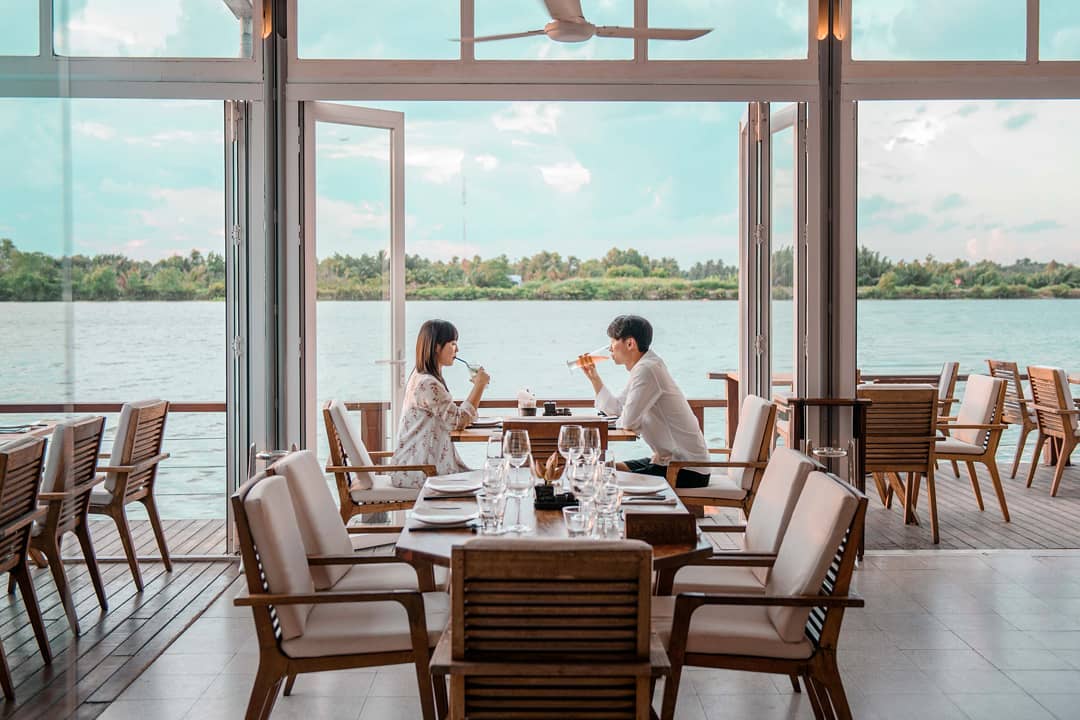 The Boathouse Restaurant: Never miss out on this Riverside hotspot
For those looking for a restaurant with great ambience, The Boathouse Restaurant is another amazing option. The restaurant is hidden in the An Phu compound and offers a great view of the Saigon River.The international menu by Executive Chef Thierry Faburel completely fits with riverside style restaurant. The steak, beef and fried sea bass are some of the must try dishes here. Otherwise, you can also try drinks like rum and 9 dragon vodka. The Boathouse restaurant also has a deck area and open-air bar. Besides restaurants, The Boathouse restaurant offers private events and is one of the best places for birthdays and weddings. The unique trait of The Boathouse restaurant is that the foods here are very simple, but taste so great. All of them are well-prepared with friendly and warm staff. The best time to enjoy The Boathouse is at twilight; taking a sip of a Mojito, watching the sunset and boats passing by, tasting winds from the river. If you have children, it is also good to let them play in the garden of the restaurant. Tips
"Happy hour" at The Boathouse restaurant is 4:30-6:30pm.
Keep updated with their events and live music via The Boathouse Restaurant facebook page.
Do not forget to get the membership card to get 10% discount.
Detailed info
Address:40 Lily, An Phu Compound, Thao Dien, Ho Chi Minh City, Vietnam
Phone: +842837446790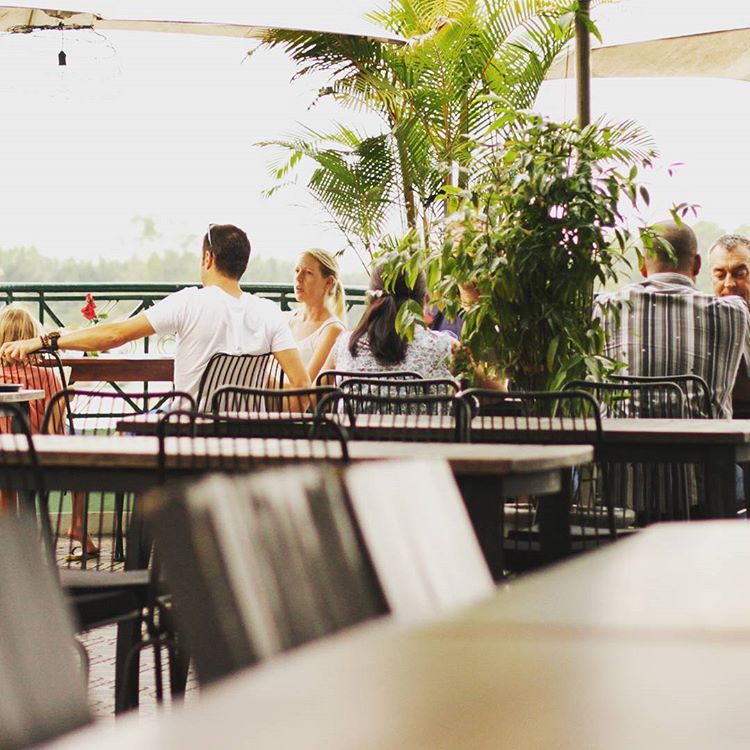 So what makes District 2 expat community stand out among the other areas of Saigon? Though some center districts like district 1, district 5 and district 7 are reknowned for being tourist attractions, district 2 is very unique with its own ambiance and style. There is no better feeling than waking up in the middle of sunshine bedding and taking a sip of coffee or tea. Then walking down the small pathways listening to the birds singing, stopping at any shops for little hand-made and high-quality gifts at affordable prices and watching the last lights of the sun while having dinner at a riverbank. Peaceful and lovely! District 2 expat community has plenty of things to fill your day from beginning to end. You can see expats sitting relaxingly at coffee shops/bars here, talking with their partners/friends/colleagues…That is what expats, visitors or any travelers are looking for when coming in Vietnam. A real talk in a "real" atmosphere!