The best time to visit Halong Bay
Like a little piece of paradise on earth, Halong bay boasts a breathtaking natural view of the majestic islands, the iconic islets, the mysterious caves and the clear water. So when is the best time to visit Halong bay? That depends on what kind of the trip you want. If you don't mind high prices and crowded islands, go when the weather is best! September – November and March – May are often the driest months with pleasant temperatures.On contrast, from June to August, you can get the good discounts from tour operators but be prepared for pop-up storms. And if you want to experience Vietnamese's New Year, December – February is a good fit. For more details of the best time to visit Halong bay, check out our guide below!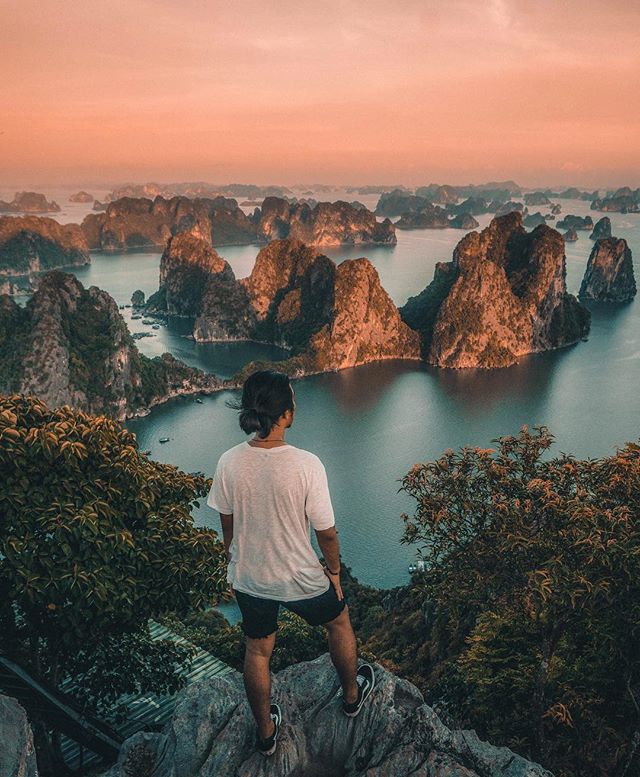 March – May
Visit Halong Bay during this time to enjoy the most pleasant weather of the year and a wide variety of authentic cultural festivals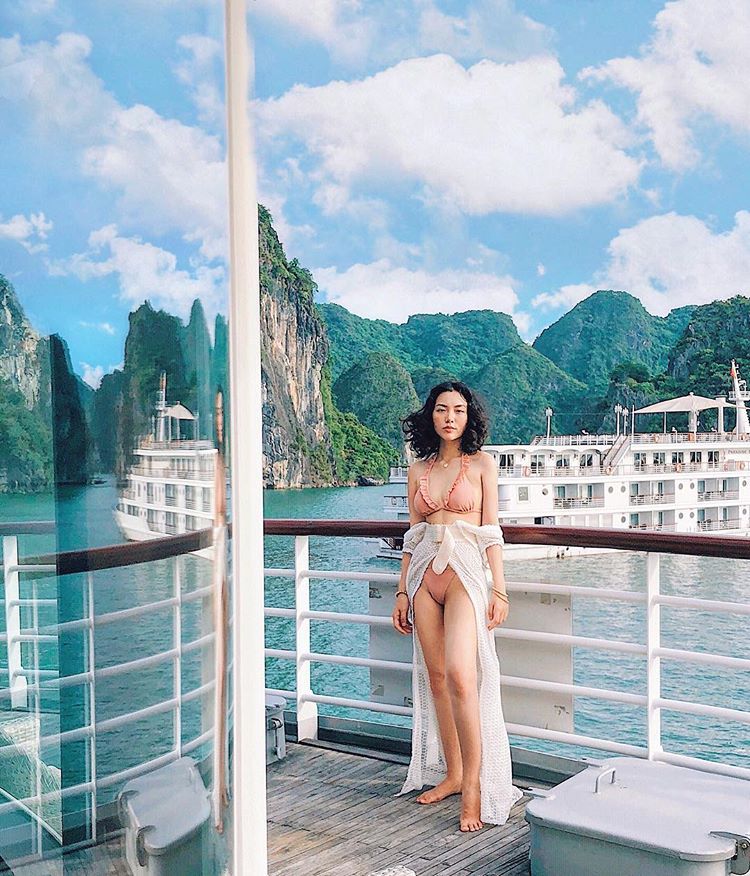 Immerse yourself in the majestic beauty of Halong bay now! Join our deluxe cruise adventure!
[cta_button link="https://inspitrip.com/search?text=halong" label="Explore now"] [revise_block main_title="Halong bay tour" item_title="One-day cruise, Two-day cruise, three-day cruise" item_link="https://inspitrip.com/experiences/the-best-halong-bay-one-day-cruise-and-kayak-adventure-196, https://inspitrip.com/experiences/deluxe-three-day-cruise-and-kayak-adventure-in-halong-bay-200, https://inspitrip.com/experiences/deluxe-three-day-cruise-and-kayak-adventure-in-halong-bay-200" count="3"] This is generally the best time to have a trip to Halong bay, when weather is really pleasant, not too hot and not too cold. The temperature is around 25oC and the sun shines nicely, especially in April, May. Therefore, it enables you to enjoy as many outdoor activities as you want to explore this beautiful bay. Doing some kayaking through the majestic caves while making sightseeing is a must try. Unfortunately, that's also when the bay becomes the most crowded. A lot of tourists come to Halong during this time, so book your hotel early to avoid exorbitant costs.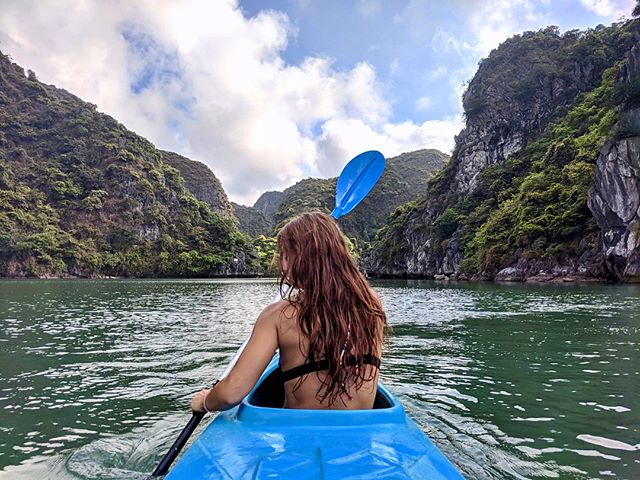 Along with the good weather, various festivals in this period are what make it the best time to visit Halong. There are Long Tien temple festival, Cua Ong temple festival, Yen Tu Festival, Bach Dang Festival and especially, Halong Carnival.Not like other festivals, Halong Carnival is not a traditional one, taking place annually in April. The word "carnival" speaks for itself. Halong Carnival is the largest and most fascinating festival which attracts a huge number of tourists. Thousands of artists and performers from Vietnam, Philippines, Korea… gathers to exhibit all their unique culture features.
September – November
Similar to March – May, the months of September – November is also the peak season for tourists due to pleasant weather. This is the best time to visit Halong Bay because it provides warm temperatures without too much rainfall and humidity. The temperature is around 20oC. The sun is not as harsh as in the summer. So it's ideal for outdoor activities like hiking, sailing and sunbathing.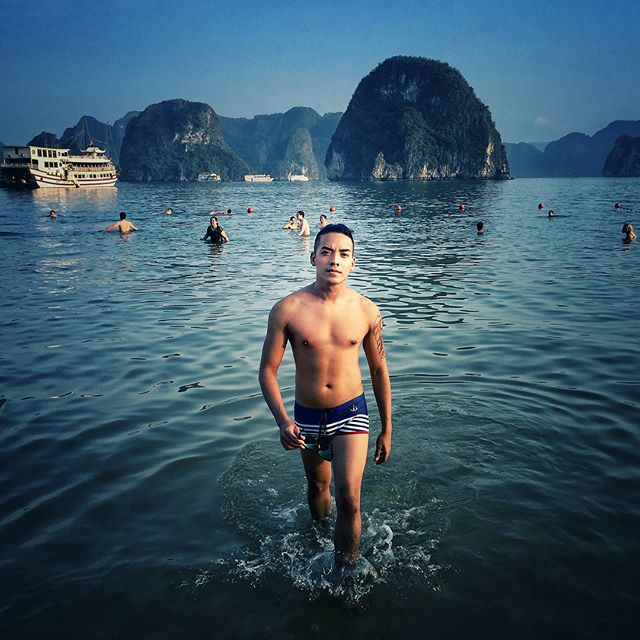 We recommend you to join on a Halong bay cruise, which would be an unforgettable experience. It takes you to many impressive natural landscapes of limestone caves, iconic islets and grottoes during the day time. Squid fishing at night is also worth trying, if weather permits. And in the next morning, you will be overwhelmed by the marverlous sunrise view while sitting on the deck. As soon as the sun appears, the reflection of the moutains and the clouds is stunning!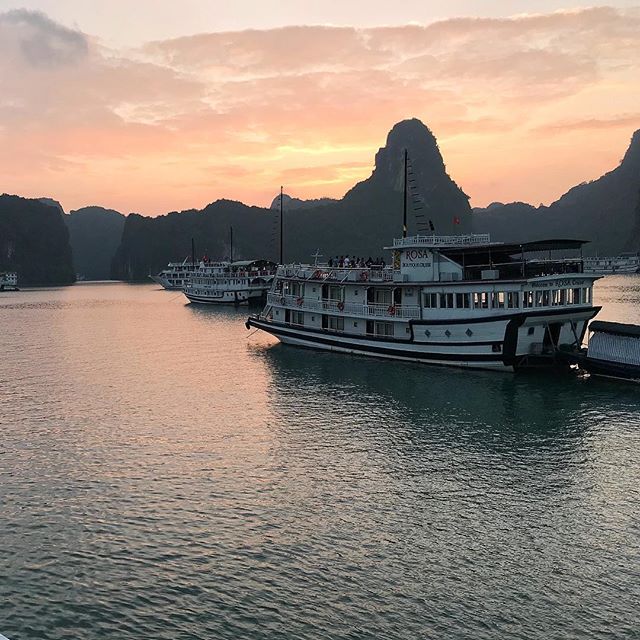 December – February
The period of December – February is Halong's winter time - the temperature is around 15-18oC. Despite this slightly colder temperatures, Halong bay still becomes busy with revelers during Christmas and the New Year holiday. The only drawback is that your visibility might be limited due to fog and drizzle. Never mind that! Because you will change your mind when floating on a lightly foggy sea among enormous limestone mountains, which gives off a fairytale-like feeling. Halong Bay really shows off a mystical beauty once the winter comes. The wintertime is also the fishing season of local fishermen. You can have the opportunity to see how they are busy fishing on the wooden boats. It can be a distinctive experience to try a day in the life of a fisherman.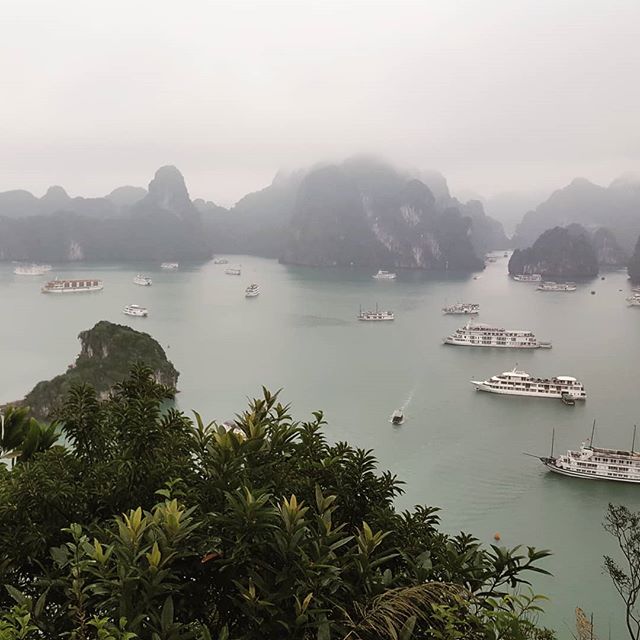 Even in winter, never leave Halong without immersing yourself on a luxury cruise. Take a time to enjoy a cup of hot coffee or tea on the cruise's sundeck. Let the flow warm you up after a long day of exciting activities on water. Moreover, there are special "New Year Cruises" designed to bring you a brilliantly unique atmosphere of "Tet" in Vietnam. You will get to live in the Vietnamese festive spirit. There are numerous Halong Bay tours operated during this special season for you to choose.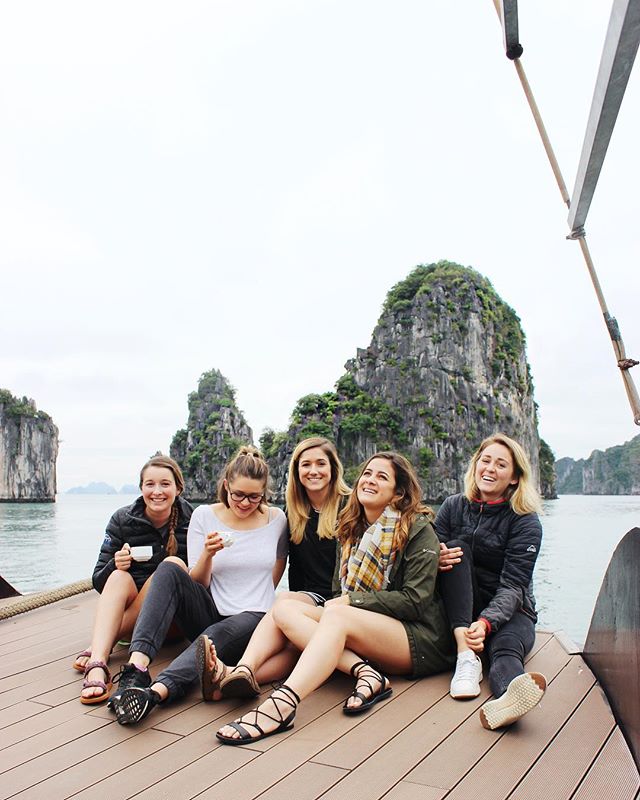 Tips to visit Halong bay during the winter time
Some days could grow so colder, foggier or have heavy rain that cruises might be postponed. Therefore, you should pay attention to tour operators' notification to have an alternative plan.
Prepare warm clothes and waterproof trail shoes just in case.
Don't forget water-proof bag for your electronic devices.
June – August
If you want to travel on a budget, this would be the best time to visit Halong bay for you. From June through August, it's Halong's summer and low season as well. That said, if you're looking for a bargain, you'll have the most luck during this time. You can get better deals on accommodation and cruises. However, the weather can be hotter and more humid compared to other months with the temperature ranging from 31–39oC. Heavy rains occur more frequently. Although it doesn't exactly make for a nice day on the beach, or exploring the islands' interior, Halong during this time is charming with crystal clear sky and emerald water. It's ideal for a clear view of the bay and water based activities like swimming, kayaking,… Remember to bring sunscreen, a sunhat and sunglasses in the bag because the heat and the sunshine may damage your skin.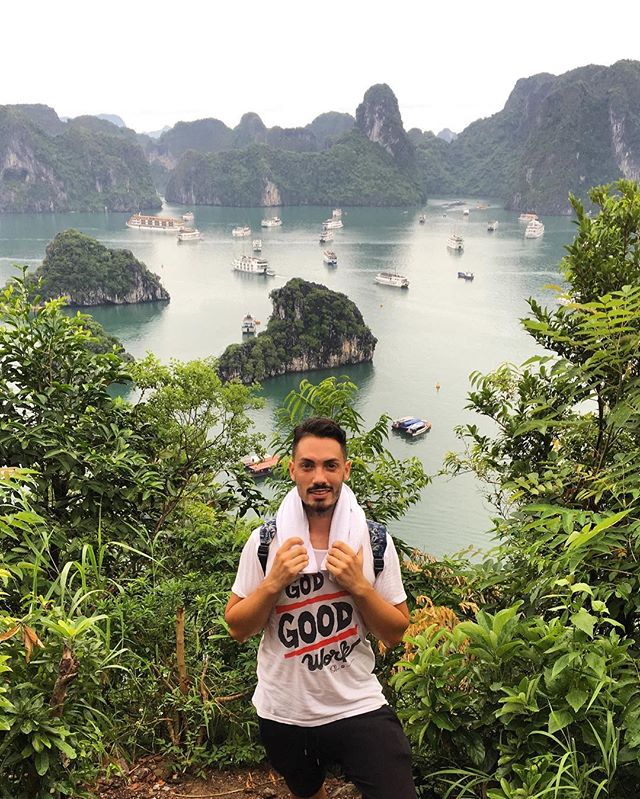 Also, there is a thing – typhoon, mostly in July. That means your trip or cruise can be canceled or delayed. However, if you pay a close attention to the weather forecast, it's ok and you will have a great Halong bay trip with a much cheaper price. The drawbacks sound less than appealing, but many travelers prefer to visit Halong bay only during this low season.
Join on a Halong bay cruise tour
Halong bay cruise tour is what you shouldn't miss. Overnight cruises allow some more time to relax and truly enjoy the scenery out in the water. It's a fantastic idea to float in the middle of the sea and enjoy Halong's majestic nature through the window. After a night sleep, wake up and watch the sunrise while sitting on the deck really make your day.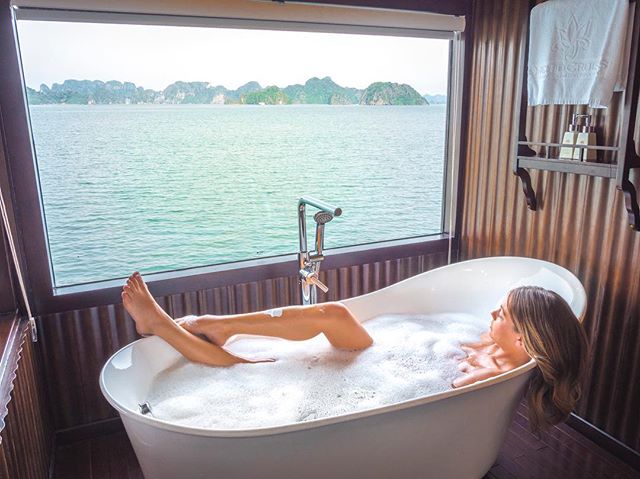 Now you can find many travel agencies providing overnight cruises in Halong bay with different itinerary options, including other activities like visiting floating villages, exploring caves, kayaking, cooking and morning yoga classes,… This means you don't need to worry about travel plans, activities, accommodation during the time in Halong.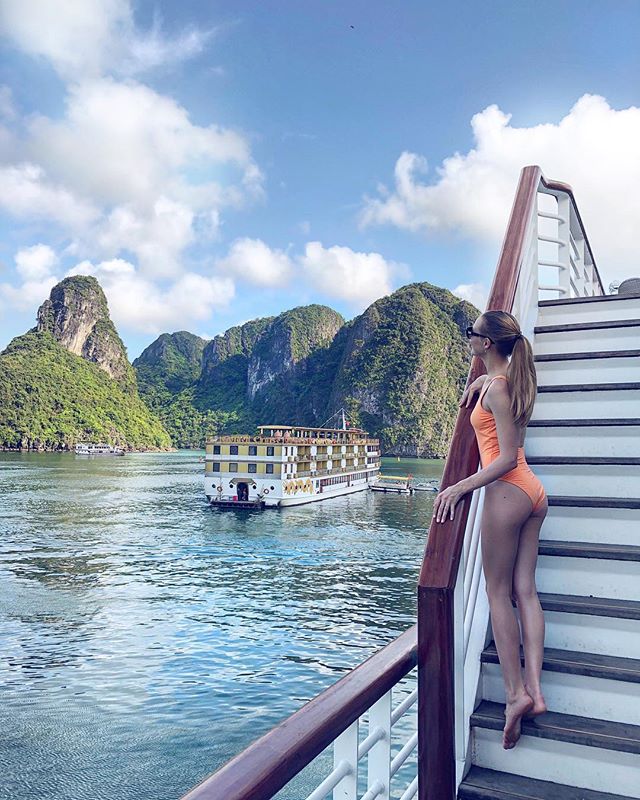 No matter the time of the year, Halong is beautiful. As I said at the very beginning, deciding the best time to visit Halong bay really depends on you. As long as you enjoy your trip to the most, it is the best time. Hopefully our guidehas helped you form a clearer picture of what each season in Halong is like, and helped you decide when to visit.