Siem Reap itinerary: the best way to plan your visit to Angkor Wat and other attractions
Located in northwest Cambodia, Siem Reap is home to an incredible amount of history, culture, architecture, and food. Indeed, while tourism is the lifeblood of Siem Reap, despite its fame and the crowd it brings, it remains a charming city. There is a lot to see and do, from famous Angkor temples to jungle adventures, to vibrant culture, to can't miss great nightlife. If you'll only be in Siem Reap for 1, 2, or 3 full days, don't worry! It's still entirely possible to experience the best of this city. Our Siem Reap itinerary below will help you plan a compact and kick-ass trip with a variety of interesting things to do in Siem Reap!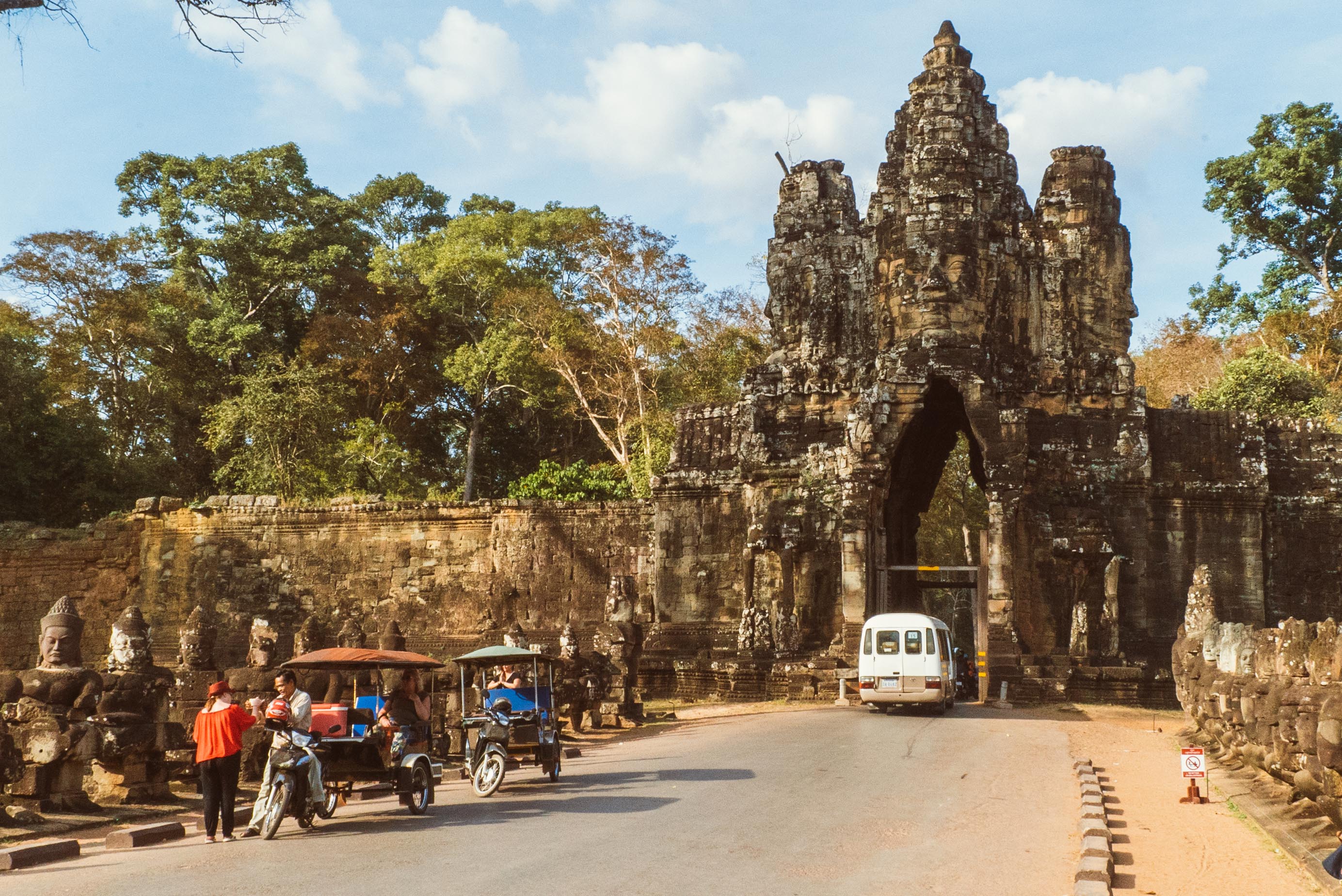 1-day Siem Reap Itinerary: Admire the majestic beauty of the Angkor temples
If you only have one full day here, you're going to really have to pound the pavement. That said, no trip to Siem Reap is complete without a visit to Angkor Archaeological Park. In one day, you won't be able to see everything, but you'll be able to see a lot.
Angkor Wat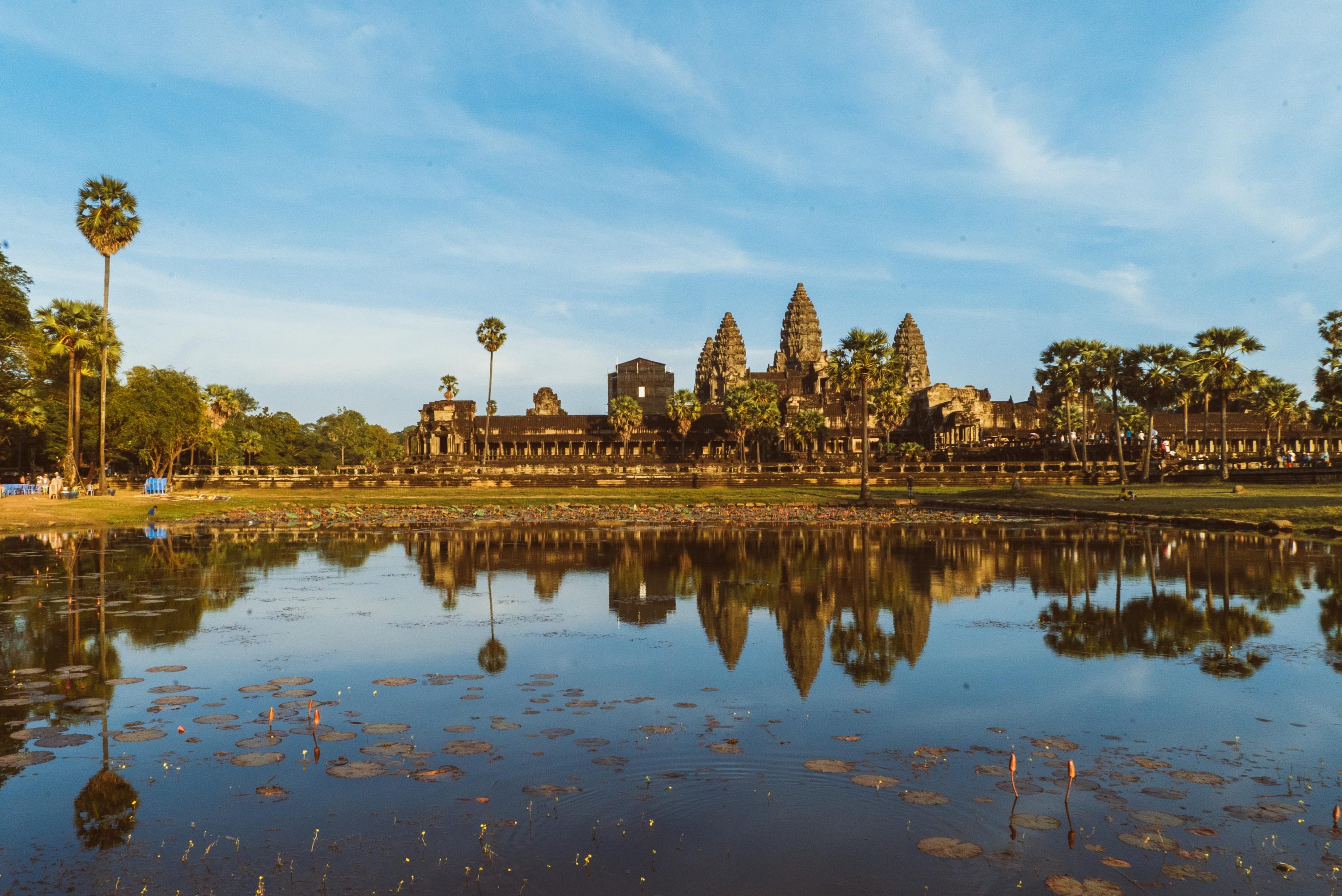 Spread over at least 160 hectares, this iconic temple complex is officially the largest religious monument in the world. Angkor Wat is comprised of beautiful towers and artwork with the classical style of Khmer architecture, which makes it a popular and exceptional tourist site. You cannot help but absorb its spiritual flare while gazing at its beauty. There is no end to the depth of Angkor Wat, so spend enough time immersing yourself in its history, impressive architecture and mysteries. And it's a pity if you miss the sunrise at Angkor Wat. Try to start early to enjoy this marvelous moment when the vibrant red and orange light rise over the temple. Check out some best Angkor Wat tours guided by local experts right here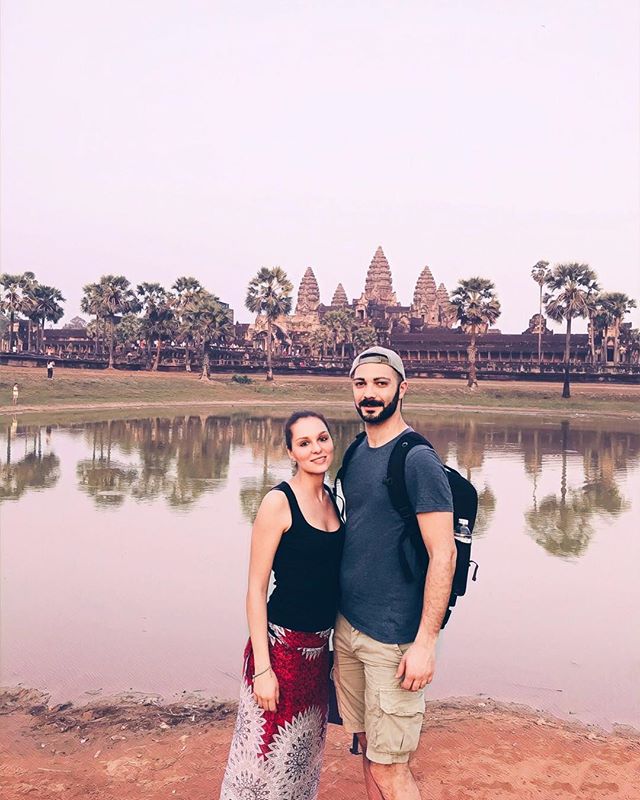 The serene beauty of sunrise and sunset at Angkor Wat will surely make you to gaze in awe.
Ta Prohm - "Tomb Raider Temple"
Known more commonly as the Tomb Raider Temple, this place has become a famous attraction among tourists. The site consists of a series of one-storey buildings inside a crumbling wall. Untouched by archaeologists, Ta Prohm has been almost taken over by nature, which gives it its charm. Fig and banyan trees spread their gigantic roots over stones, as their branches and leaves form a roof over the structures. It serves as a powerful reminder that while empires rise and fall, the power of nature marches on.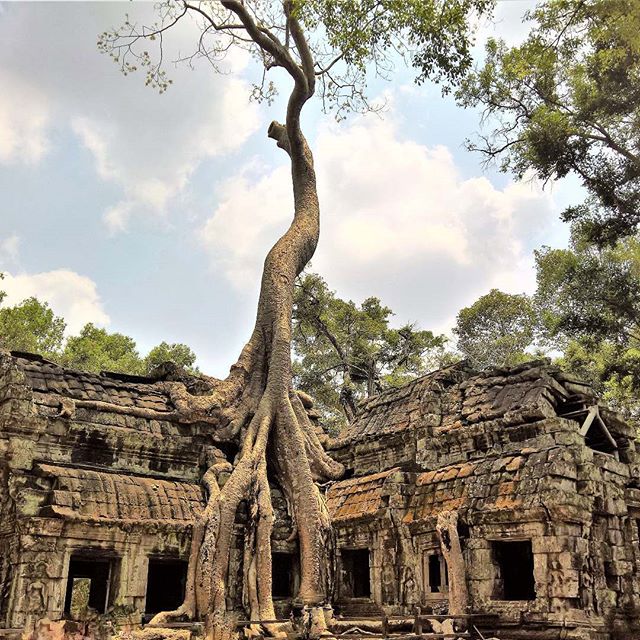 Bayon – "The Temple of Many Faces"
Bayon is located in the center of Angkor Thom - the last capital of the Angkor Empire. The temple is an interesting one to include in your Siem Reap itinerary. Mostly known as the 'face temple' thanks to its iconic structure. The site includes 54 Gothic towers which are decorated with 216 giant smiling faces of Avalokiteshvara. Built in dedication to the Buddha in the 12th century, it has withstood time very well. It's only a short distance from Angkor Wat and a little less crowded.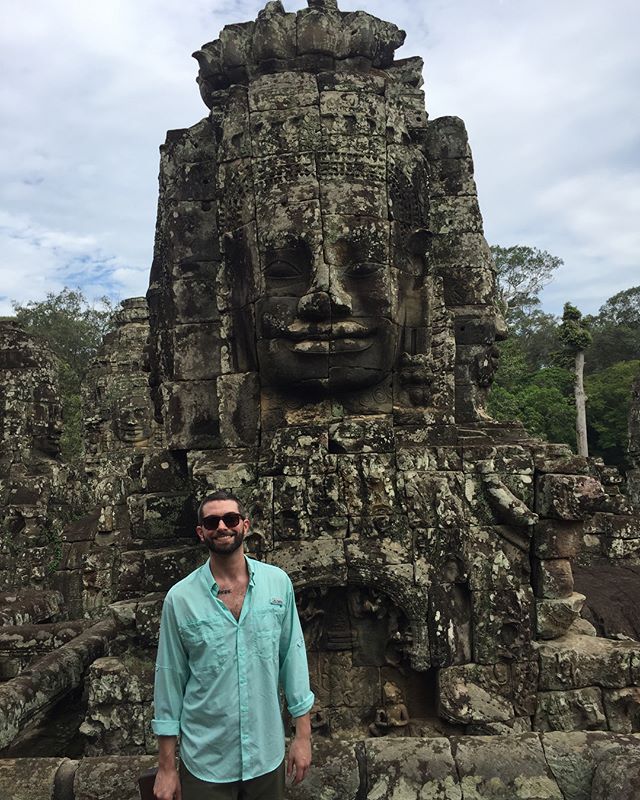 Banteay Srei - "Citadel of the Women"
Although it is one of the smallest sites at Angkor, Banteay Srei temple is a masterpiece you'll want to behold. The temple is made from red sandstone and covered with intricate carvings. These classic carvings include delicate women with lotus flowers in hand and traditional skirts. It is said that it must have been built by a woman, as the elaborate carvings are too fine for the hand of a man. For these factors, Banteay Srei is considered by many to be the crown jewel of Angkorian art.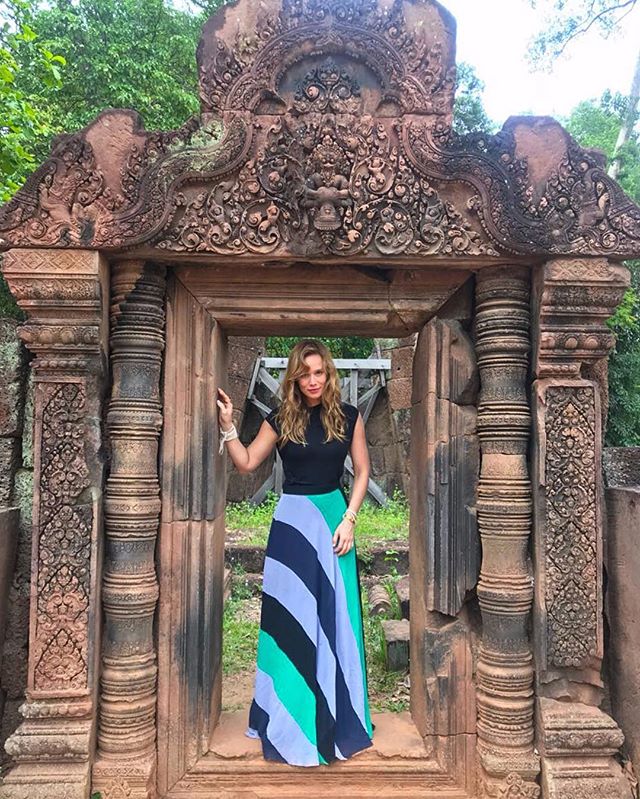 Tips for you to have the best Banteay Srei temple tour:
How to get there and go around: Getting a tuk-tuk from Siem Reap at the cost of $30-40/ day
Opening hours: 5am - 5.30pm. You need to buy ticket at the APSARA office (Authority for the Protection and Management of Angkor and the region of Siem Reap). An entry pass costs US$37 for one day, US$62 for three days (can be used over one week) and US$72 for one week (can be used over one month). There are bicycle rentals and tuk-tuks for hire.
This is the religious monument, so be respectful in the temples and dress modestly.
Check out Banteay Srei full-day tour if you need a comprehensive guided journey to this temple
Get a fishy foot massage
After a long day of discovering temples, it's time to give your worn-out feet a little time to relax. A "Fish massage" is a highly-recommended thing to do in Siem Reap. You can find many of these parlors on every street in Siem Reap, so it's easy to choose one. For around $2-5 you can soak your feet in a tank of tiny fish, which will nibble dead skin from your toes in about 20 minutes.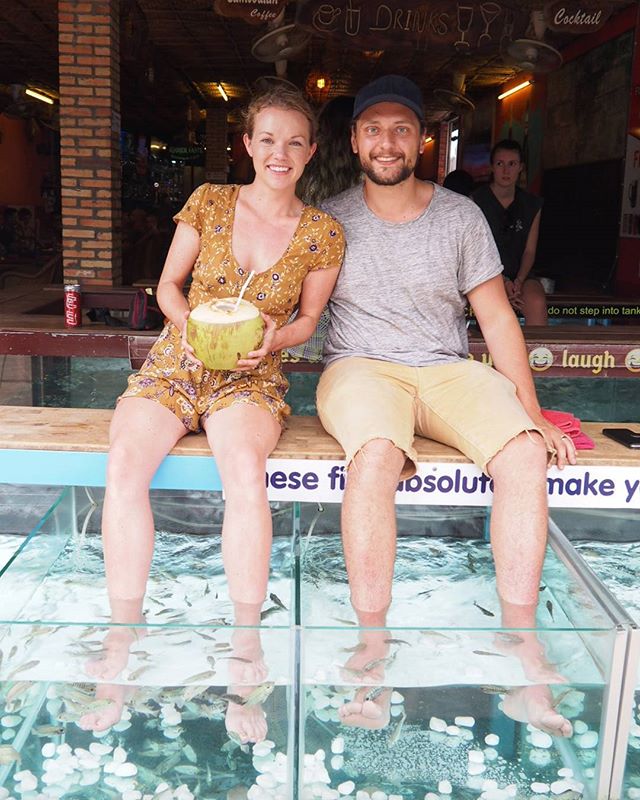 Dinner at the Pub Street
Another amazing thing to do in Siem Reap is to dine at the Pub street. Pub street is a short alley full of clubs, bars, and restaurants, offering a wide variety of culinary treats from Khmer specialties to Western favorites. In addition, food stalls are abundant throughout Pub Street with very reasonable prices, ranging from 4-8$. You can find banana pancakes, fresh fruit slices, corn on the cob, BBQ skewers, coconut juice, fruit smoothies,… among others. After that treat, take time to drink an Angkor Beer at one of many neon-lit bars down this pedestrianized corner of the city. All these are what travelers look for - a happy hour after an exhausting day of touring.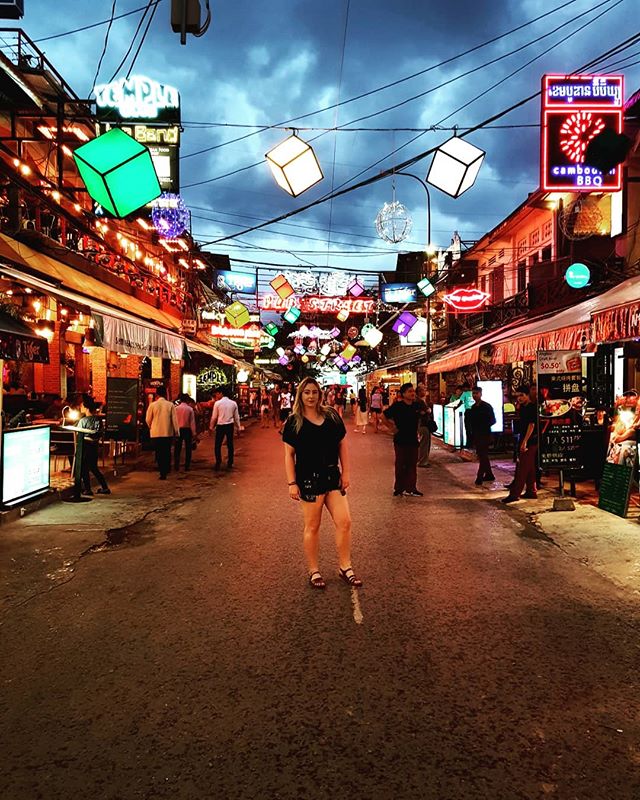 2-day Siem Reap itinerary: Perfect day trip at Tonle Sap lake
If you have two full days in Siem Reap, follow the previous itinerary for one of your days, and add this itinerary for the other day.
See Authentic Life at Kompong Khleang floating village
About 35 km southeast of Siem Reap, Kompong Khleang is a fishing village along the bank of Tonle Sap Lake, the largest lake in Cambodia. Among the most visited villages at Tonle Sap lake, this is the furthest one. Therefore, only a few of tourists make the journey to Kompong Khleang, which can be appealing if you want a more authentic experience. There are both floating houses and fixed ones raised on 10m wooden stilts. Many of them are open, so you can see directly inside into the living rooms, which all have their unique family designs. For those who have never seen such things before, it is a truly mind-blowing experience.
Bird-watching at the Prek Toal Bird Sanctuary
Your next stop should be the Prek Toal Bird Sanctuary. Also located on the Tonle Sap lake, this stunning bird sanctuary is one of the most important breeding grounds for endangered water birds in Southeast Asia. During the peak season (December to April), visitors will find the concentration of thousands of local and migratory birds like Black-headed Ibis, Spot-billed Pelican, Greater and Lesser Adjuncts, Painted Stork, Grey-headed Fish Eagle and many others. Even the uninitiated will be impressed, as these birds have a huge wingspan and build enormous nests.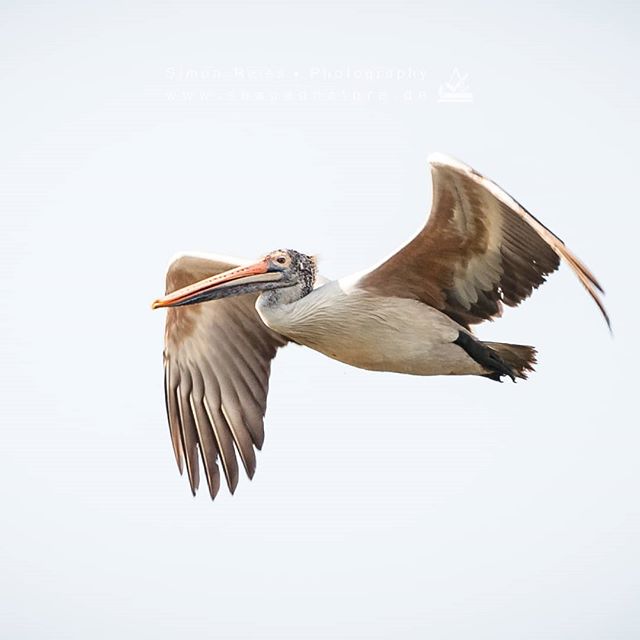 To end a day, you shouldn't miss the stunning sunset view in the middle of Tonle Sap lake. The color is so intense when the sky changes from bright blue to luminescent orange.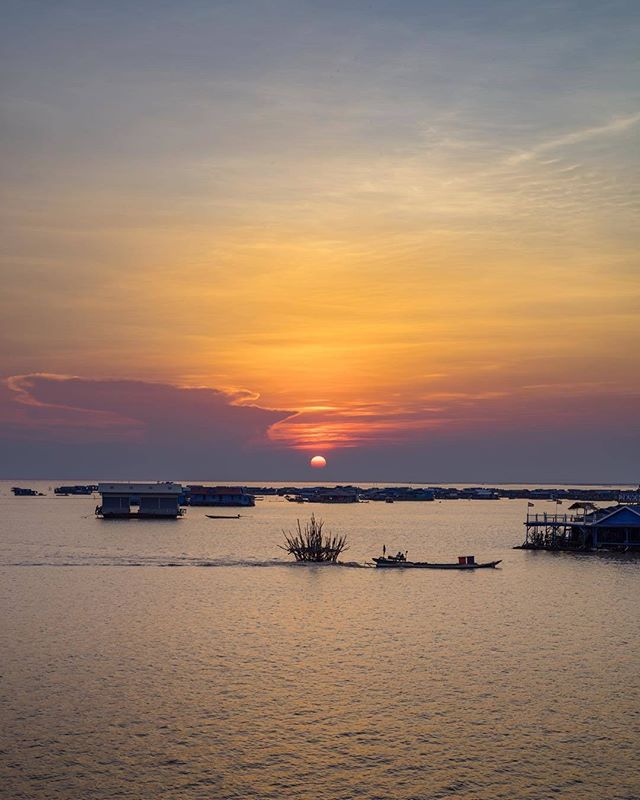 Angkor night market
If you still have energy, wander through the infinite stalls of the night market. Open every evening at sunset, the Angkor night market across Sivatha Street is also a top attraction in Siem Reap. The market is famous for not only the goods being sold but also the place itself - a series of stylish traditional huts built Khmer style is what make it special, compared to the other night markets in other Asian cities. With over 240 shops, there is a vast selection of unique souvenirs like paintings, wood carvings, silk, and local delicacies. There are also a few massage and spa bars for those who need a little more pampering.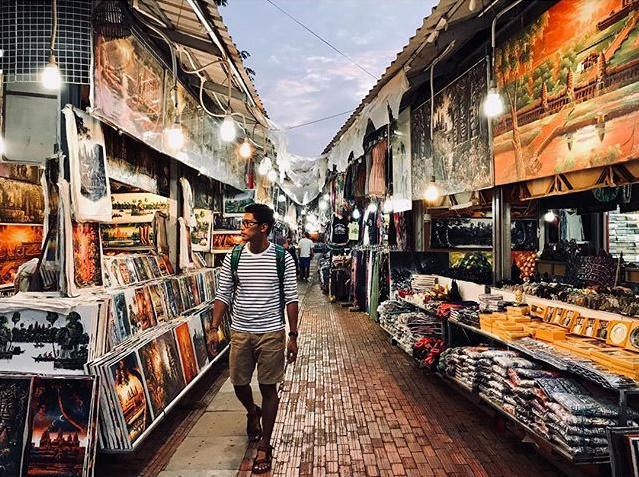 3-day Siem Reap itinerary: Enjoy a relaxing day
If you have three full days to spend in Siem Reap, after spending two days doing intense sight-seeing, you're bound to be exhausted. So, it's nice to have a relaxing day like this at the end of your trip.
Morning at Sister Srey Café
Start the last day with a hearty breakfast at this socially oriented cafe. The staff are friendly and will have a laugh with you, and the servings are generous and tasty! Upstairs is a small shop of locally produced clothing, skincare products, and other goods. The large table at the front is an excellent spot for people-watching along the Pokambour Street.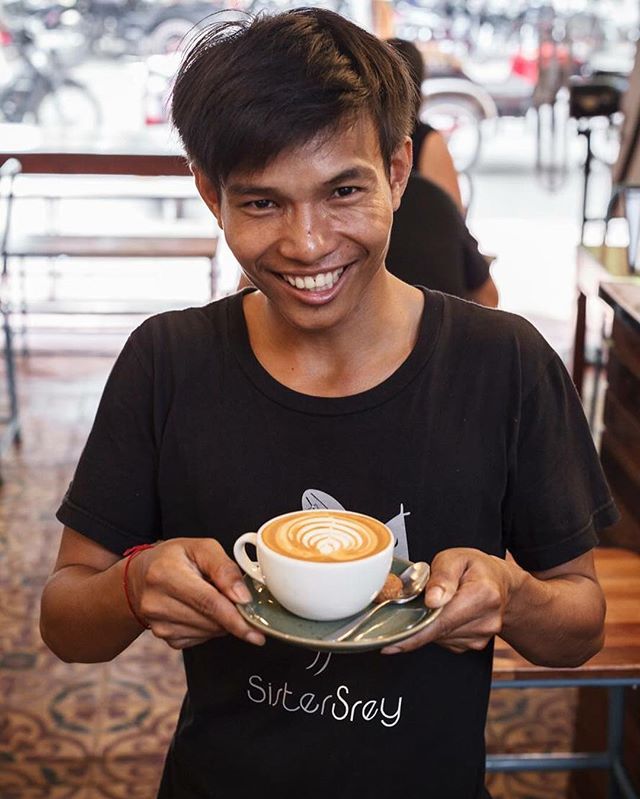 Join a Khmer cooking class
If you're interested in Cambodia's delicious dishes, take a traditional cooking class and you'll be able to satisfy your cravings. Khmer chef instructors will guide you through local markets and identify all the ingredients you'll need to create your culinary masterpiece. The fish amok, Camboida's national dish, is a must try along with many other dishes like fried spring roll, beef lok lak, banana rice cake. After cooking, it's time for you to enjoy what you've made. Some of best Siem Reap cooking classes are:
Cooks 'N Tuk Tuks: 113 Mondul 111 Phoum Treang, Siem Reap
Le Tigre de Papier: On Pub Street, Siem Reap
Lily's Secret Garden Cooking Class: BBU Street, Siem Reap
Check out half-day cooking class local experience here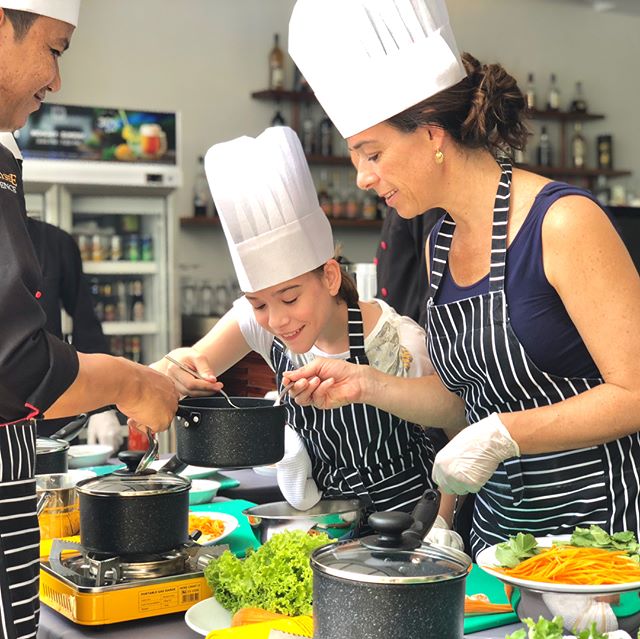 Enjoy a traditional Apsara dance
The Apsara dance is a traditional dance of Cambodia that dates back to the 7th century. During the 70-minute show, you can hear tales from the time when the Temples of Angkor were built, and folk customs from the past and present explained. Most of the graceful movements of the Apsara dancers are depicted on the walls of many temples and reliefs at Angkor Wat. To enjoy the show, you can find a number of local hotels and restaurants that offer the dinner and performance as a package like Apsara Theater, Alliance cafe,...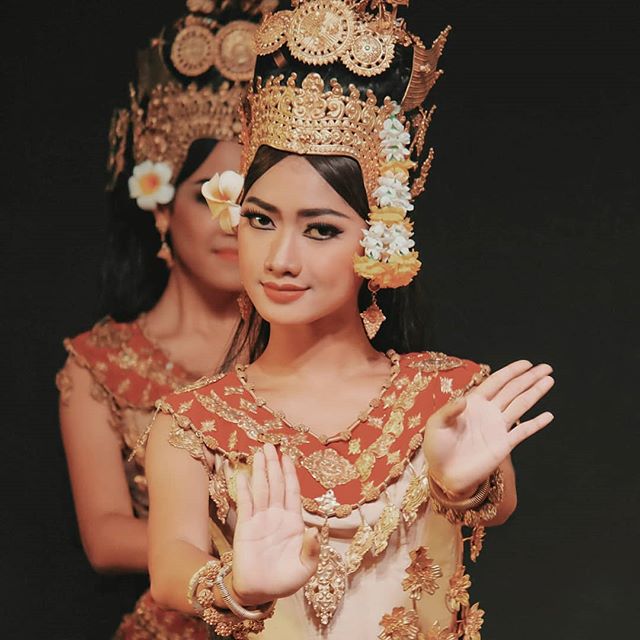 Here are a few notes for you when visiting Siem Reap:
The winter months (November to February) are the peak travel season for Siem Reap. These months are cool and dry, avoiding the extremes of heat and humidity you'd find in other times of the year.
Cambodia has two official currencies: the Cambodian riel and the U.S. dollar. Both are accepted interchangeably, however, dollars are often preferred.
Always wear sunscreen when you have outdoor activities and prepare comfortable sneakers.
Tuk tuks are the easiest way of getting around. You can get anywhere in the main city for $1 - $5, depending on your bargain ability.
If you want to know more about the history, take a local guide with you.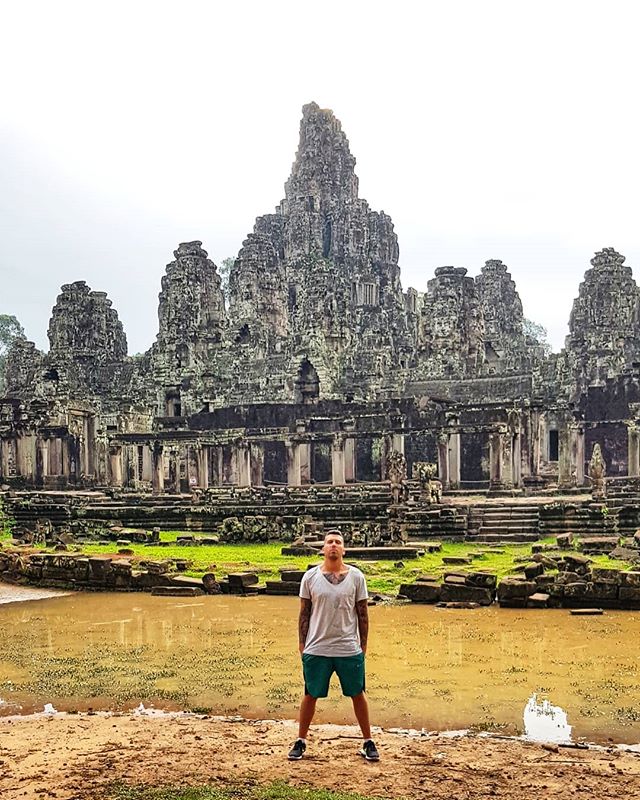 Even if you only have 1,2 or 3 days in Siem Reap, you'll be able to see the city's highlights and experience the culture. Hopefully our Siem Reap itinerary has helped you have a perfect trip.