Siam Niramit Bangkok: A Detailed Guide To Watch Thailand's Most Spectacular Cultural Show
Famous for its rich historical and cultural heritage, Thailand is a must-visit destination that history geeks and culture lovers can't miss when traveling to Asia. At the Siam Niramit Bangkok Show, you can witness the exceptional development of Thailand over the last seven centuries through many world-class performances within a sharp 90 minutes.
During the show, you will embark on a journey to travel back in time to the glorious Kingdom of Siam, to the land beyond imagination, and to different regions of the country, all putting on display the magnificence of Thai literature, culture, and religious beliefs. This article is going to reveal all top tips and detailed guide that will help you to enjoy Thailand's most spectacular cultural show to the fullest!
Siam Niramit Bangkok Show - The Pinnacle of Theatre Arts
A journey back in time to learn about Thailand's rich cultural heritage
This spectacular show owns valuable and exclusive content that significantly represents Thailand's long-standing history since the day humans appeared in this territory.
Featuring more than 150 performers in lavish costumes, the Siam Niramit Bangkok Show does not only introduce the whole process of building up the country and society over the last seven centuries, but also gives a greater context into Thai religious beliefs throughout lively thrilling scenes.
https://www.youtube.com/watch?v=AgTq7eHgO3MSiam Niramit Bangkok Show Official Trailer
Video by: Siam Niramit Official
Winner of several prestigious awards
Held in the giant 2000-seat Ratchada Theatre, Siam Niramit boasts an 11.95-meter front stage. This place was honorably listed in the Guinness World Records as one of the world's tallest stage productions. Moreover, its cultural tourism awards, include:
Winner of the PATA 2015 award in Heritage – Culture category
Excellence Award Thailand Tourism Award 2010, 2013, 2015 in Tourist Attractions category
Innovation Award of Prime Minister 2011 in the field of Visual and Performing Arts, which is one of the most prestigious awards for outstanding creators in the creative economy.
All these awards prove how important it is to conserve and share Thailand's cultural values, and how well the show represents these values.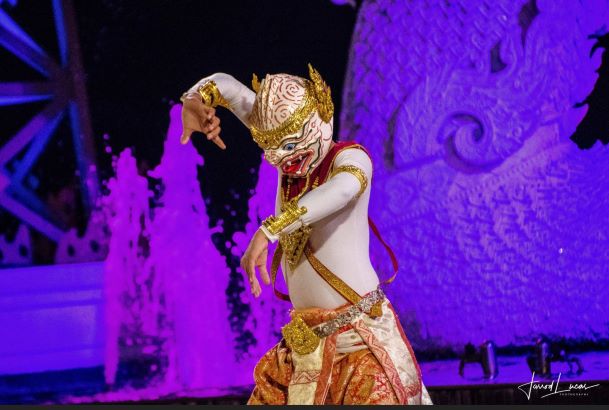 The show consists of Three main acts
Occupying over half of the theater space, the panoramic view of the Ratchada stage was built to accommodate glorious shows that include performances to recreat the majestic Kingdom of Siam hundreds of years ago.
The show is divided into three main acts: Journey back to history, Journey beyond imagination: The Three Worlds and Journey through joyous festivals.
Act 1: Journey Back to History
In the North
The first journey takes you back to more than 700 years ago when ancient Thailand had just been established. The lights blur, the heartbeat races in sync with the beat of Klong Satchabai drums, and is followed by the beautiful dance of golden fingers and exquisite sword dance.
After that, the whole stage is awakened by lights, bringing the audience back to the life of the Kingdom of Lanna. You will get to meet all the civilizations of the four prominent regions in this first act.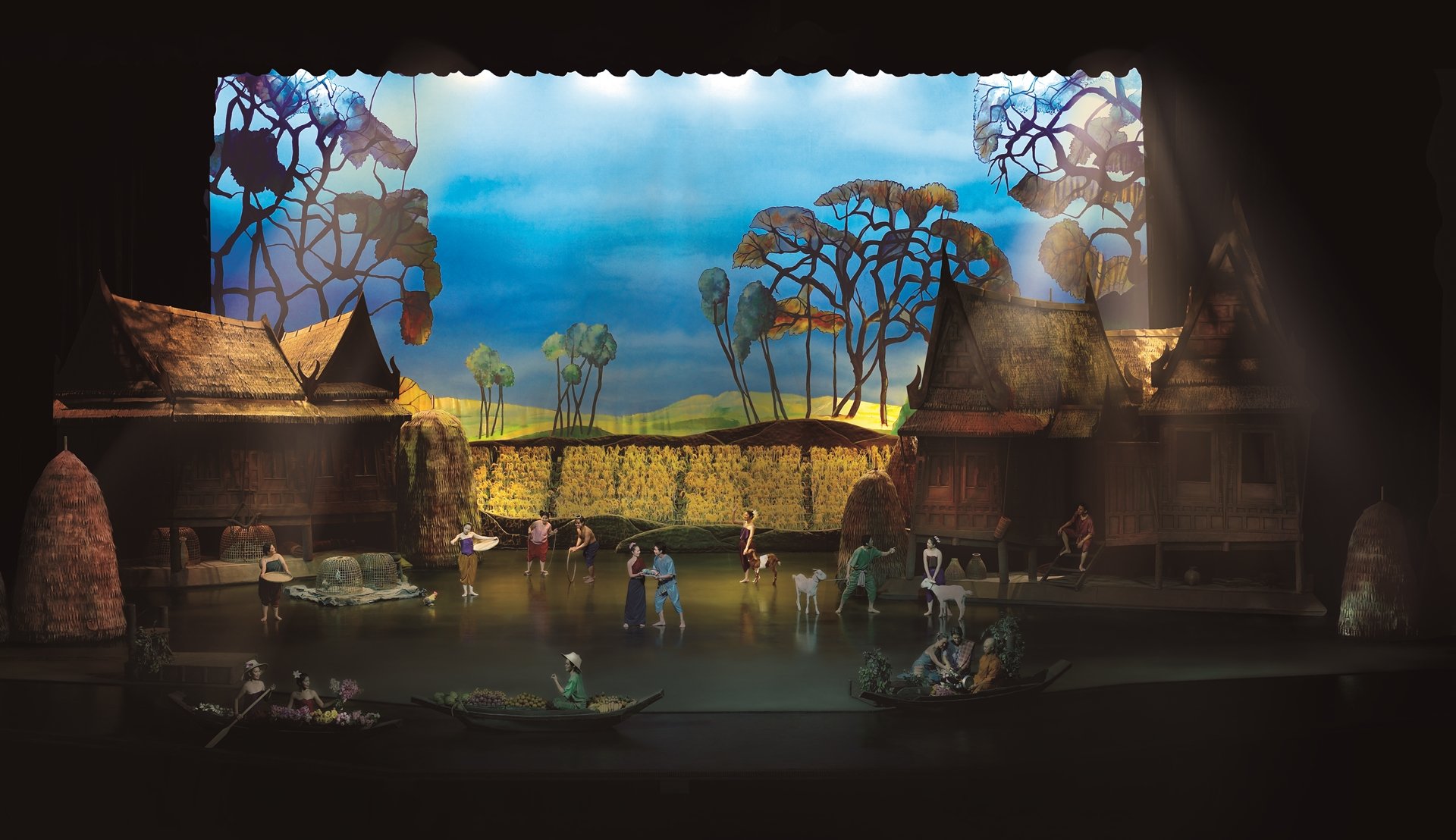 In the South
Next, audiences will be moved to the lively Southern area, which is totally different from the North, to watch: East Sea - foreign merchants.
Featuring Nang Talung (shadow puppets) in a lively Nora dance, this act demonstrates the bustling trade of foreign merchants in the Sriwichai Kingdom, showing how harmonious the relationship among different races and religions are.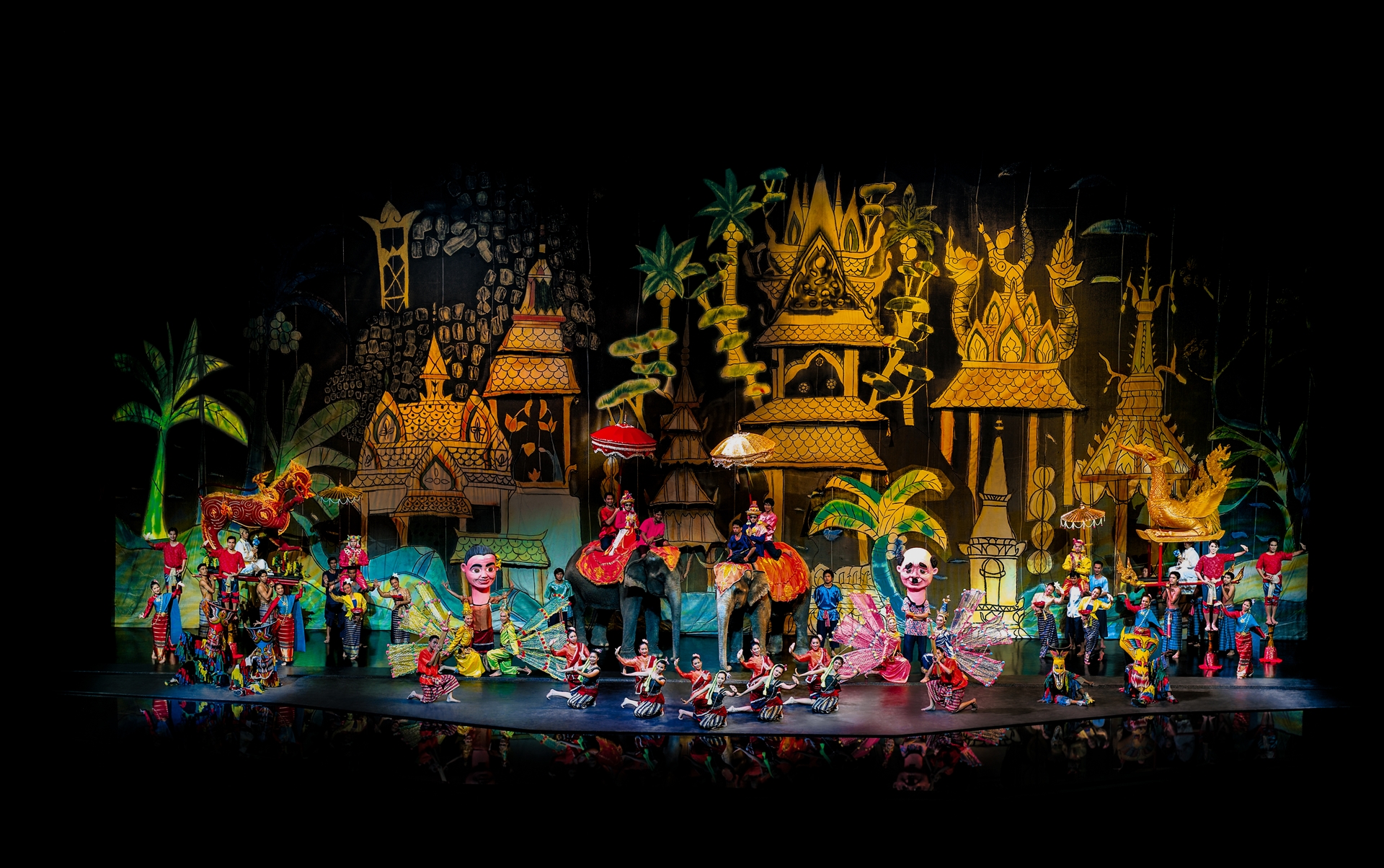 In the Northeast
The next scene is the Northeast region - Heritage of Khmer civilization. The Mighty Capital is portrayed with a wonderfully artistic scene combining special effects. Thanks to those spectacular effects, the Klong River seems as if it is "performing" on stage along with the rain, thunder, running river, and incredible lights.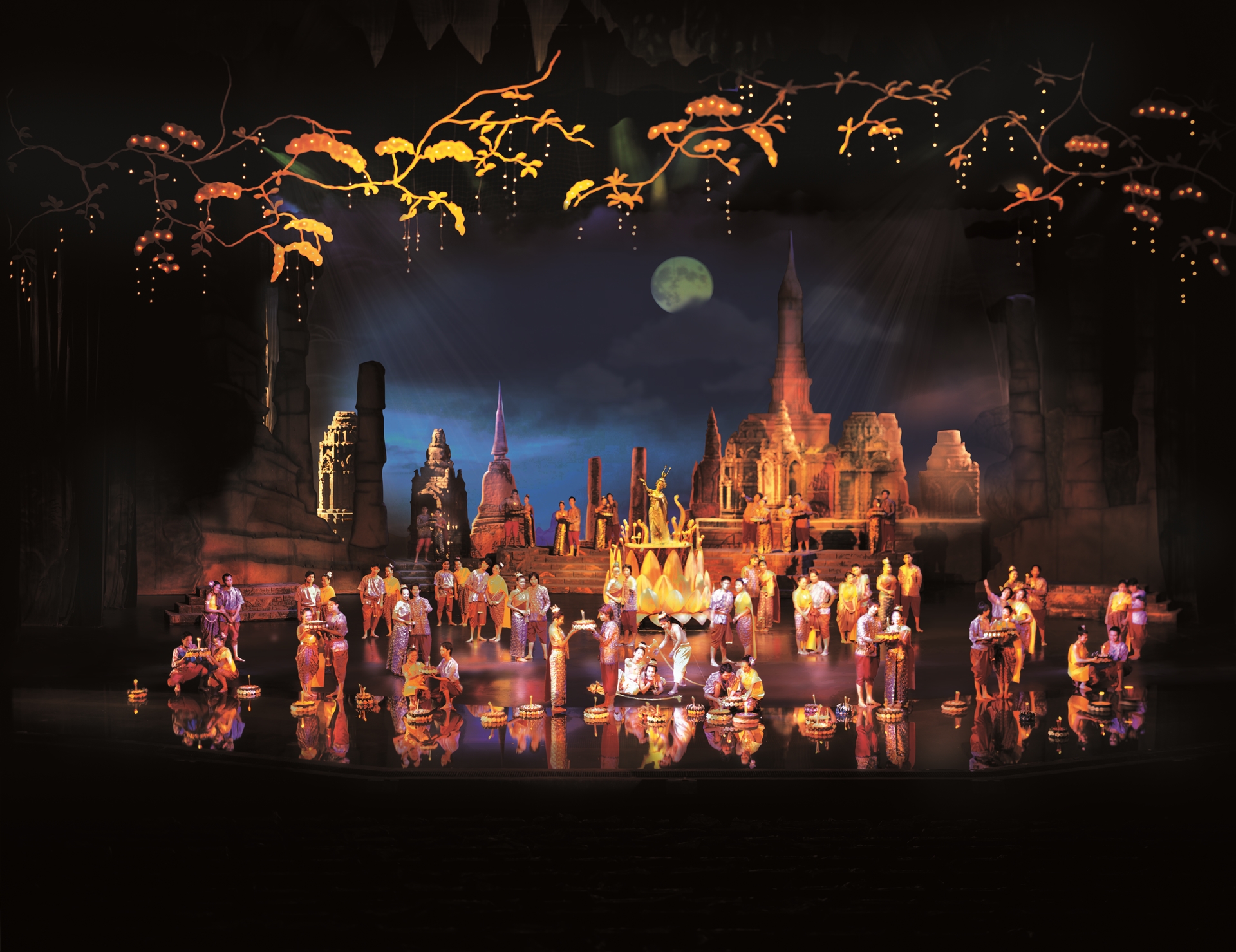 In the Central Plain
Finally, in the Ayutthaya Central Plain, the daily life of people living in the capital will be vividly depicted on stage. Audiences get to see local custom practices and festivals such as the bamboo dance. On top of that, several folk songs about harvesting rice as well as Muay Thai boxing fights will definitely blow your mind away with exquisite rhythm and ultimate mysticism.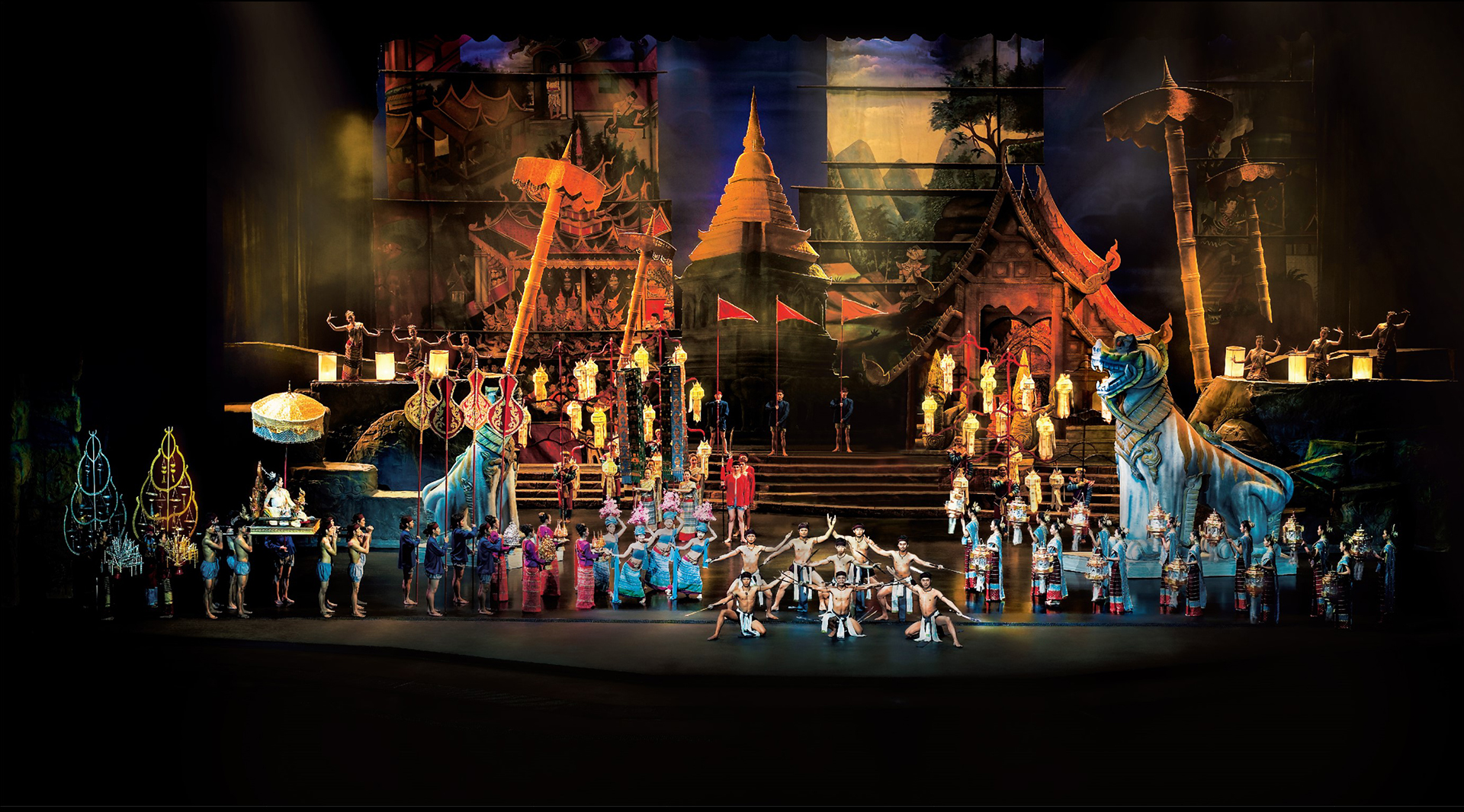 Act 2: Journey Beyond Imagination: The Three Worlds (Heaven, Hell, and Himmapan forest).
This second act starts with the scene of Hell - where sinners suffer from severe punishments. For example, liars may have their tongues pulled out. Next comes a mythical Himmapan. It is a gateway between the heaven and the earth, where the henchmen usually roam. The chase between Ramasoon (Thundergod) and Mekhala (Light Goddess) also happens in this place.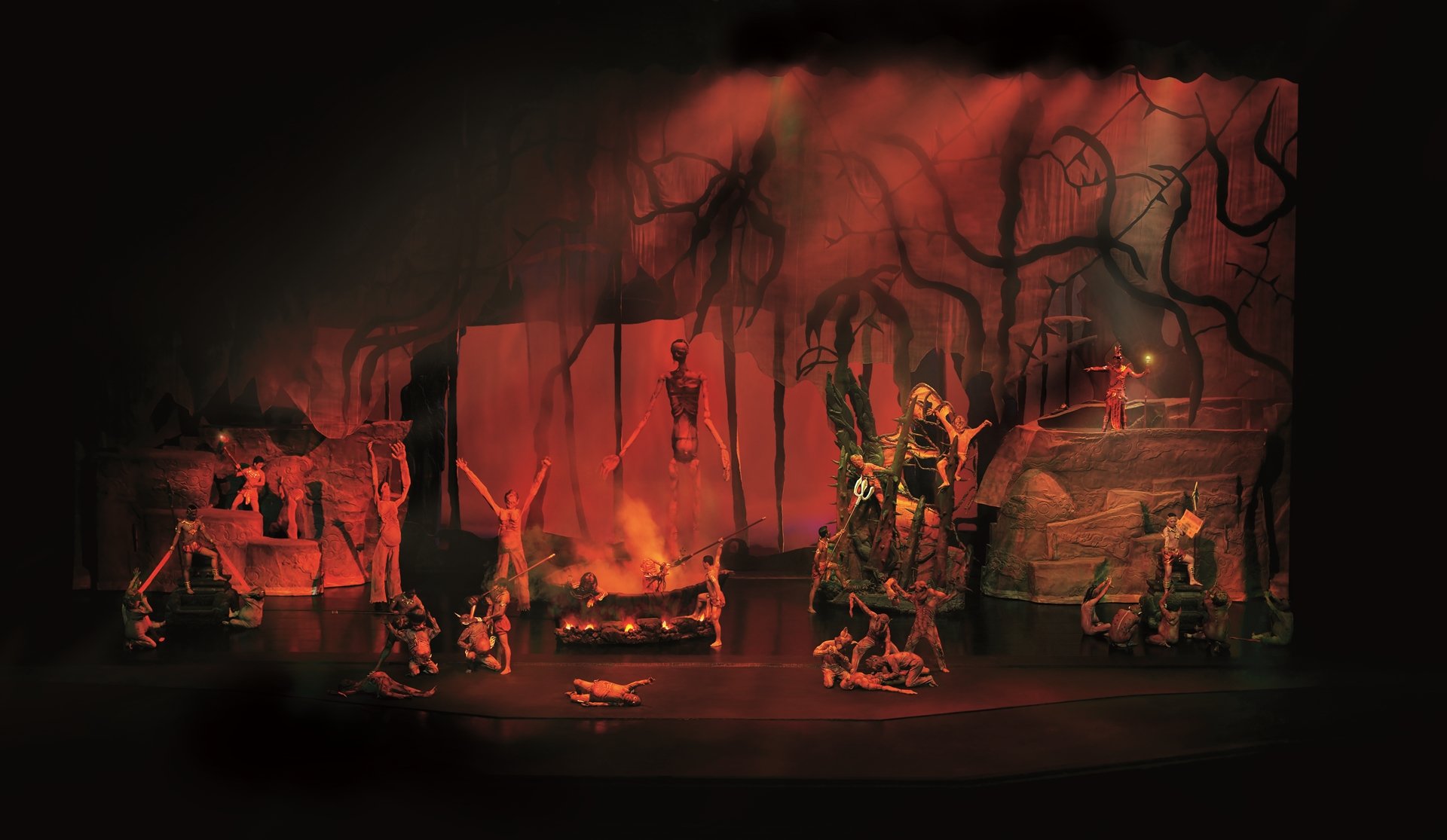 The second act ends with Blissful heaven, where the emerald-color skin, the four-faced God Indra and floating angels reside. In the misty setting, the audience will be mesmerized by the magical scenes and glittering images that are mong the most highlighted moments of the show.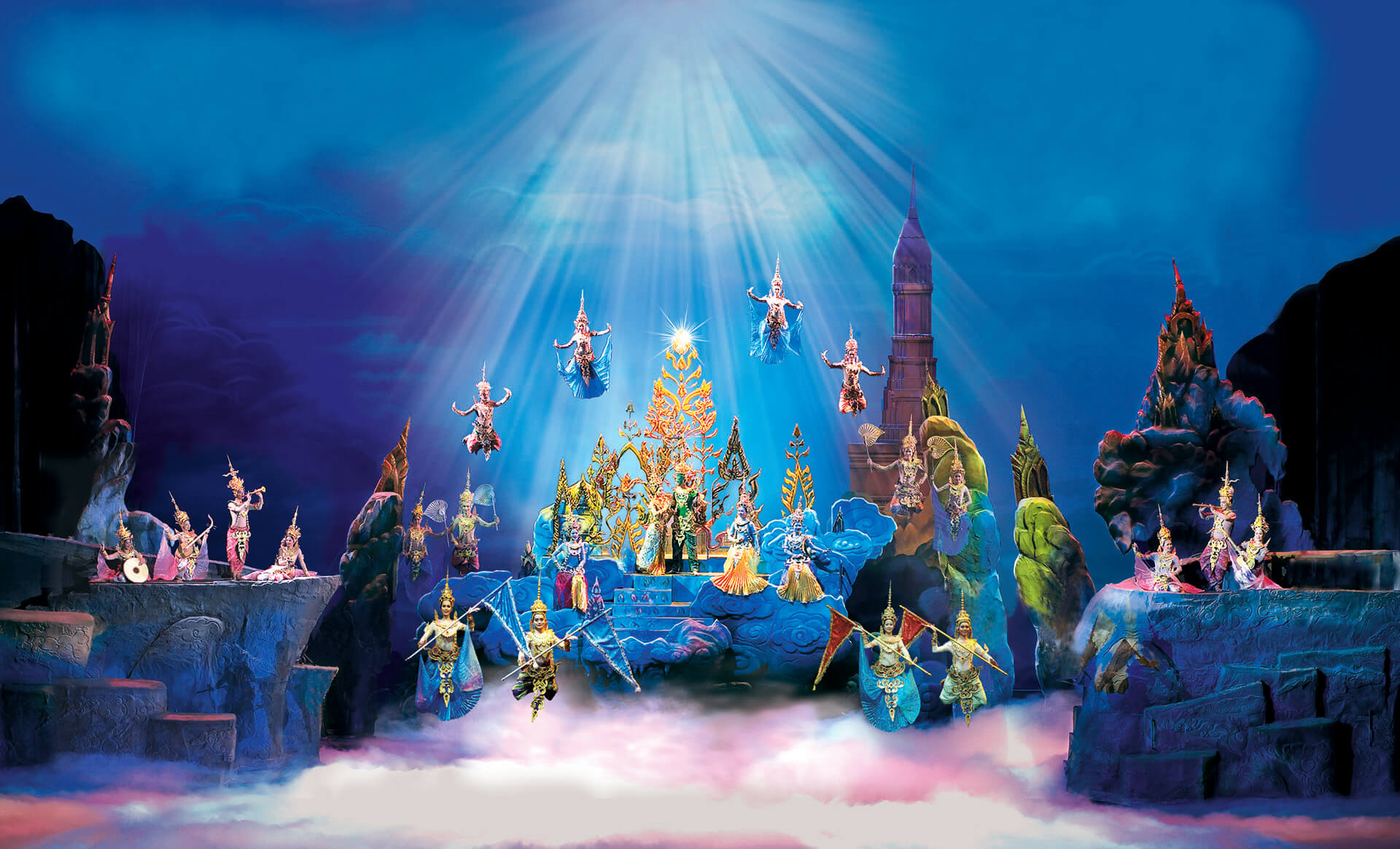 Act 3: Journey through Joyous Festivals
After coming to heaven, Thai people will hold religious ceremonies along with joyful celebrations. This last act is a golden opportunity to learn more about Thailand's well-known festivals such as Songkran (the water festival) and Loy Krathong (the lantern festival), as well as critical Buddhist events such as ordination into confinement.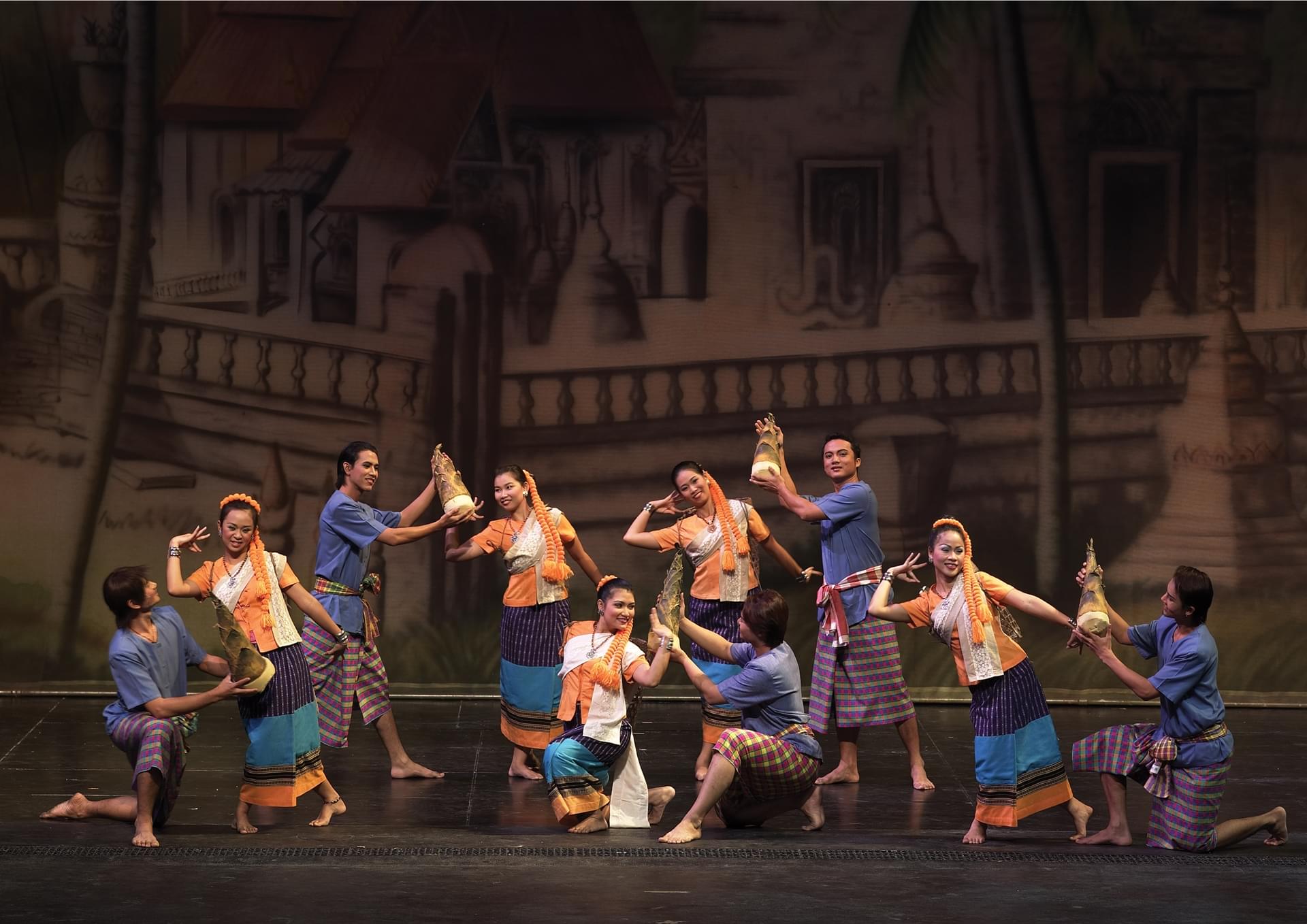 A spectacular show with the participation of more than 150 dancers
Siam Niramit Bangkok has a majestic cast of more than 150 performers and uses up to 500 colorful costumes.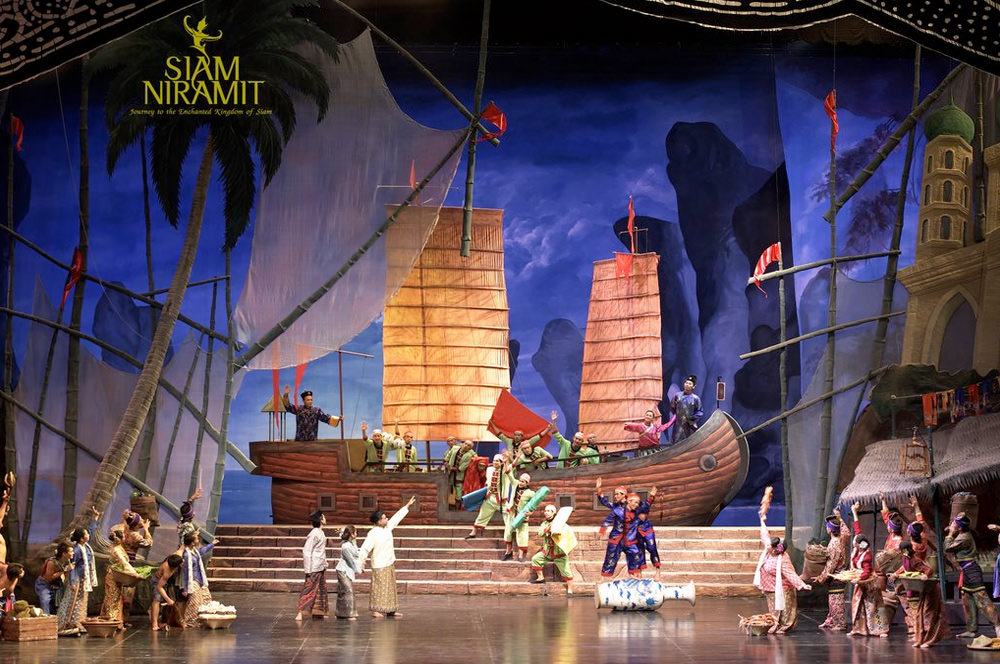 Siam Niramit Bangkok also impresses the audience with its exceptional sound and lighting effects as well as modern and elaborate stage-setting techniques. Viewers can expect to travel from the southern coast to the northern mountainous forest, then back to the central water river with the combination of boats, water, and real animals. The transitions are as fast as the light changes and spare no time, which proves that these performances have been practiced several times to reach this level of virtuosity.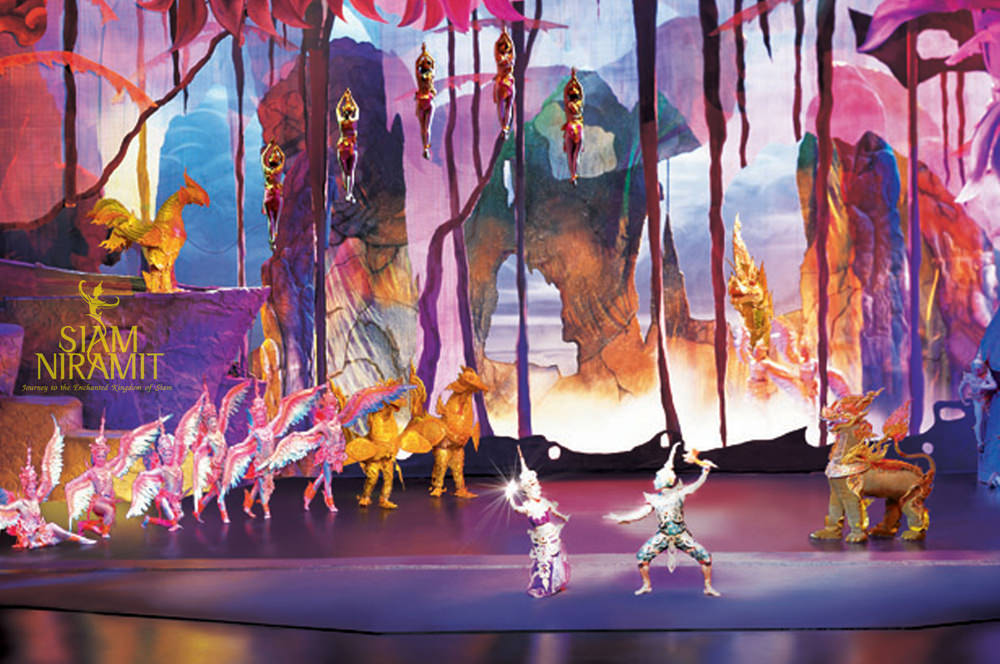 The birds singing, the sound of water dripping or waves hitting the boat on stage are ready to leave you astonished and relaxed at the same time. Also, the heaven setting stage is said to be imprinted on audiences' minds as it is the most miraculous setting on the show's stage.
Pre-show activities – a way to dive into Thai local experiences
There are a wide range of pre-show activities catering to all ages and preferences that You can choose to participate in to gain insight about Thai locals' lives in bygone times.
Enjoy appetizing buffets
You can enjoy delicious Thai as well as Western food served at the buffet dinner from 5 PM to 7.45 PM. Also, there are various kinds of alcoholic drinks for those who want to sip a bit of wine. If you are a vegan, don't worry! The buffet also provides options for vegetarian food.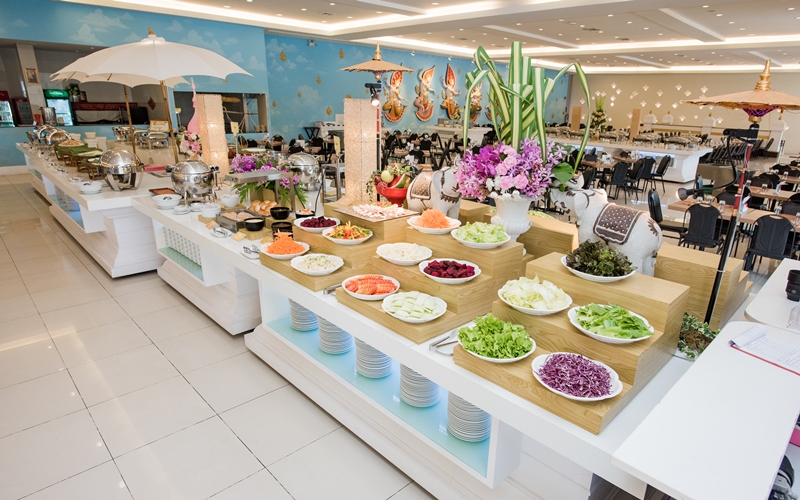 Watch outdoors dance performances
Before the beginning of the show, local dancers in colorful costumes will perform different traditional dances on the courtyard in front of the theater. In addition, you can also enjoy Muay Thai Boxing, the most popular sport in Thailand. Visitors are usually invited to join in those performances.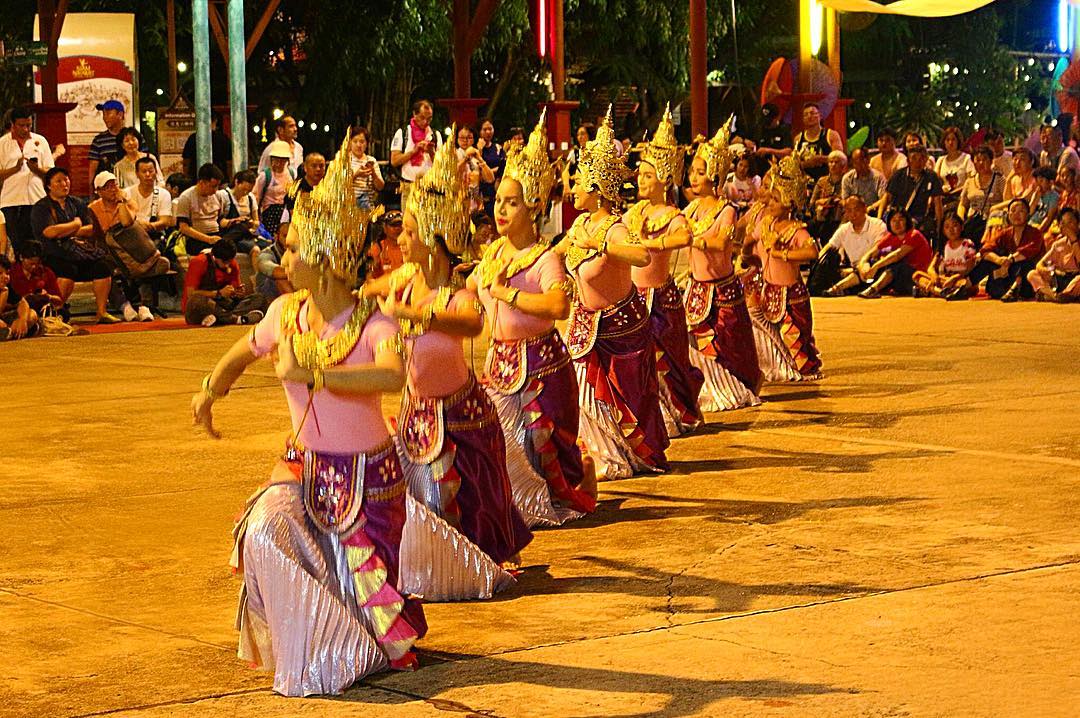 Hop on an elephant
Elephants are closely connected to the daily life and culture of Thailand as they accompany local people in almost all of their everyday activities. It can be said that this gentle creature is a symbol of tourism in Thailand. A lot of laughs, excitement, and once-in-a-lifetime experience while interacting with those elephants are guaranteed!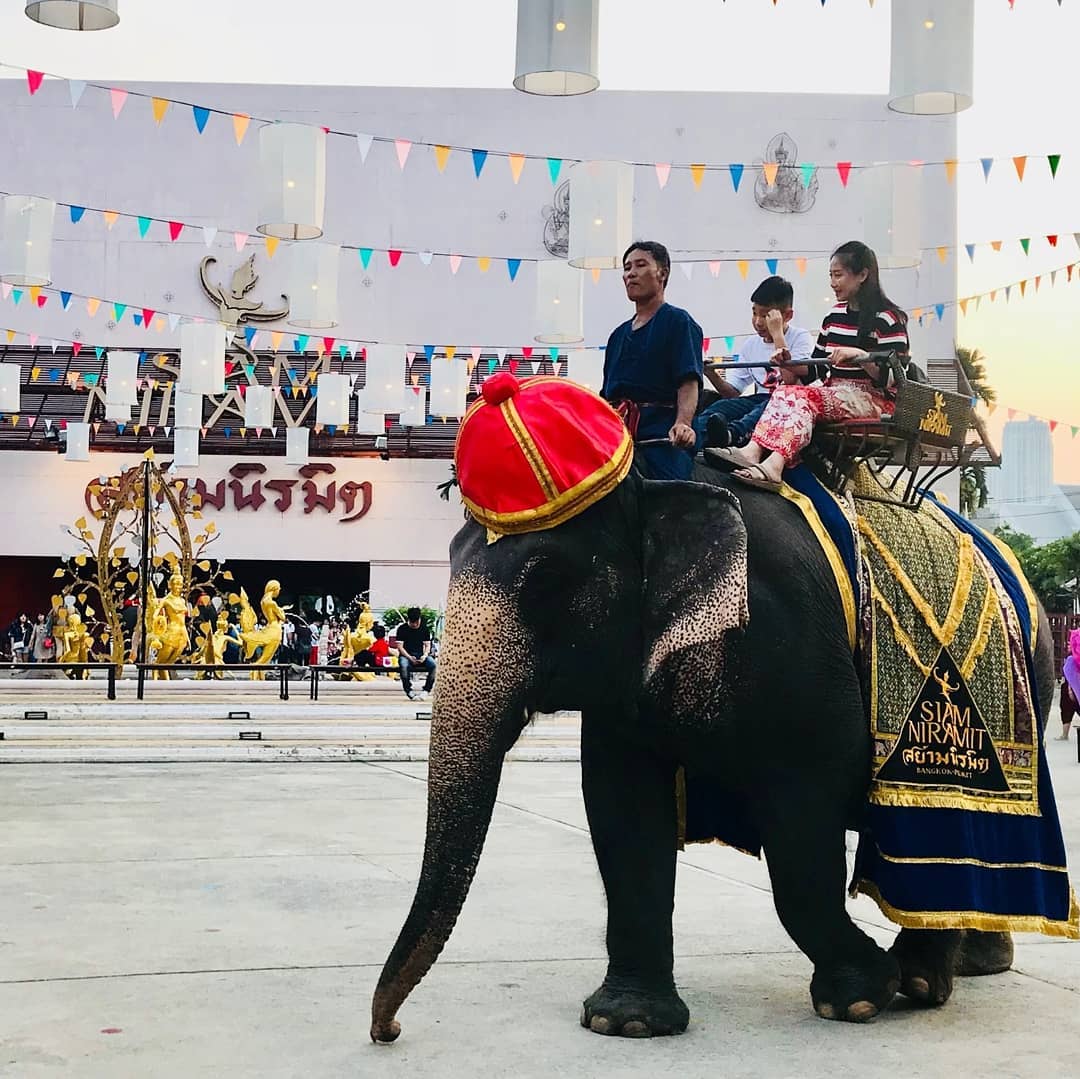 Take a look at the four regions of this unique Thai Village
The village is a mini-complex that shows off Thai culture and lifestyle. There are plentiful areas including genuine duplicates of Northern and Southern traditional housing.
Here, you can try numerous freshly handmade Thai snacks without any additional cost in this village. Besides, there are tons of photogenic spots for your Instagram feed! You are able to rent traditional Thai dresses to add that extra flare to your pictures with family and friends!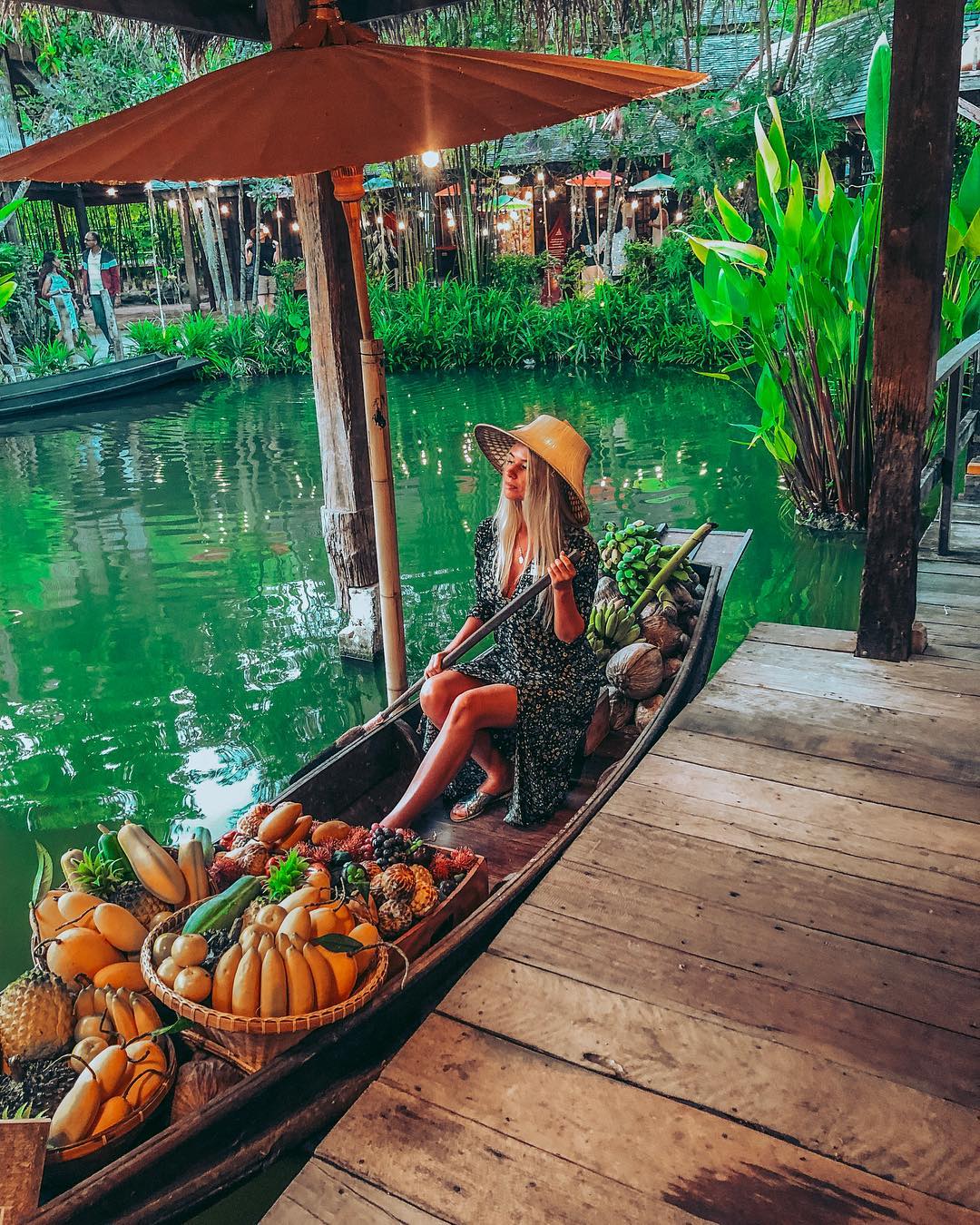 The Thai Village is also child-friendly since it offers many activities exclusively designed for kids. For instance, children can enjoy the mini arcade area or free fish feeding.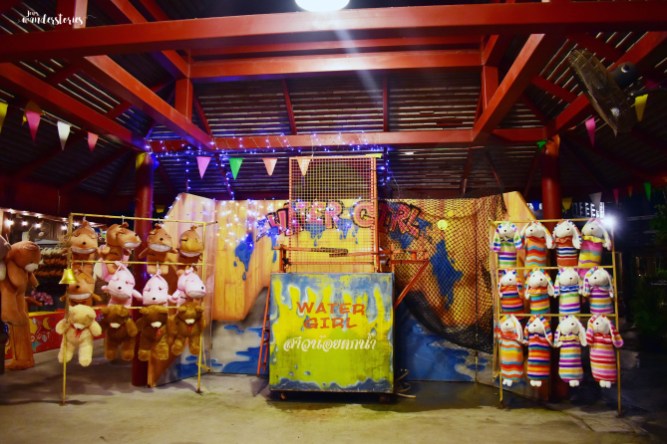 Try a traditional Thai massage
Thai massages are a traditional healing method consisting of assisted yoga postures and acupressure, which originated in India a thousand years ago. This ancient practice can help you relieve fatigue, boost energy as well as improve athletic performance. You can experience authentic Thai massages from skillful therapists in an open space massage house next to the Thai Village.
Grab some local souvenirs to bring back home
There are many souvenir shops offering a variety of Thai arts and handicrafts that visitors can come to have a look and buy beautiful artworks as gifts for their family and friends. All those goods are high-quality due to strict selection from all over the country.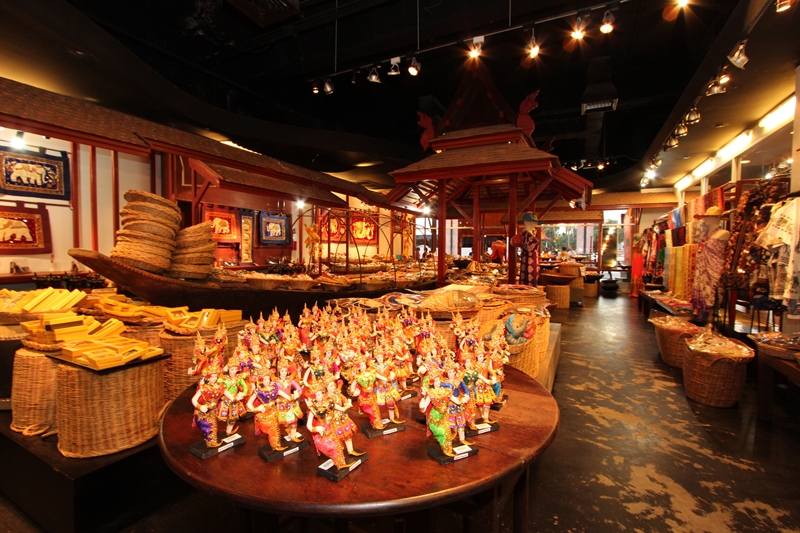 How to get to Ratchada Theatre
Address: Ratchada Niramit Co., Ltd., 19 Tiamruammit Road, HuayKwang, Bangkok 10320, Thailand.
Free shuttle bus
The Siam Niramit Bangkok Show conveniently provides free shuttle bus service for visitors from Thailand Cultural Center MRT Station, Exit 1. This service is available on a first come, first served basis. The pick-up will operate from 05:15 PM and there will be one trip every 15 minutes.
After the show, the car will bring you back to Exit 2 of the Huay Kwang MRT station.
By taxi or Grab
You can catch a taxi or book a ride from Grab. The price may vary depending on the location and the time you book. Therefore, you should go early to the theater in order not to get stuck in congestion.
Opening hours & showtimes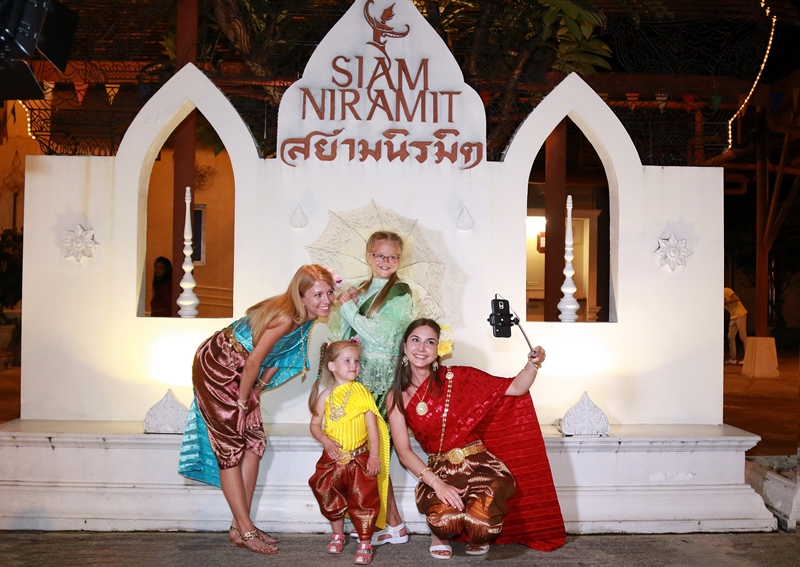 The Siam Niramit Bangkok Show can be enjoyed every night of the week. Showtime starts at 08:00 PM daily and lasts for roughly 80 minutes.
From 05:30 PM to 08:00 PM, visitors can come earlier to enjoy Thai/Western Buffet dinner before the main show.
At 07:00 PM, you can watch outdoor performances, see the simulated village from the country's rural regions, experience a Thai massage, or join in other pre-show activities.
Entrance ticket to the Siam Niramit Bangkok Show
Entrance tickets are divided into three types of seat: silver, golden and platinum. You can buy them directly on site at the ticket counter or online via trusted platforms. And depending on your preference, you can also choose to add the buffet dinner when buying the tickets.
Below is the latest updated of the Siam Niramit Show Entrance ticket fare for your reference:
Main show entrance ticket (buffer dinner excluded): USD $48.52 (silver seat), USD $64.69 (golden seat) and USD $80.87 (platinum seat) for adults.
Ticket with buffet included: USD $61.46 (silver seat), USD $77.63 (golden seat) and USD $93.81 for adults. This package is decreased by USD $4.85 for children.
In order to save your time from queueing, and to personalize your experience, Inspitrip is now offering Entrance tickets to the Siam Niramit Show with the best price guaranteed. Save up to 29% off and enjoy privileges when securing your seats today when booking via Inspitrip!
Know before you go
Children ticket will be applied for children aged 4 -12 with a height of 91 - 145 cm.
Toddler: Children under 90 centimeters tall are free of charge when sharing a seat with one of their parents.
Taking photos inside the theater is prohibited. As a result, the staff at the theater entrance will take care of your cameras, smartphones, etc. until the end of the show.
Is Siam Niramit Bangkok worth seeing?
100% YES! If you are a culture buff and always want to fill your trip by learning many local cultural values, the Siam Niramit Bangkok Show is definitely a must-watch stage. You will not only travel back in time to deeply explore Thailand's rich cultural heritage and religious beliefs, but also get a glimpse into the daily life of local people through various interactive activities happening before showtime.
Are you longing for more tips and guides to enrich your Bangkok travel experiences? Check out these following articles that are exclusively brought to you by local insiders: