SEA LIFE Bangkok: Top Tips and Complete Guide to Visit Bangkok's Largest Aquarium
Being one of the largest aquaria in Southeast Asia, Sea Life Bangkok Ocean World is home to more than 30,000 marine creatures of 400 different species collected from all over the world.
Not only is Sea Life Bangkok a place to gain in-depth knowledge about the undersea world, but also offers a wide range of special activities catering to all ages and preferences, from kid-friendly ones such as fish feeding, 4D cinema to thrilling experiences like diving with the sharks!
Why visiting Sea Life Bangkok Ocean World?
Situated beneath one of Bangkok's largest shopping malls - the Siam Paragon, Sea Life Bangkok Ocean World (formerly Siam Ocean World) is one of the biggest ones in the world, where thousands of sea creatures from different waters are residing and thriving.
This is an aquatic wonderland with the size of three Olympic swimming pools (approximately 10,000 square meters) and full of interesting animals, some of those are transported from the Amazon River or have existed since the Jurassic period when dinosaurs still dominated the Earth.
A visit to Sea Life Bangkok will let you get a lively interaction with an abundance of marine species and bring you wonderful experiences, making your journey to the capital of Thailand more insightful and unforgettable. Not only children but also adults will surely fall in love with this amazing place!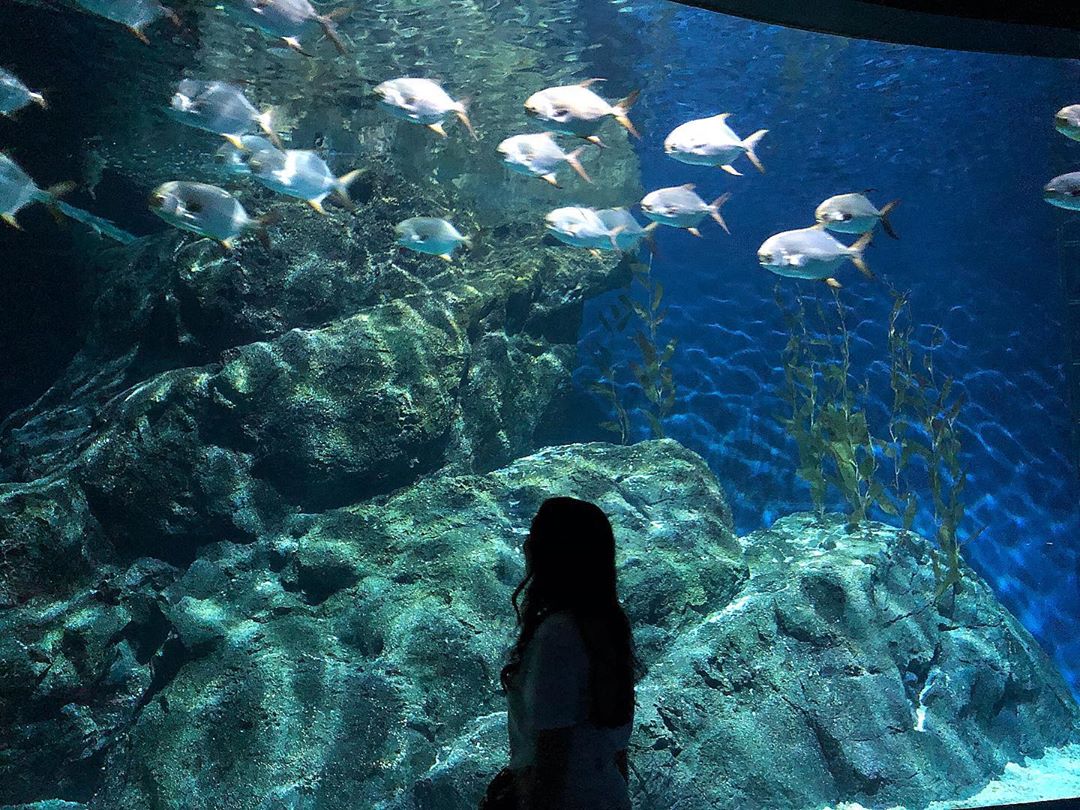 How to get to Sea Life Bangkok?
Address: Siam Paragon Shopping Center, 991 Rama 1 Road, Pathumwan, Bangkok, Thailand.
Located on B1 and B2 floor of the glitzy Siam Paragon shopping mall, Sea Life Bangkok Ocean World can be easily accessible via different ways.
On foot
Siam Paragon can be reached within just a 5-minute walk from Siam Square, Central World or MBK Shopping Center. If you're already in this area, it is more convenient to enter Siam Paragon via the food court and find Sea Life Bangkok on level B1.
By public bus
You can take one of these public buses: No. 15, 16, 25, 40, 48, 54, 73, 79, 141, 159, 162, 183, 204, 501 or 508, then get off at Siam Paragon bus stop.
However, Bangkok's bus system is quite complicated for those who are unfamiliar with Thailand's roadways. Therefore, remember to carefully check the route and bus schedule before leaving. Besides that, try to avoid traveling during peak hours (from 04:00 PM to 06:00 PM) if you do not want to get stuck forever in congestion.
By BTS (Skytrain)
Convenient and affordable, BTS Skytrain is the favorite choice of many budget travelers coming to Thailand. You can take the BTS Skytrain to Siam Station. From Siam station, head straight to the entrance of the shopping mall then take the escalator down to B1 floor and you will see Sea Life Bangkok next to the Food court.
By taxi
Finding a taxi will not be a problem because there are more than 150.000 taxis in Bangkok. Just look for a taxi with a glowing red vacant sign (it means this taxi is available) and wave to the driver, he will come to you. If you are not good at navigation and have an extensive budget for transportation, traveling by taxi is certainly the safest and most convenient way.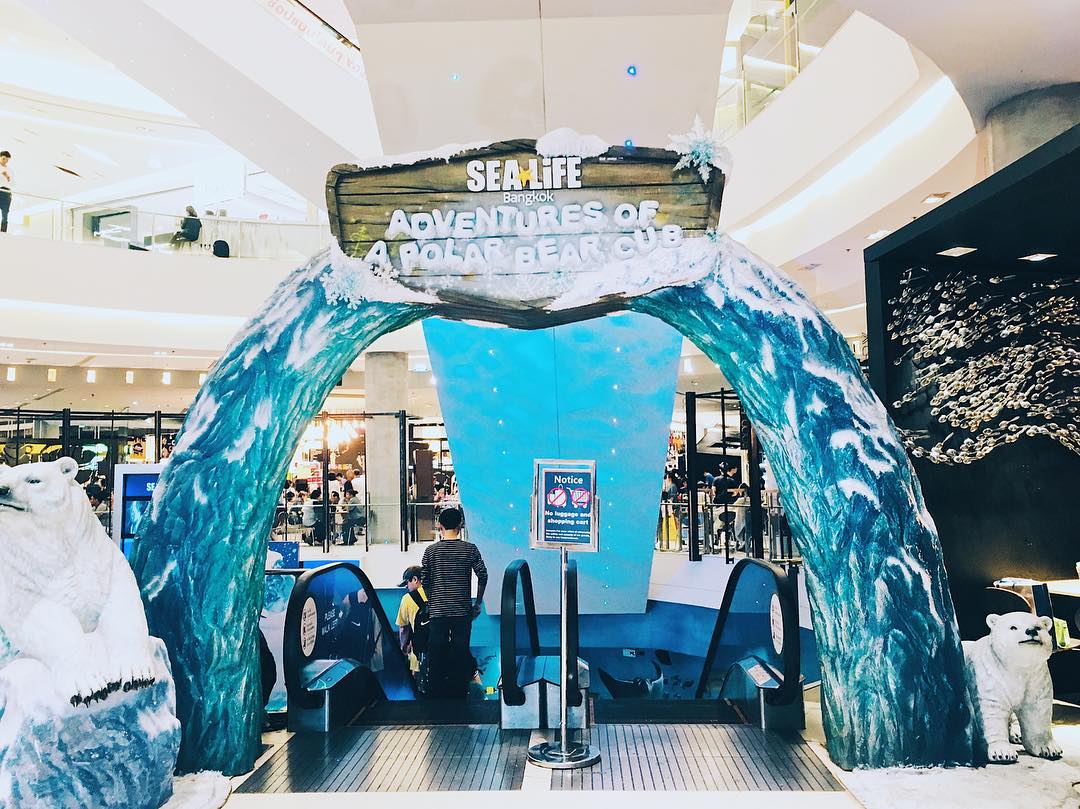 Best time to visit Sea Life Bangkok Ocean World
Sea Life Bangkok Ocean World is open daily from 10:00 AM to 09:00 PM (last entry is 08:00 PM), including public holidays.
It will take you about 1,5 - 2 hours to explore all the sections of the aquarium. However, as one of the most famous tourist attractions, Sea Life Bangkok welcomes a huge number of both locals and foreign visitors coming to see the beautiful marine world every day. Therefore, if you want to get rid of the crowds and get more space to take photos, you should plan a visit on weekdays or right after it opens.
Try to avoid visiting during weekends or school holidays (mid February, the whole month of April, mid June to mid August, and mid December to January) because it is really busy throughout the day and there is a high likelihood that you cannot experience all the activities that the aquarium has to offer.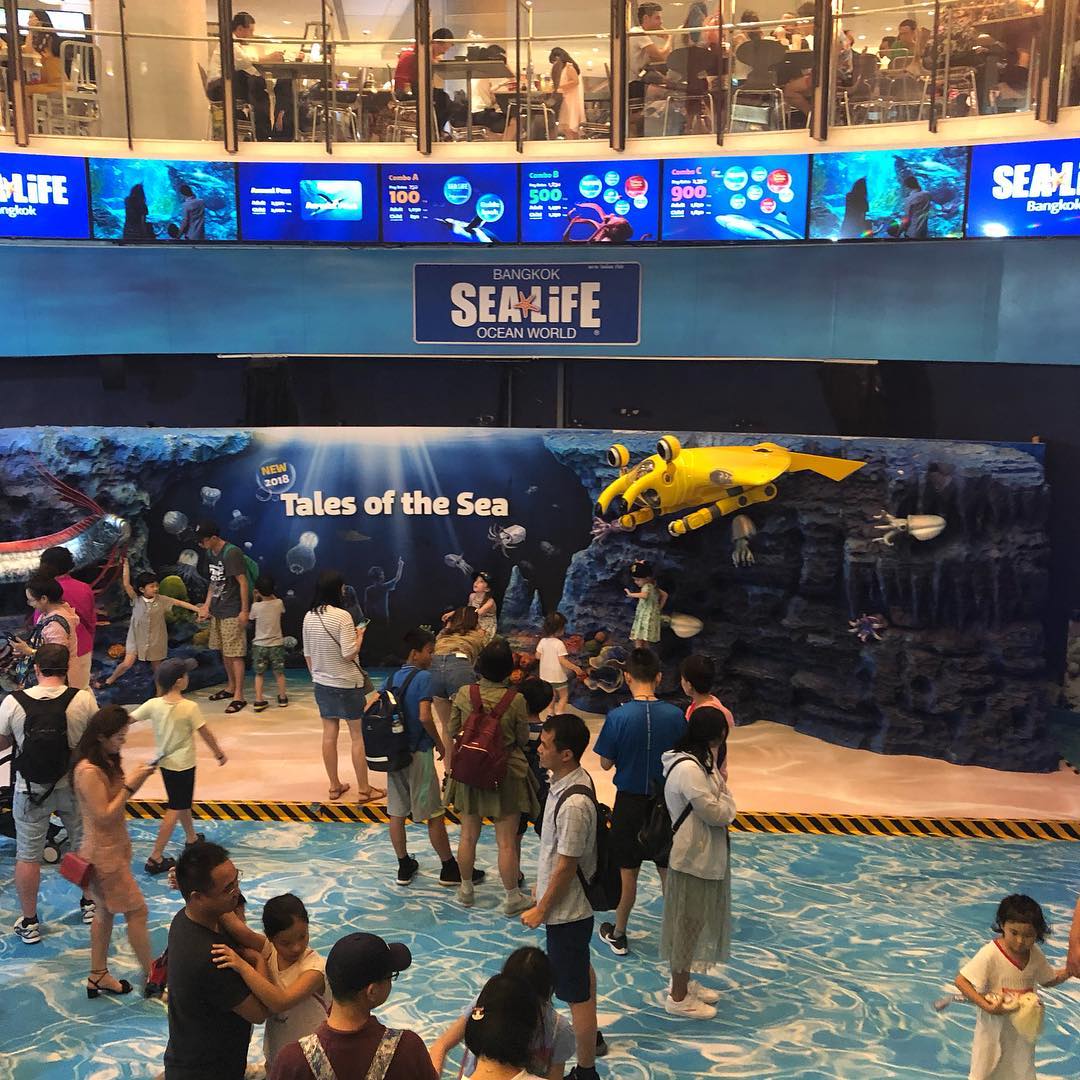 Entrance ticket to Sea Life Bangkok
There are two options that you can choose to get entrance tickets to Sea Life Bangkok Ocean World:
At ticket counter
You can just buy entrance tickets directly at the ticket booth on-site or from the official website of Sea Life Bangkok. It is quite convenient because you can not only avoid the scams or tourist traps but also freely choose the date to redeem. However, buying a ticket this way is not highly recommended because you will have to pay a higher price, which is about $34.77 for adults and $28.39 for children aged 3 - 11.
Via online platforms
If you are not a local Thai, the best way for you to get a ticket with great deals is from online platforms. Inspitrip is one of the best platforms that provide online tickets with discounts regularly being offered. You can save up to 39% off when getting your entrance ticket to Sea Life Bangkok and different add-on experiences such as glass bottom boat tour or 4D cinema ticket. Make the most out of your exclusive skip-the-line access when redeeming the ticket to Sea Life Bangkok with Inspitrip!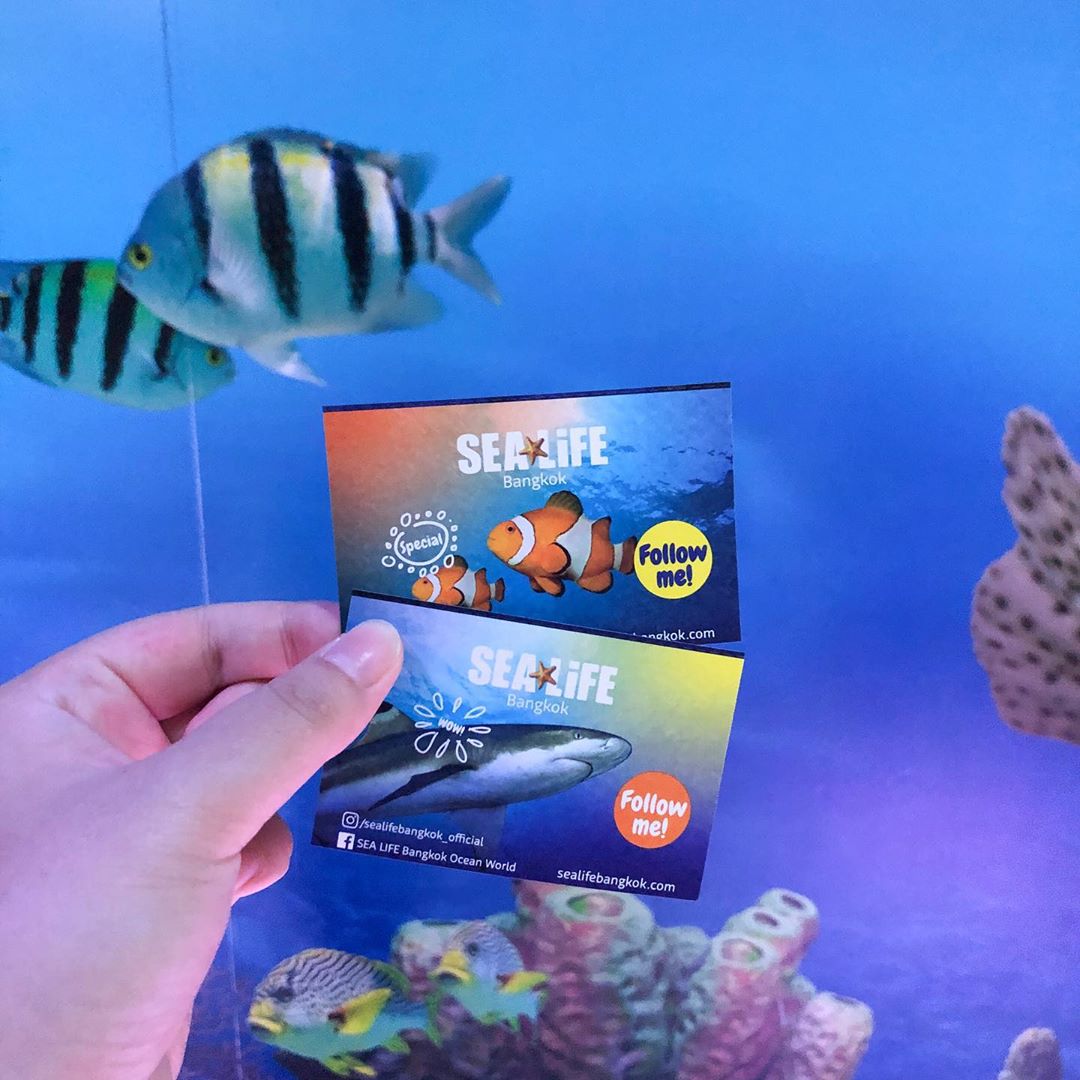 Top zones to explore in Sea Life Bangkok
1. Rocky Hideout
Start your journey with a stop at Rocky Hideout zone where the residence of Giant Spider Crab and Giant Pacific Octopus are residing and thriving. You will get to join a hide-and-seek adventure when finding these creatures because they are actually good at camouflaging and hiding in the coral reefs or dark rocks.
Fun facts:
Giant Spider Crab is one of the largest crabs in the world with its legs span up to 3 meters. The crab plays an important role in keeping the ocean clean by eating animal carcasses.
Giant Pacific Octopus is known as one of the smartest marine creatures, even considered to be cleverer than a dog. Because of having no bones, it can claw through a very small hole with the same size as its eyes.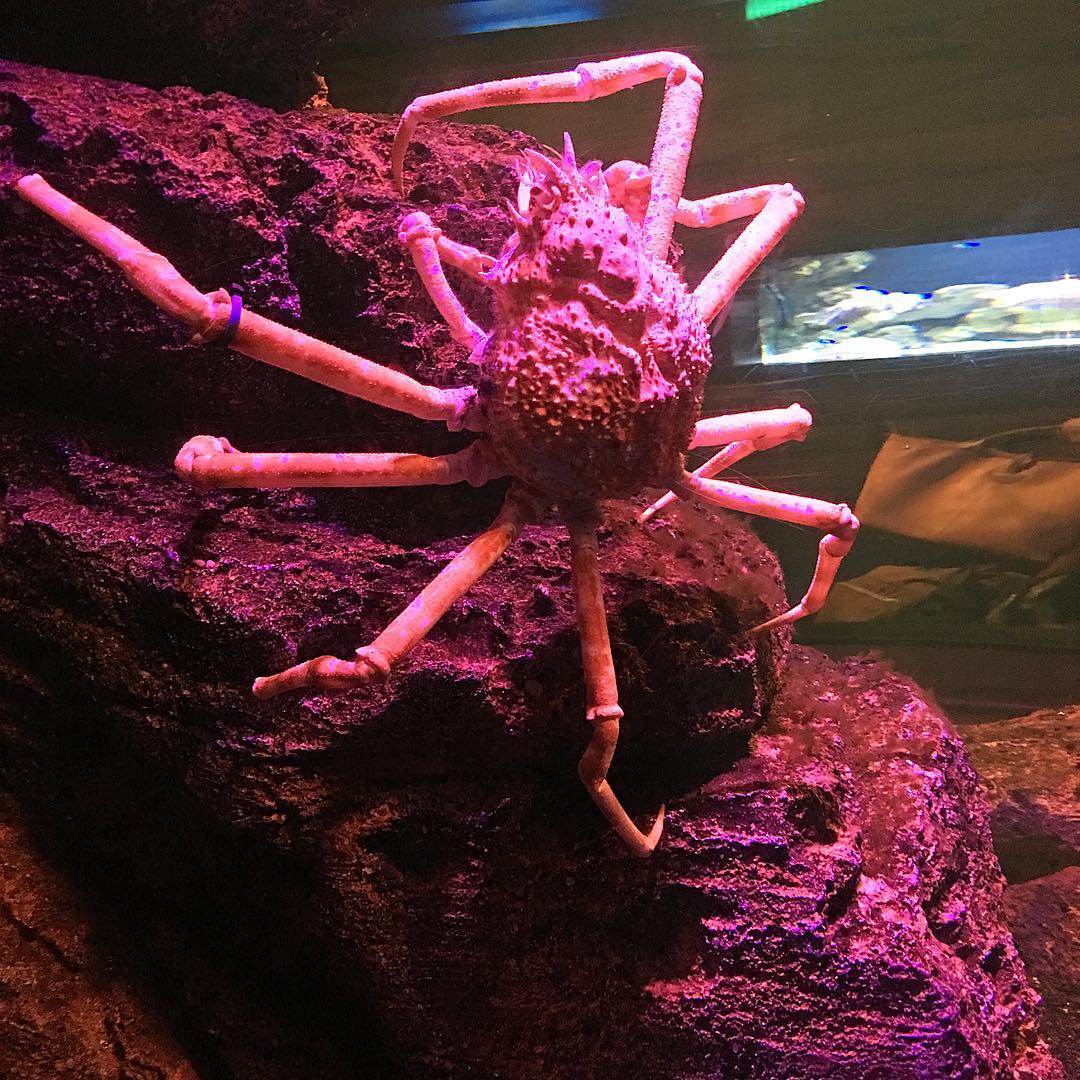 2. Shark Walk
Imagine the thrill when being separated from 5 different types of sharks by just a thin and transparent acrylic sheet. That is just one exciting part of your exploration in Shark Walk.
Not only does it bring you a sense of thrill, Shark Walk also shares amazing stories of one of the most dangerous predators of the ocean on a large interactive screen.
A few species you can find at Shark Walk zone are Sand Tiger Shark, Leopard Shark and Blacktip Reef Shark.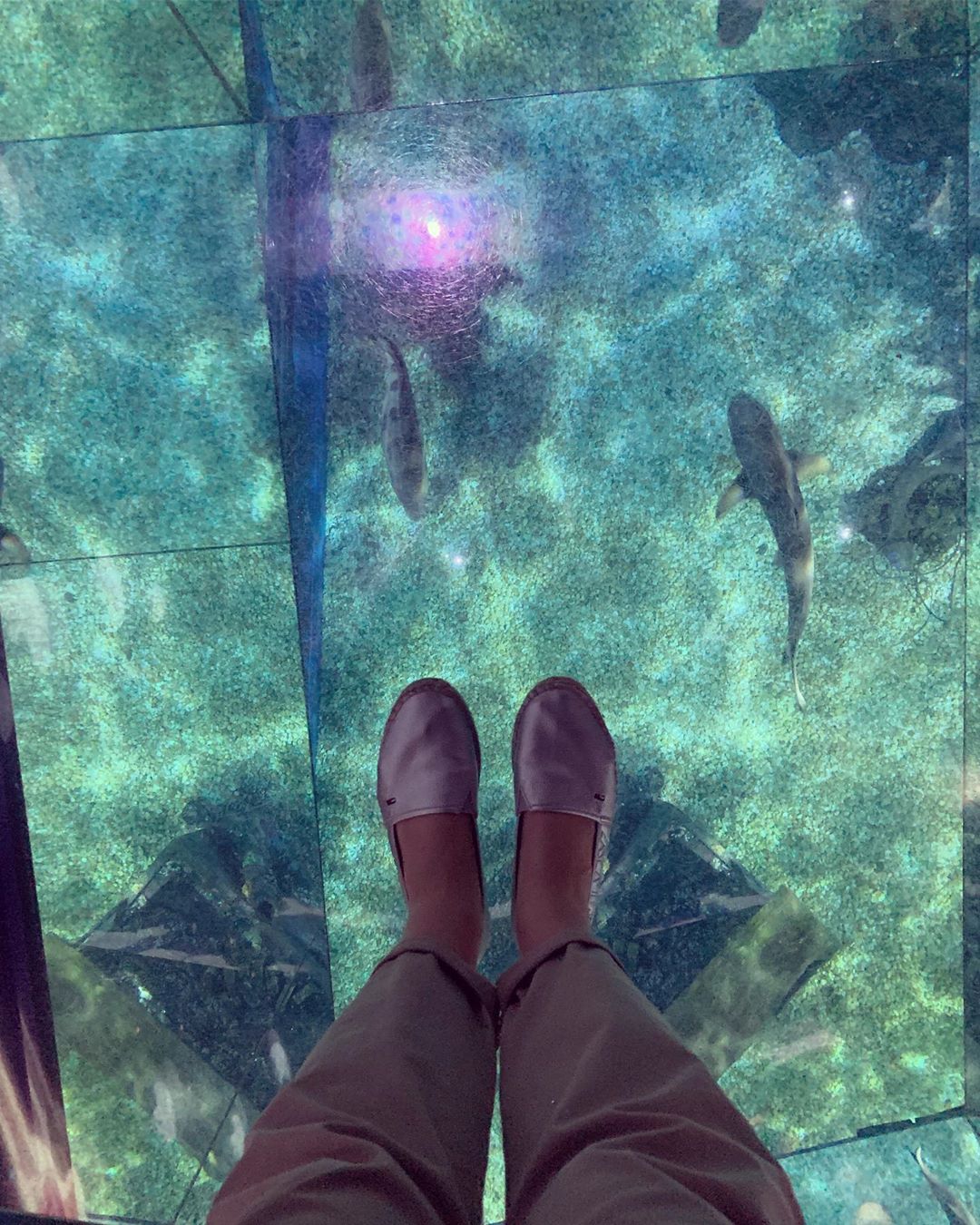 3. Coral Reef
After having some exciting steps on the shark jaws, immerse yourself in the vivid coral gardens of Coral Reef zone. Here, you will find many schools of colorful fish and coral species displaying a dazzling spectacle of the underwater world.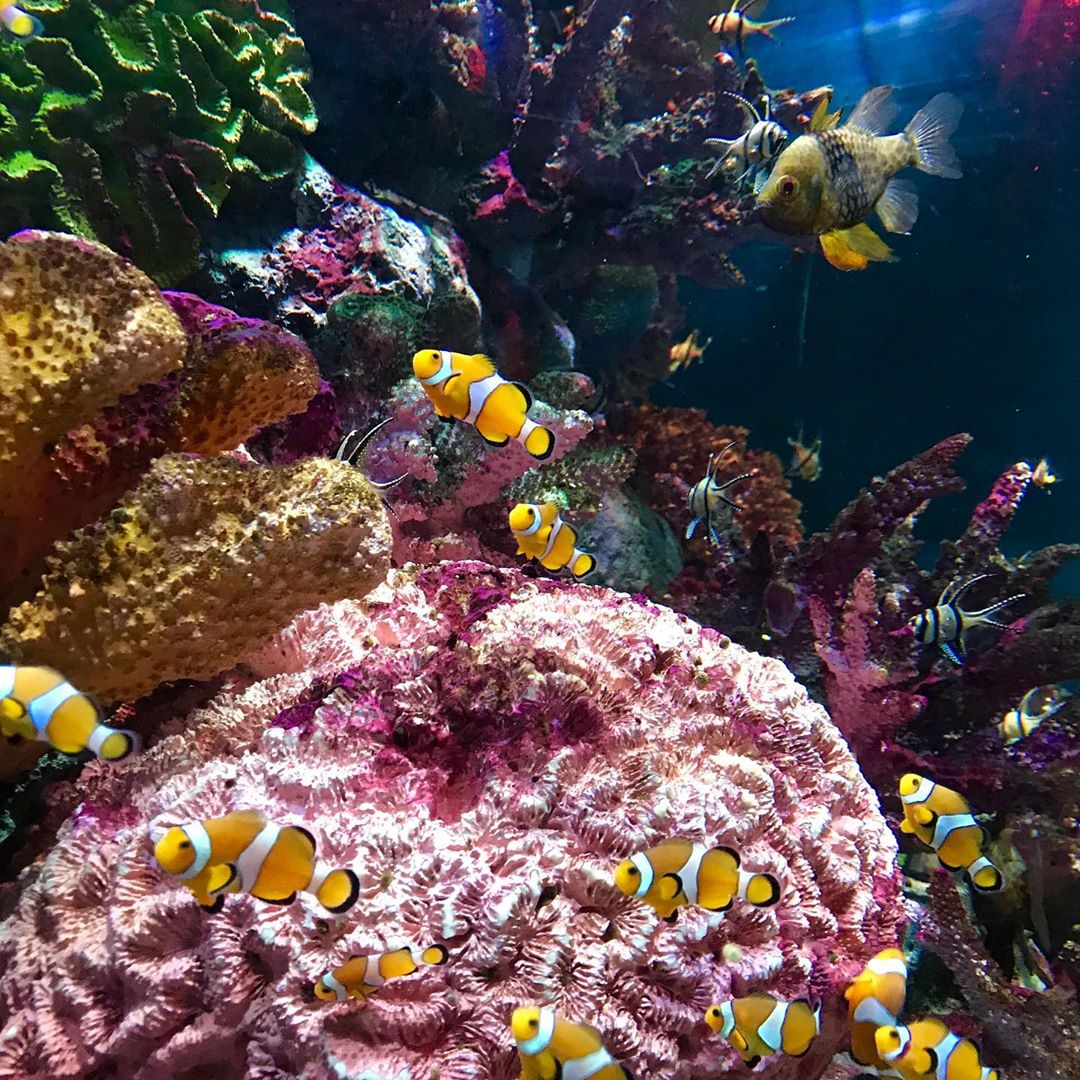 4. Seahorse Kingdom
Seahorse Kingdom is where you can observe the living and breeding habits of a unique sea species - seahorse and a bizarre-looking creature - Alligator Pipefish.
Big Belly Seahorse: This is one of the biggest seahorse species which is a very strong swimmer. You can see that it has a long, coiled tail and a very large stomach as its name.
Alligator Pipefish: A very strange looking fish with a tube-like mouth used for sucking-up small shrimps. This exotic shape is useful for camouflaging itself with seagrass.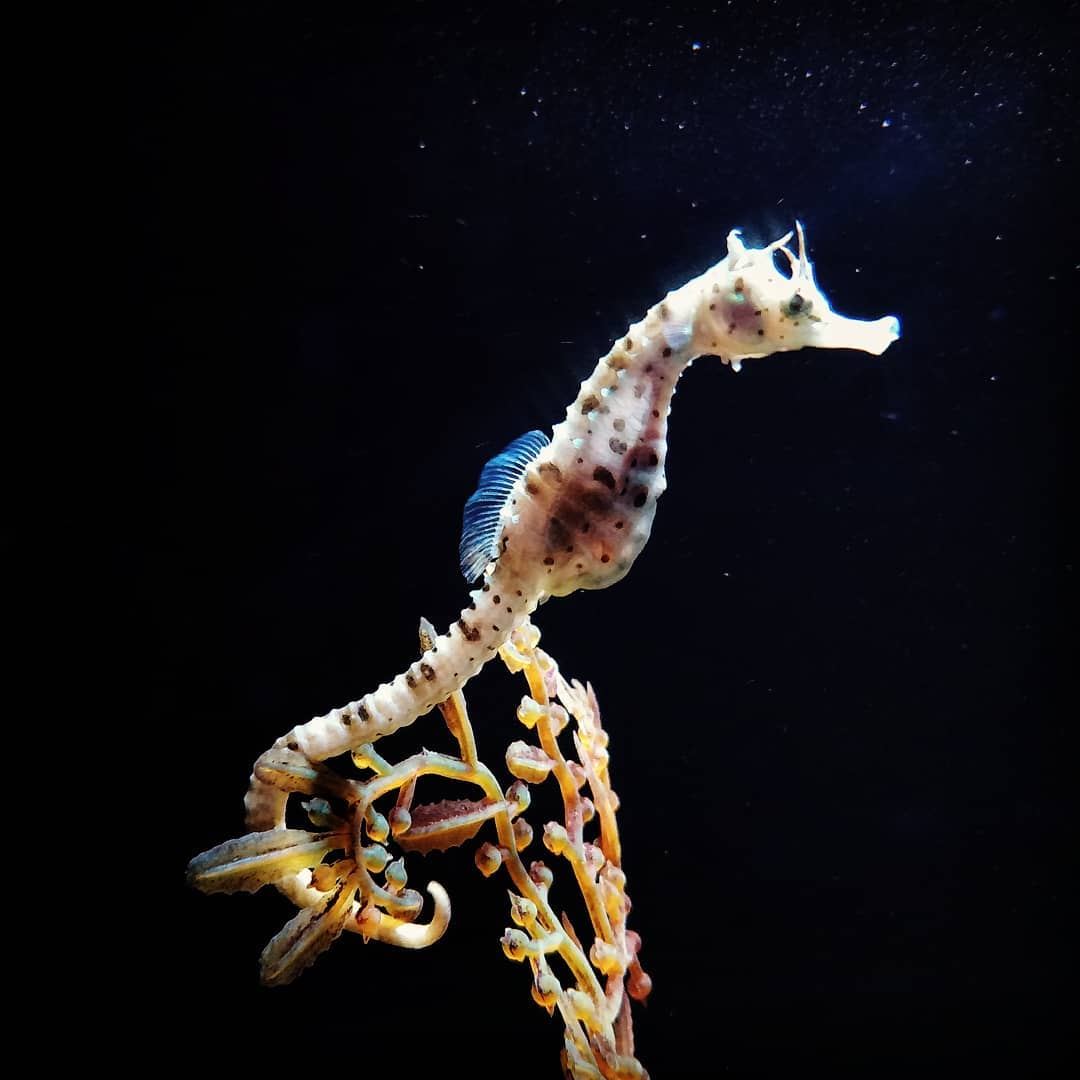 5. Tropical Rainforest
Move into the Tropical Rainforest zone and take a short break from the underwater world. It is really interesting when you can spot many frogs camouflaging themselves with the surroundings or the utterly adorable otters right before your eyes.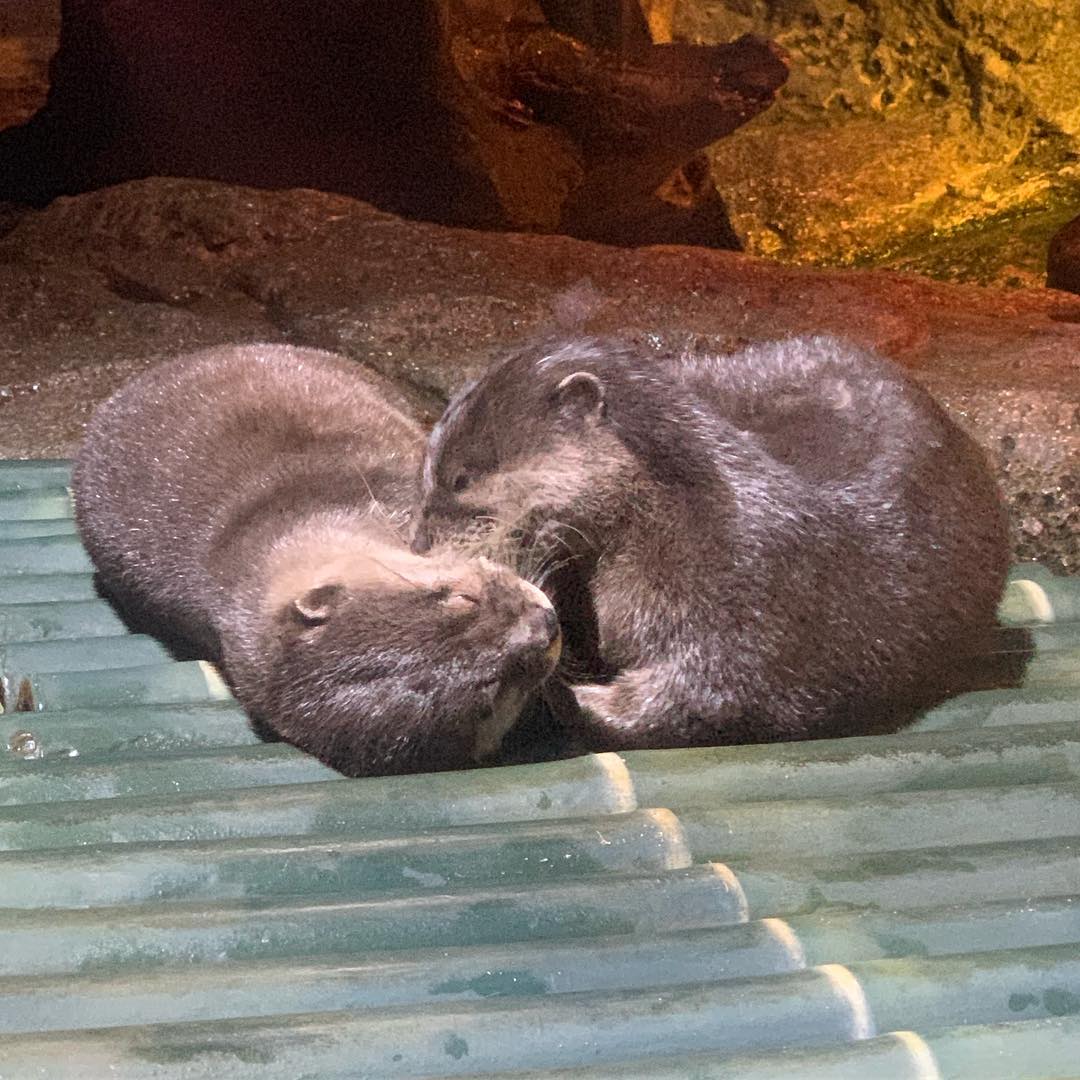 6. Rockpool
This is an enjoyable playground for kids where they can learn more about the sea stars and even directly touch the skin of them. However, please make sure that your kids stay patient until their turn and be gentle to these wonderful marine creatures.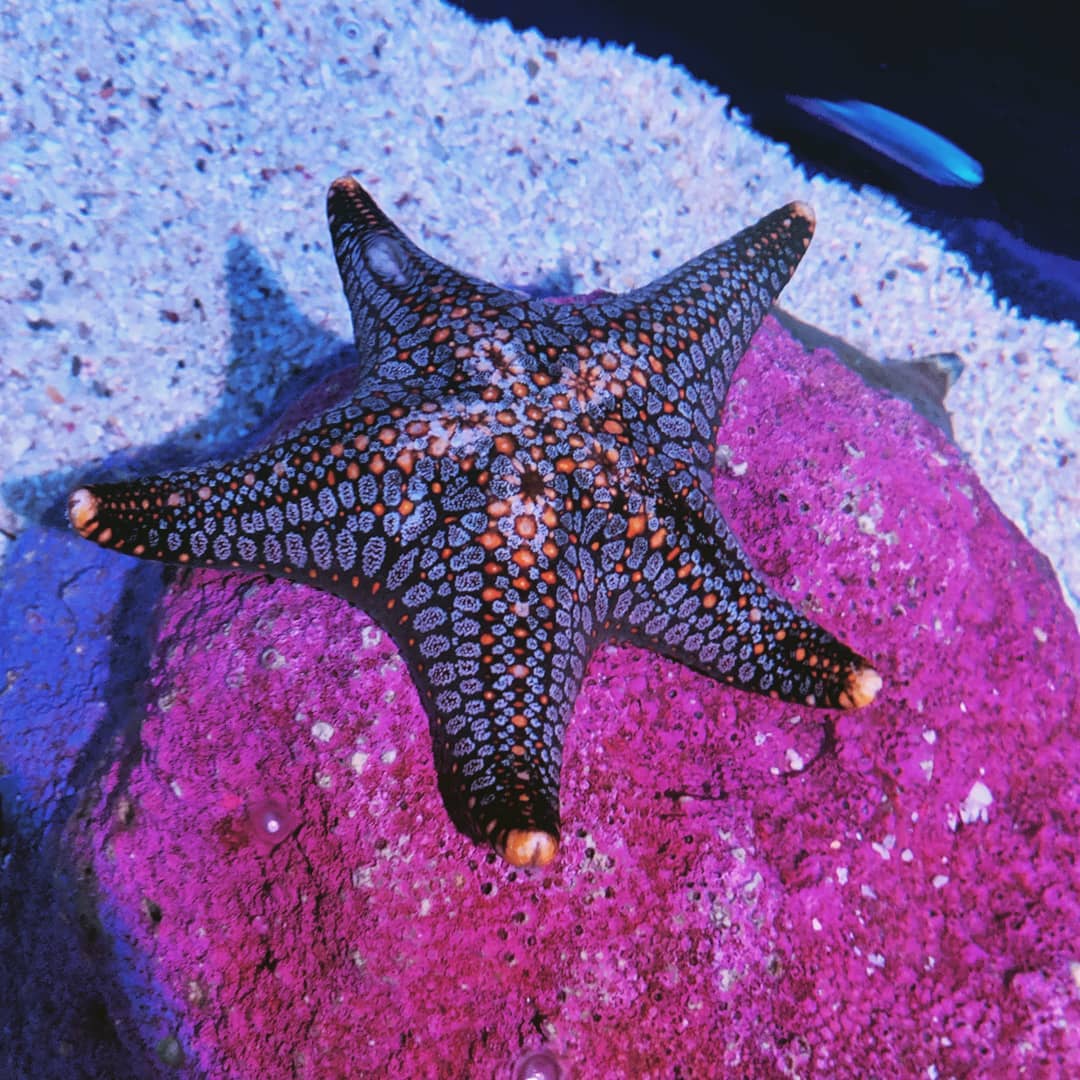 7. Rocky Shore
In addition to observing the Leopard Whipray - dancers of the ocean - swimming through the water, you also have a chance to meet the cute Jackass Penguin, the animal that cannot fly but is a great swimmer.
Especially, if you visit during their feeding times, these penguins become so exciting and incredibly fast to catch fat and delicious fish to fulfill their hungry bellies.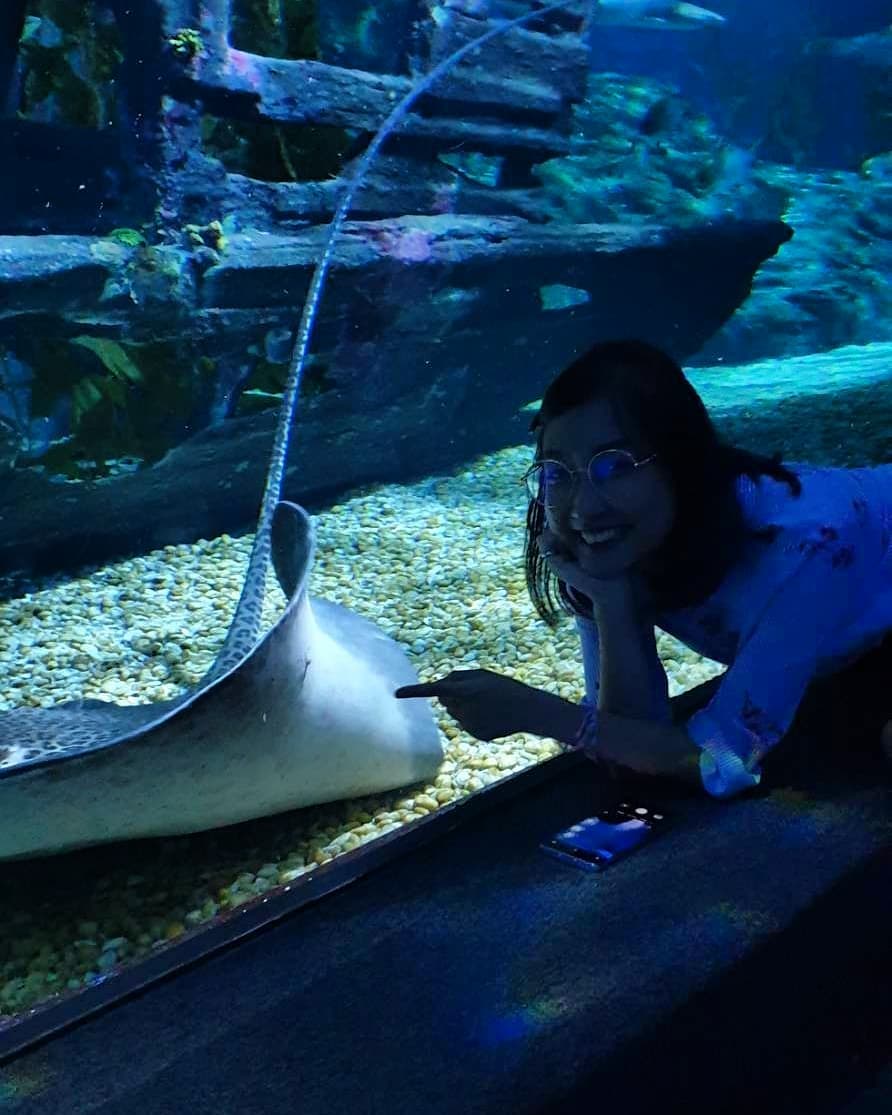 8. Ocean Tunnel
Ocean Tunnel is one of the most attractive parts of Sea Life Bangkok where visitors will be surrounded by a variety of sharks, eagle rays and schools of fish, making them feel like being immersed in a fantastic sea life!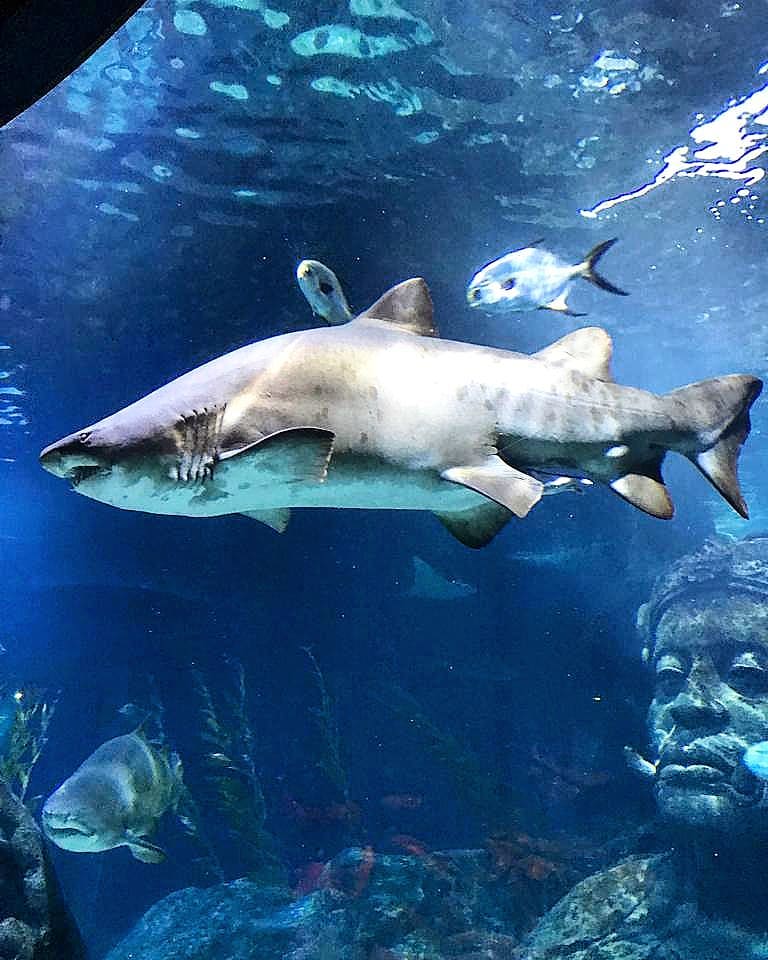 9. Shark Shipwreck
Although this is just a man-made shipwreck, you can actually feel the real thrill when the sharks swim around.
Don't look away! Let's take a deep dive into the blue ocean in Shark Shipwreck.

10. Penguin Ice Adventure
How about ending your journey with the ever-so-cute Penguin? Just drop by and say "Hi" to these adorable animals before leaving Sea Life Bangkok Ocean World, you will surely be falling in love with them.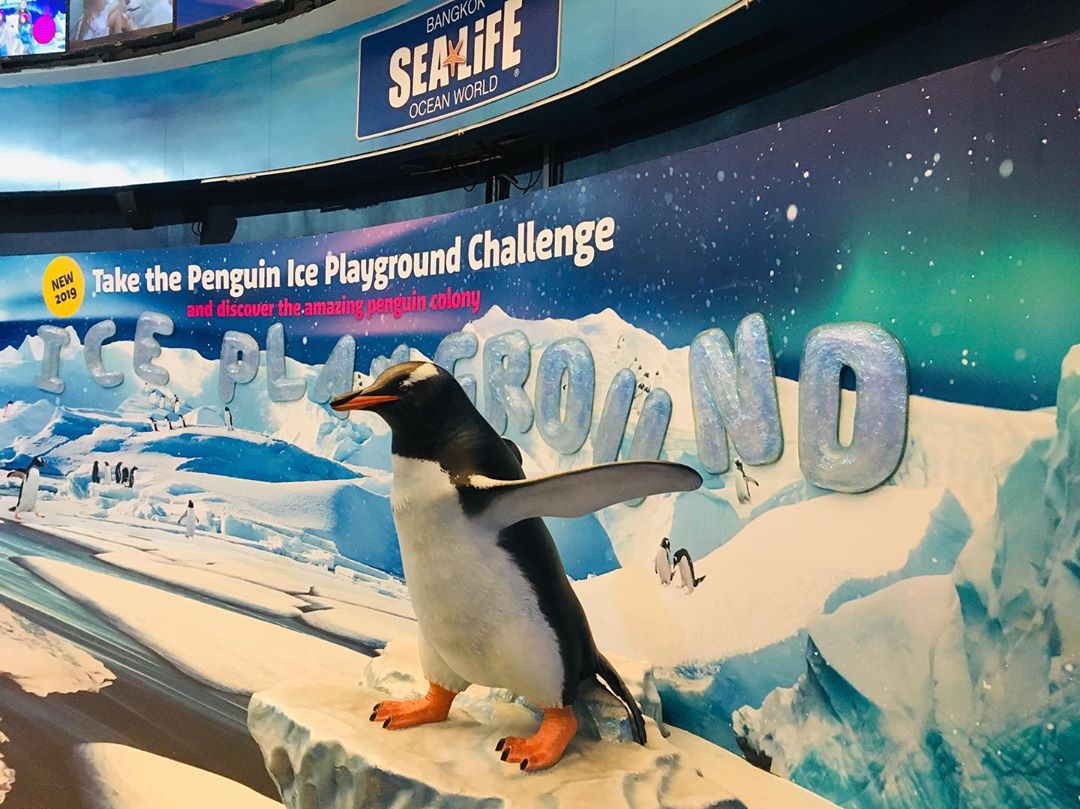 Top things to do in Sea Life Bangkok
Watching 4D Cinema
With the new modern 4D technology, Sea Life Bangkok's 4D Cinema will take you to embark on a real adventure to the lively aquatic world with your favorite cartoon characters instead of producing images and sounds from a regular moving projection.

Visiting Living Art - The Art of Camouflage
Being inspired by the camouflage abilities of marine animals, Living Art is a new addition of the Sea Life Bangkok in 2017 which is displayed and designed with the colors of starfish, lionfish, and yellow boxfish.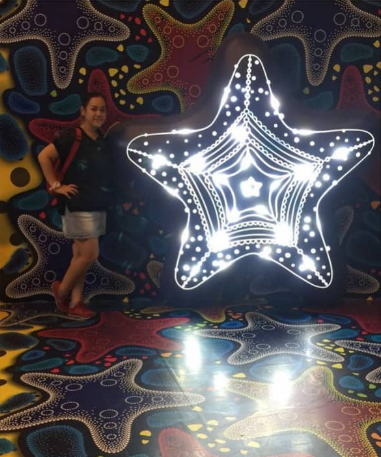 Exploring The Ocean on A Glass Bottom Boat
An oceanic expedition on a glass-bottomed boat is best for non-swimmers or for those who are coming with their children to gain a fresh perspective on the marine life. Board on a glass bottom boat, you will have an opportunity to get closer to the sharks, stingrays or other great variety of fish and observe the staff feeding them by hand.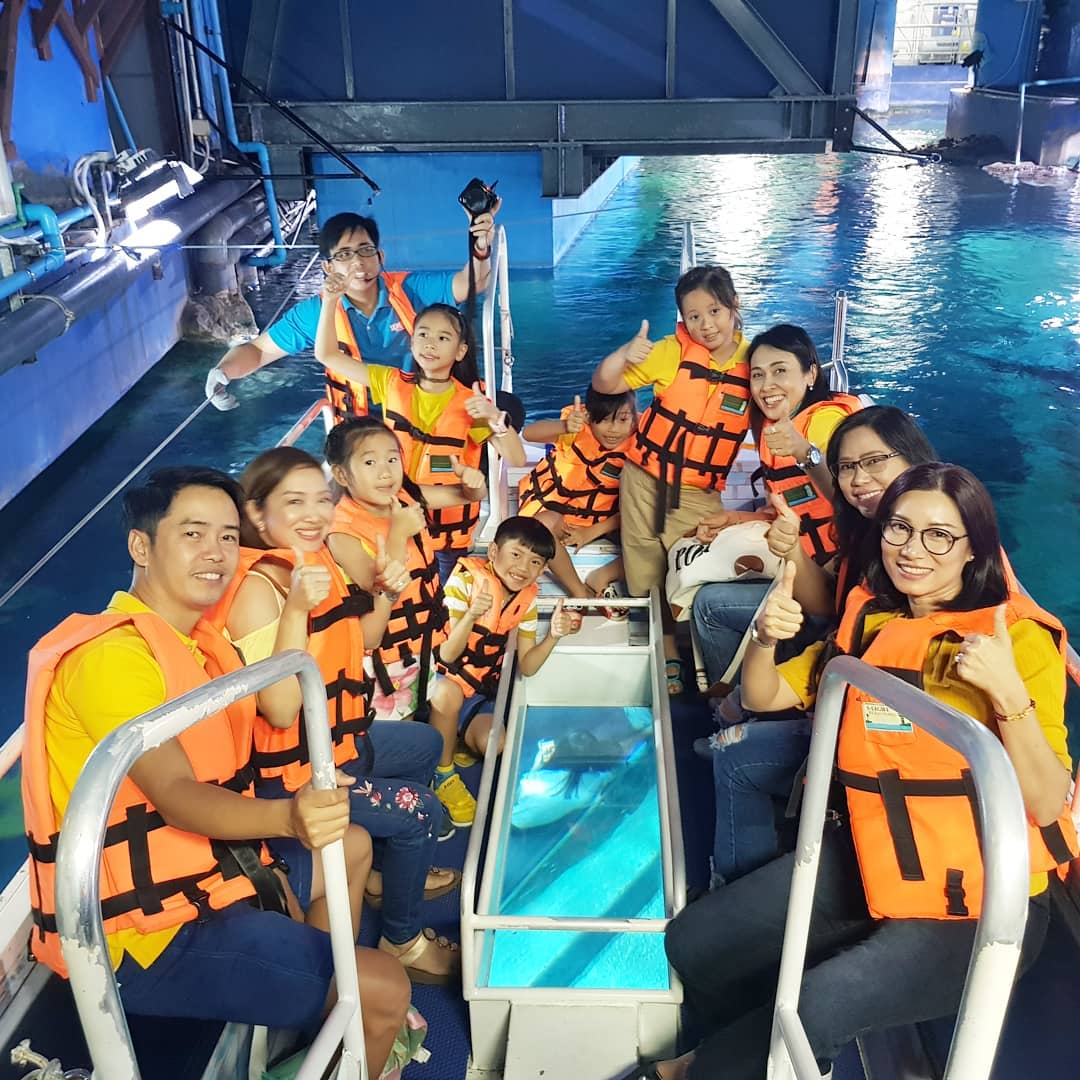 Diving with the sharks
For the most immersive experience, nothing beats a scuba dive that gives you a chance to have a face-to-face interaction with the sharks or eagle rays. If you're on the hunt for an adventurous activity, don't miss this program to join professional divers from Sea Life Bangkok to meet the shark in real life. However, always carefully follow the staff's instructions and do not let those creatures smell your fear.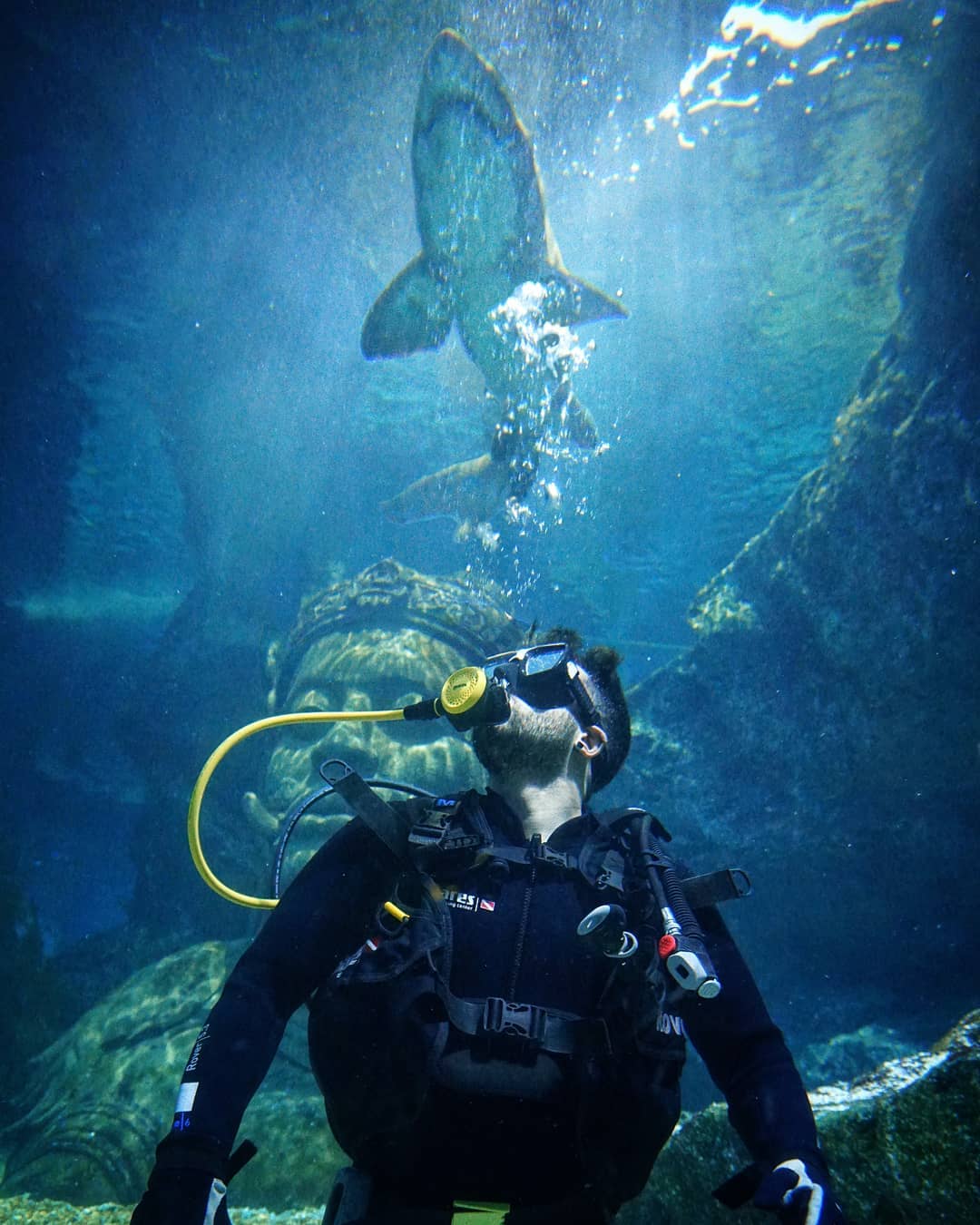 Being An Ocean Walker
Being equipped with a diving and swimsuit gear, you will find it's never been easier to walk through the underwater tunnel and touch to the life of marine creatures.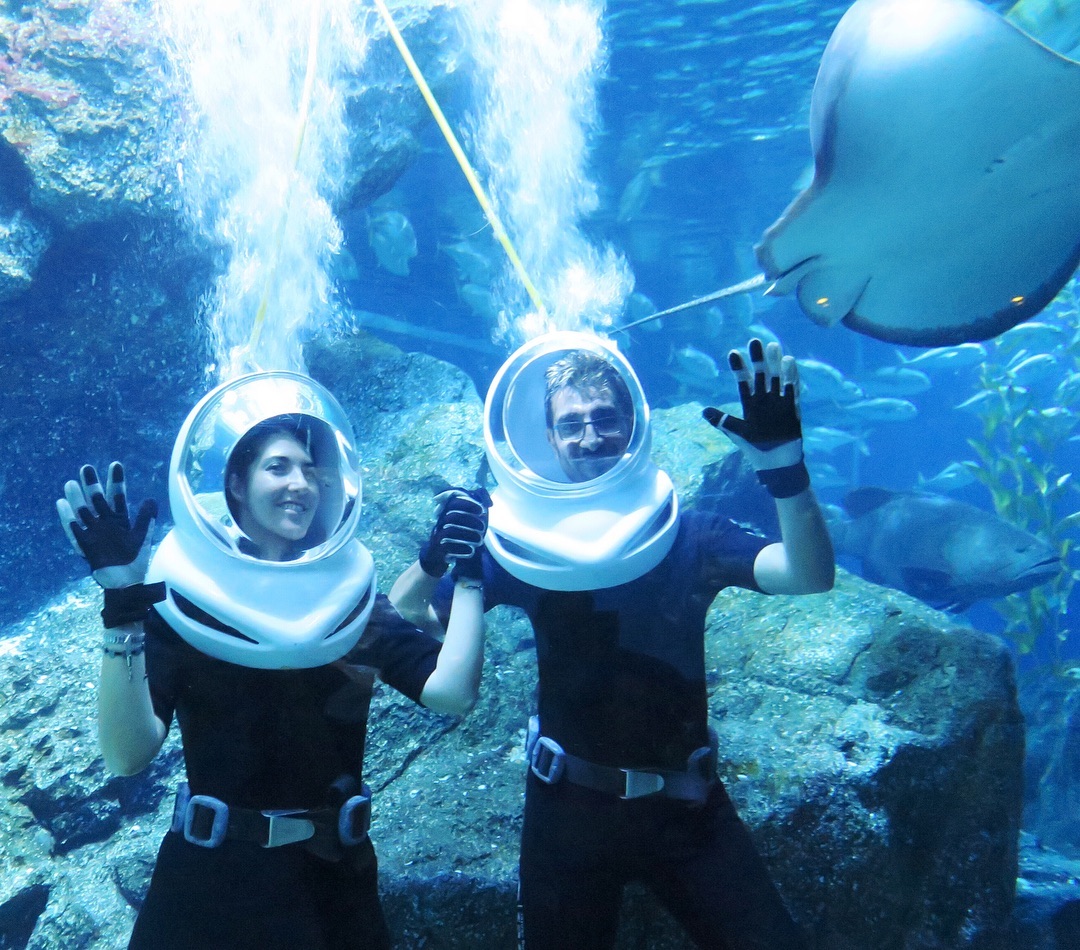 Join in Behind-The-Scene Tour
Follow a knowledgeable instructor on this unique Behind-the-scenes tour to uncover all the secrets of Sea Life Bangkok Ocean World. You can get hands-on experience with real-world ocean exploration equipment as well as see how they care for marine creatures at the Aquatic Quarantine and Nursery Centre and the water quality monitoring laboratory.

Watching feeding shows
This is one of the most exciting activities that you should not miss when visiting Sea Life Bangkok. Apart from having an opportunity to observe the feeding process, you can also interact with the handlers during the shows happen.
Feeding Showtime:
Otter Feeding: 11:00 AM and 03:00 PM
Jackass Penguin Feeding: 11:30 AM and 03:30 PM
Fresh Water Fish Feeding: 12:00 AM and 04:00 PM
Diver's Communication: 12:00 PM, 02:00 PM and 03:00 PM
Gentoo Penguin Feeding: 12:30 PM and 04:30 PM
Shark Feeding Show: 01:00 PM and 04:00 PM
Eagle Ray Feeding: 01:30 PM and 04:30 PM
Please be noted that the showtimes listed above may subject to change without prior notice. You can check the schedules on site for exact time on your day of visit.


Tips from Inspitrip
You do not need to prepare many things to have an entirely interesting experience at Sea Life Bangkok Ocean World. Just make sure that your camera is fully charged and ready to capture as many stunning photos as possible.
Also, a comfortable pair of shoes and light clothes will be more suitable for moving under the hot weather of Bangkok as well as taking the best photos in the oceanic background.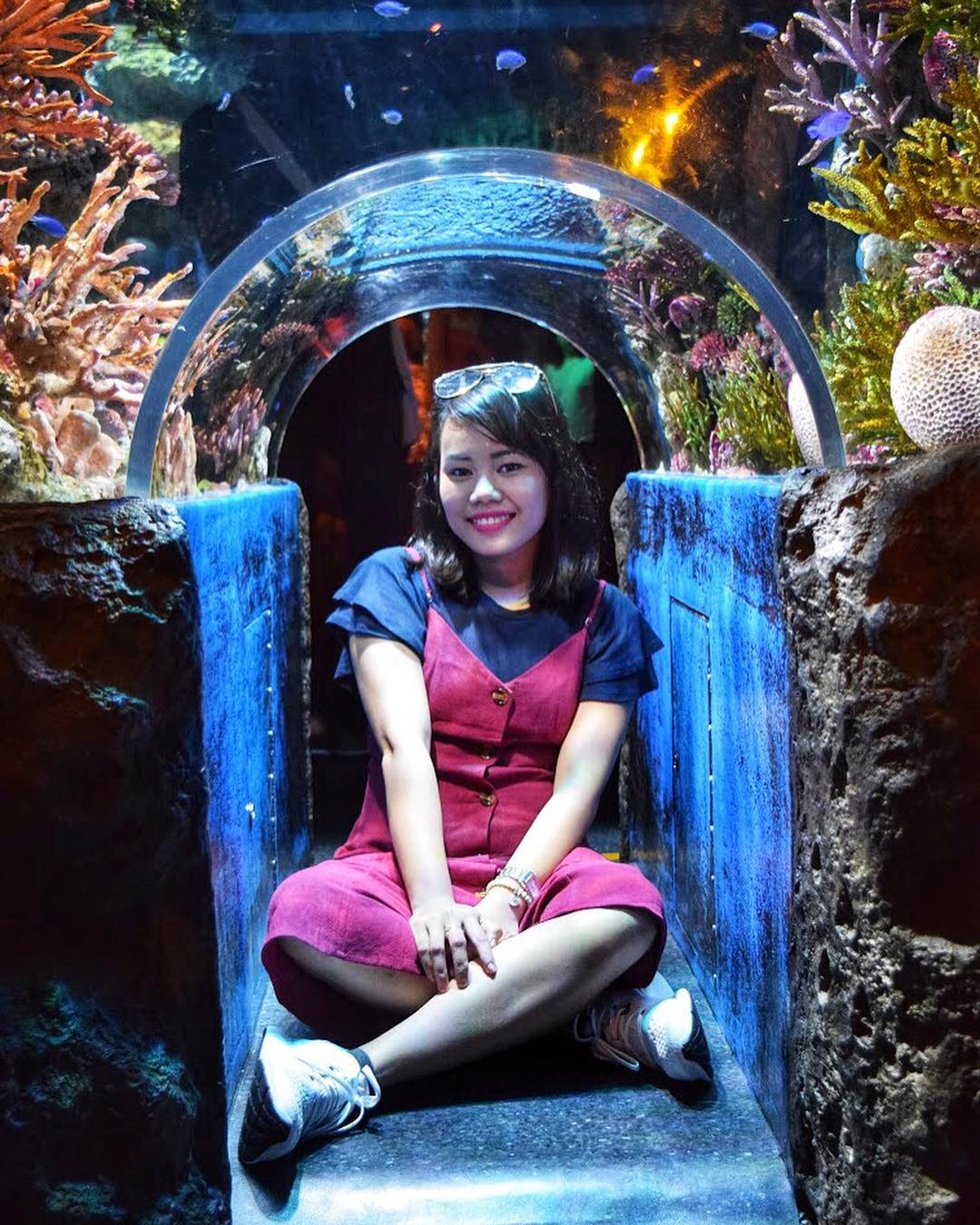 Whether you are an ocean lover who wants to gain in-depth knowledge about the undersea world or just a curious soul wanting to see up close marine animals, there will always be something of your choice at Sea Life Bangkok Ocean World. With a diverse number of underwater activities that cater to all ages, preferences and swimming abilities, Sea Life Bangkok is absolutely worth a visit! Buy admission ticket to Sea Life Bangkok Ocean World now.
Expect to have other fulfilling things to do in Bangkok? Check out these following suggestions we have for you: