S.E.A Aquarium Singapore: 15 Essential Tips for First-time Visitors
Located on Sentosa island, S.E.A Aquarium (South East Asia Aquarium) is a perfect place to escape from the humid, hot weather of Singapore. This aquatic wonderland is one of the world's largest aquaria where you will see more than 100,000 marine species from 49 different habitats. For a once-in-a-lifetime experience to encounter dangerous sharks or unrealistically beautiful coral reefs with your own eyes, you would not want to miss this destination in your upcoming Singapore itinerary.
Follow us and find out what are the 15 essential tips that will help you plan a hassle-free and insightful trip to S.E.A Aquarium.
1. Why you must visit S.E.A Aquarium Singapore?
An incredible aquatic environment with diverse marine ecosystem
S.E.A Aquarium Singapore was opened in 2012 and the largest oceanarium in the world by total water volume from 2012 to 2014. The aquarium is Southeast Asia's biggest aquarium and home to the world's largest manta ray collection. More amazingly, you can also observe many exotic marine animals that can hardly be seen anywhere else such as Hammerhead Sharks, Giant Moray Eel, Reef Manta Ray, and Giant Crabs.
In order to create the best living environment for these creatures, different zones of the aquarium replicate different ocean habitats where these animals used to live. Some of the zones include the Red Sea, the lakes of East Africa or the South China Sea.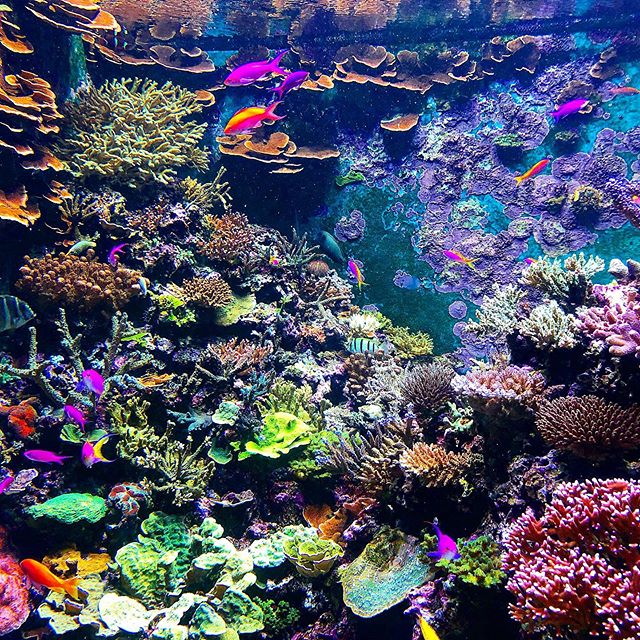 Worldwide recognition
Receiving many positive reviews from both tourists and professionals, S.E.A Aquarium Singapore has been consistently rated among the Top three Aquariums by TripAdvisor Certificate of Excellence Awards. Since the aquarium offers equal amounts of fun and learning for both adults and children, it also won the Best Learning & Travel Experience Award at the 2015 Singapore Experience Awards for its Ocean Dreams experience.
So what are you waiting for? Note down S.E.A Aquarium to your Singapore travel list right away to discover this wonderful oceanic world!
2. Best ways to get to S.E.A Aquarium Singapore
From the Singapore city center, there are many ways to get to S.E.A Aquarium Singapore. First, you need to come to Sentosa Island first by taking the MRT to HarbourFront station and come to VivoCity, which is right next to the station. From VivoCity, you can follow one of the following ways to come to S.E.A Aquarium:
By monorail: Get on the Sentosa Express at Level 3 of VivoCity and get off at Resorts World Station (previously known as Waterfront station), for Resorts World Sentosa.
By bus: Board bus RW8 from bus stop 14141 at VivoCity or 14121 at Merrill Lynch, HarbourFront for SGD $2 (no admission fee to the island applied if you use RW8). Stop at the Resorts World Sentosa drop-off point.
On foot: Take a short walk across the Sentosa Boardwalk on VivoCity Level 1. Admission fee to the island is SGD $1.
By car: If you enter via RWS B1 car park, only car park charges apply. If you enter via Sentosa gantry, you need to pay both Sentosa Island admission and car park charges.
By Taxi/grab: drop off at the Casino area of Resort World Sentosa, take the escalator up and follow direction board, S.E.A Aquarium is at the opposite of Universal Studios Singapore.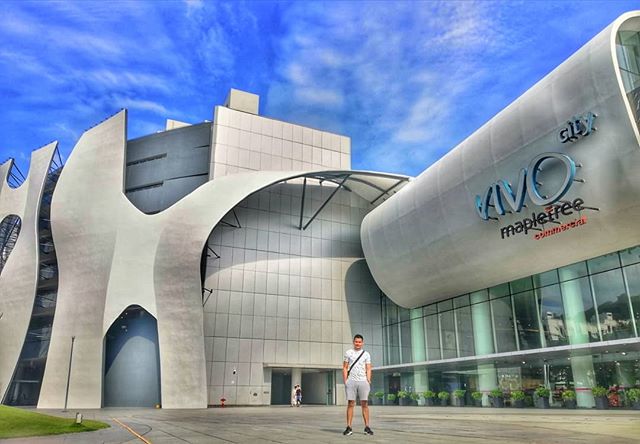 3. Buying tickets in advance to get great deals
There are two ways you can get an entrance ticket to S.E.A Aquarium Singapore:
Via Resort World Sentosa
You can just buy tickets directly at the ticket counter on-site or from the official website of Resort World Sentosa. These are quite simple and convenient as you will not only be able to avoid scams on the Internet but also be flexible to your Singapore itinerary. However, buying tickets via Resort World Sentosa is not highly recommended since you have to pay the ticket price in full which is SGD $40 (~ USD $29.3) for adults and SDG $29 (~ USD $21.2) for children aged 4 - 12.
Via online platforms
The second option is to book online tickets at home via trusted platforms. By purchasing the tickets online beforehand, you will be able to find great deals and save lots of time for queuing at the ticket counter. Moreover, online tickets are valid within 30 days from the selected visit date so you can easily change your schedule and visit on any day you want while tickets bought at door are valid for a specific date only.
Inspitrip is one of the best platforms to purchase online tickets with various discounts regularly being offered. Grab your ticket to S.E.A Aquarium Singapore today with only USD $25 (SGD $34) exclusively brought by Inspitrip!
APPLY CODE 'GO10' TO GET 10% OFF FOR ALL EXPERIENCES FROM TODAY!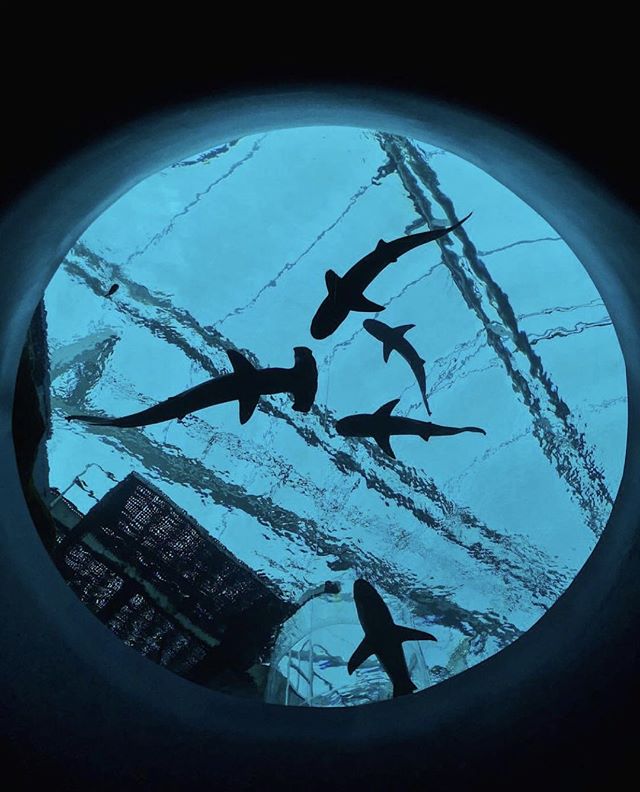 4. Best time to visit S.E.A Aquarium Singapore
The S.E.A Aquarium is open daily from 10 AM to 07:00 PM. As one of the most well-known attractions in Singapore, the aquarium welcomes a huge number of visitors coming from all over the world to admire the magnificent oceanic view every day. If you want to avoid the crowds and truly immerse yourself in the marine world, the best time to visit the Aquarium is on weekdays and right after it opens.
S.E.A Aquarium Singapore is especially famous for students and families so visiting during Singapore school holidays (the whole month of June, mid November to December, etc) can be overloaded.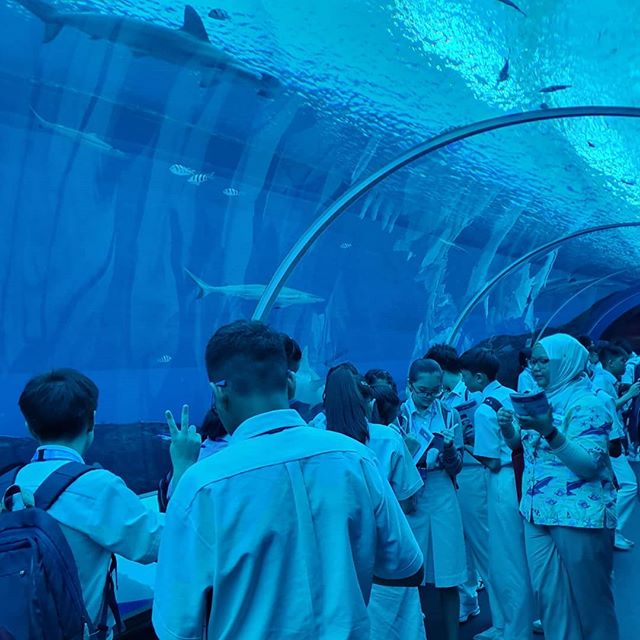 5. Top things to do and see inside S.E.A Aquarium Singapore
There are 7 different zones inside the aquarium and you should not miss any zones as each zone presents different perspectives of the wonderful sea life. The following are some of the most popular habitats of the aquarium where many exotic animals reside.
As you walk around, you will see different exhibits showing information, pictures of all species of that area so stop for a while at each habitat and gain in-depth knowledge about these wonderful creatures!
Walking under shiver of sharks
At Shark Seas Habitat, one of the most fascinating zones of the aquarium, you will stroll along a huge tunnel where many dangerous sharks including Nurse Shark, Hammerhead Shark or Saw Shark are swimming around above your head. The feeling is so similar to walking inside a huge transparent submarine in the middle of the sea. With 360-degree-vision, you will be able to take a look closely at one of the most terrifying predators and also the most ancient creatures on Earth.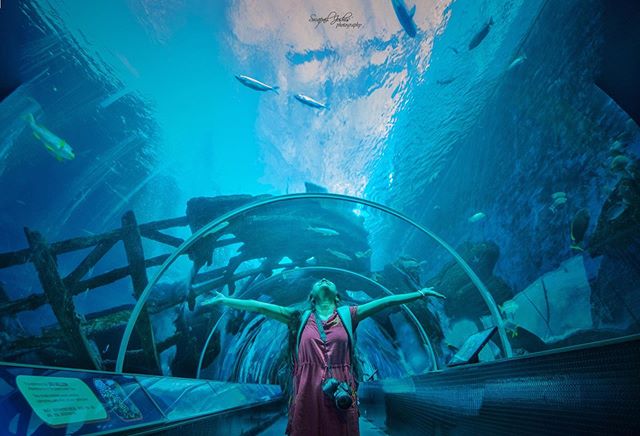 Finding Dory at Live Coral Habitat
Moving into Live Coral Habitat will take you to the world of countless colorful fish and vivid coral reefs. More interestingly, you will probably not find any difficulties in finding "Dory the fish", a Paracanthurus hepatus or Pacific blue tang fish thanks to its iconic blue color. The habitat looks so vibrant that makes you feel like actually watching the live version of "Finding Nemo".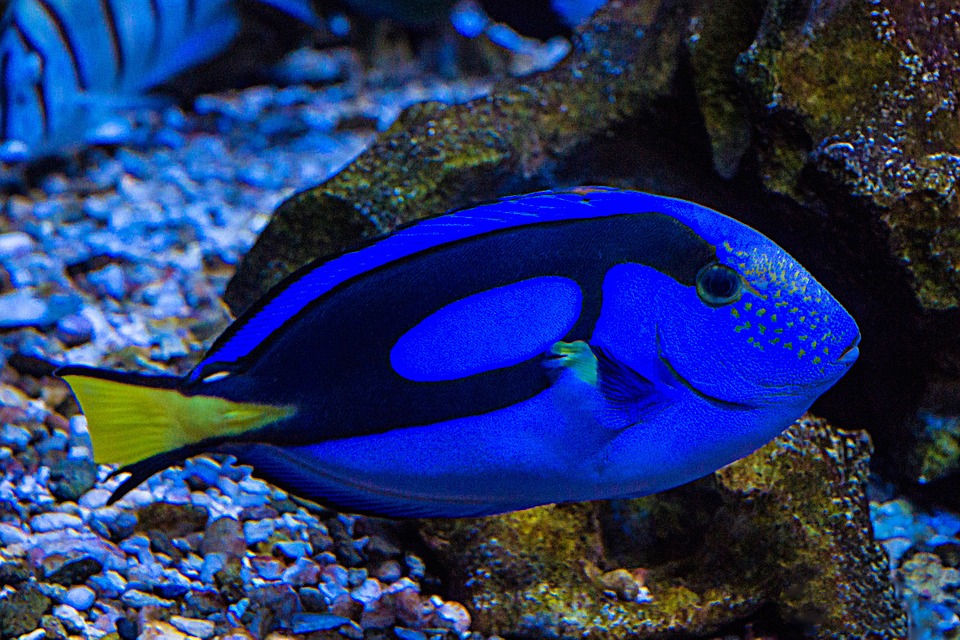 Immerse in the magical aquatic world at Open Ocean Habitat
Another remarkable habitat of S.E.A Aquarium Singapore is Open Ocean Habitat, which is also known as "the planet's largest window to the ocean". More than 40,000 creatures are residing here and you can easily spot some interesting but mysterious creatures such as Giant Manta Ray, Goliath Grouper and Zebra Shark. Take some time to sit down and enjoy watching all the movements of aquatic animals through this panoramic window.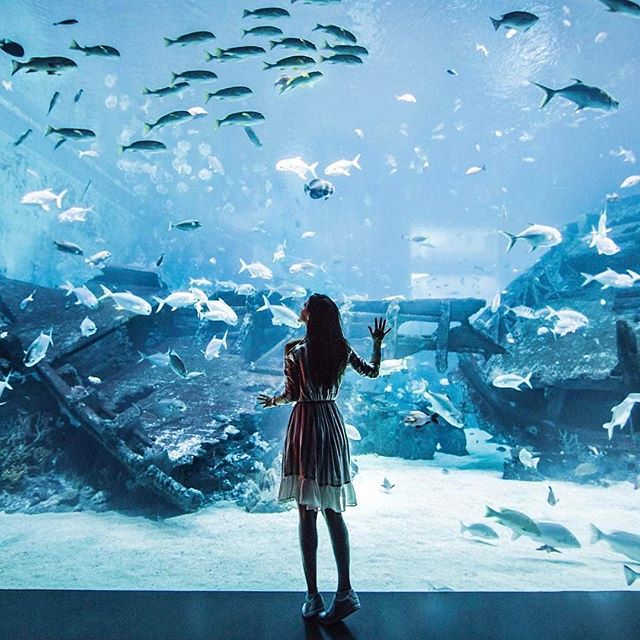 Interact with sea stars at Coral Garden Habitat
Another location that you can discover more about the coral reefs. However, at Coral Garden Habitat, you also have an opportunity to touch the skin of a starfish! These star-shaped creatures are put into a huge open tank that you can put your hand in and make a super close interaction with them. But please make sure to stay patient until your turn and be gentle to these cute friends!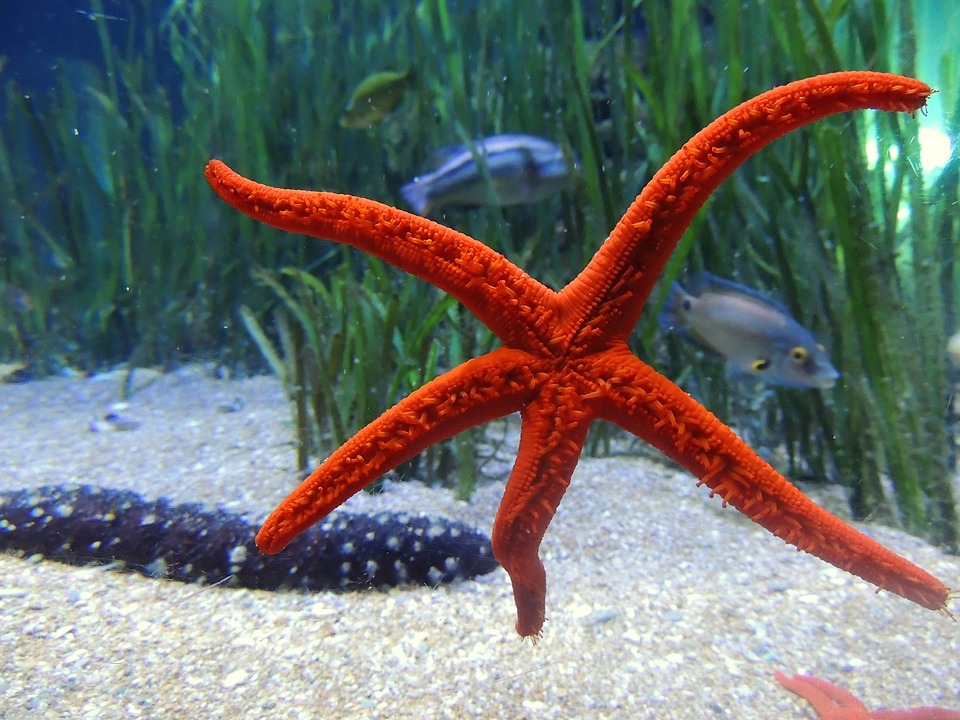 6. Find out how marine creatures get fed and meet manta ray mascots
Have you ever wondered what these animals eat and how they do that inside these enormous tanks? Or are you looking for some more interactive activities during your visit? The aquarium has special programs waiting for you to meet all of these expectations!
Shark Feed, Coral Garden Feed, Shipwreck Habitat Feed, Open Ocean Habitat Feed
When planning your visit to S.E.A Aquarium Singapore, don't forget to check the schedule of these feeding sessions so as not to miss the chance to see professional divers bringing food to these aquatic animals. It is amazing to see the fish becoming excited at their feeding time!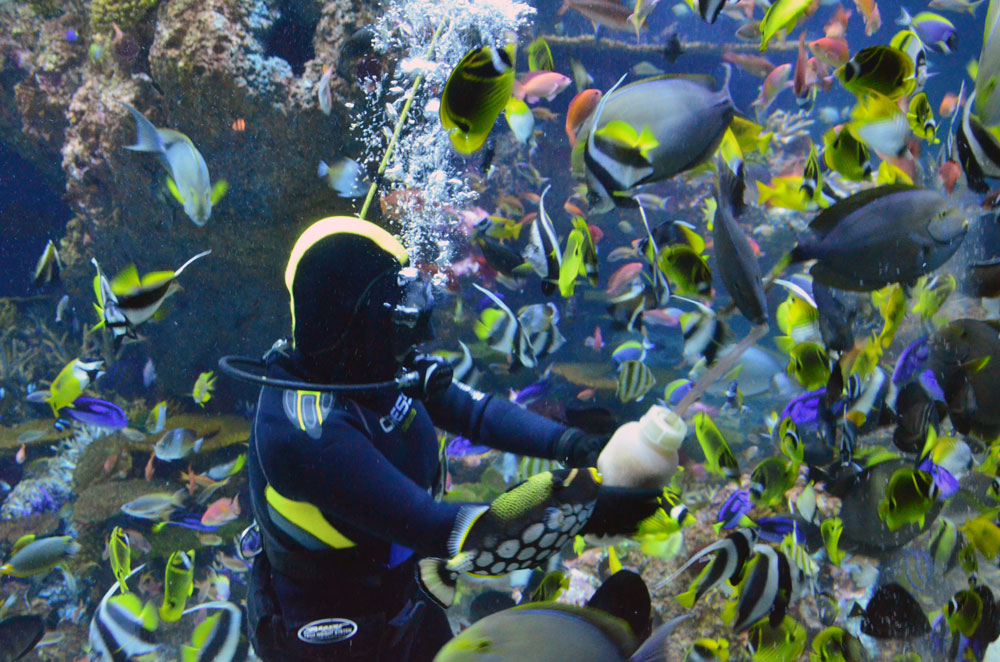 Meet and greet with adorable mascots
At 12:30 PM and 3:00 PM everyday respectively, it's time to meet Sam, the shark mascot and Mai, the manta ray mascot when they walk around Shark Seas and Open Ocean Habitat! Go giving them a warm hug and take pictures to bring home some cute memories with these friendly mascots!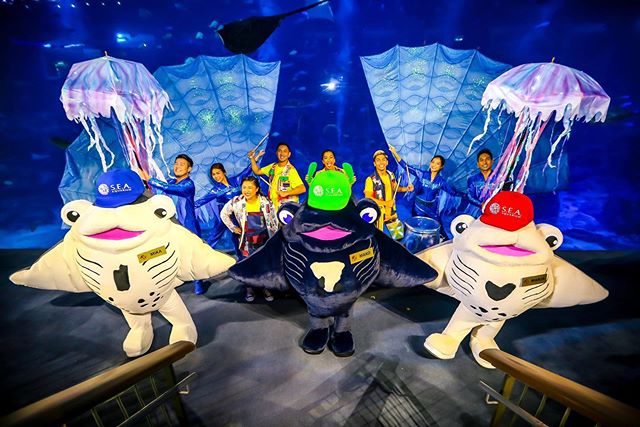 7. Things to keep in mind before visiting S.E.A Aquarium
Bringing outside food and beverages
Since it may take a few hours to visit the aquarium, some of you may think of bringing in your own food and drink inside. Unfortunately, it is not permitted to eat and drink insideS.E.A Aquarium, unless you are at designated food and beverage shops. However, baby food and food for guests with special dietaries are also exceptions.
Taking photos with flash
It is definitely allowed to take as many photos as you want during your visit to the aquarium. However, using flash while taking photos is prohibited since it can cause stress to the fish.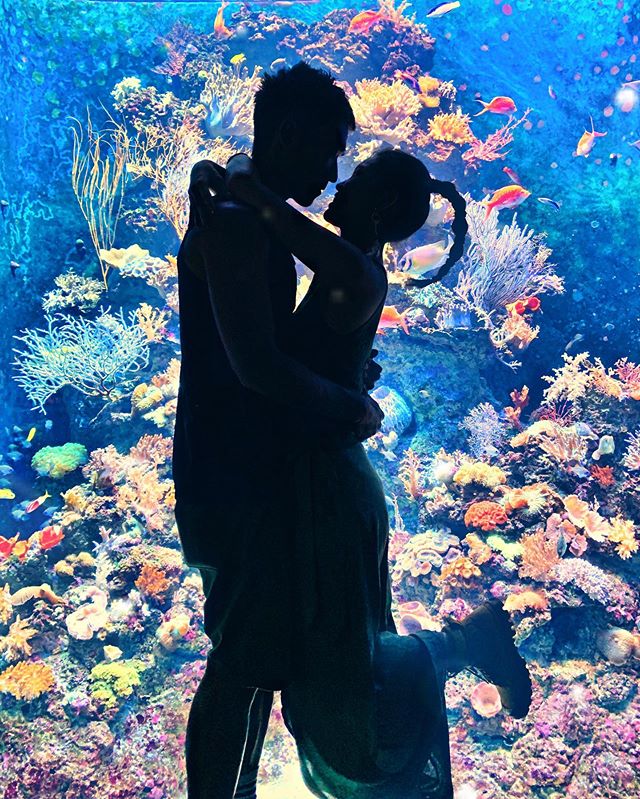 Smoking inside S.E.A Aquarium
For the safety and comfort of all guests, smoking is strictly prohibited inside S.E.A Aquarium. If you wish to smoke, you should head to the designated smoking area located outside of the aquarium.
8. What to prepare for your visit to S.E.A Aquarium Singapore
Normally, it takes about 2-3 hours to explore all sections of S.E.A Aquarium. That's why light clothes and a comfortable pair of shoes will be more suitable for walking and standing most of the time during the visit. Don't worry much if you come with seniors or children as there are various benches and chairs scattered inside the aquarium.
For visitors who come with heavy luggage, unfortunately, lockers are not available in the S.E.A Aquarium. However, you can find lockers at The Forum B1.
Small strollers are highly recommended to navigate in a crowded area but strollers are not available for rent inside the aquarium. Parents should bring your own stroller is necessary.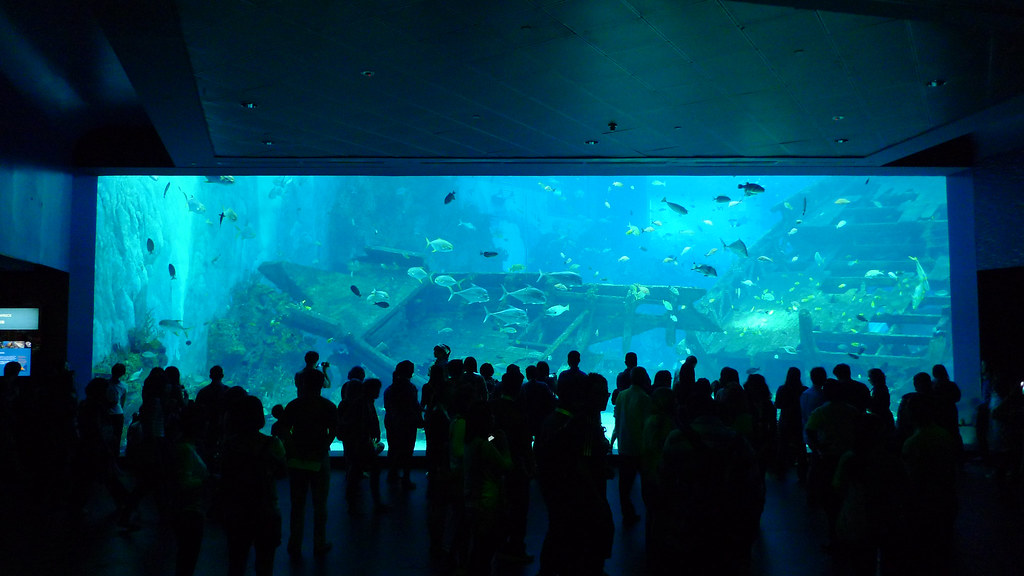 9. Dine and rest in the company of sharks and sea jellies
Beside enormous fish tanks, there are many activities offered at the aquarium which will definitely add more memorable experiences to your visit. All you need to do is keeping your eyes on the schedule of each activity on Resorts World Sentosa's official website and reserving before it is fully booked.
Ocean Restaurant
What can be more romantic when you spend a candlelight dinner with your loved ones in a room surrounded by blue water and colorful fish? At S.E.A Aquarium, you will be able to experience this at Ocean Restaurant.  It is a true "dinner with a view" when you enjoy Mediterranean-Californian dishes while observing malta rays and sharks swimming by.
Operating hours
Monday - Thursday
Lunch: 11:30 AM - 02:30 PM; Dinner: 06:00 PM - 10:00 PM.
Friday, Saturday & Sunday: Lunch: 11.30am (1st Seating) ; 1pm (2nd Seating); Dinner: 6pm (1st Seating); 8pm (2nd Seating).
Dress code: Smart Casual.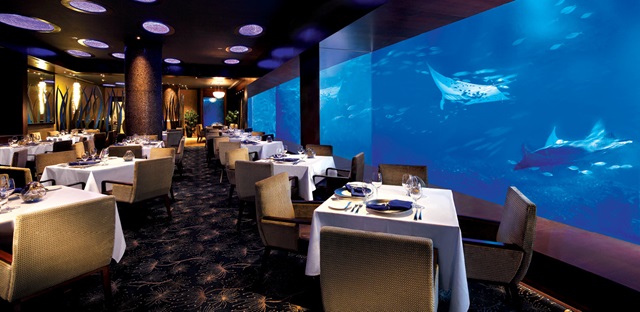 Ocean Dream
Have you ever wondered what do the fish do at night? Many of them behave differently when the sun is down and you can definitely observe their nocturnal activities by sleeping over at S.E.A Aquarium!
The aquarium presents a special program that allows you and your family to have a camping night inside the aquarium, right in front of the Open Ocean Gallery! You will sleep in the tent after watching schools of colorful fish and wake up in the morning to a special feeding session by aquarists.
Time
6:30pm - 10:00am (Following Day)
Upcoming schedule
August 2019:
31 Aug (Sat)
September 2019:
12 Sep (Thu)
19 Sep (Thu)
25 Sep (Wed)
28 Sep (Sat)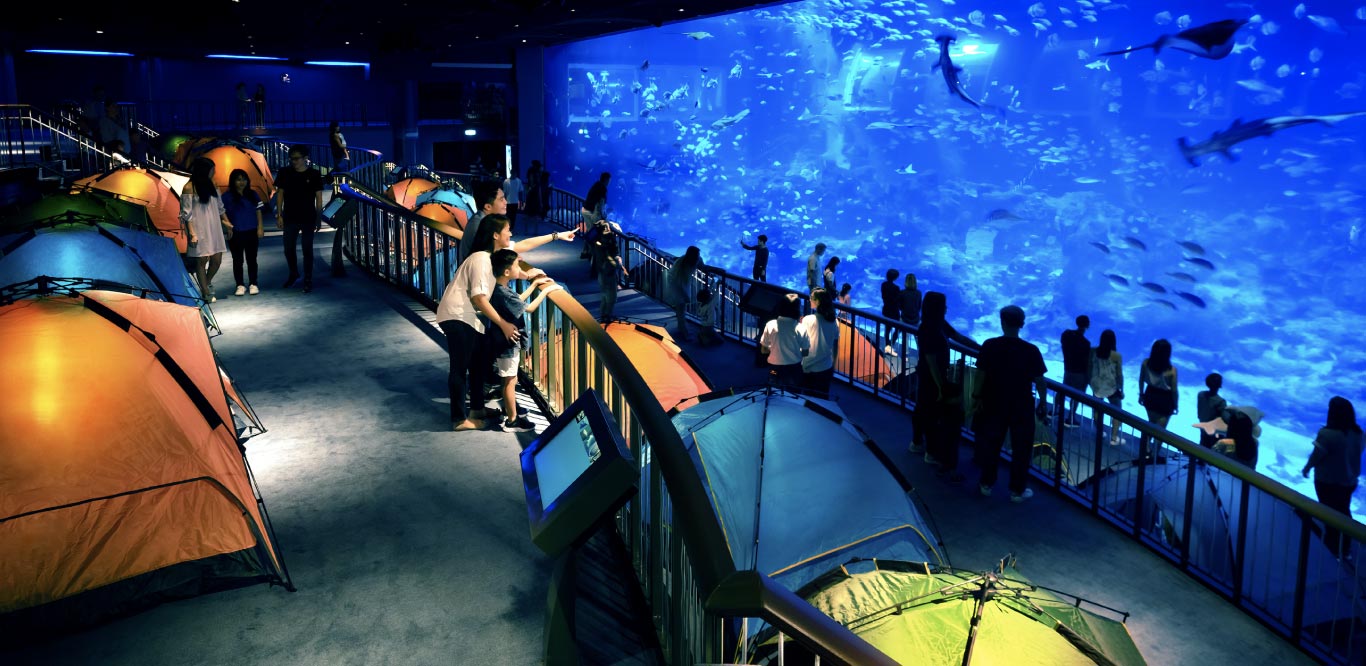 Stay-and-play package
If you would like to fully invest your time in discovering Sentosa Island, Stay-and-play package could be your perfect option. With this combo, you are invited to stay in luxury resorts located on this island and tickets to S.E.A Aquarium as well as other main attractions will be included, up to your choice.
Moreover, this can be one of a kind experience if you stay in Ocean Suites, which is an all-suite hotel linked to the aquarium. From your bedroom, you will be able to observe closely many underwater species.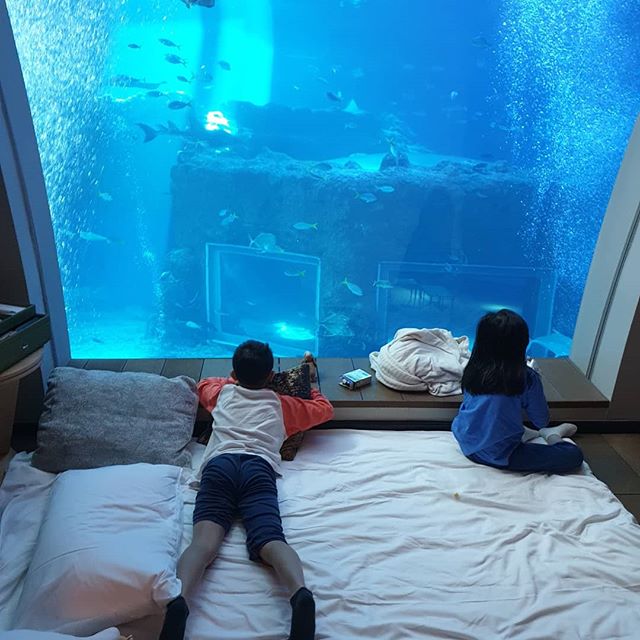 Wedding photos and birthday parties
The aquarium is not only for observing marine species but you can also reserve a venue here to hold a birthday party or take pre-wedding photoshoot. The unique oceanic view is definitely suitable for these special occasions and brings you unforgettable memories.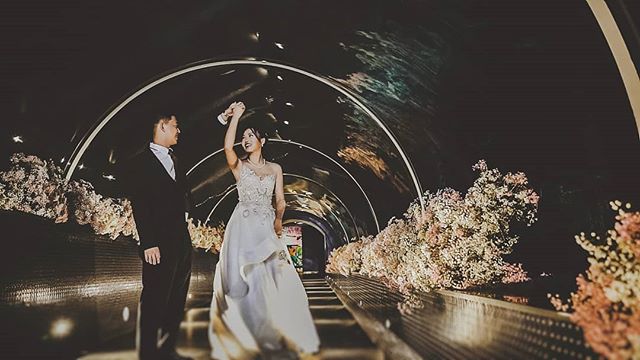 10. Diving with sharks in real life!
For those who love scuba diving and want to be deeply involved in marine life exploration, S.E.A Aquarium offers diving programs at different levels from beginner to advanced level. More interestingly, you can also challenge yourself with the PADI Open Water Diver Course to earn the world's most acknowledged scuba diving certification.
Otherwise, if you are already a certified diver, you can try to confront face-to-face with over 100 sharks of S.E.A Aquarium. Professional instructors will guide you in "Shark Dive" to get up-close to 12 species of sharks, including the threatened ones.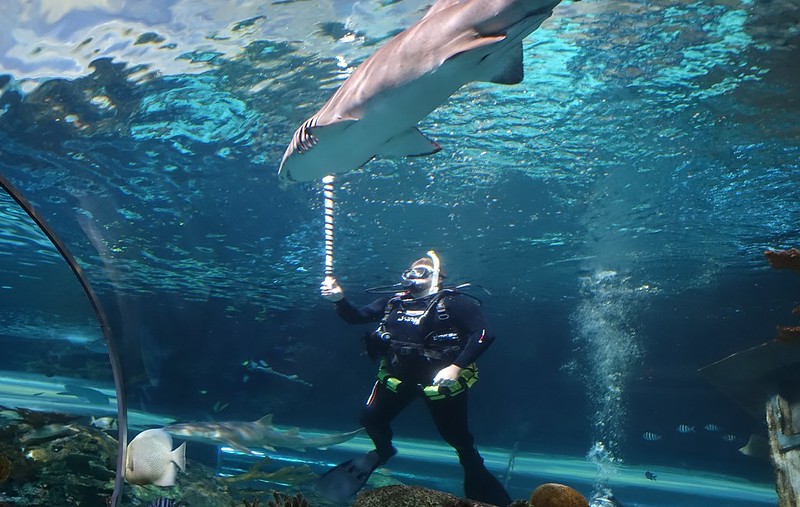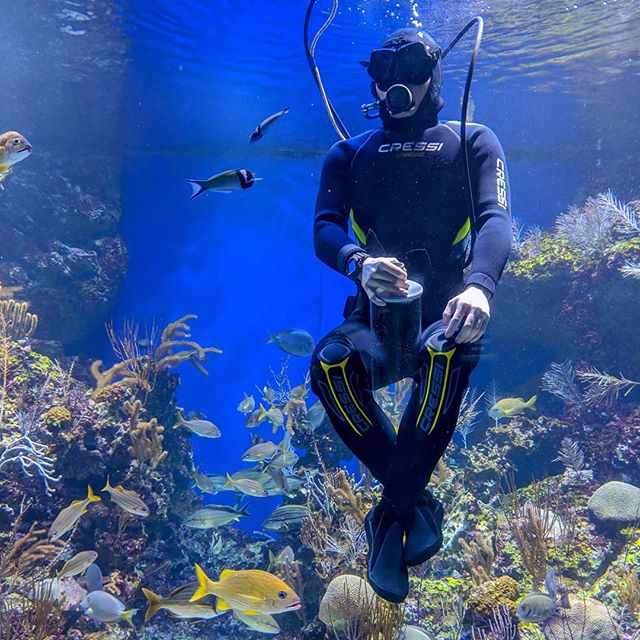 11. Stuff your belly with a wide range of choices for restaurants and food courts
Inside the aquarium
Even though it is not allowed to bring outside food and drink, there are various food options for you to choose from inside the aquarium. One of those is the Ocean Restaurant mentioned above, where you will dine while watching fishes swimming around. There are also two snack bars, S.E.Aside Snacks and Ocean Bites that you should definitely give them a try.
These food and beverage outlets offer lights snacks, hot dogs, pastries and also provide vegan food as well. Unfortunately, there is no halal certified food provided here.
Operating hours: 10:00 AM – 06:00 PM (Daily)
Location:
S.E.Aside Snacks: Next to Indo-Pacific Bottlenose Dolphin Area
Ocean Bites: Next to the Open Ocean Gallery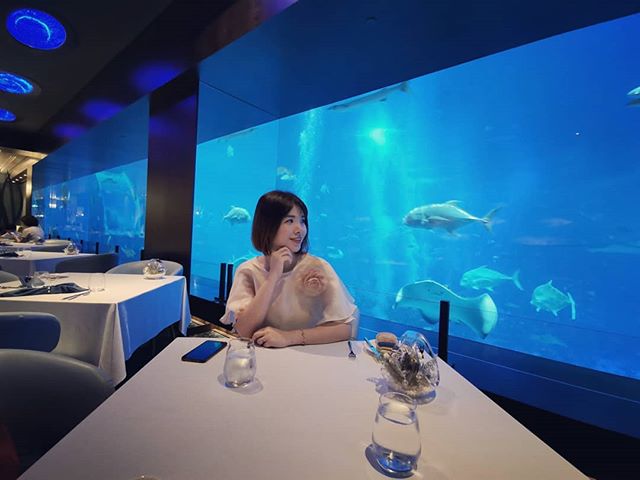 Outside the aquarium
If you are on a budget and not keen on getting a pricey meal at outlets inside the aquarium, check out other food options before arriving at the aquarium.
If you use the MRT, on the 3rd floor or B2 of VivoCity located a wide range of restaurants and shops that you can choose from.
Alternatively, if traveling by taxi or bus, when getting off at Resorts World Sentosa, you can spot the Malaysian Food Street opening from 10:00 AM at Waterfront Level 1 for authentic Malaysian experience. This is especially suitable for those who are looking for halal-certified food as you will find many options here.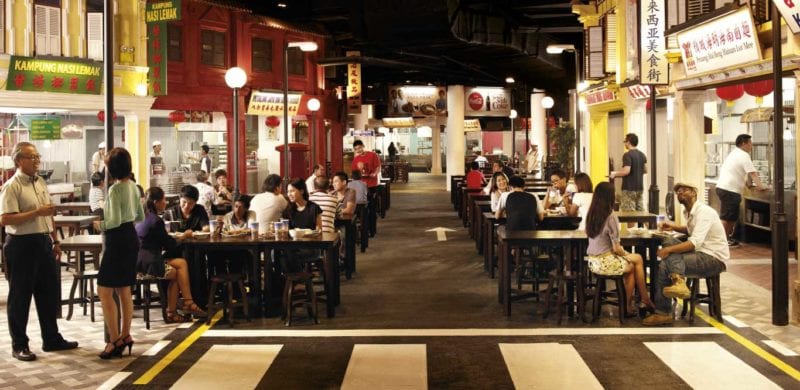 12. Discover the most adorable souvenirs to bring home
After observing all the exotic marine creatures, don't forget to drop by SEAA Treasures and SEAA Wonders - two souvenirs shop located at S.E.A Aquarium to grab your favorite presents for yourself as well as your friends and family!
There are various options for you to choose from cute stuffed animals, magnets, stationery and even T-shirts! Numerous eco-friendly merchandises are also available for you to decide. Of course, all of these goods have a common aquatic theme and many of them such as coasters, magnets, are being offered at very reasonable prices.
You may also want to check out the collection of stuffed toys, sharks for example, which are especially popular to both children as well as adults!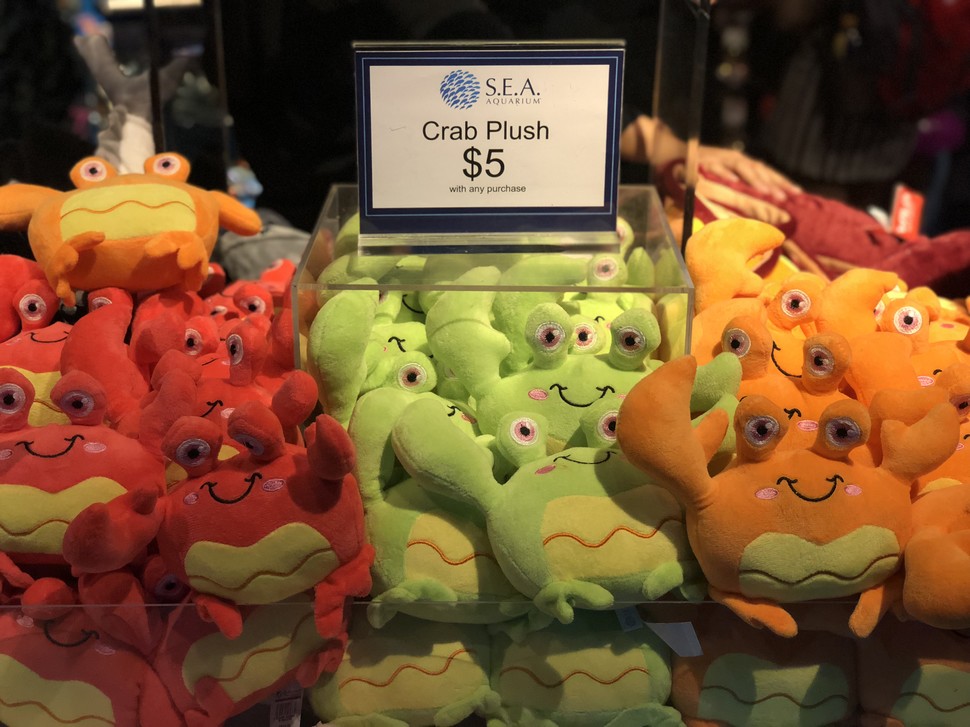 13. Combine with a visit to other famous attractions on the Island
It is also convenient if you are planning to combine visiting S.E.A Aquarium along with other attractions on the island such as Maritime Experiential Museum,  Adventure Cove Waterpark or Universal Studio Singapore.
Maritime Experiential Museum
Before getting into S.E.A Aquarium, you will pass by Maritime Experiential Museum (MEM). If you want to gain real insight about the golden age of Maritime Silk Route, check MEM out. It is not a traditional museum but there are various interactive shows and replicas of ships.
More excitingly, you should not miss the highly recommended Typhoon Theatre where you will board on a ship that travels back to the 9th century and experience a terrifying shipwreck with multi-sensory stimulation plus special effects!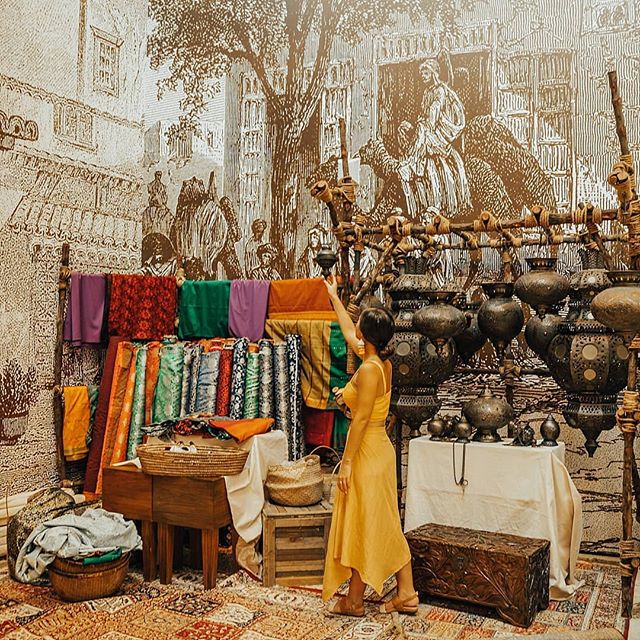 Adventure Cove Waterpark
Right next to S.E.A Aquarium located another tourist spot - Adventure Cove Waterpark. It has been one of the most famous water parks in Asia with numerous exciting activities including waterslides, a wave pool, tubing, snorkeling & more. Thanks to the ideal location, you can add Adventure Cove Waterpark to your schedule after visiting S.E.A Aquarium.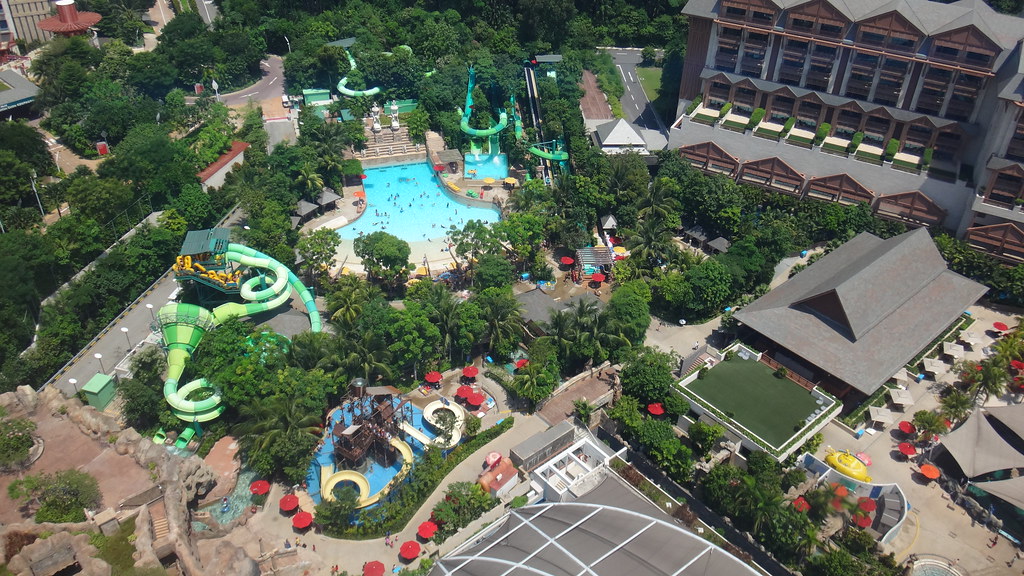 Universal Studios Singapore
Not very far from S.E.A Aquarium, Universal Studios Singapore (USS) is definitely another must-visit destination for your trip to Sentosa Island! As the one and only Universal Studios theme park in Southeast Asia, you can look forward to indulging in the most thrilling games, multi-sensory shows as well as many likes on your Instagram photos with adorable characters from famous cartoons!
Check out Inspitrip's Universal Studios Singapore ticket offering for only USD $54 (SGD $74) to get the cheapest deal!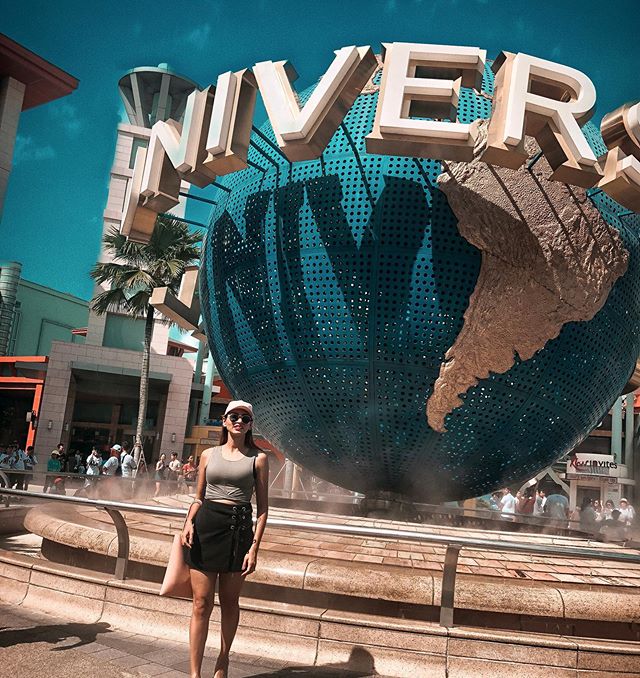 14. Facilities and amenities available at S.E.A Aquarium Singapore
Wheelchairs are available for rental at the Guest Services Counter 2 (next to entrance escalator) with a refundable deposit of SGD $50 and a rental cost of SGD $15. The wheelchair can only be used within the Aquarium and based on the first-come-first-serve basis.
For handicapped visitors, S.E.A. Aquarium offers barrier-free accessibility inside the attraction. Moreover, it is convenient to travel in wheelchairs to access most of the routes in the aquarium. Ocean Dome can be accessed by the lift located along the back of the Ocean Gallery.
Free wifi is available all over the aquarium. Yet the aquarium can be very crowded during peak hours so the wifi connection can become unstable sometimes. Therefore, getting a 4G sim card ready in your phone allows you to get access to the Internet unrestrictedly, upload photos and update social media at any time. Inspitrip also provides prepaid 4G SIM card waiting for you to pick it up at the airport after your arrival!
If you fall ill during your visit or in case of emergency, please feel free to approach any Resorts World Sentosa Team Member for assistance.
ATMs are located outside S.E.A. Aquarium, along Festive Walk L2.
15. Other crucial information that you should know about S.E.A Aquarium
Re-entry permission
Just in case you would like to leave the aquarium for a few hours and come back later on the same day, that is totally possible. Since the ticket for the S.E.A. aquarium is valid for the entire operating hours of the day, you are still able to re-enter the venue by showing a ticket and a valid hand stamp sealed by the staff at the exit.
Download the map or take one at the main entrance to navigate the way
The largest aquarium in Southeast Asia has 8 sections for different species and shows. This is why holding a detailed map of all sections right before starting your marine life adventure will be more convenient for you to fully enjoy all parts of the venue. You can also download a map of S.E.A Aquarium before arrival.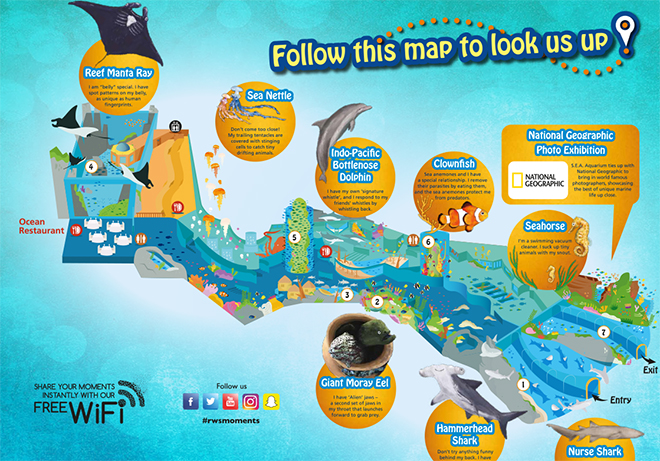 Hope that you are ready to immerse into the oceanic world of S.E.A Aquarium Singapore with these 15 essential tips! Traveling on a budget and saving time at the same time is definitely doable now with the help of a local insider. Looking for more exciting things to do in Singapore? Here are some great articles that will give you detailed guides and useful tips to fully enjoy this country of the future world:
15+ Essential Tips for First-time Visitors to Universal Studios Singapore
Gardens by the Bay: Top Tips and Full Guide to Explore Singapore's Greatest Greenhouse and Its Gardens Rhapsody Light Show.