Phu Quoc Airport: a Complete Guide for First Timers
Set at 40 km away from the south coast of Vietnam, Phu Quoc is considered as the pearl island for a tropical theme vacation. With the beautiful landscape with bright turquoise water against the golden sand and modernity, Phu Quoc attracts millions of tourists every year.
Instead of taking about 3 hours travelling on boat, you can choose to fly to Phu Quoc. With only about 30 minutes of flying from Ho Chi Minh city, you can reach Phu Qupc airport. In case this is your first time travelling to Phu Quoc, we bring you a complete guide about Phu Quoc airport.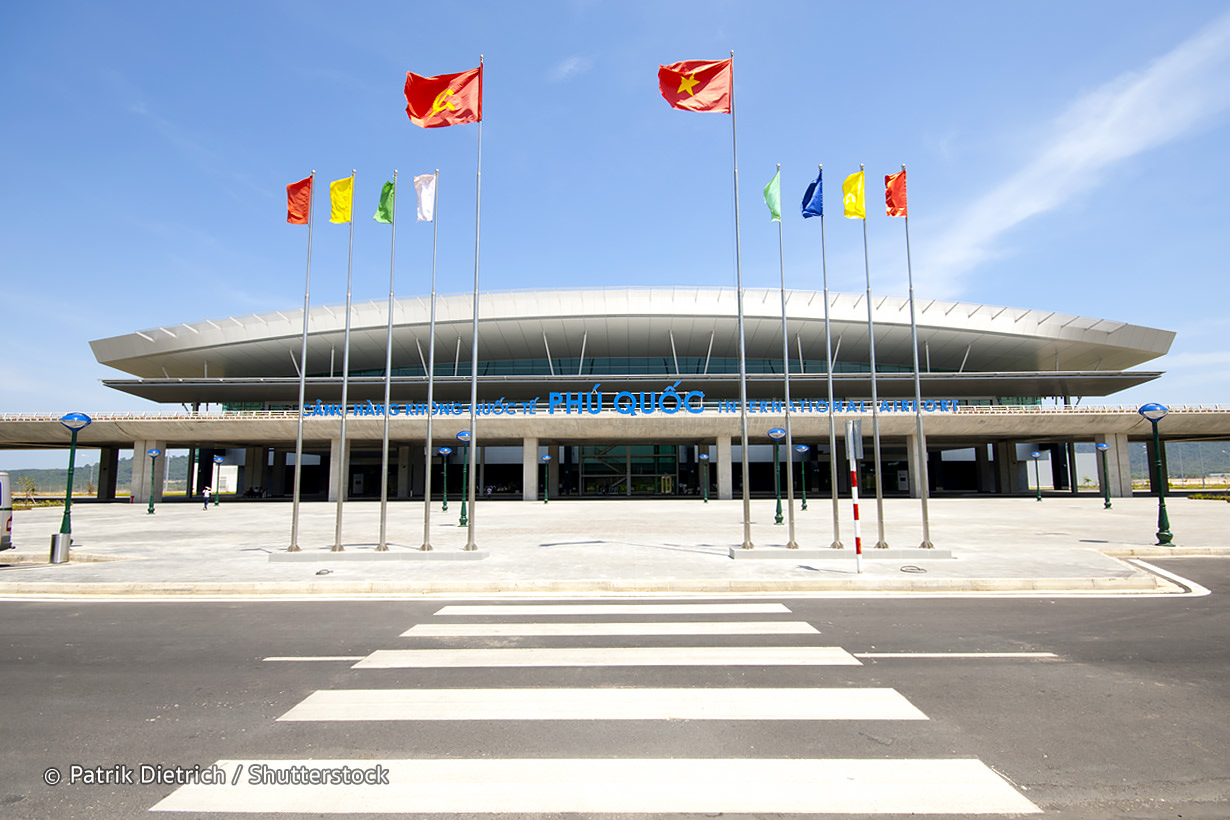 1. Phu Quoc airport
Being completed since 2012, Phu Quoc airport (IATA: PQC, ICAO: VVPQ) covers nearly 900ha in Duong To village, Phu Quoc island, Kien Giang province. The airport is located in the south region of Phu Quoc island, about 10km away from the center of Duong Dong town, the biggest town of the island. The airport is surrounded with some of top sightseeing such as Suoi May stream in the north, Duong To stream to the south and Ham Ninh commune on the west by the coast.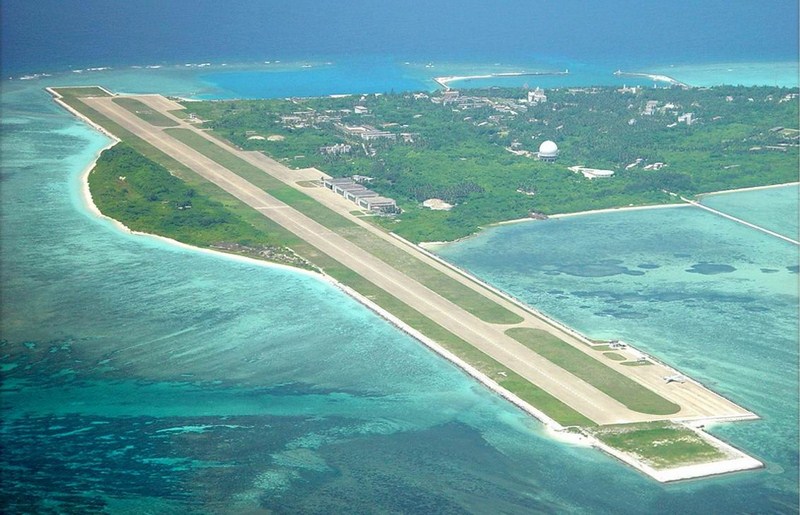 2. Capacity
As an focused tourist attraction, Phu Quoc is well-invested in enhancing infrastructure and facilities by government as well as Phu Quoc airport. In spite of being a medium-sized airport, Phu Quoc airport can surprise you with its large capacity. The airport now welcomes about 2.5 millions passengers yearly and can be a transport center for up to 7 millions per annum. Besides, thanks to its single 3000-meter runway, Phu Quoc airport can handle aircraft such as Boeing 747 or Airbus A350. On a given busy day, it has more than 20 flights with more than 1,200 passengers.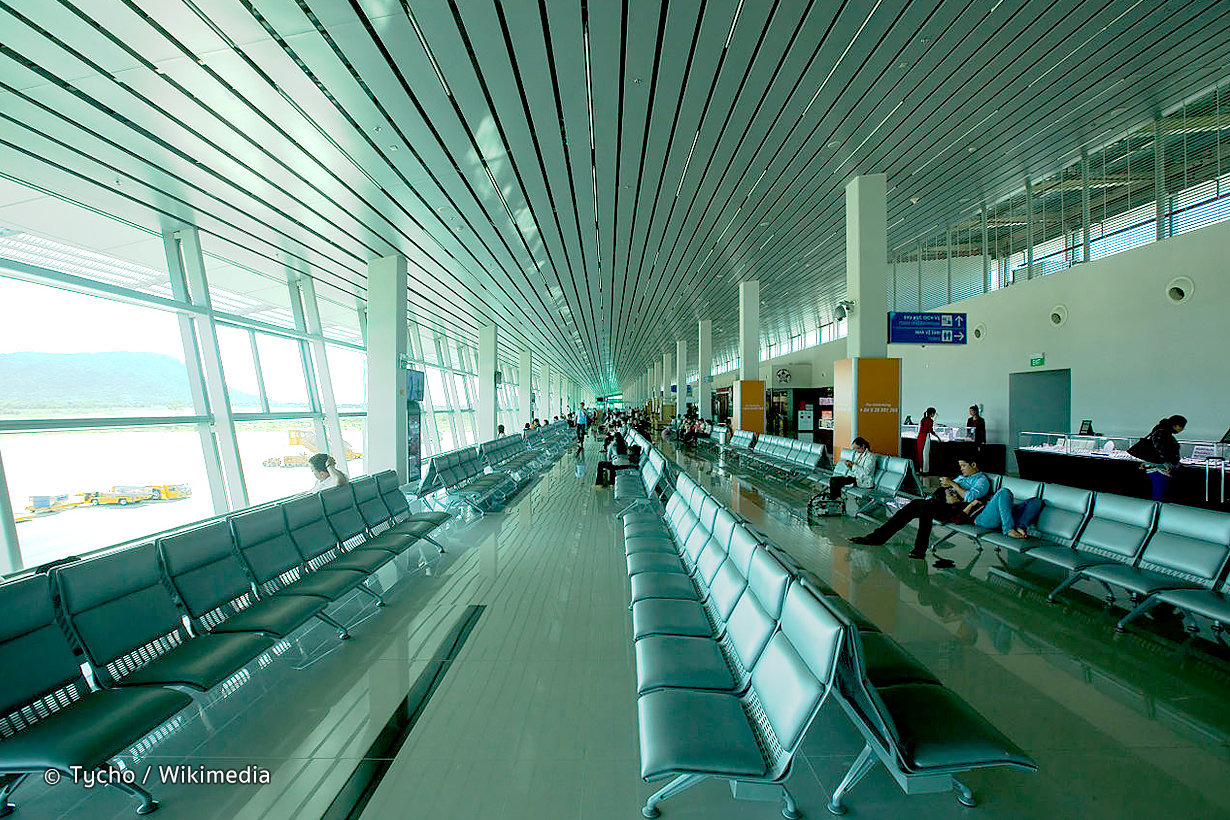 3. Flights to Phu Quoc airport
The medium-sized airport now has non-stop flights scheduled to 13 destinations in 5 countries. Also, Phu Quoc airport mostly connects with Asian countries such as Russia, South Korea, Malaysia and China. The longest flight from Phu Quoc is the route to Moscow which takes up to nearly 10 hours of non-stop flying.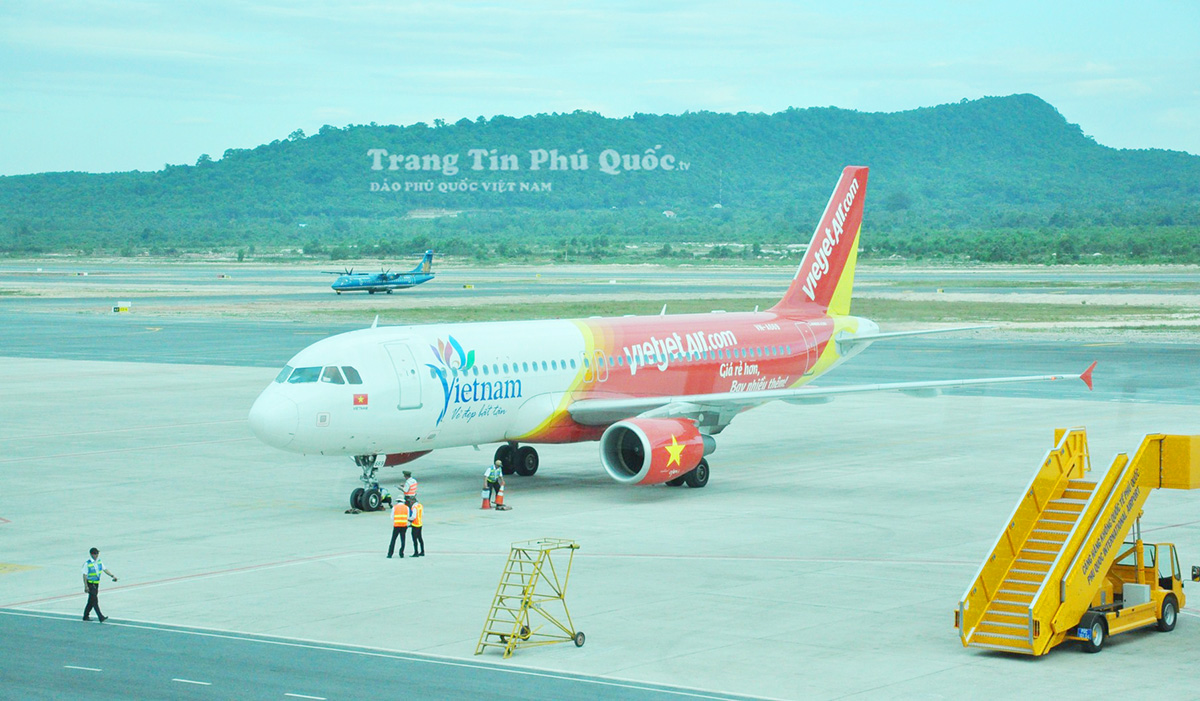 4. Terminal
The passenger terminal is used for both domestic and international travelers with separate alleyways. The international terminal is set in the eastern side. Meanwhile, the domestic one covers the remaining of west side. With this design, Phu Quoc airport helps connecting public area to the flight lounges and creates a high capacity one-way passenger flow.
Some of data about Phu Quoc airport terminal:
International terminal: 5,433 square meters
Domestic terminal: 4,716 square meters
36 check-in counters (18 each)
10 security scanners (6 international, 4 domestic)
3 baggage conveyors (1 international, 2 domestic)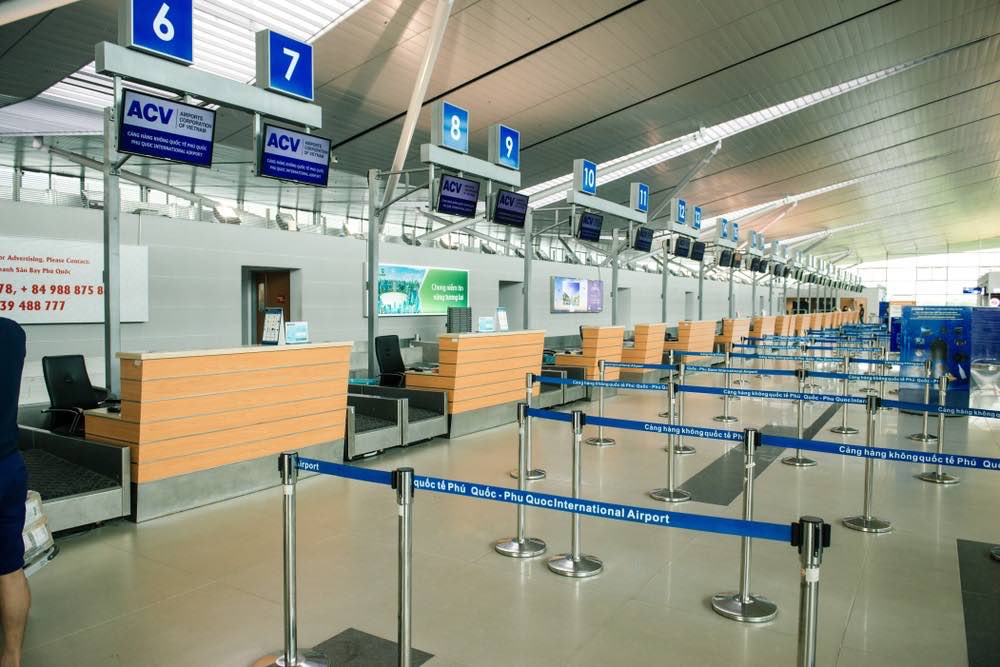 5. Arriving at Phu Quoc airport
All international passengers when flying to Vietnam have to go through 4-step process before immigration:
Quarantine and immigration check
Baggage claim
Customs inspection
Arrival hall
Vietnam is not known for complicated visa policies. Therefore, you don't need to worry. You should apply for visa before the flight. Also, online visa is available for your convenience. You can choose from: tourist, transit and business visa depending on your visit purpose. Besides, visa on arrival is available at Phu Quoc airport. Thus, you can complete online forms in advance with necessary personal information and get the visa when arriving the airport.
6. Information counters
With the information counters at Phu Quoc airport which you can easily find right at the main hall, you can get answers for all your concerns on flights, baggage, etc. as well as exchange money or get car and motorbike rental service. For more information, you may contact via phone or website:
Phone: 02973 595959 - Fax: 0279 988 686
Website:  https://www.phuquocairport.com/
7. Airport service
Food
The food court area in Phu Quoc airport is basic with convenience stores, coffee shop and mixed Vietnamese and Western cuisine restaurants. If you're not in a hurry, save your stomach for delicious food tour when arriving the central island. Save the list of must-try dishes for your next trip to Phu Quoc. Else, it's suggested you can keep you awake with a strong Vietnamese cup of coffee.
Shopping
After completing the immigration procedures, you can visit the duty free shops at the airport while wait for your departure flight. Although the shopping options is limited, you can expect a variety of goods such as handcrafting, fine art products, clothes, local signature food, etc. as last-minute souvenir or luxury goods like liquor, accessory, perfume, jewelry, etc.
Banking
At Phu Quoc airport, it's easy for you to get cash directly from available ATMs across the hall as well as exchange money at kiosk. Also, please note fee may be applied for cash withdrawal. Besides, the exchange rate is okay, feel free to get some local cash for your trip right at the airport.
SIM Card
As the SIM card in Vietnam is cheap at the price of $5-10 with high speed 3G/4G data packages, it's a great idea to get your SIM card on arriving. At Phu Quoc airport, you can easily find SIM card stalls at the arrival hall. The top three popular networks in Vietnam are Mobifone, Vinaphone and Viettel.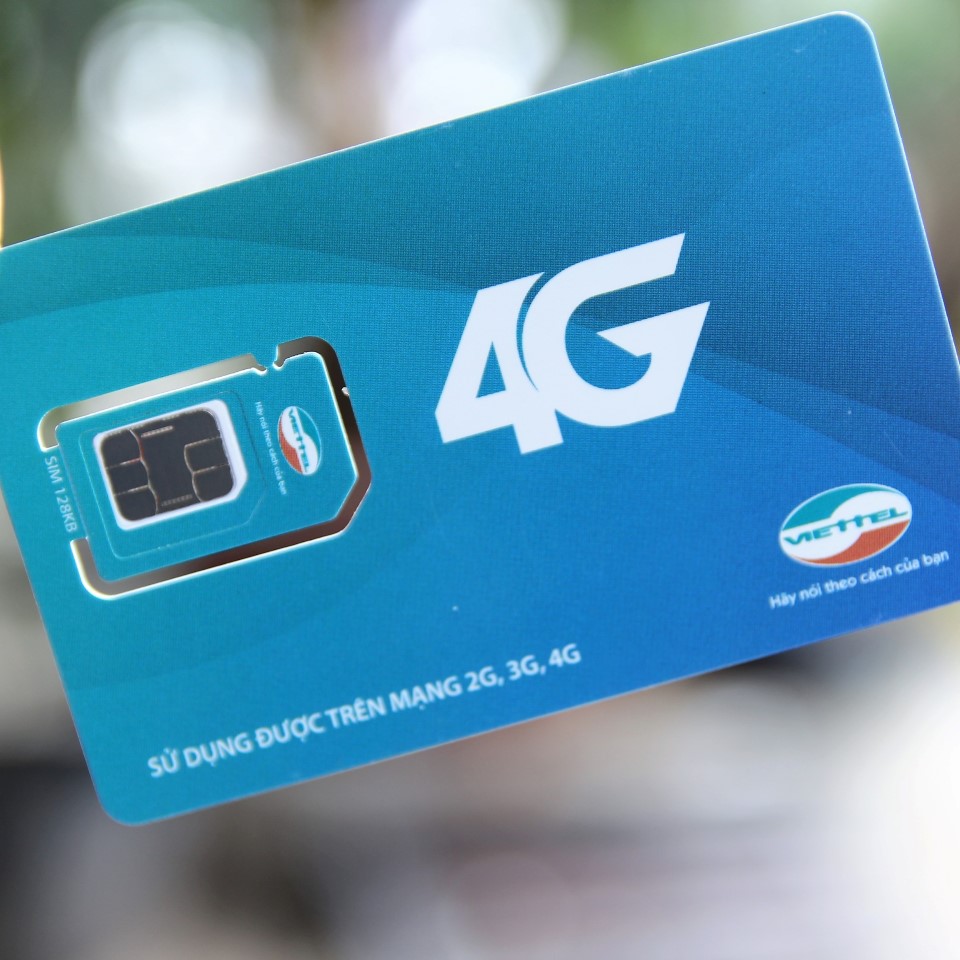 Free service
Along side with the paid service, you can get free service at Phu Quoc airport such as drinking water from fountains, fee wifi across the airport and available chargers for mobile devices.
8. Transportation to the center
With just 10-min of driving from Phu Quoc airport to the central island, most hotel will include the shuttle service in the room rate. Else, there are plenty of transportation options for you.
Car and motorbike rental service is available. You can choose to go to hotel by car or do it by yourself with motorbike.
Taxi services and car booking platform are also available. The taxi counters are outside of the departure hall. Meanwhile, you can also book a car from Grab, Bee, etc. (just like Lyft, Uber, etc.) to get to your hotel. Depending on the location of your hotel, the fare are priced from $4-$26 per trip.
Besides, public buses available at the cost of $2 is the most saving way to get to the central island. Hop on buses and explore the Vietnam's pearl island with our ultimate guideline for first-timers.
9. Nearby hotels
Here are some suggestion for Phu Quoc airport nearby hotels, in case you want to stay in the southern of island.
OYO 502 Quynh Mai Resort
Distance from airport: 1 km
Room rate: $17
AnMi House
Distance from airport: 1.4 km
Room rate: $19
Morning Hotel Phu Quoc
Distance from airport: 1.9 km
Room rate: $10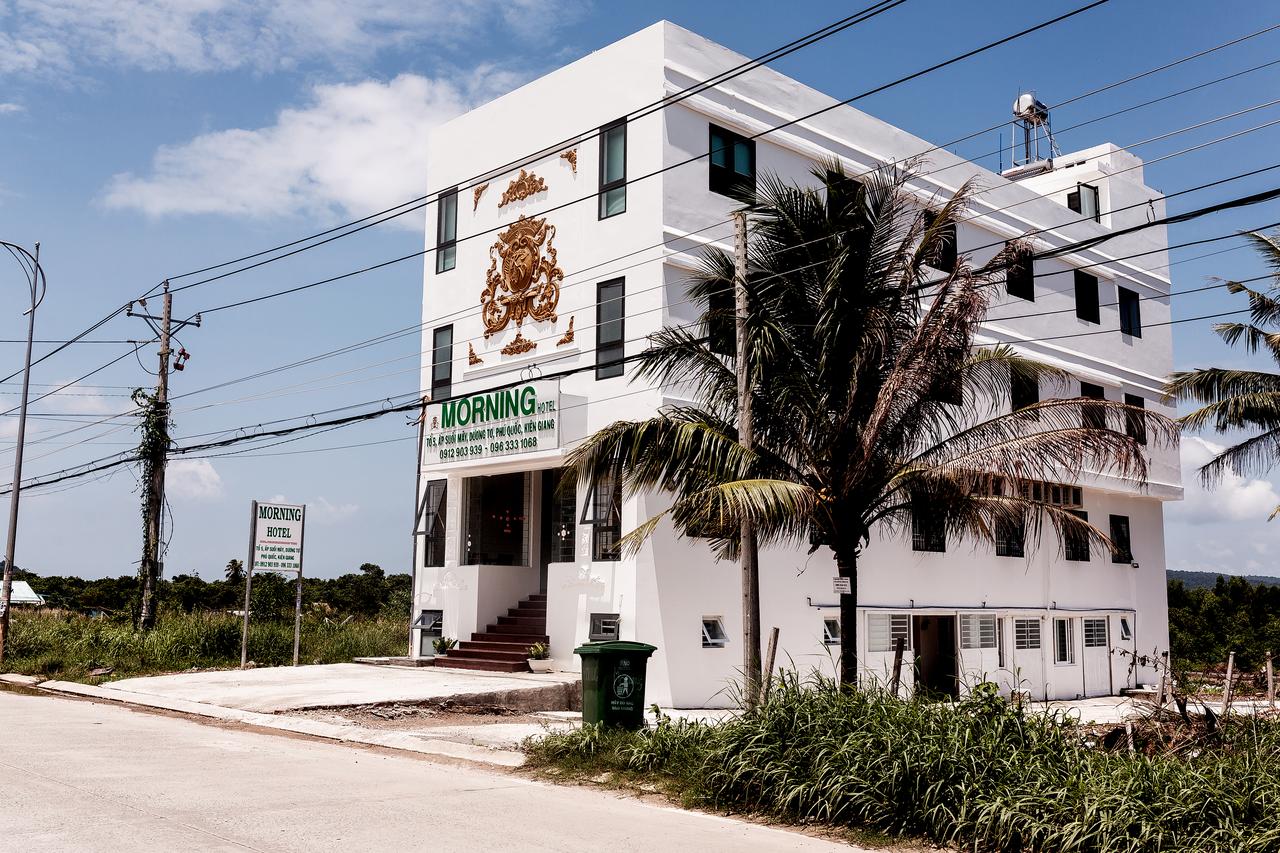 The Little Corner Homestay Phu Quoc
Distance from airport: 1.9 km
Room rate: $14
Mercury Phu Quoc Resort & Villas
Distance from airport: 2.2 km
Room rate: $81