Our tasty Saigon food tour: Too full to move!
After seven years, I came back to Ho Chi Minh City with my wife. Previously we have travelled to other parts of Vietnam and enjoyed the cuisines of Nha Trang and Hanoi as well. Though some things have changed in the period between our visits, Ho Chi Minh City remains as charming as ever. For me Vietnamese cuisine is one of the best cuisines in the world. My wife and I have certainly eaten our way through the country, trying the most famous Vietnamese dishes and local favourites along the way. I came across Inspitrip from an article written by JB Macatulad on Will Fly For Food travel and food blog and decided to book a local named Alex for a Saigon food tour. Alex is indeed a food connoisseur, and his knowledge of Saigon dishes was impressive.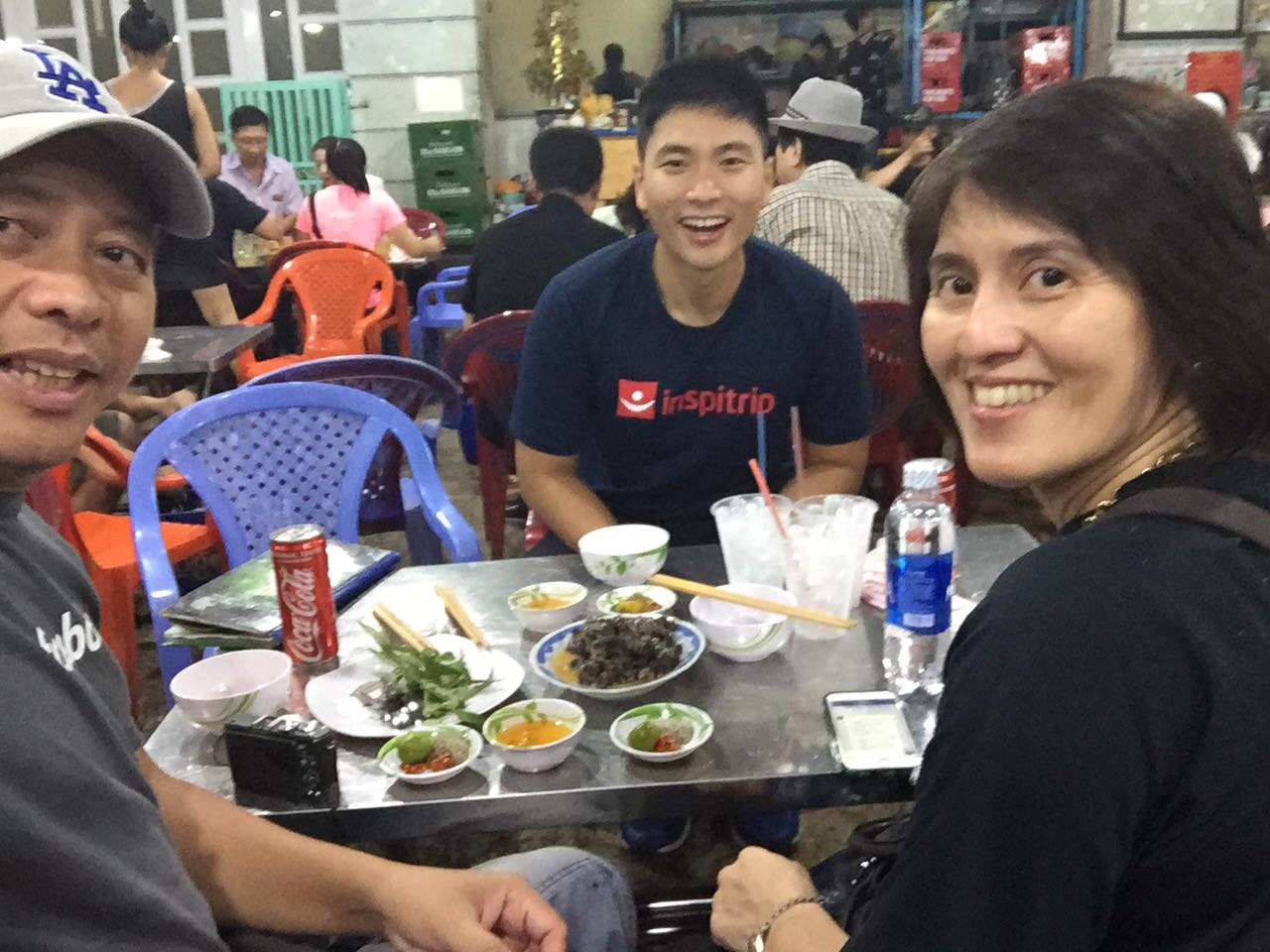 The four-hour tour was filled with both good conversation and even better food. We did not have to worry about finding where to eat in Ho Chi Minh city. We talked about travel, food in Vietnam, the state of the economy, politics, culture, sports and more. Alex is not your typical tour guide, either. He is exceptionally knowledgeable and intelligent. Alex studied in Australia, has a professional background in finance and has worked for multinational corporations in both Australia and Vietnam. At first, we felt the cost of the tour was a bit high, but after going on it, we wondered how much Alex would earn from the trip as he guided us through the food scene of Ho Chi Minh City. The tour covered the transportation to several locations after picking us up from our hotel. Here are some tour highlights:
Banh mi Huynh Hoa - Best Banh mi in town
I operate a franchise of Bon Banhmi, the best banhmi shop in the Philippines. I was interested to try banh mi, a unique type of bread, in Vietnam. Alex took us to a food stall called Banh Mi Huynh Hoa, and he told us that it is one of the most popular in the city. When we arrived, there was a long line of people waiting to order. We queued up and waited for about ten minutes, but our time waiting was spent sharing good conversation with our guide. More importantly, the food was indeed worth the wait. It was both incredible and affordable. The bread was served warm and had a crisp exterior. The filling was undoubtedly the best part, filled with thick slices of jambon, greasy pâté, butter and vegetables to balance the taste of the other ingredients out. When we first saw the sandwich, we did not know if we would be able to finish it as the portion was big. That being said, it was so tasty we both finished our sandwiches in no time. Banh Mi Huynh Hoa serves up the best banh mi we have tried in Saigon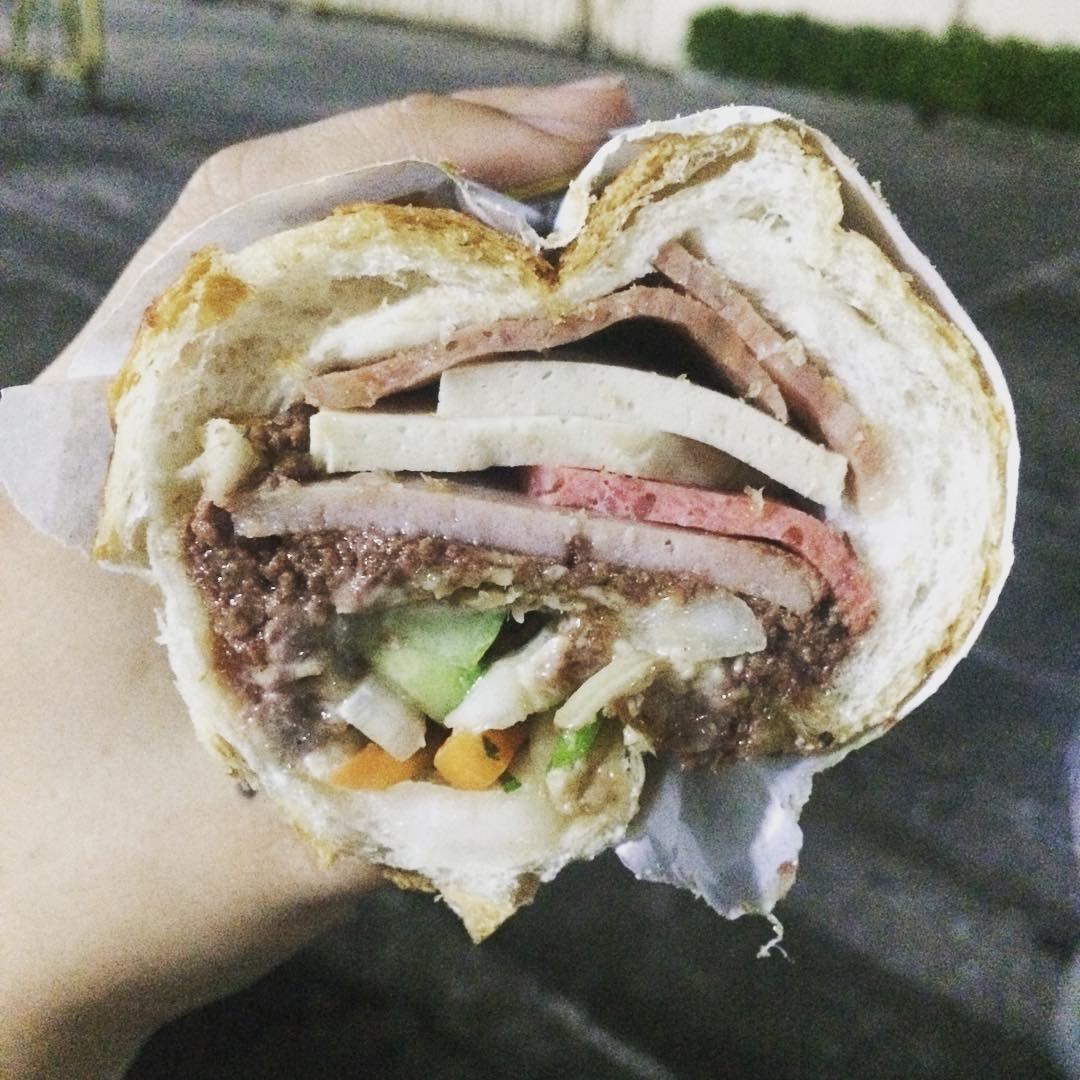 If you are going to Manila, you are welcome to our Bon Banhmi stores to try another version of tasty banh mi. Our branches are located in Madison Commons Food Park, 1 Brixton Street, Brgy Kapitolyo, Pasig, MM and Lower Ground Floor, Ayala Malls The 30th, 30 Meralco Avenue, Ortigas Center, Pasig, MM. Explore the best culinary experience and other amazing things to do in Ho Chi Minh city with Inspitrip now!
Explore the finest of Vietnamese cuisines by joining our Saigon food tour!
Have your dream escape to Mekong delta, the Southern tropical wonderland of Vietnam now!
Unlock the unsolved mysteries of the Vietnam war by discovering Cu Chi Tunnels now!
Softshell crab - Mien Cua 94 Restaurant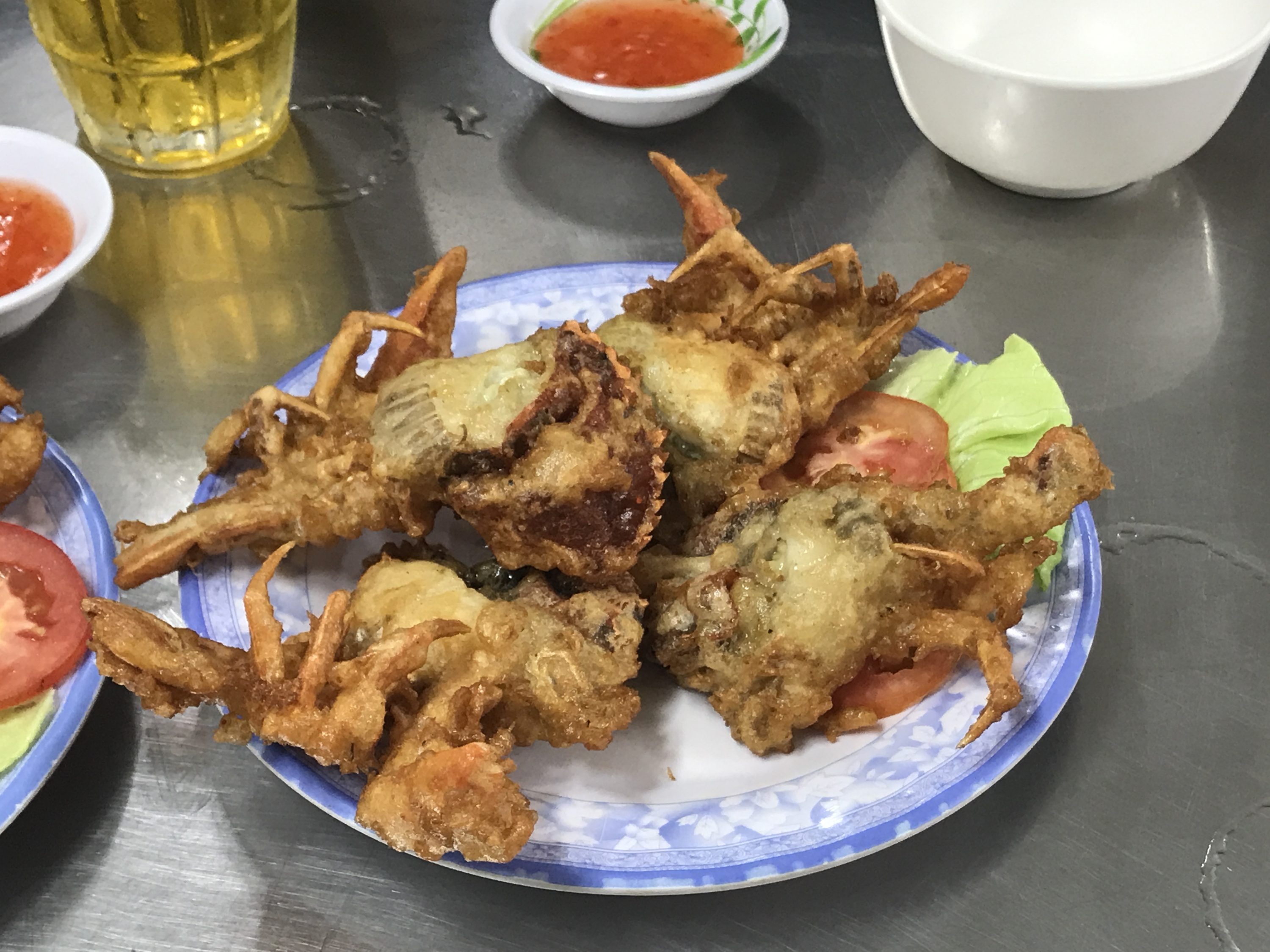 Mien Cua 94 Restaurant is one of the most well-known local restaurants in Ho Chi Minh City because of its delicious soft shell crabs. The restaurant is quite small, yet this does not deter large, local crowds from coming to order their delicious dishes. Alex referred to this restaurant as an institution in Ho Chi Minh City, and his father often frequented when he was growing up in the city.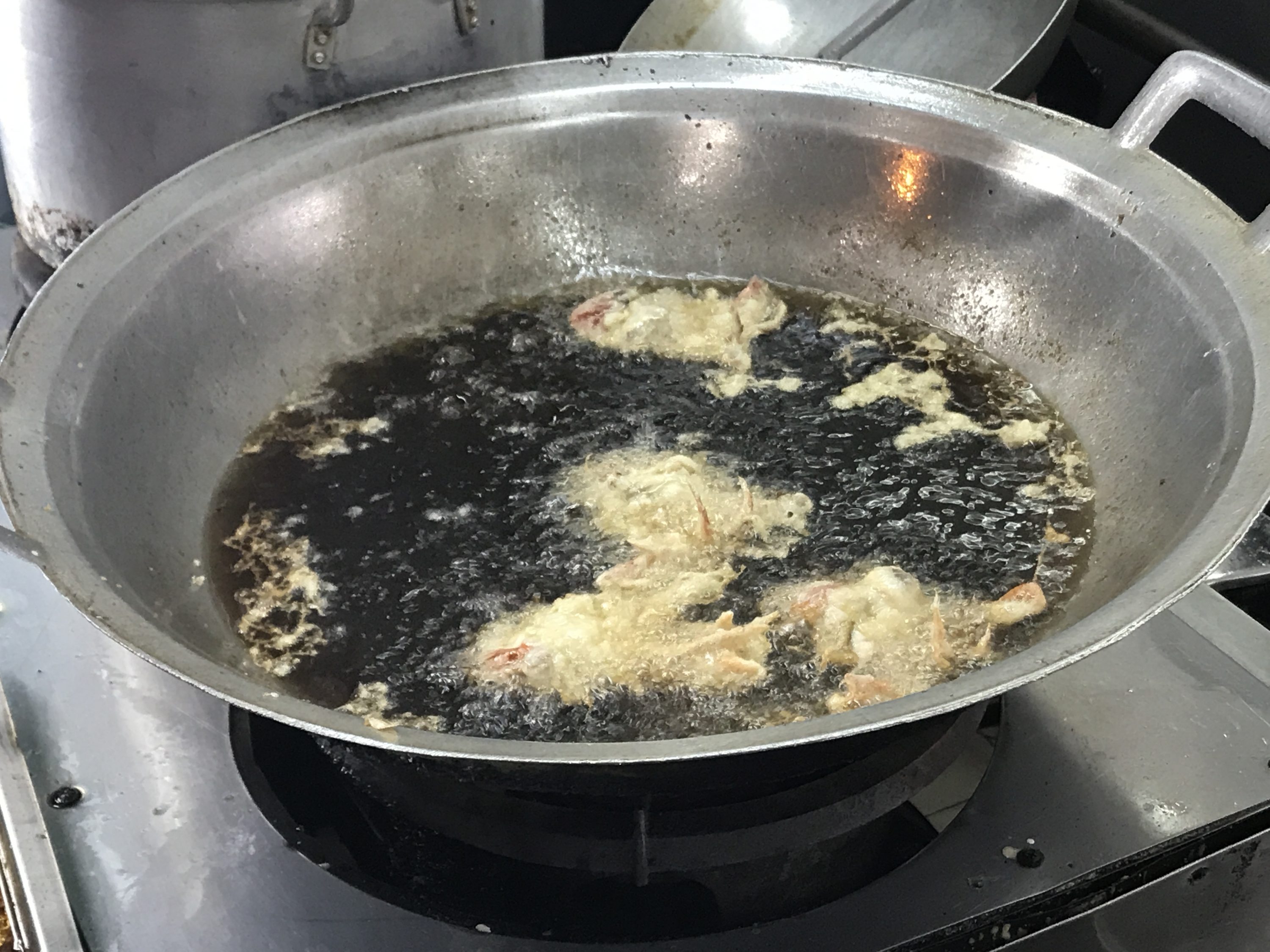 The soft shell crab was incredibly fresh and meaty, and the menu was made up of a variety of crab made with a number of different cooking techniques. I fell in love with the Cua Lot Chien Bot: peeled crabs that were battered and deep-fried. It had a pure, light and sweet taste and had a deep-fried, crunchy skin. This venue is a must-visit dining destination for anyone visiting Ho Chi Minh City.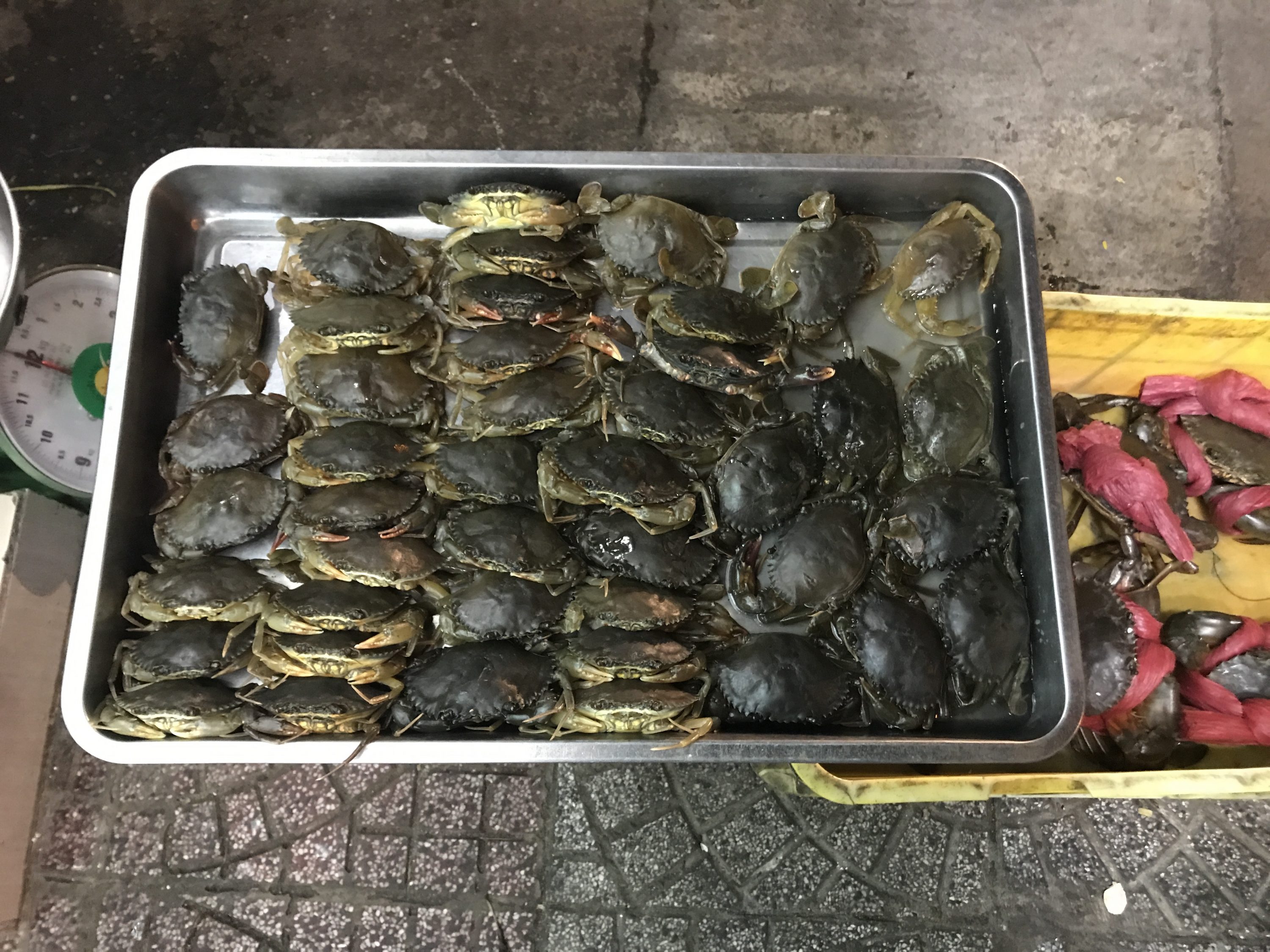 Coconut Vietnamese Coffee - Cong Cafe
At Cong Cafe, my wife and I both ordered coconut coffee, the specialty of this cafe. Vietnam has a popular coffee culture, and this was the first time I ever tried Vietnamese coffee with coconut sherbet. It was quite dense but delicious all the same. I have never before tasted such a unique combination of both coffee and coconut. The ambience of Cong Cafe was both calm and encompassed an antique aura, both of which were accompanied by good music. Visitors will also see that the coffee shop has garnered a small following and is popular in the city, as we saw a few other branches around town.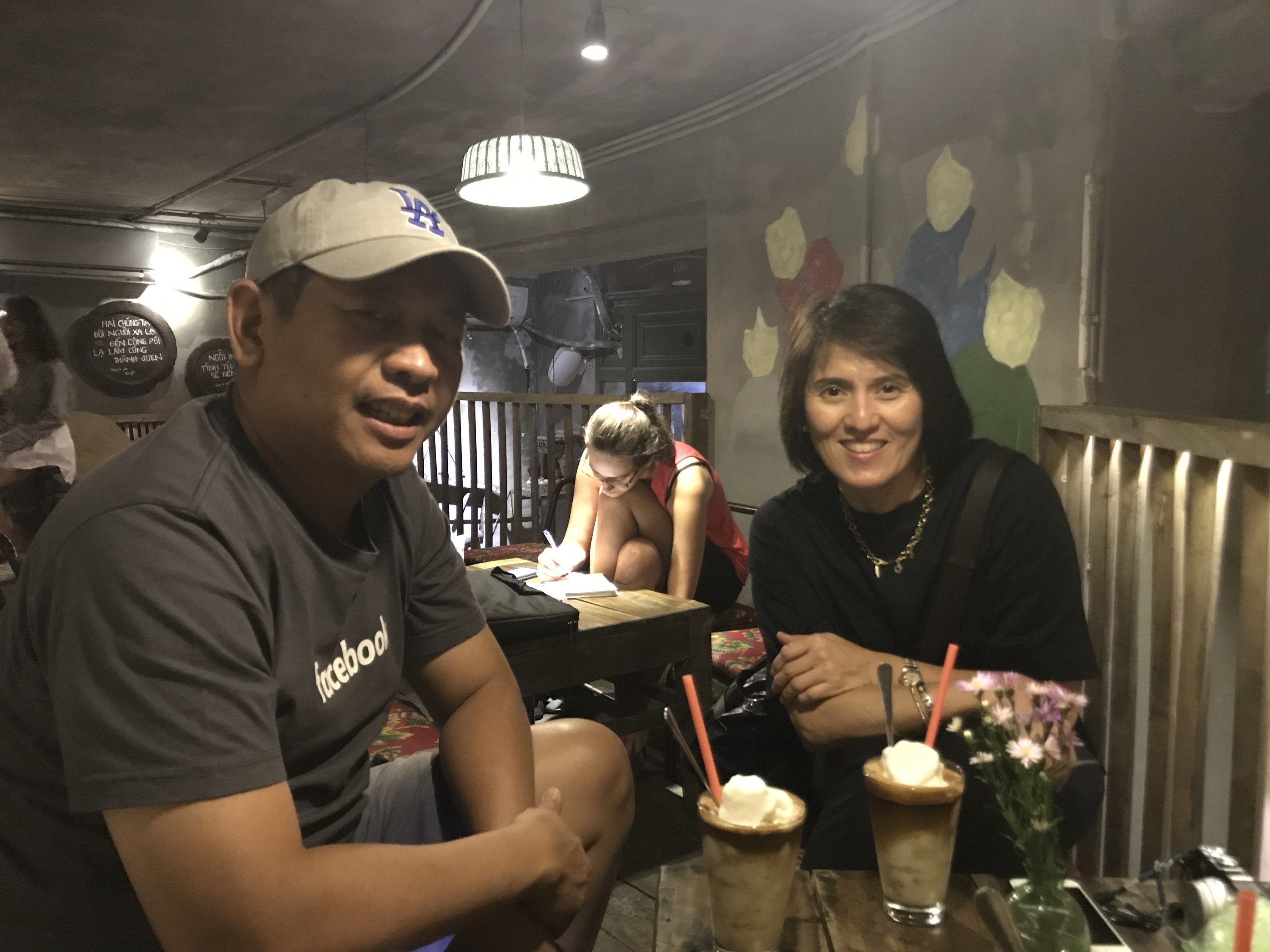 Seafood dinner - Oc Oanh Restaurant
Shellfish is a typical street food in Saigon, and we saw many stalls and restaurants selling this delicious seafood item. Alex ordered the works: snails, oysters, vegetables with octopus, steamed clams in ginger and lemongrass and more. He wanted to order more, but we were incredibly full and could not indulge in any more dishes. This goes to show that world renown chefs do not necessarily prepare the best meals. Instead, some of the most delicious recipes are made by hard-working, ordinary folks who have been cooking for decades, with family members helping each other out. The seafood at Oc Oanh Restaurant is some of the best we have ever had, especially the oysters, squid, cuttlefish and snails.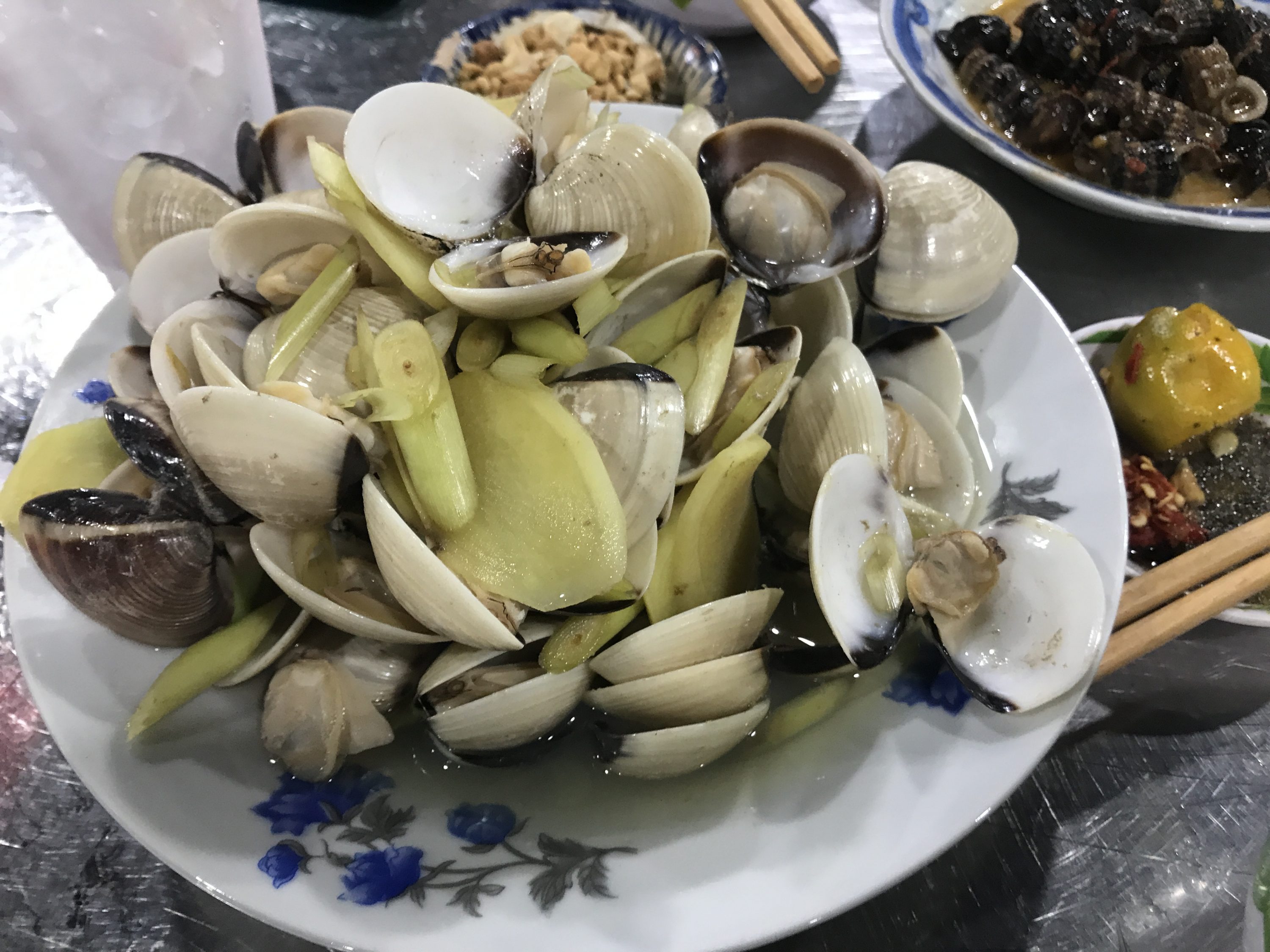 Inspitrip does not scrimp and treats all of their clients like VIPs. It was a grand tour, and we saw the city through the eyes and taste buds of a local. We did not see too many tourists at all in the places Alex brought us to. After the tour, our local insider continued to provide tips and recommendations and answered all of the questions we had. If we ever go back to Vietnam, we will sign up for another tour with Alex and Inspitrip! Great job!
The Inspitrip team rewrote this article on behalf of Norman Macasaet, based on his review. It is part of Inspitrip's local series, in which we catch up with travellers and encourage them to share their stories with our readers.