"I wouldn't mind being sent to war zones." - meet our inspiring photographer Nicholas
Our very own travel and photography influencer. There is no better person to show you around this city cool coffee shop and to teach you a thing or two about how to capture the perfect image. Nicolas Mas's ability to capture a unique perspective has even got him noticed by Trip Advisor, who he now freelances for. If you want to check out what all the fuss over the Vietnamese coffee is then we can guarantee he can find the perfect spot to fit any preference. Traveling is responsible for his career change and discovering his passions. He is a true explorer so don't miss this opportunity to meet this creative joker before he follows his camera around the world.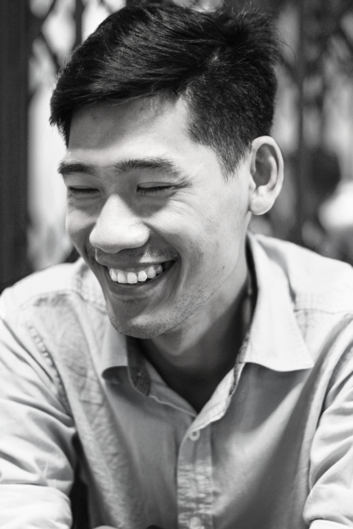 What brought you to Saigon?
My parents ran away here when I was only a year old. They feel in love but their families didn't approve. My grandparents had fallen out with each other years before and didn't accept my parents' relationship. Sort of similar to Romeo and Juliet but with a happy ending. They ran away together as they couldn't be apart. They are still very much in love, always kissing, even after 30 years. My siblings and I will through them the wedding party they never had next year to celebrate. I studied IT and English at university and had a few years working in that industry. But that was not my true calling, I changed companies a few times but I just couldn't get excited about IT. I felt a bit lost and didn't know what to do so I went traveling for a year. At that moment, I needed some time to reflect and think about what I may want to do. Traveling has become my passion and I decided to include that into my career. I started to fall into taking pictures, at first on my phone but I realised I loved being behind the lens so had to save up for my own camera. When I got back I took any job to get by. Then a chance to work as a freelancer with an Australian guy came my way. We were always working from the same coffee shop so I suggested that we tried out a load more since there's such a great variety round here. I wanted to share all the great ones we found so I started the blog. I bought the camera I had been wanting and we travelled a bit with work. My boss is so flexible and we work a lot, sometimes all weekend, so he lets me do my own thing too. For 2 years working as freelance blogger and photographer, I am pretty honoured to have so many followers and the chance to work for great names such as Trip Advisor. In the future I want to travel the world working for a paper. I don't mind going anywhere the news is. 'If I am going to die then I may as well die doing what I love', behind the camera, so I wouldn't mind being sent to war zones.
Why do you want to work with Inspitrip?
Travel is my huge passion. 'If I can be part of what I love then it isn't work'. Working with Inspitrip means I not only get to follow my heart but I also get to meet other people sharing the same interests. 'Everybody has their own story' and I really want to get to know other peoples'. My friends from all over the world have different stories, which always triggers my curiosity to learn about them.
How would your friends describe you?
The crazy Joker as I'm  the one who is always trying to find a way to make other people laugh.
Your favourite thing about the Vietnamese?
How friendly they are. To everyone. My boss is Australian, he goes to a local market and they all welcome and accept him. Everyone is a friend. I think it is so nice to see people so welcoming to those who are different to them.
Top Tip on HCMC?
No price is fixed. You can always bargain. Half whatever the first price you are quoted. What even here? (we sat in a Starbucks  coffee shop) (laughs) if you can change the price of the coffee here then you are even better at negotiation than the Vietnamese. Inspitrip's recommendation: if you're looking for local insider who can offer you a friendly and authentic experience with street foods, chic coffee shop and nice photograph, Nicholas is a great fit.