Notre-Dame Cathedral Saigon: A Guide To The Oldest Church in Ho Chi Minh City
Notre-Dame Cathedral Saigon is one of the architectural remnants of the French colony in Ho Chi Minh city. The cathedral's architecture was based on Notre-Dame de Paris. It possesses numerous historical values and also cultural values. Beside the church, you can  also visit Independence Palace and Sai Gon central post in the area. Visiting Notre-Dame Cathedral Saigon is one of top things to do in the Ho Chi Minh travel list.
Notre-Dame Cathedral Saigon was built with materials imported from France
When the French were occupying Vietnam, they established a community and religious services for the French colonists. The first church was built on 5th street (now Ngo Duc Ke Street). There was a Buddhist pagoda in this place, which had been deserted during the war. Bishop Lefevre decided to turn the pagoda into a church. But due to its small size, the French decided that they need a larger church. Thus, in 1863, Admiral Bonard ordered the building of a wooden church on the bank of Charner canal (Kinh Lon). On March 28, 1863, bishop Lefevre put the first stone for construction of the church. Two years later, it's construction finished and it was named "Saigon Church". Later, when this church is badly damaged, all services were held in the French Governor's Palace guest chamber. Before the Notre-Dame Cathedral was complete, this palace was turned into a seminary. On August 1876, J. Bourard's became the constructions supervisor. The building materials were imported from France. On 7 October 1877, Bishop Isidore Colombert laid the first stone in an inaugural ceremony. The cathedral's construction took three years and cost 2,500,000 French francs. In the beginning, people called the cathedral State Cathedral due to the source of the construction. Later, in 1895, they added two bells towers (each 57.6 meters high) with six bronze bells (total weight 28.85 metric tonnes). Bishop Joseph Pham Van Thien ordered a statue of Our Lady of Peace made with granite in Rome in 1959. On 16 February 1959, he held a ceremony to install the statue. He also wrote the prayers "Notre-Dame bless the peace to Vietnam". The next day, Cardinal Agagianian came to chair the ceremony for the statue, thus the cathedral was then-on called Notre-Dame Cathedral.
How to get to Notre-Dame Cathedral Saigon
You shouldn't worry about how to get there as the route is easy and almost everyone can give tourists guidance. You can get there by bus, taxi or even Xe om (motorbike taxi). The appearance of Grab (Uber for motorbike) make travel and going around the city much easier for tourist. Entrance is free and, if they want to, visitors can attend masses easily at weekend. The cathedral is open daily from 5.30 AM to 5 PM. One great option is to go with a local guide. Let a local insider accompany you on a historical Ho Chi Minh city tour! You will learn a lot about not only Notre-Dame Cathedral Saigon, but also other famous Saigon landmarks as well.
What you can experience in and around Notre-Dame Cathedral Saigon
There are multiple places of interest around Notre-Dame Cathedral Saigon area. So you shouldn't worry about where you should go next. This guide will give you the information you need to fully explore this area.
Explore every corner of Notre-Dame Cathedral Saigon
It's the main focus of this guide, so it's only natural that you should begin your journey in this place. Notre-Dame Cathedral Saigon, also known as Duc Ba Cathedral. It possesses a unique architecture, which is the combination of Roman and Gothic architectural style. It's Ho Chi Minh City's architectural masterpiece and one of the most appealing attractions of the city. Thanks to urban planning, the cathedral is standing on the center of the square without anything blocking the way. The builder actually didn't use any coated concrete, but the cathedral still retains its original color until today. The church is 133 meters long and 35 meters wide. Its decorative details are also inspired by Roman and Gothic architecture - solemn and elegant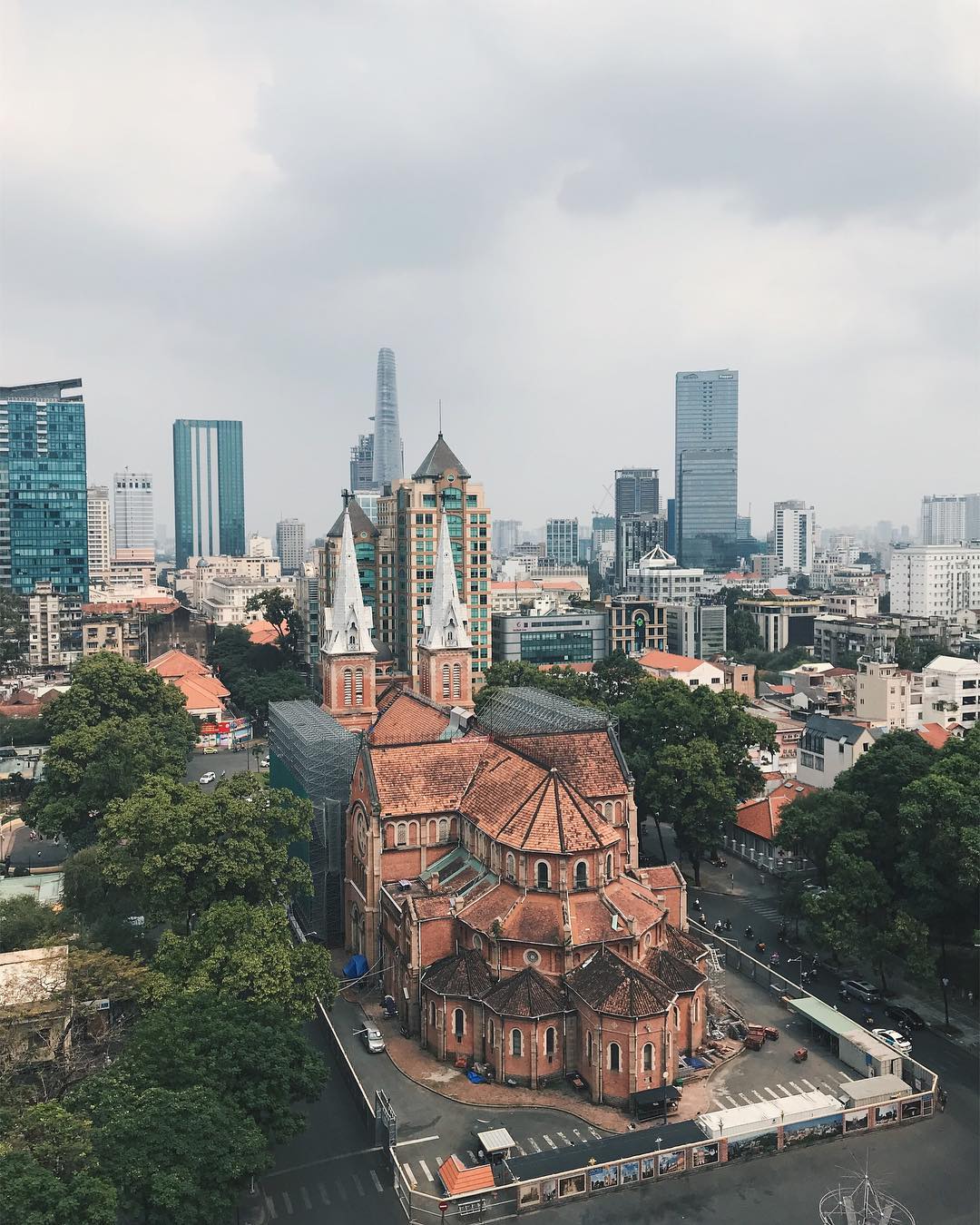 The interior includes the chancel (main altar) in the middle, two sub-sacred areas, and the chapel range.The chancel is 21m high and is separated from 2 other sub-sacred areas by rows of pillars. The celebrating and praying area can accommodate up to 1,200 people. One of the most distinctive features of Notre-Dame Cathedral Saigon is it's bell towers. Its height is 57.6 meters and contains six bells, which make it the highest bell tower in Vietnam. Only on Christmas Eve will all the bells ring together, you can even hear the bells from 10km away. Between the bell towers, there's a large clock. It was manufactured in Switzerland in 1887 and weight at 1 ton. It's quite old but still work perfectly. In front of the church is a park with four paths creating a cross.
Stroll around bookstreet Nguyen Van Binh
From Notre-Dame Cathedral Saigon, you just need to walk around 150 meters to reach the wonderful book street. It was first opened to the public in 2016 and has been referred to as a 'paradise' for all book lovers. So far, it has been living up to its reputation.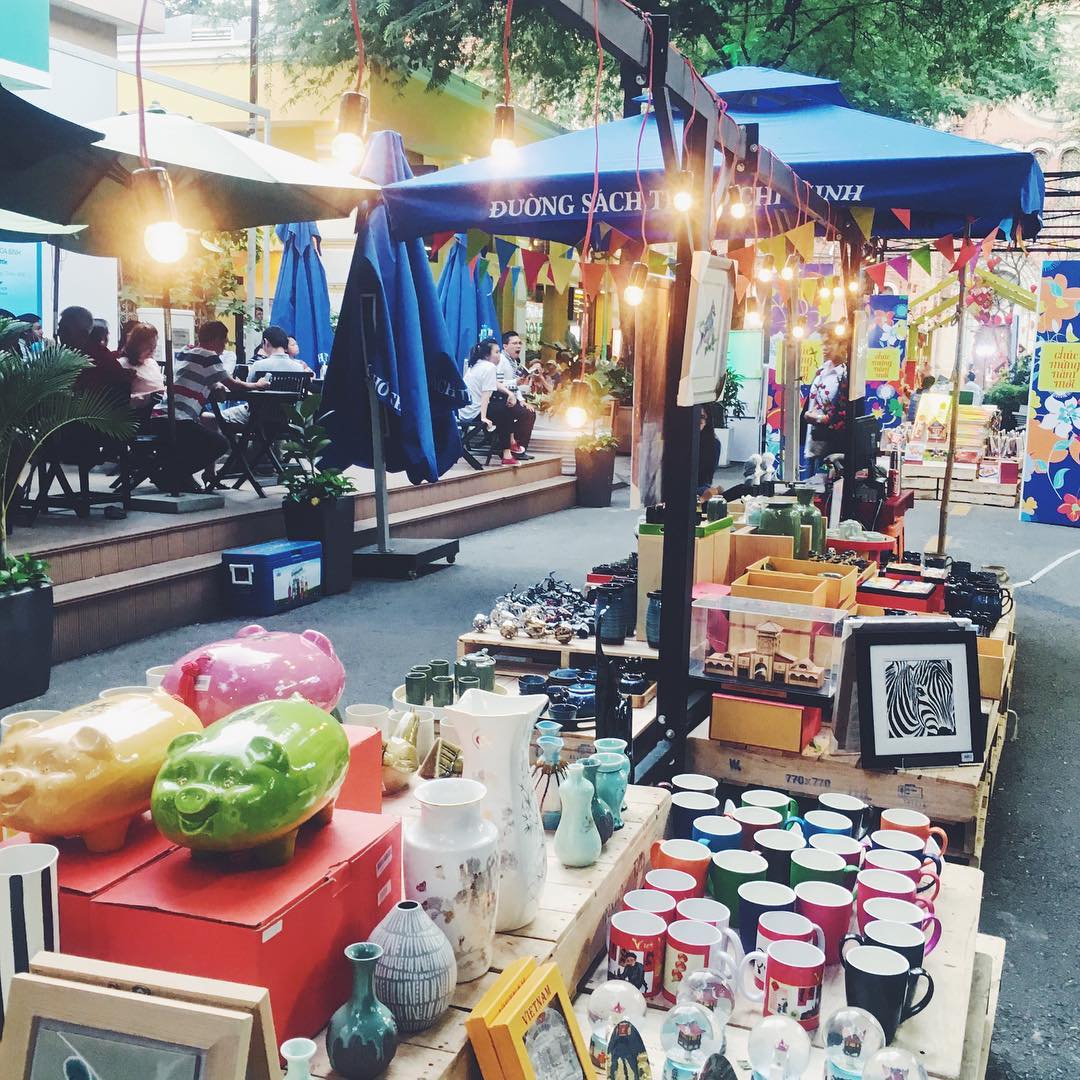 With the length of over 100 meters, Nguyen Van Binh Bookstreet is not the longest, but it's extremely diverse. The street contains multiple kiosks measuring from 3 to 4 meters in width placed side by side. Each kiosk belongs to a publisher or a bookstore looking to promote their product. The books here are very diverse, ranging from fiction, non-fiction to travel books or poetry. Therefore, you are guaranteed to find something for you or your loved ones. There are also kiosks selling old books and postcards, you can easily find books with cheap price here. The street also includes various book-reading spots offering comfortable seating for anyone looking for a place to read books. You can see these places always full of readers, both young and old.
Visit War Remnants Museum to learn about Vietnam war
The War Remnants Museum of Ho Chi Minh City was established in 1975. It only takes a 10 minutes drive from Notre-Dame Cathedral Saigon. It was once known as the "Museum of American War Crimes", a reminder of the war between the U.S and Vietnam. In the museum, you can find displays of photographs and American military equipment. You can also observe a bomb that weighs 6,800kg. American troops had used these weapons against the Vietnamese between 1945 and 1975.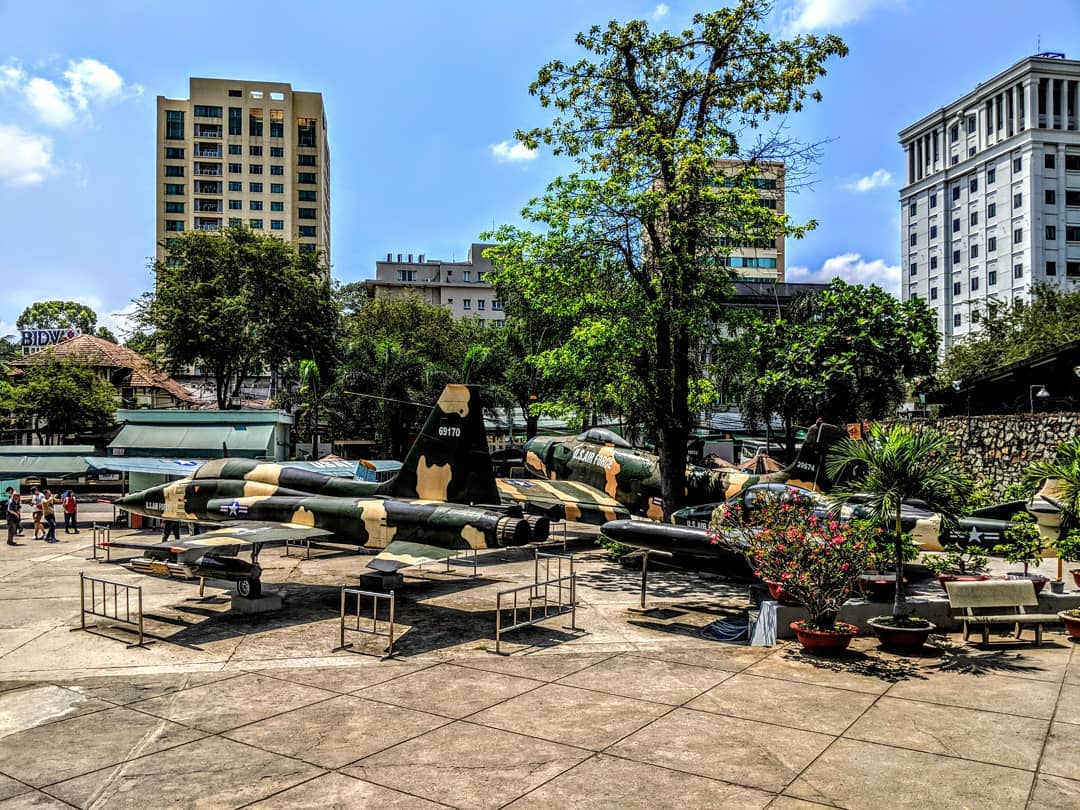 One of the most famous exhibits in the museum is the "tiger cages". The South Vietnamese government use these cages to keep their political prisoners. People believe these cages can imprison up to 14 people at the same time. You can also see a guillotine that the French government brought in. Both the French and South Vietnamese use it to execute prisoners. You can find the museum at 28 Vo Van Tan, District 3, Ho Chi Minh City. It opens daily from 7.30 AM to 5 PM. Visiting a war museum can bring disturbing experience to most people. So think about it before you to the visit the museum.
Listen to old Sai Gon stories in Ho Chi Minh City Museum
Just 2km from Notre-Dame Cathedral is the Ho Chi Minh City Museum. It built in 1885 and was once known as Gia Long Palace. The museum is a grand and impressive building. It tells the story of the city through artifacts, maps, and displays of traditions. The struggle for independence is also extensively covered, with most of the upper floor devoted to it.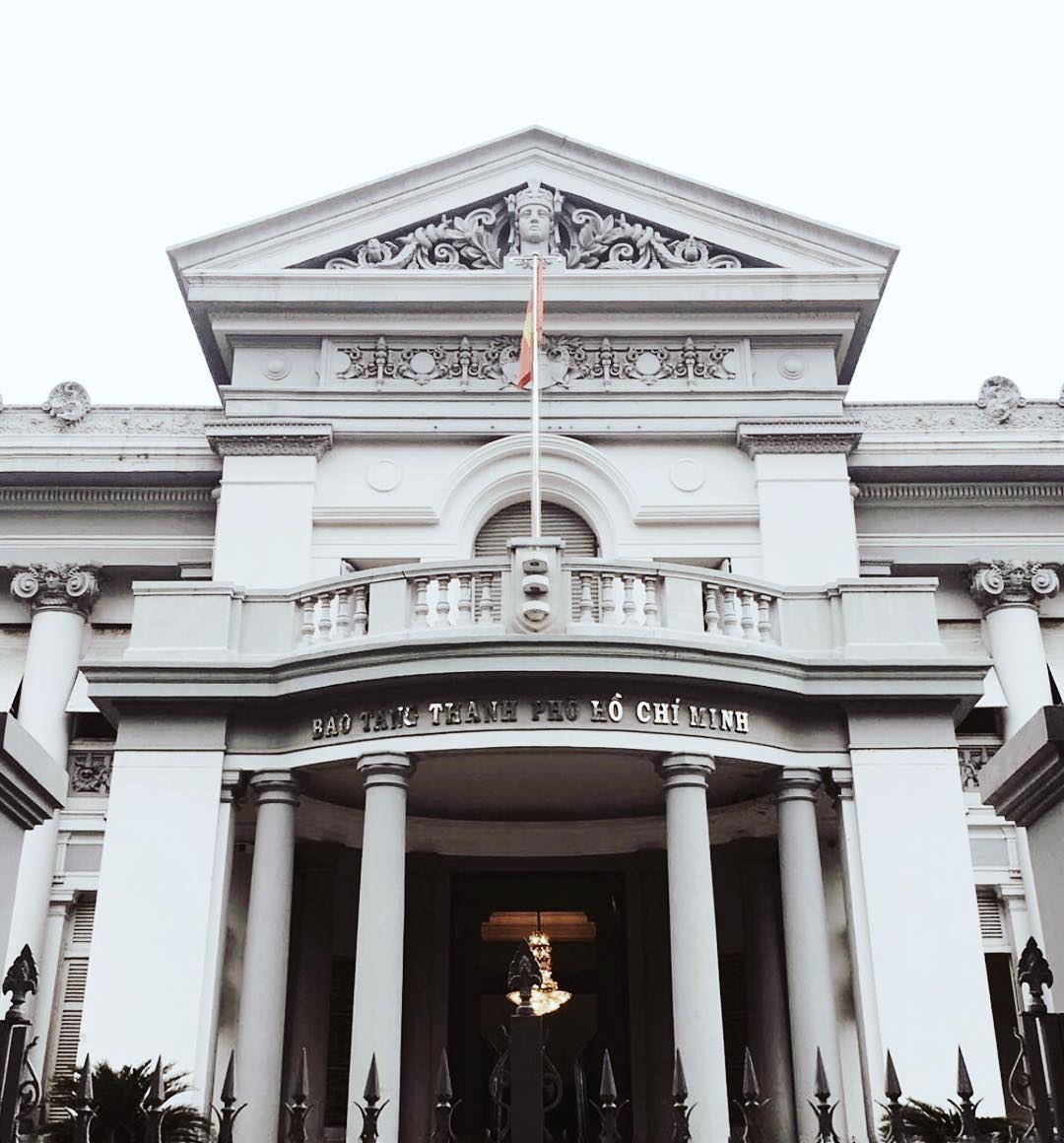 Under the building is a network of bunkers and corridors. It stretches all the way to the Reunification Palace. It includes living quarters, a kitchen, and a large meeting hall. This network is not open to the public due to flooding in most of the tunnels. You can find multiple pieces of military hardware in the garden. Including the jet used by a defected South Vietnamese pilot to bomb the Presidential Palace Around the Notre-Dame Cathedral Saigon, there are many places of interest that you can visit such as the Reunification Palace and Museum of Vietnamese History. Exploring this area can give you a much deeper understanding of Vietnam culture and history. I hope that this guide is useful to you.