Nha Trang nightlife: Top places to unleash your inner party soul
With the six-kilometer beautiful and spectacular coastline, Nha Trang City is the best destination for fun-filled vacations in Vietnam. Besides breathtaking beaches and irresistible attractions, Nha Trang nightlife has the power to make even the most skeptical travelers satisfied with crowded bars and fancy restaurants. If you are wondering what to do in Nha Trang at night, here is the list of great bars and clubs in Nha Trang. Now let's go party!
In Nha Trang, don't go to sleep early!
As the Sun goes down, you can feel the party vibe getting stronger that's why you cannot miss out Nha Trang nightlife. From luxurious rooftop bars to budget pubs, Nha Trang can give you anything you want. There are also mixology bars, where the bartenders are professionally trained. You can order anything you want, as long as you can say the name. Some of the bars and pubs also offer live music performances and special deals.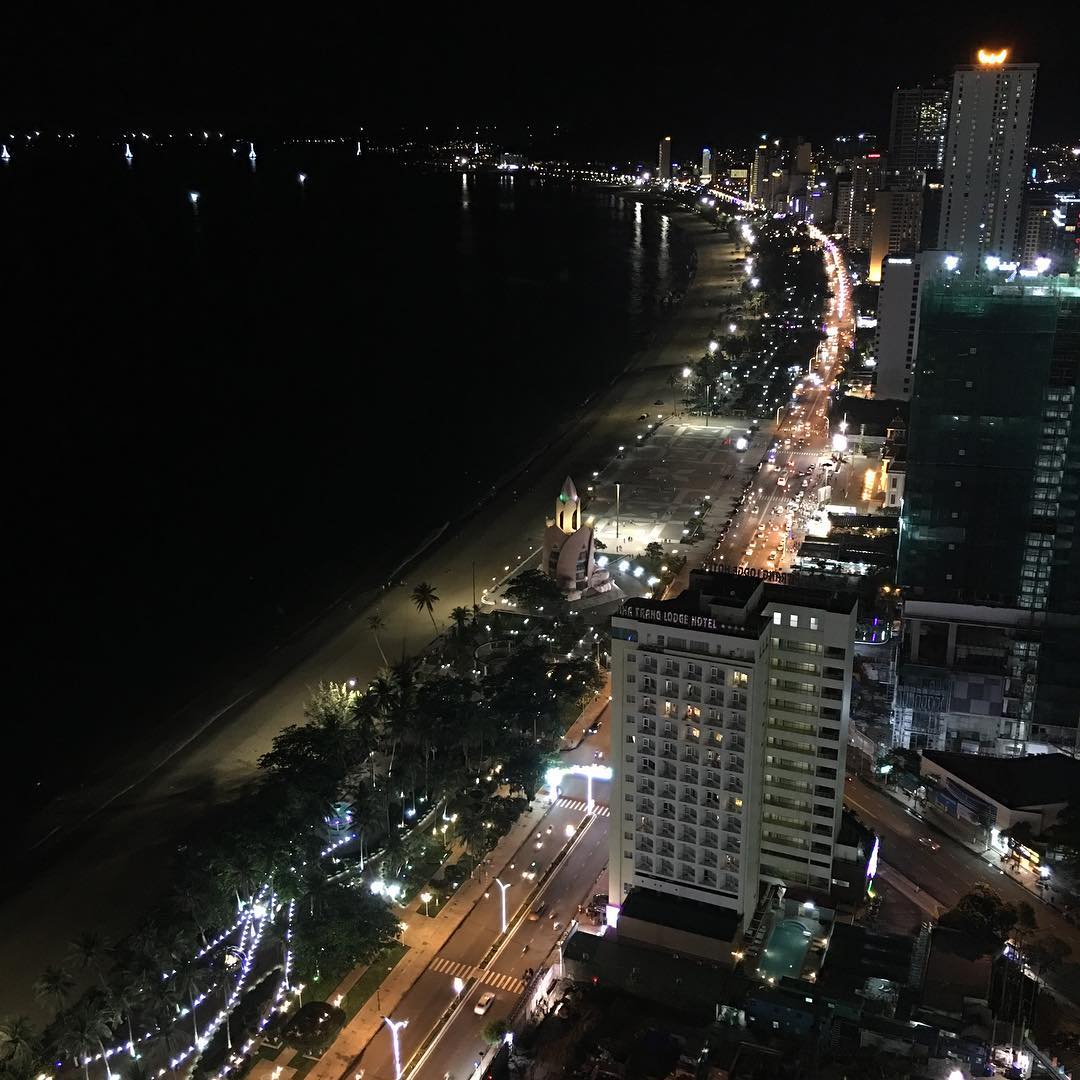 When you're on a night out, you will mostly meet other groups of tourists because young locals moved to other big cities such as Danang, Hanoi and mainly in Ho Chi Minh city. To be honest, the scenario isn't that bad. It would be great for meeting new people and make friends from around the world. All in all, you will definitely have a blast when exploring the Nha Trang nightlife.
Make a pit stop and drink a glass of craft beer
Same as other cities, brewers in Nha Trang mostly are foreigners who import their hops and malts from overseas for the highest ingredients quality. They also do a great job of creating a unique but fitting Vietnamese local taste. A couple of famous brewers and pubs in Nha Trang are Louisiane and Guru Sports Bar.
1. Louisiane Brewhouse - The famous beach venue
Address: 29 Tran Phu Street, Nha Trang City
Opening hours: 8 AM – 1 AM
Price:
+ Beer: from 55.000 (~US$ 2.30) VND (330 ml) to 550.000 VND (~US$ 23.5) (5 liters). 140.000 VND (~US$ 6) for a tray of 4 200ml beers; food: from 75,000 VND (~US$ 3.25)
Located on the beautiful and breath-taking Nha Trang beach, Louisiane Brewhouse offers fresh seafood, great drinks, and an unparalleled atmosphere. Just imagine yourself lying on a hammock or sitting on the beach with a cold glass of beer in your hand. How great is it?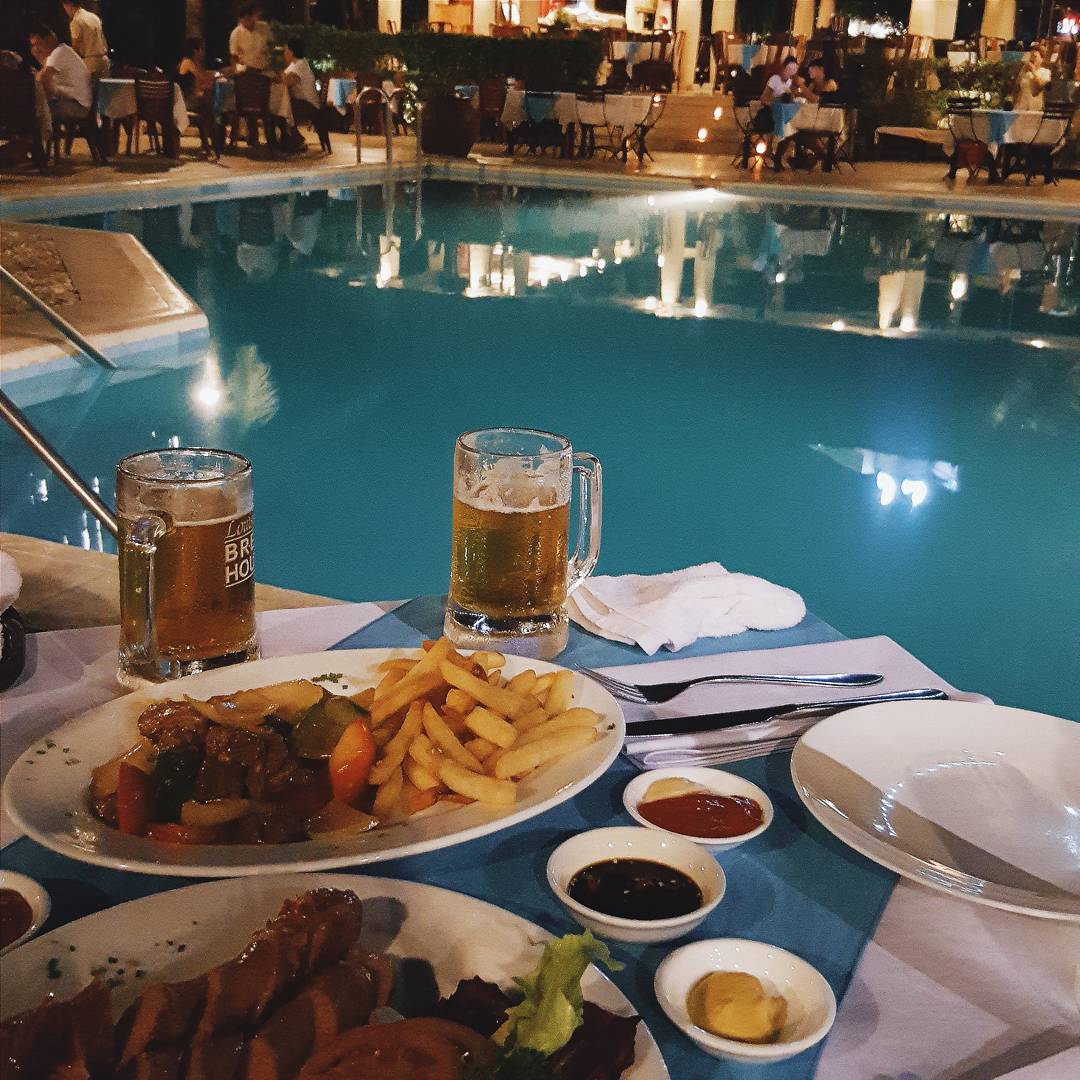 As for any places by the sea, it's a great spot to watch the sunset with a beer in your hand. They also offer a pool for everyone until 5 PM and a wide range of food on their menu. They serve anything from the East to the West, and of course, Vietnamese dishes. The brewhouse usually has awesome live music performances by the pool, making it an even better experience.
2. Guru Sports Bar
Address: 44 Tran Phu Street, Nha Trang City
Opening hours: 10 AM – 2 AM
Price: + Drinks: from 40,000 VND (~US$ 1.7); Food from 100,000 VND (~US$ 4.3)
The Guru Sports Bar is located right by the night market and facing the sea. The first floor is a little bit busier with people coming in and out. But you can enjoy a great view of the sea while relaxing if you sit on the 2nd floor. It's a perfect place for young people to meet and have a drink with their friends. If you love football, this place will be a great choice as they often show interesting football matches from leagues around the world. They offer a VIP package with a private zone.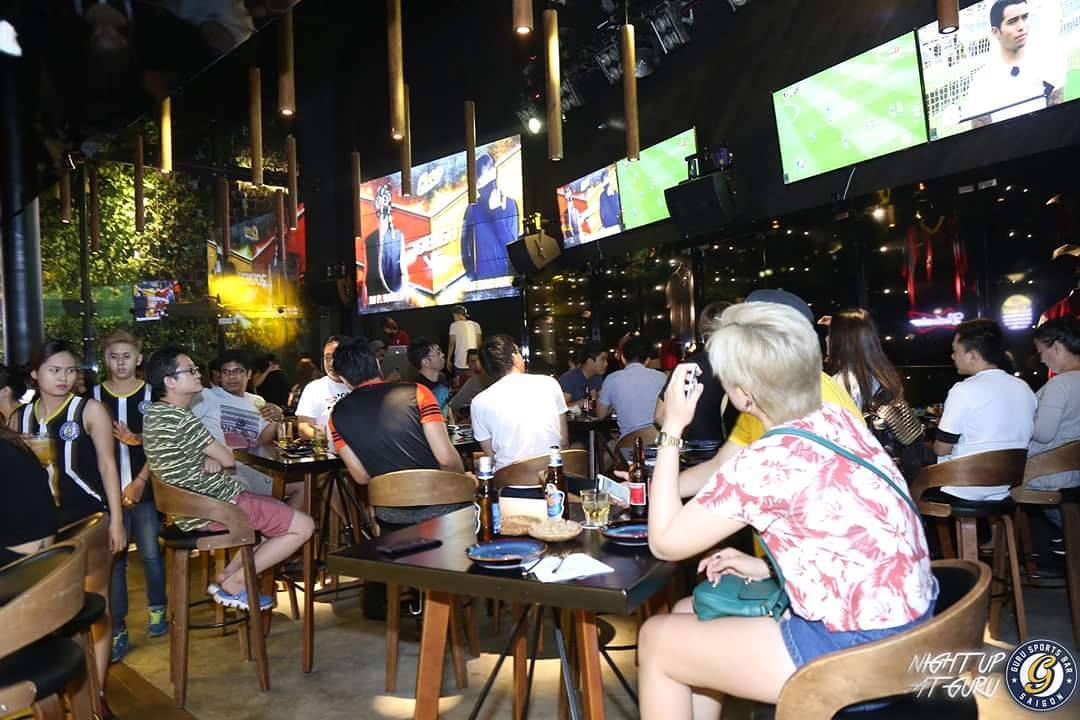 Beer in Guru Sports bar is from two of the most famous craft beer brands in Vietnam, Winking Seal, and Pasteur Street Brewing. They take advantage of the exotic ingredients in Vietnam to create new and unique flavors. Make sure to check out the signature dish here, Flat iron Beef. The service may be a bit slow at weekends. But if you want to enjoy a young and vibrant atmosphere, this is the place to be.
Enjoy great drinks at mixology bars
Mixology bars are great for any casual drinkers who want to explore Nha Trang nightlife. What's a better thing to do in Nha Trang at night than enjoying great drinks with your friends? Bartenders in these bars are trained to create new and exciting beverages. If you can name it, most likely, they can make it. The most famous mixology bar in Nha Trang would be Qui - Cuisine mixology.
QUI – Cuisine mixology
Address: 62 Tran Phu Street, Nha Trang City
Opening hours: 6 AM – 2 AM
Price: from 180,000 VND (~US$ 7.75)
No doubt Qui - Cuisine mixology is the top choice for mixology bars in Nha Trang. The bar creates an occasional and sophisticated atmosphere which is perfect for a casual night out. There's also a gallery of famous liquors from around the world behind the bar. You will have a chance to taste the most exotic drinks which served by spectacular flipping-skill of the bartenders. The show will be a short but unforgettable moment. If you have no idea what to order, don't hesitate to ask. The bartenders are always willing to give you great recommendations.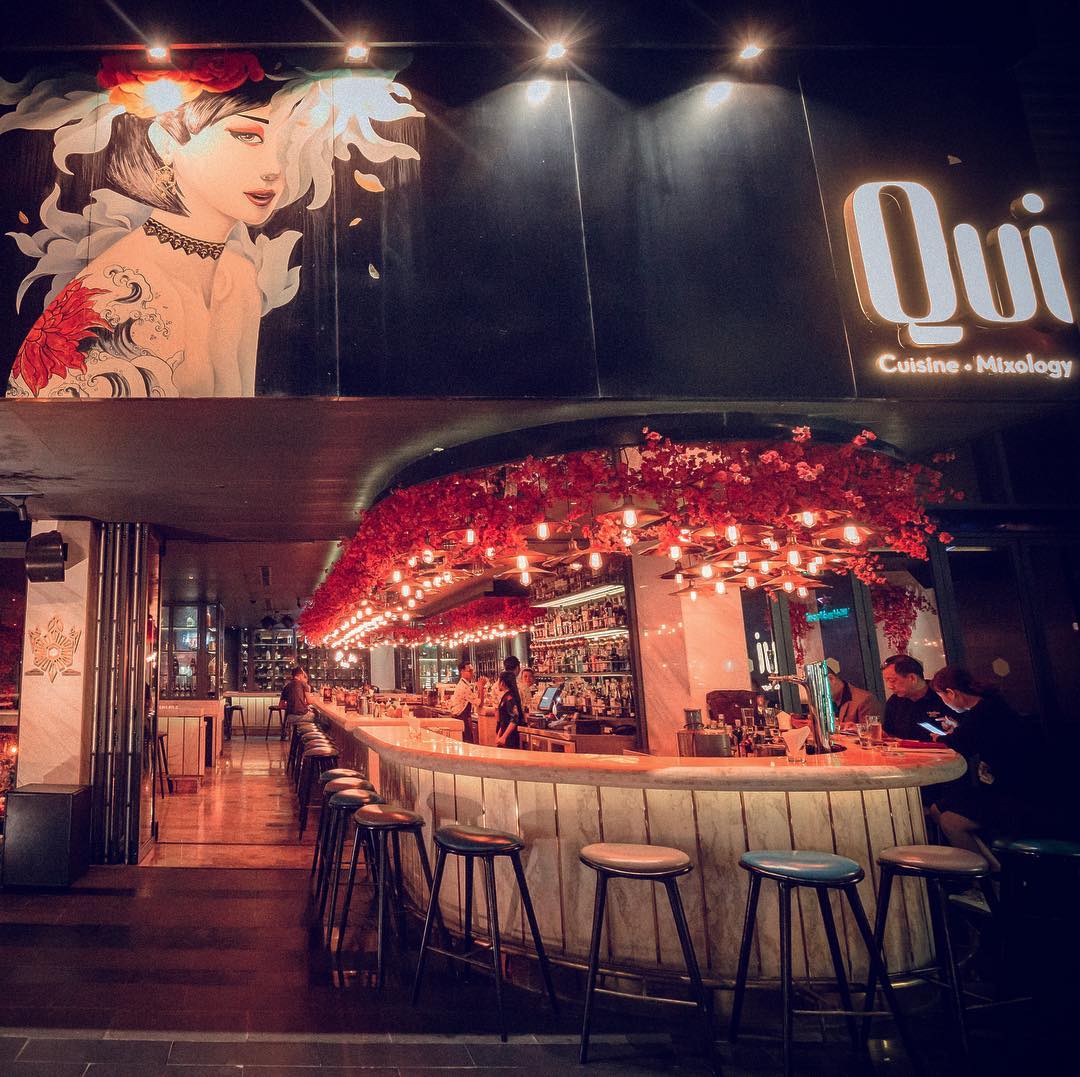 The diner here is excellent as well. It has a chill, laid-back kind of atmosphere. Almost every guest here is satisfied with their food and also the service with its highly trained staffs. Overall, this place is undoubtedly a great choice for a casual and friendly night out in Nha Trang.
Read more
https://blog.inspitrip.com/13135/top-7-must-go-local-restaurants-in-nha-trang/
Meet some friends at the hang out bars
The choices above are for those who want to enjoy craft beer and sophisticated drinks. But if you want places where you can have a great time with your friends or meeting new people, the hang out bars is the place to be.
1. Makaï Lounge
Address: 111B Nguyen Thien Thuat street, Nha Trang City
Opening hours: 4 PM – 2 AM (DJ on weekends)
Price: cocktails from 50,000 VND (~US$ 2.15), Shisha from 150,000 VND (~US$ 6.45)
At the heart of Nha Trang, lies a famous nightlife venue within European-style bar. Some say it's the best place around to enjoy some Shisha and cocktails. The themes will be changed each night, so if you stay longer than one night, why not enjoy different themes on different days? If you're interested in Latin culture, we recommend coming here on a Wednesday. It's their Latino night, and the staff will teach you dances like salsa, merengue, and bachata.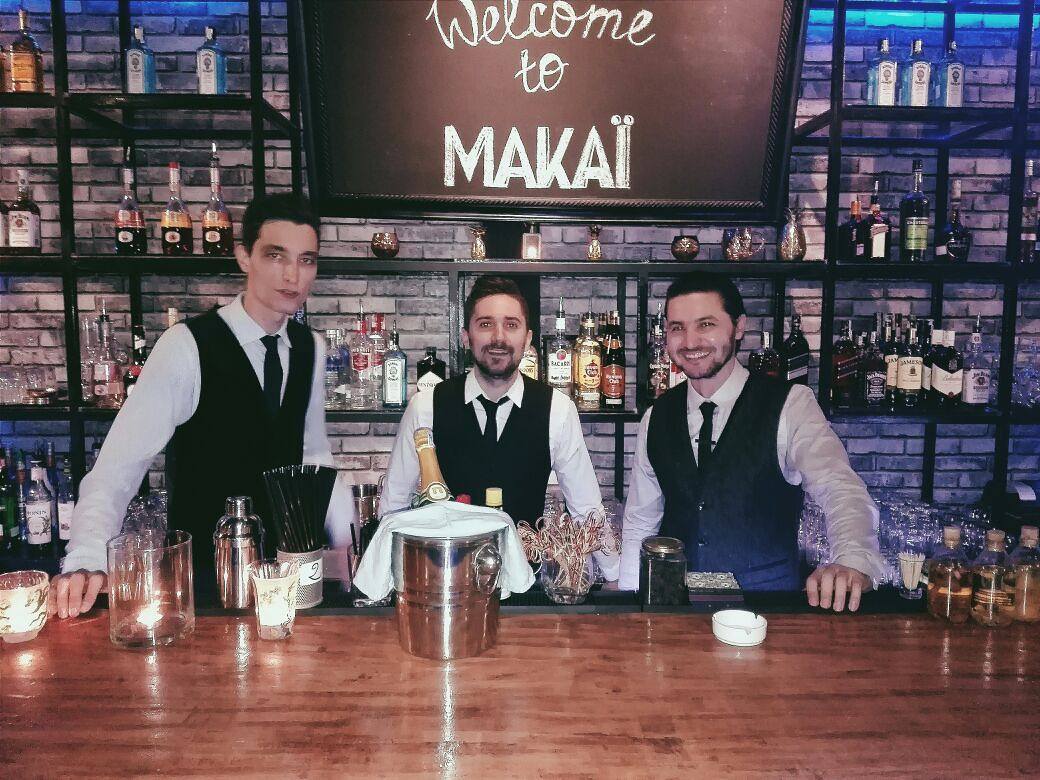 If you visit on weekend nights, there will be a DJ performing live. There are happy hours every day from 4 PM - 8 PM. All in all, if you want to have fun and enjoy yourself, come to the Makaï Lounge.
2. Crazy Kim's Bar
Address: 19 Biet Thu Street, Nha Trang
Opening hours: 10 AM – 2 AM
Price: Drinks: from 15,000 VND (~US$ 0.5) for juices,  from 30,000 VND (~US$ 1.3) for cocktails
Opened in 1999 by Mrs. Kim, a Vietnamese-Canadian, Crazy Kim's Bar is. as cheap as it gets around here. Finding a place with matching prices would be tough. Maybe the price has something to do with the bar's name, with how low the price is. Crazy Kim's bar is a great place if you want to party at a low price. It doesn't have loud music or flickering lights like other bars. But they have nightly themes, great music, and super friendly staff. Overall, this place is the perfect place to have a great time with your friends and at a "crazy" low price too.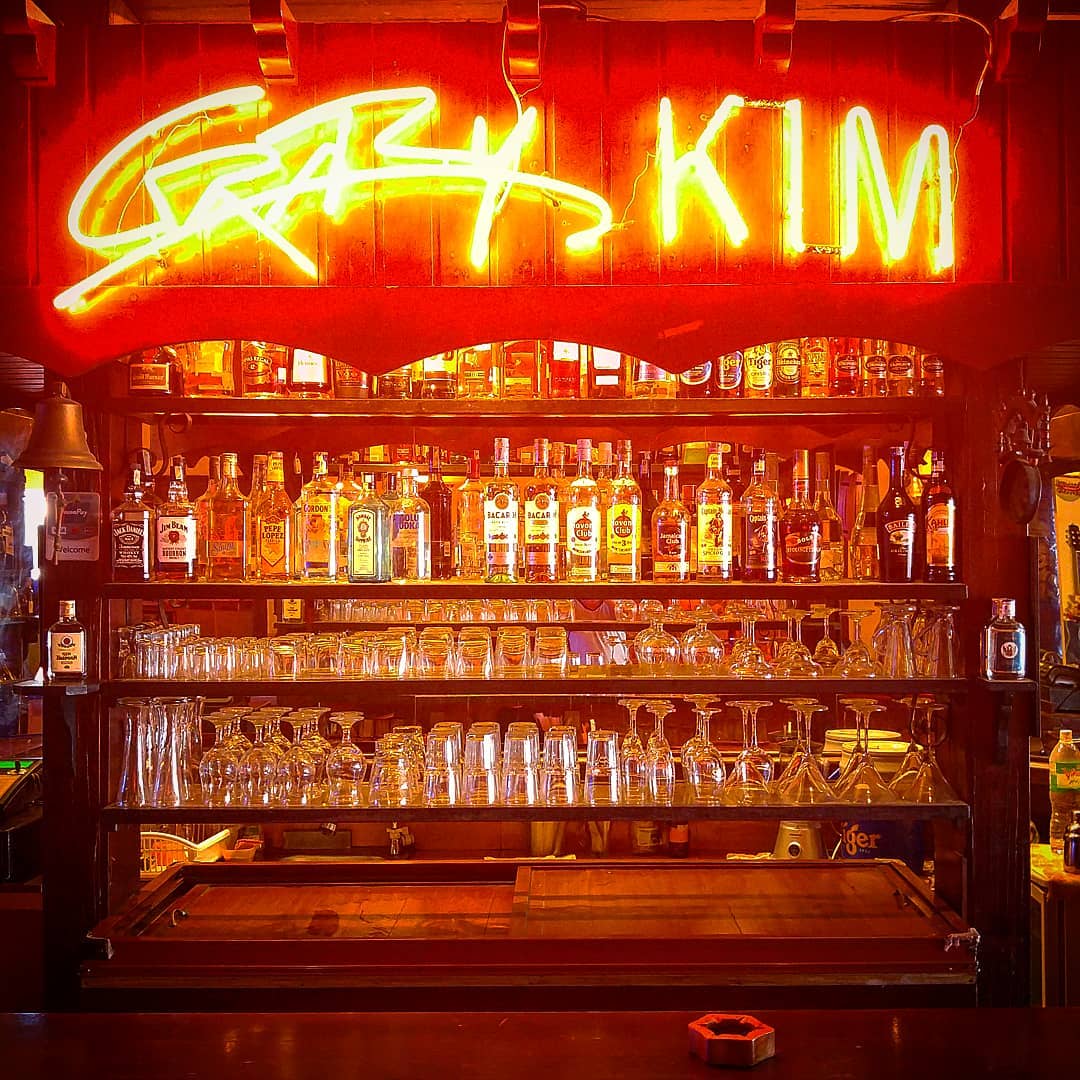 More interestingly, all earnings from the bar will be donated to a non-profit English school for local children. Also, Mrs. Kim is the dean of the school. If you want to have fun while giving something back to the community, don't miss out a visit to this bar!

Fall in love with the view at rooftop Bars
If you want to enjoy the best view in the city while having fun, head to the rooftop bars. They offer great drinks along with a spectacular view.
1. Skylight Skydeck & Rooftop Beach Club
Address: 45th floor Havana Nha Trang Hotel 38 Tran Phu Street, Nha Trang
Opening hours: 9 AM – 2 PM and 4.30 PM – 12 AM
Price: from 90,000 VND (~US$ 3.8)
This is the best and first rooftop bear club in town. They have three fully-stocked bars, ready to take any order you have. There are also dance floors, DJ booths, and a swimming pool which combine to create a truly unique experience.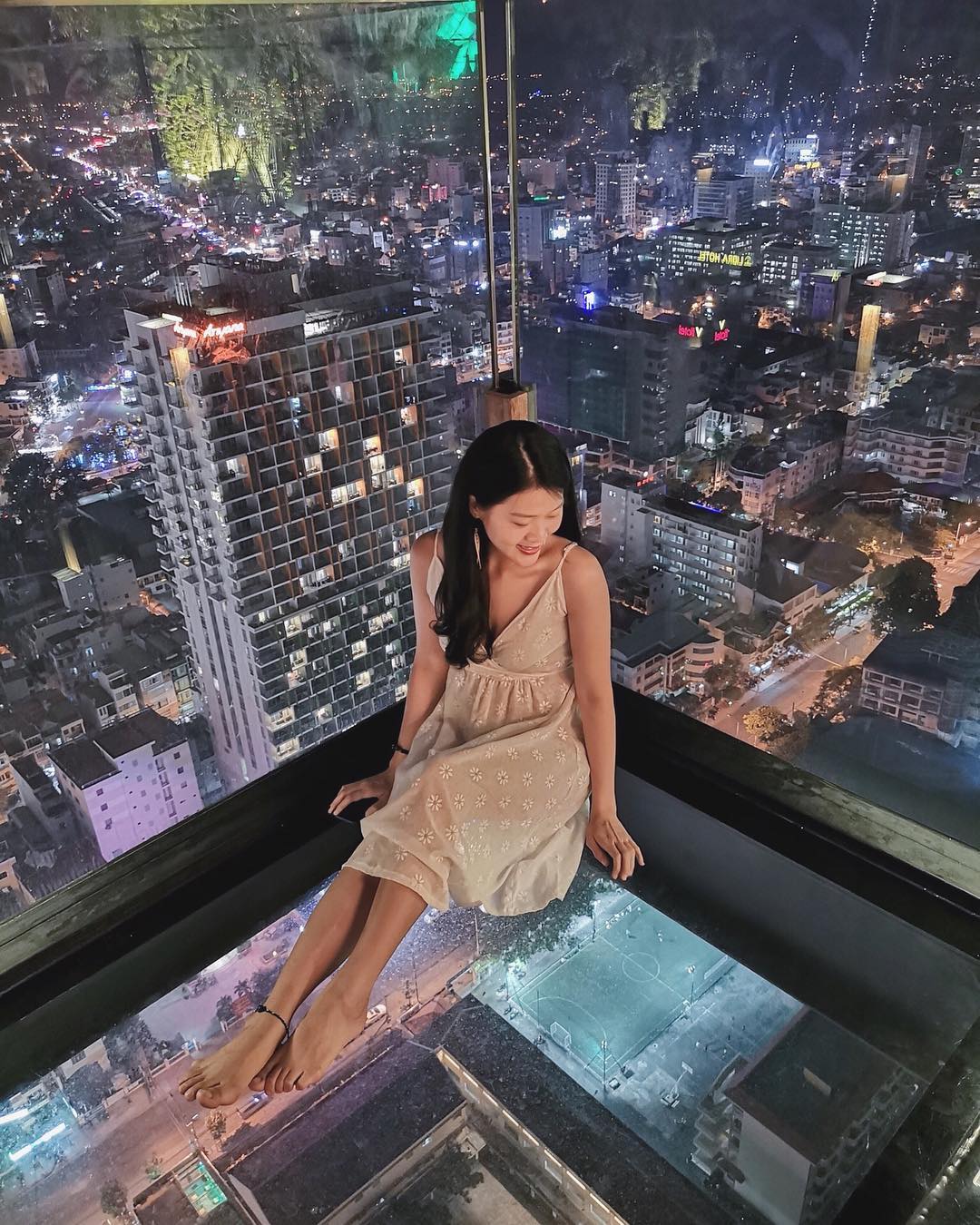 The thing that put this place above the rest is a perfect view of the city and the coastline from high above. You can take some pictures that can be surely up your Instagram game.
2. Sailing Club
Address: 72- 74 Tran Phu street, Nha Trang
Opening hours: 7.30 AM - 2.30 AM
Price: From 400,000 VND (~US$ 17)
The Sailing Club is the place that captures the vibe of Nha Trang nightlife. You will definitely have a great time here with great location, extensive drinks list and huge dance floor here. You can also see some wild break-dance performance.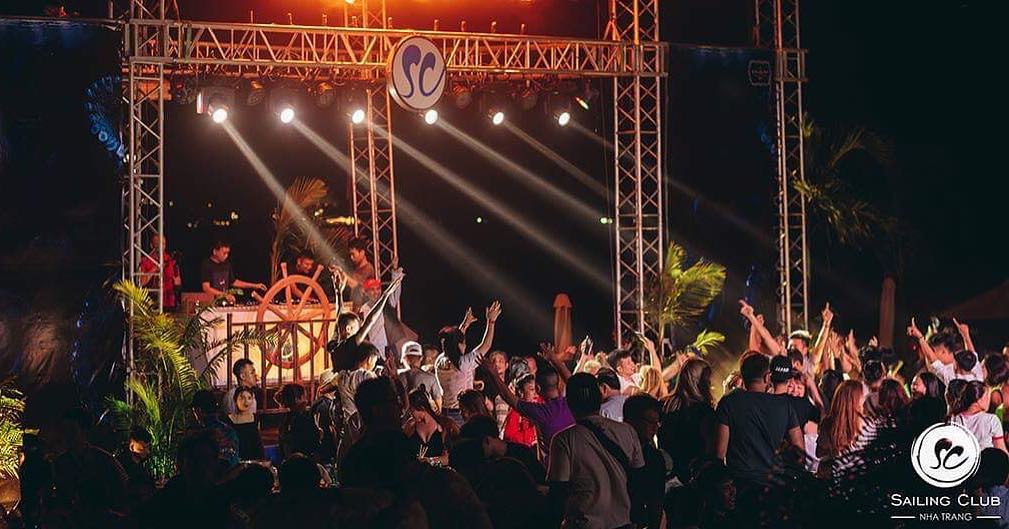 Although the price is relatively higher than other rooftop bars, the view more than makes up for it. The Sailing club also hosts numerous events with both domestic and international performers.
Safety tips from Inspitrip
It's always important to have fun safely. Vietnam is quite a safe country, but being careful is still great. Here are some tips to make sure you can fully enjoy Nha Trang nightlife while remaining safe.
Always stick to brightly lit areas. Even if the price is a bit higher.
Always avoid walking into dark alleys late at night.
If you use a taxi to get around, stick to reputable taxi companies. You can always go online and check out the best companies.
If you decide to stay at the beach, only leave when it's bright enough.
Try not to bring too much cash and valuable belongings when going out at night.
Be careful with your handbags, they're convenient but easy to snatch. So if you bring cash, try and distribute it around so you can always have some.
Try to lower your voice at night to avoid attracting unwanted attention.
All in all, Nha Trang City is an awesome place for any travelers who love to have fun with friends and family. We hope that this article helps you on your quest to find great places to have fun and enjoy yourself.