My perfect getaway weekend in Saigon with a local
I am a French intern in Singapore, and I try to seize all the opportunities I can in order to travel around on the weekends. So when I was searching Skyscanner and saw cheap flight tickets to Ho Chi Minh City, I knew I had to take my chance to travel there. A two-day trip to Vietnam? Yes, it would be a challenge, but I felt I had to make the most of my weekend in Ho Chi Minh City and I was able to do so thanks to Inspitrip and my lovely local guide, Bella.
How did I find my local guide to avoid tourist traps?
I always do my best to avoid tourist traps while I travel. Spending hours getting group photographs and being shuffled along with a crowd is not really my style. Since I only had a few days in Vietnam, I knew there was no time to spare doing touristic activities. More importantly, I wanted to see the country through the eyes of a local. I am convinced that the only way in which to do so is to spend time with its habitants. I knew I needed to find someone familiar with and rooted to the local community to help me maximize my time in Vietnam. I wanted all of the historical and cultural details I could get on the country, and I wanted to venture off the beaten path to discover hidden gems. I believed it was a great idea to explore Ho Chi Minh City with locals.My friend Mona came back from a trip to Ho Chi Minh City and was excited to share her story with me about how she explored the city on the back of a motorbike with a local person she found via Inspitrip. Because of her recommendation, I signed up and searched for a city tour similar to the one she went on. Inspitrip then sent me my own local guide: Bella. She helped me create an itinerary that included my must-see destinations and local art venues. Check out the tour here: Day Adventure with local bikers in Saigon
Bella picked me up in the afternoon and we went to the Thien Hau pagoda, a Buddhist temple in district five (Cholon or Chinatown). It is dedicated to the Chinese sea goddess, Mazu. Bella told me it is believed that Mazu protects and rescues people on the sea. She flies over them on a mat or cloud. I was in awe of the structure and immediately fell in love with the statues, sculptures, paintings, and other artwork found throughout the religious structure.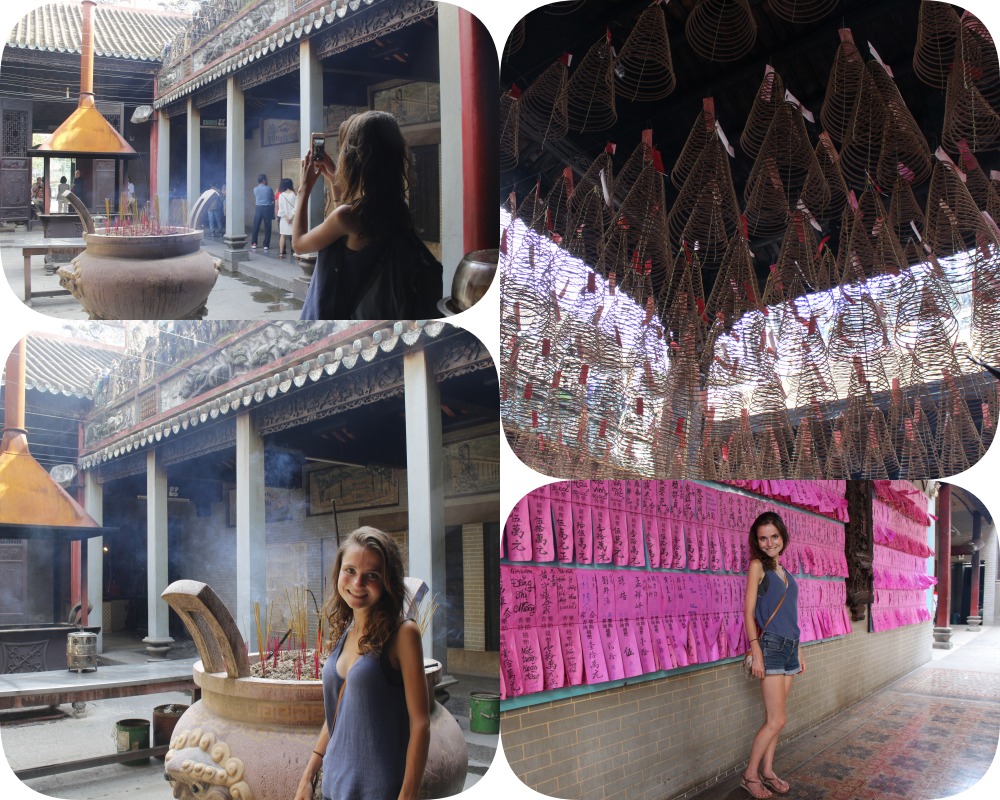 Bella's hobby is photography, so she asked if I could be the subject of her photos and model for her. I had never done that before, and I thought I would feel uncomfortable. She was so passionate about her work and her camera that it was actually quite fun to pose for her throughout our trip. In a way, we both benefited from the day in that she got to practice her hobby and I got to see some pretty incredible things I would have been unable to see without her expertise. It was an unusual experience, so much fun, and completely unexpected.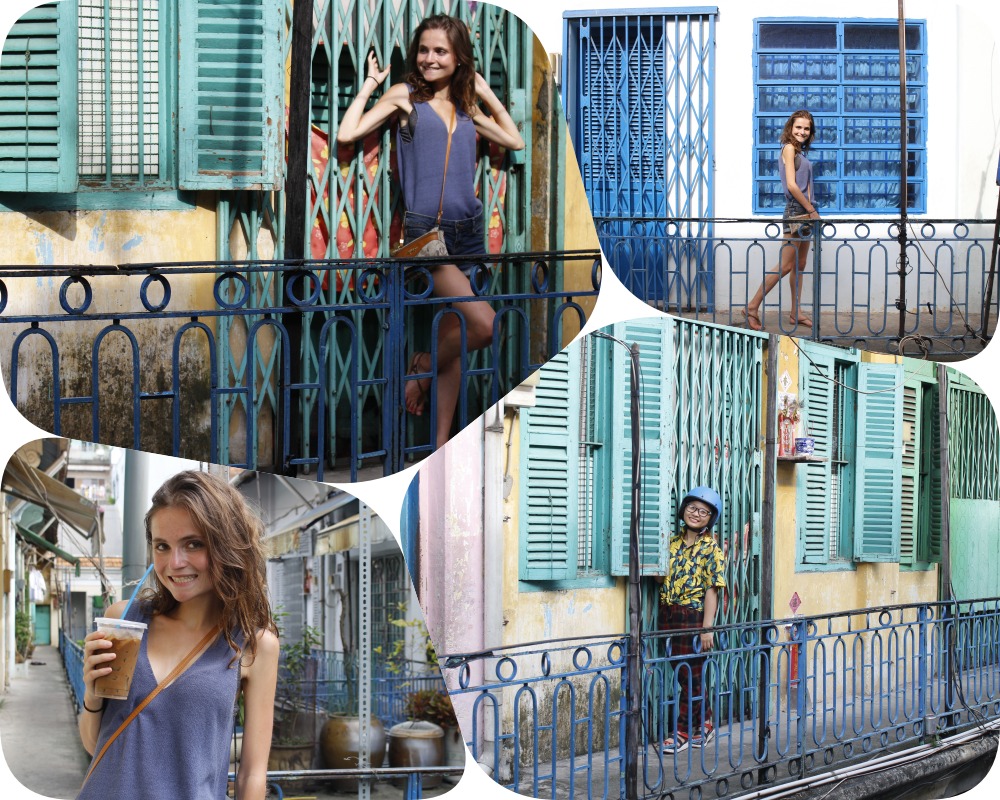 Bella then brought me down a colorful lane located in a Chinese village within the city. There were no tourists to be found, only locals living out their daily lives. The houses down the lane had similar style architecture but were all vibrant and varying in color.  Bella explained lane culture to me, which is a local custom in Ho Chi Minh City and around Vietnam. Each lane has its own special design and contributes to the city's culture diversity. While we were there, I tried one of the most delicious iced coffees I have had in my entire life as recommended by Bella.
Visit downtown highlights and try out famous coconut latte
We then visited some city highlights. First was the City Post Office. Bella explained all of the history behind the two maps drawn on the wall and made sure I noticed that the phone boxes were ATMs. Despite it being slightly touristy, I still appreciated being there to see for myself the first and biggest post office of Indochina.We then went to the Notre Dame Cathedral, and Bella gave me a lot of information on both the architecture and religion in Vietnam. She was very informative. I also had a good time modeling for Bella as she continued to take pictures of me.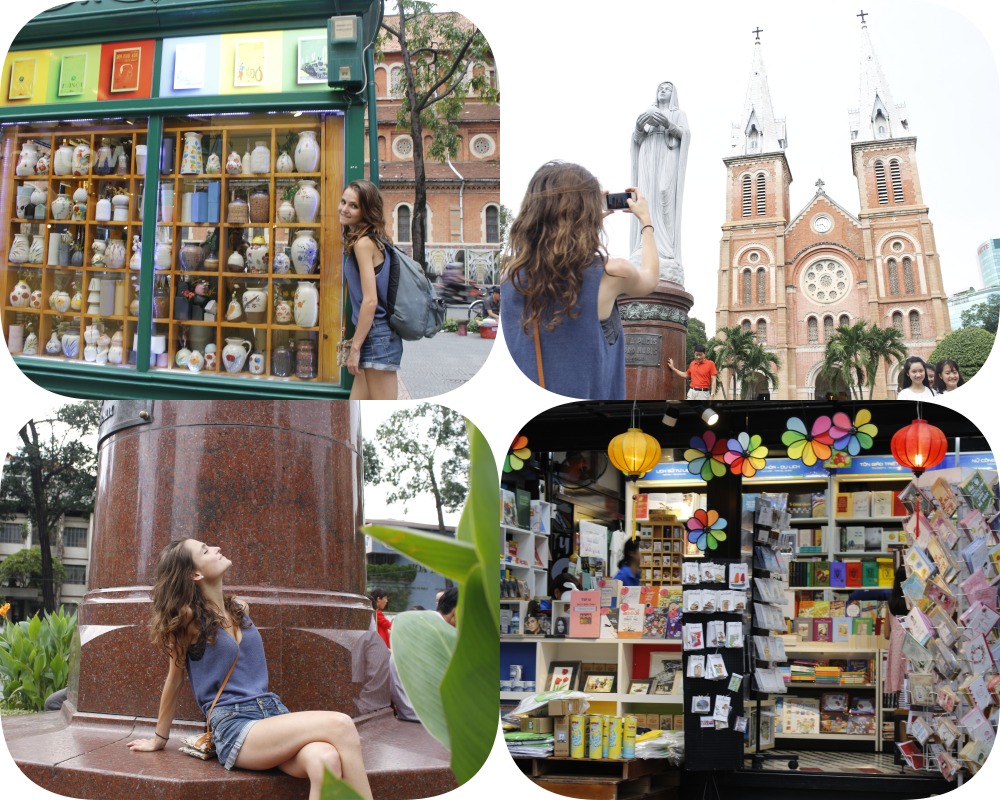 It was then time for a break, and we went to Cong Caphe to have the renowned iced coconut latte. It was delicious: almost as good as the local one we had had earlier in Chinatown. The Cong Ca Phe is incredibly vintage and is chock full of Instagram-worthy photo opportunities throughout the area. It was nice to escape the city noise, if only for a bit. You could meander the different balconies and be soaked in sunshine all the while getting a great view of the city below. We also came across a local art gallery which was certainly an interesting find. The other apartments inside the building were filled with quaint restaurants, boutiques, cafes, and more art studios. I found the building itself was a unique, hidden treasure that I went back to later explore on my own, as I had simply fallen in love with it.
Traveling is about meeting people
Bella took me on a strange yet memorable trip. I have not been on such a journey in a long time. Traveling is not all about landscaping and famous monuments: it is about meeting the locals, like Bella. We had so much fun, singing songs on her motorbike, getting lost in the hustle and bustle of the city, discovering lovely and quiet streets, beautiful secret hideaways, and tasting Vietnamese specialities along the way. The trip was completely void of any awkwardness, and she made the trip both exhilarating and exciting. It felt like I was going on a trip with a friend and not someone I had booked on a website.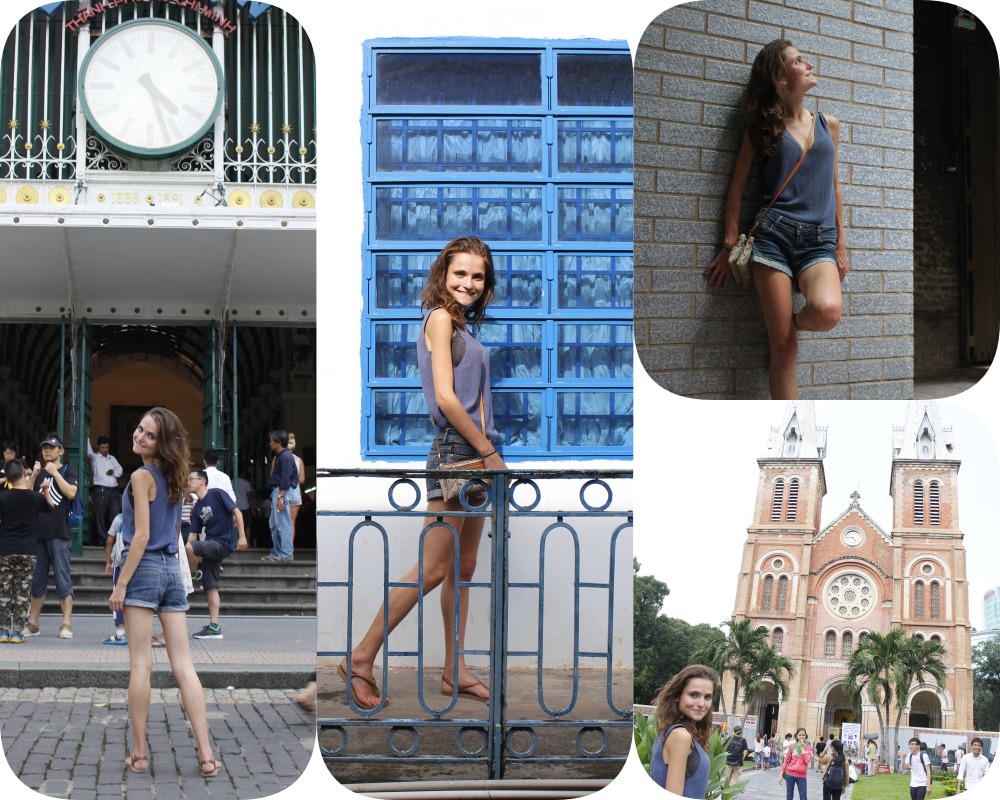 I realized that people were looking at us differently because I was with Bella. They would smile and try to figure out what we were doing together instead of starring in disapproval because I was a foreigner with a large and noisy tourist group. Bella was incredible company. We devled into a series of amazing conversation and random discussions, from geopolitics to women's rights and even Vietnamese karaoke and crepes: nothing was off limits. I cannot thank Bella enough for my comprehensive and amazing tour: I learned a lot and, more importantly, had so much fun.