Lots of tourists think that they can get a full look of the Mekong Delta in just one day, and while you may be able to jam pack a single day with fun and activities, it's only scratching the surface of options and possibilities. The Mekong Delta is truly a unique ecosystem with diverse communities, and you can't find a place like this anywhere else in the world. This place deserves more than just a day tour, but if all you have is a day, then let's try to make the most out of it!
Mekong Delta - The southern treasure trove of Vietnam
So what exactly is the Mekong Delta? Well, the Mekong Delta, also known as the Nine-dragon Delta by the locals, is a vast land that produces the majority of Vietnam's rice for domestic consumption and for export. Just a bit south of Ho Chi Minh City, the Mekong Delta will delight anyone with its greenery and fresh produce. The people enjoy relatively stable living conditions, so they have developed an optimistic attitude and a distinctly laid-back lifestyle. As you get to know your local guide and understand this perspective, you may find a new perspective from this lifestyle.Life in the Mekong Delta revolves around water. Everything is connected to water. You can see popular floating markets and the magnitude of the agriculture industry in Vietnam. It's dubbed the "rice bowl" of Vietnam for many reasons, but mainly it's because it contributes to more than half of the nation's rice production.Paddling along the waterway of Mekong River, you'll find yourself surrounded by palm trees and mangrove forests along the way. They always offer a spectacular and breathtaking view, so make sure you bring your camera when you come here. From Ho Chi Minh city, if you book the right Mekong Delta tour you can have some great pictures with your friendly tour guide instead of a dozen other tourists. In fact, the right tour can provide you with a customized experience off the beaten path, if you so choose.On the right tour of the Mekong Delta, the people who accompany you will be the locals. You can hear from them first hand the stories of their culture, upbringing, and lifestyles in this unique region. The people in the Mekong Delta is very friendly, so be ready to be spontaneous. You might stop by an elementary school to visit the children, or some friendly local might even invite you to a wedding. If you choose to, you can even spend the afternoon just swinging on your hammock.
Things you can experience in Mekong delta
The Mekong Delta is famous for its agricultural side. Here you can experience the local lifestyle, which is the floating life. Another interesting thing to do is try the local cuisine. With a vast variety of fresh tropical produce, you will truly be blown away. Here are some things that you should look to do on your trip to the Mekong Delta.
Explore the non-touristy side of Mekong Delta
For this experience, you could immerse yourself in the atmosphere of the Mekong Delta. This activity is best when a local guide accompanies you on your trip. Every day, thousands of tourists visit this place, which can make it a tad overcrowded sometimes. So, what's better than explore and experience the same place, but without any of the noise. If you can find a local guide, you will be able to avoid all the crowds.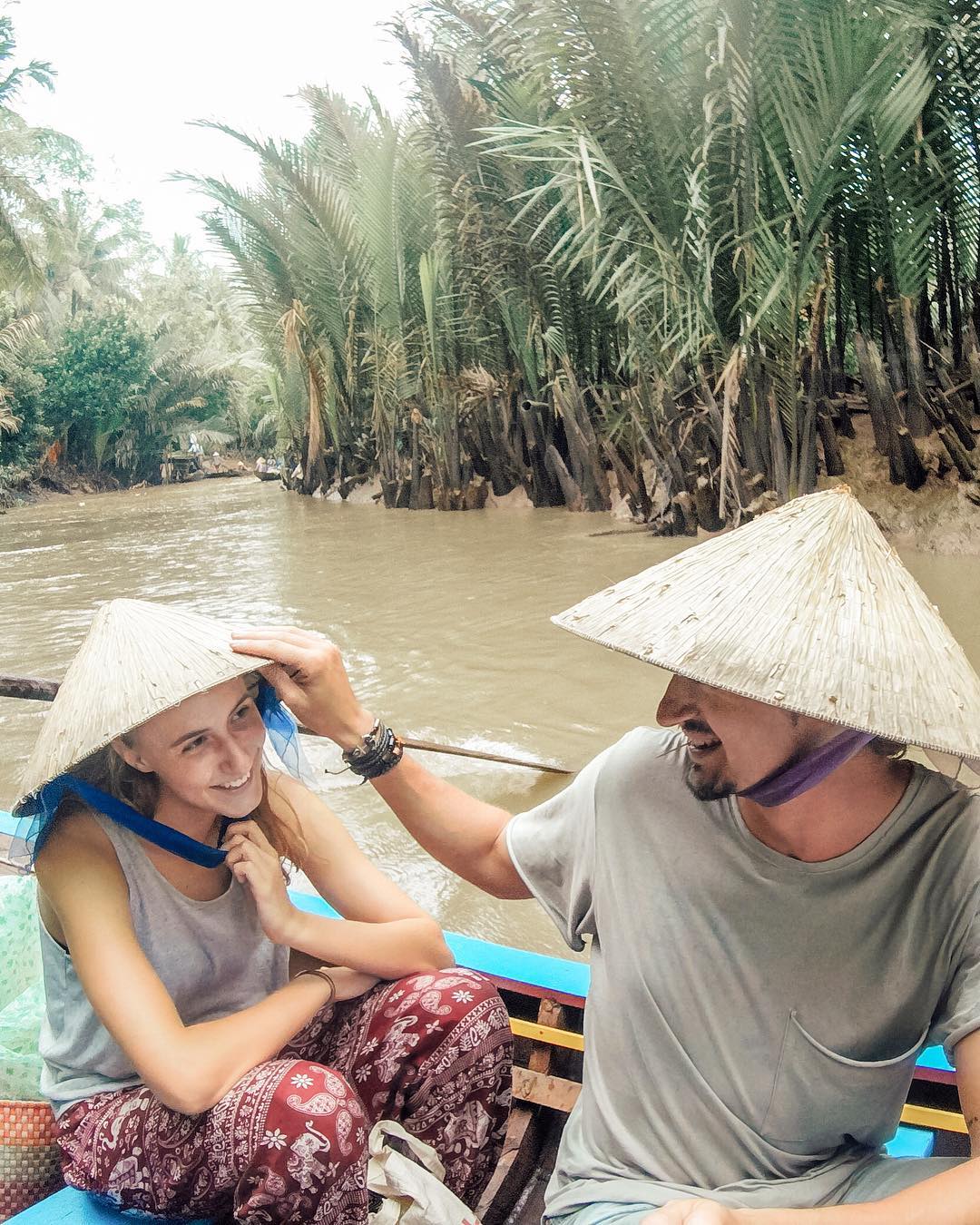 Due to the uniquely fertile geography of the land, you can enjoy an abundance of food all year round. Generation after generation has developed an optimistic attitude and a distinctly laid-back lifestyle because of this. No matter how fast the Vietnamese development is, their old way of life still remains. Taking a walk or a bicycle ride around the village can give you a closer look at the locals' lifestyle. You can see people napping on hammocks on the side of the street. You can see children riding their bicycles to school or even hear the sound of karaoke echoing from someone's house. If you have your children with you, then consider taking them to visit a local elementary school. They can make new friends while the local kids see a foreigner up close. So what's more can you expect? How about homemade meals, fresh fruits harvesting, folk music and numerous other amazing things waiting for you?
Explore The Mekong Delta's floating markets
The Mekong Delta got its nickname the "Nine-dragon Delta" because it's in Vietnam that the massive Mekong River is divided into nine different rivers, each with their own properties. The rivers also affect the lives of the people here. They have to adapt to a floating way of life: living on floating houses, living on boats, anything that they can live on. And it gives way to one of the more unique places in Vietnam: the floating markets. They are markets that are entirely on the rivers and each stall is a different boat. Exploring a floating market in the Mekong Delta is definitely a completely unique experience.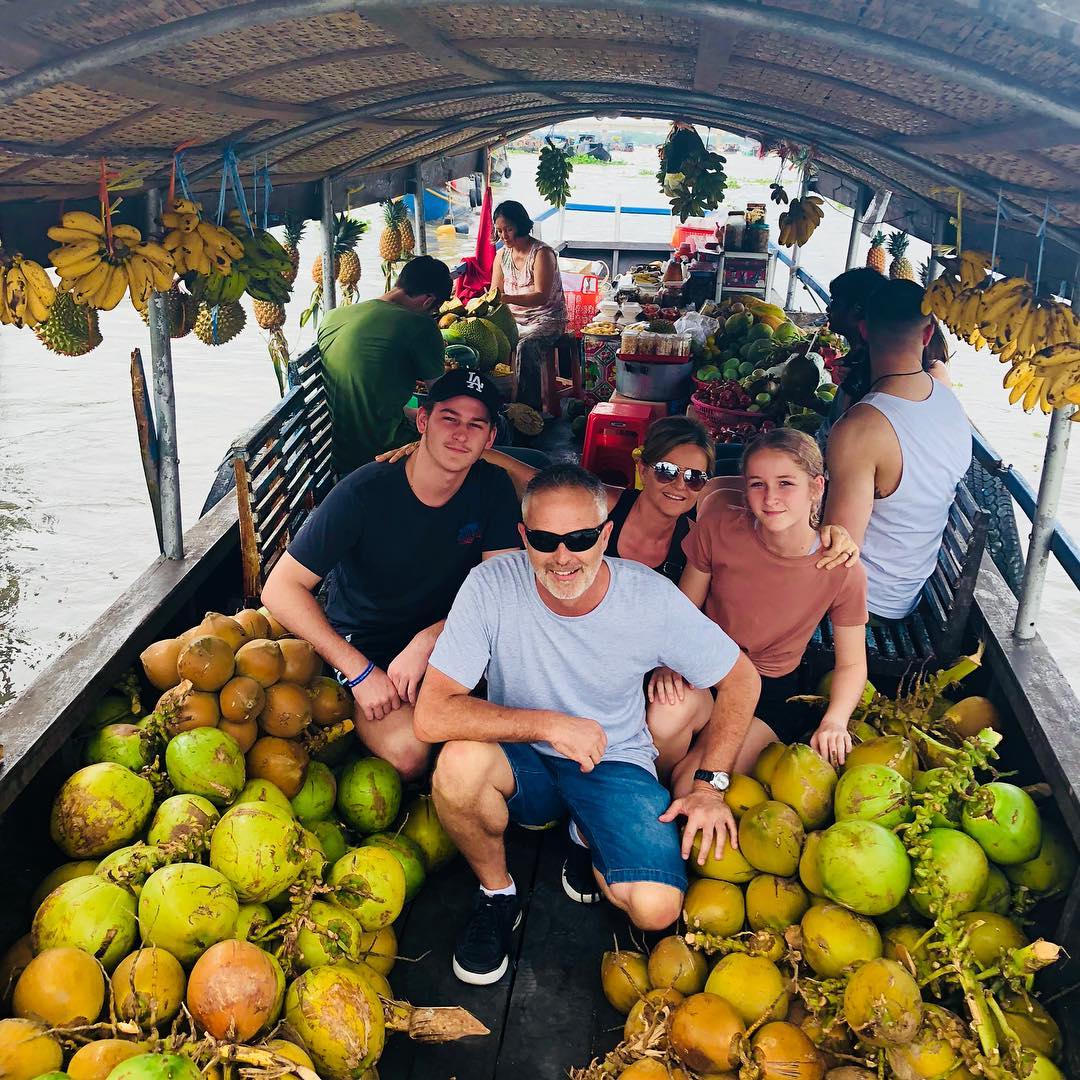 There are two large floating markets that you should visit. They're Cai Be floating market and Cai Rang floating market. Each of them is in a different province, so visit them both in one day can be quite a challenge. But just one market is packed with things to explore and do. So you won't have to worry about running out of things to do. Before you go, just make sure that you're comfortable on a boat, and I mean really comfortable on a boat because it can be quite rocky. So if you're great on a boat and there's a floating market to explore, what's the hold-up?Once your boat is out to the river, you can truly experience the life of the people here. A floating market is just like a normal market, but each stall is an individual boat. Some of them specialize in fresh fruits and produce. Others focus more on the culinary. You can see boats with piping hot pots of noodle soup or some Banh Mi. There are also the drinks boats, where they sell a few varieties of drinks. Some sell soda and other carbonated drinks, some only sell coffee.
Explore the Khmer temples of Mekong Delta
For those who are looking for a religious experience or just want to learn more about Buddhism, the Mekong Delta is definitely a must-visit place. It's full of ancient and beautiful pagodas and temples. Moreover, this place used to belong to the Khmer, so the temples here resemble that style.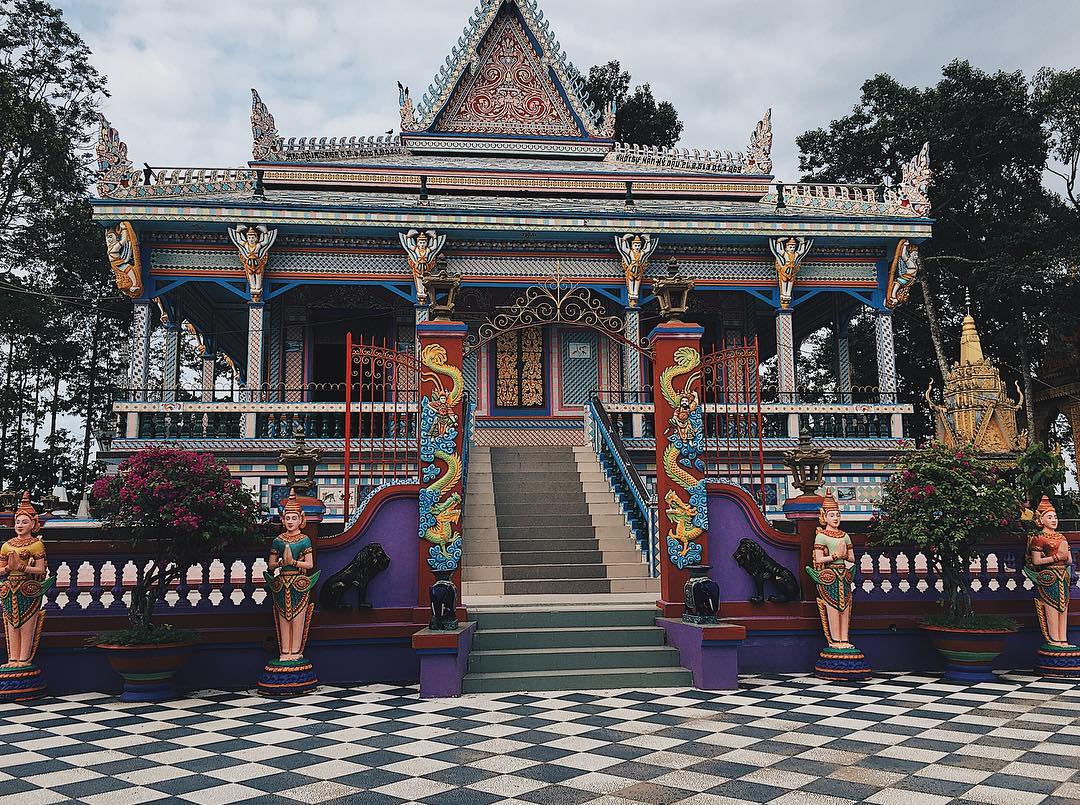 One Khmer temple that you should visit is Chen Kieu Temple. Residing in Soc Trang province, this Khmer temple was constructed in the 19th century. It's just 10 kilometers away from Soc Trong city and the temple is decorated with beautiful and delicate pieces of colored ceramics. One interesting thing about this temple is that it has 16 large pillars surrounding it. Each of the pillars tells a story about a Khmer legend, and the wall here is full of Buddhist history.Another Khmer site that you should visit is the Kh'leang Pagoda. It's a Buddhist temple with an ancient structure from the Khmer Pagoda system in the Southern region. This temple is inside Soc Trang city, on Ton Duc Thang Street if you want to pay a visit. Lines of palm trees run along the edge of the pagodas, giving it a calm and peaceful feeling. Beside its hidden charm, the pagoda is also decorated with textures, patterns, and colors in the Khmer style. This creates a sacred atmosphere in the middle of a bustling city.
Explore national parks of Mekong Delta
As you enter the rich, green tangle of rivers, time seems to slow down to match the slow flow of the water. The way people live in harmony with nature is truly something to behold. The culture here is in a perfect blend with nature; nature gives people their way of life and the people pay back by protecting nature. The Mekong Delta is famous with many national parks that represent this idea. If you want to explore Vietnam's nature, numerous national parks in the Mekong Delta will be the place for you.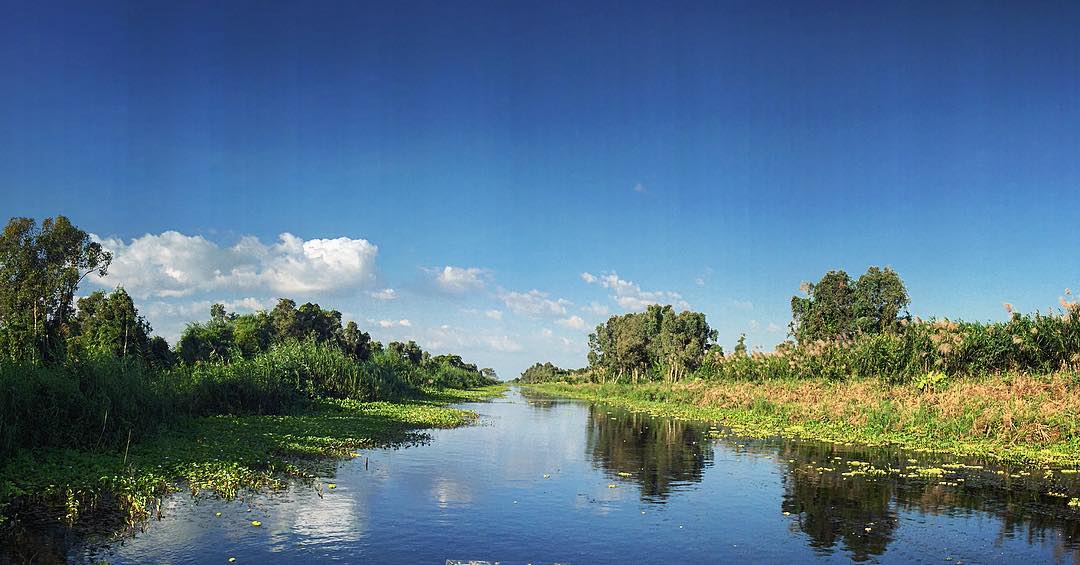 One of the largest and most popular national parks in the Mekong Delta is U Minh Thuong national park. Since being open to visitors in 2016, the U Minh Thuong national park has become one of the most famous tourist destinations in Vietnam. You can find this park in the An Minh district and Vinh Thuan district, of the Kien Giang province. It's basically a freshwater wetland. Inside, you can find a peat swamp forest, seasonally inundated grassland and open swamp. The park is recognized as one of the highest priority sites for wetlands conservation in the Mekong Delta. It is home to distinctive flora and fauna, and you can find a vast variety of mammals, birds, reptiles, amphibians, fishes, and insects. Many of those species are globally threatened, including many endangered species.Tram Chim national park is also a famous park for you to visit. You can find this 76-square-meters park in the Dong Thap Province. The park is in the lowest area of the Mekong River. Its climate is similar regions close to the equator; it also has a great deal of rainfall and sunlight. The park has six main plant populations as follows: the lotus society, nan society, weed society, moc moc society, wild rice society, and melaleuca forest society.
Explore some places only the locals know about
There are many tourist attractions in the Mekong Delta, but they are just normal places that anyone can visit. How about visiting some places only the locals know about? Well, one of the places that I can think of is the Prince of Bac Lieu house.When mentioning the Prince of Bac Lieu or 'Cong Tu Bac Lieu' in Vietnamese, people often think of Tran Trinh Huy. He was a well-known playboy in Bac Lieu and Southern Vietnam in the 1930s - 1940s. During his time, he owned things that were extremely rare in Vietnam at the time, including a Ford Vedette and a Peugeot. He was also the second person in Vietnam to own a private plane, the other being Emperor Bao Dai, the last emperor of the Nguyen Dynasty. Visiting the Prince of Bac Lieu's house is definitely something you'd want to do.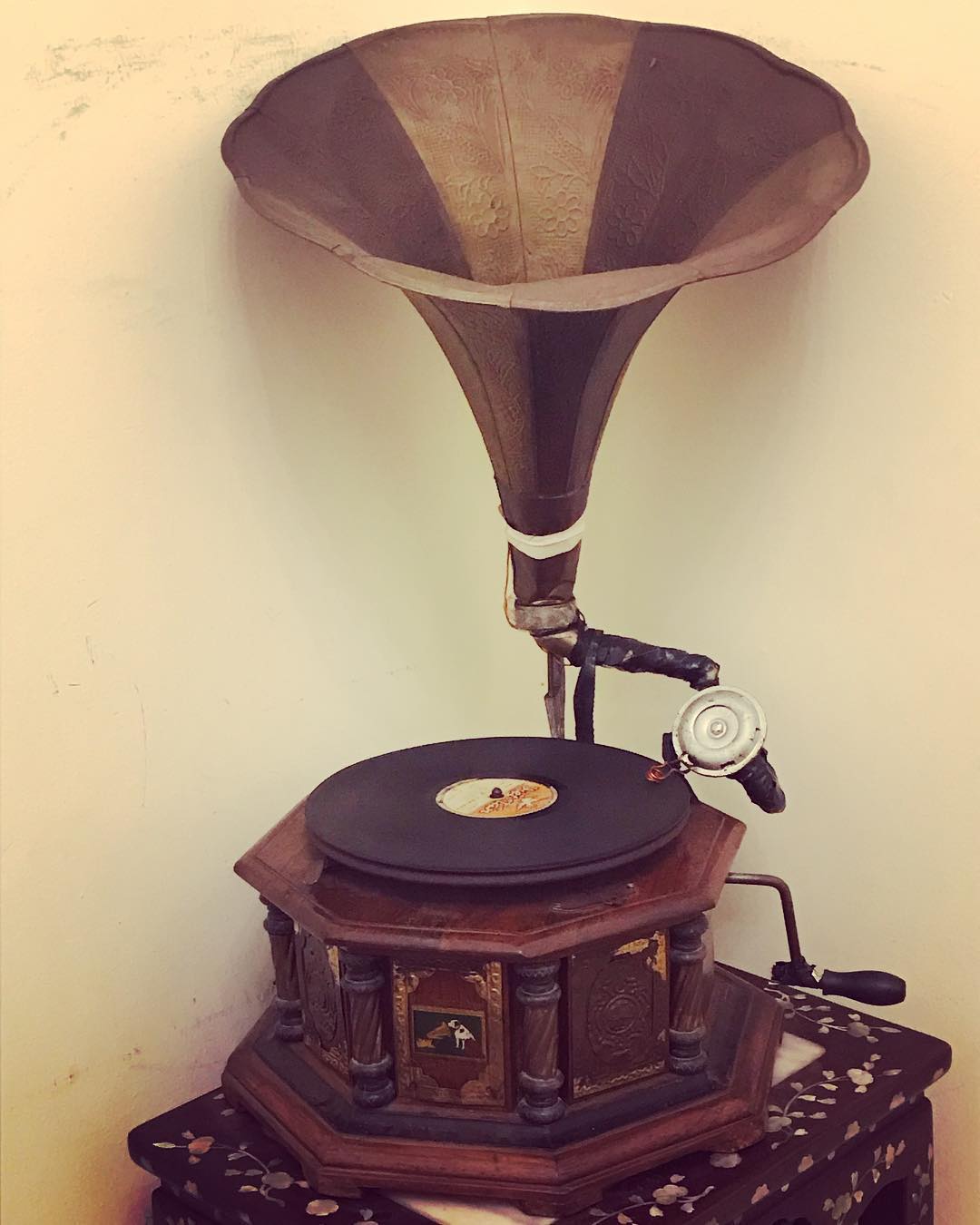 You can find his house on 13, Dien Bien Phu St, Bac Lieu City. Here, you will learn more about the life of the prince. One of his sons who is still alive will tell you stories of his father. You can learn more about the way he spends money and entertains himself. The house has French-inspired architecture, and it's said that the material used to build his house was bought from France. Inside, you can find valuable pieces of furniture and decorations, including a gramophone, a TV, and a car, which were extremely rare in Vietnam at the time.
Explore the culinary essence of Mekong delta
As you know, the Mekong Delta is famous for its natural beauty, but it's not just that, the food here is also very unique. Here are some suggestions on the food that you must try when visiting Mekong Delta.
Fish noodle soup – Bun Ca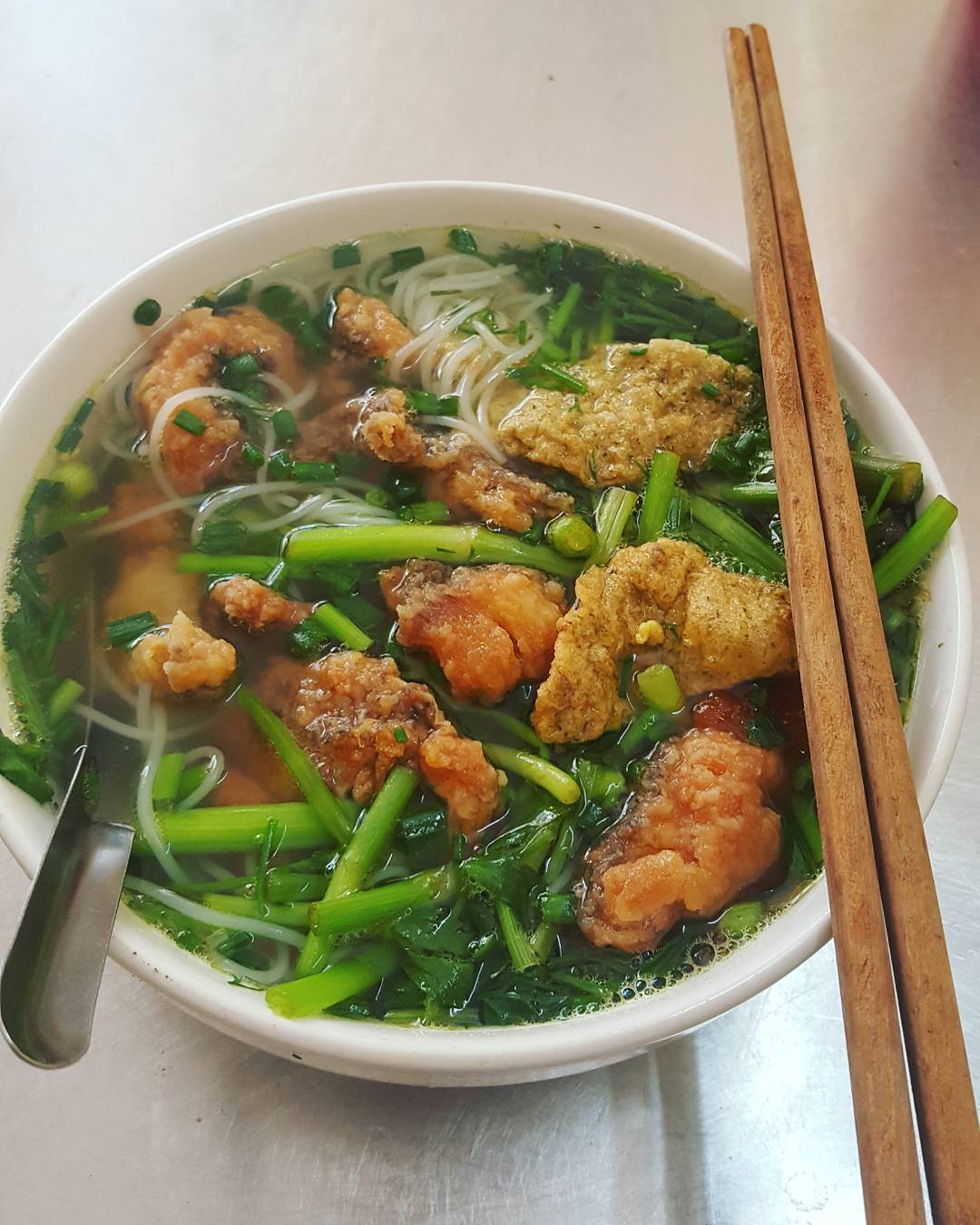 It's a mixture of thin noodles, green herbs and fish caught from the Mekong river. People cook the soup using the fish's bones. This is a very common dish in the area and people often have it for breakfast.
Snakehead fish thick noodle soup – Banh Canh Ca Loc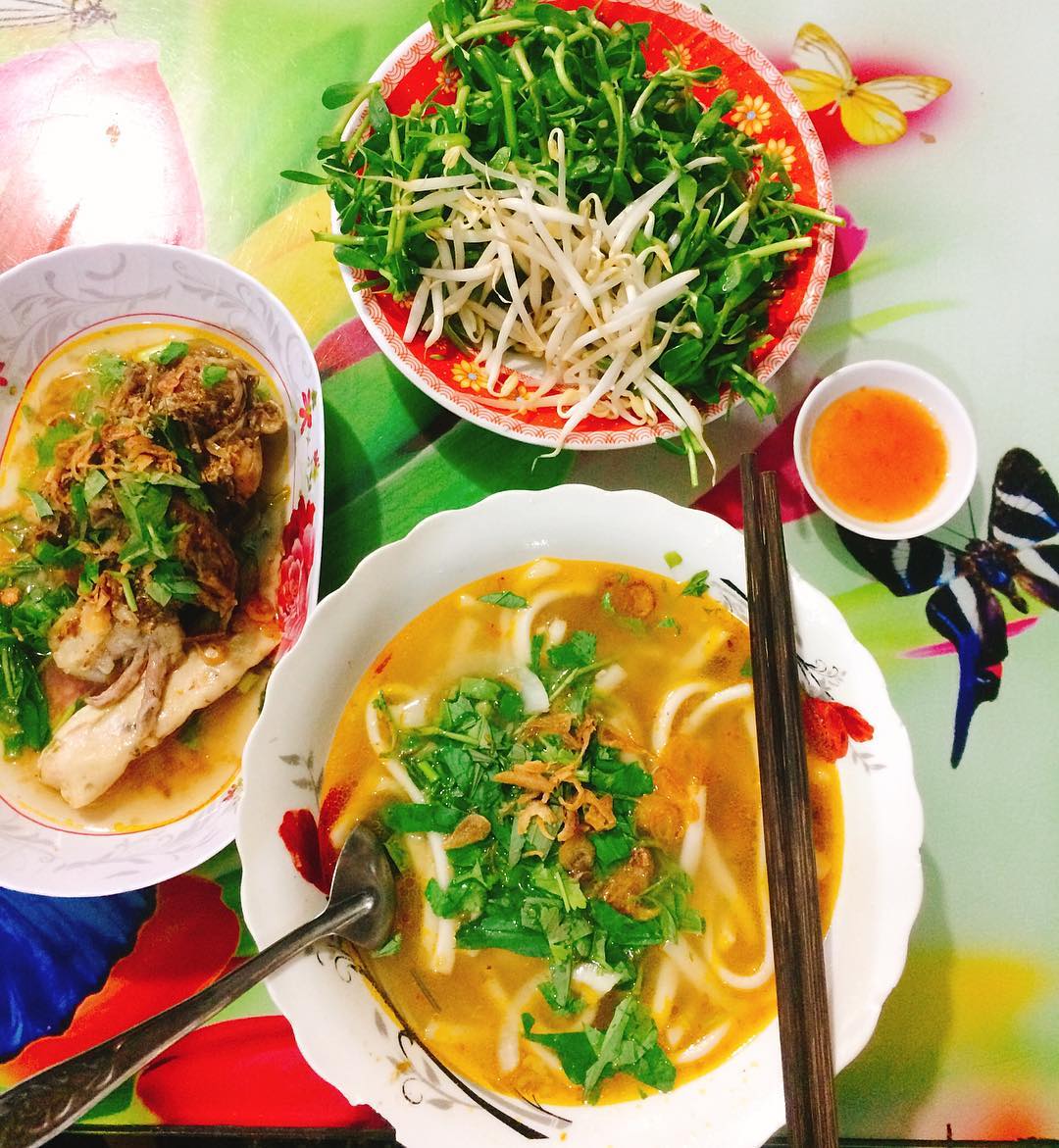 This one is very different from the thin noodle in Bun Ca. This kind of soup includes a fatty version of noodles made from rice flour or tapioca flour. The soup is thick and cooked with snakehead fish meat. You can easily find this in the area and it is a favorite meal of the locals.
Sa Dec or My Tho noodle soup – Hu Tieu Sa Dec/ My Tho
Hu Tieu is a special type of noodle. However, there are different ways to make it and those different methods reflect the different areas of the country.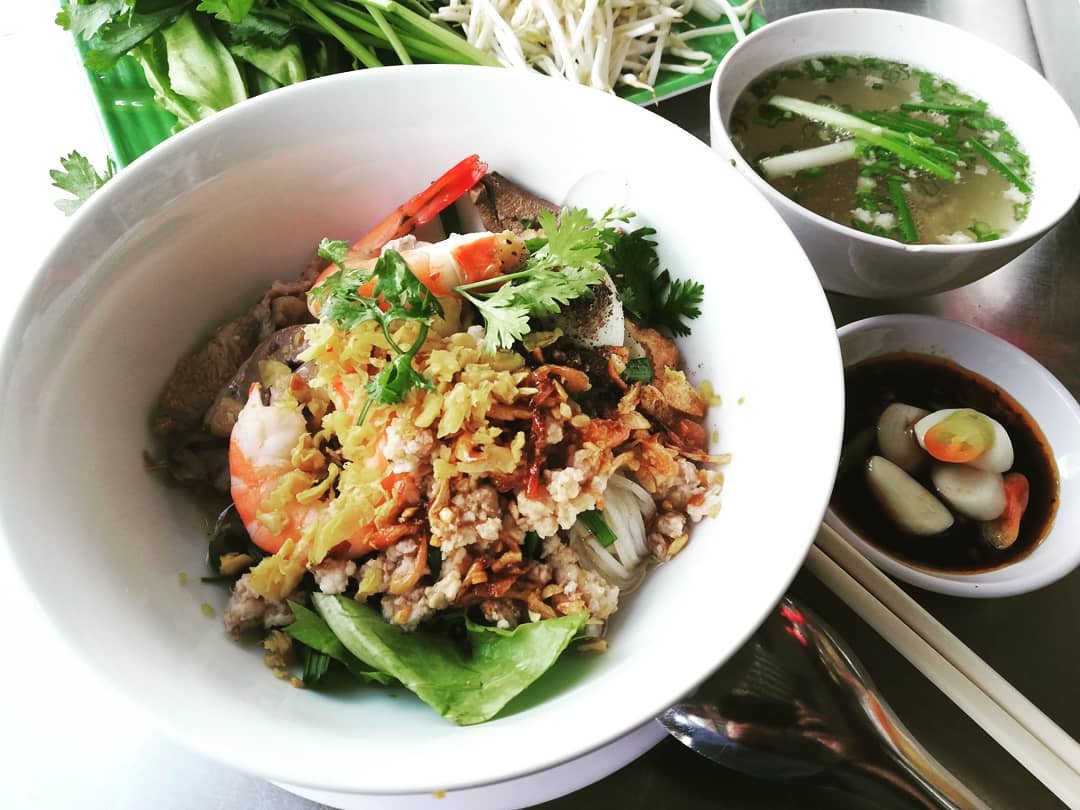 A bowl of Hu Tieu My Tho is like a painting full of attractive colors. It has red shrimp, green celery, chrysanthemum, and red peppers. A very important ingredient creating the unique aroma of the dish is the minced garlic.Hu Tieu Sa Dec has its own distinction. If Hu Tieu Nam Vang noodles are white, small and soft, the noodles of Hu Tieu Sa Dec are big, slightly crunchy and chewy with a milky color. Hu Tieu Sa Dec is an irresistible and amazing dish from the western land.
Mud roasted chicken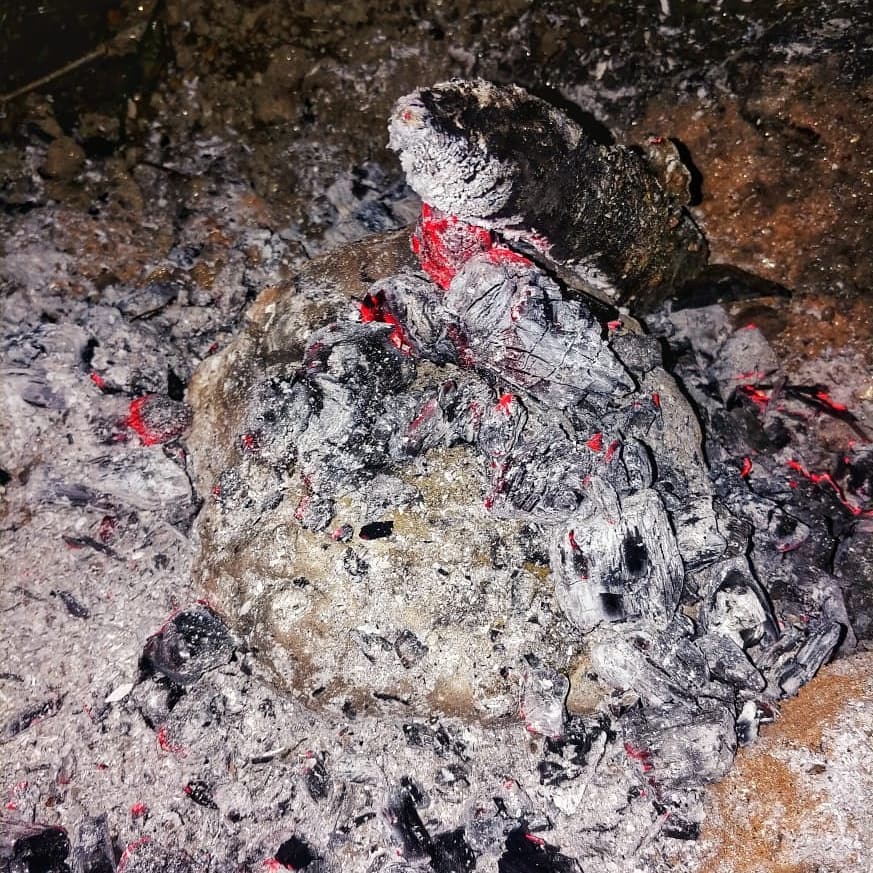 Mekong Delta has a pretty unique culinary culture. Delicacies like these are very hard to find in other regions. A great dish that you must try if you have the chance is the mud roasted chicken. What would you do if you're working on the field and you have a chicken but nothing to cook with? Wrap it in mud and roast it. What else are you going to do? The mud must be at the perfect moisture level, not too wet not too dry. After covering the chicken in mud, they will bury it in layers of straw or hay and start a fire. Around an hour later and the mud resembles more of a hard shell. When you peel the mud off, the feathers will go with it. The chicken is soft, juicy and definitely delicious. It's one of the must-try things when you travel to the Mekong Delta.
Durian cake – Banh pia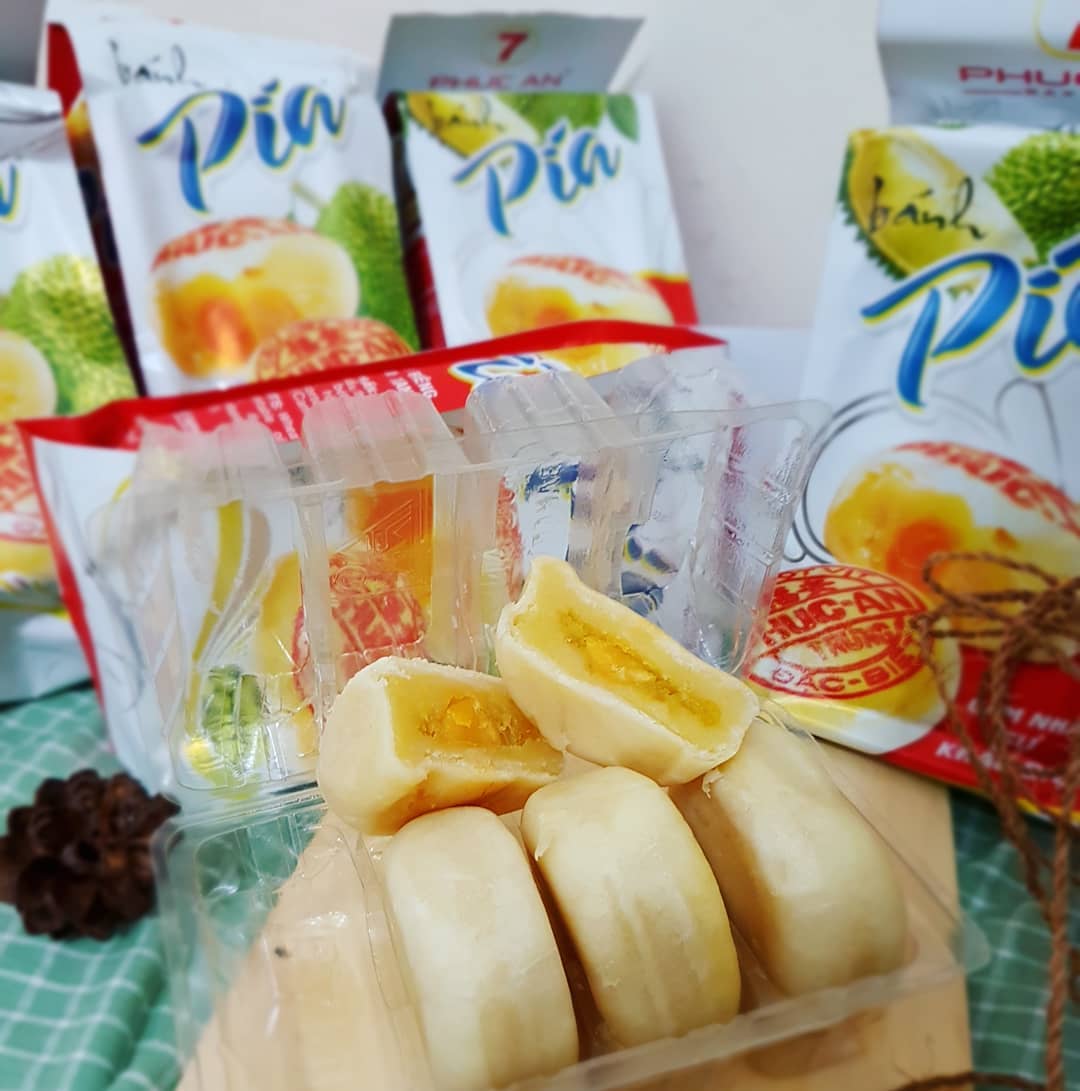 You can find the best durian in all of Vietnam in the Mekong Delta. So the most delicious durian cake can also be found here. It's no surprise that people hate durian's smell. But once you've gotten over the smell, the taste is truly magnificent. Try to ease yourself in by trying durian ice cream. After that, you can try some durian cake.
Coconut worm – Duong dua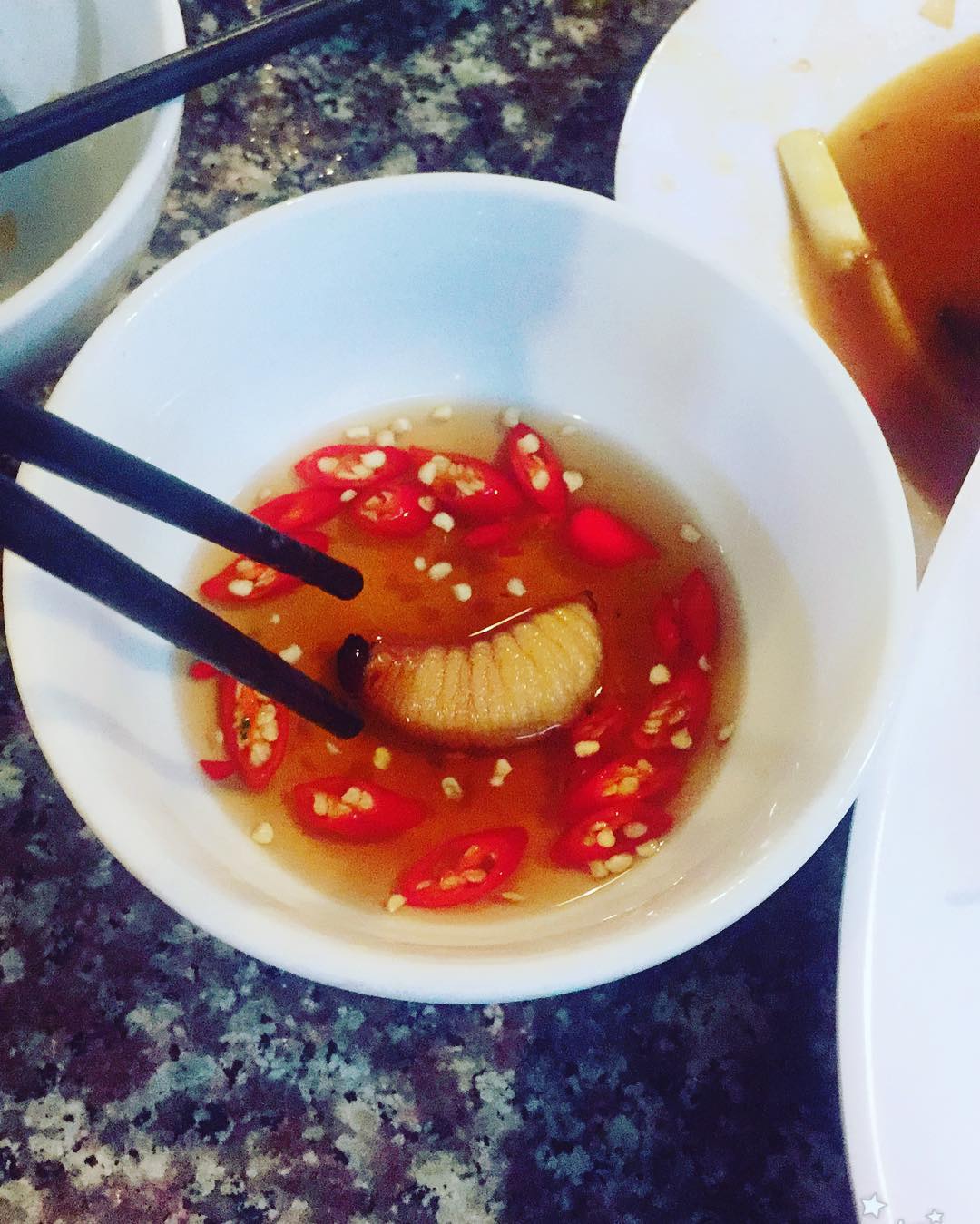 Okay, so this one is more of an acquired taste. These larvae pierce holes in coconut trees and lay eggs inside. The Mekong Delta is perfect for them with the number of coconut trees here. Grilled is the most common way of eating them. But you can always eat them alive if that's your thing.
How to visit Mekong Delta from Ho Chi Minh City
Transportation
So there are basically three ways to get to Mekong Delta: by bus, by motorbike, and by private car.The bus is the most common way that people get to Mekong Delta. There are numerous bus lines for you to choose from. You should choose the province that you'd like to get to and just book the ticket. Depend on the province, the price varies from 100,000 Dong to 200,000 Dong.Private car is another option. This one is most suitable for families or group of friends. Most cars charge you by the day you'll be hiring them and also by the number of stops. You should only choose private cars if you have a detailed itinerary. Hire a car for more than 2 days can lower the price. For a car with 7 seats, the price is usually US$70-US$80 a day. A minivan with 12 seats will probably cost around US$90-US$95 a day.Okay, so travel by bike can be the best way to travel in Vietnam, period. You can see them in any part of Vietnam. Only choose this option if you have experience with motorbikes because it's pretty dangerous. There are three basic type of motorbikes that you can rent: automatic, semi-automatic, and manual. Just find the right motorbike for you and then you can start your journey.
Booking a tour
There are many tour providers out there with different levels of quality. But if you're looking for an authentic experience with a local guide. Then consider our tours at Inspitrip. You can visit our website to learn more about what we have to offer. Explore the one and only Mekong delta in Vietnam with a local now!
One-day trip of the Mekong Delta
So this is typically what you get when you travel the Mekong Delta with us.7 A.M: You'll leave your hotel in Ho Chi Minh city to start your journey. Remember to have some breakfast first. A Banh Mi or a bowl of Pho is the best.10 A.M: The journey takes about 2-2.5 hours so this is when you'll get to the Mekong Delta. Then you can visit the coconut island and coconut workshops. Take a boat ride to observe the locals tend to their daily business. 12-1 P.M: It's time to get some lunch. You can enjoy a homemade lunch with a local family if you like. You can join them in fishing and even learn how to cook Vietnamese dishes. After lunch, you can take a rest or go biking around town. If you want, you can learn more about the local culture through architecture and religious practices. Give way to some spontaneous discoveries, like a visit to a local school with your children, or play with python.4 P.M: It's time to start your journey back to Ho Chi Minh city.