MahaNakhon SkyWalk: Top Tips and Complete Guide to Explore Thailand's Highest Observation Deck
Being recognized as the Land of Smile, tourists around the world have viewed Bangkok as an alluring, exhilarating and chaotic place, brimming with sights, smells, and thrills. However, a trip to this tourist paradise would be incomplete if you miss a visit to MahaNakhon Skywalk. Located inside King Power MahaNakhon Tower, the second tallest building of Thailand, the newly-opened MahaNakhon Skywalk offers a breathtaking panoramic city skyline. In this article, you will find all essential tips and detailed guide to visit Thailand's highest observation deck that is exclusively brought to you by a local insider!
About King Power MahaNakhon Tower
MahaNakhon means "The Great Metropolis" in the Thai language. The King Power MahaNakhon is a multi-functional skyscraper, which was built mainly to provide luxurious residences, 5-star hotel and bring in various international brands in dining and fashion to Bangkok's financial district.
The impressive appearance of this tower might cause a misunderstanding that this is a place only for businessmen and rich people. However, once you have come here, you will change your mind. At the top of the tower, there is a multi-storey observatory opened in late 2018, which promises to bring any visitor to a whole new level of terrifying thrill.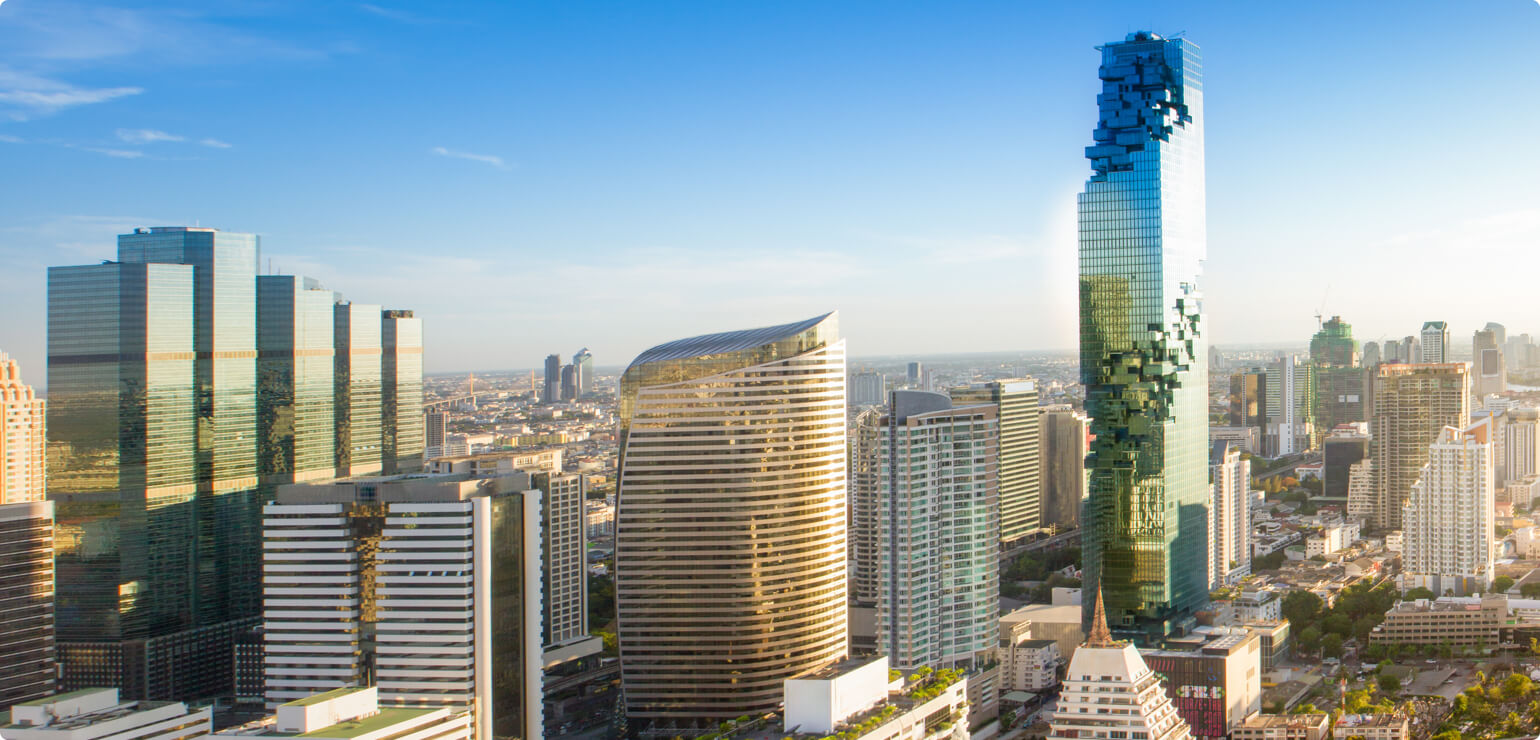 The MahaNakhon Skywalk is Thailand's highest observatory at the height of 314 meters above the ground. The observatory consists of three levels: the indoor observation deck, the skywalk which is popularly known as the glass tray, and the outdoor "Peak".
The skywalk is the most exhilarating because it is paved with a glass tray, which gives you absolute transparency to look down at the city of Bangkok. This glass tray is definitely not for the fainted-heart; however, the observatory is for everyone. There are an indoor 360-degree viewing area and the rooftop deck that offers you a panoramic view of the bustling Bangkok below. That's a kind of experience you wouldn't want to miss while in Bangkok.
Address: King Power MahaNakhon Tower, 114 Narathiwas Road, Silom, Bangrak, Bangkok
Opening Hours: 10:00 AM - 12:00 AM, daily (Last admission at 11:00 PM)
Guide to explore MahaNakhon Skywalk
Like many other famous attractions, entrance tickets to MahaNakhon Skywalk can be purchased directly at the ticket counter on your arrival or beforehand via the Internet.
Buying your tickets on site can be easy and convenient if you want to be flexible on visiting date or if you don't mind lining up at the ticket counter. Remember that ManaNakhon Skywalk is one of the most-visited destinations of Bangkok-lovers. Therefore, at peak hours, there will be a huge number of visitors coming in and it'll take time buying tickets.
If you have already include MahaNakhon Skywalk to your Bangkok itinerary, booking your tickets beforehand could save your time queueing at the ticket counter and even get a much cheaper deal than buying from the ticket booths.
Inspitrip is one of the best-trusted platforms that are providing entrance tickets to MahaNakhon Skywalk with best prices guaranteed. You will be able to skip the line, guided by helpful customer supporters, and most importantly, save up to 45% off when getting your tickets today via Inspitrip!
When you arrive
After confirming your travel date and successfully making a payment, you will receive an e-voucher that is sent to your email address by Inspitrip's support staff within just a few seconds. On your date of visit, just present your passport (or identification card) and the e-voucher at the redemption counter at the entrance of MahaNakhon tower to exchange for a physical ticket.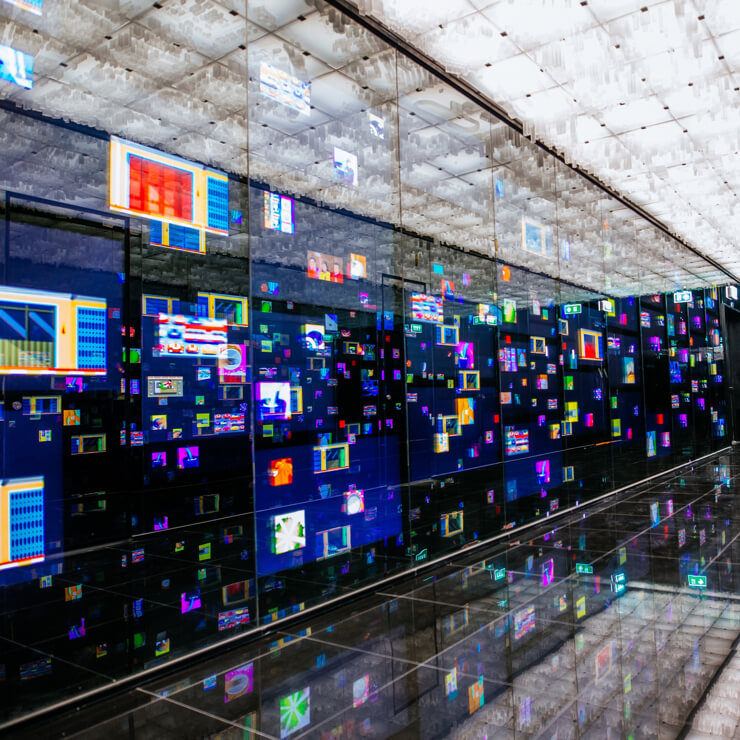 After checking in at the entrance gate, you will be guided through a corridor of a digital wall to the elevator. The digital wall, featured in animated clips, plays a role in introducing visitors about Thai specialties. For examples, it features traditional Thai massage, Thai Sarong (a long piece of cloth traditionally worn by women in Southeast Asia, especially in Thailand), durian, Tuk Tuk, and many more.
At the end of the corridor is the multimedia elevator. You'll have a chance to board the fastest elevator in Southeast Asia, reaching the 74th floor in exactly 50 seconds. The interior walls of the elevator are covered with a 360-degree screen, which broadcasts an introduction video about King Power MahaNakhon, making it one of the most mesmerizing experiences that you could have ever imagined. This elevator has been awarded as Thailand's fastest video-themed elevator since it was opened to the public.
Level 1 - 74th floor: Indoor 360-Degree Observation Deck
Start your journey with the indoor 360-degree observation deck on the 74th floor, where all four sides of the walls are actually large glass windows. You can freely (and of course, safely) go around and take as many photos as you want with the sprawling background of downtown Bangkok. It is even more fascinating to know that the ceilings and floors are also gleaming in the sunlight.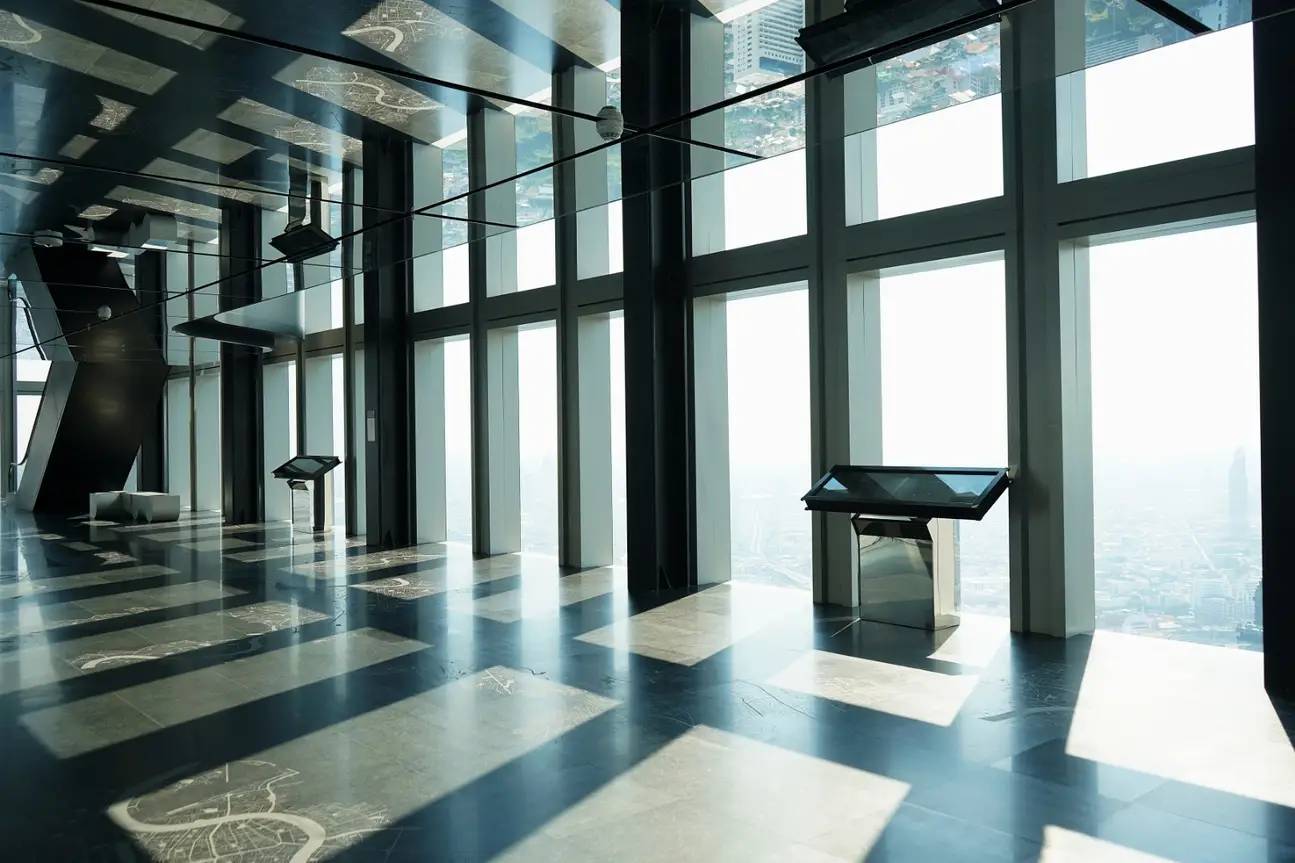 More interestingly, you can even navigate different places or attractions in Bangkok by downloading the mobile app named MahanakhonSkywalk AR. This is the Augmented Reality (AR) application that brings information of places appeared right on your phone.
With this app, you can take a picture of any surrounding spots and get all necessary information. This app allows you to learn more about Bangkok's attractions and landmarks, and is an alternative to the information board at the high-peak time.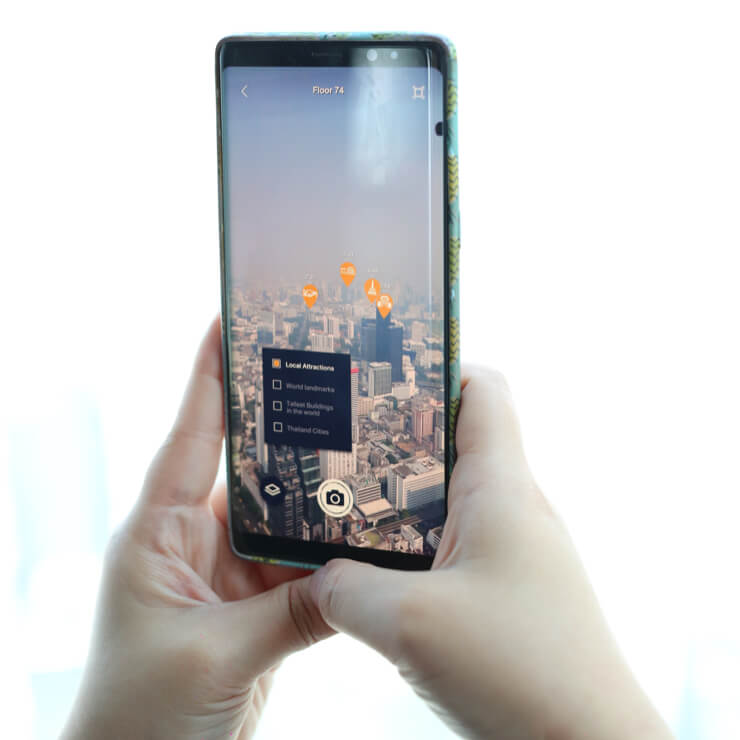 Level 2 - 75th floor: Hydraulic Glass Lift
From the 74th floor, use the stairs and you'll reach the boarding area of the hydraulic glass lift on the 75th floor. This special lift is half inside, half outside of the building. The hydraulic gift allows you to take in the stunning bird's eye view of the city as it moves up. This lift will bring you to the highest level of the building: the rooftop observation deck and glass-tray.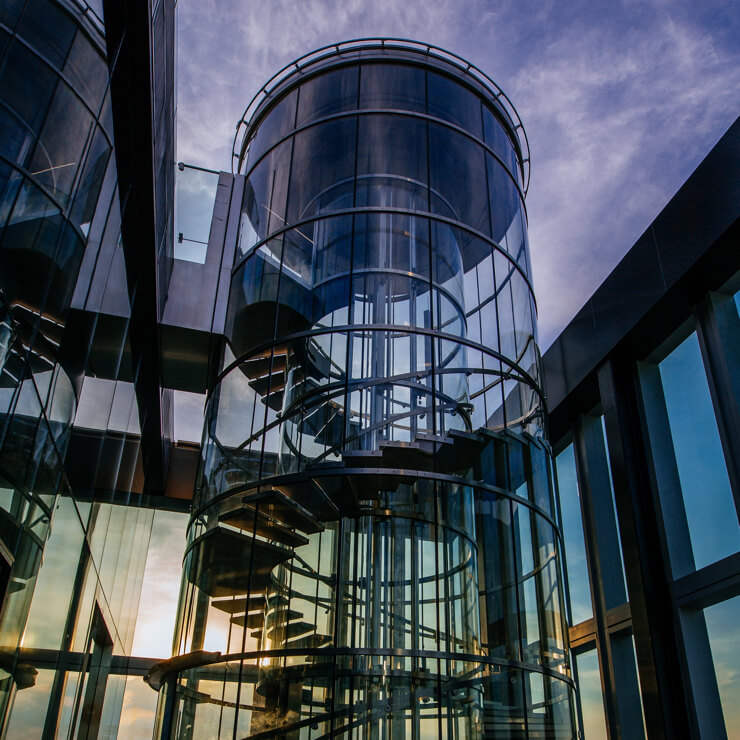 Level 3 - 78th floor: On top of the MahaNakhon tower
Here come the terrifying thrills! The rooftop of the MahaNakhon tower is home to Thailand's highest bar and an outdoor observatory. This floor consists of 2 sections: the lower and the upper section. The lower section houses the rooftop bar and the famous glass tray. Meanwhile, the upper section is the outdoor area where there are seats for visitors to sit back and enjoy the relaxing yet thrilling atmosphere from a height of 314 meters.
The glass tray
Most visitors, even those with acrophobia, coming to MahaNakhon Skywalk cannot resist to experience this horror or to witness the stunning cityscape down below. At the height of 310 meters above the ground, this is one of the world's largest glass trays. However, like other skywalks around the world, there are some safety rules you must follow when stepping on the glass:
Cover your shoes with the provided disposable shoe-covers. This is to protect the surface of the glass from being scratched and contaminated.
Put your valuables (phone, camera, watch, etc.) in a bag and keep it with you during your visit. This action must be taken to prevent unexpected accidents when your belongings accidentally drop down onto the glass.
Saying that doesn't mean you are not allowed to have fun and pose. In fact, visitors can comfortably lie down and crawl on the glass (thanks to the shoe-cover, the glass is definitely clean to do so). The staffs here are very friendly and more than willing to help you take fancy photos for your Instagrammable posts.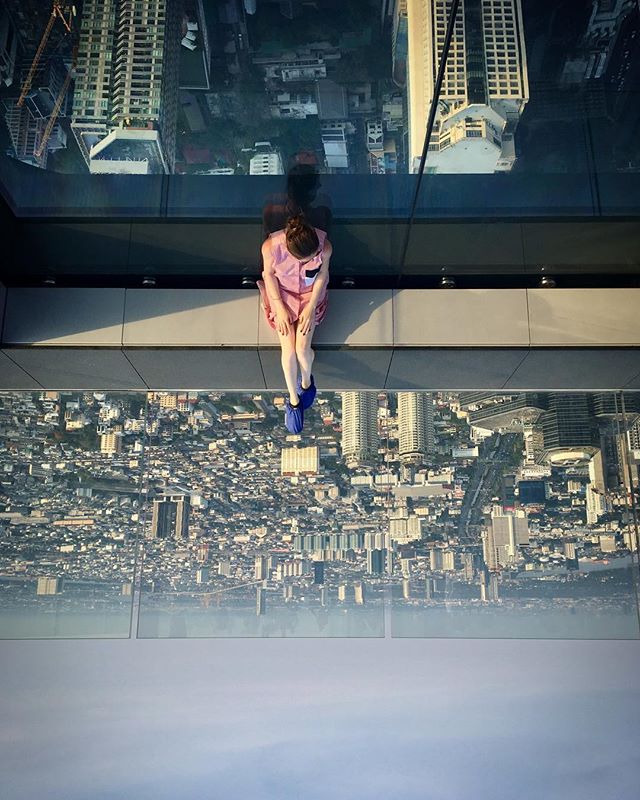 The outdoor 360-Degree Observation Deck
Take a few more steps from the glass skywalk, you'll reach "The Peak" - the highest observation deck of MahaNakhon. This area is completely in the open air, which leaves no obstacles between you and the breath-taking views, making it a wonderful spot to catch a sunset view in Bangkok. However, be noticed that you will have to share some space with many other visitors as sunset looms.
From The Peak of MahaNakhon, you will also uncover the beauty of Bangkok from a totally different angle. Being famed for its vibrant nightlife, the city of Bangkok offers everything from excellent live music, clubs to great restaurants. You can see the sparkling cruises sailing on the Chao Phraya River, a mini light-show from the IconSiam shopping mall as well as red hues across the night sky.
The rooftop floor has some seats heading out to the city view as well as those reserved for the bar. Needless to say, the best time to visit MahaNakhon Skywalk is in the evening when the sun goes down. But you can also come during the daytime when it is not filled with many visitors. However, be mindful that this open area has no roof or shade for you to escape from the searing sun. If you come at the daytime, it's better to sit at the bar in the lower section (opposite the glass skywalk).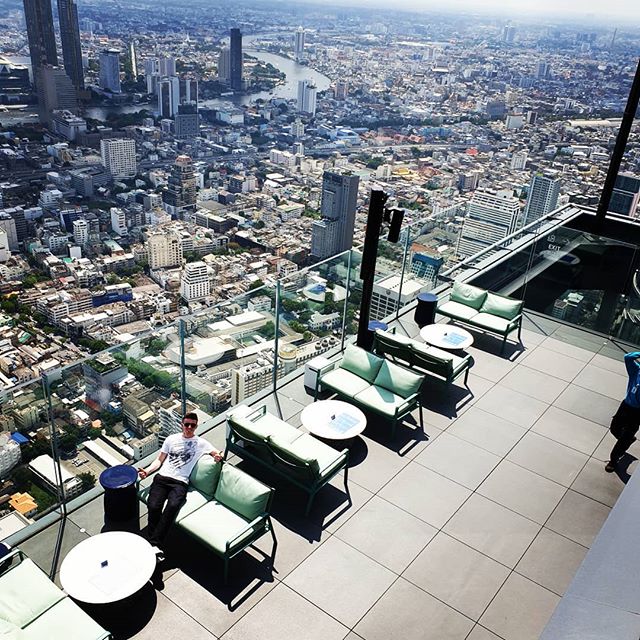 Essential tips from Inspitrip
Ticketing
If you buy tickets to MahaNakhon Skywalk via Inspitrip, they will provide you a variety of access:
Admission fee to Thailand's tallest observatory
A walk through the corridor of digital walls on the way to the multimedia-themed elevators
Access to the world's largest glass tray at the height of 310 meters (exclude from the Indoor-only ticket)
Admission to 360-degree views at the peak at 314 meters (exclude from the Indoor-only ticket)
Admission to Thailand's highest rooftop bar on the 78th floor with stunning views of Bangkok (exclude from the Indoor-only ticket)
However, tickets exclude from these services:
Hotel pick up and drop off
Food and beverages
Other personal expenses
How to use:
You can present either a printed or a mobile voucher for this activity
The voucher is valid only on the date specified
You must present your voucher AND your passport to avail of your entry ticket
How to Get to MahaNakhon Skywalk
By BTS Trains
From Suvarnabhumi International Airport, you can take the Airport Link to the Phayathai BTS Station. From here, take the train to Chong Nonsi BTS Station. Then walk straight to exit 3 for approximately 2 minutes before reaching the entrance of MahaNakhon Tower.
If you start from King Power Rangnam, take the train from Victory Monument BTS Station to Siam BTS Station. Then, at Siam BTS station, transfer to a train that goes to Chong Nonsi BTS Station. Get off at Chong Nonsi Station, then leave from Exit 3 and walk straight for approximately 2 minutes. You may refer to this map for directions.
By taxi
Taxis and ride-hailing services are very popular in many Southeast Asia countries. Moreover, the fares are much cheaper than other similar services in Western countries. If you're not good at navigation or unfamiliar to Thailand's BTS routes, taking a taxi is the most convenient and easiest way to get to MahaNakhon Skywalk.
If you choose Grab car, it will be even more convenient than a conventional taxi. The Grab app allows you to know the ride's fare, track your route or even get a discount code for your next journeys. Usually, the fare for a one-kilometer taxi ride is around THB $6.
Alternatively, you can also try Grab motorbike to avoid congestion during rush hours. Needless to say, this is a thrilling experience if you would like to experience 'travel like a local'.
After visiting MahaNakhon
As you exit, you have to go through the 4th floor, where the King Power MahaNakhon souvenir shop is located. It's a duty-free shopping area that sells a lot of beautiful postcards, shirts and other types of souvenirs. Here you can look around, buy some cute gifts for your family and friends. Otherwise, simply get something for yourself to bring unforgettable memories at MahaNakhon Skywalk back home.
With the breathtaking bird's-eye to the city of Bangkok and modern technologies, a visit to MahaNakhon Skywalk will certainly live up to expectations of the most adventurous souls. King Power MahaNakhon is serving both as Bangkok's newest iconic landmark and Thailand's highest observation deck. You'll figure it out some more attractions to visit while standing on the observatory, where your view is broaden and unlimited. Need some recommendations to put on your list? Check out these following articles to discover all top tips from a local perspective!: