Jurong Bird Park: A Detailed Guide to Discover Asia's Largest Bird Paradise in Singapore
Spreading over 20.2 hectares in the western part of Singapore, Jurong Bird Park is Asia's largest bird garden. It was awarded the Certificate of Excellence by TripAdvisor. Wherever you come from, if you are planning a visit to Singapore, you would love to have up-close encounters with many of the most beautiful and rarest feathered friends at Jurong Bird Park.
Why choosing Jurong Bird Park?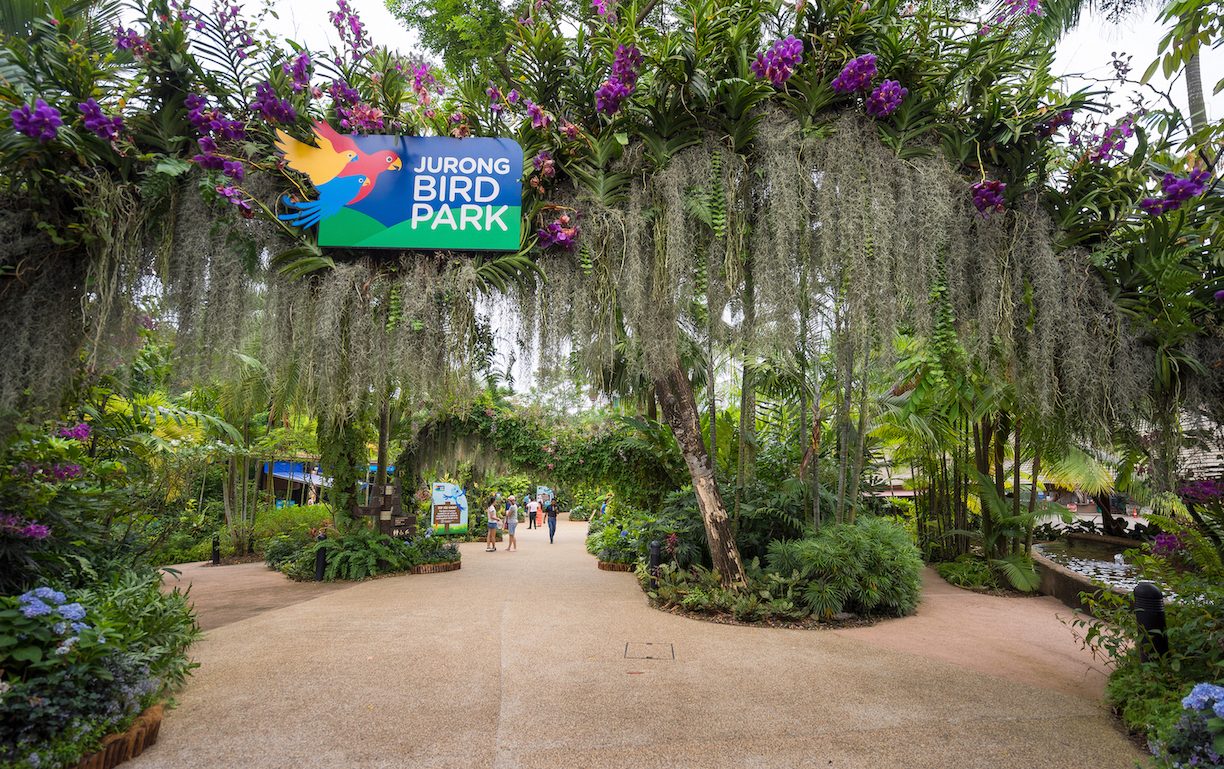 Recognizing as Asia's largest bird park, Singapore Jurong Bird Park is a heaven for a vast collection of approximately 3,500 birds from 400 species found all over the world, 20% of which are endangered. This bird park's main mission is not only to conserve wildlife habitat but also to educate the young generation about the avian world. Therefore, whether you are traveling with your group of friends or family, especially with children, Jurong Bird Park is a great place to relax amidst nature and gain real insight into the flying wonders that are thriving in this beautiful bird paradise.
Bird zones in Jurong Bird Park
Penguin Coast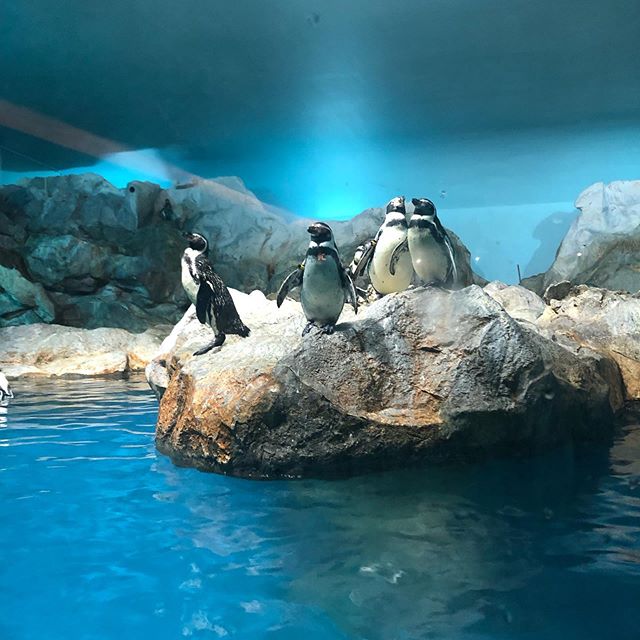 From the main entrance, you will instantly meet the Penguin Coast. This is a large building in which temperatures are always maintained at 10 - 15 Celsius degree and a light system change periodically to stimulate the natural habitat of the penguins. This Penguin Coast houses over 100 penguins across 5 different species and there is a "Happy Feet show" taking place during feeding time at 10:30 and 15:30 that can keep the kiddos entertained all the time.
Flamingo Pool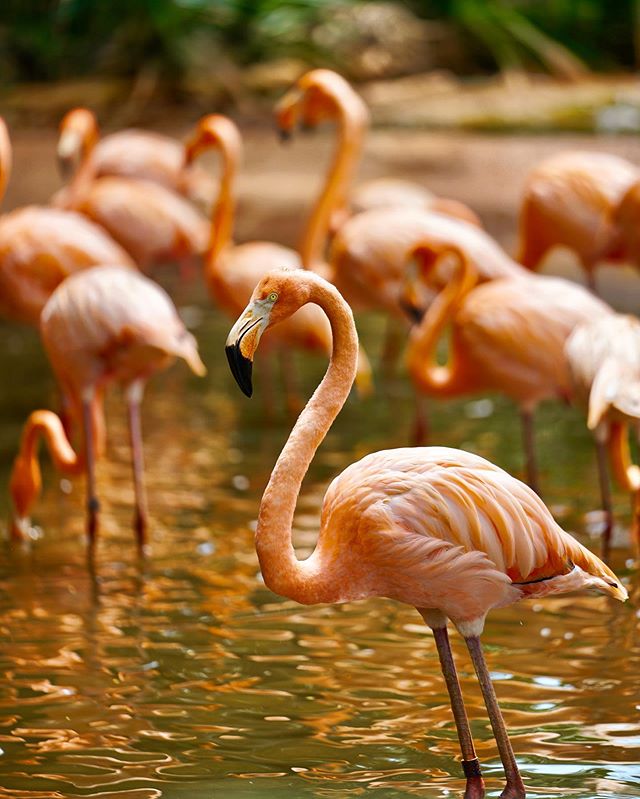 Leaving the Penguin Coast, you will see the Flamingo Pool on your right side. These vigorous flamingos are definitely enticing with its being tricolor: bill-grey at the base, pink on their plumage and black at the tip. Next "door", there is another type of flamingos which are the Lesser Flamingos - the smallest genus of flamingos in the world.
After taking some photos of these beautiful creatures, walk to the right to the Hawk Arena, settle down and brace yourself at the amazing King of the skies show.
Flamingo Lake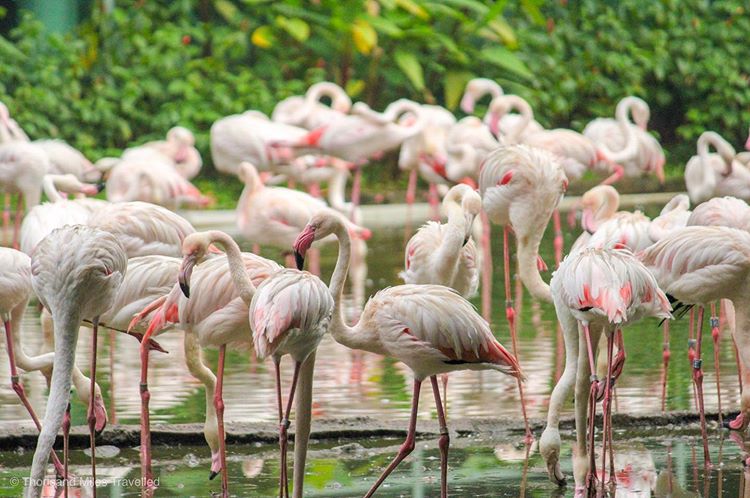 After watching the King of the skies, walk to the right of the Hawk Arena and you can approach the Flamingo Lake. This is probably one of the most worth-seeing zones in Jurong Bird Park because it offers you a closer look at what the flamingo chicks look like and how they are raised.
The flamingo chicks are basically white, and they are fed by their parent's milk, which is also an interesting fact that only 2 groups of birds can produce milk. It is the red pigment in the milk what makes flamingos' feathers turn pink as they grow.
Wetlands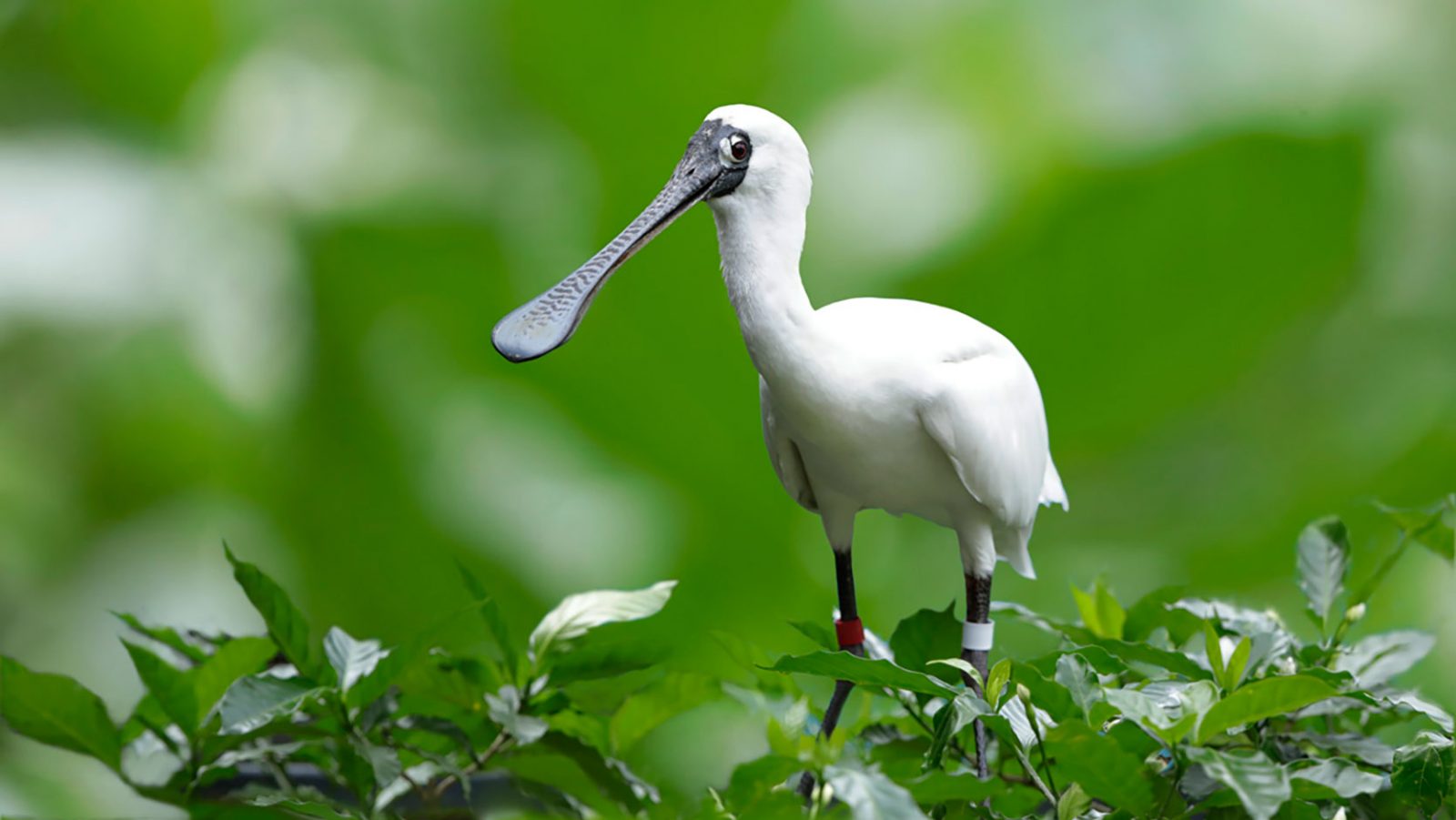 Most of us may have never heard about names like scarlet ibis, shoebill, spoonbill because they are endangered wetlands-dependent species. In fact, they are vital to the survival of humans, plants, and other animals. Jurong Bird Park is the one among very few wildlife reserves that focus on recreating natural wetlands environment and aids the breeding of the next generations. To get to the Wetlands zone, you can hop on the tram at the station no.1 in front of Flamingo Pool and Hawk Arena which drives you directly and quickly, or you can walk to the left of the Penguin Coast.
Hornbills and Toucans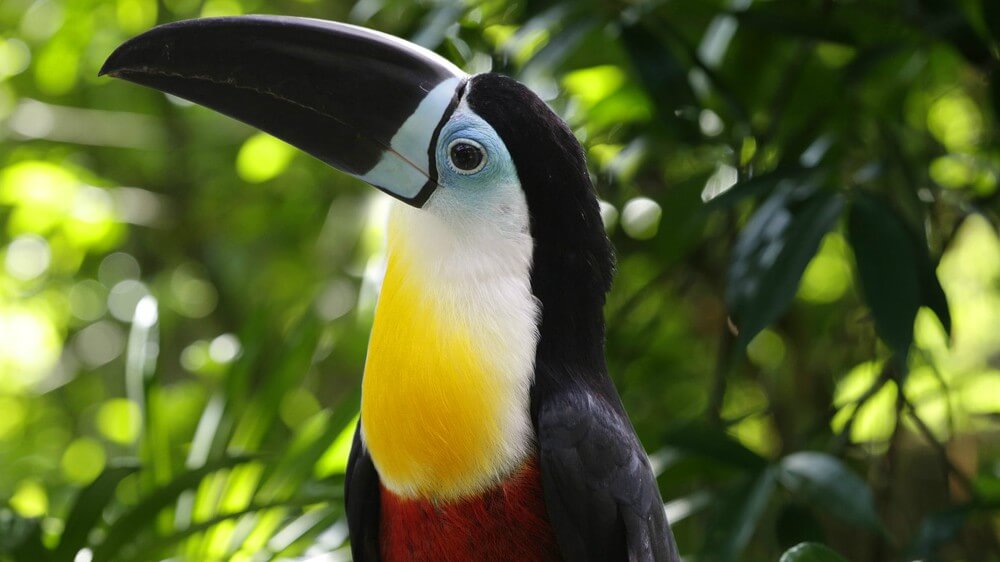 From the Wetlands, you only need to take a few footsteps to reach the must-see Hornbills and Toucans. Different from other zones, you can easily recognize when you step into the Hornbill's zone because of its significant loud honks. Sometimes, they can make you feel jealous because of its gracefully colorful appearance like they had an artist paint on the plumages. Though Hornbills and Toucans were adopted from different regions, the fact that they share the same sources of food and physical traits that help them live peacefully together.
Lory Loft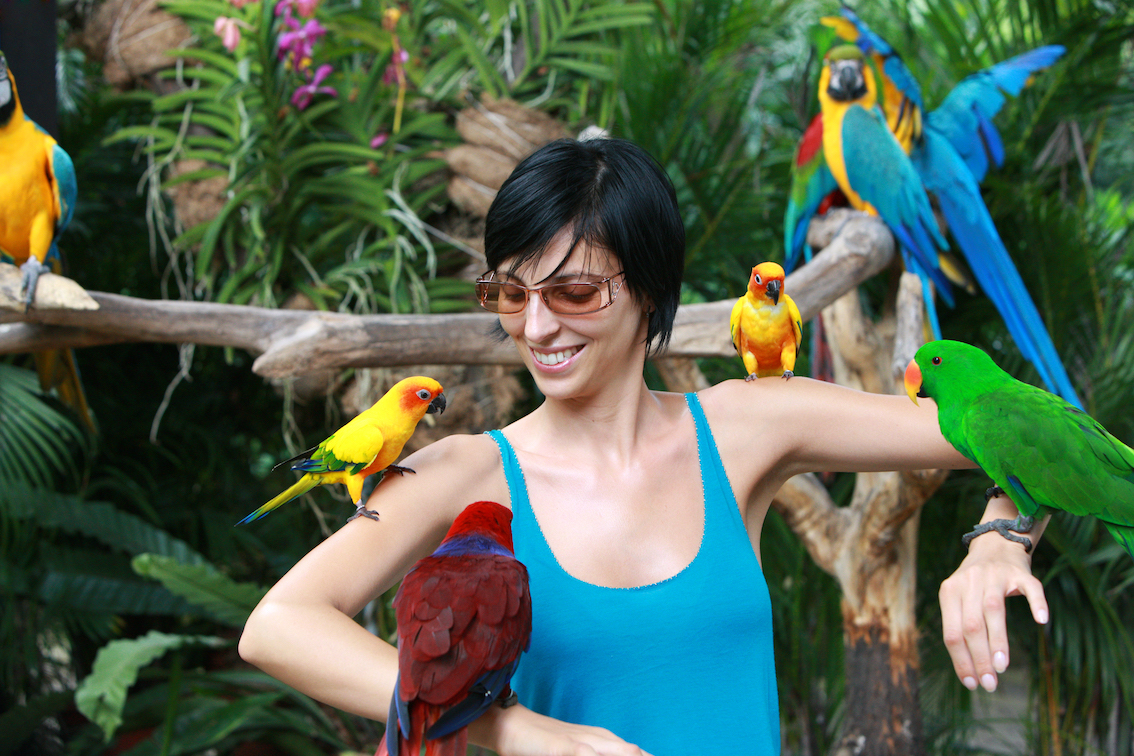 Next to the Hornbills and Toucans is the Lory Loft, one of the four walk-in exhibits in Jurong Bird Park. What makes this zone unique is that you can actually feed the lories with their special food mixture which the bird keepers have prepared for you. In fact, giving the birds food is a way to attract them to you so that you can hear them "sing" and take fancy photos with them.
Birds of prey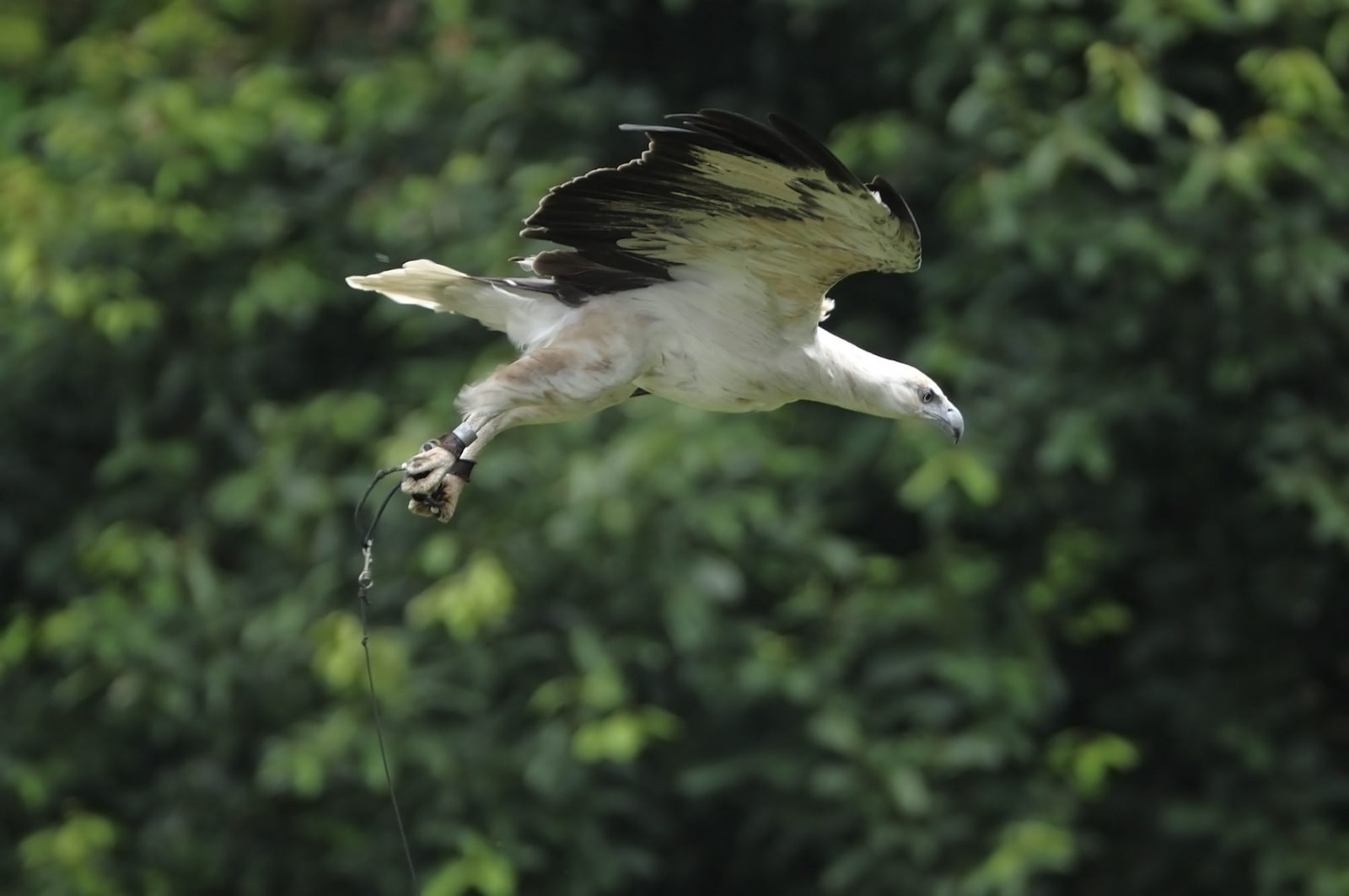 Continue heading to the right, you can expect to see African fish eagle, Andean Condor, American King Vulture, Himalayan Griffon Vulture, and Turkey Vulture here in Birds of prey zone. However, we suggest watching the show called King of the skies so that you can clearly see their amazing prowess.
Wings of Asia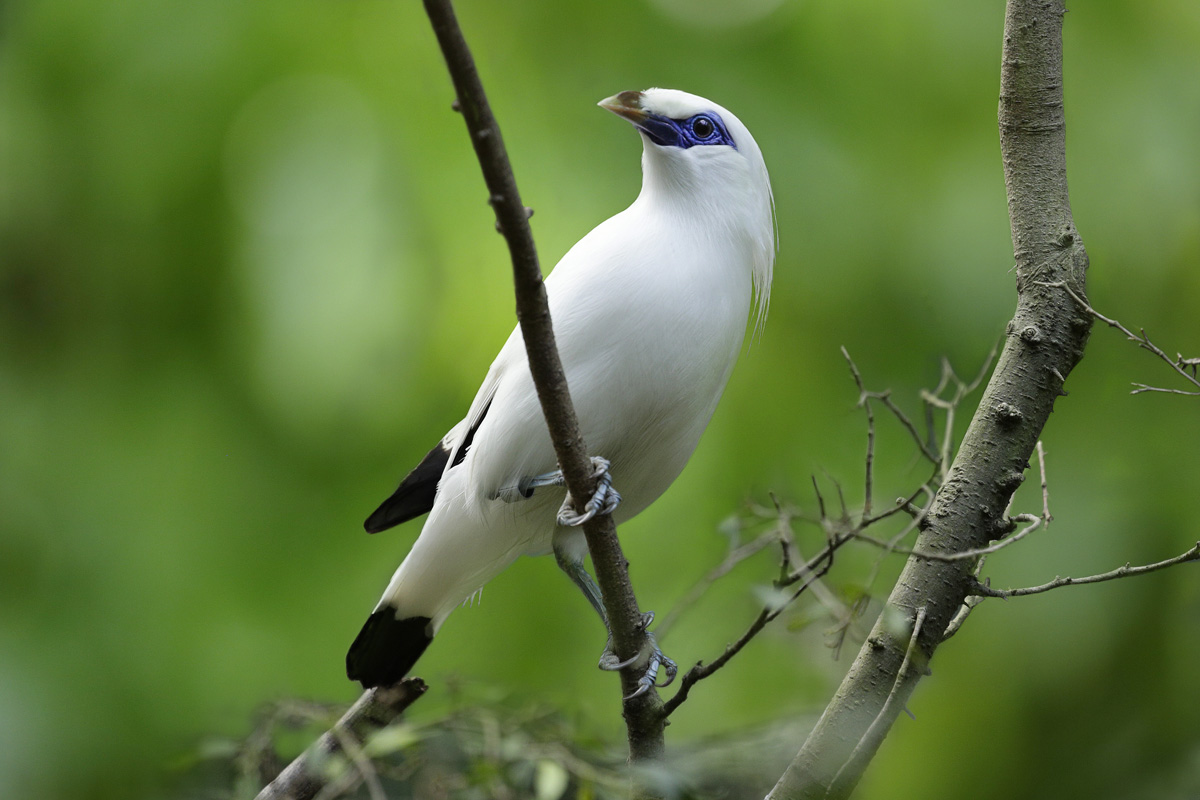 Take a few more steps from the Birds of Prey, once again, you are going to walk in an amazing avian world: the threatened birds of Asia. Jurong Bird Park is helping save these species by conserving their natural habitats and their breeding facilities. There is no way you can resist the lovely sounds of their calls for their soulmate, which are also the reason why they are called songbirds. If you arrive here at around 12:30 to 14:00, you shouldn't miss a lively lunch with your parrot friends at Songbird Terrace.
Pelican Cove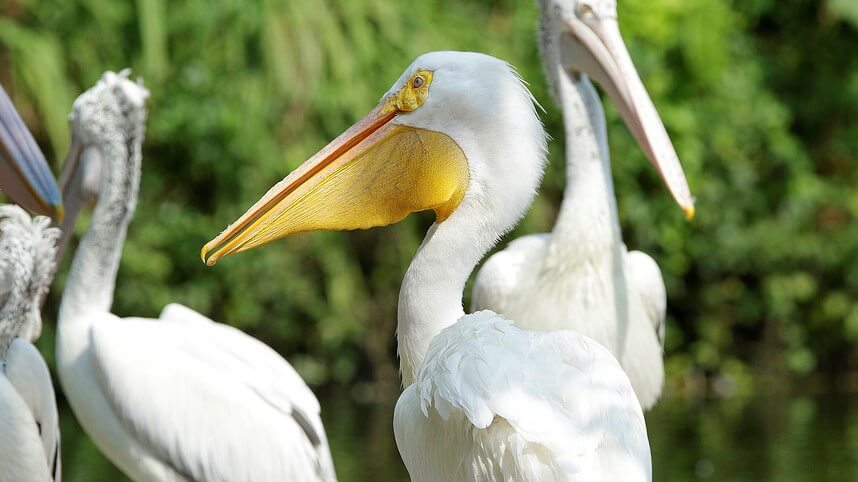 After re-energize yourself with a sumptuous spread of Asian meal, take a slow walk to the Pelican Cove, which is only 10 minutes walk from the Songbird Terrace. Here you will not only find the Asian pelicans but also other varieties such as the American white, African pink-backed, Asian spot-billed and Australian.
Swan Lake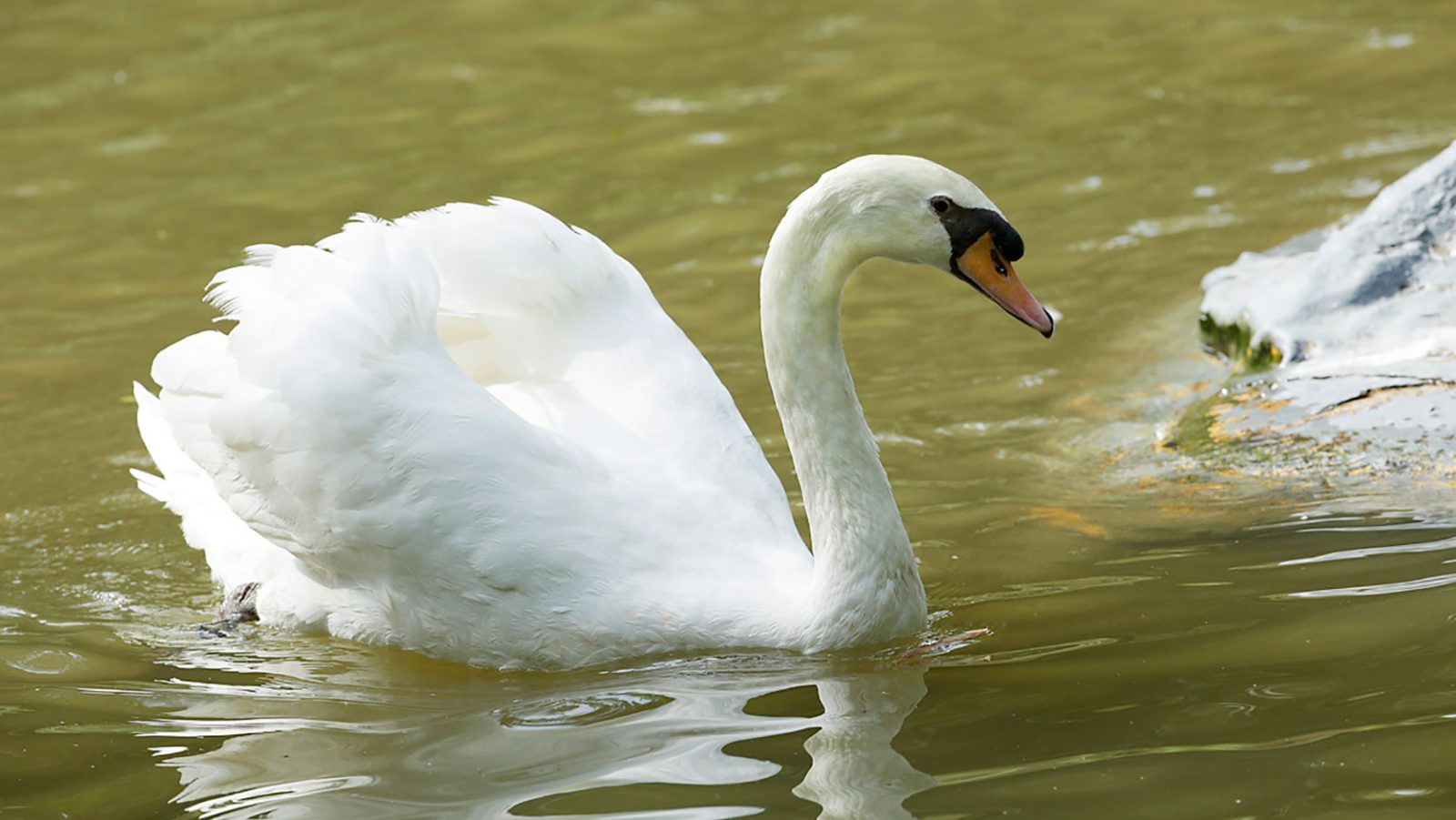 Being the neighbors of the pelicans, the swans are incomparable by its elegance and beauty. However, swans are not only graceful but also powerful due to its flexible neck, large mandibular nail at the tip of its bill, and a strong spiny tongue to produce loud calls. The two types of swan you can find here are the black and the mute swan.
Waterfall Aviary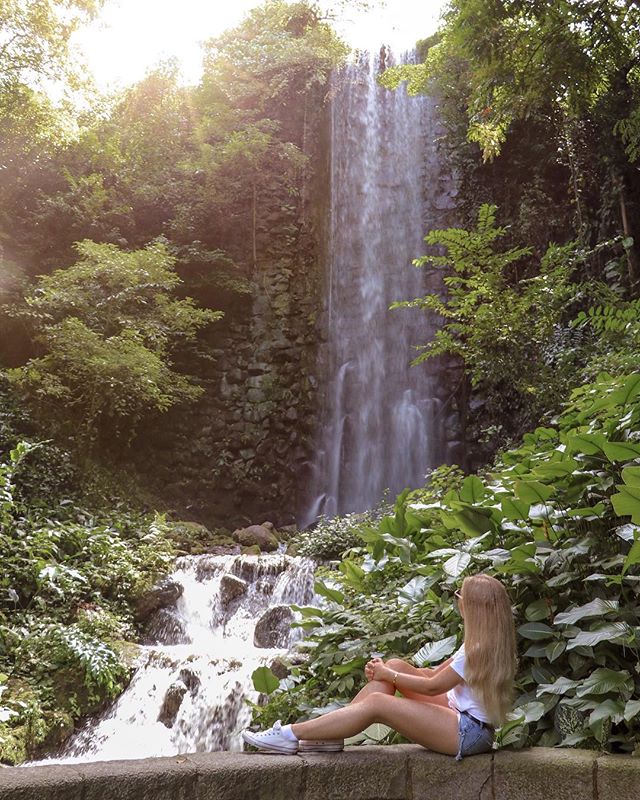 Welcome to the world's tallest indoor man-made waterfall! On weekends and public holidays, you can join the keepers in feeding these gorgeous birds and learn more about the birds' origins or behaviors. If you cannot make it on weekend, you still can walk across the suspended bridge to take in a 360-degree view of the valley and observe the birds at a closer distance. There are many eye-catching birds (and ear-catching too!) like the purple glossy starling, the red-crested turaco or the crowned pigeon, etc.
Breeding and Research Centre (BRC)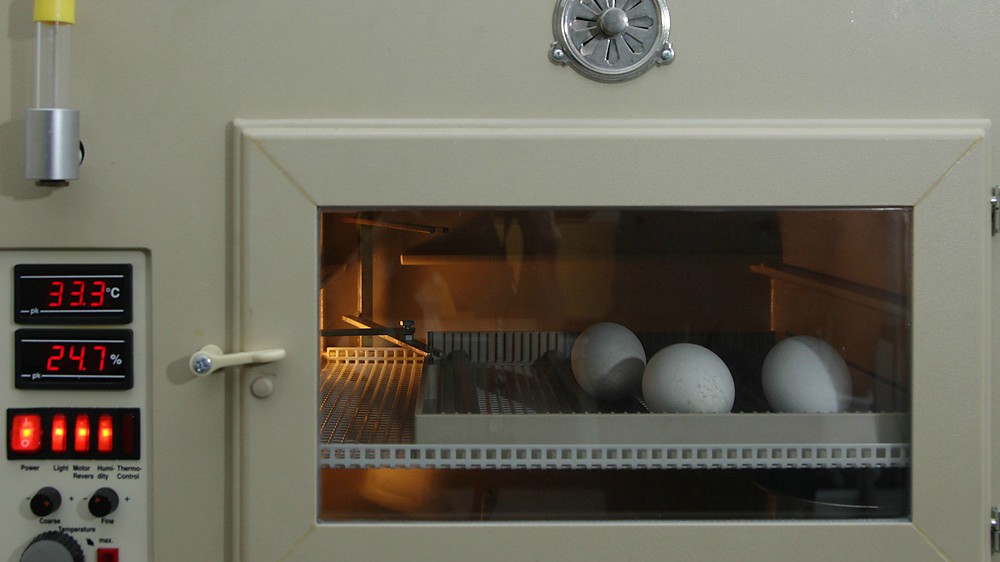 Last but not least, this is the place for those who like science and do science: the Breeding and Research Centre. Not just the natural habitats, Jurong Bird Park is also conserving the threatened and non-threatened species. What The BRC does is supporting the breeding and the survival of baby chicks. In short, it's called "egg-pert" care. Coming here, you are going to learn about the lifespan of the eggs and what conditions they need to hatch. Normally, the abandoned eggs are also collected and brought here. Eggs are put in the incubation room until the chicks come out. Then, the chicks are moved to the nursery room, where they have "bird nannies" feed them every two to three hours. So interesting, isn't it?
Apply code 'GO10' to get 10% off for all experiences from today!
Things to do in Jurong Bird Park
1. Watch the birds-got-talent shows
Although the park opens all day long, you really should go early in the morning to catch some of its amazing shows as the showing venue is quite far from the gate. The earliest show is King of the skies, which starts at 10:00 am at Hawk Arena. During this show, you can witness the fierce and formidable of the predators like white-tailed sea eagle, hawk and Malay fish owl on their hunting trip. The show plays twice daily: the morning show starts at 10:00 am, and the afternoon show starts at 16:00 pm.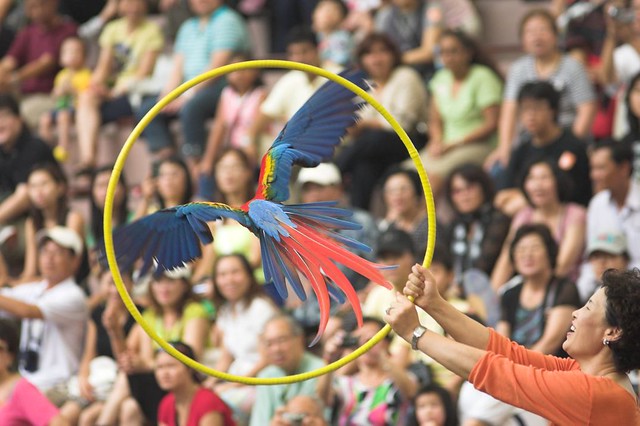 Later than the King of the skies show is the High Flyers show. This show will absolutely blow your mind and make you think if they are really bird-brained. Come and meet the one and only Amigo, a yellow-naped Amazon who can sing in three languages. Others like parrots can show you their real sense of showmanship and talents in various interactive performances. The show plays twice daily: the first show starts at 11:00 am, and the second show starts at 15:00 pm.
2. Get closer to wildlife at the Bird's Paradise
There is an easier way to get around Jurong Bird Park and see amazing "behind the scenes". That is the Bird's Eye Tour. This tour is highly recommended to families with small children or old people who cannot walk for long hours. Everything you need to do is to sightsee and listen to the little-known stories told by your tour guide, who is also one of the bird-keepers.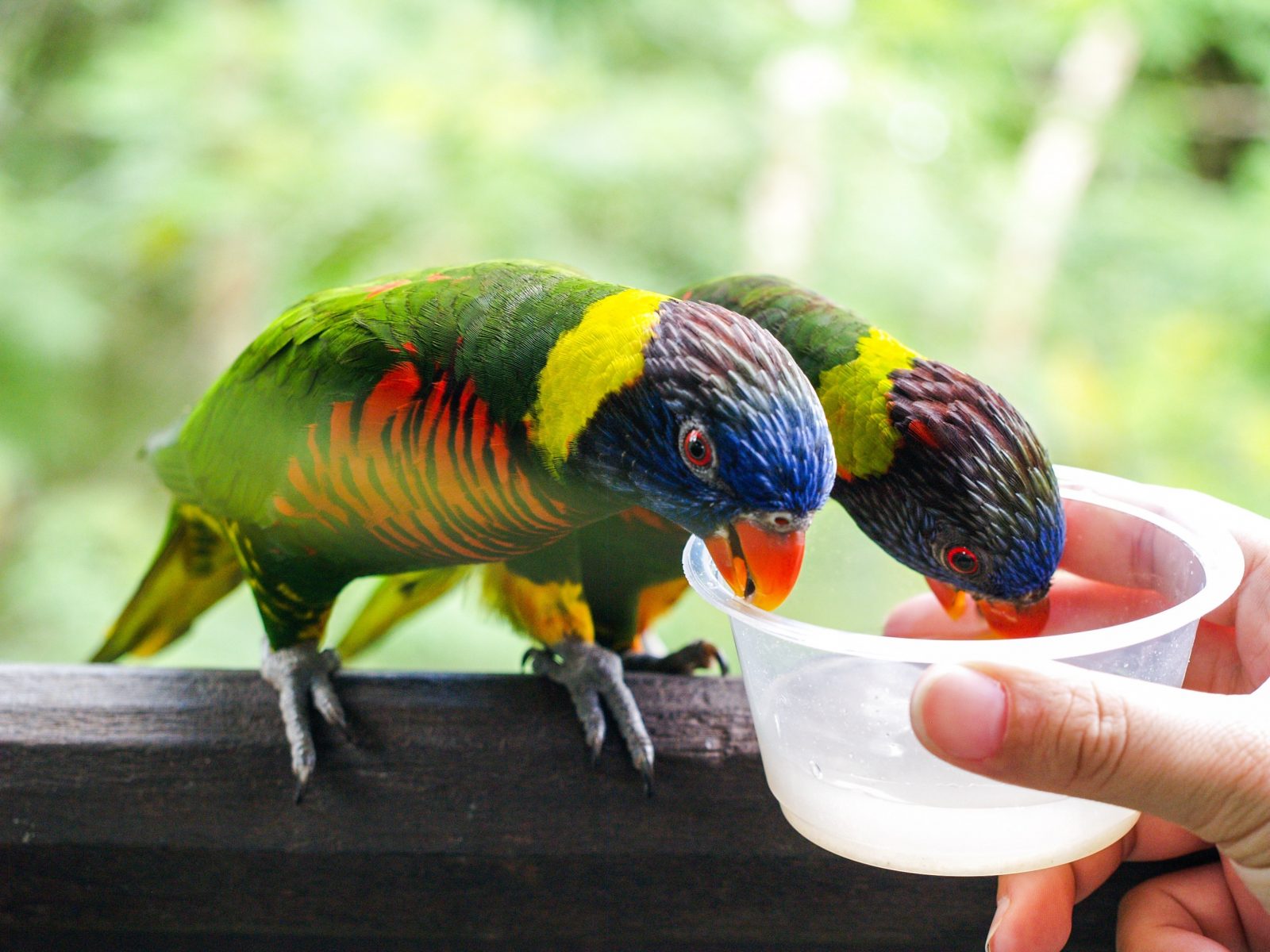 If you accidentally fall in love with your avian friends, you can make friends by feeding them during their feeding sessions. On weekdays you can only feed penguins, lories, and lorikeets. But on weekends and public holidays, you can also feed birds, flamingos, and pelicans.
3. Fuel yourself at Jurong Bird Park
Keep your stomach full is a way to explore Jurong Bird Park to the fullest. Here is the list of cafes and restaurants for you to choose:
Hawk Cafe: opens from 8:30 am to 18:00 pm, serves Singaporean dishes
Curry Garden: opens from 8:30 am to 18:00 pm, serves Northern and Southern Indian curries.
Birdz of Play: opens from 10:00 am to 17:30 pm, serves ice-cream, sorbets, and sundae.
Lory Loft Cafe: opens from 9:30 am to 17:30 pm, serves coffee and sandwiches.
Pizza Hut Express: opens from 8:30 am to 18:00 pm, serves pizza
Waterfall Cafe: opens from 9:30 am to 17:00 pm, serves coffee, fruits, salads, and sandwiches.
How to get to Jurong Bird Park
Address: 2 Jurong Hill, Singapore 628925
Opening time: 8:30 am - 18:00 pm (Last entry at 17:30)
By public transport
You can use both the MRT subway and the bus to get to Jurong Bird Park from central Singapore. First, take the MRT East-West Line to Boon Lay (EW27). Then we suggest changing to bus no.194 which takes you directly to Jurong Bird Park.
By bus services
From Safari Gate: there is a hopper bus which takes you directly to Jurong Bird Park. You can either buy a one-way or two-way ticket from Safari Gate's Suntec City. Prices range between $7-12 SGD.
From hotels: You can buy the Singapore Attraction Express ticket which provides direct buses from most hotels in the city. This bus not only goes to Jurong Bird Park but also to Singapore Zoo and River Safari. Prices range between $6 SGD/adult (one-way ticket) to $21 SGD/adult (multiple destinations in 48 hours).
From other wildlife parks: you can get the ticket called StarIsland Travel which costs only $6 SGD/adult.
By self-drive or taxi
Depending on your location, you may choose between the following routes:
Via Central Expressway (CTE) from the City
Take the AYE towards Jurong
Take Exit 17 onto Jalan Ahmad Ibrahim to reach Jurong Bird Park
Via Pan Island Expressway (PIE) from the City
Take the PIE towards Jurong/Tuas
Take Exit 36, and turn left onto Jalan Bahar towards Jalan Boon Lay
Turn right at Jalan Ahmad Ibrahim to reach Jurong Bird Park
It may take you approximately 30 minutes driving from the city, of course, it also depends on the traffic condition. The parking lot can be easily found at Jurong Bird Park.
Essential tips from Inspitrip
In order to save your time queuing, you can purchase Jurong Bird Park entrance ticket online via Inspitrip. There are many types of tickets for different activities, and apparently, Jurong Bird Park is really huge and touristy. Therefore, you should pre-plan your visit. When you arrive, just show your e-ticket at the checkpoint. Remember to pick up a map at the entrance which will be helpful to navigate your way throughout the park.
Wear your most comfortable pair of shoes and carry a refillable bottle of water to keep you from dehydrated.
It is best to visit the park on a sunny day. However, remember to apply or bring along with your sunscreen and sunglasses. You can also carry an umbrella in case it rains suddenly.
If you have many pieces of luggage, you may be asked to store your belongings in a locker or at the reception.
Stay safe by applying some insect repellents if your skin is sensitive and easy to have an allergy. However, Jurong Bird Park is safe from dangerous insects.
If you feel unwell or need help, don't hesitate to reach out to the Guest Relations Officers located throughout the park.
There are cafes and shops inside the park so you can get a coffee, ice cream or sandwich at any time.
Going to Jurong Bird Park is a must when visiting Singapore. Together with Singapore Zoo, River Safari and Night Safari, Jurong Bird Park plays an important role in wildlife reserves of not just Singapore, but the whole world.