One of the requisites to any successful trip is knowing the best way to travel to the desired destination. With that said, traveling between countries has never been easier thanks to the abundance of transportation. So if you are planning on making a trip to Angkor Wat, here is how to get to Angkor Wat, Siem Reap from other popular ASEAN cities.
1. Why you should definitely pay Angkor Wat a visit
At the mention of ancient wonders across the globe, The Pyramid of Giza is probably the most recurrent pick for most people. However, overshadowed by the pyramids' enormous and pervasive popularity is another wonder that surpasses them in scale to become the largest monument on the face of the Earth. The said wonder is no other than Angkor Wat.Angkor Wat, which also serves as the country's famous emblem, is the crown jewel of Cambodia's tourism, attracting tourists far and wide by the millions. The temple is part of a long-standing complex which belongs to the Angkor Archaeological Park, consisting of nearly 300 temples, with Angkor Wat being the biggest and most well-preserved.Read more: Important Things To Know before Visiting Angkor Wat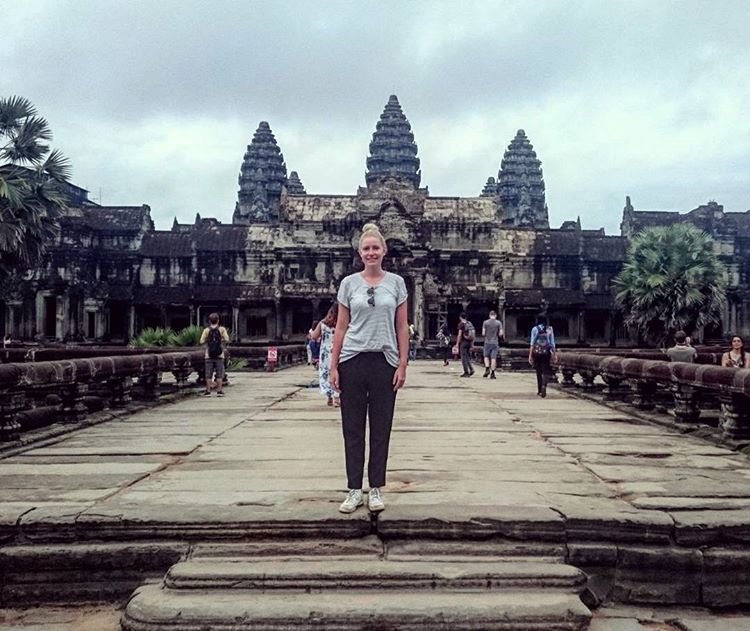 Explore Angkor Wat now! Get yourself a trustworthy local insider for an amazing trip!
Angkor Wat lies in the Northwest region of Cambodia. It was erected by King Suryavarman II in the 12th century and was meant to be a state temple dedicated to Vishnu. The renowned structure itself is the embodiment of Cambodian culture and a prime example of the unique Khmer architecture.As already established, Angkor Wat is second to none when it comes to size. The monument alone is made up of 5 to 10 million sandstone blocks, weighing 1.5 tons each while the whole Angkor city is even greater than modern day Paris. This national landmark has been nominated a UNESCO World Heritage.
2. How to get to Angkor Wat from Siem Reap
Siem Reap is the capital city of Siem Reap province and is situated in the Northwestern region of Cambodia. Far from the once small village in the 19th century, Siem Reap is now a modern city and a gateway to the famous Angkor temples. At only 5.2 kilometers from the royal residence in Siem Reap, you can take a 5-minute taxi ride via the Charles De Gaulle road and travel straight to Angkor Wat. If you are feeling a bit sporty, then it will be an hour and a half long walk along the Angkor River Road. After paying a visit to Angkor Wat, you can explore other exciting things to do in Siem Reap such as engaging in a day trip to explore the countryside of Siem Reap, going on a cruise excursion to Tonle Sap lake, exploring the pub street and indulge yourself into the compelling performances at Smile of Angkor theatre.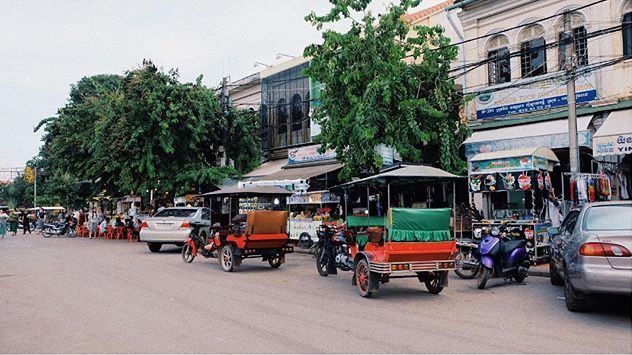 3. How to get to Angkor Wat from Ho Chi Minh City in Vietnam
As the two countries are right next to each other, traveling between them is relatively easy but a little expensive. There are two feasible options for you: bus or plane.A plane ticket can cost around 100 to 500 USD, depending on your preference of class and airline. At the time of writing, Angkor airline is offering cheap flights to and from Ho Chi Minh City to Cambodia at only 5 USD, available from May 13th, 2018 to March 31th, 2019. After a one-hour flight, you will arrive at Siem Reap Angkor International Airport, approximately 8.4 kilometers from central Siem Reap. Then catch a taxi and drive about 7 minutes to get to Charles De Gaulle and you can go straight to Angkor Wat.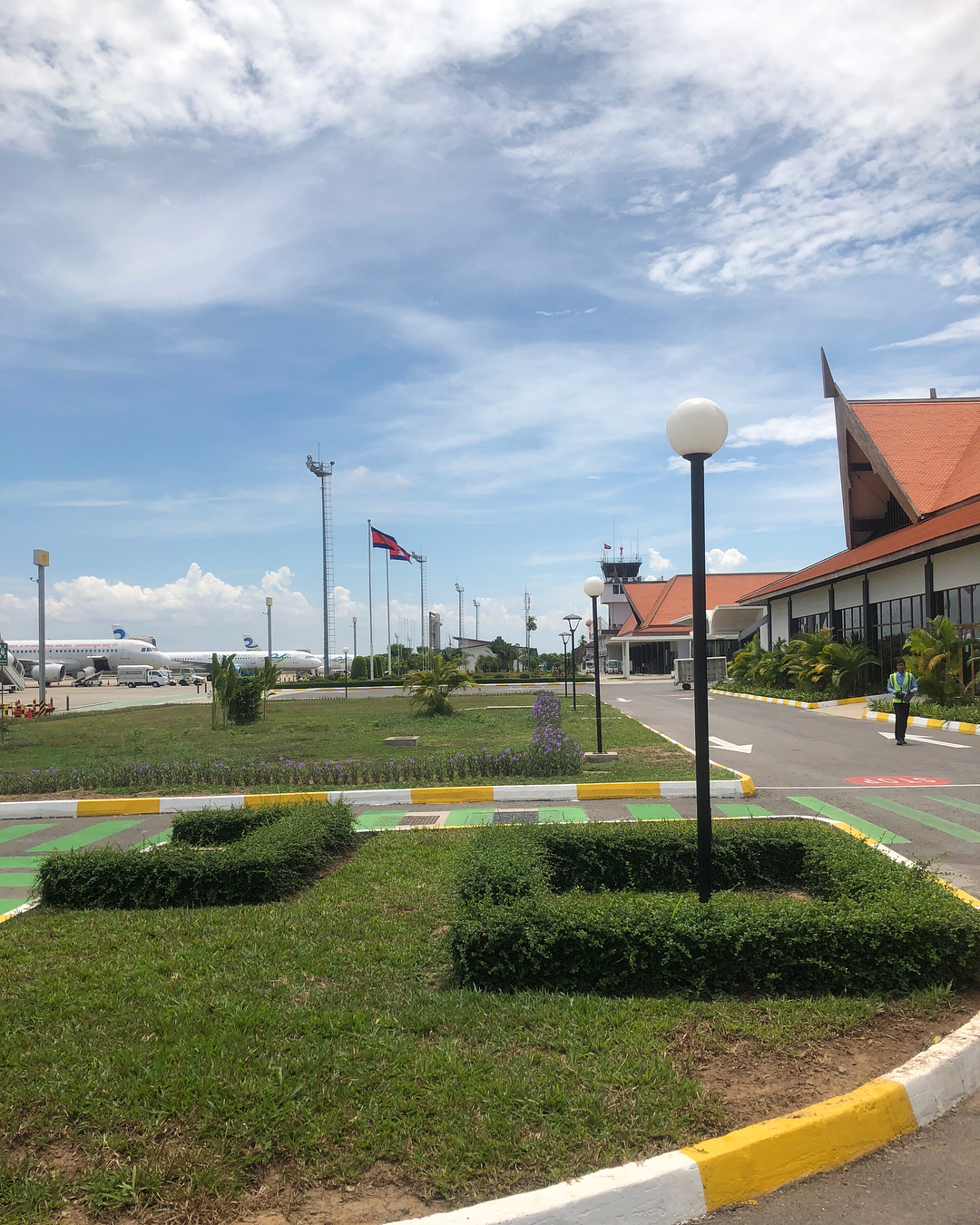 Another alternative is bus. Opting for a bus ride will also mean a rather daunting journey lasting 12 to 20 hours. As the traveling time is grueling, a stop at Phnom Penh is advisable. The Mekong Express and Virak Buntham both operate on this route. The former runs once daily for a fare of 26USD while the latter runs every 4 hours at a price of 22 USD. You can also take the Bus Capitol Tour Cambodia, which will leave Saigon and travel for 6 hours before taking a break at Phnom Penh. It will then proceed to travel for another 7 hours to reach Siem Reap. After that you can follow the same route to Angkor Wat.
4. How to get to Angkor Wat from Bangkok in Thailand
Fortunately for us, Thailand is just next door to Cambodia. Just like with Ho Chi Minh City, you can choose visit Angkor Wat from Bangkok by taking plane or bus to Siem Reap. However, we also have another alternative: by train.If you can afford it, you can book a flight from Suvarnabhumi Airport to Siem Reap Angkor International Airport. There are many routes which can take you Suvarnabhumi, one of which is a 26-minute train ride on the Phayathai City Line. After that is a 55-minute flight to Siem Reap. A one-way ticket will range from 75 to 200 USD.Another airport to consider is Don Mueang Airport. You can take the route from the Democracy Monument at Ratchadamnoen Avenue, Khwaeng Wat Bowon Niwet, Khet Phra Nakhon. At the monument, you can grab a taxi and travel for about 56 minutes before reaching the airport. Later, you can depart from the terminal for a one-hour flight. A one-way flight is anything between 55 USD and 170 USD.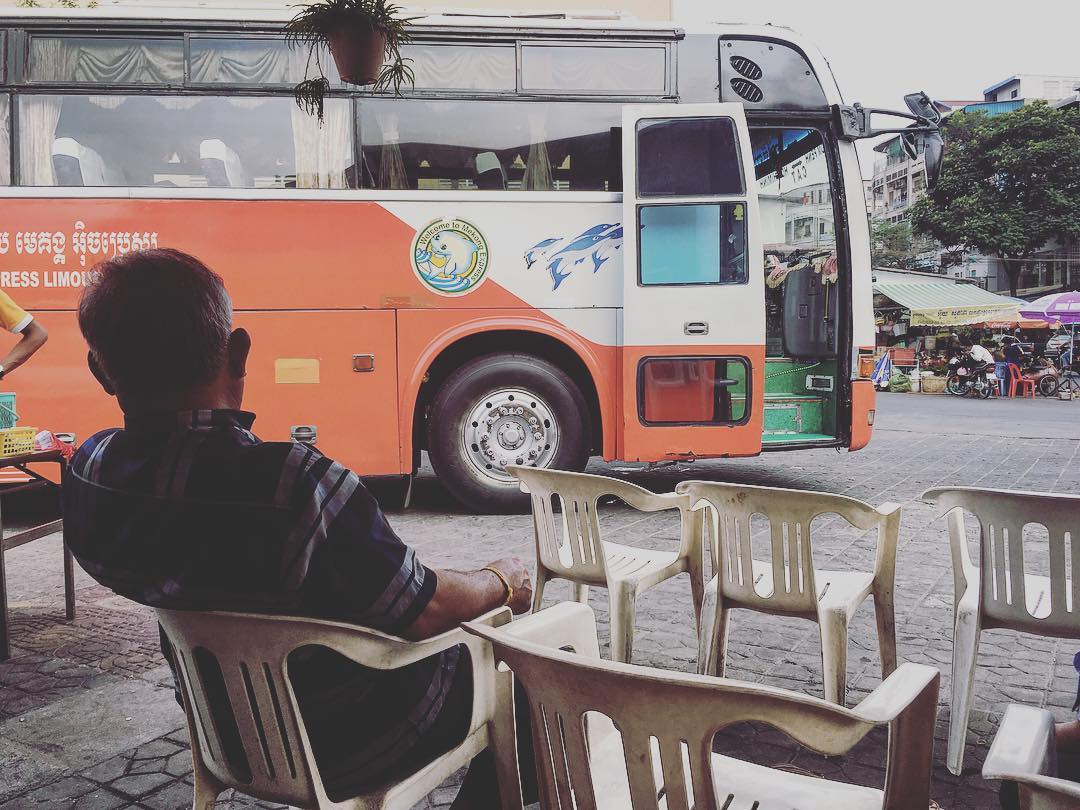 As for bus, you can choose between Khaosan Road Travel Mart and Virak Buntham, both of which run twice daily. The first one offers a travel time of 8 hours for 28 USD while the second one takes 4 hours longer but only for 18 USD.The last option is via train. If you favor trains, then you can take a train ride for 21 minutes from Phayathai to Lat Krabang before switching stations to Lard Krabang. You will follow that with a roughly 4-and-a-half-hour train ride to Aranyaprathet, which will cost you from 9 to 35 USD. After that, you travel for 3 hours to Siem Reap via the Transport Company bus which runs twice daily. The bus fare is about 4-6 USD and tickets can be directly purchased at the bus station.
5. How to get to Angkor Wat from Phnom Penh
The most feasible way to get to Angkor Wat from Phnom Penh is perhaps by bus. Aside from Virak Buntham, which runs on an hourly basis, we also have PDSDN and Thero Express running every 4 hours and 5 times a day respectively. The price range is between 12 USD and 13 USD with an average travel time of 5 and a half hours.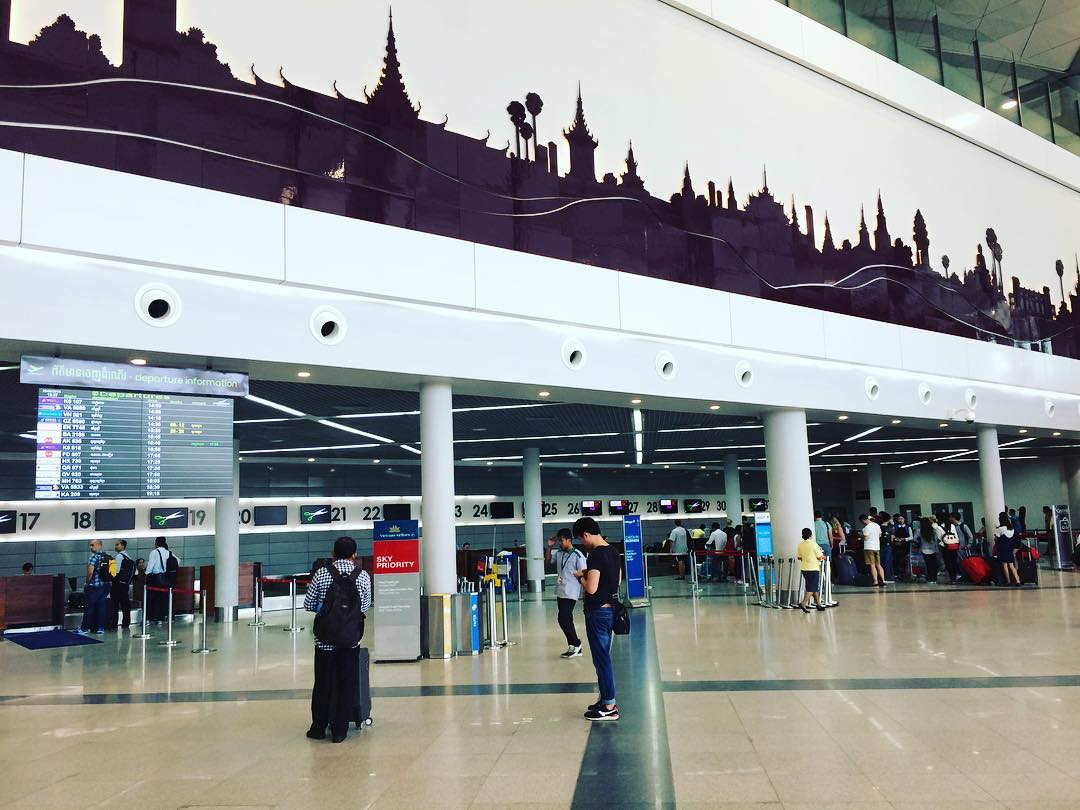 If you are feeling a bit luxurious and do not want waste time traveling, then flying is your go-to mode of transport. From the Phnom Penh Railway Station on St 93, you can ride the train for 25 minutes straight to Phnom Penh Airport. From there, it is only a 40-minute flight to Siem Reap. Combined with the additional transfer time and the time reach Angkor Wat, it will be a total of 2 hours and 13 minutes of traveling, which is significantly faster than traveling by bus.
6. How to get to the Angkor temples from Siem Reap
Luckily for us, Angkor Archaeological Park, which includes Angkor Wat, is surrounded by a convenient network of highways. The majority of sites are closely situated around Angkor Thom and Angkor Wat's vicinity, with some further up North. As mentioned above, Charles De Gaulle can lead you directly to Angkor Wat and the left wing of the temple complex. However, you can opt to take the National Road 6 and travel along National Road 67 to the right wing of the complex and further up North to reach sites like Banteay Srei or Phnom Koluen National Park.Among the most popular ways to get to and around Angkor Wat is via tuk-tuk or taxi. Of course, traveling by taxi is bound to be more expensive than by tuk-tuks or motodops and more restriction when you explore the complex. With taxi, however, you are guaranteed shelter from the sweltering tropical heat of Cambodia. You can find a driver in Siem Reap or at the temple and negotiate a price. A full day service can cost between 20 and 30 USD. Visitors should keep in mind that additional fees can occur if travel to further location like Banteay Srei or Beng Mealea.Read more: Siem Reap itinerary: the best way to plan your visit to Angkor Wat and other attractions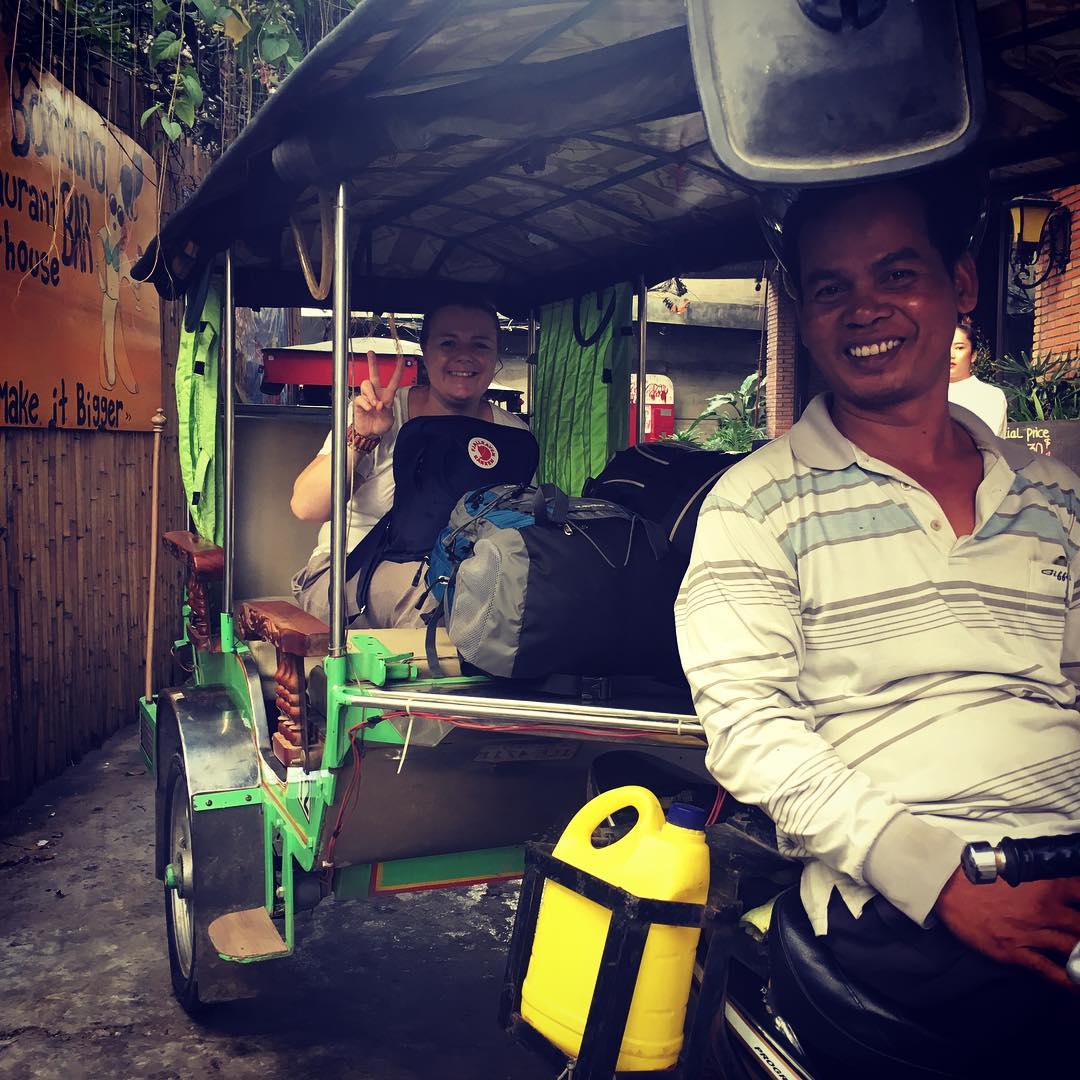 Tuk-tuks are among the most ubiquitous modes of transportation. Surprisingly, these vehicles are actually called 'remorque' while the name 'tuk-tuk' comes from the sound their engine makes when functioning. Tuk-tuks, or remorque, offer an unobstructed view of your surroundings rather than the confined air-conditioned space inside taxis. You can expect to spend from 10 to 15 USD for a whole day of chauffeuring. Some of the drivers are really helpful and can speak English. If you find a particular one that you like, stick with him. It will save you a lot of time and trouble. Just like with taxi, tuk-tuk drivers must all be licensed and wear identification upon entering Angkor Wat, so be careful when choosing one.
7. How to enjoy Angkor Wat
Getting to the temple is only half the story. One thing that is certain is that you do not want to waste your time wandering around aimlessly, not knowing what to see or what to direct your attention to. A simple solution is to get yourself a local tour guide who speaks English fluently. Indeed, you can enjoy Angkor Wat on your own an at your own pace. There are, however, some insights that a travel guidebook or online travel blog cannot fully deliver. That is where our local guide fits in. What better ways to explore a monument of Angkor Wat's stature than to travel with an enthusiastic and knowledgeable local guide?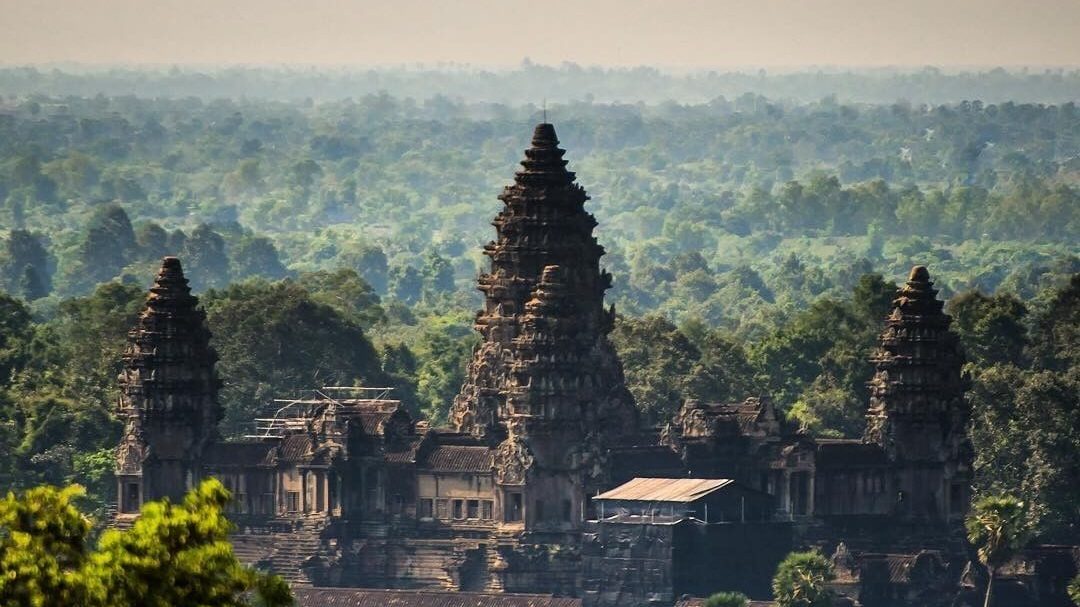 Even though Angkor Wat is beautiful and equally magnificent regardless of time of visit, most tourists still to see the temple at the crack of dawn. So, if you are short on time, then a day tour is your best option. You can go on a tour to visit Angkor Wat at sunrise and then proceed to explore other remarkable structures in the complex like Angkor Thom or Ta Prohm. The next day should be spent admiring the outlying temples in Siem Reap such as Banteay Srei or Pre Rup while the third day should be dedicated to enjoying Siem Reap.