Ho Chi Minh Mausoleum: A Guide To The Resting Place of The Revolutionary Leader of Vietnam
If you ask a Vietnamese who's the greatest hero of their country, chances are they will answer Uncle Ho. So it's easy to understand how Vietnamese people would honor their hero by giving him a proper mausoleum. Currently, the Ho Chi Minh Mausoleum is one of the most popular tourist attractions in Hanoi. To help you on your journey, this guide aims at how you can visit the mausoleum thoroughly and explore nearby attractions as well. Wanna explore Ho Chi Minh mausoleum along with other iconic landmarks in Hanoi? Join our Hanoi one day city tour now!
The Ho Chi Minh Mausoleum introduces many unique Vietnamese architectural features
The Ho Chi Minh Mausoleum's history is quite brief, as it's fairly new. They started its construction on September 2, 1973, in Ba Dinh Square, where he used to hold large meetings. They finished it on August 29, 1975, and it has been opened to the public ever since. The mausoleum is 21.6 meters in height and 41.2 meters in width. Its structure is just like Lenin's Mausoleum in Moscow but introduces many unique Vietnamese architectural features. Its exterior is made of grey granite while the interior is made of grey, black and red polished stone. It has the phrase "Chủ tịch Hồ Chí Minh" which means "Chairman Ho Chi Minh" painted in the front. On the side of the mausoleum are two platforms with seven steps for parade viewing. The area in front of the mausoleum is divided into 240 green squares. The garden around it has around 250 different species of plants and flowers from all over Vietnam.
How to get there to Ho Chi Minh Mausoleum
If you stay around the Old Quarter area, like most tourists in Hanoi do, the best way to get to Ho Chi Minh Mausoleum is still taxi, bus and "Xe ôm" (motorbike-taxi). With Grab (Uber for motorbike) you can get there easily. So make sure to utilize the app.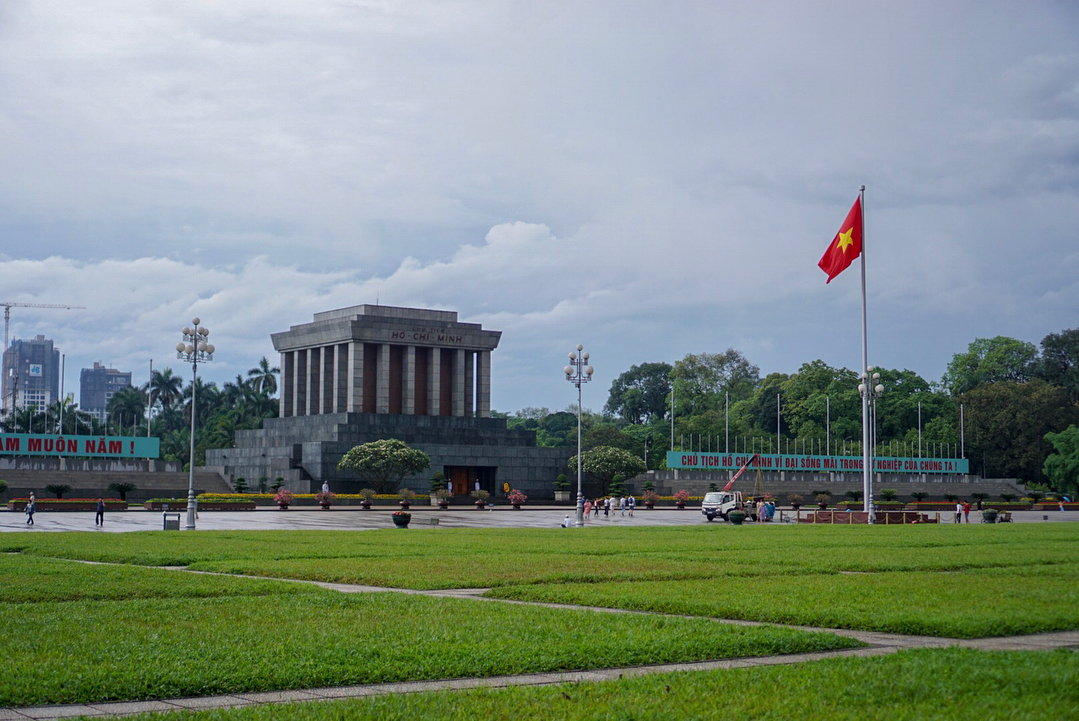 The mausoleum is open 5 days a week: Tuesday, Wednesday, Thursday, and Sunday. On Saturday and Sunday the visiting time increase by 30 minutes. Its opening time is based on the season. In the hot season, which is usually from April to October, it opens from 7.30 AM to 10.30 AM and extended to 11 AM on Saturday and Sunday. In the cold season, usually from September to March, it opens from 8 AM to 11 AM. Here are some tips for visiting the mausoleum. Remember to dress neatly, don't wear shirt and pants that are too short. The security can remove you from the premise if you violate. Children under 3 are not allowed into the mausoleum. Don't bring any food, electronics, jewelry or metal object in. You also can't bring any cameras and other recording devices into the mausoleum.
What Ho Chi Minh Mausoleum has to offer: art, architecture, history and more!
Visiting Ho Chi Minh Mausoleum is in the list of top things to do in Hanoi recommended by a local. Your tour of the mausoleum could be quite short due to the number of people wanting to get in. So when you finished visiting Ho Chi Minh Mausoleum it's important to know where to go next. This part will present some tourist attractions near the mausoleum so you can continue exploring.
One Pillar Pagoda
You can find this unique-looking pagoda at the south-end of Ho Chi Minh Mausoleum (just around 200m walk). Entrance is free and the pagoda is open daily from 8 AM to 5 PM. Refreshments are also available nearby the pagoda, so you can sit, relax and rest a bit. This little temple is made of wood and a single stone pillar.  The pagoda still remains as one of Hanoi's most popular tourist sites. The little shrine is dedicated to the Vietnamese Buddhist deity Quan Am Bo Tat with her statue inside.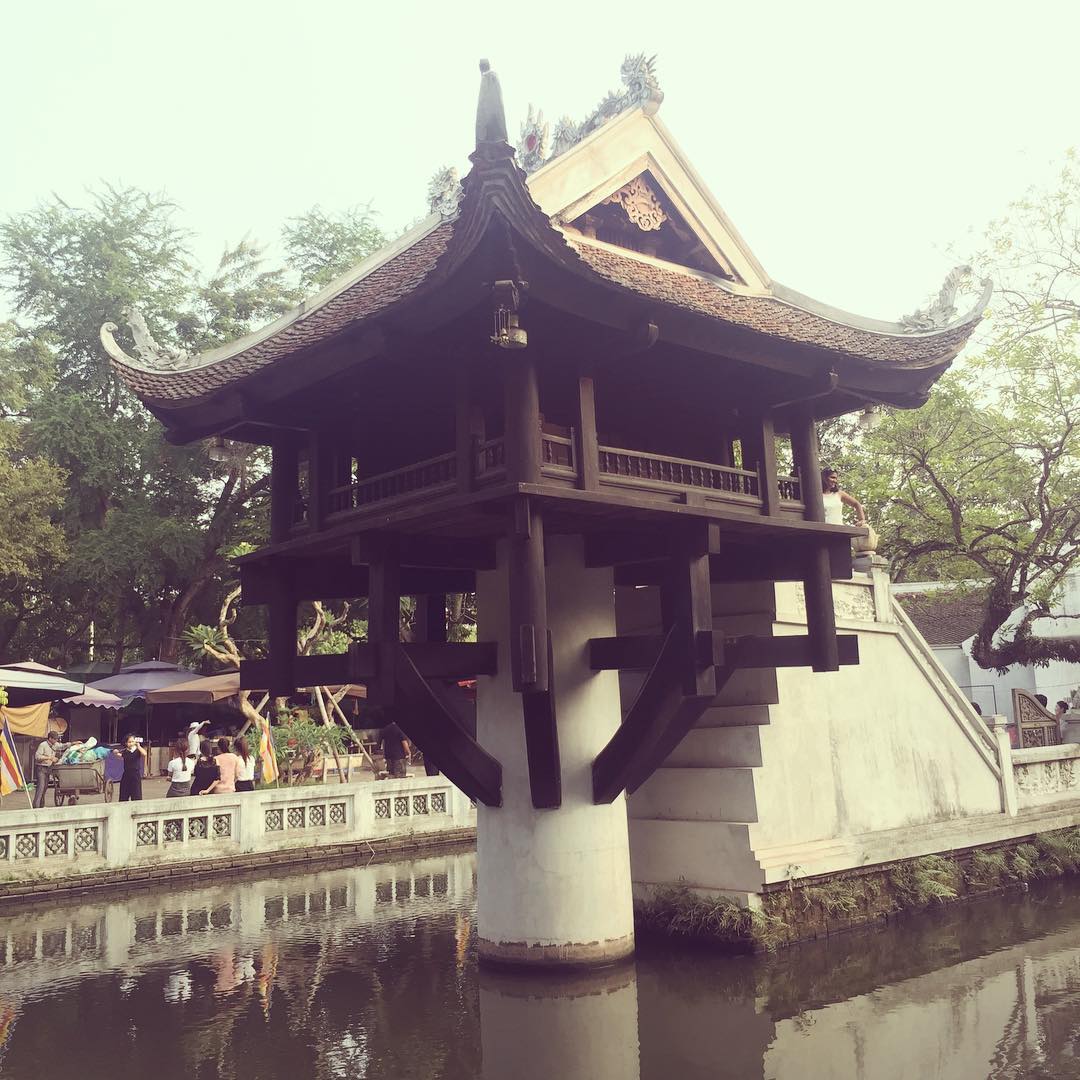 According to legends, Emperor Ly Thai Tong decided to build the pagoda after he has a dream. In which, Quan Am gave him a baby son resting on a lotus flower. After the temple was finished, many loyal followers came here to pray to Quan Am for a long and successful life. The pagoda has undergone many renovations, most recently in 1955 when the base was destroyed during the French evacuation. It's still unclear how much of the current pagoda is the original.
Ho Chi Minh Museum
This museum is one of the most resourceful museums in Hanoi and probably in the country. You can easily walk here from Ho Chi Minh Mausoleum. The museum was opened on May 19, 1990, on the 100th birthday of Uncle Ho. This place aims to express deep gratitude to the former Chairman of Vietnam. It is perhaps the largest museum in Vietnam.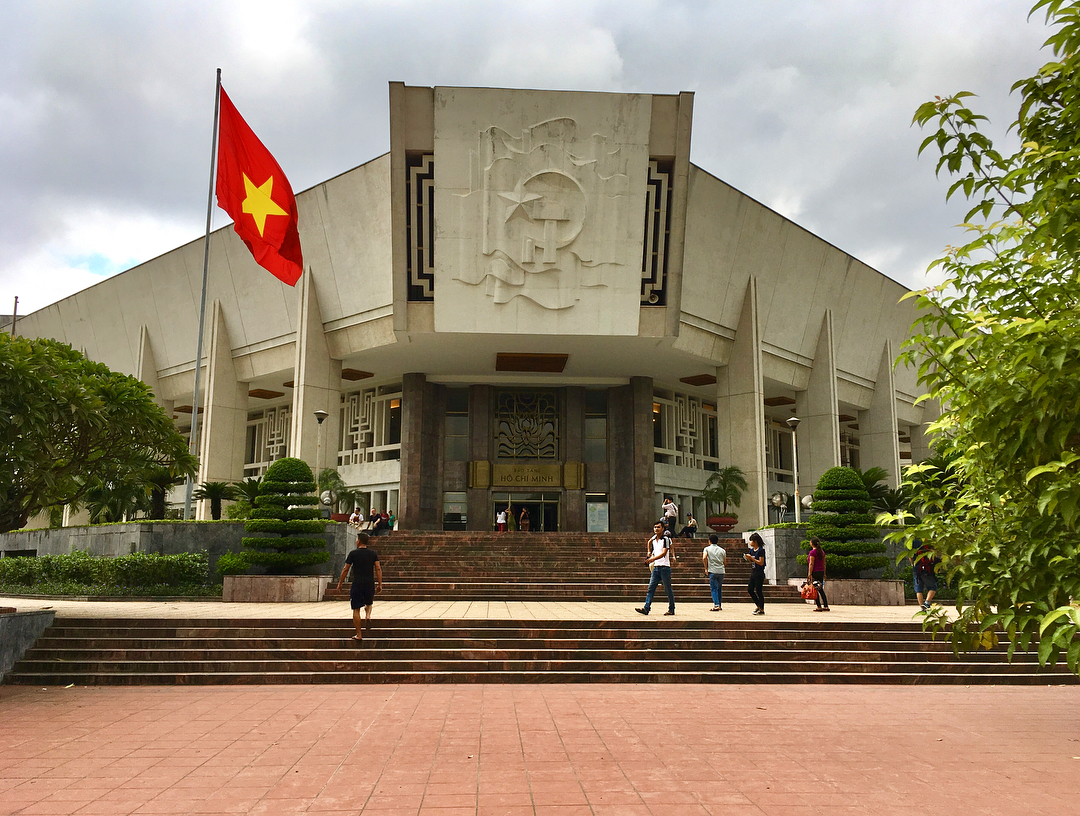 The museum mainly focuses on displaying artifacts and documents about Ho Chi Minh's life and career. You can find three main part in Ho Chi Minh Museum. The first part shows the life and career of Uncle Ho. The second part is about the lives of Vietnamese people in wars. The last one shows some events in the world's history that made a great impact on Uncle Ho's life and career It opens every day, except Monday and Friday, from 8 AM to 11 AM and from 2 PM to 4.30 PM. The entrance fee is just 10.000 VND (US$ 0.50) so it's really a waste if you don't visit this museum.
Museum of History of Vietnamese Military
About 1.5km from Ho Chi Minh Mausoleum is the Museum of History of Vietnamese Military. It's also known as Military Museum and is one the oldest museums in Hanoi. If you want to know more about Vietnam or just interest in history, then visiting this place is very important. There is both indoors and outdoors exhibition of military-related artifacts. Its exhibition dated back to as early as Hung Vuong Era, which is the start of Vietnam as a country. It also showcases the first thousand years Chinese domination of Vietnam, as well as the century struggle against French colony.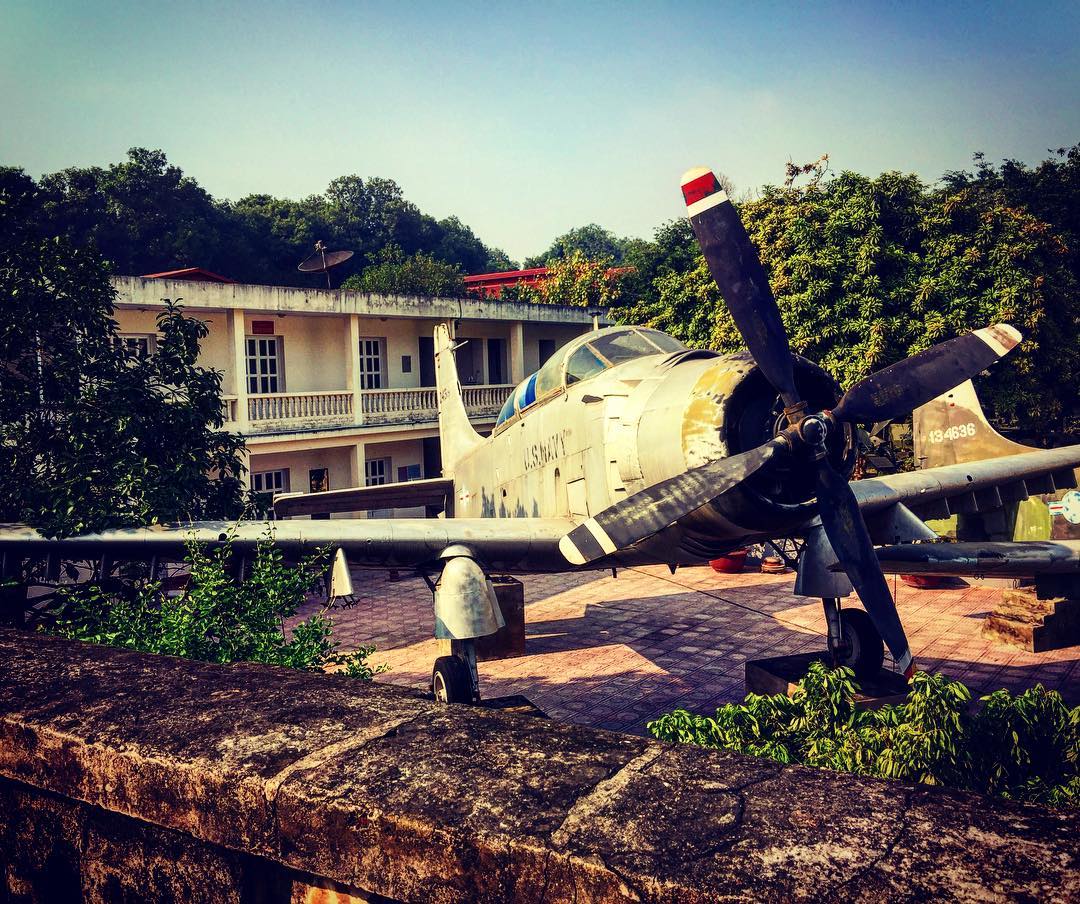 The museum also thoroughly show Vietnam from 1954 to 1975, which is the period of the Vietnam war and the division of North-South. Most exhibitions are about the Vietnamese tradition of being courageous in protecting national integrity; technologies in adapting and producing weapons; and the diplomatic relationship between Vietnamese and its allies around the world. Visitors to Ho Chi Minh city, instead, can visit War Remnants Museum for the equivalent experience. It opens Tuesday - Thursday from 8 AM to 11.30 AM and Saturday - Sunday from 2 PM to 4 PM. The entrance fee for normal visitors is 30.000 VND (US$ 1.50) and an additional 20.000 VND (US$ 1.00) if you want to take photos of the exhibitions.
Ho Chi Minh's Stilt House
From Ho Chi Minh Mausoleum, you can make your way to his stilt house, the longest place of living and working. This stilt house is where he lives from 1958 to 1969 and has been preserved just the way he left it. According to the data, Uncle Ho wants to build a stilt house in Hanoi because when being in Viet Bac base, he only stays at stilt house. He designed the house with his own ideas. The house has bedroom, kitchen, dining room and guest room.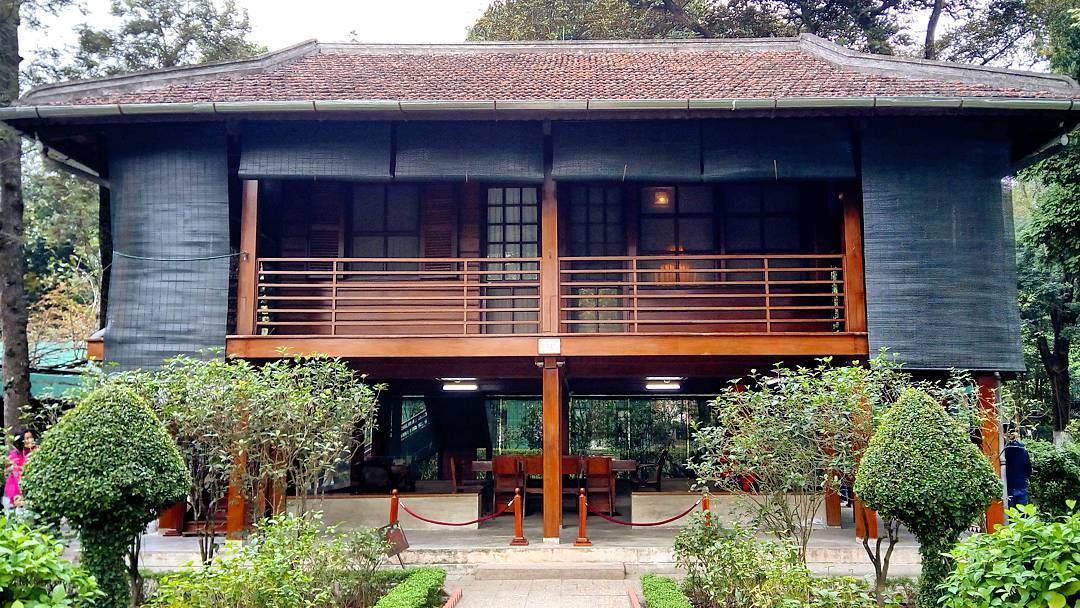 Although it's now only used for official receptions, visitors can still wander the ground if they stick to the paths. The clear views through the open doorways and windows give an insight more fascinating than most museum exhibitions. Above are just some recommendation on places that you should see after you've finished exploring Ho Chi Minh Mausoleum. I hope that this guide is useful to you. If you are curious about other destinations in Hanoi, visit our article "2 days in Hanoi: Where to go?".