Halong Bay is one of the most popular travel destinations in Vietnam. It's chock-full of things to see and to eat. To visit and enjoy the place thoroughly in one day, there will be lots of things to consider, like what to see, what to eat, where to book a tour. To make your one day in Halong Bay worthwhile, we made this guide to help you. Halong Bay in one day may be hard, but it's not impossible. In the end, you won't regret visiting Halong Bay. LET'S GO
The Legends & Fact
According to legend, way back when Vietnam was just starting to form, the early Vietnamese had to fight against multiple invaders. Seeing the Vietnamese situation, the gods decided to help them. They sent a family of dragons down to Vietnam to act as its protectors. The invaders were coming from the sea as the dragon family came down. Some of the dragons began to breathe fire and destroy the invaders' ships while the others in the family began spitting jewels and jade. These jewels turned into multiple islands and islets spreading across the bay, forming a great wall to defend Vietnam. Using magic, the dragons made various rocky mountains suddenly appear on the sea, causing the attackers' ship to either strike the mountains or each other.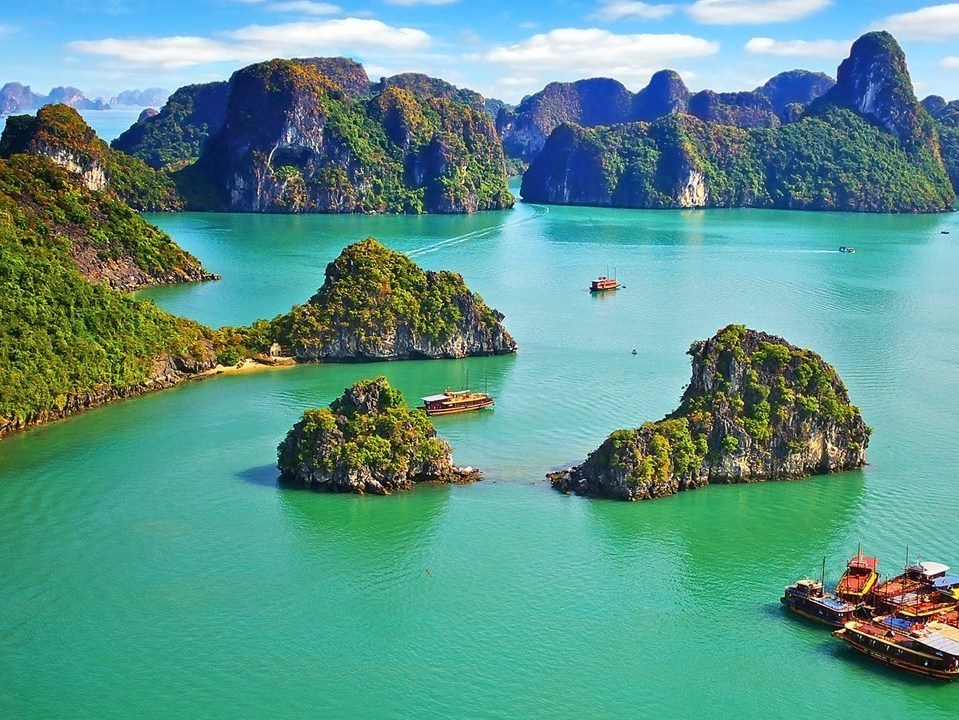 After they defeated the enemies, the dragons were so fascinated by the sight and the people of Vietnam they decided not to return to heaven and instead live in this bay. Ha Long is what the people call the place where the mother dragon landed, meaning "descending dragon". The dragon childrens' landing spot was named Bai Tu Long, and the place where the dragons wriggled their tails was called Bach Long Vi. Geographically, Halong Bay is located in northeastern Vietnam. It stretches the Hung Yen province, and passes Halong city to Van Don District. UNESCO recognized the bay as a World Heritage Site, attracting millions of tourists every year, and there's no reason why you shouldn't be one of them.
What to do and see
Halong Bay is perhaps one of the most charming and gorgeous nature sites in the world, with over 2000 beautiful limestone islands and islets. Its beauty combined with how people live among it, create an astonishing and unforgettable combination. When mentioning Halong Bay, people think about its limestone rocks, which dot the whole bay, and caves, lots and lots of caves. With just one day to visit it, you should know everything that's worth seeing or doing before you go, and this part will show you just that. Assuming that you're in Hanoi and start at 8, it'll be at least a 3hr drive to Halong Bay. So we'll start with you boarding a cruise ship around 11 to start your one day Halong Bay trip.
Fighting Cock Rocks
Fighting Cock Rocks, or usually called by its more charming Vietnamese name, Trong Mai Islet (rooster and hen islet). Some even call it Kissing Birds. No matter what name you call them, they always attract attention whenever a tourist boat passes by. It is usually one of the first islets that you will see during your trip.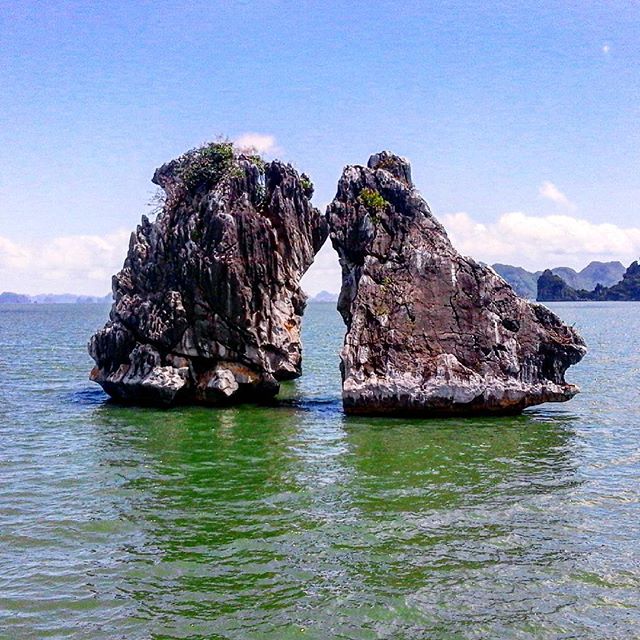 Shaped like a pair of chicken, these rocks are one of the most well-known islets in Halong Bay. At 10 meters from the sea level, it appears in countless works of art, especially in literature and painting. The rocks can fall down at any given moment, but they refuse to. Standing on the deck while looking at this marvelous creation of nature is mesmerizing and relaxing for many people. Be sure to take lots of photos to remember it by.
Dinh Huong Islet
Your next stop should be Dinh Huong Islet. It's is in the southwest of Dau Go Island. The islet is only one large rock in the middle of the sea. When the tide is low, you can see four pins underneath the rock, forming a shape that resembles a huge incense burner., hence the name Dinh Huong (incense burner). Nobody knows exactly when the islet was formed, however, it remains  a sacred symbol in Halong Bay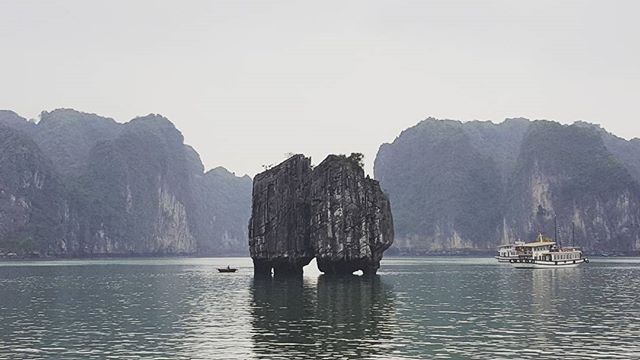 Along with Trong Mai Islet, Dinh Huong Rocks is also an iconic image of Halong Bay. It holds great symbolic and spiritual values, with the possibility that its name was dedicated to the heroes who lost their lives to protect Vietnam. The fact that it's printed on the 200.000 VND note makes it even more of a symbol.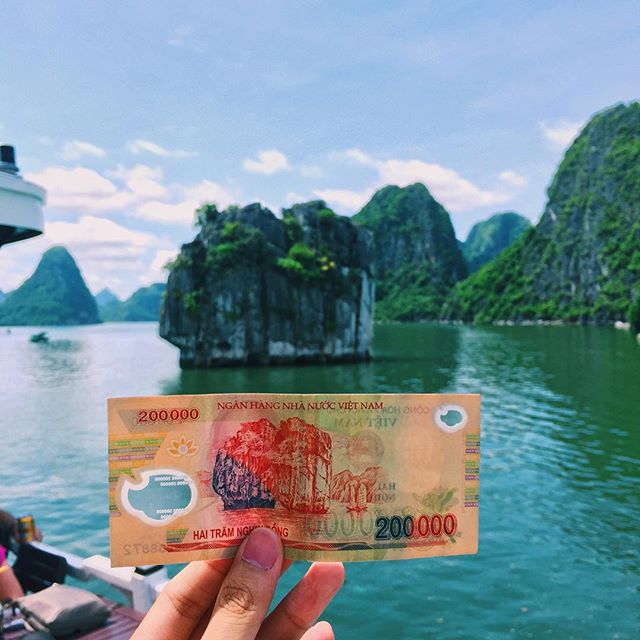 Dinh Huong Islet is also a clear example of Halong Bay's geological and geomorphological value. Besides being a charming site, it also acts as an object to help navigate boats and cruises. Visit Halong bay in one day without seeing these rocks is a failure to me. There are also lots of islets to see and to explore, but seeing 2 of the most iconic rocks for a one day trip is not bad at all. After you've seen a few rocks and islets, it's time to start exploring the many caves of Halong Bay. Your one day tour of Halong Bay is just starting.
Thien Cung Cave
We're starting our cave tour by visiting Thien Cung Cave. Located just a bit north of Dau Go island. Thien Cung cave (Heaven Palace cave) is the most beautiful and primitive of all the caves in Halong Bay. With the total area of 10,000 square meters along with its complex interior structure, the cave fascinates all of its visitors. But what makes it famous is its unique system of stalactites and stalagmites, which come in different shapes and sizes. This place must be visited if you visiting Halong Bay in one day.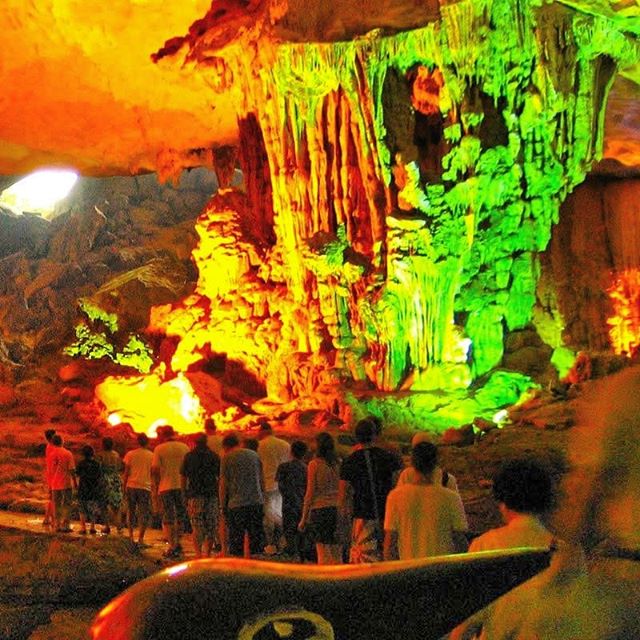 Because the entrance was well-hidden, it was not until 1993 when fishermen tried to find shelter during a big storm that they stumbled upon the cave. Exploring Thien Cung cave is no easy task, make sure that you're able to walk long distances and climb lots of stairs. When observing the cave, remember to make full use your imagination to create images from giant  rock pillars naturally sculpted with stalactites.
Sung Sot Cave
The next cave that you should visit is Sung Sot Cave. The name Sung Sot cave can be translated to Shocking cave. Much like its name, tourists tend to be in a state of shock and awe when they first stepped into the cave. Your one day in Halong bay couldn't be complete if you haven't seen this place. The cave is divided into two main parts, with multiple sites to see. In the first part, the ceiling is covered with a layer of glittering stalactites forming numerous shapes that resemble things like statues, elephants, flowers and much more. To reach the second part of the cave, you have to walk through a small road. The second part opens up with a stream of colorful and brilliant light and the vast bank that can hold thousands. The scenery in this part is just as bizarre as the first part, with stalactites in the form of seals, dinosaurs, tree etc.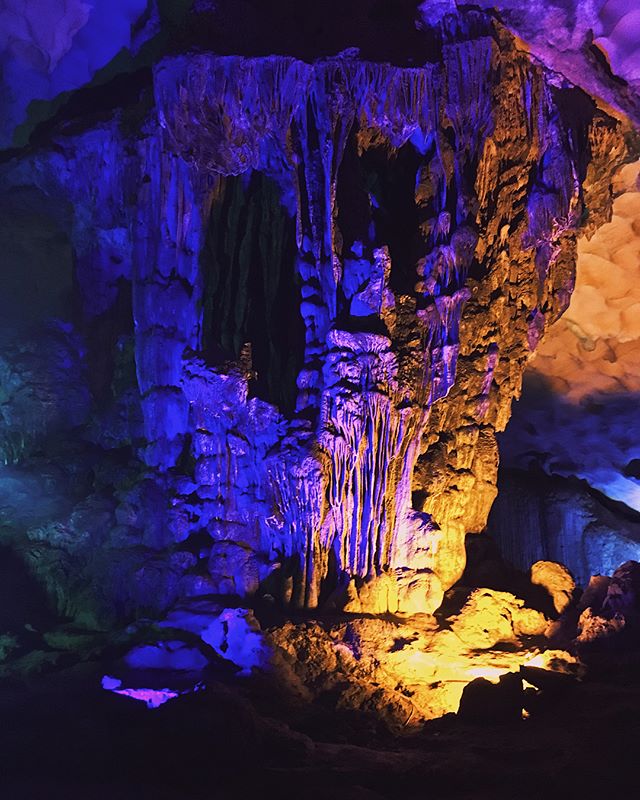 Sung Sot cave always make guests marvel at the shimmering beauty that nature has bestowed upon it. It is one of the typical karst caves with high scientific values. It's important to end your one day Halong Bay trip on a high note, so let's end with an exciting activity.
Kayaking through the Bay
After you visit the iconic rocks and caves, it should be around 2-2.30pm. It's time to start doing some kayaking. Kayaking is perfect if you want to have a more active experience while exploring. Note that you only have one day in Halong bay to do it. Kayaking is one of the best ways to explore the breathtaking beauty of Halong Bay. Paddle through the sea, visit hidden caves and unspoiled beach and go where the big, heavy cruise ships cannot.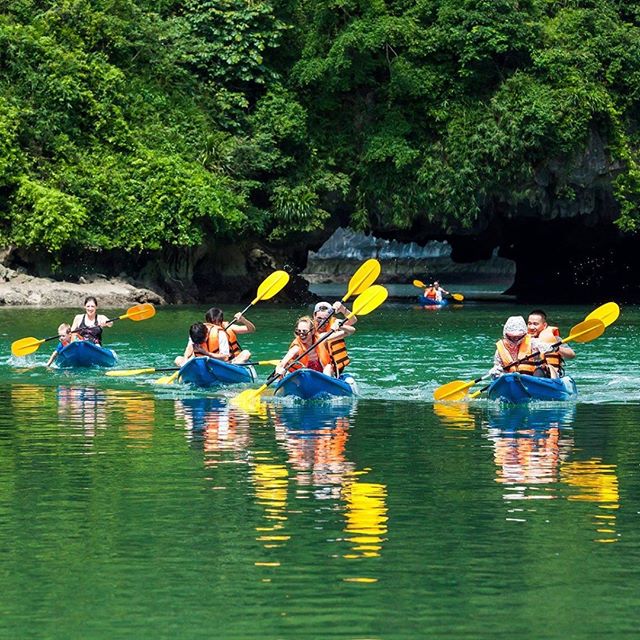 Here are some tips if you want to try kayaking. remember that it's extremely difficult and dangerous to do it by yourself, so try and find a tour guide, they can help guide you to safe areas. A life jacket is a must for this activity. Around 4-4.30 is the perfect time to end your one day trip and head back to Hanoi.
How to choose a tour
One day trip to Halong Bay may leave much to be desired. But if you have no other choice than to visit it in just one day, this is our guide to try and help you find the best experience you can get. Our objective will be to find a tour with not only reasonable price but also has great quality. If finding a tour is too much of a chore for you, just consider the Inspitrip tour. It covers all the expenses and also includes pick up. For a one day tour with all the important sites covered, you won't find a better offer.