Gardens by the Bay: Full Guide to Visit & Tips to watch the Gardens Rhapsody light show
Feel the cool humid air against the skin, inhale the refreshingly clean oxygen, listen to the dripping water little by little, welcome to Gardens by the Bay, the secret world of greenery in the heart of Singapore. Being one of the most popular attractions in Singapore, Gardens by the Bay is huge and full of sophistication. This article is going to reveal all essential tips to visit Gardens by the Bay Singapore and a comprehensive guide to enjoy its miracle Garden Rhapsody to the fullest!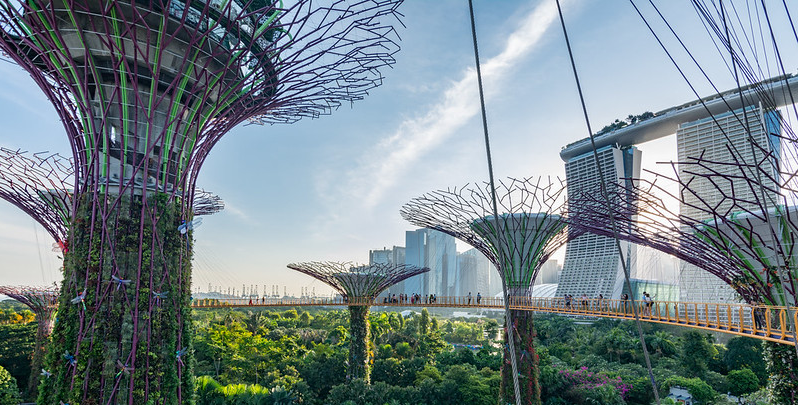 The story of the world of beautiful gardens
Guided by the vision to be "the world of gardens" for everyone to own, enjoy and cherish, Gardens by the Bay is not only a marvelous showcase of horticulture and garden artistry, but also an entertaining education hub for biology learners with its variety of rare plants and species under diverse climate conditions.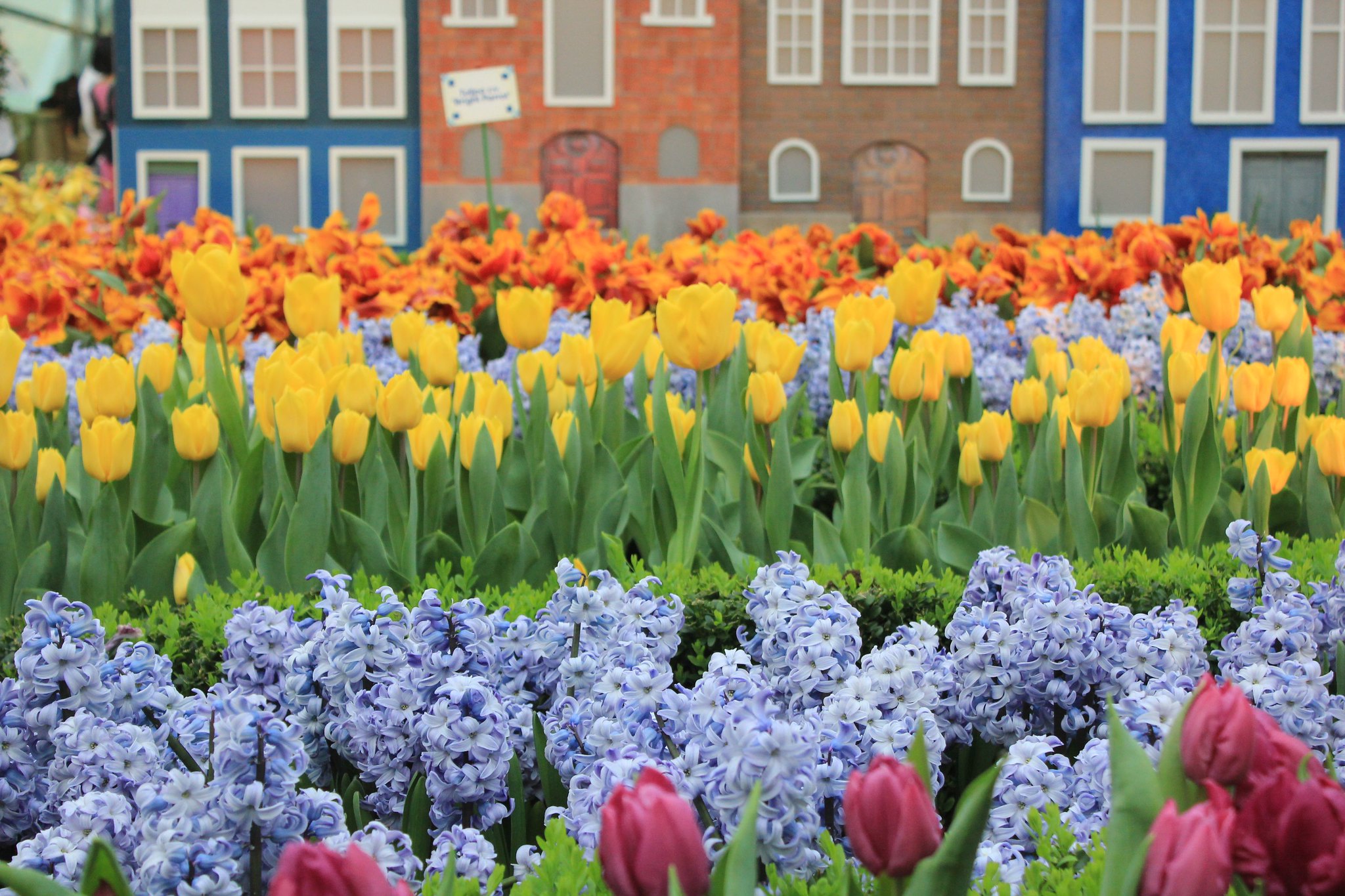 Its architectural awards, including The World Building of the Year in 2012, The President's Design Award (Singapore) in 2013, The Outstanding Achievement Award by the Themed Entertainment Association in 2014, The Largest Glass Greenhouse (Flower Dome) in the Guinness World Records for 2015, and TripAdvisor Certificate of Excellence in 2016, are all premise to the future success that the Gardens will pursue and attain.
The park consists of three waterfront gardens: Bay South Garden, Bay East Garden, and Bay Central Garden.
Bay South Garden - Marina South
Among the three gardens, Bay South Garden is the largest one, which was designed by Grant Associates, and is popular for its grandest glass greenhouse in the world - Flower Dome. However, Bay South Garden offers more than just Flower Dome.
Conservatories
Being home to both Flower Dome and Cloud Forest, the sustainable conservatory complex is undoubtedly among the coolest environmentally friendly man-made architecture to visit and admire.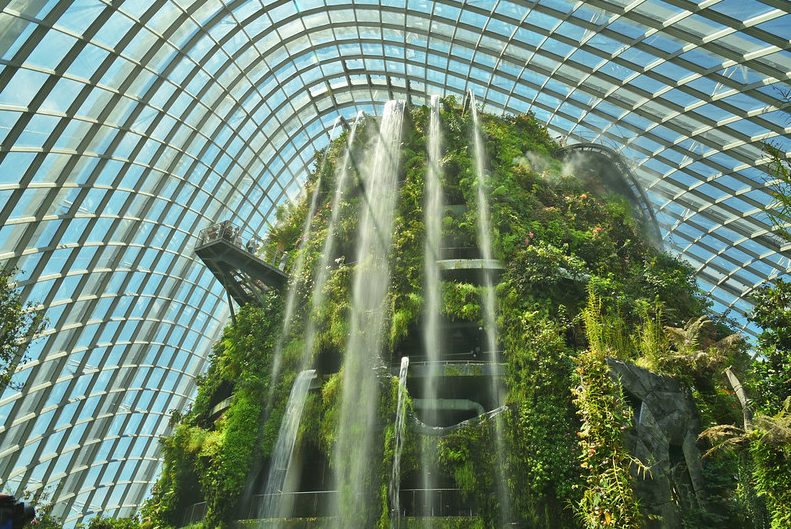 What is unique about these glasshouses? Both conservatories can hold the large glass roofs without adding any interior support and were designed to minimize environmental footprints by collecting rainwater from the surface for the circulation later.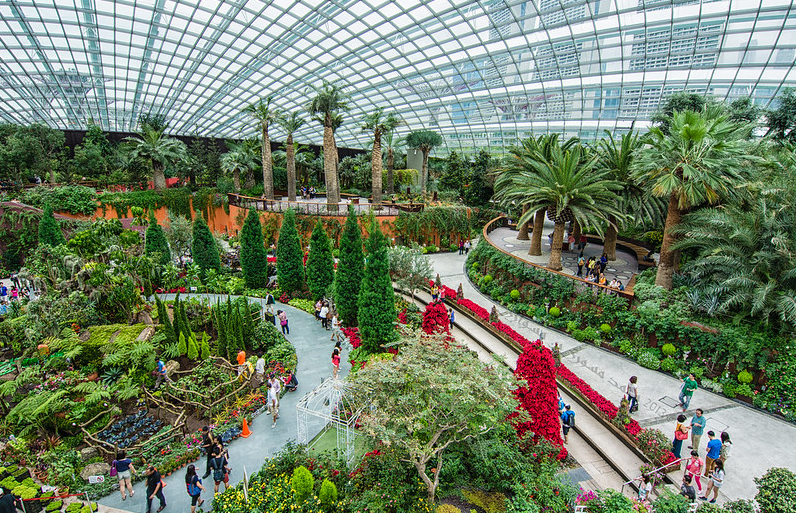 Opening hours
09:00 AM - 09:00 PM daily
Last ticket sale: 08:00 PM
Last entry: 08:00 PM
Admission fee
Standard Rate (for Two Conservatories)
Adult/Senior: SGD $28
Child (3-12 years old): SGD $15
Supertree Grove
In order to grow the exotic ferns, vines, orchids and also a vast collection of bromeliads amongst other plants, high technology has been leveraged to build these technologically advanced trees, known as the Supertrees.
Not so different from the real trees, Supertrees in Gardens by the Bay can actually mimic the tree ecological functions, such as harnessing solar energy like photosynthesizing and collecting rainwater to grow.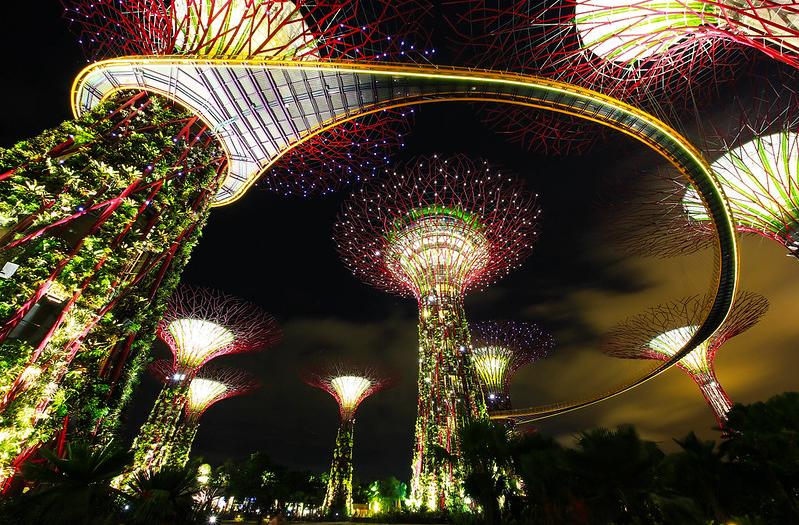 Opening hours & Admission
05:00 AM - 02:00 AM daily
Free admission
OCBC Skyway
OCBC Skyway is an elevated walkway between two of the larger Supertrees for visitors to enjoy an epic aerial view of the Gardens and towards the city. Food and beverages are served in a restaurant at the top of a 50-meter (160 ft) Supertree.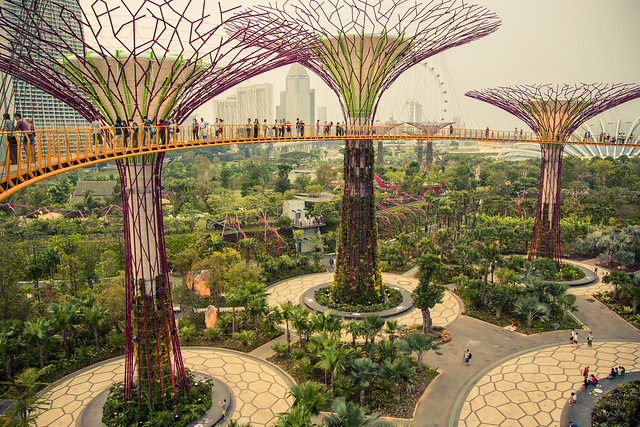 Besides these main attractions, there are also other interesting places to explore within the Bay South Garden, such as the Children's Garden, the Heritage Gardens, the Bayfront Plaza and Floral Fantasy.
Opening hours
09:00am - 09:00 PM daily
Last ticket sale and admission: 08:00 PM
Peak hours are from 05:00 PM - 08:30 PM
Admission fee
Standard Rate
Adult: SGD $8
Child (3-12 years old): SGD $5
Bay East Garden - Marina East
Consisting of beautiful pavilions, wide open lawns, and spectacular views of the epic Marina skyline and Supertrees, Bay East Garden is definitely the best garden for tranquillity and relaxing spaces. In fact, this second largest of the three gardens offers a great spot for a refreshing escape from the bustling city.
With the aim to promote the community bonding among nature within an urban landscape, the entire Bay East Garden is covered in greenery to bring a peaceful feeling to its visitors. Open to the public 24 hours a day, 7 days a week, it is the ideal place for families to gather on the weekends and for people who would like to go for a run after busy work hours.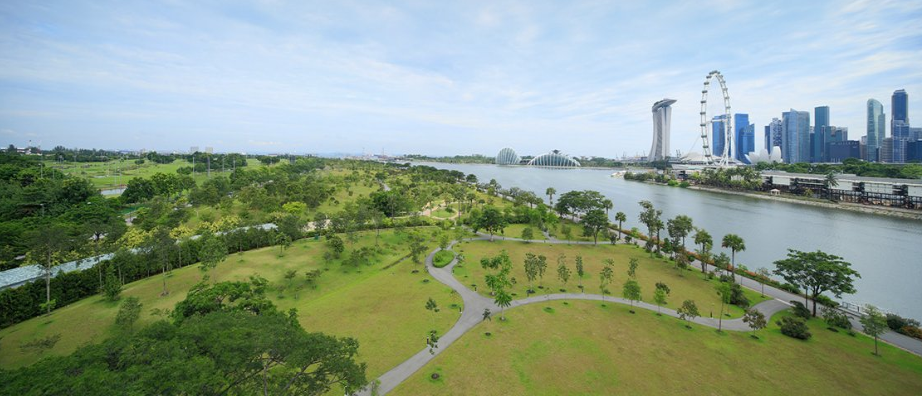 Hours & Admission
24 hours daily
Free admission
Bay Central Garden - Downtown Core and Kallang
Bay Central Garden is the link between Bay South and Bay East Gardens. Covering 15 hectares with a 3-kilometer paved walk along the waterfront, Bay Central Garden allows visitors to enjoy the scenic walks stretching the whole way from the city center to eastern Singapore.
Did you know: As one of the most popular tourist attractions in Singapore, Gardens by the Bay received 6.4 million visitors in 2014, and further reached 50 millionth visitor marked by the end of May 2019.
Hours & Admission
24 hours daily
Free admission
Top things to do in Garden by the Bays Singapore
1. Unwind yourself in the world's two largest columnless greenhouses
Cloud Forest
Cloud Forest is a cool moist conservatory, which is best known for its world's tallest indoor waterfall at 30 meters. Be ready for the refreshing mist-filled Cloud Walk and Treetop Walk in Cloud Forest.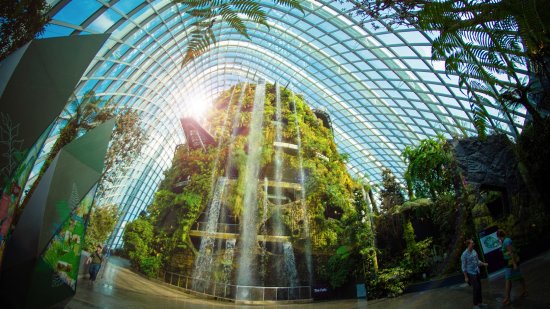 Flower Dome
Flower Dome is made of 3,332 glass panels of 42 different shapes and sizes to cover the whole 16,000 square meters surface area of it. Be amazed as you could see over 1,500,000 diverse blooming plants located in separate zones throughout the conversatory.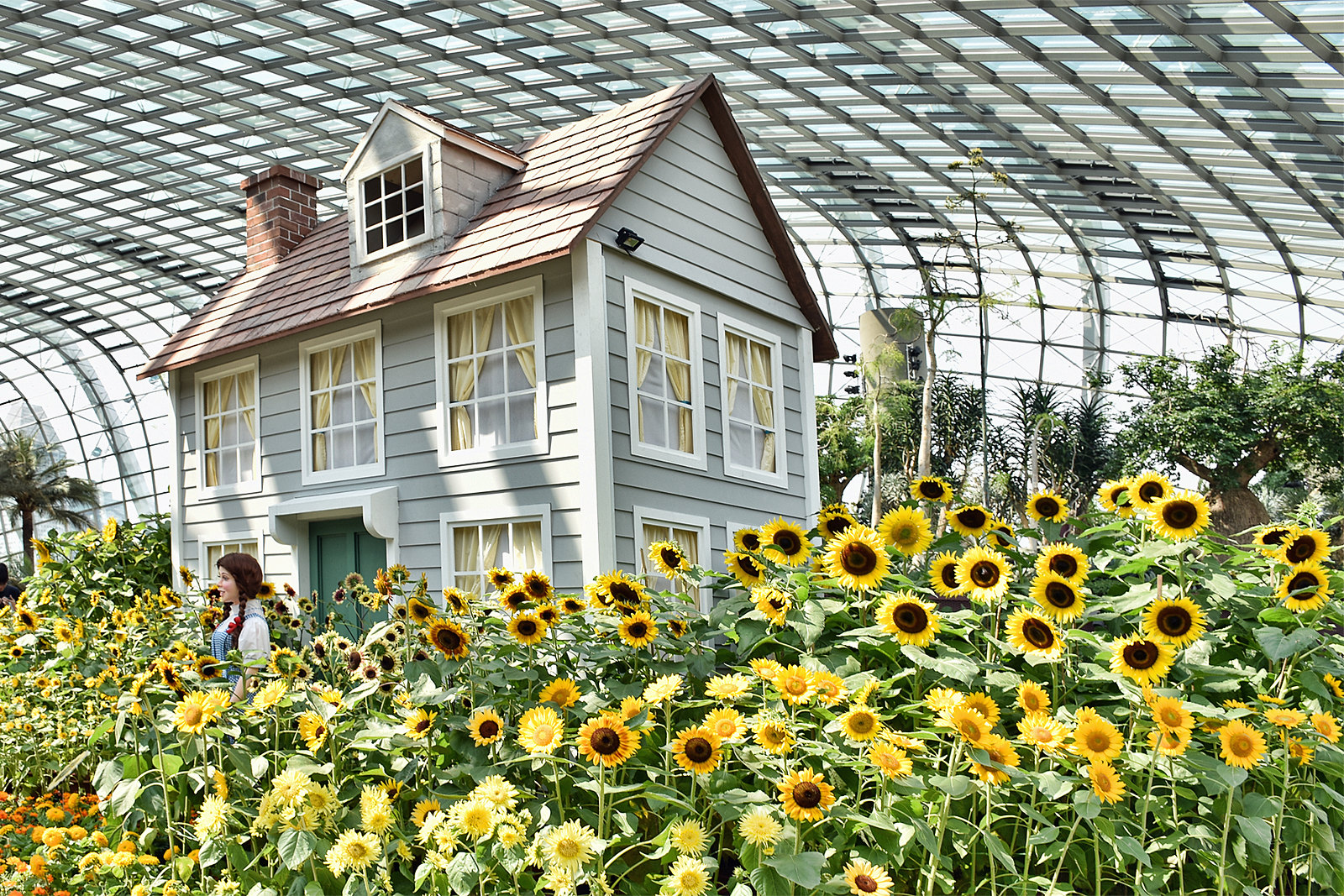 2. Explore the Heritage Gardens
Indian Garden
Indian Garden is designed based on the ideas of Indian culture, which centers around Hinduism and principles of the Vedas, collections of hymns to gods. Plants in this culture often have a function that could be used for daily life purposes. For example, Henna is used as body art, while Kolam is a floor design made with ground rice powders and layers of flowers.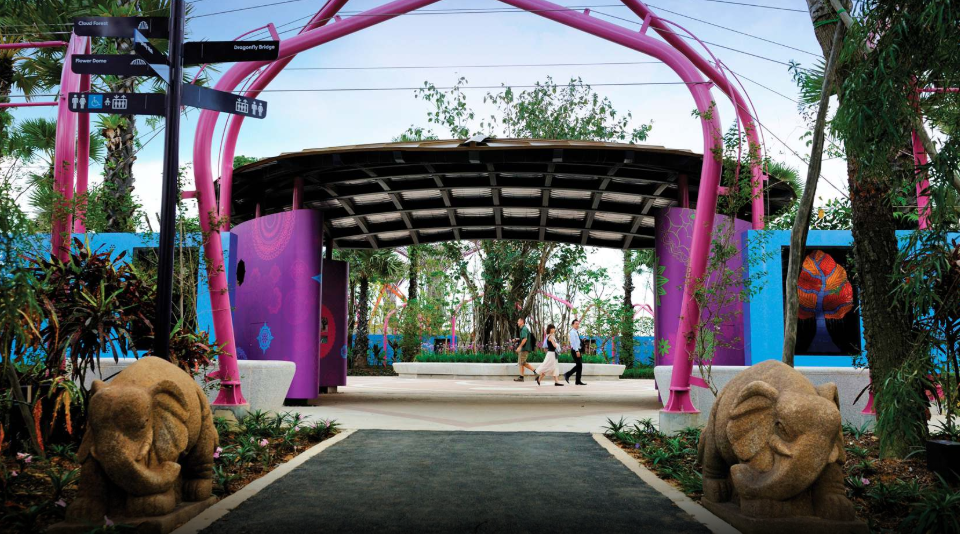 Chinese Garden
Chinese Garden is designed to resemble the natural scenes as described in the Chinese arts and culture. Here, you can stroll down to discover the beautiful balancing landscape with the harmonic combination of mountains (rock), rivers (water) and pruning trees (wood).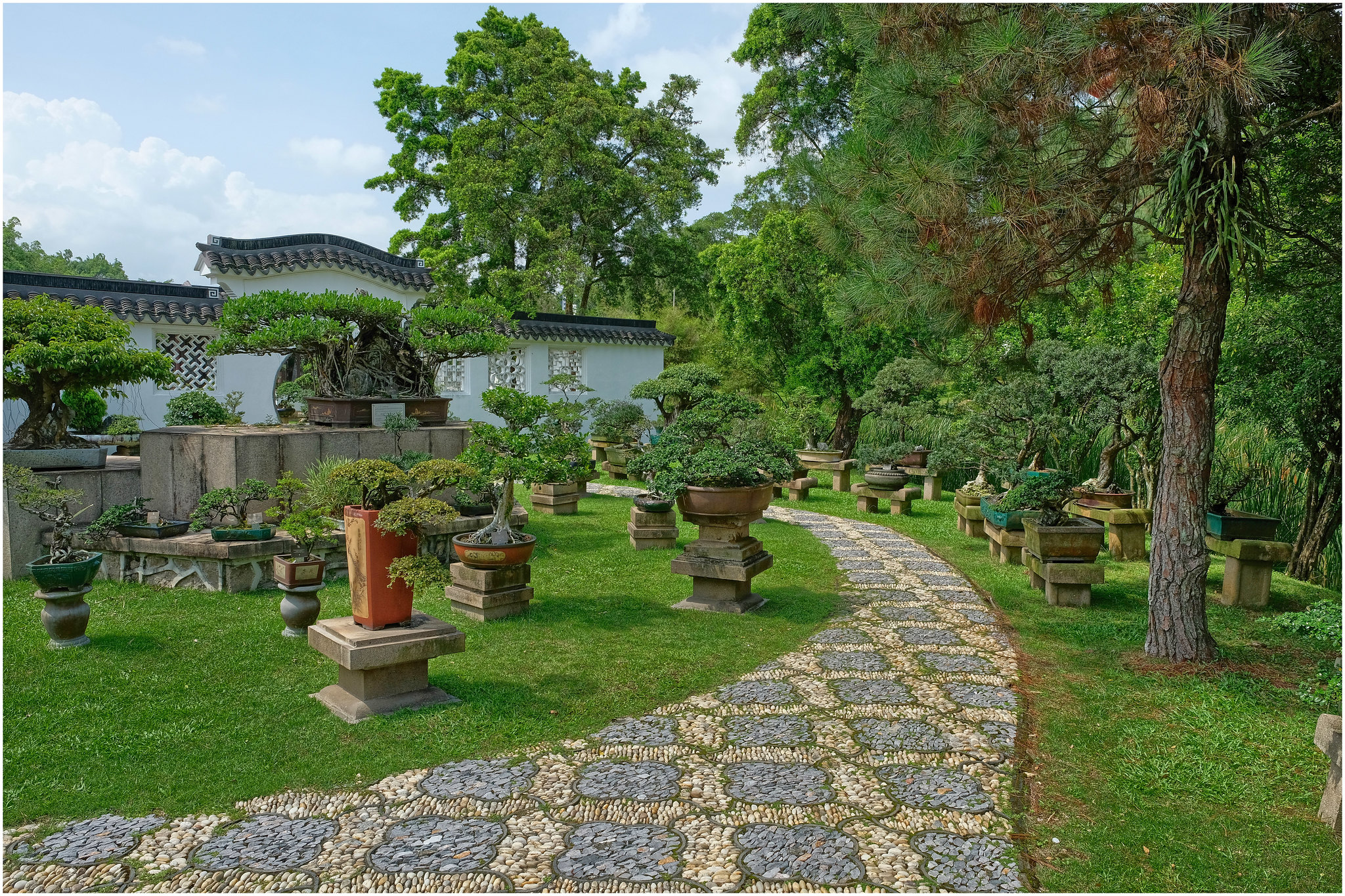 Malay Garden
Among those four, Malay Garden is special for its function of providing raw materials for daily life purposes. Also, many fruits such as jambu, coconut and durian are all typical examples of plants that are often cultivated by the Malay community in Singapore.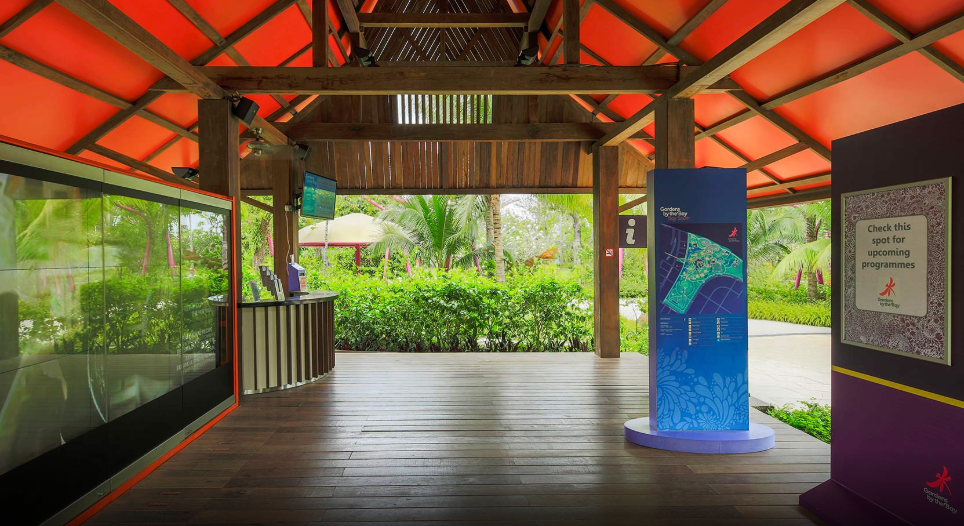 Colonial Garden
Singapore is known for its substantial geographical location on the Spice Route, which makes it the center of spices and cash crop trade. Rubber, cocoa, and oil palm are all aromatic plants that are grown in the beautiful Colonial Garden.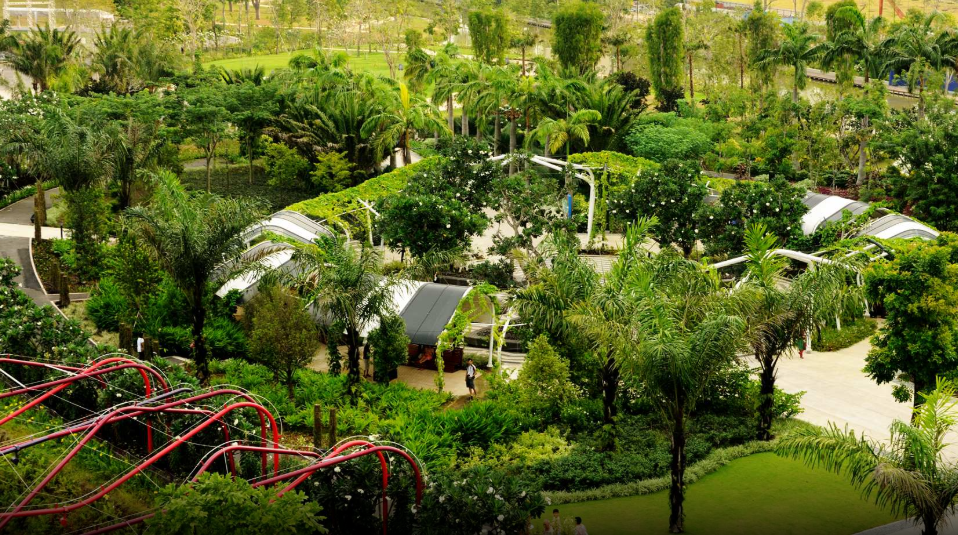 Hours & Admission
05:00 AM - 02:00 AM
Free Admission
3. Admire the stunning Art Sculptures
Not only famous for the exquisite conservatories and gardens, Gardens by the Bay also houses a number of astonishing art sculptures made by a variety of materials. For instance, Planet, The Pamela Hat, The Sea Shell, Ferns, Floral Clock, The Eagle Has Landed, Magnificent Bull, The Giant Snail, Ants On Trees and Dragonfly Riders are all magnificent masterpieces of art that have been created and donated to the gardens in different locations.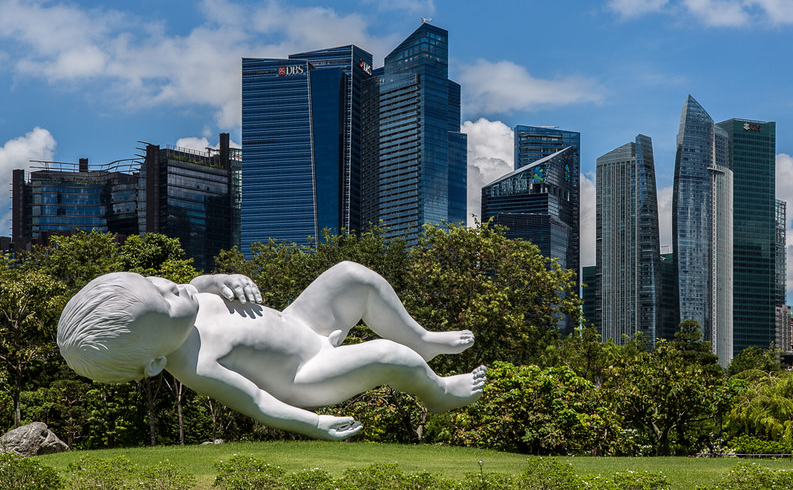 4. Far East Organization Children's Garden
Nothing can beat Far East Organization Children's Garden - a nature's playground for a joyful family day. Here, you can spend time with your kids through a bunch of interactive play delights, water play features and educational programmes in a lush natural setting.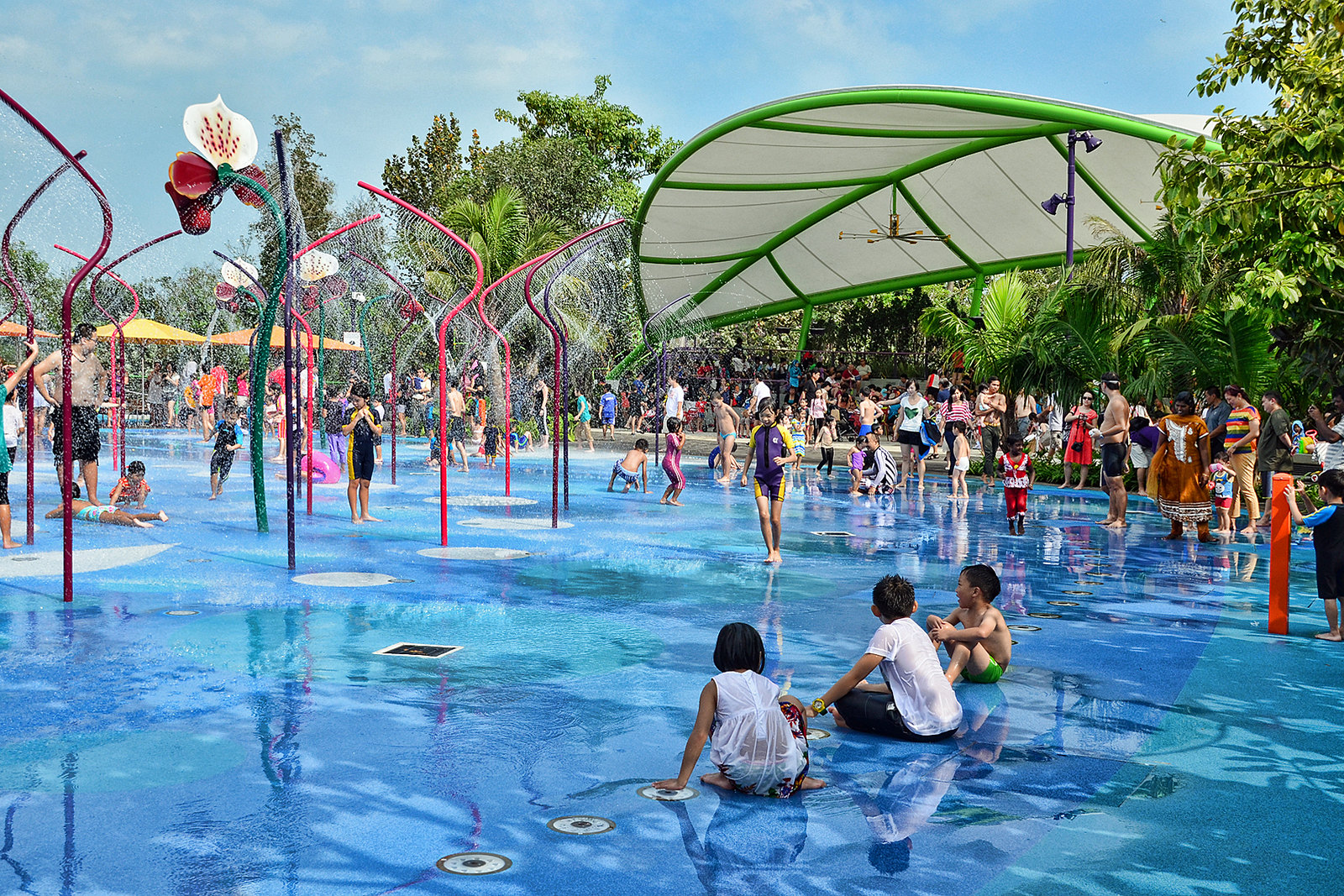 Hours & Admission
Weekdays:
Tue - Fri: 10:00 AM - 07:00 PM
Last entry at 06:30 PM
Closed every Monday
Closed on Tuesday if the preceding Monday is a public holiday
Please note that Waterplay and Fish Fountain areas are closed at 06:30pm on weekdays
Weekends:
Sat, Sun & Public Holidays: 09:00 AM - 09:00 PM
Last entry at 8.30pm
Please note that Waterplay and Fish Fountain areas are closed at 08:30 PM on weekends/public holidays
Free admission
5. Outdoor Gardening activities
If you are one of the nature geeks, don't miss out the outdoor gardening activities every first or third Saturday morning of every month! Be part of the Gardens family through the exciting volunteering program.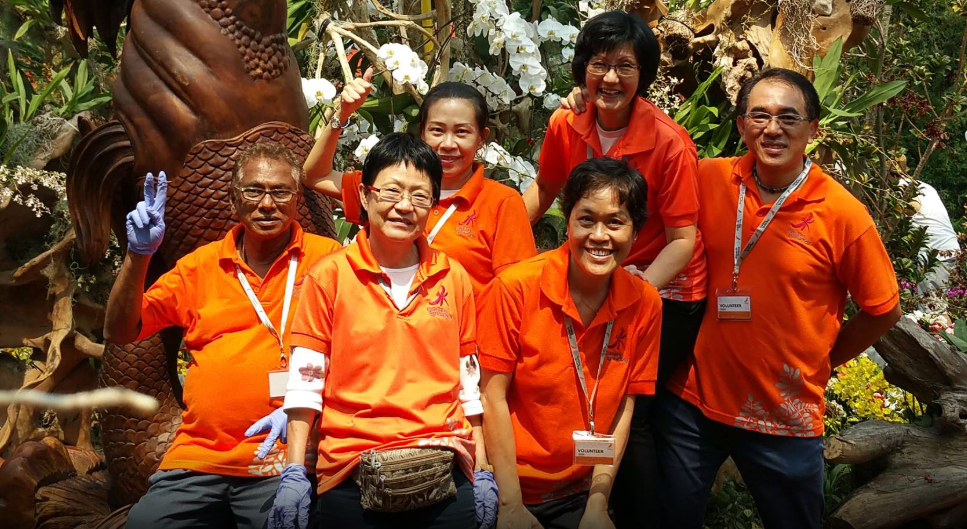 6. Marvel at the marvelous Gardens by the Bay light show - Gardens Rhapsody
If there is anything that should be listed on the must-do activities in Singapore, Gardens Rhapsody must take the first place on that list. Explore the spectacular Supertrees and enjoy its unique performance of music and lights in the daily Garden Rhapsody light and sound shows.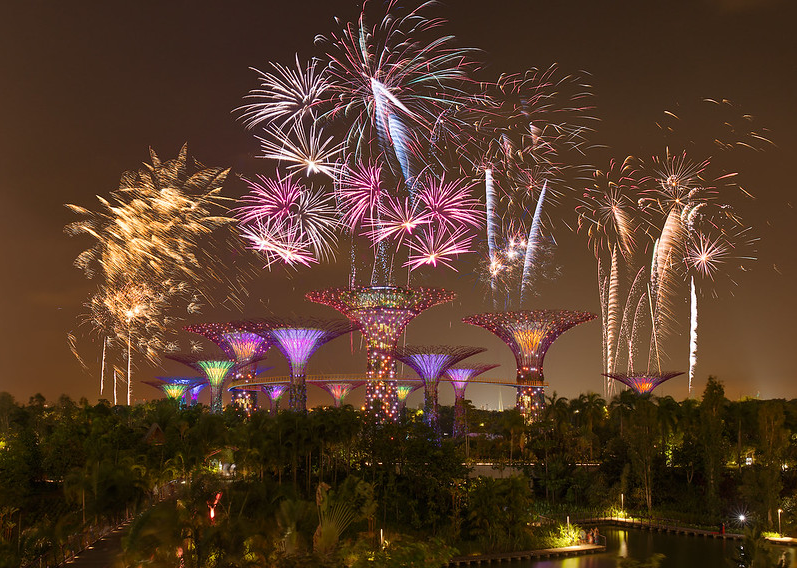 Showtime
Garden Rhapsody goes on twice every evening, one at 07:45 PM and the other at 08:45 PM. No tickets required for entrance, you can totally enjoy this spectacular light show for free!
Best views to watch the show
Garden Rhapsody takes place at the Supertree Grove - a unique vertical gardens resembling towering trees, with large canopies and colorful lights at night. Hence, there are many strategic spots that you can find to enjoy the show to the fullest.
From the fringes of Supertree Grove: If you are a fan of Tinker Bell, don't miss out on this spot for an amazing view of hundreds of trees lightened up, which would look exactly the same as Pixie Hollow at night.
From under the Supertrees: If you want to immerse yourself in the harmony of lights and music, lie down under one of the canopies of the Supertrees and look straight up at the exquisite colorful lighting performance.
From OCBC Skywalk: Nothing can beat OCBC Skywalk over its panoramic viewing spot, especially for the "Insta-life". You will need to buy a ticket, then take the elevator up to the Supertree to get to the Skywalk before showtime. Dancing with the splendid lights, holding the beautiful night sky close to yourself, what else could you dream of for a perfect romantic night out?
Special Editions
What can be more special than the Garden Rhapsody? Definitely the Garden Rhapsody's special editions! On special occasions, there are special editions that are commissioned with various themes.
For example, Saber Trees (in Star Wars), Christmas Wonderland, or An Evening of Musical Theatre (including music from The Phantom of The Opera and Les Miserables) were all the themes that are being used to create the tracklist for the light show.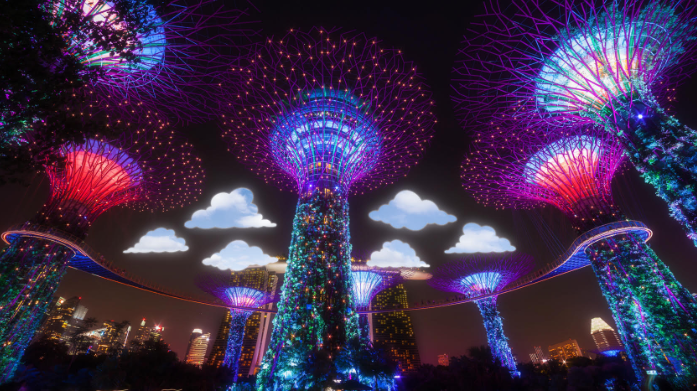 7. Visit the Gift Shops
As people who travel frequently say, in order to keep the memory of your new favourite place, bring a piece of it home. Gardens by the Bay offers a wide range of gift shops, such as floral fantasy gift shop, arrival gift shop, canopy gift shop, conservatory gift shop, or merchandise collection. Finish your trip with a small souvenir that will remind you of the lovely memories you have at the Gardens!
Entrance tickets to Gardens by the Bay
You can buy tickets both via online platforms and at the ticket counter.
At ticket counter
Buying tickets at the counter can be convenient if you want to be flexible about the time you visit the gardens. However, the waiting line may be pretty long during peak hours.
Via online platforms
You can buy Gardens by the Bay Singapore admission ticket via Inspitrip with promotional prices for an adult and children (standard rate for two conservatories).
After confirming your travel date and making payment, an e-voucher will be sent to your email within a few seconds. Once you arrive at Gardens by the Bay, proceed to Ultimate Drive redemption location at L1-14, Hotel Lobby, Marina Bay Sands (1 Bayfront Avenue, #01-14, Tower 3) between the opening hours (Mon-Sun, 09:00 AM - 09:00 PM) to redeem for physical tickets.
How to get to Gardens by the Bay
Getting to the Gardens by the Bay is very easy and convenient whether you drive or use public transport.
Address: 18 Marina Gardens Drive, Singapore 018953
By public transport
Via the circle line or downtown line
Alight at Bayfront MRT Station (CE1/DT16), take Exit B and follow the underground linkway. Exit and cross the Dragonfly Bridge or Meadow Bridge into Gardens by the Bay.
Via the East-West line
Alight at Tanjong Pagar MRT Station (EW15), take Exit C and head to International Plaza, Anson Road to bus stop 03223. Then hop on bus 400 and get off at bus stop no. 03371 along Marina Gardens Drive.
By taxi or self-drive
Depending on your location, you can either book a taxi, grab car or self-drive to Gardens by the Bay. If you're going by private car, the parking lots can be easily found on-site.
Bay South car parks (main entrance, the Meadow, Bayfront Plaza & Satay by the Bay)
Cars: SGD $0.03 per minute
Car park charges are capped at $25 per day
Motorcycles: SGD $1.20 per entry
Bay East car park (Bay East Garden)
Cars: SGD $0.03 per minute
Free lunchtime parking (12:00 PM to 02:00 PM), except on Public Holidays
Walking
From Marina Bay Sands Hotel, you can cross the overhead bridge (Lions Bridge), opens daily from 08:00 AM - 11:00 PM or walk through underground linkway via Bayfront MRT.
Getting around Gardens by the Bay.
Download the map of Gardens by the Bay Singapore below or pick one at the entrance to navigate at ease.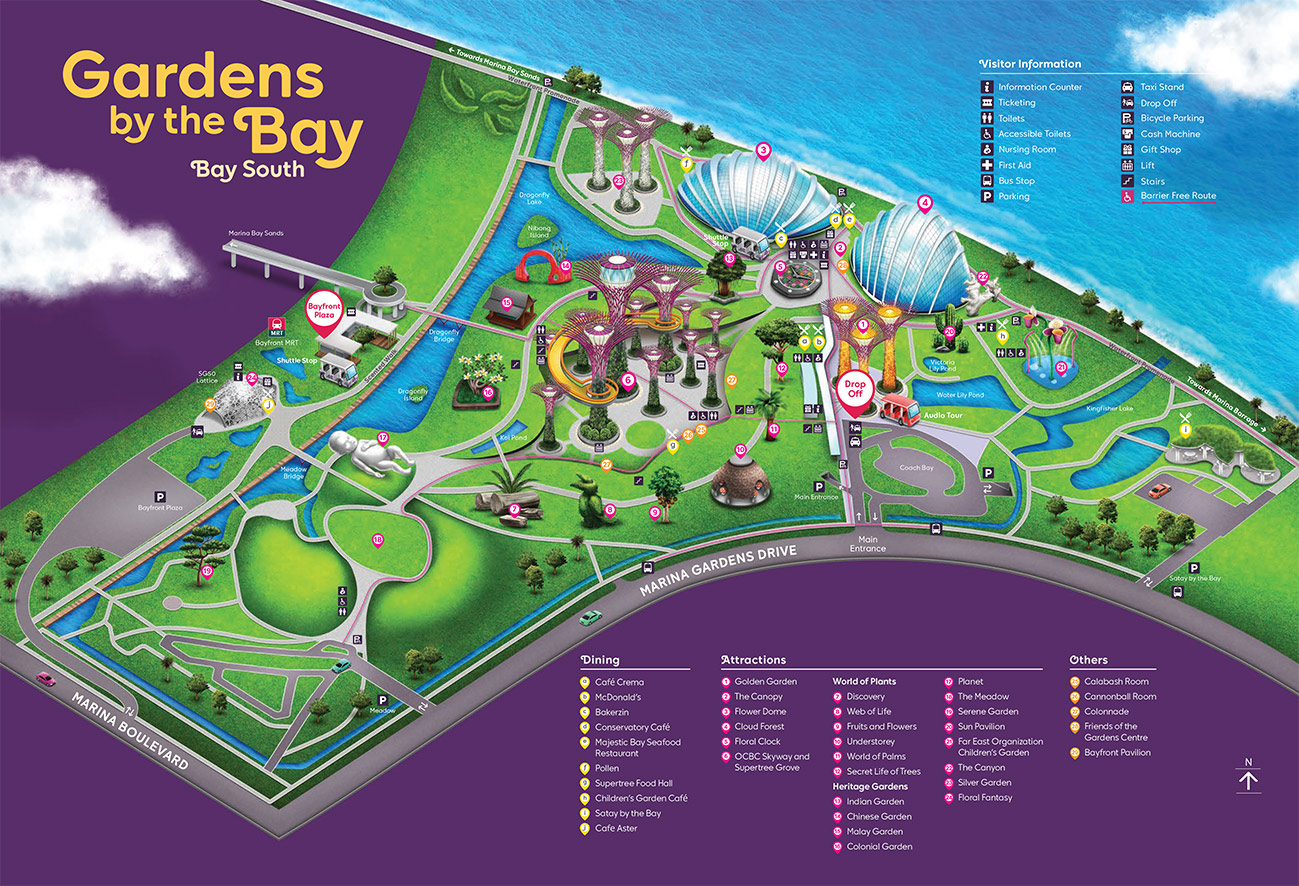 Essential tips from Inspitrip
Gardens by the Bay Singapore is huge and full of stunning sightseeing spots as well as fascinating activities that attract a large number of visitors daily. Therefore, you should pre-plan your schedule before visiting to avoid the crowds during peak hours and get the best spots to see the Gardens Rhapsody light show.
Wear your most comfortable pair of shoes and light clothes as the attraction covers long hours of walking and sightseeing.
Children aged 0-2 are free of charge when accompanied by their parents.
Visit Gardens by the Bay's calendar of events for fascinating activities and closure date for maintenance before your visit so as not to miss anything.
Check out the official website for available services and accessibility for children, seniors and people with disabilities. If you feel unwell or need help, don't hesitate to reach out to the Gardens attendants or Visitor Services Center located on the opposite of Main Ticketing Counter.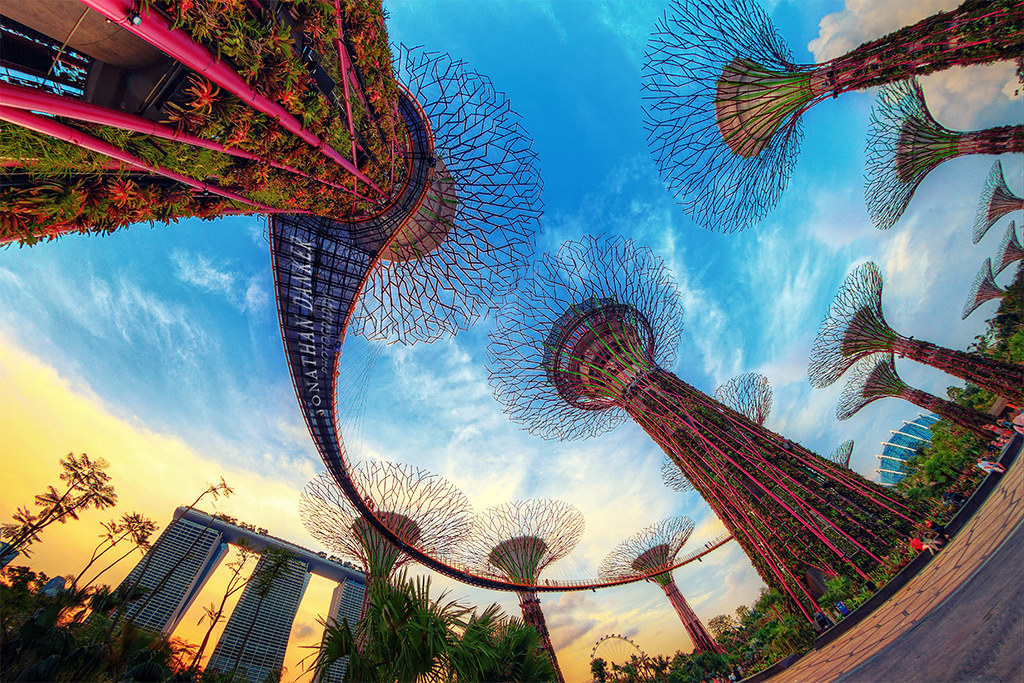 Embrace the powerful interconnection of ecology, see the tallest indoor waterfall, walk through the Supertree Grove, and enjoy the amazing views of Marina Bay from the OCBC Skyway, you can try them all at Gardens by the Bay Singapore.
Moreover, besides Gardens by the Bay, Singapore also offers many other interesting tourist attractions, such as Universal Studios Singapore, S.E.A Aquarium and Singapore Zoo for your fun-filled day trip in the city. Don't miss out on a wide range of fun activities in Singapore handcrafted just for you when traveling with Inspitrip!