Floating villages in Siem Reap: what tour should you try?
Cambodia is famous for its temples and I am sure taking a tour to Angkor Wat and other temples in Siem Reap is on top of your to do list while in Cambodia. But then, when your temple list is all checked off, what else can you do? Visiting Floating Villages always comes first in the list of top things to do in Siem Reap!! Exploring floating villages in Siem Reap is a great way to experience the unique culture which you cannot get anywhere else. You will be fascinated by the scene of floating houses, floating restaurants, floating schools… it is a whole new world, so don't miss it while in Siem Reap. So you thought to yourself, checking out the floating villages sounds like a great idea, but when is the perfect time to visit these floating villages? And which villages should I go to since it seems like there is a lot of villages to choose from? For the first question, to be honest, there isn't "a perfect time" to go check them out, it really depends on your preference whether you like rainy or dry season, or should I say, it really depends on when you are in Siem Reap. During the rainy season, which is from June to November, the water level rises above the height of the constructions. And, in the dry season from December to January which is when the water level is at a lower rate, you have a chance to see all the houses on balancing on a very thick, wooden trunks. There are four mains village for you to choose from: Chong Kneas, Kampong Phluk, Kampong Khleang and Mechrey. Each village has its own beauty, so I won't give you an order of which ones are the best ones to visit, but I will go over what you can expect at each village.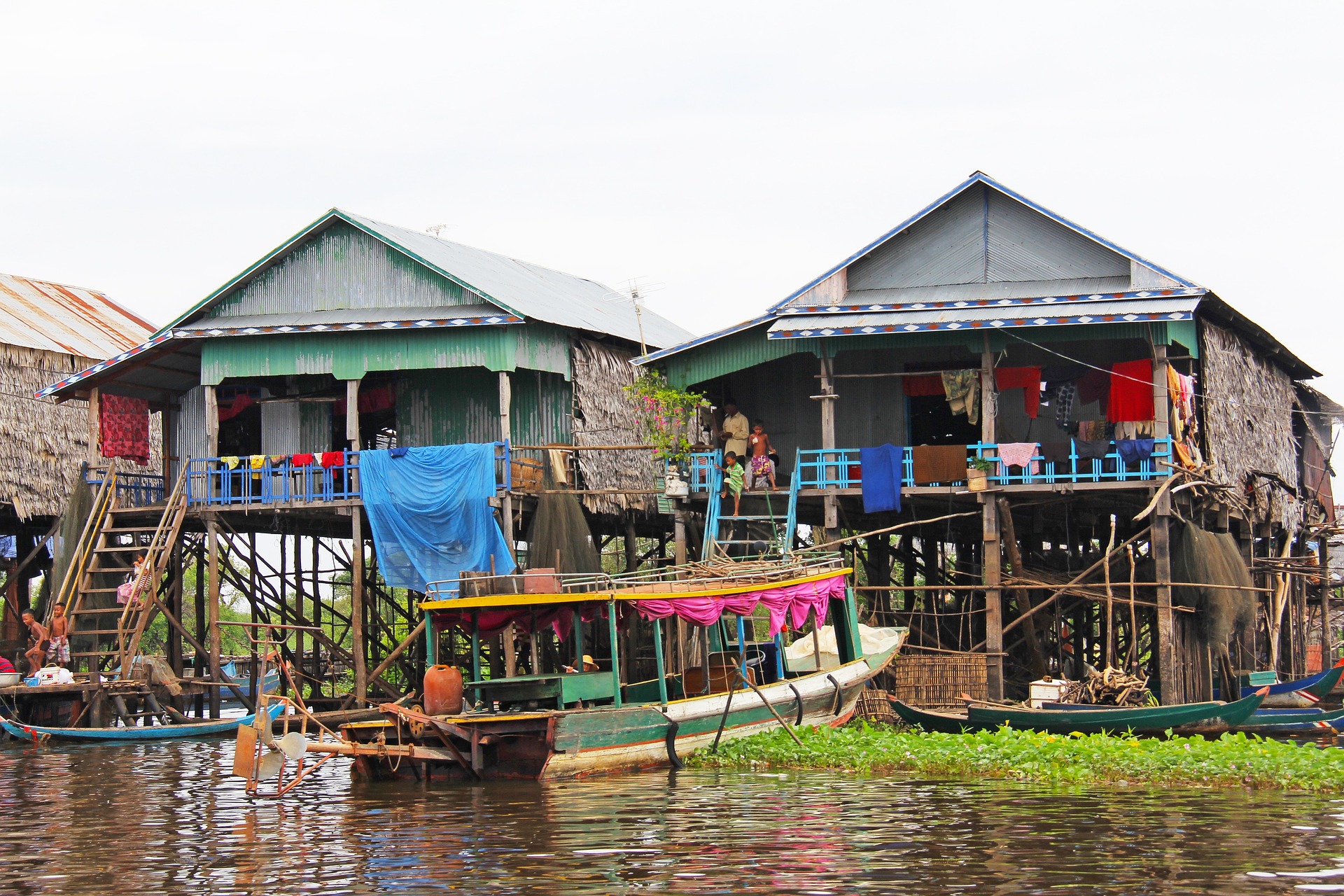 Chong Kneas
Chong Kneas is the closest village to Siem Reap (about 16 km), so if you have limited time, you should consider adding this village to your day tour list in Siem Reap. The village has many floating houses that usually move due to the water level. In recent years, this village has been swamped with tour groups and "earned" the bad reputation for tourist traps and scams.  Although the village has it flaws, Chong Kneas is a very scenic place to witness sunrise and sunset. The place is filled with Korean cuisine, so if you are a fan of Korean food, this village is a great go-to place for you to check out. But be careful ordering your food at any restaurant, and make sure you read the review beforehand. One more thing is the boat tours here are not owned by the local community, even though you can see a lot of people coming in and out, locals see no money that comes from tourist. So if you have a chance to visit or get to know a family in Chong Kneas, feel free to tip them. In short, Chong Kneas is a typical tourist destination, so if you are an explorer type of person, there isn't much to explore here.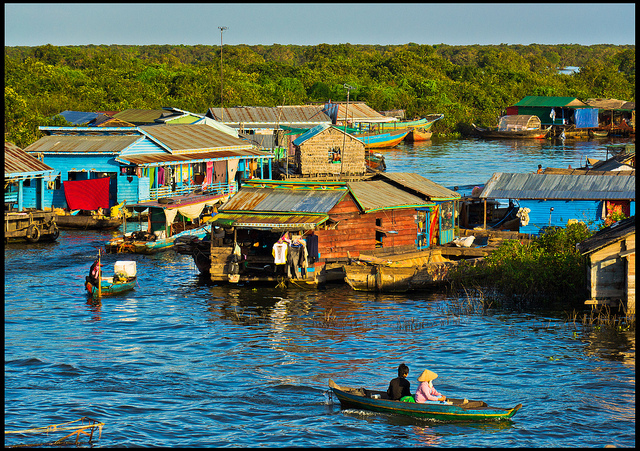 Kampong Phluk
There is no doubt that Kampong Phluk is second to none when it comes to top places to visit in Siem Reap. Located within the floodplains of Tonle Sap, Kampong Phluk is famous not only for its rich culture but also the flooded mangrove forest which surrounds the village itself. Kampong Phluk is actually a combination of three smaller towns, this floating village is about 30 km from Siem Reap which makes it a perfect destination for a half day tour or one day tour. The road trip and the duration of the river trip here is quite short compared with other floating villages. If you decide to visit Kamping Phluk, there will be a private company that can guide you through all the main destinations. Since Kampong is more like a normal floating village, not a tourist place, if you are looking for tourist activities, this probably isn't a match for you. But I would say, visiting Kampong Phluk is a good way to get the know the culture, and explore what is it like to be living in a floating village. If Kampong Phluk on Tonle Sap is where you are heading to, I would suggest touring with local tourist companies (you can only meet them when you are at the village), since the village itself is very poor, and although there are tourists coming in, most of them go with an outsider tour not tour from local business.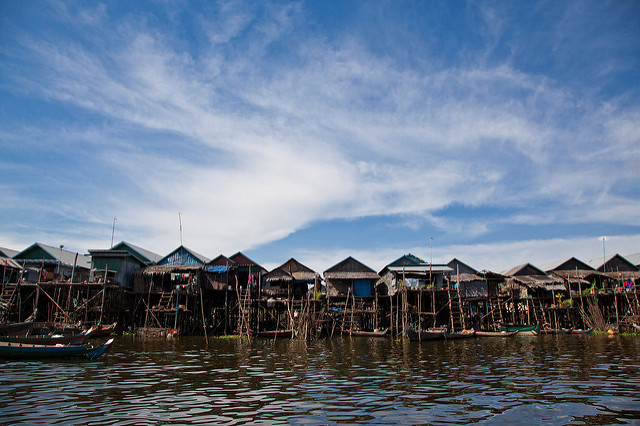 Kampong Khlean
Kampong Khleang means "harbor warehouse", which is fitting because it's a fishing village! Differentiating itself from the other floating villages, this village has both stilled houses and floating houses, as well as other building types. This is the furthest village out of the four villages in this list from Siem Reap. The village isn't flooded with tourists so there are no tourist traps or scams, and it runs at a more relaxed pace. Although, this is the furthest village to travel to from Siem Reap, Kampong Khleang is probably the best village to visit. The boat to Kampong Khleang is operated by locals, meaning by paying to get to Kampong Khleang, you are supporting the people here. Your tour guide will take you up to Khleang river and from their you will travel to a floating village. Going to Kampong Khleang, you will have a lot of chances to explore wildlife in Cambodia. The flooded forest here has many authentic birds which you cannot find anywhere else. Additionally, this village is a great place to get to know more about the Khmer culture, and experience a normal life at a floating village. The people are friendly, and they love to have visitors, so feel free to ask them to take some pictures with you, they would love to do that. Usually, tours to Kampong Khleang will start at 8 AM and end around 3PM, so if you have a whole day, this is a great experience to try out.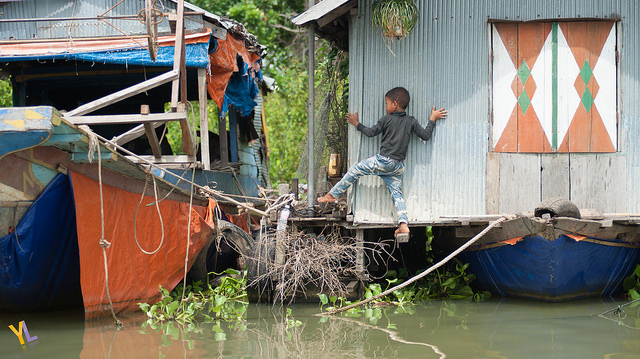 Mechrey
Mechrey is located 25 km from Siem Reap. This is an entry point into the Prek Toal Core Bird Reserve, with a dusty ride and red soil road. The village will give you the best view of what is it like to be living in the countryside of Cambodia. The village offers you some best bird- watching spot on. If you are a person who is into birds or wildlife, this village will be a perfect place for you to check it out. This village is a peaceful and pleasant place to check out. Touring this destination will definitely be an eye-opening experience for yourself. The best time to visit Mechrey is in the afternoon, when the children get back from school. This is a perfect time for you not only to experience the hustle and bustle of a floating village, but also a great time for taking pictures.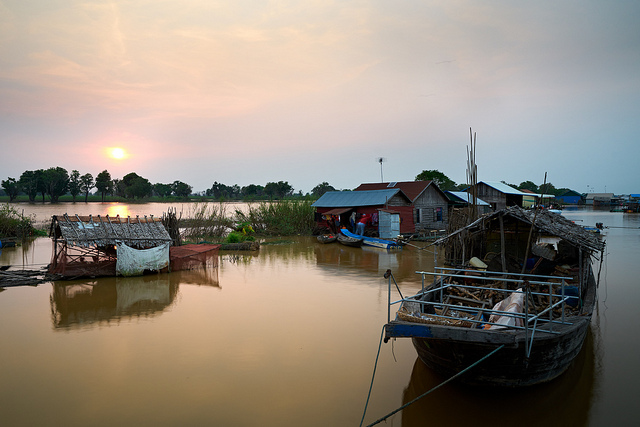 In the end, none is better than the other, so if you have a chance to visit all four villages, great!! But if not, touring just one doesn't hurt. The point of this blog is to let you know, besides touring temples in Cambodia, visiting floating villages is another great way to experience culture.