Dream World Bangkok: All You Need to Know About Bangkok's Most Popular Theme Park
Dream World  Bangkok is a classical European-style amusement park which is full of tiny versions of the world's emblematic landmarks and modern game machines. Holding similarities to Disney World, Dream World Bangkok offers tons of challenging and astonishing adventures, making it a perfect destination for families, groups of friends or even thrill-seekers. In this article, we have put together all the essential tips and a detailed guide on how to visit and fulfill yourself with delight and enjoyment in the most popular theme park in Bangkok.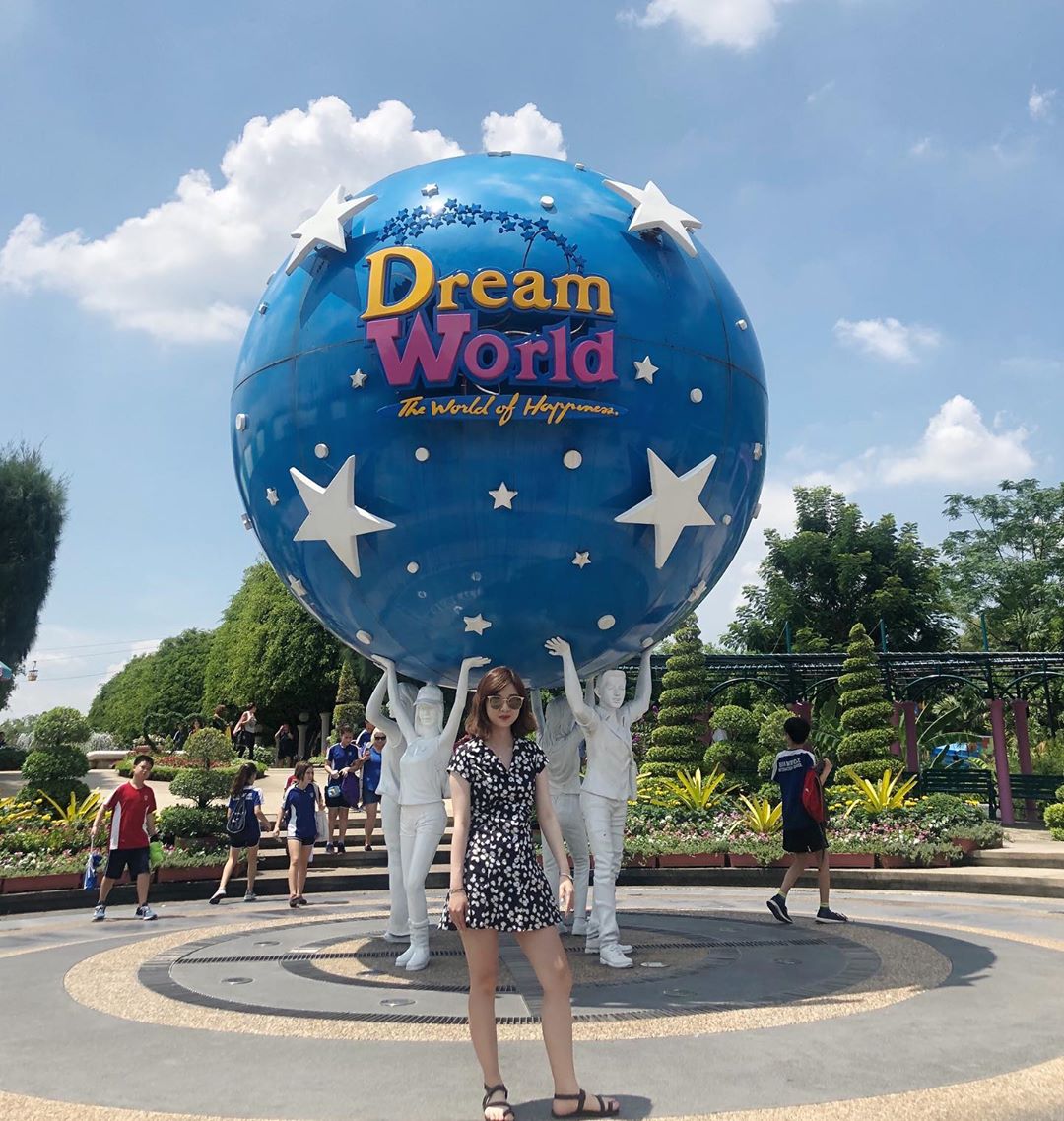 Dream World Bangkok - The Land of Wonders
As the name suggests, Dream World Bangkok is the heaven where all children's fantasies come true: they can meet beautiful Cinderella while building a snowman in Snow Town or ride a rollercoaster with Pocahontas when visiting the attraction.
There are 4 unique themed zones, consisting of over 40 different rides with a variety of exclusive themes and concepts for visitors to explore. Therefore, whether you are traveling with your friends or family, especially with children, Dream World Bangkok is a great place that should not be missed in your Bangkok itinerary.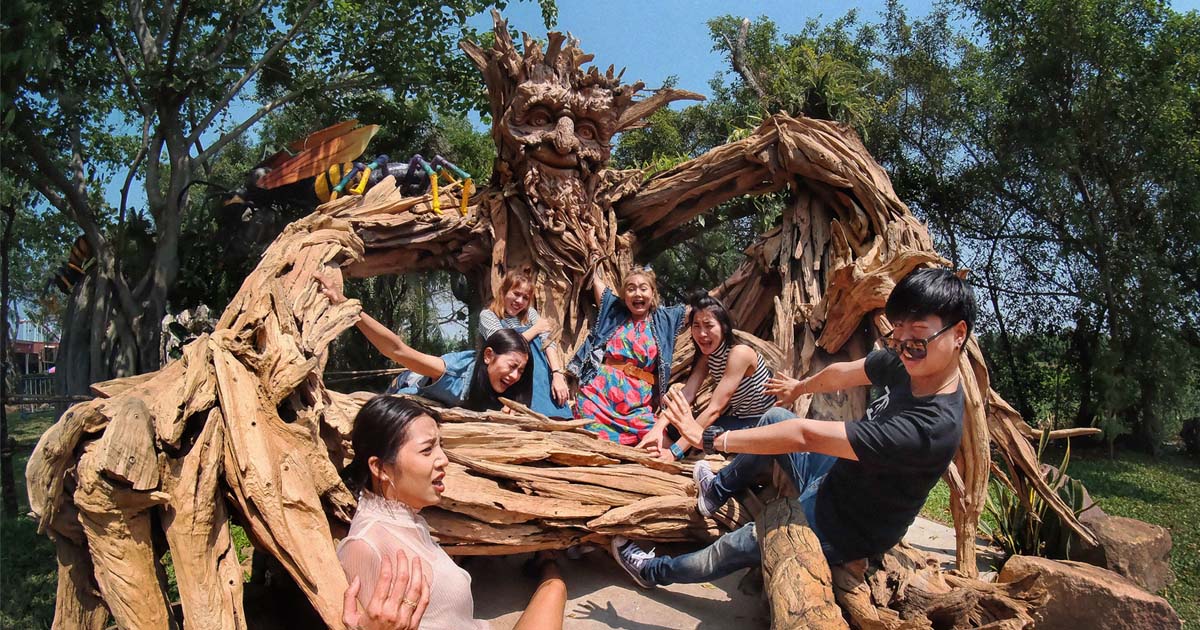 Top things to do in Dream World Bangkok
1. Explore extraordinary themed zones
Dream World Bangkok is divided into areas with more than 40 games and activities in total, however, there are 4 main themed zones that you cannot miss:
Dream World Plaza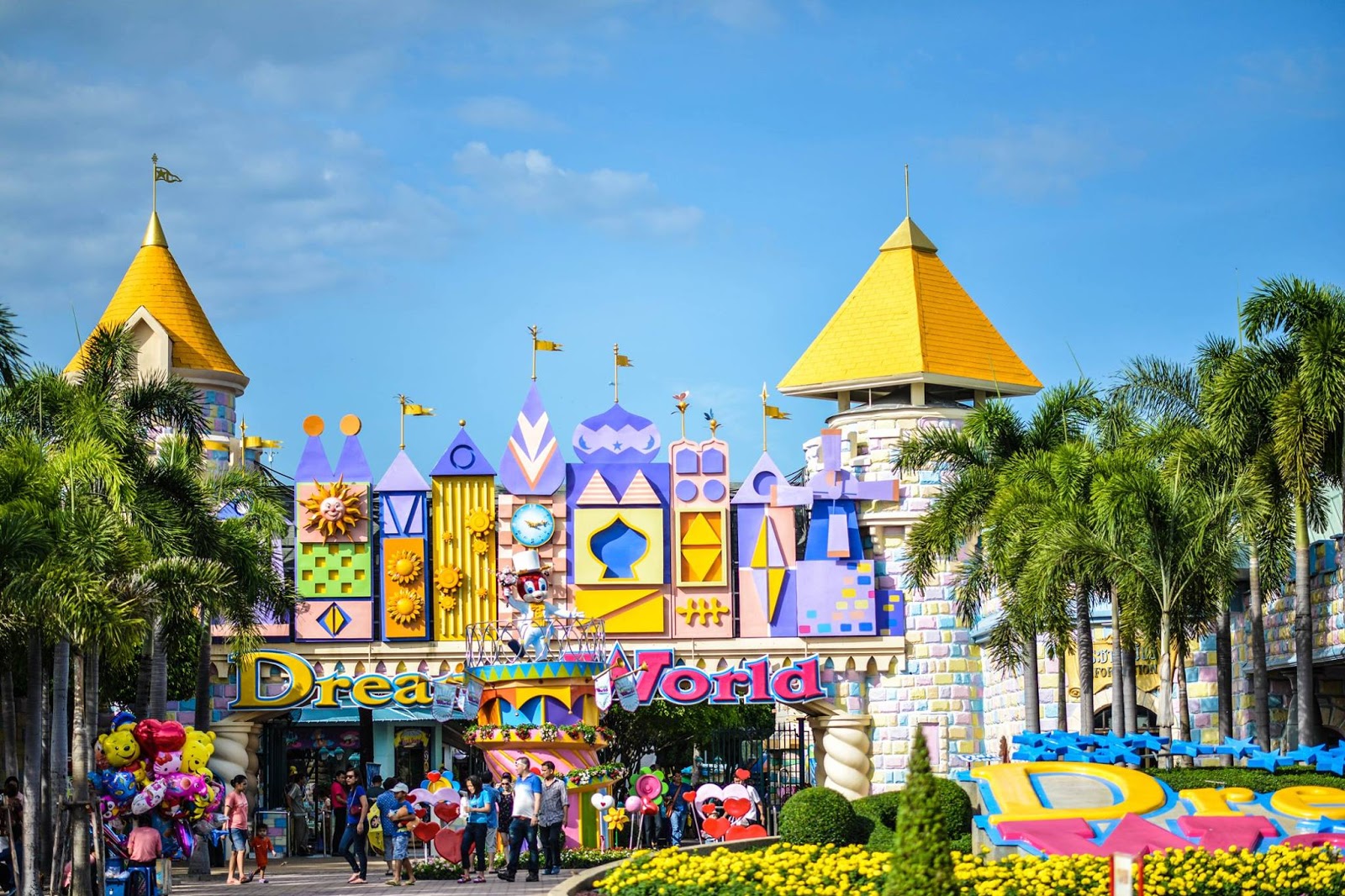 From the main entrance, you will get to see Dream World Plaza first. Here, you can find many lovely souvenir shops and food courts to feast your eyes and fulfill your belly before starting the journey.
Dream World Plaza also is a reminiscent version of the Main Street USA in Disneyland, which houses lots of cute architectures and photogenic spots, allowing you to feed your Instagram with stunning photos.
Dream Garden
If you're traveling with children or looking for romantic spots to leisurely stroll along with your loved ones, the nature-themed Dream Garden is the place to be. Activities in this area include:
Speedy mouse coaster
Water tricycle
Racing cars
7 Wonders of the World
Love Garden
Since Dream Garden is mainly designed for photography and children's playground, though there are some activities that are worth trying:
Speedy Mouse Coaster
This ride has a cute mouse-shape with the glider speed is mild and suitable for children or visitors with vertigo. If you like to ride a rollercoaster at a slow and moderate speed or if you go with children and want to train them to ride a rollercoaster, Speedy Mouse Coaster is a great one. Each ride lasts for about 5 minutes.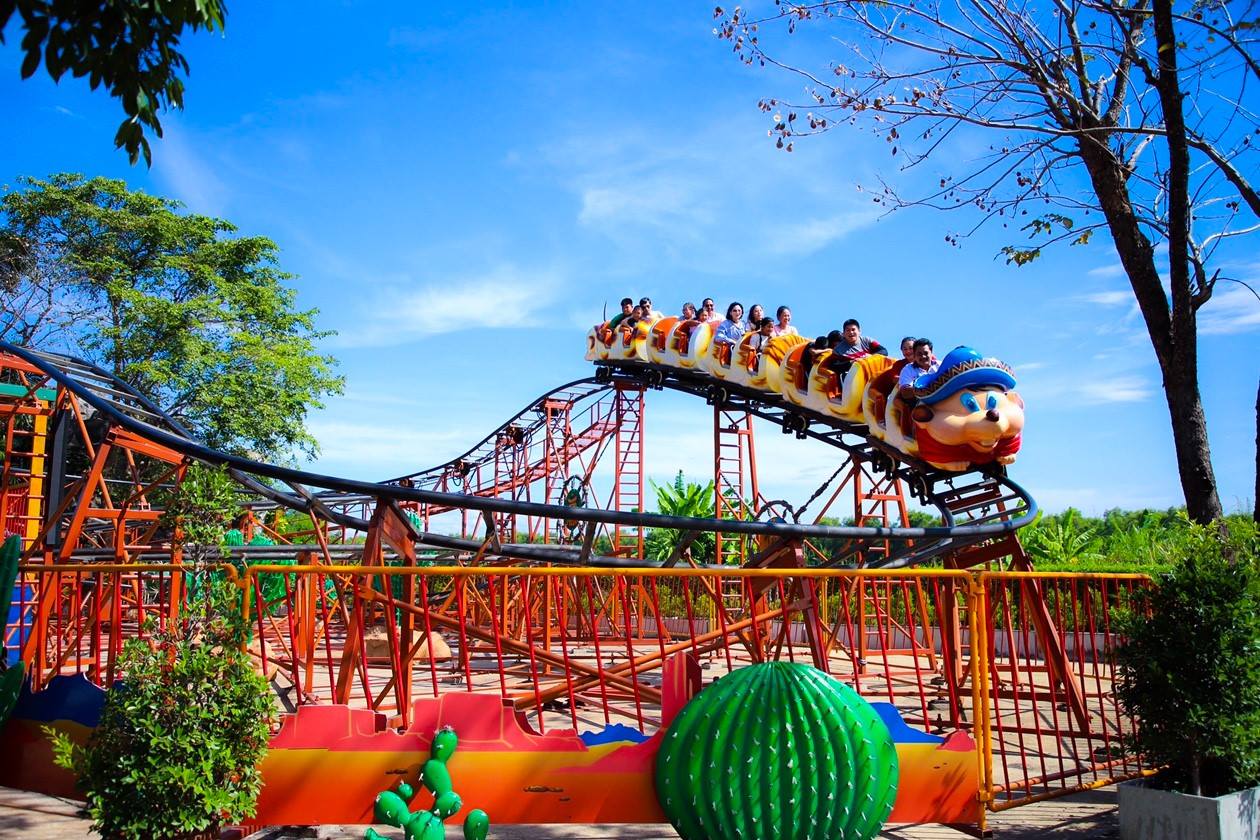 7 Wonders of the World
7 Wonders of the World will take you on a journey to see some of the most famous destinations around the world. There are not only 7 world-renowned architectural wonders being found in miniature, but also other iconic landmarks such as the Eiffel Tower, Angkor Wat, Grand Canyon, and many more.
Imagine getting lost in a place where you can observe the world's most impressive natural wonders and manmade structures from classical antiquity to the present time. That is just one part of your amazing trip to Dream World Bangkok!
Love Garden
Located between a fountain and a large pond area, Love Garden is a glamorously and romantically decorated garden with Cupid arrows, rosy hearts, floral swings scattered all around. A visit to Love Garden will fill your heart with love and sweetness.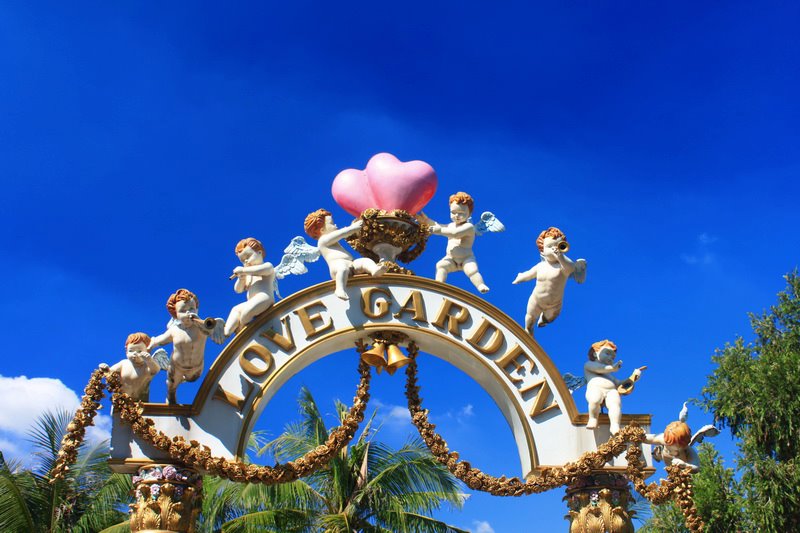 Fantasy Land
Taking a few steps from Dream Garden, you will enter Fantasy Land, the land of utopia with a heap of exciting games. Some highlights of Fantasy Land are:
Cable Car
Dream World Railroad
Fantasy Garden
The Giant House
Sleeping Beauty's Castle
Hurricane the Ride
The Spider
Uncle Tom's Farm
4D Adventure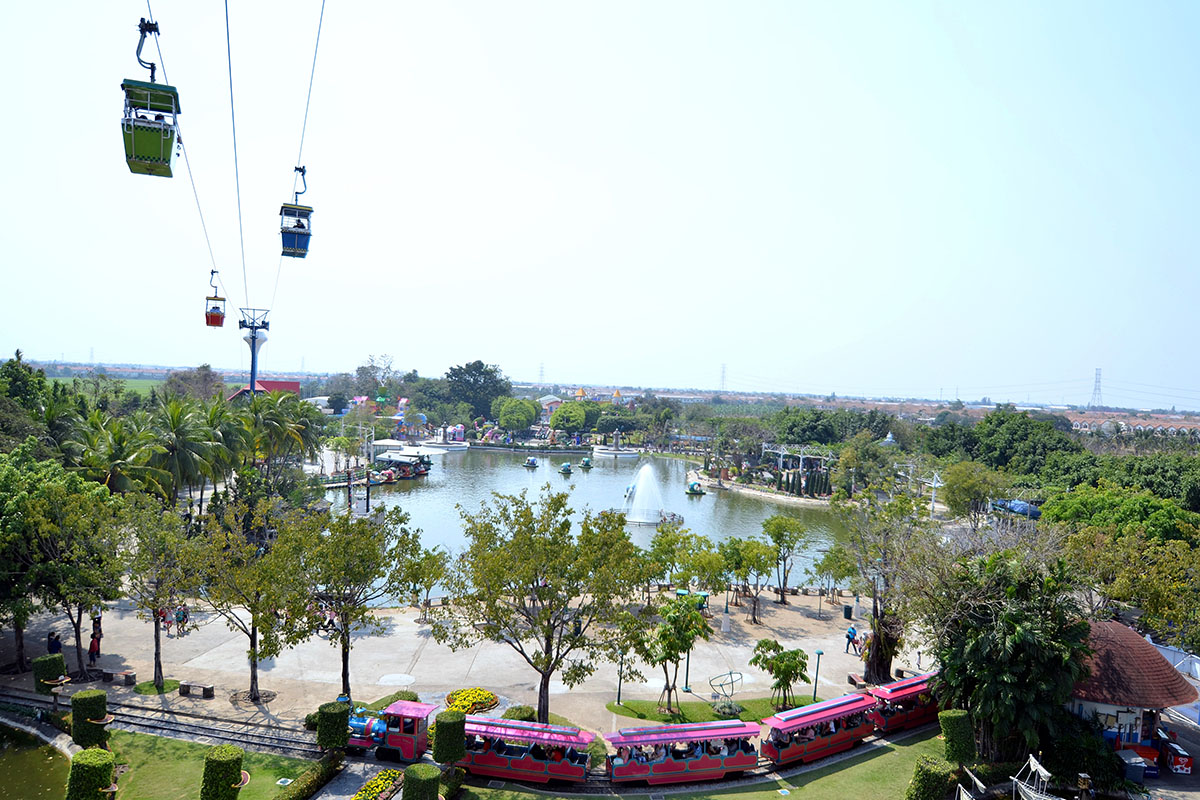 The most popular rides in Fantasy Land are the Cable Car and Hurricane The Ride. While Cable Car offers a relaxing ride that allows you to have an amazing bird's eye view of Fantasy Land area, Hurricane The Ride will take you to the height up to 20 meters into the air then toss you about like a rag doll since it flips and somersaults.
Taking pictures with your family or friends is a must-do in this wonderful land as there are countless photogenic spots.
Jump into The Giant House where all home appliances are in enormous sizes, wander around as a princess in Sleeping Beauty's Castle, then let your imagination run wild in the exquisite settings of fantasy movies and fairy tales in Photopia.
Every single corner in this land is going to astonish you from time to time with its colorful mythical architecture.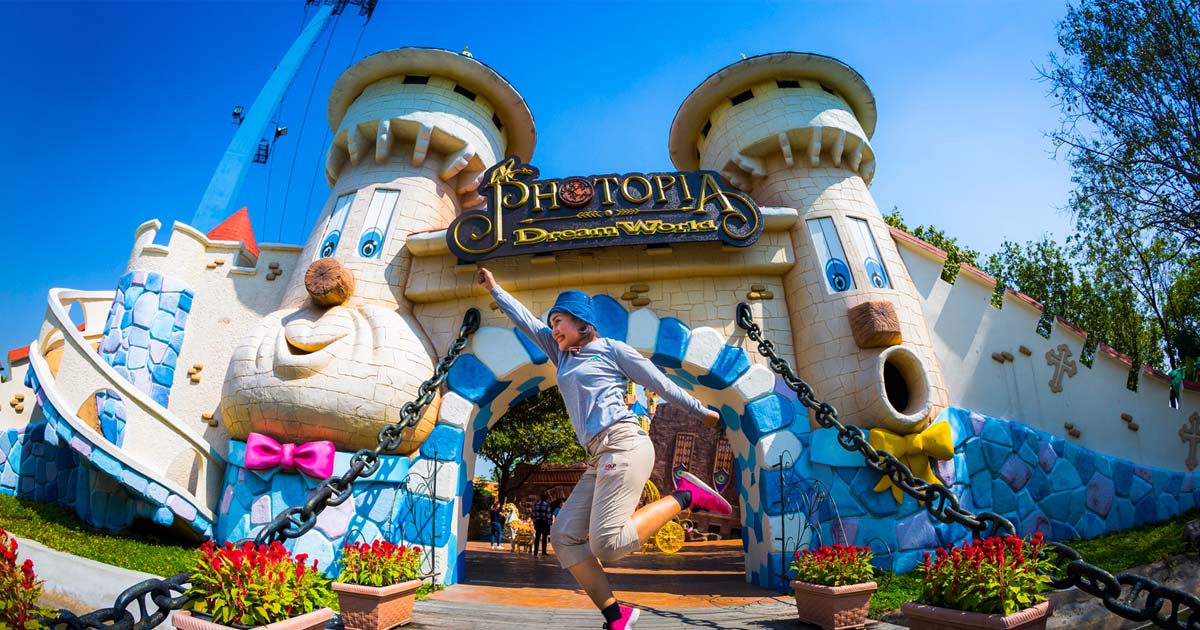 Adventure Land
The largest zone of Dream World Bangkok is Adventure Land. In this area, you can immerse yourself in the space and futuristic theme, along with some of the park's best and most popular attractions.
Space Mountain vs. Sky Coaster
Bringing similarities to its namesake in Disney World, Space Mountain is an indoor roller coaster that offers one of the 2 most thrilling coasters in Dream World Bangkok. The other one is the Sky Coaster which makes you feel like a flying bird as your legs keep dangling in the air when on this ride. If you're hunting for a real adrenaline-rush adventure, try both Space Mountain and Sky Coaster!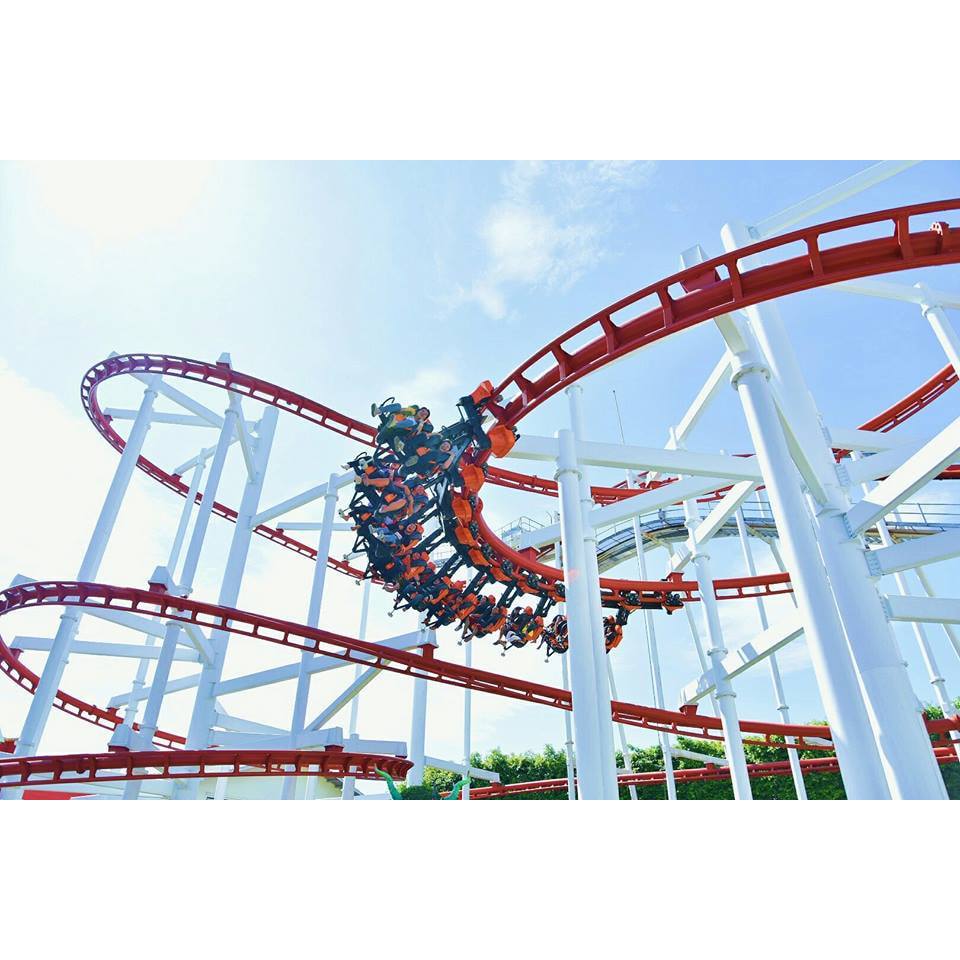 Grand Canyon vs. Super Splash
Alternatively, Grand Canyon and Super Splash are two other rides that are more appealing to families traveling with kids. Boarding the circular pods of Grand Canyon, you are in for a challenging adventure as those pods keep pumping along raging water rapids. Another wild water ride that will get you drenched is Super Splash, a game that will surely make you yell in the highest pitch when plummeting down to the water. Therefore, make sure that your phones and camera are well protected when joining those rides.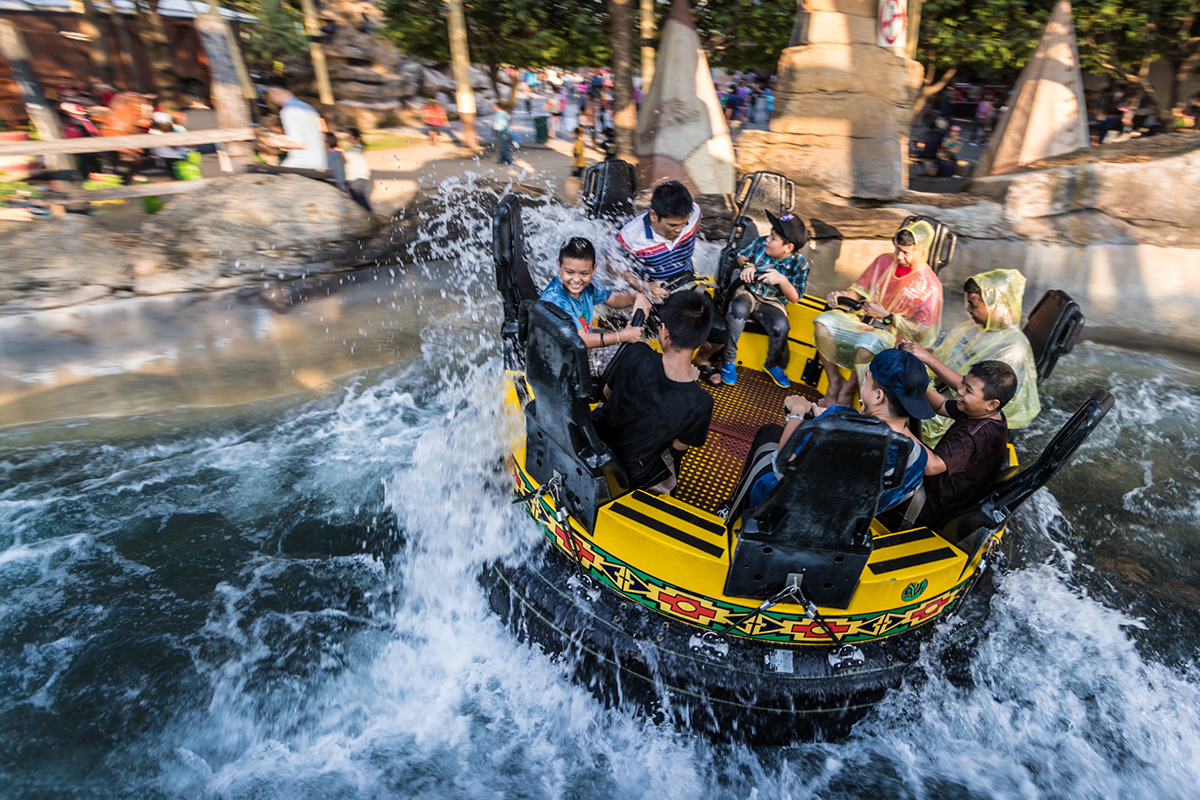 Viking & Tornado
Other popular rides include Viking and Tornado.
Step up on the Viking ship and ride on the fiercest waves of the Seven Seas. This ride guarantees to bring you the most electrifying experience that you have never imagined as each swing is delivered with the power of the mighty ancient Viking warriors. Raise your hands in the air, scream out loud and enjoy the adventure.
Another option is Tornado which will fly you through clouds and heaven. Up to 7-storey into the air, swing you at the speed of 75 kilometers per hour while spinning you around, Tornado is a real challenge to the bravest souls and imprints a sense of fear into your mind.
Snow Town
Don't miss this golden chance to experience snow right in the heart of steamy Bangkok! The temperature never rises above -8°Celsius, which brings you an ultimate arctic winter with powdery snow and countless lovely wintery creatures.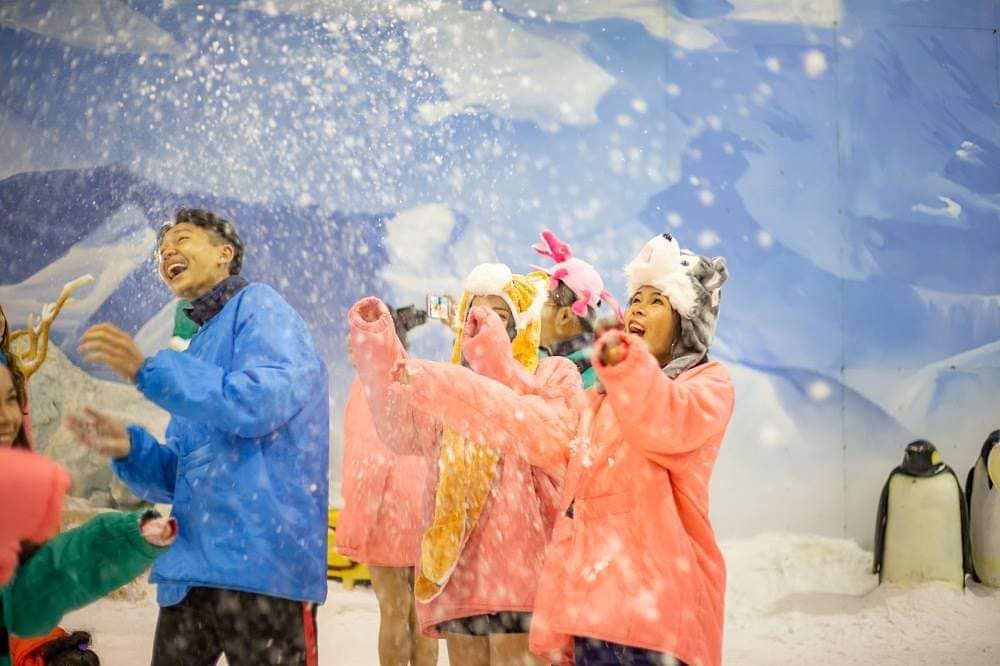 Rubber boots and thermal jackets will be distributed at the entrance so that you can easily walk through crisp and cold snow. Build a snowman, sit inside an igloo, ride a sleigh, try snow skiing and have brave poses next to a mammoth. This Snow Town is also a unique part that differs Dream World Bangkok from other well-known theme parks. Everything offered here is worth waiting and definitely is a major highlight to your Bangkok itinerary!
Taking photos with your favorite characters!
On your journey exploring this land of wonders, chances are that you will be able to come across your favorite characters from those fairytales that you always fantasize about, such as elegant Snow White, bold princess Merida and many others.
Don't hesitate to give them a warm hug and take lots of photos as they always welcome you to keep these moments living forever in photographs. A tip to obtain gorgeous photos is to dress comfortably yet nicely and be ready to smile as you never know when you will spot them.
2. Enjoy entertaining shows
When you have been on your feet for hours, it's time to sit back and enjoy Dream World Bangkok's fascinating shows.
Animal Show
Being the most popular show for kids, Animal Show at Dream World Bangkok will immediately fade your fatigue away with the cuteness of live animal performances. If you plan to see Animal show, check the showtime beforehand and go to the venue early to take front seats for a better view and up-close interaction with the lovely animals. This show takes place near Animal Farm (no.19 on the map). Come to meet the animals and fall in love with them!
Showtime
Weekdays: 12:00 PM and 02:00 PM.
Weekends and holidays: 12:00 PM, 02:00 PM, and 03:15 PM.
Duration: 20 minutes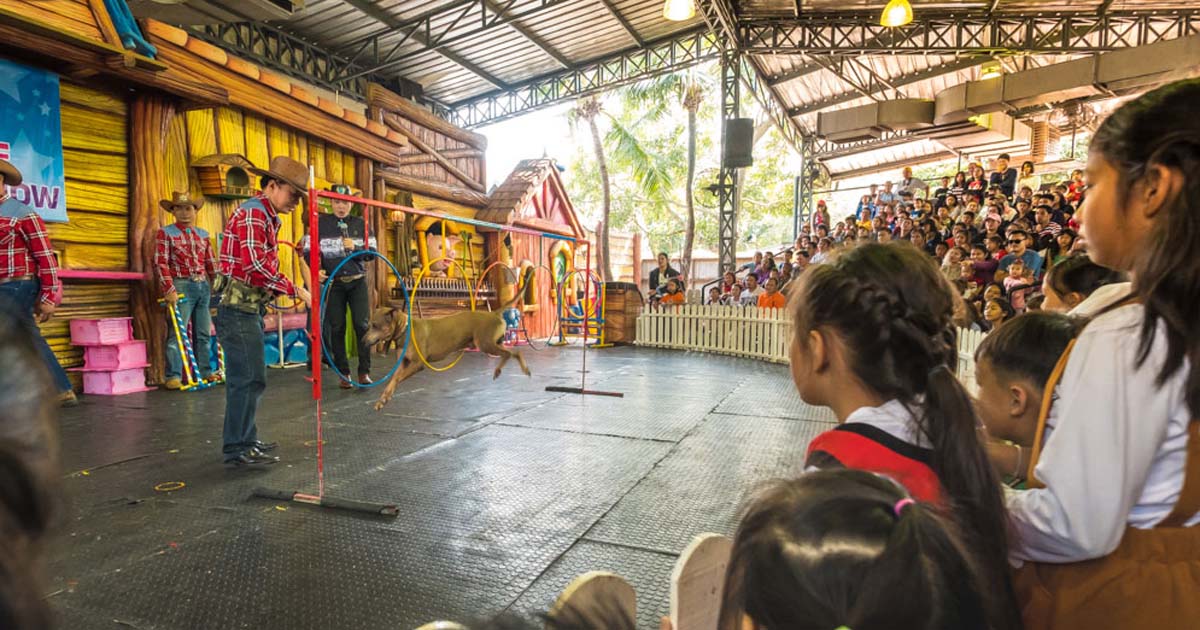 Hollywood Show
Hollywood Show, located near the Lunch Time area (no.39 on the map), will not only mesmerize its audiences with real live thrills and spills but also take them into Hollywood scenes by stimulating sounds and lighting effects. For those who are fans of action movies, this show will never fall down of your expectations. However, it is not recommended for children due to some violent scenes included.
Showtime:
Weekdays: 02:30 PM.
Weekends: 12:30 PM, 02:30 PM, 04:30 PM.
Duration: 25 minutes.
The Colours of World Parade
Don't miss this extravaganza if you are a cartoon lover! This show occurs near the large pond of Dream Garden (no. 11 marked on the map) and is a golden opportunity to see your favorite cartoon characters waving at you in real life.
Showtime: Weekends and holidays at 03:45 PM.
3. Experience decent Thai local food
Don't forget to stuff your belly and recharge your energy after a whole day playing in Dream World Bangkok. The food choice here is diverse, ranging from American fast food such as KFC, French fries and ice cream to Thai delicious street food such as Pad Thai and som-tam (Green papaya salad).
Everything is offered in small food vendors with a more affordable price in comparison with any European or Japanese theme park. Interestingly, you can also get a buffet lunch voucher as an add-on option when buying entrance ticket to Dream World Bangkok via Inspitrip.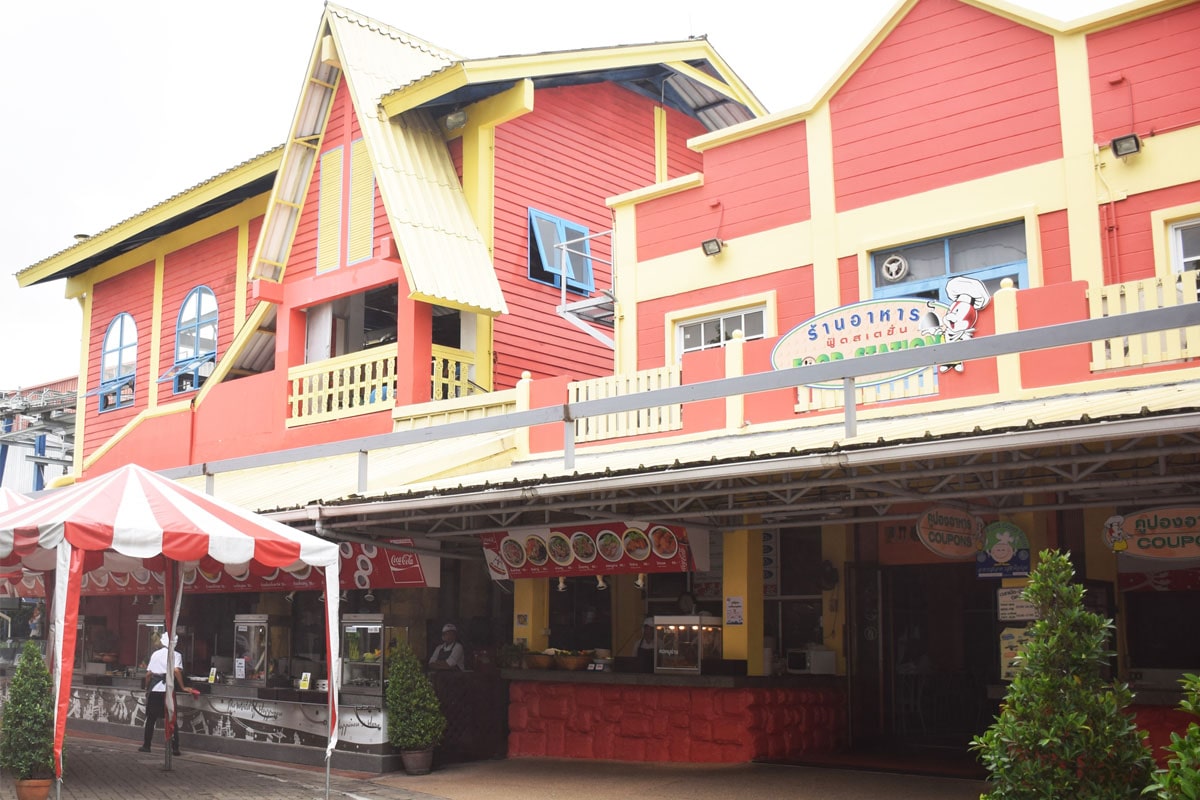 How to get to Dream World Bangkok?
Address: 62 Moo 1, Rungsit-Ongkarak Road (Kilometer 7), Bueng Yitho, Thanyaburi 12130, Thailand
Dream World Bangkok is roughly 43 kilometers (27 miles) from the center of Bangkok. There are 2 common ways to get there:
By public transport
From Siam Paragon shopping mall, you can take BTS line Sukhumvit to go to Victory Monument. From this place, take bus 538 (Victory Monument - Don Muang - Rachamonkolk route) that heads to Dream World Bangkok.
However, Bangkok's bus system is quite complicated for those who are not familiar with Thailand routes. Therefore, remember to double check the route and bus schedule carefully before leaving.
Book a taxi
Going by a taxi will cost approximately USD $13-15 depending on the location you are leaving from. If you are not good at navigation and have an extensive budget for transportation, this is the safest and most convenient way.
However, during rush hours there is a high likelihood that you may get stuck in congestion, which results in wasting twice of your time compared to travelling by other public transportation.
Getting back from Dream World Bangkok
From Dream World Bangkok, you can take the bus 188 back to Chatuchak or bus 538/523 back to Victory Monument. Then you can either choose MRT or BST to go to your desired destination. Remember to avoid going back from 04:00 PM to 06:00 PM if you don't want to get stuck as it is the heaviest commuter traffic time.
Entrance ticket to Dream World Bangkok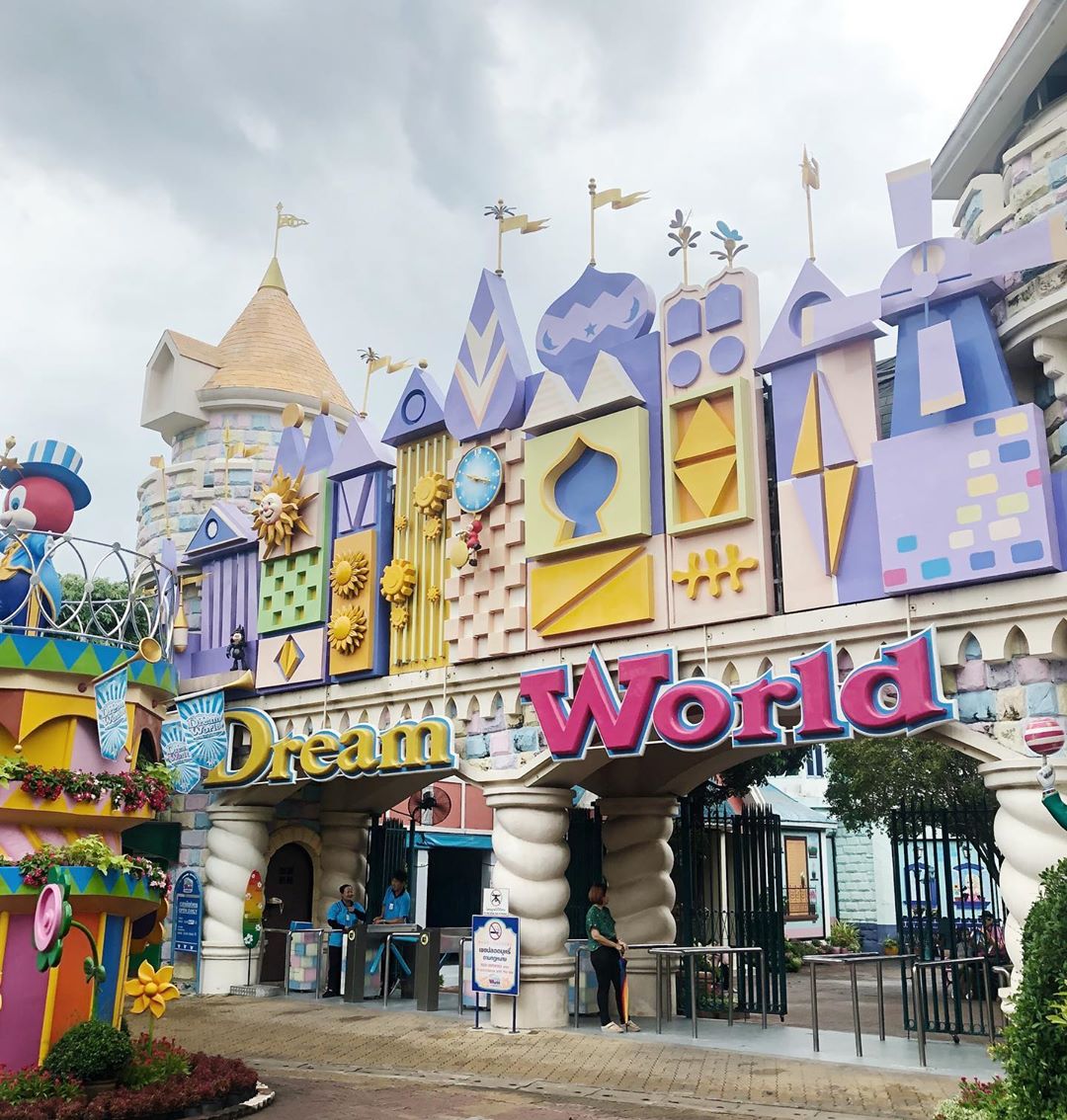 Similar to many other tourist attractions in Thailand, there are two types of ticket fares of Dream World Bangkok: for Thai locals and for foreign visitors, with the rates for foreigners are particularly higher than for the locals. You can buy tickets directly at the entrance door, however it may take almost an hour to line up.
Opening hours: from 10:00 AM to 05:00 PM daily and up to 07:00 PM during holidays.
Entrance fee consists of 3 packages:
USD $35,19 including 29 rides and free shows
USD $35,89 including 29 rides, free shows, Snow Town, WaterFun and Transfer
USD $41,47 including 29 rides, free shows, Snow Town, WaterFun, Buffet and Transfer
In order to save your time queuing, Inspitrip offers Dream World Bangkok Admission Ticket starting at USD $22,5. Additionally, you can also re-entry on all rides, enjoy a buffet lunch and access to Snow Town and 4D Adventure with the price of only USD $30. What a great deal!
APPLY CODE 'GO10' TO GET 10% OFF FOR ALL EXPERIENCES FROM TODAY!

Essential tips from Inspitrip
Dream World Bangkok is really huge and touristy, therefore, you should pre-plan your visit carefully. If you have purchased online entrance tickets in advance, just present your e-voucher to the staff at the information counter to redeem and exchange a physical ticket.  Also, you should collect one at the entrance or download the map on the website of Dream World Bangkok to navigate your way throughout the park.
Best time to visit Dream World Bangkok is during weekdays as the waiting lines at popular rides and attractions might make you frustrated.
Wear your most comfortable pair of shoes and light clothes. Don't forget to bring caps and sunglasses to avoid heat stroke as the weather in Bangkok is really humid and scorching. Also, a refillable bottle of water can save your money and keep you hydrated all day.
If you feel unwell or need help, don't hesitate to reach out to the park attendants or the First Aid Center (located near Dream Garden) for assistance in case of emergency.
Infants are free to enter the park when accompanied by their parents.
Some attractions and rides may have height restrictions, please carefully read the instruction boards to guarantee the safety guidelines and suitable height for kids' allowance before attending.
Is Dream World Bangkok worth a visit?
Definitely YES! Imagine you can meet all your favorite characters walking out from the screens, see legendary castles and worldwide landmarks, have a magical chance to experience arctic winter in Snow Town and try more than 40 rides with novel themes and concepts – Dream World Bangkok can offer you all! This Disney World of Thailand is waiting for you to explore and create unforgettable memories with your friends and family!
Still seeking for more exciting activities?  Glance through these following things to do in Bangkok to get all most updated activities offered by Inspitrip if you're first-timer visiting the Land of Smiles.