Detailed guide to visit Wat Arun and the most iconic temples in Bangkok
There are hundreds of large and small temples scattered all over Thailand and you know why? It's because more than 95% Thai people are Buddhist. Situated on the west bank of the Chao Phraya River,Wat Arun, also known as The Temple of Dawn, is considered to be one of the most beautiful temples in Bangkok not only because of its location along the river but also the unique architecture. Besides, there are also many other iconic temples that should be on everyone's must-see list. Visiting these temples are top things to do in Bangkok.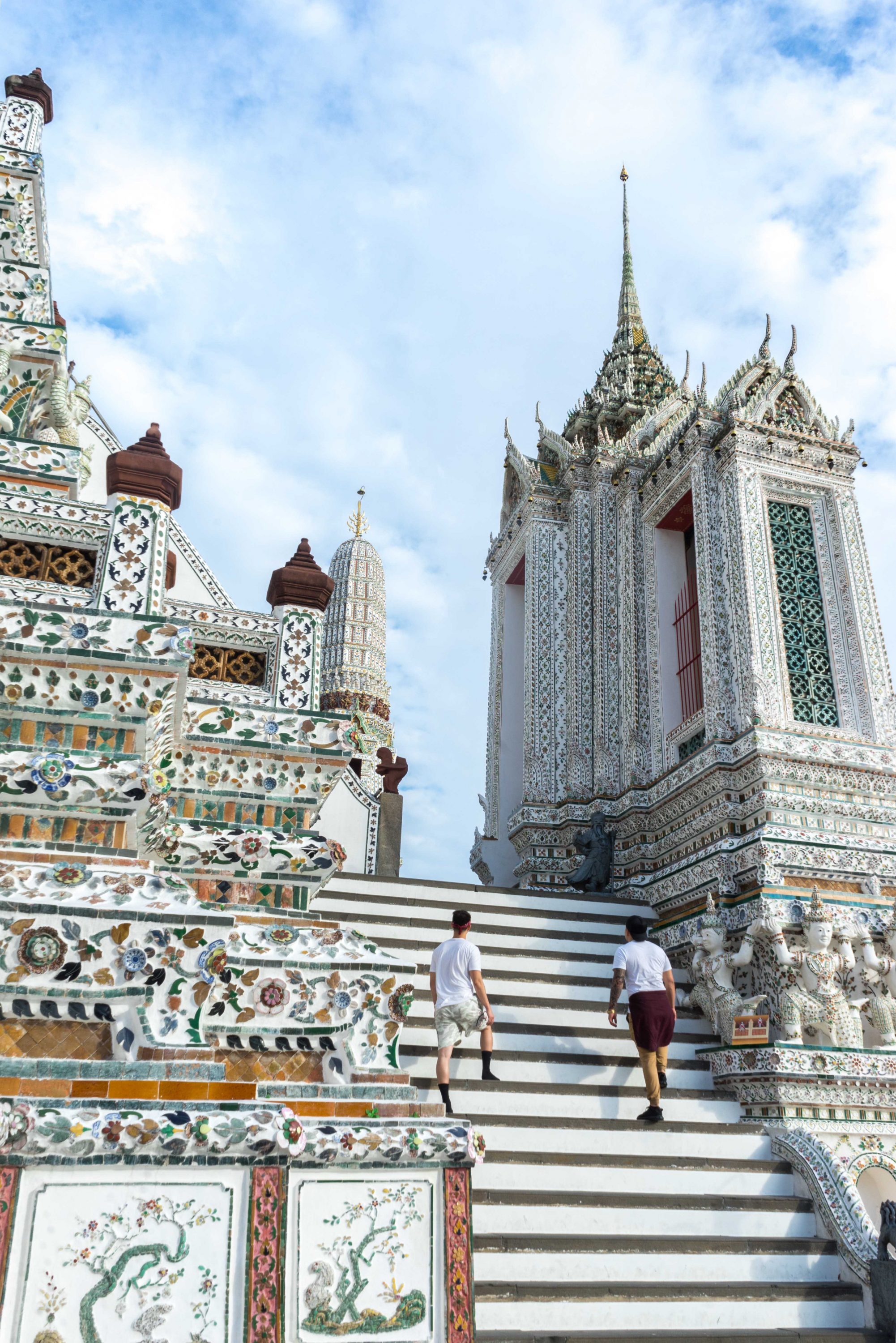 Wat Arun: The temple of dawn
Looking from the other side of the river, Wat Arun seems to be standing majestically on the water. The fact that its image is actually on the 10-baht coin makes it even more of a symbol.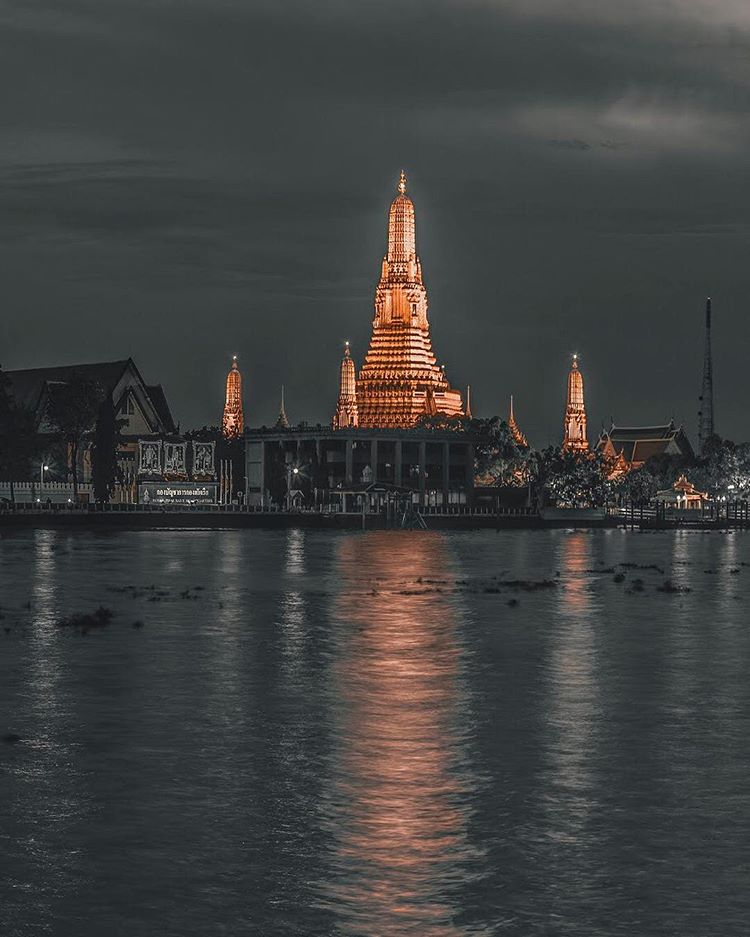 How to get to Wat Arun
1. Take a boat across Chao Pharaya from Grand Palace and Wat Pho
Wat Arun is located on the opposite side of Wat Pho, so taking a boat ride across Chao Pharaya river is the easiest and cheapest way to get to this temple. If you have already ventured to Grand Palace and Wat Pho before, it's a short walk to Chao Phraya River. From here, there are many ferries to take you across the river to Wat Arun for about 3 baht.
2. Arrive at BTS Saphan Taskin from other places
First, you can take the nearest BTS station to Saphan Taksin (marked as S6). It's worth bearing in mind to transfer at Siam station if you are on a different route. Saphan Taksin is well connected to the Chao Phraya Express Boat at Sathorn Pier, where you can easily find a boat to take you to No.8 Tha Tien pier (the same stop for visiting Wat Pho) within about 30 mins, depending on how many people are embarking and debarking at each pier. After getting off the boat, hop on a ferry that takes you to the opposite side of the river for 3 baht and finally, Wat Arun is in front of your eyes.Tips: The public service boat functions during the day time. It is recommended to take the boats with orange flag, they pass at a frequency of about 15 minutes and cost 15 baht (regardless of the distance). There are also bigger and less crowded boats with a blue flag for 40 baht.
Wat Arun was the royal chapel and housed the Emerald Buddha
In 1768, King Taksin travelled to Thonburi to establish a new capital on the bank of the Chao Phraya River. It is believed that he arrived just when dawn was breaking at the site of the temple which is known today as Wat Arun. For a while, the temple was the royal chapel and housed the Emerald Buddha before the capital and the Palace was moved to the other side of the river. However, it wasn't until the reign of Rama II (1809-1824), that the current design of the temple would begin to take shape. The central 'prang' was further extended to the current height seen today during the reign of Rama III (1824-1851), and is now one of the most visited sites in Bangkok.
The main prang of Wat Arun represents Mount Meru, the centre of the universe
Wat Arun consists of a massive prang (Khmer – style towers) in the middle and four smaller ones, which are encrusted with vividly coloured pieces of Chinese ceramics and fragments of porcelain dating back to the reign of Rama III. This unusual design feature seems to make the prangs shimmer and shine in the sunlight. It is said that the main prang represents Mount Meru, the centre of the universe. Climbing a little way to the top level of this approximately 73m tower is most highly recommended. The steps are steep and narrow so it's not easy to climb or come down if you're afraid of heights. But if you do it you'll be rewarded with a breathtaking views over Chao Phraya River, the Grand Palace, and Wat Pho.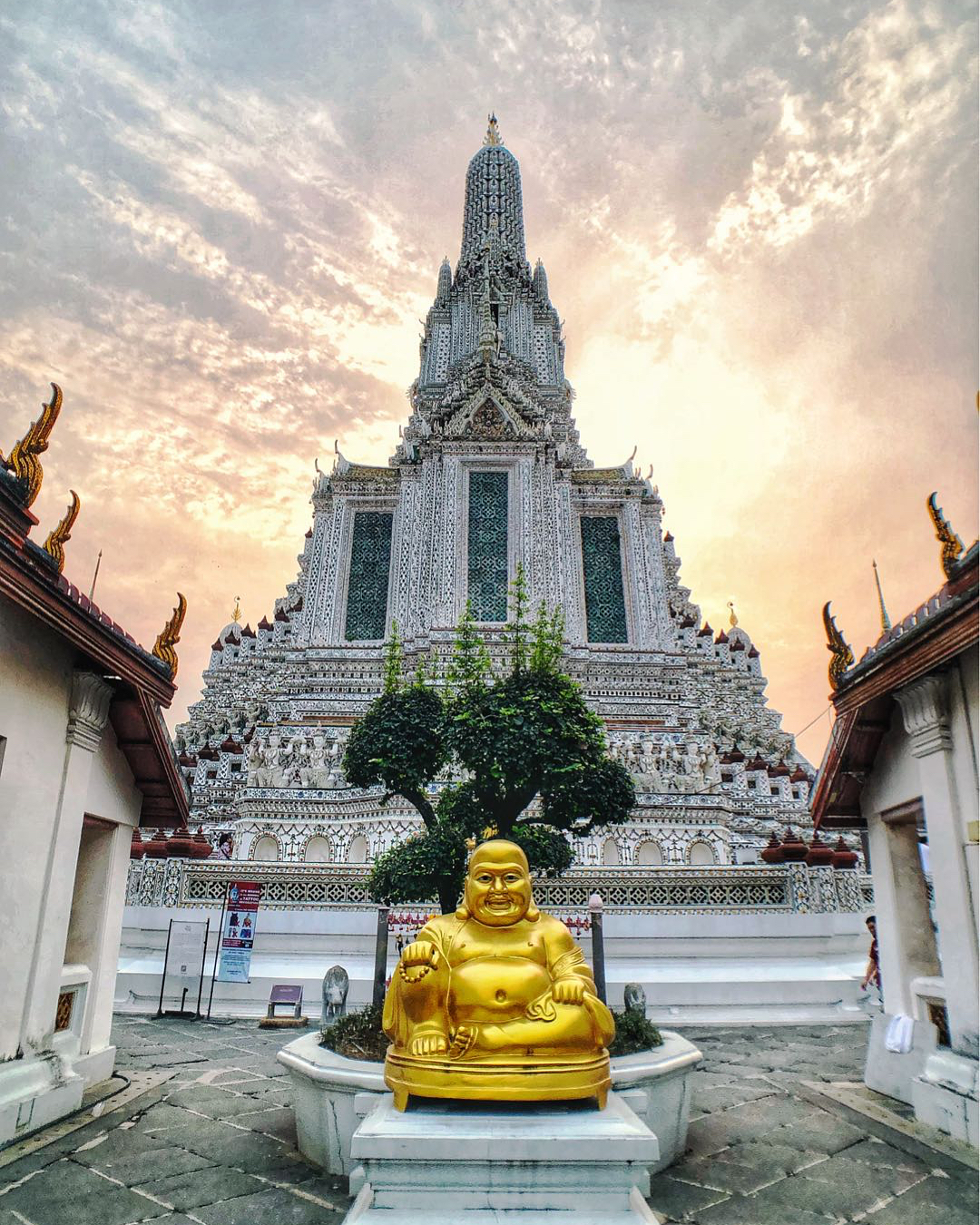 Though Wat Arun's prangs are the biggest attraction, they are actually only a small part of the complex, which also hosts lovely white buildings, shrines, ponds and tiny lanes. While it is called the Temple of Dawn, and the best time to get a shot of Wat Arun is actually at sunset from the opposite side of the river. Take some great photos which you want to keep forever!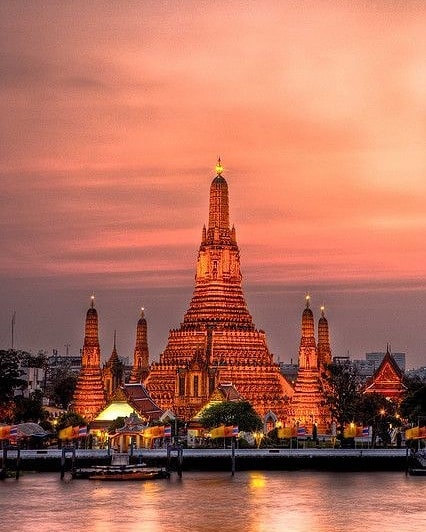 Tips:
Entrance fee: 100 baht/ person, open daily from 8 am to 6 pm
Outfit: Make sure you dress appropriately, or rent sarongs at the entrance.
Outside the temple, there are some scammers who may approach you and say that the temple is closed or offer you a cheap tuk-tuk tour, just ignore them.
And other highlights in Bangkok you shouldn't miss…
Discover the regal secrets and religious icons in Bangkok with Inspitrip now!
1. Wat Pho: Temple of the reclining Buddha
Covering an area of 80,000 m², Wat Pho is the largest and oldest temple in Bangkok, with over a thousand Buddha statues scattered throughout the grounds. It is most well-known for a 46m long and 15m high statue of Reclining Buddha that sits at this temple's core. In addition, Wat Pho is also home to a massage school, you can drop in for a traditional Thai massage or even sign up for short-term course after exploring the temple.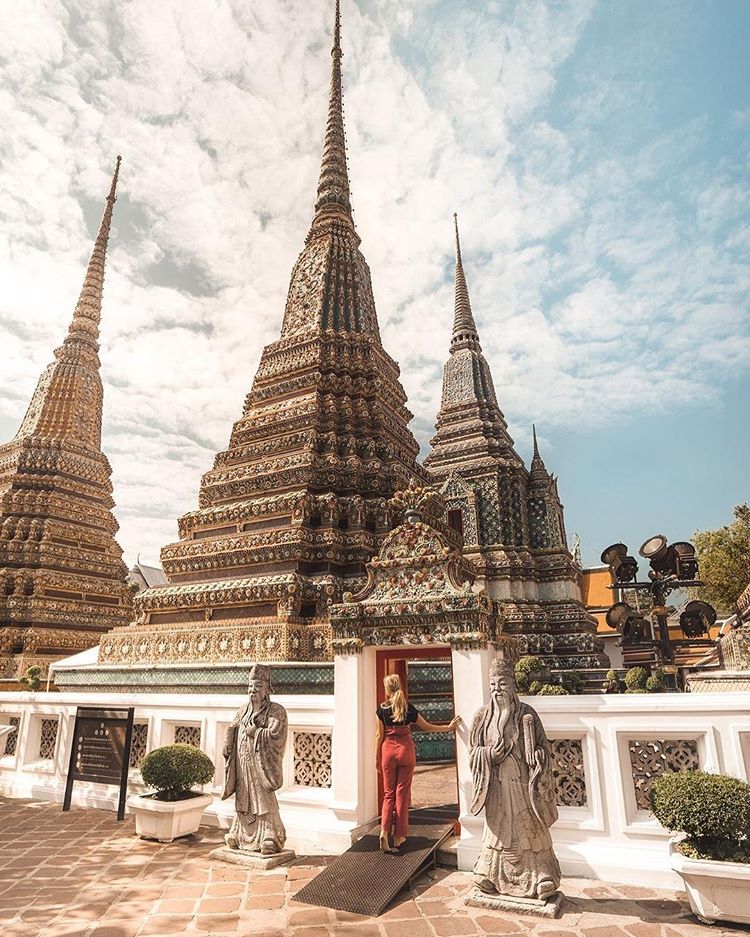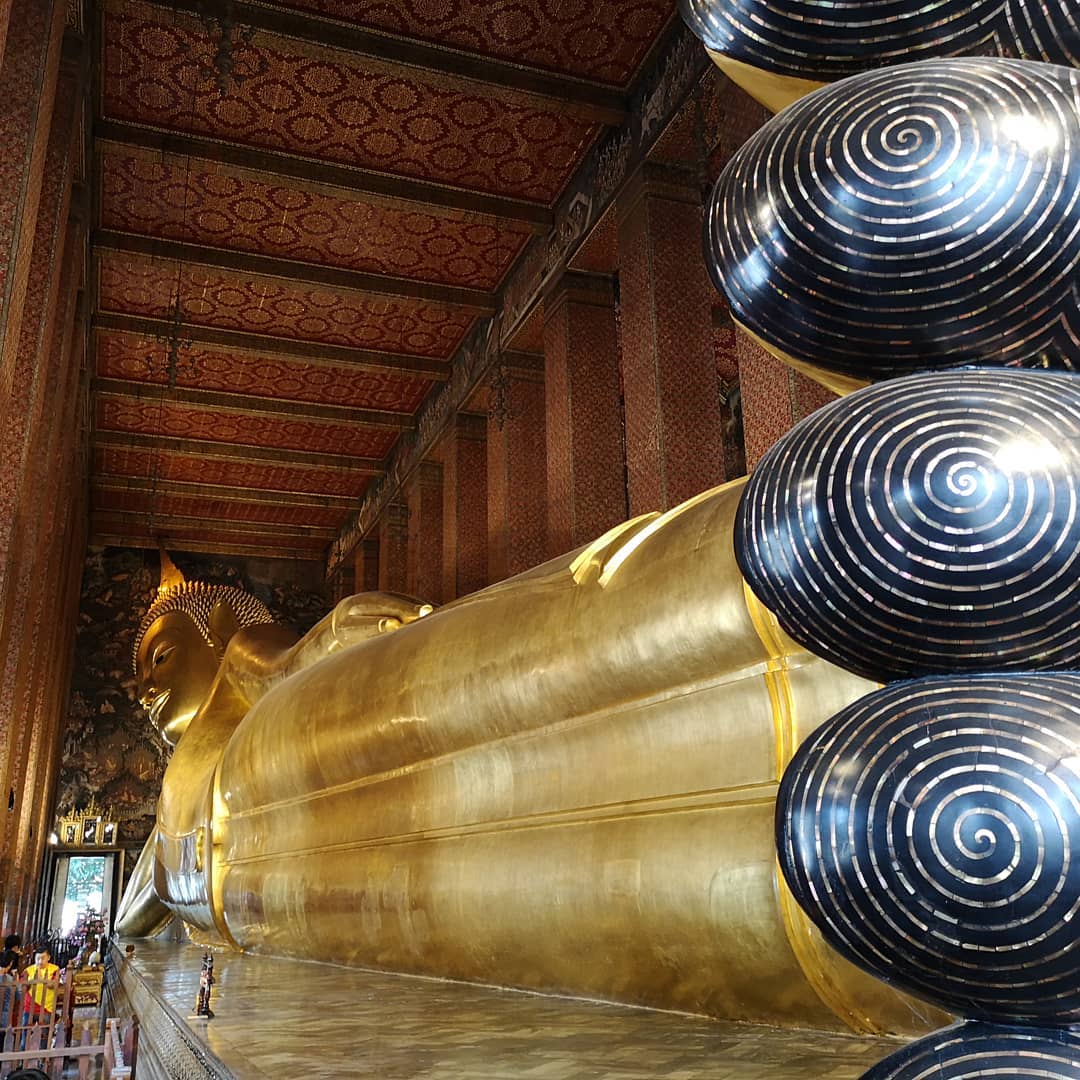 Entrance fee: 100 baht/ person, open daily from 8 am to 5 pm (Massage available until 6 pm)
How to get there: Wat Arun is located on the opposite river side of Wat Pho so you can follow the guide to Wat Arun above.
2. Visit Wat Saket, the Golden Mount
Wat Saket is another one of oldest temples that draws visitors to its grounds. Inside the ordination hall of Wat Saket there is a number of Buddhist paintings. However, the main attraction here is actually the Golden Mount, a 80m high hill topped with a stupa that offers a incredible view across Bangkok. To get to the top, you have to climb up through 318 steps so it can be brutal on a hot day. Every November, the temple also hosts an enormous fair during Loy Krathlong.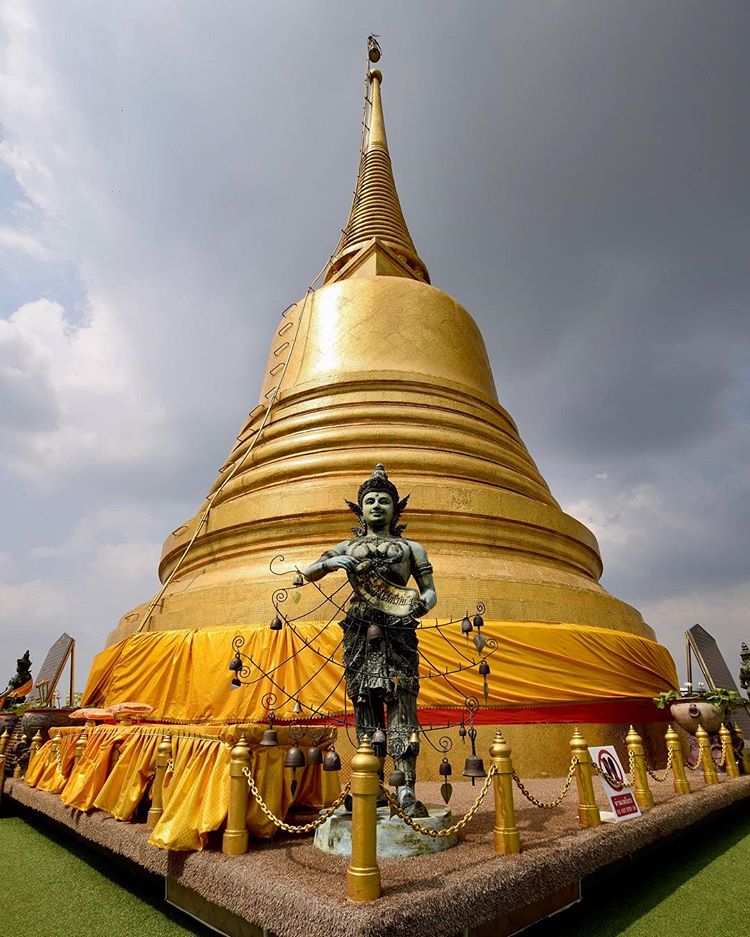 Entrance fee: free but it costs 10 baht for the Golden Mount, open daily from 9 am to 5 pm
How to get there: You can take the Chao Phraya Express boat at Sathorn pier and get off at No.9 Maharajl. After walking out the pier (you can see the Grand Palace just few steps away), take taxi from there to Wat Saket with the cost of no more than 100 baht.
3. Visit Wat Traimit, temple of the golden Buddha
Located in China town, Wat Traimit is actually home to the biggest golden Buddha statue, which makes this temple a must-see in Bangkok. This golden Buddha was previously covered in plaster to prevent it from being stolen during a war with the Burmese. It wasn't until the 1950s, while it was moved, that the plaster chipped off to reveal solid gold inside which had been forgotten about. Now bits of the plaster are still kept on display. Outside the temple is the giant red Royal Jubilee Gate – also called "Chalermphrakiat" in Thai - built to symbolize the prosperity of Thai and Chinese cultures.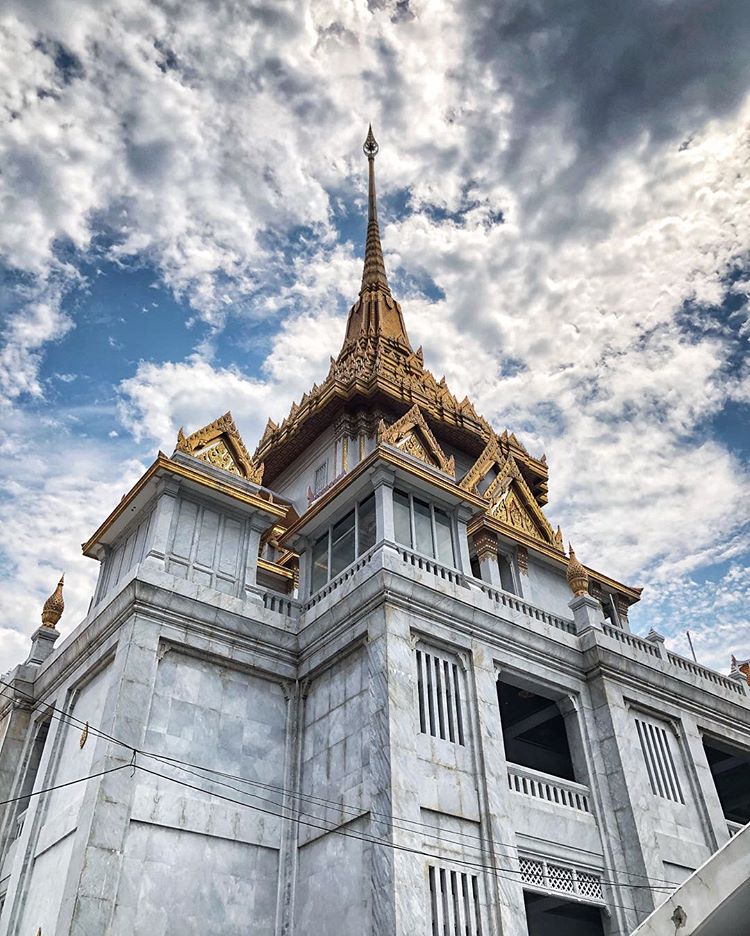 Entrance fee: 40 baht/ person, open daily from 9 am  to 5 pm
How to get there: You can take the Chao Phraya Express boat at Sathorn pier and get off at No.4 Marine Dept pier. It's 10-15 minute walking distance from there to Wat Traimit.
It is definitely a very interesting experience to visit temples in Thailand and admire their beauty and calming aura. Hope you can enjoy yourself!