Detailed guide to visit Damnoen Saduak floating market in Bangkok
Damnoen Saduak Floating Market in Ratchaburi is one of the most popular floating markets in Thailand. Every day many Thai and foreign tourists travel here to shop, eat, and absorb the atmosphere of Thailand's water markets that have been like this for over a 100 years.
Truly enjoy the local vibe at Damnoen Saduak floating market
Click now!
Damnoen Saduak floating market is one of the 5 most popular floating markets in Thailand, geat for photo opportunities, food. An early morning start is worth it to avoid the heat and catch Damnoen Saduak at its liveliest. Most visitors who come to Thailand want to visit a floating market and many of them will end up here. A trip to the market can be a fascinating insight into Thai's culture.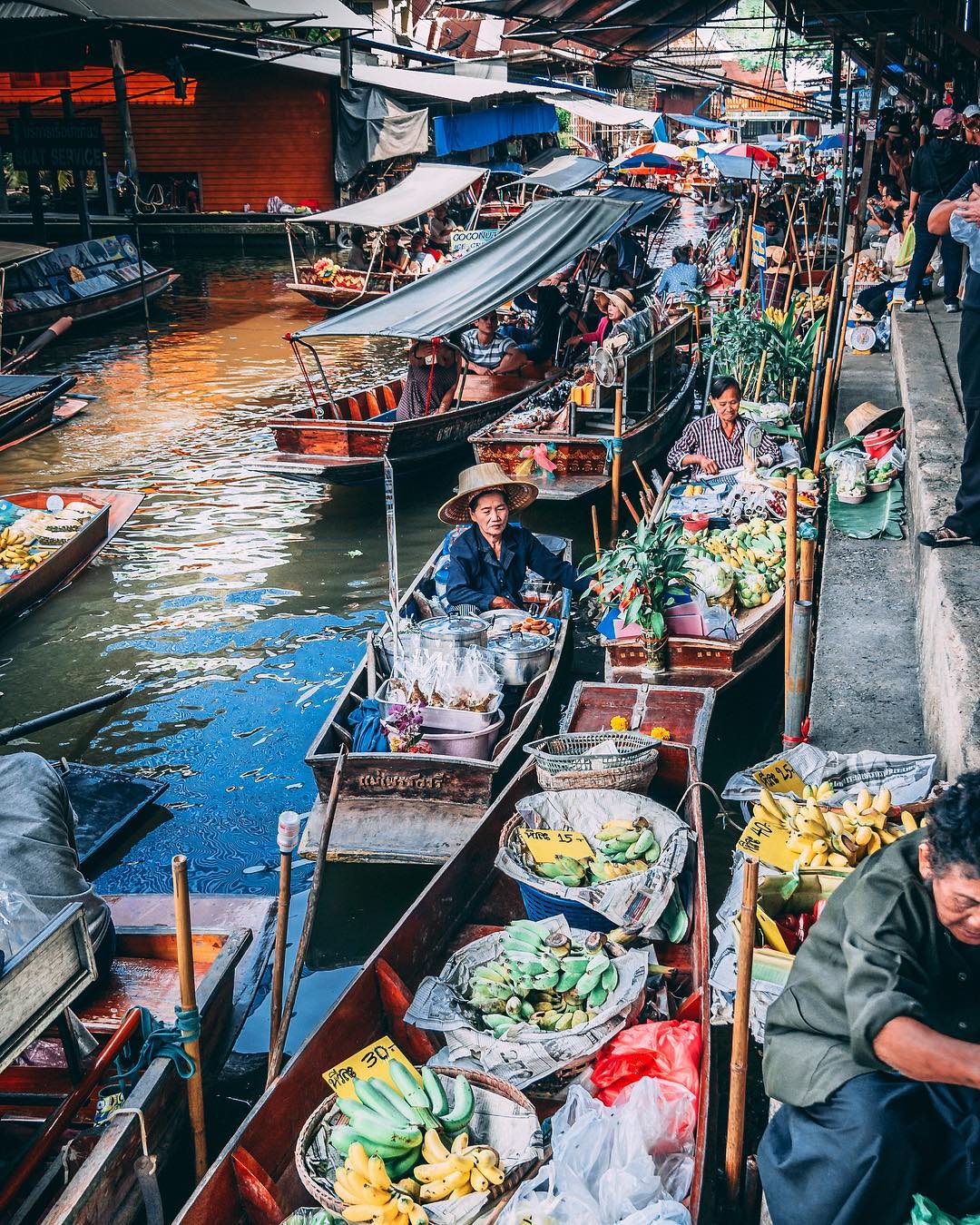 Damnoen Saduak is the straightest and longest canal in Thailand
The canal was built on the royal initiative as King Rama IV of Thailand wanted to link the Mae Klong River with Chinese river ways to support transportation and trade. It took over 2 years to dig and was eventually finished under the reign of his successor King Rama V. The canal is 32 kilometers long and has more than 200 branches. The main floating market was called Lad Plee market which adjoined a Buddhist temple and remained active until 1967 when the development of roads replaced the need for water transportation.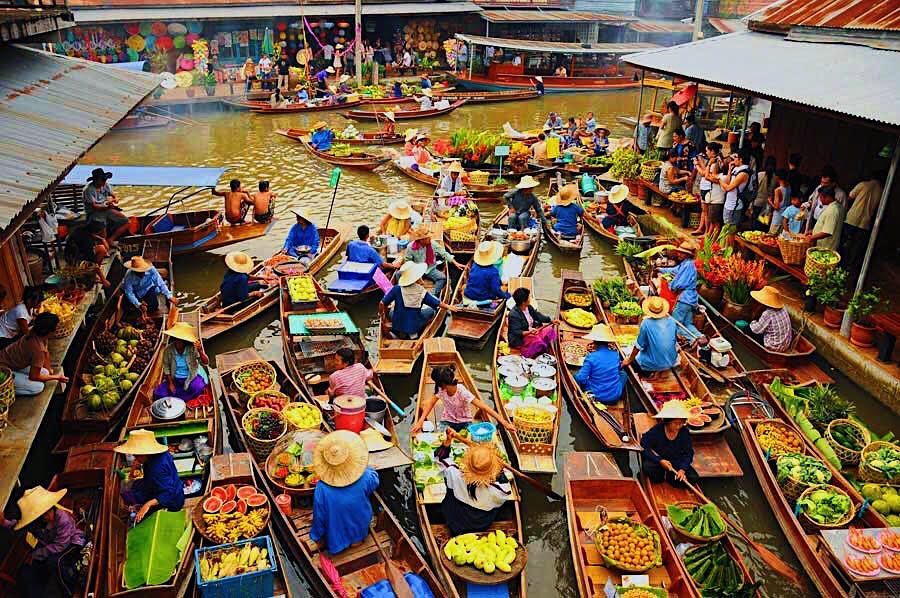 In 1971, the Tourism Organization of Thailand (now Tourism Authority of Thailand) made the Lad Plee market a tourist attraction for foreigners. The market had boat vendors and shops on the canal banks. In 1981, a new road was built to Ton Khem canal, and private entrepreneurs established the modern Damnoen Saduak Floating Market along this canal. Damnoen Saduak floating market's popularity grew to new heights in 1971 – 1973 when the river was full of farmers on their boats selling their wares. And that is the way of trading in this area until today.
Damnoen Saduak floating market and Coconut Sugar Factory half day tour
Book now!
What you can experience in Damnoen Saduak floating market
Damnoen Saduak Floating Market consists of a maze of narrow canals. Female traders, often wearing traditional mo hom apparel (blue farmers' shirts) with straw hats use sampans (small wooden boats) to sell their wares, often produce that comes directly from farms. The market is often the busiest in the morning around 7 am to 9 am, and is active until noon.
The floating market comprises three smaller markets: Ton Khem, Hia Kui, and Khun Phitak. Ton Khem is the largest market and is on Khlong Damnoen Saduak. Hia Kui is parallel to Khlong Damnoen Saduak and has souvenir shops on the canals banks to sell goods to larger tour groups. Khun Phitak is about 2 kilometers (1.2 miles) south of Hia Kui which is the smallest and least crowded market of the threes.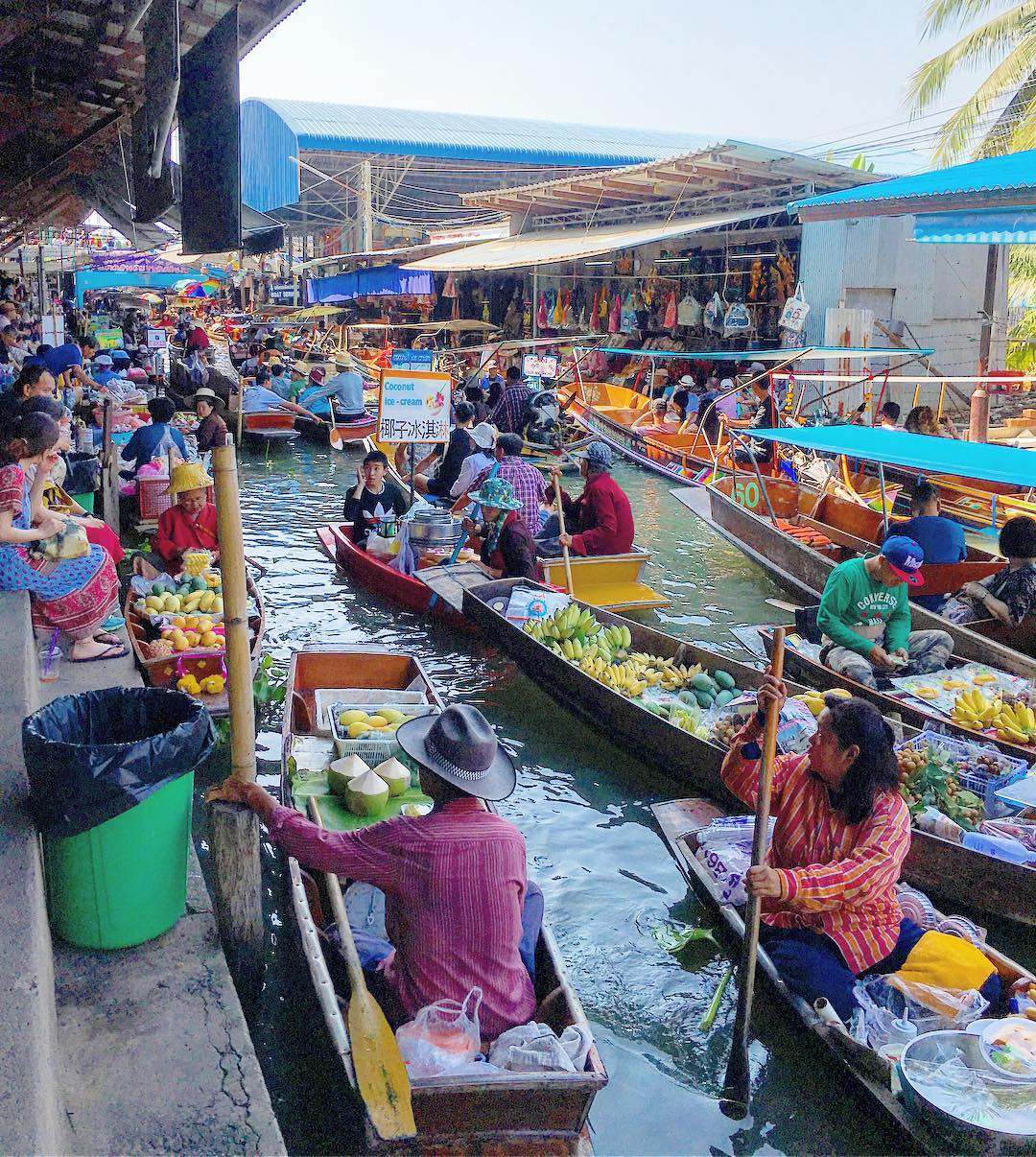 The floating market is full with tourists. As such, the wares tend to be overpriced. Bargaining is a common practice, although usually the vendors will agree on a prices discount within a few Thai baht. You can find canoe cooks preparing and selling boat noodles. Some complains that the floating market also lacks cultural authenticity, although it remains a popular destination for both foreign and domestic tourists. To make sure you can truly enjoy the local vibe at Damnoen Saduak floating market, check out Damnoen Saduak tour offering by Inspitrip. The tour guide will show you where those hidden gems are and avoid the tourist traps (Transport, boat rides, and lunch are included)
Wandering the small stalls that are located on the banks, local handicrafts, assorted silks, handcrafted jewelry and other small trinkets can be bought. There are also plenty of the Bangkok souvenirs to be found here. You can find both in the small stalls and aboard the vendors floating crafts a tasty local product on offer include mini coconut pancakes, boat noodles cooked in a rich, meaty broth, and delicious coconut ice cream.
How to get to Damnoen Saduak
Damnoen Saduak floating market is located in Ratchaburi province at around 100 kilometers from Bangkok and can be reached by car in around one and a half hours. Take the Pinklao – Nakhon Chai Sri road (Highway 338) and turn right to Amphoe Damnoen Saduak. Or you can take the Phet Kasem road (Highway 4), pass Bang Kae, Sampran Riverside, Nakhon Chai Sri, Nakhon Pathom, and the 83 kilometers marker, and take the left junction onto Highway 325 for around 25 kilometers.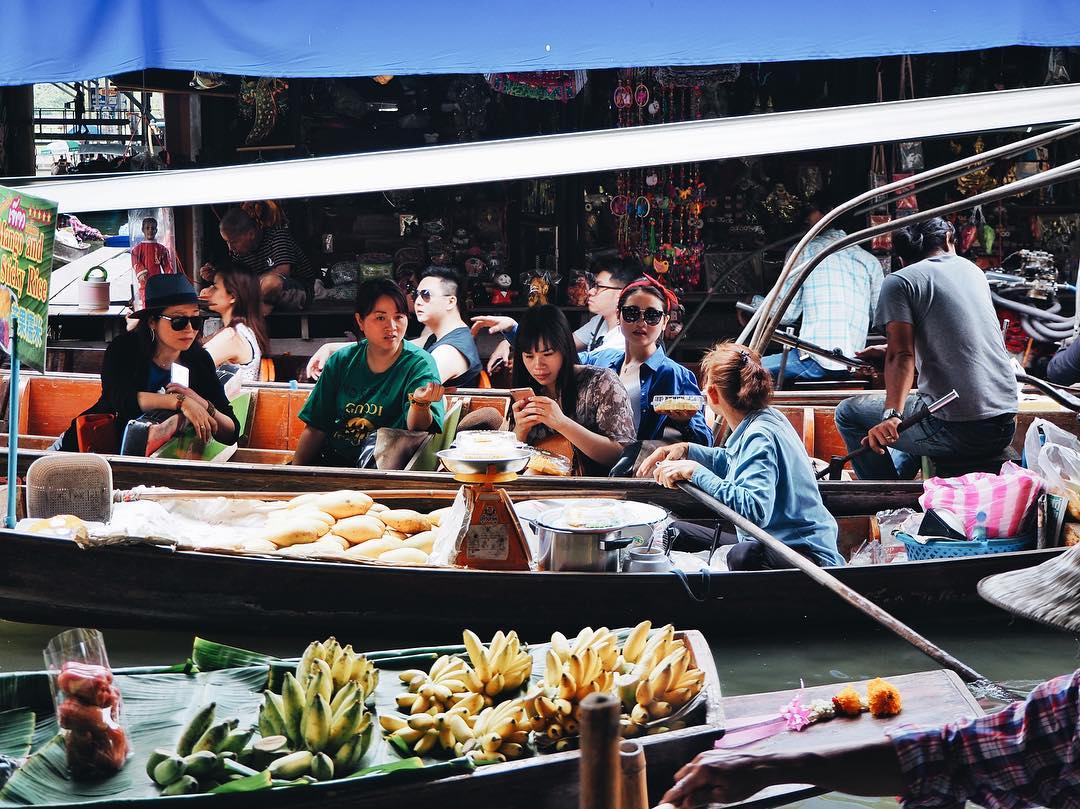 If you want to travel by bus. There are buses running from Bangkok Bus Terminal (Southern Line) to Damnoen Saduak every day. Other popular bus lines are Bangkok – Phetchaburi, Bangkok – Hua Hin, Bangkok – Ratchaburi, and Bangkok Prachuap Kiri Khan. You have to change at Bang Pae intersection where there is a Damnoen Saduak local bus available every 10 minutes.
Explore Damnoen Saduak Floating Market with a local guide
Join with us!
Activities you can do in Damnoen Saduak
The Floating Market is routinely full with hundreds of vendors and purchasers floating in their small rowing boats selling and buying agricultural products and local food, which they mostly bring from their own nearby farms. Therefore, it is a very attractive place for tourists to see this old style and traditional way of selling and buying goods.
Around this area, boat trip services are available for sightseeing along smaller canals branching off from the Damnoen Saduak canal. Visitors can observe Thai traditional houses and the way they live as well as tasting exotic fruits, local food and refreshing drinks along the waterway.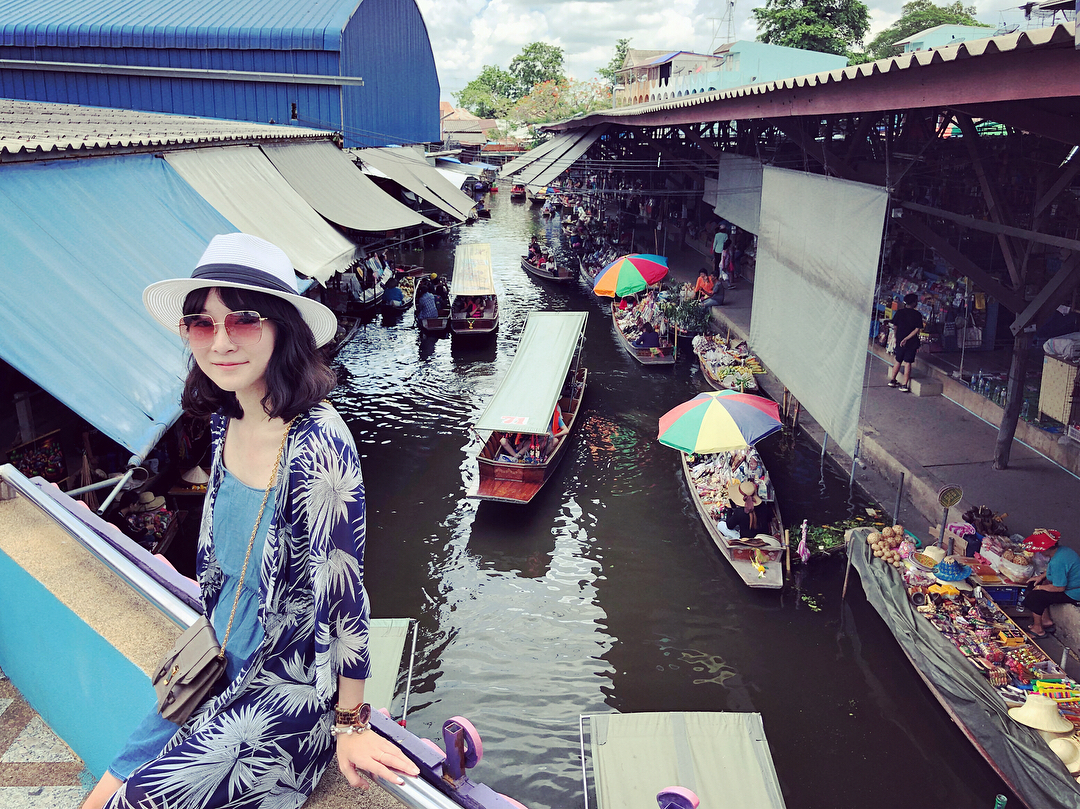 Visitors can watch the market activity from a passage along the canal. A number of restaurants and shops are located here as well. A fun experience is to make a boat trip and observe the buying and selling, providing countless photo opportunities. You can also enjoy a boat trip on the surrounding canals and observe traces of more traditional life as well as a number of temples and orchards.
It's easy to visit the floating markets on foot. Just walk along the sides of the canal and watch the rows of packed wooden boats, overflowing with fresh fruit and vegetables and traditional Thai souvenirs.
Unique culinary experience in Damnoen Saduak
The Damnoen Saduak floating market offers a unique culinary experience you won't find anywhere else. The wooden paddle boat vendors sell many exotic tropical fruits. It is likely that you've have probably never eaten them before (and maybe haven't even heard of). You'll also find traditional Thai meat and vegetarian dishes, along with sweet treats.
If you plan on coming early to the Damnoen Saduak floating market, it's a great place to have breakfast. Just keep an eye out for food vendors who are preparing piping hot bowls of noodles or frying up tasty spring rolls like the ones below. Vendors come with styrofoam bowls and plastic utensils so you can buy your breakfast and keep on exploring the market.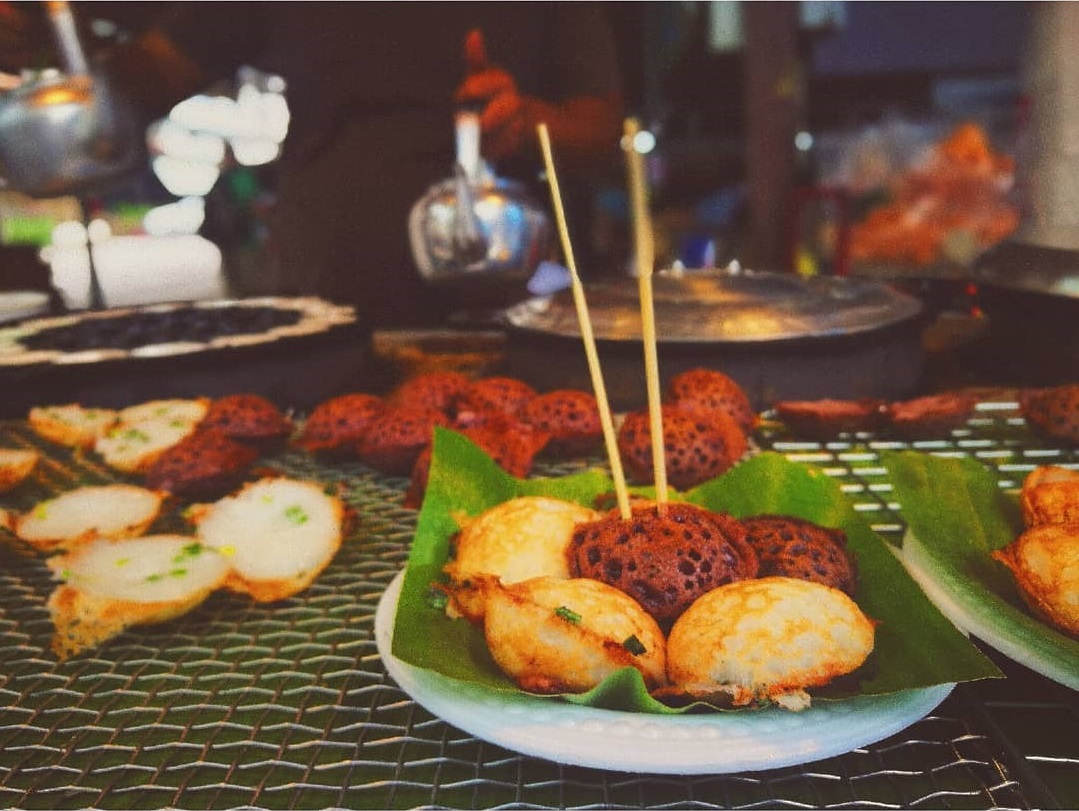 If you want a bigger meal, then visit one of the small, local restaurants lining the river. Here, you can dig into a delicious plate of Thai food – Thai pancakes, dumplings, famous Pad Thai with peanuts or sweet seafood salad. You can have a boat noodle for lunch. These noodles were sold by the vendors in the wooden rowboats on the canals and rivers back in the early days. Today, most of the Boat Noodles are sold in a shop by the roadside. A bowl of classic Boat Noodles consists of rice noodles, pork liver, pig blood curd, roasted pork, pork balls, crispy fried pork skin and filled with dark brown soup.
Find yourself a special souvenir in Damnoen Saduak
Visiting Damnoen Saduak floating market and leaving without a single souvenir is just impossible. This is one of the best places to buy souvenirs to take home. From hand carvings, candles, and clothes, you can find countless trinkets for affordable prices here. Hundreds of vendors want to sell millions of cheap Thai souvenirs. Fortunately, mixed in with the cheap tchotchkes, postcards are some souvenir gems just waiting to be discovered.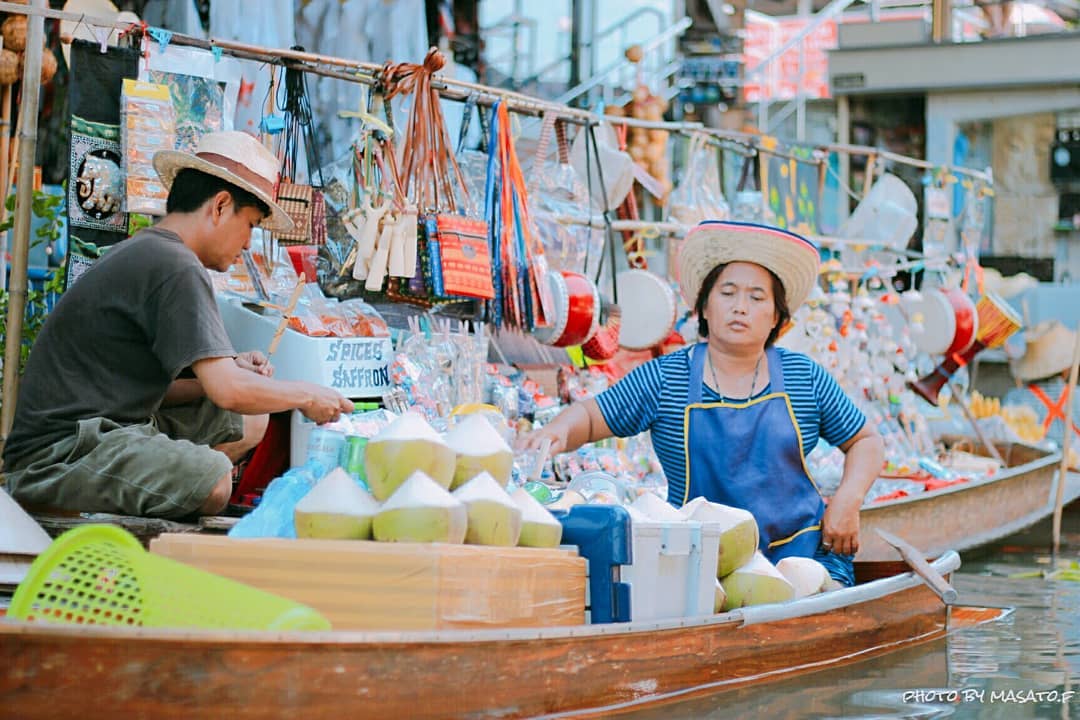 Prices might seem higher than you'd expect. Once you start haggling, you can usually knock off 50 or even 70 percent of the price. For example, you can bargain Thai hats from 180 Baht around 60 Baht. Similarly, t-shirts are about 140 Baht each, but most tourists get them for around 45-60 Baht.
Some traveling tips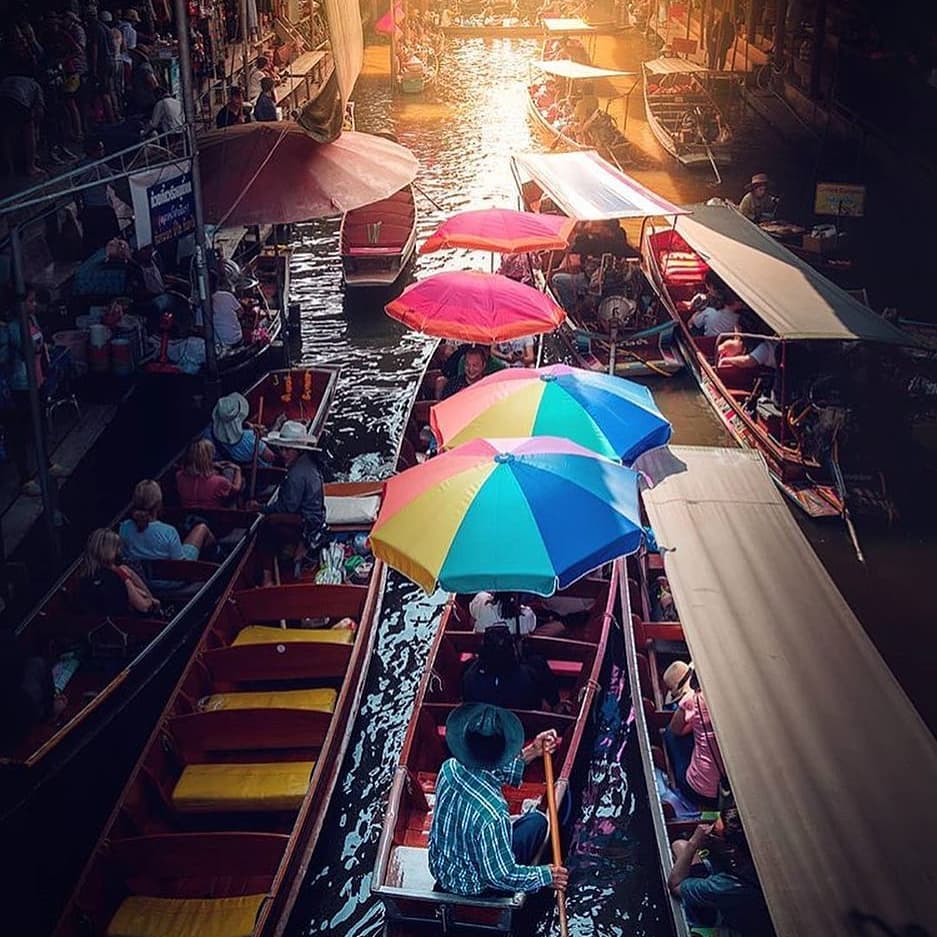 This is a daily morning floating market and therefore it is best to visit between 9:30 am to 12:00.
Make sure you get the best deal for your boat. A one-hour boat ride is enough to go the main market without visiting the temples.
You can ride a paddled commercial boat at the floating market itself for Bahrt 150 ($4). This will allow you a good boat ride for 30 minutes through the main market and back.
Vendors in and along the floating market usually overprice their food and souvenirs. Concentrate on getting pictures instead and consider a good snack and shopping after your ride.
The best way to visit to the floating markets is to go with a licensed local guide.
From Damnoen Saduak, it is very convenient to travel to Maeklong Railway train market. You should consider visiting both destinations for a day trip.
Hot tour: Damnoen floating market & Maeklong train market with train ride
Book the best Bangkok floating markets day tours offered by Inspitrip