Detailed guide to explore Angkor wat sunset
Angkor Wat is the largest monument ever constructed in the world. It is one of the archaeological sites in Cambodia and now it is the symbol of the country. This relic attracts many people coming here each year to explore the unique religious relics that still exist today. However, have you ever stopped and considered what the best time would be to visit this relic? The answer definitely is during sunset. Angkor Wat Sunset will be the most epic scene that you have ever seen in your life.
King Suryavarman built Angkor Wat to dedicate to Vishnu
History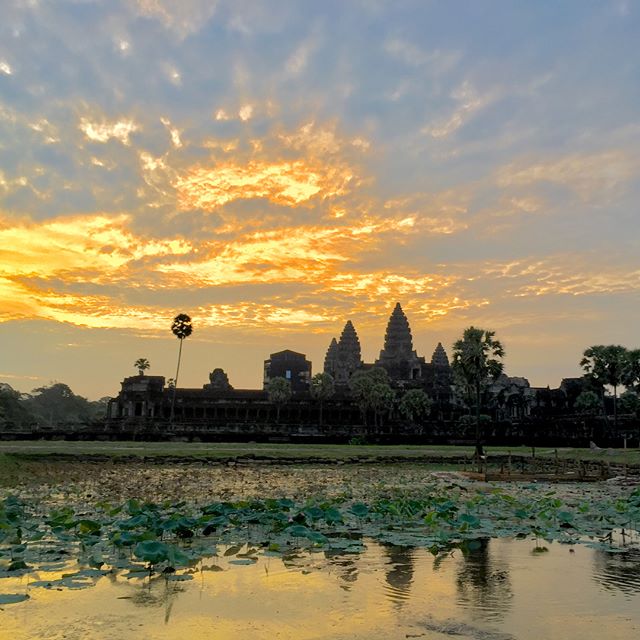 Angkor Wat is an ancient temple that was built between roughly A.D. 1113 and 1150. Different from other temples in the same period dedicated to Shiva - God of Destruction, King Suryavarman built this temple at first to dedicate to Vishnu - God of Protection. After that, this temple turned into a Buddhist temple in XIV century. The Buddhist statues and architecture contribute to this temple's abundant artwork.
Architecture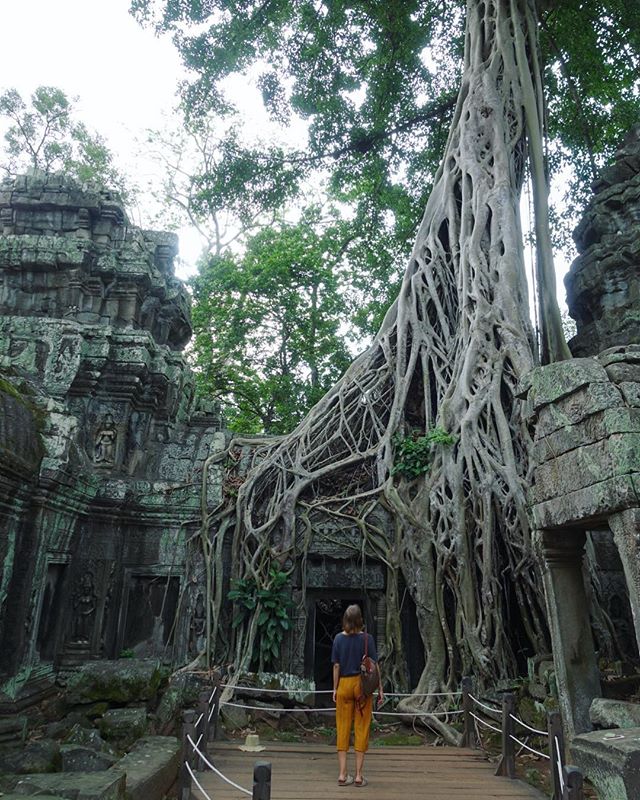 There are many things you need to know before visiting Angkor Wat. This relic stretches over 400 km2 and consists of temples, hydraulic structures and the forest around. It was made from 6-10 million 1.5-ton blocks of sandstone. The sandstone blocks used for building Angkor Wat was taken from a mountain of Phnom Kulan. The sandstone blocks were delivered by the craftmen on the Siem Reap river. From the materials to build this temple, we can recognize that this relic is an example The mountain around Angkor Wat is a perfect background to make this temple stand out. The man-made construction harmonizes with the graceful beauty of nature, and brings to the world a magnificent temple. The unique architecture of this temple includes an oval-shaped tower like the lotus, a small lobby to enlarge the walk ways, a cross-shaped terrace,...
2. What can you find in Angkor Wat?
Angkor Wat is surrounded by an artificial moat. This moat is about 650-foot-wide (200m). The role of this moat is to help stabilize the foundation of the temple, while acting as a defence against enemies. Besides, it also helps balance the groundwater level.Angkor Wat is laid out symmetrically on a terraced platform with the central tower at its highest position. The central tower stands in the middle of five parasats (temples) and it is also the highest one. Four other parasats were laid on the second terrace, lower than the central one. These towers are connected to each other by long colonnades. The towers on the tiered platform represent the houses of the gods on the mountain. This architecture is showing their respect to the supreme gods.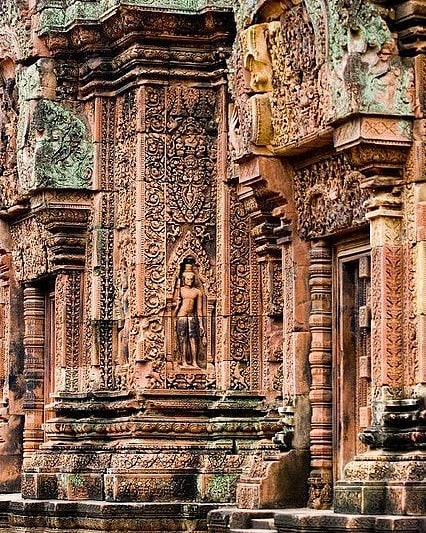 More than two hundred secret paintings on the central tower's wall have been revealed. The range of subjects of these painting is very wide. These paintings show the different images related to the traditional culture: the elephants, the gods that people worshipped, the boats, the patterns, the ancient musical instruments,... Be thrilled with the magnificence of Angkor sunset now! Join a private tour exclusively made for you!
3. Other temples in Angkor Complex
There are many temples in Angkor Complex that you should visit. This list includes: Angkor Wat, Ta Prohm Kel, Ta Nei, Ta Keo, Ta Prohm, Phnom Bakheng, Baksei Chamkrong, Prasat Bei, Thma Bay Kaek, Angkor Thom, Bayon, Baphuon, Elephant Terrace, Leper King Terrace, Phimeanakas, Royal Palace, Tep Pranam, Preas Palilay, Preas Pithu, Prasat TopSuor, Prat Towers, Khleang, Thommanon, Chov Say, Tevoda, Spean Thma, Chapel of Hospital, Banteay Kdei, Srah Srong, Prasat Kravan, Bat Chum, Pre Rup, East Mebon, Banteay Samre, Neak Pean, Preah Khan, Banteay Prei, Krol Ko, Ta Som, West Mebon, Ak Yum, Preah Ko, Bakong, Phnom Bok, Phnom Krom, Wat Athvea, Banteay Srey, Kbal Spean, Phnom Kulen, Beng Malea, Koh Ker, Banteay Chmar
4. Why Angkor Sunset is the most gorgeous sunset in the world that you should not miss
The Angkor Wat sunset will be between 5 and 6 pm. While the sunrise in Angkor Wat brings you a feeling of the power and inspiration, the Angkor wat Sunset is its perfect complement. The sunset is more romantic, picturesque and graceful. Because of that, on the list of many travelers is watching the sunset and enjoying the moment when the sun goes down on the largest religious monument in the world.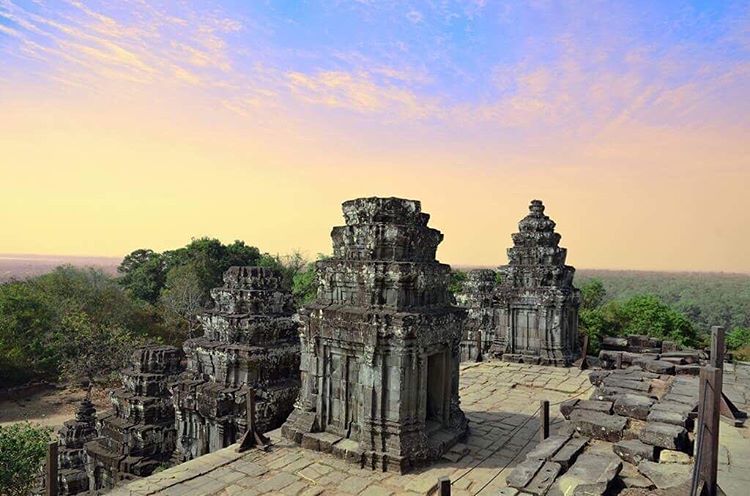 On the other hand, the sunset in Angkor does not attract as much as people. There are not many people who choose to stay and wait for the sunset so that it will be less crowded than in the morning. For the people who love the peaceful feeling, this is a perfect condition to enjoy the natural beauty without any distraction.So the important question is where should we go to enjoy the Angkor Wat Sunset? That is Phnom Bakheng. It's located on the top of the hill, providing you with a wide view to see the sunset covering the surrounding temples. If you had watched the sunrise in the morning and you do not want to change the position, you can choose to enjoy the sunset beside the moat.
5. How you can enjoy Angkor Wat sunset
If you choose Phnom Bakheng to watch the sunset, you should be here at around 4 - 4.30 pm. It will take about 30 minutes to climb to the top of Phnom Bakheng to get the good view and you don't want to be late. Although there are not as many people that come here to see the sunset as there are for the sunrise, the number of people gathering here is not few by any means. According to the reports, it is possible that more than 1000 people go there to enjoy the sunset.If you want to have a good view, go there early and leave later, choose a position to be ready to take a plenty of pictures.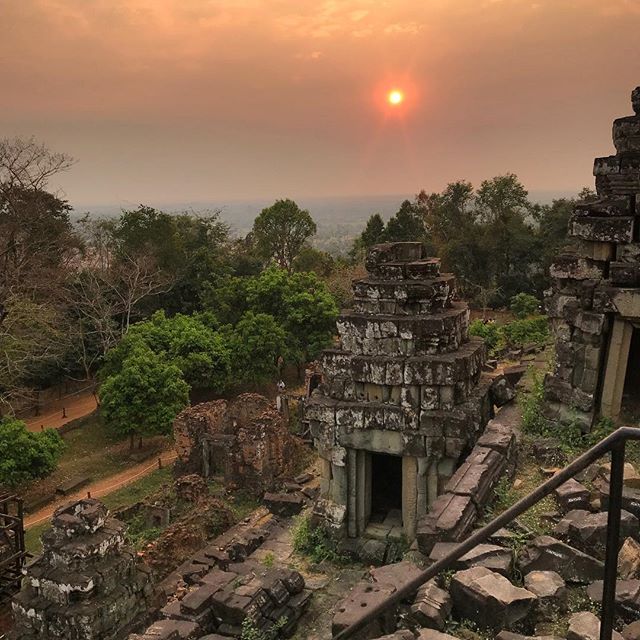 6. How can you get Angkor Wat to see the sunset?
The Angkor Wat sunset will be around 5 - 6 pm so that you should be there at 4 pm. You can ask your hotel's receptionist to book a tuk-tuk for you. Tuk - tuk is the most common traditional means of transport in Cambodia. It costs about $5 to go to Angkor wat if you stay in a hotel in Siem Reap. What can be more exciting than getting to Angkor Wat and seeing the sunset as a local Cambodian? Do not forget to tell your driver to drive you back to the hotel. Walking back to the hotel is not a wise choice in the dark. If you leave from Bangkok, you can check out our guide on how to travel to Angkor Wat from other ASEAN countries.
7. Why you should book a tour
If you have not been in Cambodia before, this is definitely a challenge for you. Because if you know nothing about this country and its people, you will have many obstacles when you get there. Accommodation and transportation will also become a problem for you. You do not know which one is the best to choose. Although tourism is developed already in Cambodia, especially around a heritage site such as Angkor Wat and Angkor Thom, finding a hotel with a good price is not easy at all. Siem Reap will shock you with the number of hotels here.The tickets you need to buy in order to get to the heritage is also a problem. Where should you buy a ticket? How can you make sure that the price of the ticket is higher than it really is? Don't buy the ticket indiscriminately if you do not want to get ripped off. If you think that the tickets you buy from the receptionists of the hotel are a good-price, you are wrong.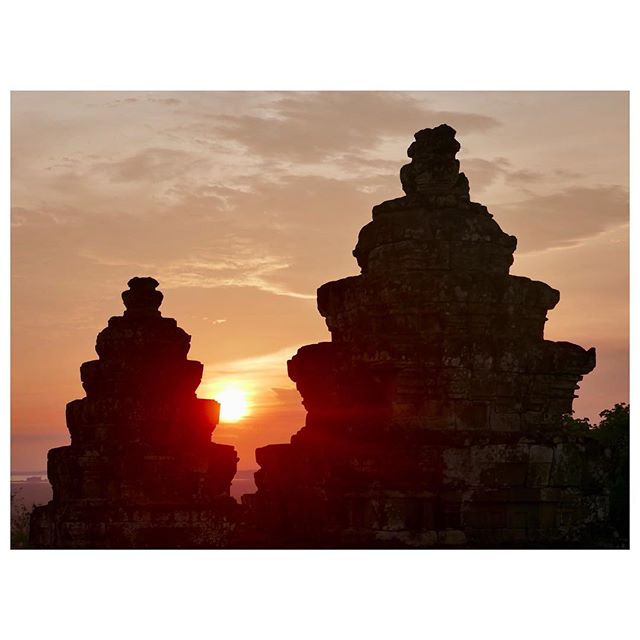 Because of the obstacle above, booking a tour is a wise decision. You do not need to worry about this problem because the tour will help you solve all of them. Our tour will provide you everything you need. We will help you prepare accommodation, transportation, tickets and even a local tour guide to show you every corner that you want to explore. The only thing you need to do is prepare to be refreshed and enjoy your trip, along with everything you need to take the picture to save memories.
7. Tips that you should remember when visiting Angkor Wat
You should know that you will walk a lot when you visit this relic. This complex is very big and the different elements of the complex are also far from each other. You should wear comfortable shoes, the ideal ones are sneakers. When you go to Phnom Bakheng, you will hike to the top and the path is very narrow. Choosing your most comfortable shoes will help you finish it faster.You will need at least 3 days to explore Angkor Wat complex so you should buy the ticket for your whole itinerary. You will save your time instead of worrying about the tickets everyday. Besides, there are many temples in the complex so that you should go with a local guide because they will show you which ones are worth a visit.January is the best month of the year that you should visit Angkor Wat. It is not too hot, making your trip more enjoyable.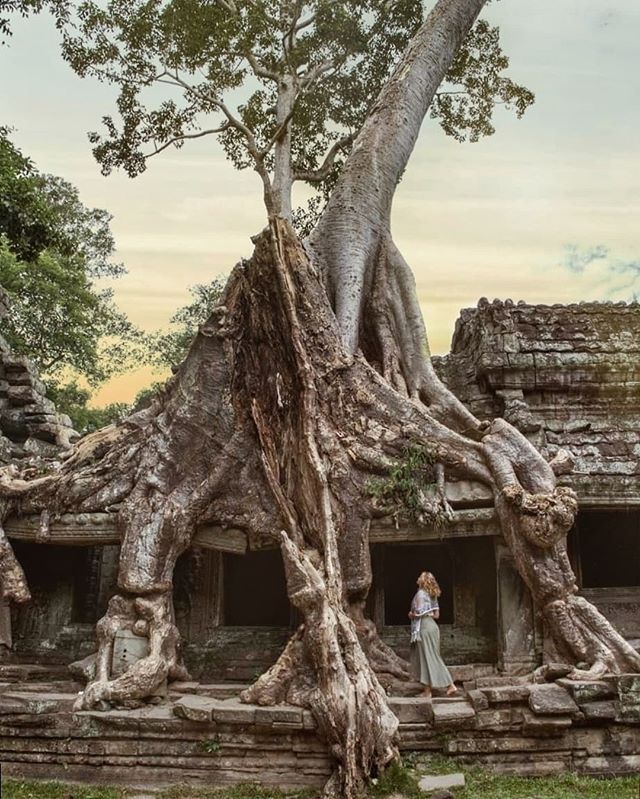 If you want to try something more challenging and adventurous, driving a bike is quite fun. If you go with a friend, a bike is enough for two of you to explore every corner proactively.It will cost about $30-40/day included tuk-tuk and food. If you book a tuk-tuk from Siem Reap to the Angkor complex, it will cost around $5 for each way.Angkor Wat is a holy and sacred site in Cambodia and the monks often visit this temple. You should wear clothes that cover your knee and your arms to respect their culture. If you do not wear suitable clothes, you are not allowed to come into some temples. Do not ruin your trip by that.Find a local tour guide or book a tour that includes a local tour guide. They will help you a lot and it is for sure that who know this place as well as the local guide?