Detailed guide to Bukchon Hanok Village
Bukchon Hanok Village is a great place for you to experience the Korean village environment and see the old houses in Korea. From there, you can get a quick intro to the Korean Traditional lifestyle. There is no doubt that visiting Bukchon Hanok Village is one of the top things to do in Seoul.
Bukchon Hanok is a Korean traditional village in Seoul with a long history located between Gyeongbokgung Palace, Changdeok Palace and Jongmyo Royal Shrine. The traditional village is composed of lots of alleys, hanok and is preserved to show a 600-year-old urban environment. Now it is used as a traditional culture center and hanok restaurant, allowing visitors to experience the atmosphere of the Joseon Dynasty.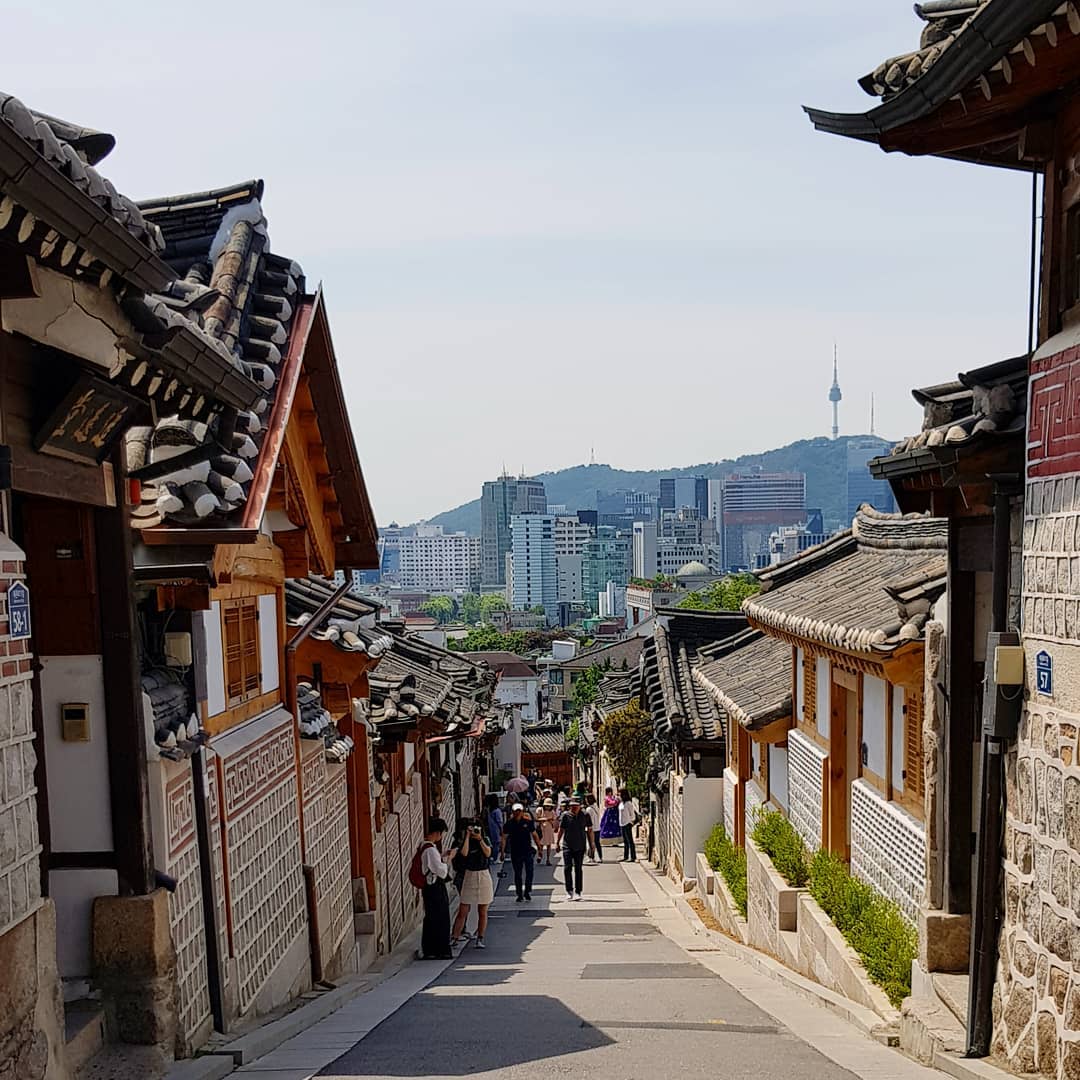 Bukchon used to be the residential quarter of government officials and nobility
The name Bukchon literally translates to "northern village," and was given to the district because it lies north of two significant Seoul landmarks—the Cheonggyecheon Stream and the Jongno area.

The area of Bukchon was traditionally the residential quarter of high-ranking government officials and nobility during the Joseon Dynasty. Traditionally, this place was inhabited by nobles, serving in the palace and their families. Later on, due to wars and disasters, the place was occupied by commoners.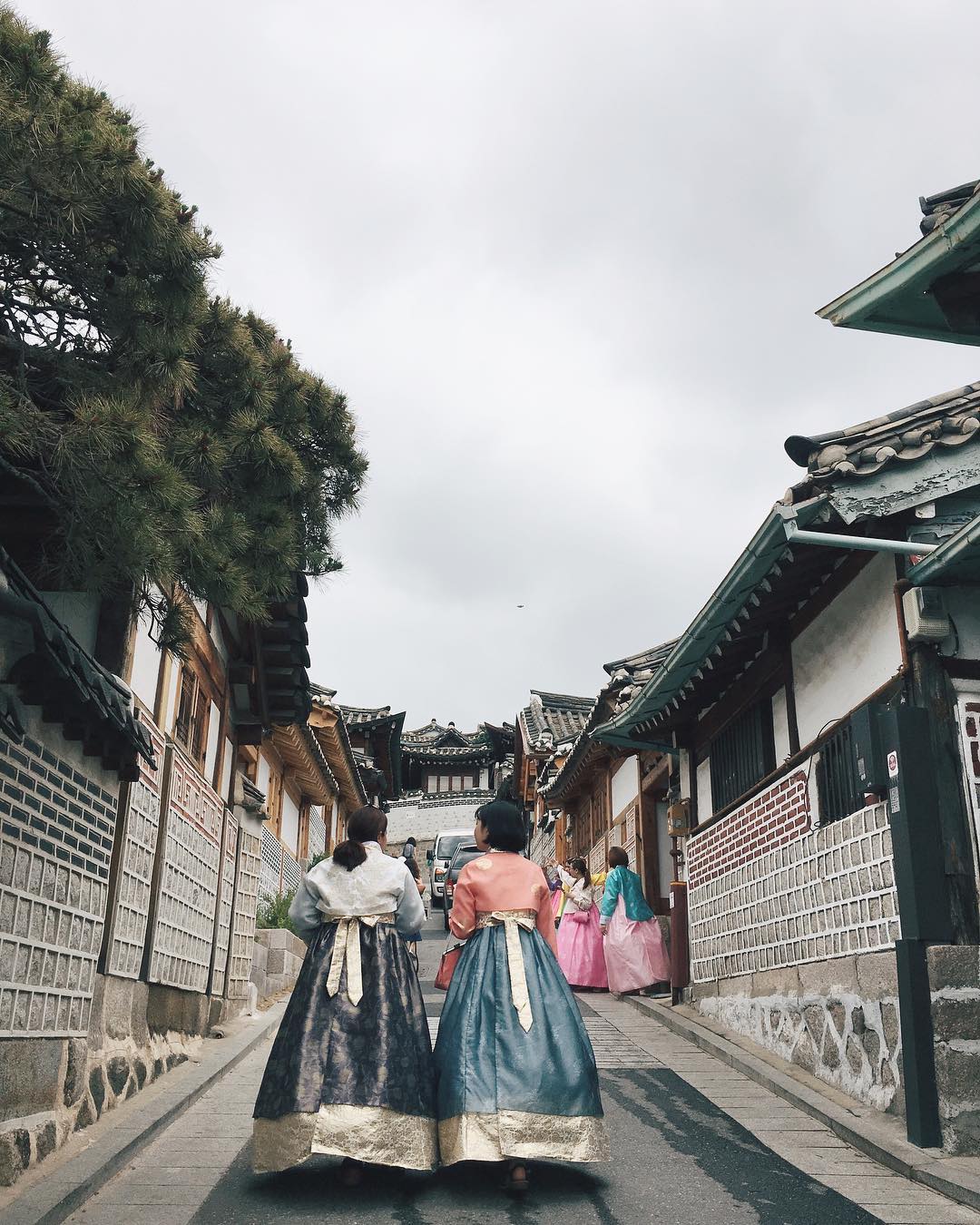 Today, Bukchon Hanok Village is a fascinating collection of restaurants, tea houses, cultural centers and more providing visitors with a rich Korean traditional culture experience.
There are also a wide variety of interesting museums and cultural centers located in the area including the Bukchon Traditional Culture Center, Seoul Intangible Cultural Heritage Center, Donglim Knot Museum, Gahoe Museum, Han Sangsu Embroidery Museum, Bukchon Asian Art Museum, and Owl Museum.
The meaning of Hanok
A hanok is a home built in a traditional Korean style of architecture. Han means Korea, and hanok literally translates to Korean house. It is characterised by deep eaves which create shade in the summer (when the sun are higher in the sky) and allows sunlight to enter in the winter (when the sun is lower on the horizon). Although Hanoks are similar in appearance to Japanese traditional houses, there are differences that make them uniquely Korean.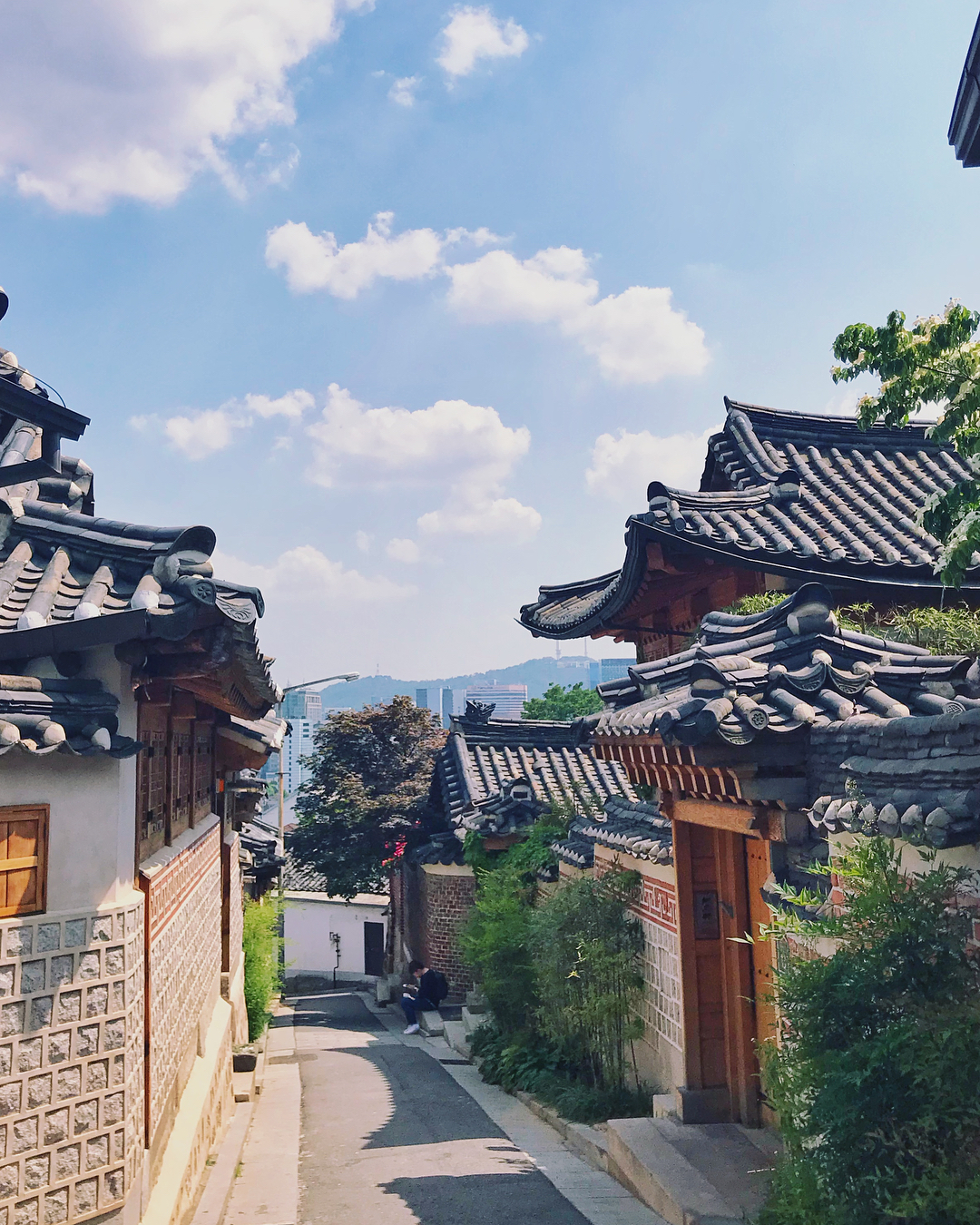 Mostly constructed of wood, stone, and paper with tiled roof, its neutral hues blends well with the natural surroundings, and as such, hanoks are usually left natural, undecorated, unlike the highly decorated Korean grand palaces. In a traditional hanok, windows, doors, and interior surfaces are covered with hanji, a strong translucent paper made from the mulberry tree. Many of the reformed hanoks have added modern glass to the outer window, but for the traditional hanok, hanji has the benefit of insulating the room while letting in sunlight.
What to expect in Bukchon Hanok Village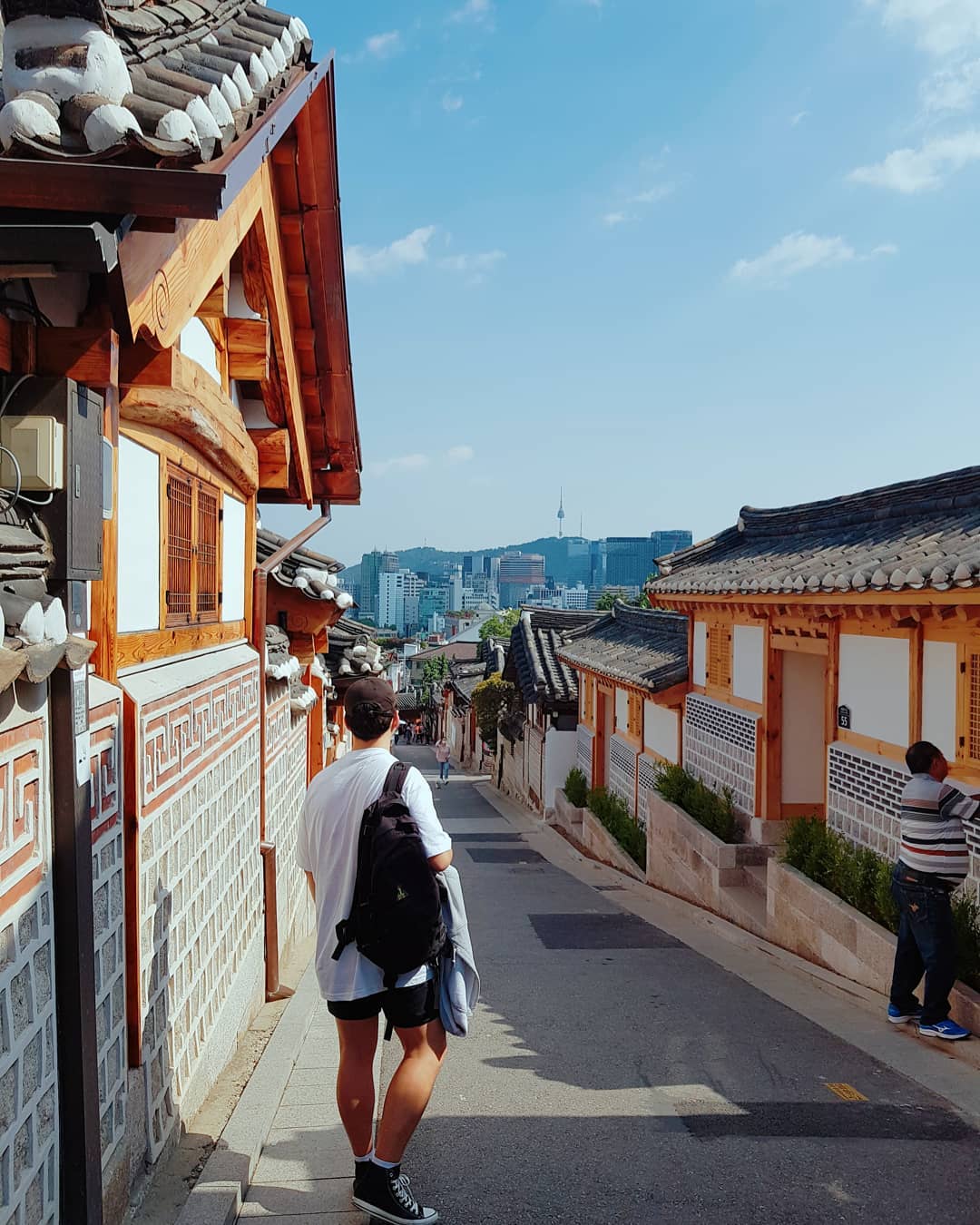 Bukchon Hanok Village has more than 600 years of history..When you walk around the alleys in this village, you will discover many residential area and some antique wooden houses that uses to serve as cafes, tea houses and craft workshops.
This is a perfect place for you take an opportunity for some memorable shots with these all old buildings at the rich historical village.When you stroll around the village, remember to lower your voices and to be mindful of the local residents living there while you enjoy the village and explore the traditional houses.
How to get to Bukchon Hanok village
Bukchon Hanok Village is close to Samcheongdong street and located between the Gyeongbokgung Palace and Changdeokgung Palace. You can get to the Bukchon Hanok Village in Seoul by taking the subway to the Anguk Station (Seoul Subway Line 3). Take exit 3 and head to your right. After about 200 meters you will see large information signs that begin the Bukchon Village Walking Tour.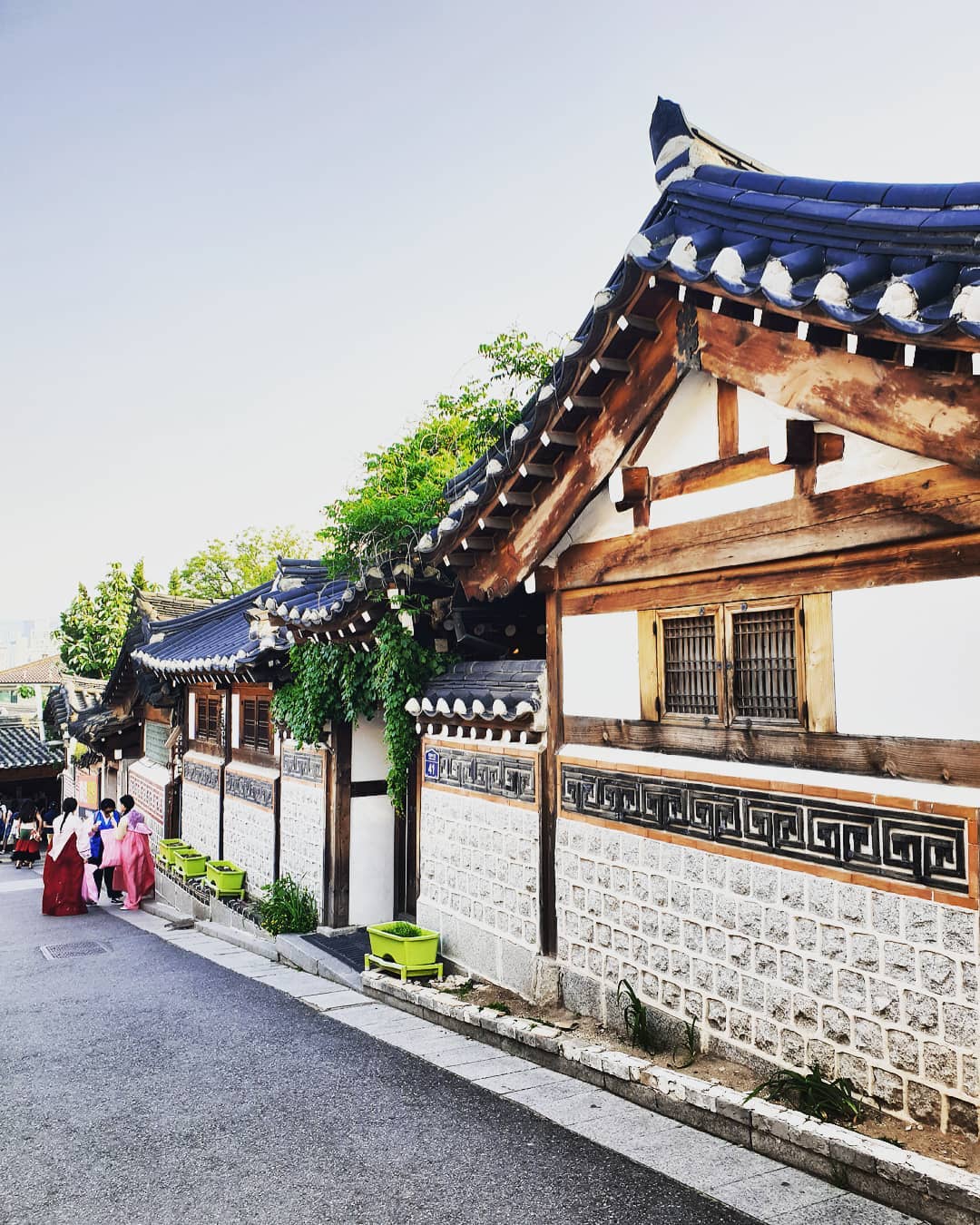 While Namsangol Hanok Village is a replication of a traditional Korean village, Bukchon Hanok Village is a real residential area with 900 hanoks. And much of the residents have chosen to retain their traditional lifestyle. Walking around, you will notice many women strolling around in their hanbok (Korean traditional outfit).
What to do around Bukchon Hanok village
Over the past decades, Bukchon has gained much popularity, becoming a favourite attraction of Korea's trend-conscious youth. Due to its current historical importance and not to mention its beautiful aesthetic, businesses have taken this opportunity to cater to these changing mindsets.
As more visitors turn their eyes to Bukchon Hanok Village, entrepreneurs over the years have opened a number of fine dining restaurants, cafe, guesthouses, upscale boutiques, interesting art galleries and many cultural museum and workshop for artisans who practice traditional crafts. Many of which are housed in renovated hanoks, preserving the districts' rich culture, tradition and history.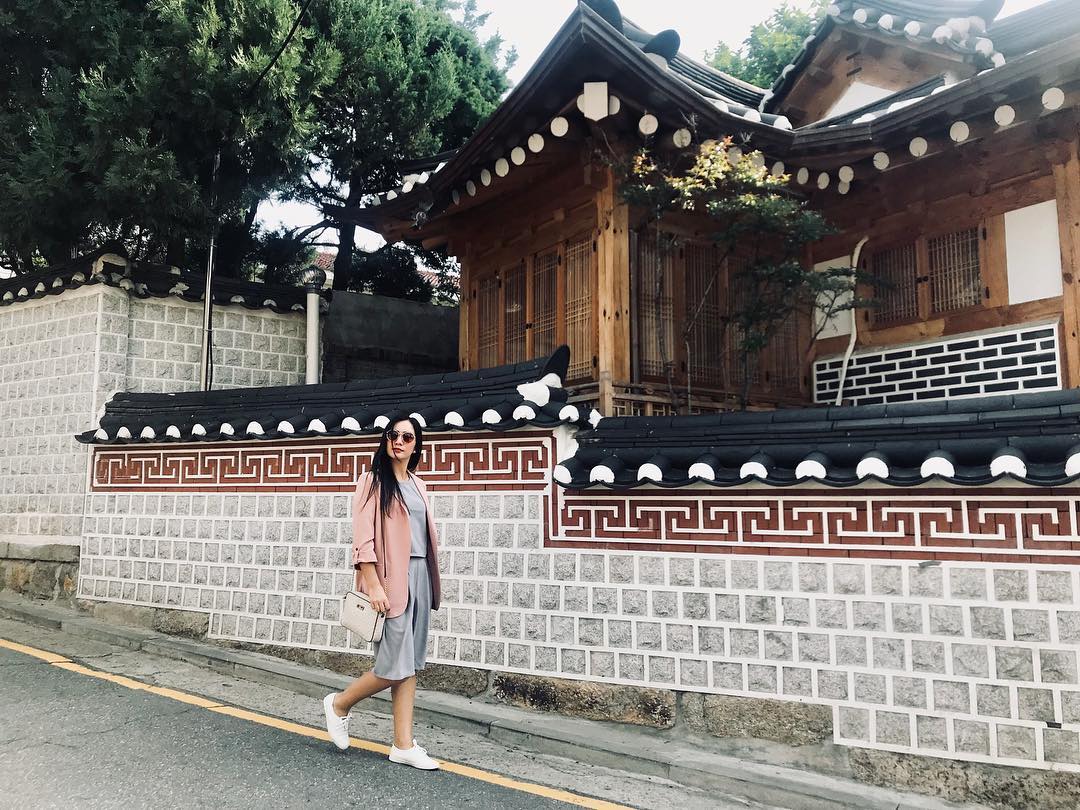 Here in Bukchon Hanok, children play hide and seek, students chatter at street corners, and the elderly and housewives watch on as they converse among themselves. For visitors of Bukchon, this quaint area provides an interesting look into the lives of ordinary Koreans. Where everyday life flows naturally, running its course.
Visit Baek In-je
Here in Bukchon Hanok, children play hide and seek, students chatter at street corners, and the elderly and housewives watch on as they converse among themselves. For visitors of Bukchon, this quaint area provides an interesting look into the lives of ordinary Koreans; where everyday life flows naturally, running its course.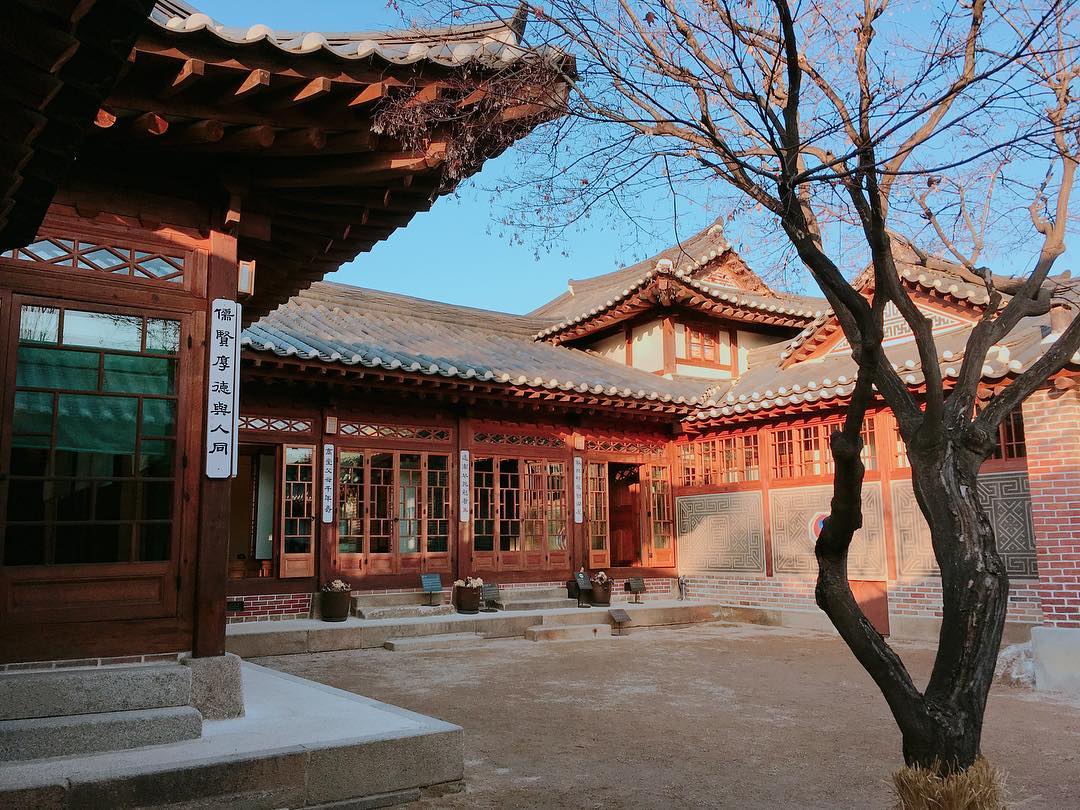 Within the compound is the anchae or inner quarters and the sarangchae, outer quarters. Upper-class hanoks usually have the anchae and the sarangchae separated, so this is unusual to have both quarters together. The sarangchae is connected to the anchae by a wooden passageway. Across from the anchae is the gate of the haengnangchae, the servants quarters. This grand hanok also features a beautifully manicured garden. The museum is open from Tuesday – Sunday, 10:00 am – 5:00 pm and admission is free.
Rent a Hanbok
MMake your way to Hanbok Costume Rental at Bukchon-ro 12 gil where you will be able to rent, wear, and photograph yourself in Korean traditional hanbok. The hanbok rental fee is 7,000 KRW per person, however, since this is not a studio, no camera will be provided.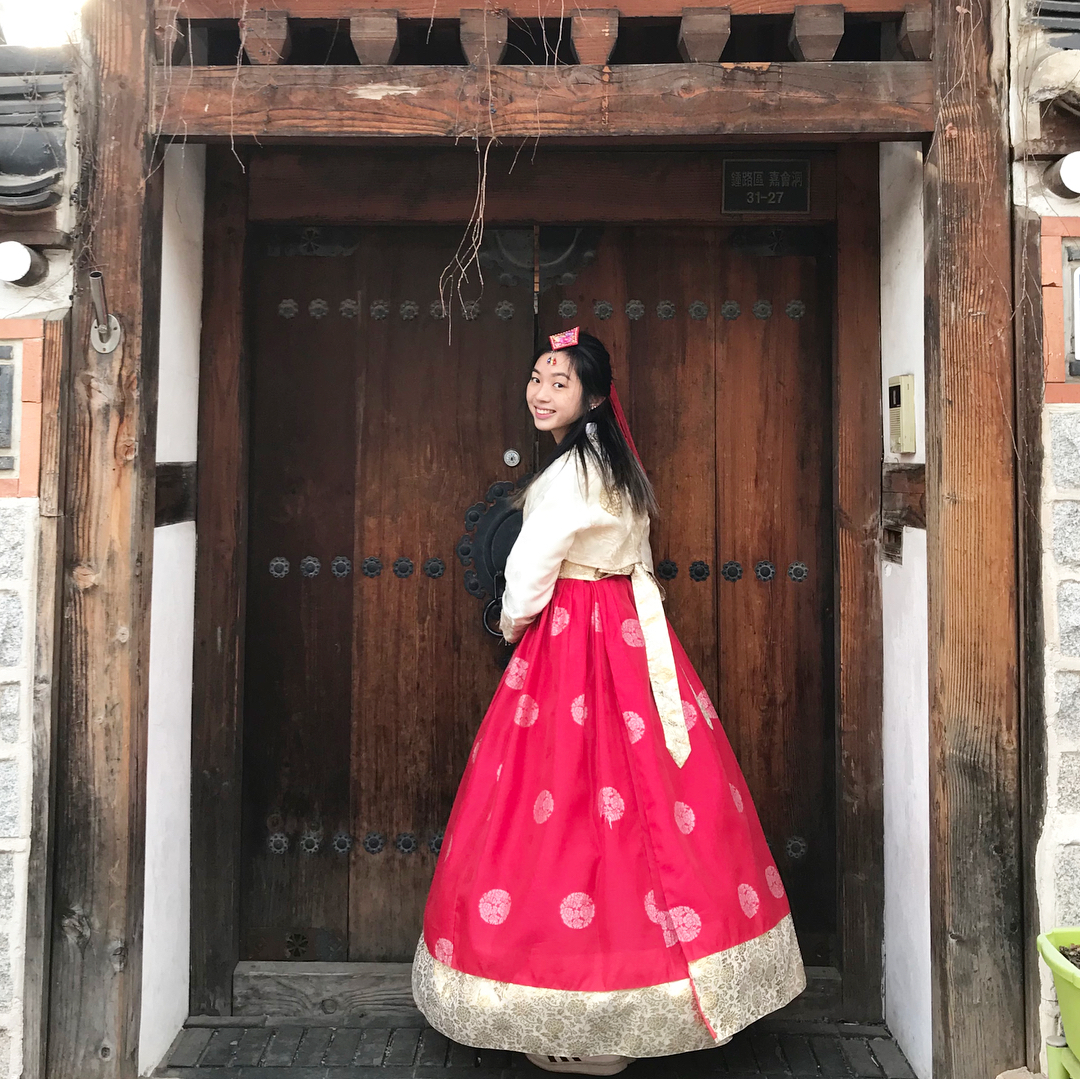 Take note that this is probably the cheapest costume rental option that you will find because it's basically just a rental store. No camera. No cheesy background. Instead, you are to photograph yourself in front of a real hanok house.
Wandering around Bukchon Hanok
Visit the many scattered museums, tucked away inside the hanoks throughout Bukchon Hanok Village, such as the Museum of Korean Art, Museum of Korean Embroidery, and Bukchon Traditions to name a few.
Before the sun starts setting, climb to the top of Gahoe-dong to watch as old Seoul meets new Seoul under the golden glow of the setting sun. Standing surrounded by traditional hanoks atop a hill while witness the contrasting views of modern Seoul in the distance is a sight to behold.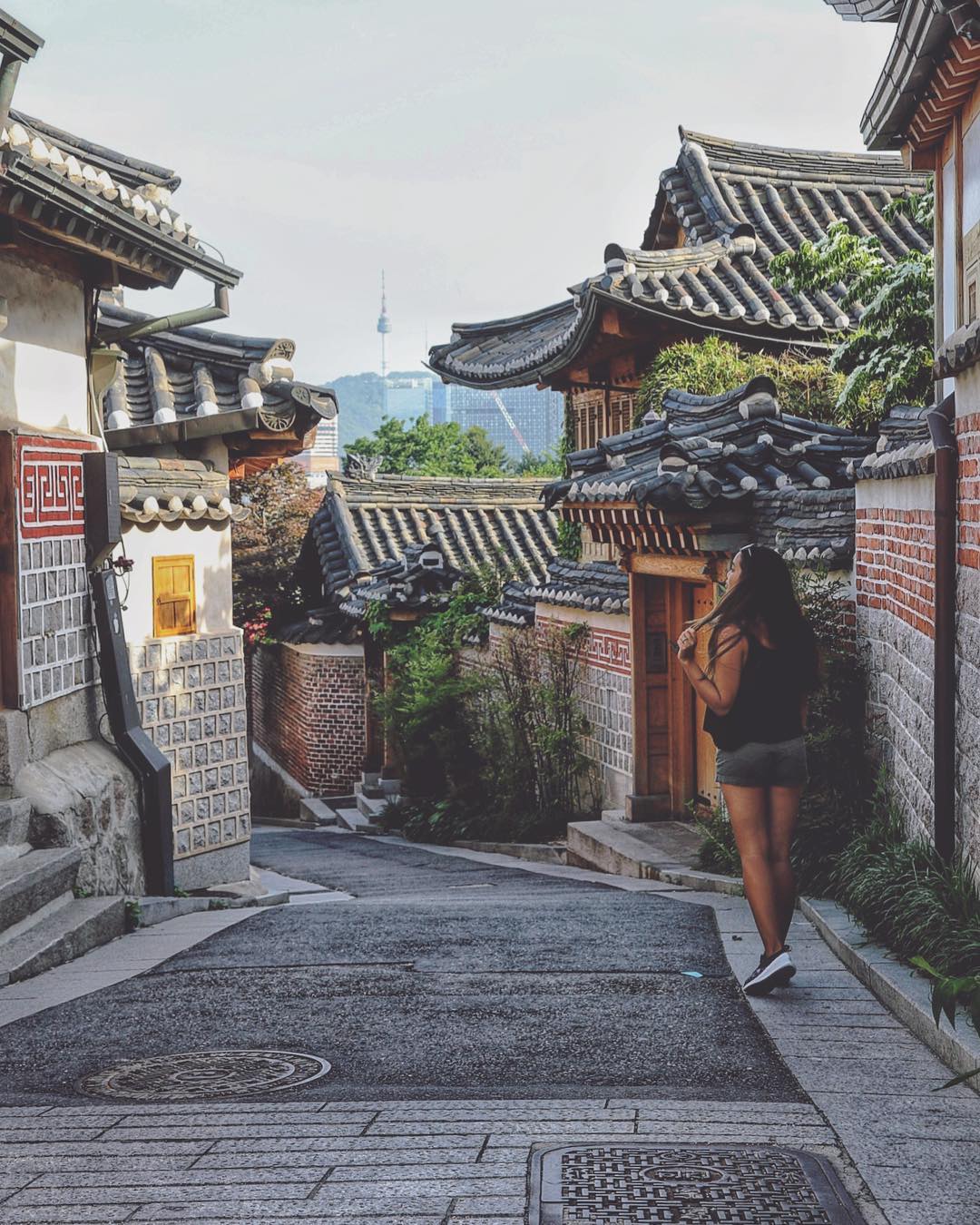 Make your way up to the highest point in the village, where you'll be able to look down and see all the old tile roofing of the hanoks. From Bukchon, make your way to Insadong, a street nearby that really maintains the essence of Korea. Insadong is home to many stores housing Korean handicrafts, traditional tea, temple food, and many other traditional Korean items and experiences.
What to eat
After your extensive exploration of the village and its surrounding area, what could be better than having the aroma of home-cooked Korean cuisine greet you?
Head to Cityfood Noodles Myung-ga, a cosy restaurant tucked along the row of souvenir shops. This restaurant is managed by a mother-and-son team and as you can see from the menu, the noodles are priced reasonably. So give yourself the indulgence your belly deserves!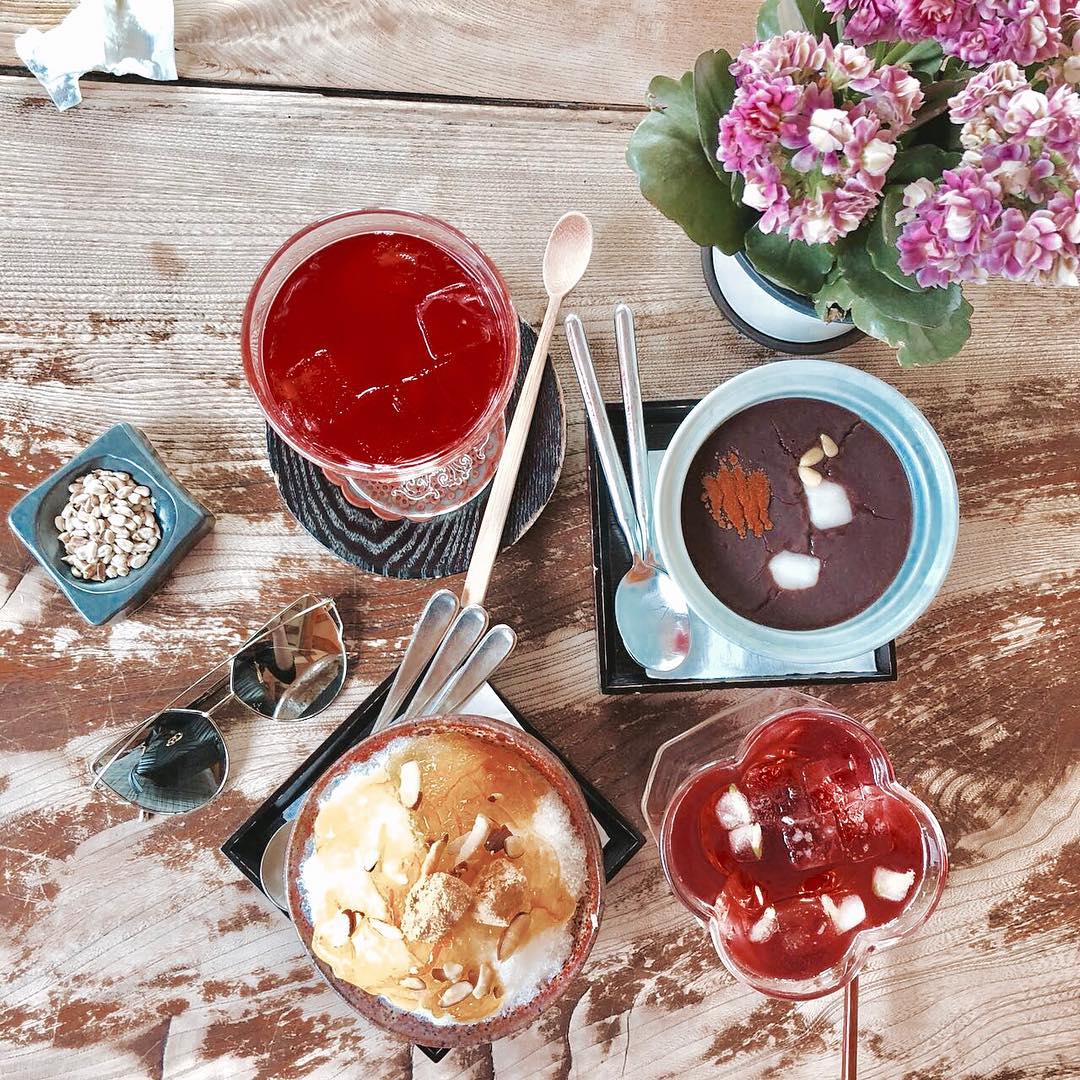 The comforting simplicity of the noodles served here, such as the Noodle Soup with Spicy Seafood (you can also request for a non-spicy one), will evoke a sense of home away from home. And while the Seafood and Green Onion Pancake was not much to rave about, the abundance of prawns and squid compensated for the slightly muted taste of the pancake.
There is also a multitude of tea houses and restaurants available should you prefer to have your fill in the village itself!
Some traveling tips from Local Insider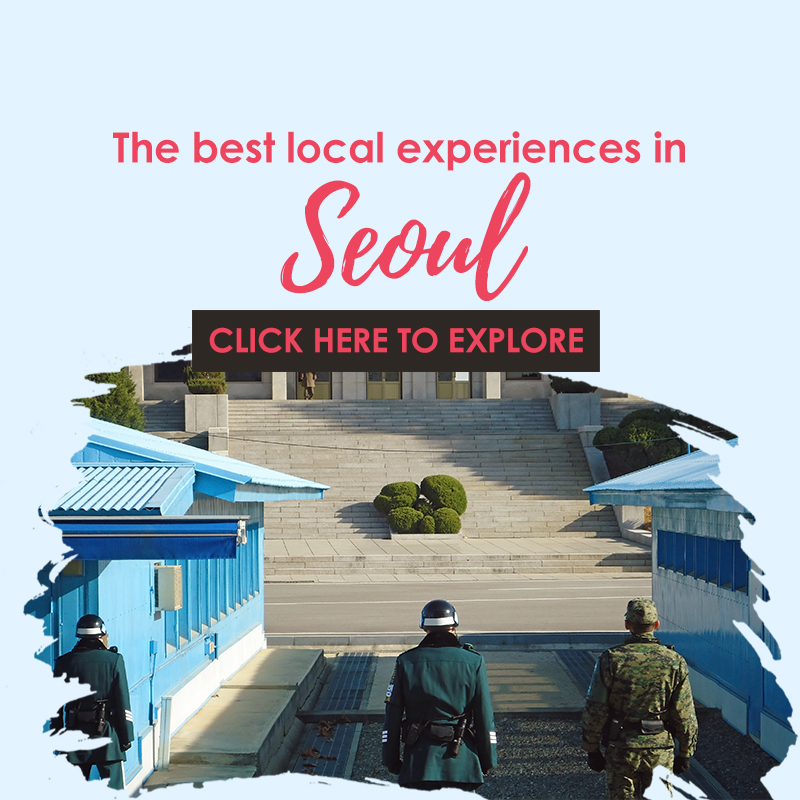 On any given day, you will see young people dressed up in their traditional clothing, hanbok, taking pictures at the palace. The changing of the guard ceremony starts at 10:00am on the main ground but there is a pre-ceremony (about 9:45am) that not too many people know about that begins right outside of the palace ground along the side entrance by the ticket windows.
Rent a Hanbok at any store and you will gain free admission to the palace. Although the rental is more expensive than the admission ticket (around 15,000 won for 1.5 hour rental), it is a good experience.
After the ceremony you can exit the side door next to the ticket windows, turn left, and you will pass the parking lot for buses. Keep walking left passing the palace walls, there should be an Art school on the right after about 7 minutes walk. Keep walking and you will pass a museum on the left. Cross the street to the right and keep walking, it'll be a bit uphill but feature lots of fashion shops and restaurants.
If you get lost, you may ask for help from the tourist helpers who know to speak English. They are dressed in traditional Korean clothing and stand around some corners of the houses.
The best way to visit to Bukchon Hanok village is to go with a licensed local guide.