Danang Nightlife: Top 10 bars and nightclubs for thrill-seekers
Being crowned the most "worth-living" city in Vietnam, Danang city is an alluring travel destination for both foreigners and locals alike. Not only does Danang have the most gorgeous sandy beaches and marvellous mountains, but it is also full of life and energy, both day and night. Just as vibrant as its day life counterpart, Danang nightlife offers a selection of exciting spots. From fancy rooftop bars, sophisticated lounges to friendly local bars or lively nightclubs, Danang has it all. And what's better? The prices are relatively affordable, even cheap according to European standards!
Interestingly, there aren't many differences between bars, pubs and nightclubs here in Danang, as these terms are used interchangeably. However, each one carries its own charms and not one is like the others. Curious about which place to go for a fun night-out with your buddies and mingle with like-minded locals? Whether you're looking to catch the latest sports matches or wanting to dance your heart out, follow this topic and we'll give you a list of the top 12 bars, nightclubs and pubs for those seeking things to do in Danang at night!
Bars & Lounge
Sky36 bar
It would be a miss not mentioning Sky36 - one of the best highlights of Danang nightlife. Danang Sky36 is located on, you guessed it, the 36th floor of Novotel Danang Premier Han River. Being Danang's (and also Vietnam's) highest rooftop bar, it overlooks the Han River and offers a great panoramic view of the whole city, the Dragon River Bridge, as well as the Monkey and Marble mountain ranges in the distance.
This posh three-storey nightlife spot features luminous neon-lit fixtures, state-of-the-art audio and visual systems, elegant sofa beds, an outdoor bar with extravagant live shows, and private VIP lounges. The music ranges from EDM to deep house and hip-hop featuring top DJs. During special celebrations, the bar hosts unique themed parties with live performances by local and international artists, flashy firework displays, and water drum shows.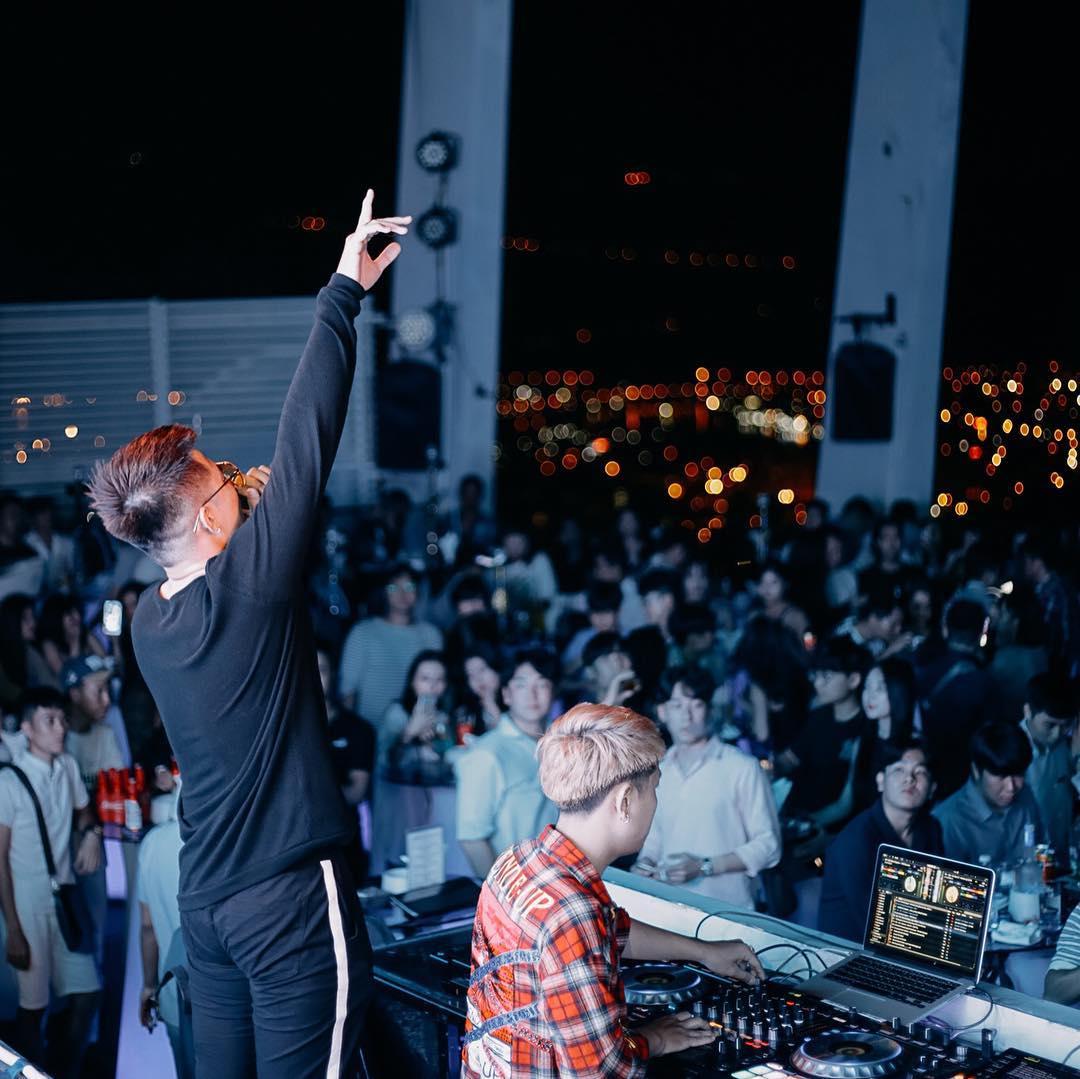 With Sky36's top-notch service quality, do note that its prices also follow. Being the party venue for affluent travellers and Vietnam's elites, the drinks and snacks are a tad bit more expensive than most bars in Vietnam. But on the bright side, the cover charge is not included.
Address: 35-36th floor, Novotel Danang Premier Han River, 36 Bach Dang, Hai Chau, Danang city
Tel: +84 (0511) 3227777
Facebook: https://www.facebook.com/Sky36Bar/
Opening hours: 6:00 PM - 2:00 AM
Price range: $$ - $$$
Sky21 bar
Danang Sky36 isn't the only notable rooftop bar of the city. Located on the 21st floor of Belle Maison Parosand Danang Hotel, this two-storey rooftop bar has proven to be a competitive alternative to the swanky Sky36.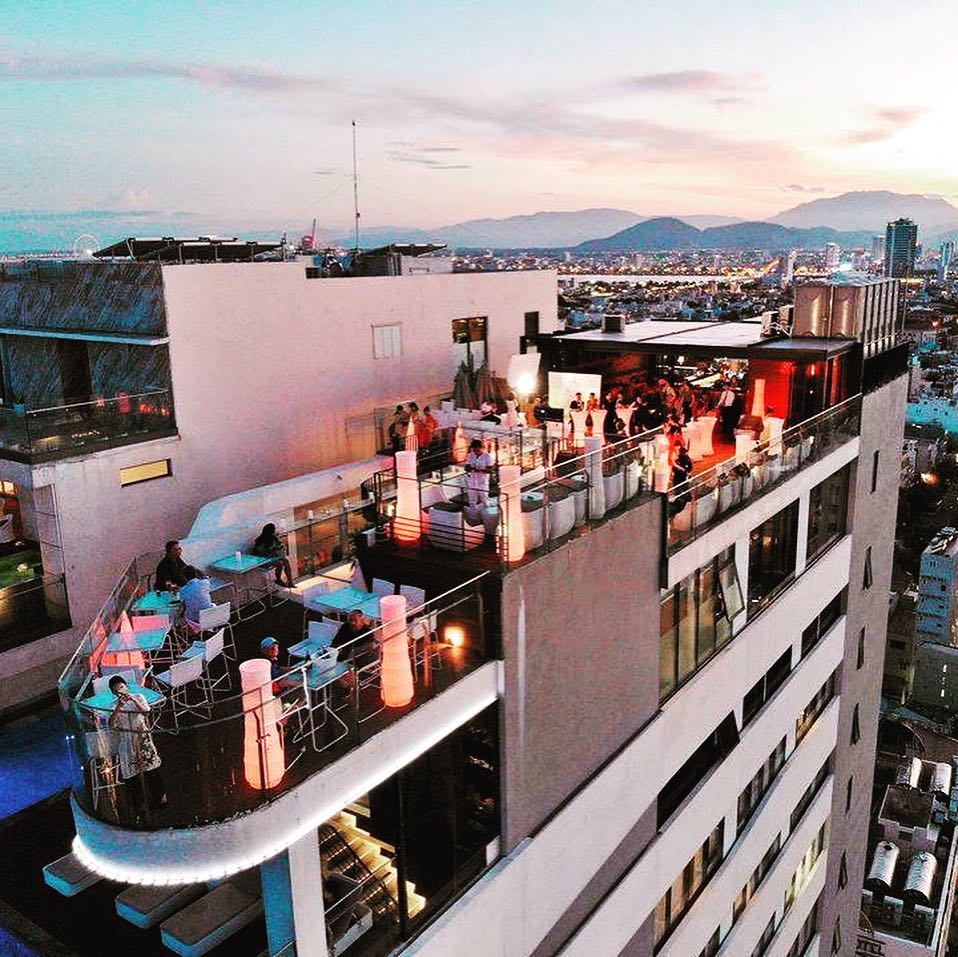 Sky21 Bar has been gaining lots of love from both locals and travellers. It offers authentic Vietnamese-style snacks and delicious signature cocktails, with regular special entertainment programs. Unwind yourself in this hottest entertainment hub, with laser lights illuminating and sway along live music performed by famed artists and international bands. An added plus to Sky21 is the large pool on the side of the first storey. This is where guests can take a dip inside the pool while enjoying the spectacular view of Danang bay at night.
Address: 21st floor, Belle Maison Parosand Danang Hotel, 216 Vo Nguyen Giap, Son Tra, Danang city
Tel: (+84) 236 392 86 88
Opening hours: 5:00 PM - 12:00 AM
Price range: $$ - $$$
Bamboo 2 Bar
Bidding farewell to the hustle-bustle luxurious rooftop bars, let's go to Bamboo 2 Bar. It is situated in the intersection between Thai Phien and Bach Dang street, with Han River on the side. Bamboo 2 Bar captures visitors' heart with its rustic design, a variety of entertainment zones and affordable alcohol-fueled cocktails.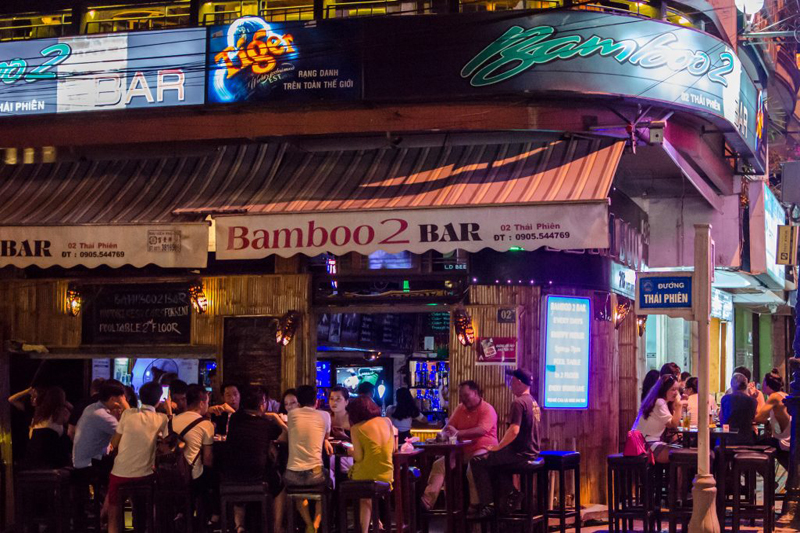 If you're not a big fan of EDM, Bamboo 2 Bar is the place to go. The bar often plays Country, Pop or sometimes Dance music, with medium volume for customers to freely chit-chat without loud music banging on their ears. Despite its relatively small size, Bamboo 2 Bar is the most popular hangout corner for expats. So much that the ground floor quickly gets fully occupied once night falls!
The top floor is equipped with billiard tables and seating areas with a great view of the Han River and the Dragon Bridge. With its Western-influenced style, Bamboo 2 Bar is a great destination for those seeking a budget night-out in Danang.
Address: 216 Bach Dang, Danang city
Tel: (+84) 90 554 4769
Website: http://www.bamboo2bar.com
Opening hours: 5:00 PM - 1:00 AM
Price range: $ - $$
On the Radio
On the Radio Bar has been in business for quite a while, yet it remains to be one of the most attractive destinations for Danang nightlife. The bar has a Western design, yet gives off a cozy vibe. Don't be put off by its simple exterior, though. As soon as you step inside, you'd be greeted with lines of pool tables and chairs sitting close to each other, with live music constantly playing on stage.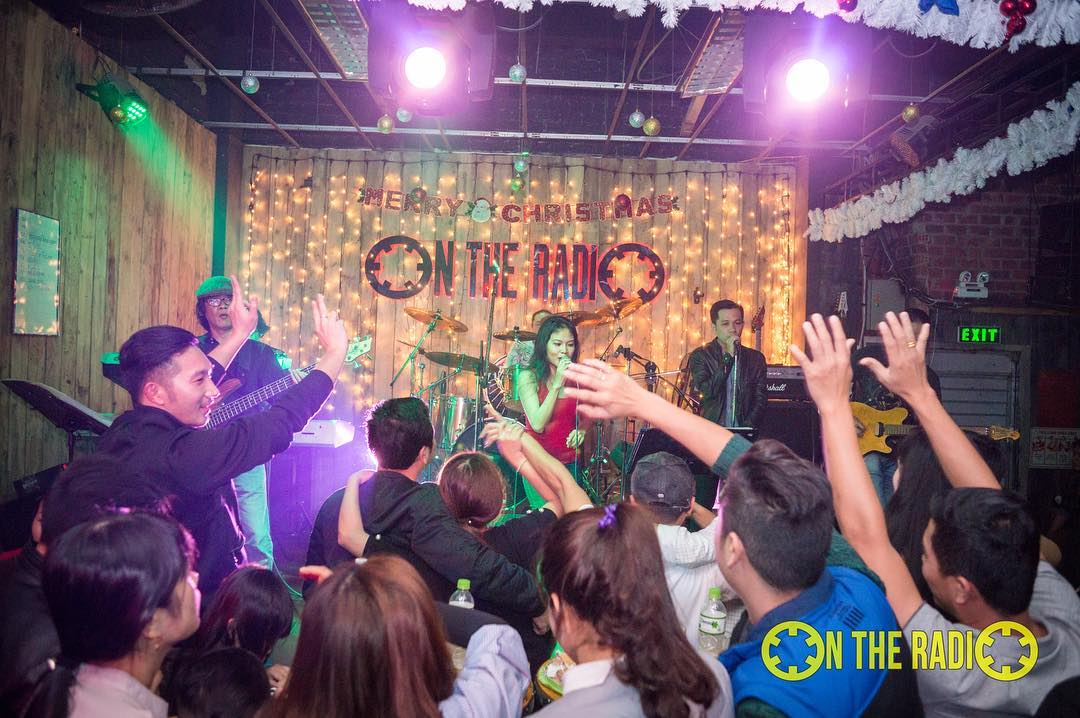 The bar is a frequent stop for local indie and underground artists, who play romantic songs from Monday to Friday. If you're into heavier tones, come to the bar on the weekends, where they perform Rock music from dusk till dawn. After 10:00 PM, you'll also have the chance to showcase your singing talent with an open mic session!
Address: 35 Thai Phien, Hai Chau, Danang city
Tel: (+84)90 197 7755
Opening hours: 8:00 PM - 2:00 AM
Price range: $ - $$
Pubs
OQ Lounge Pub
Situated right on the bustling Bach Dang street, OQ Lounge Pub beats all other pubs with its intricate interior design. Once you step inside, you'll be immediately overwhelmed by extra luxurious yet modern lightings, and blasting music guaranteed to make you dance all night.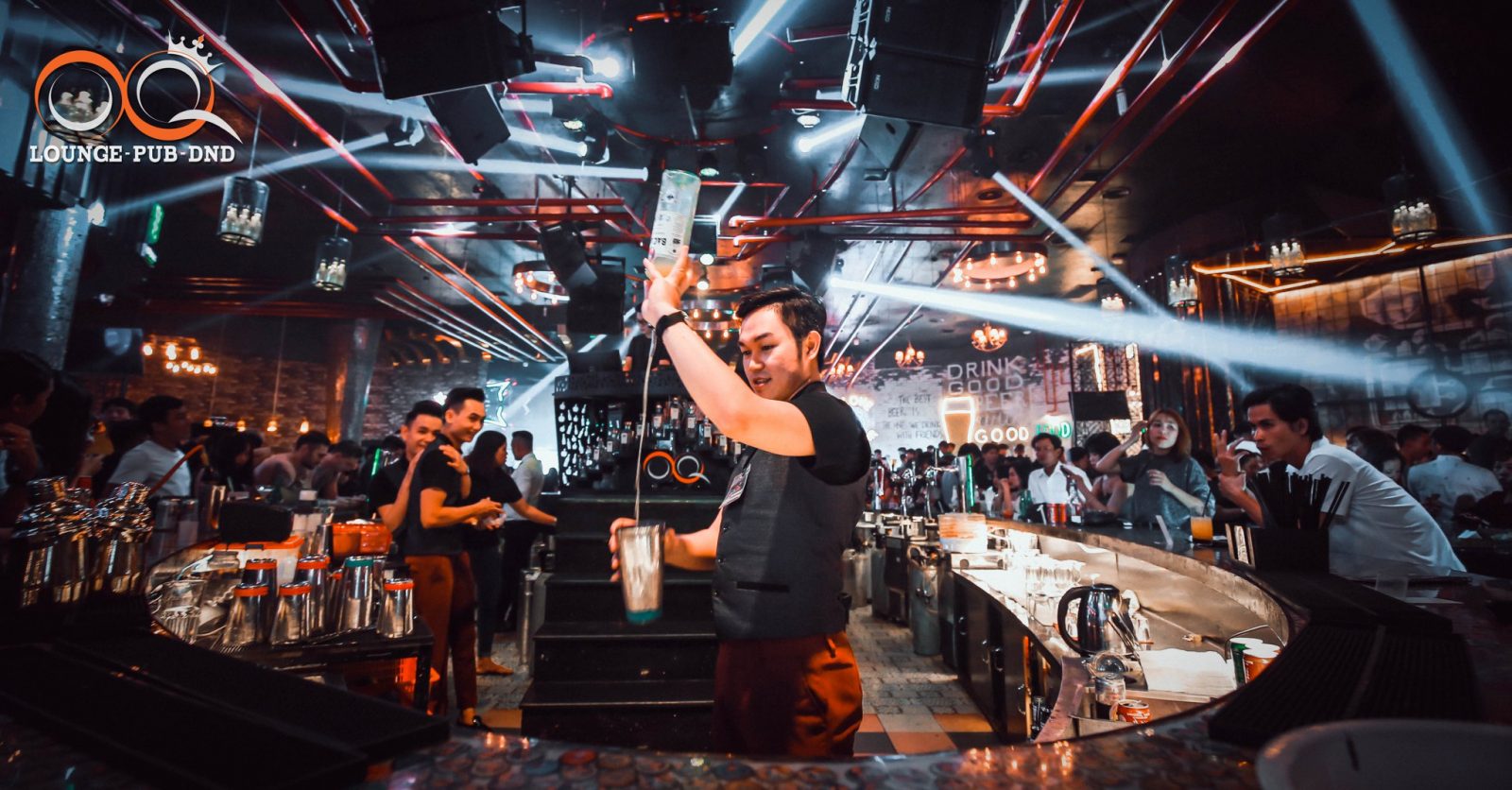 OQ Lounge Pub is a great place to stop by for Danang nightlife. You can sit next to the bar counter, close to the DJ box and enjoy bartenders juggling cocktail mixers. The menu is pretty diverse, from Western cuisine to Vietnamese specialties, with affordable price beginning from 50.000 VND (~ $2.16 USD). Alternatively, if you're going in groups, you can opt for combos for a more bargain price.
Address: 18-20 Bach Dang, Hai Chau, Danang city
Tel: (+84)90 220 5245
Opening hours: 4:00 PM - 2:00 AM
Price range: $ - $$
Golden Pine Pub
Also on Bach Dang street lies Golden Pine Pub, another attractive destination for youths and expats. Similar to Bamboo 2 Bar, the pub is designed with three floors. The ground floor is separated into two zones: high tables & chairs outside for sightseeing, and TVs inside for football streaming. The second floor has large sofa chairs for groups and pool tables, and the top floor has a balcony overlooking the Han River - perfect for watching the annual fireworks!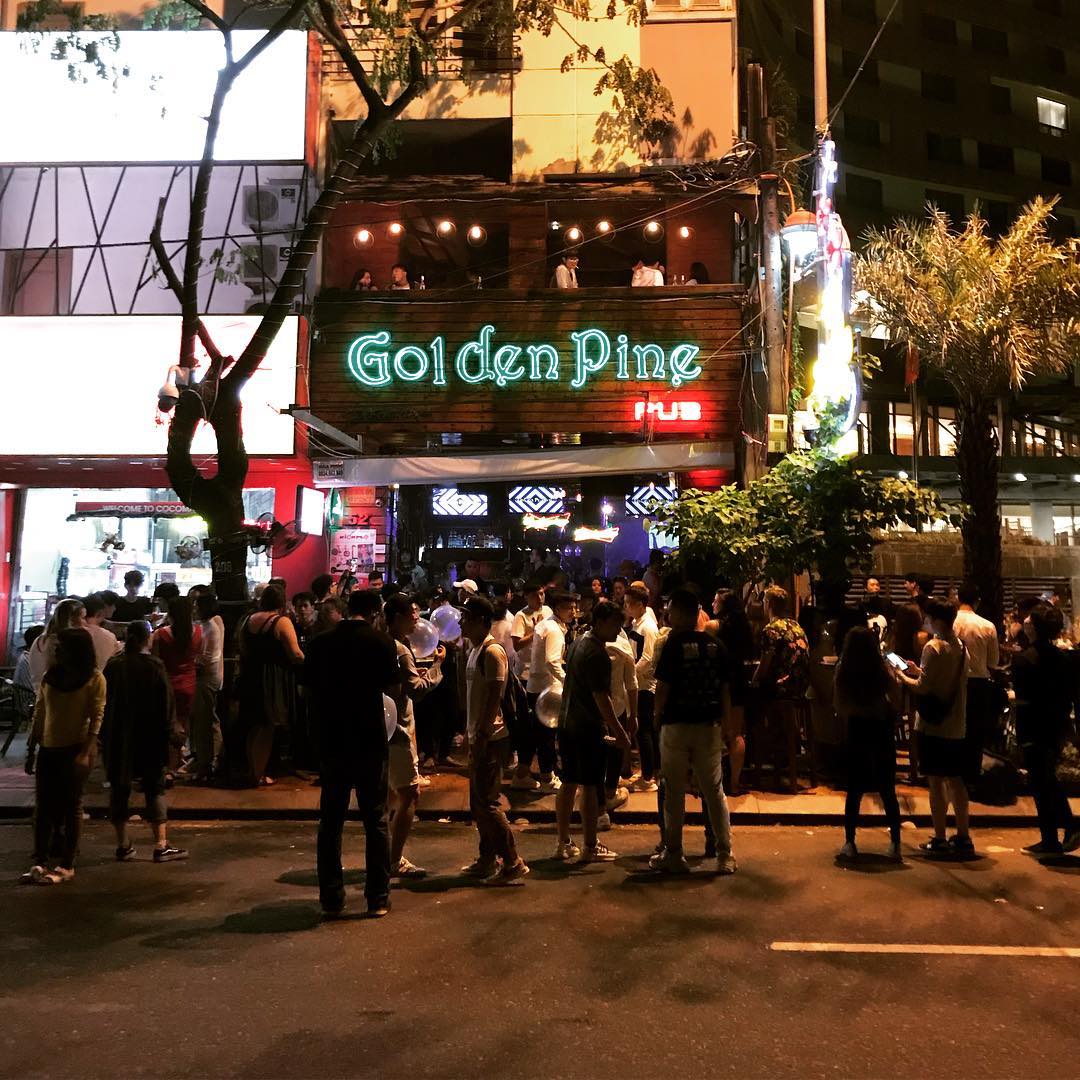 The music in Golden Pine is, without a doubt, the best of all. The pub plays US-UK music from 7:00 PM, and starts blasting EDM from around 9:00 PM. If you come by during the weekends or busy nights, patrons and party-goers even block half the road outside Golden Pine, making it an interesting sight. Additionally, the pub has Happy Hour every day from 5:00 PM to 7:30 PM, when you can buy two and get one drink for free.
Address: 52 Bach Dang, Hai Chau, Danang city
Tel: (+84)94 285 0519
Opening hours: 5:00 PM - 4:00 AM
Price range: $ - $$
The City Pub
The City Pub is another popular destination for youngsters in Danang. Despite its sheer size as a small two-storey pub, The City Pub has a charming and modern European design which captures the heart of many visitors. One notable highlight of The City Pub is its special selection of cocktails, crafted by their most skilled bartenders.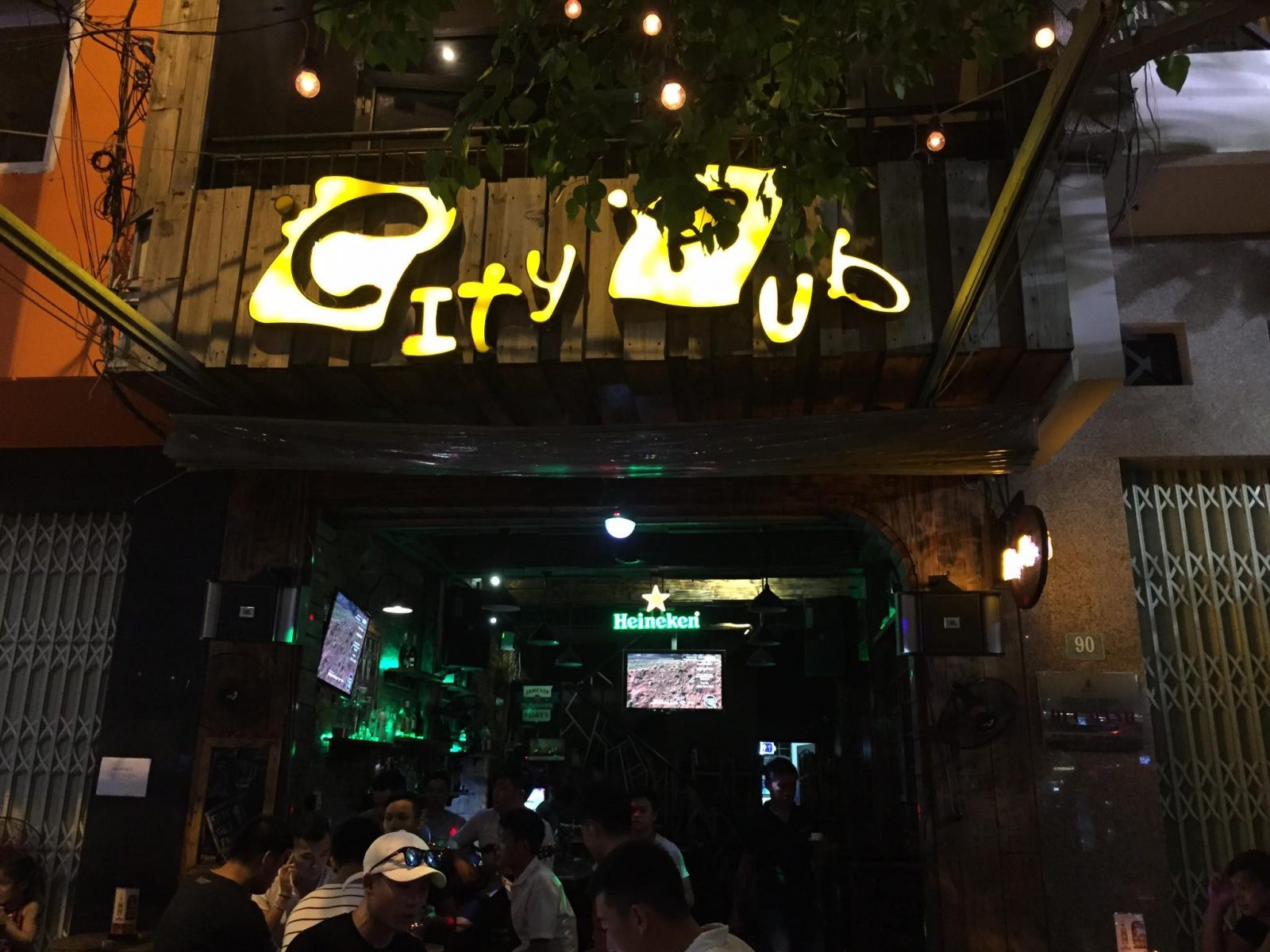 If you're looking for a place to chill, drop by the pub on Tuesday - Thursday - Saturday for some live acoustic music. Alternatively, come by on Monday - Wednesday - Friday for live DJs with exciting dance music.
Address: 92 Bach Dang, Hai Chau, Danang city
Tel: (+84)88 851 2777
Website
Opening hours: 4:00 PM - 11:00 AM
Price range: $ - $$
Universal 2 Cafe & Sports Pub
Universal 2 Cafe & Sports Pub is another great place to spend your Danang nightlife. Being owned by foreigners, Universal 2 Cafe & Sports Pub has an excellent menu, with an abundance of mouth-watering and authentic Western dishes, as well as traditional Vietnamese cuisine.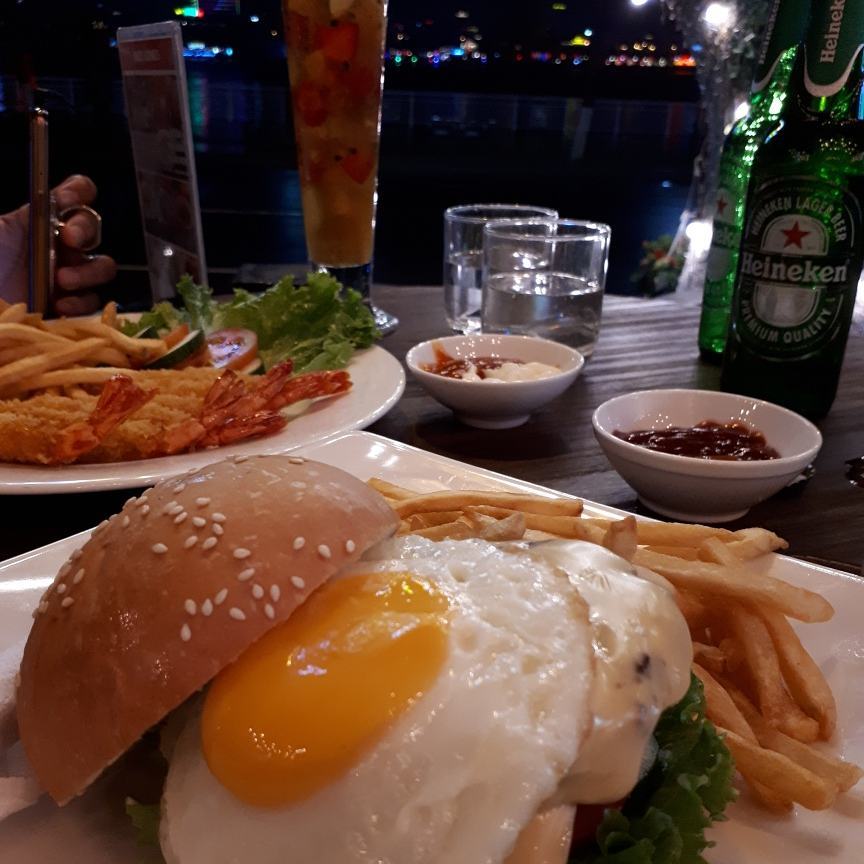 The pub is also situated on Bach Dang street, making it an ideal area to watch the Han River and the Dragon Bridge. You can choose to sip a glass of your favourite cocktail, take a rest, watch a good football match through their flat screen HDTV, or simply observe pedestrians walk along the sides of the street.
Address: 230 - 234 Bach Dang, Hai Chau, Danang city
Tel: (+84)88 851 2777
Opening hours: 8:00 PM - 2:00 AM
Price range: $ - $$
Clubs
New Phuong Dong Club
Little do people know, that this night club has been in operation for over 24 years! Stretching over 2000m², New Phuong Dong Club is undoubtedly  the largest and most impressive club in Vietnam. You'll be overwhelmed even from the entrance, where it is garnished with red carpets and luxurious decorations, making you feel as if you own the night.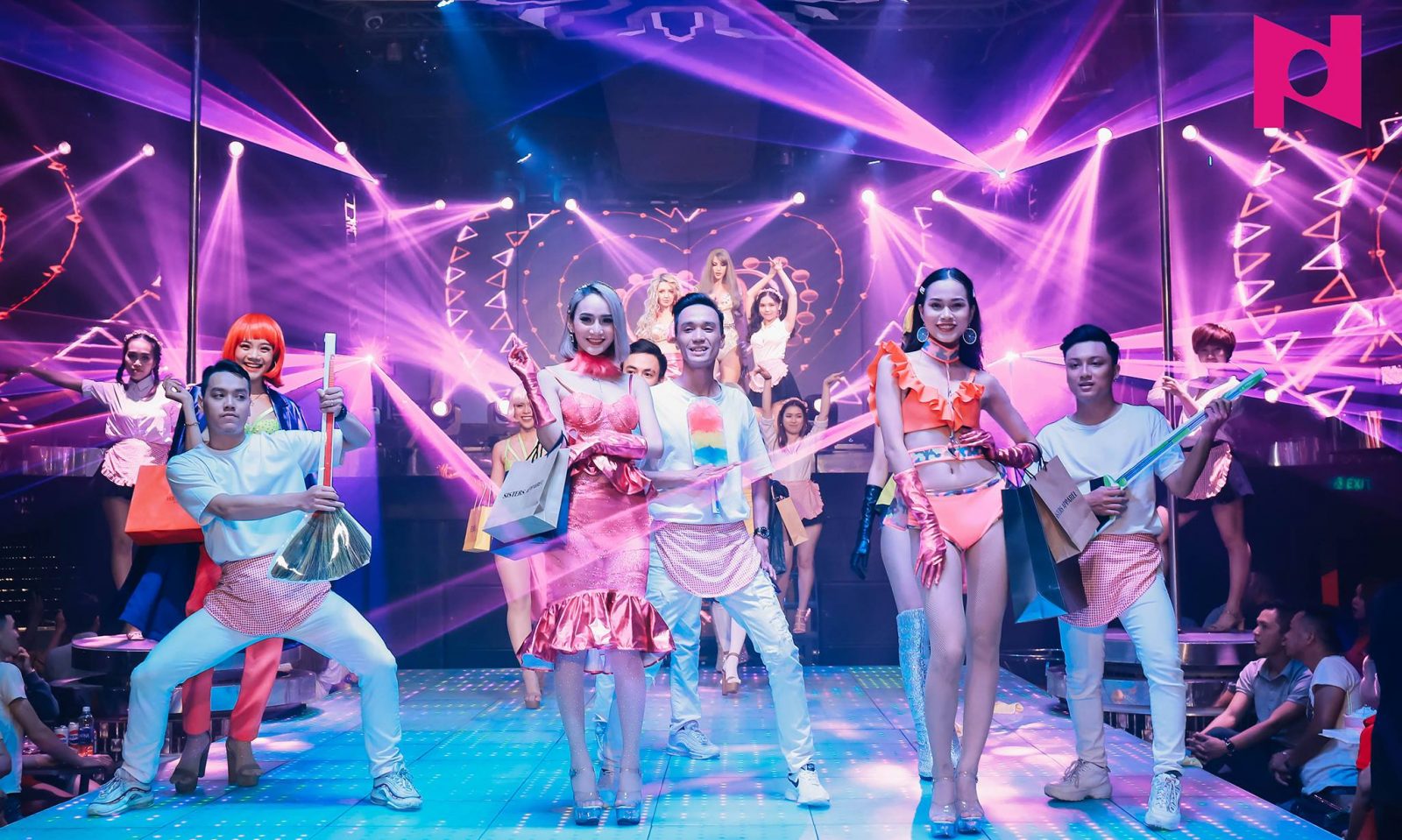 Inside the nightclub are three dance floors with a large performance stage in the middle. Step in and you'll be greeted with extravagant laser lights, blasting EDM music and high quality LED screens, making New Phuong Dong the most exhilarating club scene you'll ever know.
Due to its popularity, New Phuong Dong is also a frequent gathering place for famous Vietnamese artists and celebrities to spend Danang nightlife. Every night there is a different show, performed by professional artists, DJs and dancers. If you're into dancing, make sure to save some spots near the center stage, where the DJs mix up music non-stop the whole night. Or if you prefer a more intimate environment, book a VIP room in advance for more privacy. The price here is a bit higher in comparison to other places, but trust us, it is worth every penny!
Address: 20 Dong Da, Thuan Phuoc, Hai Chau, Danang city
Tel: (+84)511 247 5041 - (+84)97 595 0444
Website:
Opening hours: 6:00 PM - 4:00 AM
Price range: $$$ - $$$$
Hair of the Dog
A recent addition to the Hair of the Dog chain in Vietnam is its Danang branch. Newly opened from September 2018, Hair of the Dog Danang has been slowly gaining its recognition, with tons of visitors from all over the world coming every night. It has two large dance floors with a centre DJ stage, covering Hip-hop, underground EDM and Deep House music.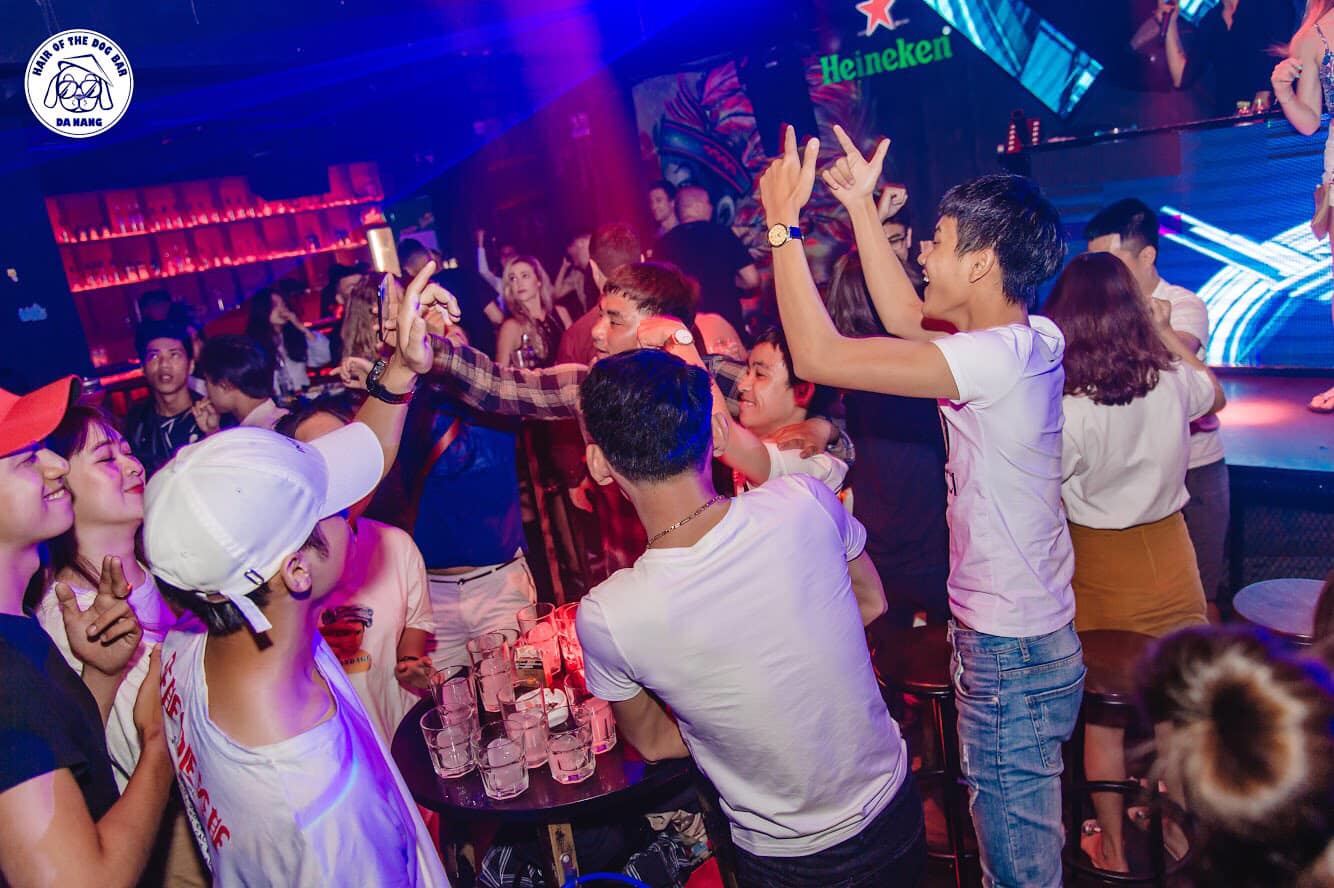 One of the best premium features of this club is that it offers promotions almost every day of the week. Want to dance and let it all out? Come to Xoa Night every Wednesday. Looking for a night to chill with your best girls? Go to the club every Tuesday for some free cocktails! There are many more great combos and promotions to come, so check out their official sites for more information!
Address: 6 Tran Quoc Toan, Danang city
Tel: +84 093 615 76 36
Opening hours: 8:00 PM - 2:00 AM
Price range: $$ - $$$
And many more bars and clubs to discover!
Wow, that was a lot of places to hang out and enjoy Danang nightlife, wasn't it? We hope you enjoy reading this comprehensive guide to the best 10 bars, pubs and nightclubs in Danang city and get a glimpse of just how exciting and vibrant Danang nightlife can be. There are so many options for you to choose from! The prices in these places might vary, but the ambience and the atmosphere remain unchanged. Nice music, delicious cocktails and wines, and friendly locals or expats accompanied will make your night out an unforgettable one!