Cu Chi Tunnels Tour With Jackie - A Journey Back To Vietnam War With A Veteran
Vietnam is currently a trending travel destination in Slovakia. I often heard about its natural beauty and rich culinary culture from my friends and family. My curiosity about the faraway Southeast Asia country grows up strongly enough to search for breathtaking experience in Vietnam. Then, I find the one of a kind journey suiting my interests: Learn about "Vietnam wars" by Cu Chi Tunnels tour with Jackie, a history expert to see the true face of warfare go into life from the textbooks.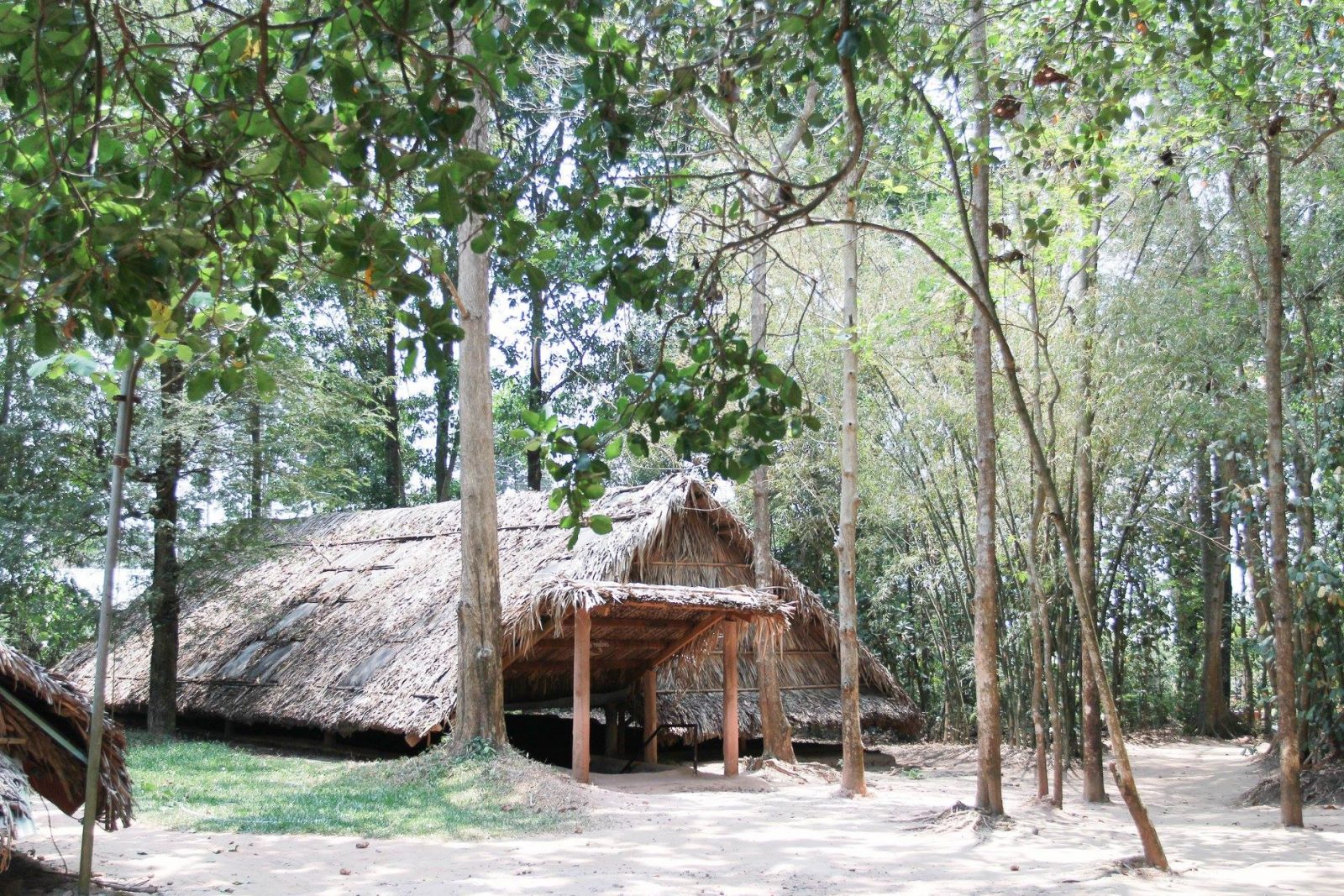 Be one of the bravest explore to survive the notorious Cu Chi Tunnels in only 15 min with Inspitrip now!
Planning for Cu Chi tunnels tour
To celebrate our long-term friendship, our group of four always spend holidays travelling together every year. After careful considerations, we chose Vietnam for our trip. Inspitrip came as a conformable fortuity to our preference with private tour accompanied by knowledgeable tour guides who can fascinatingly introduce all the overall and in-depth information. We booked Cu Chi tunnels tour and Inspitrip introduced us to Jackie, our local tour guide.
Jackie - History expert of Cu Chi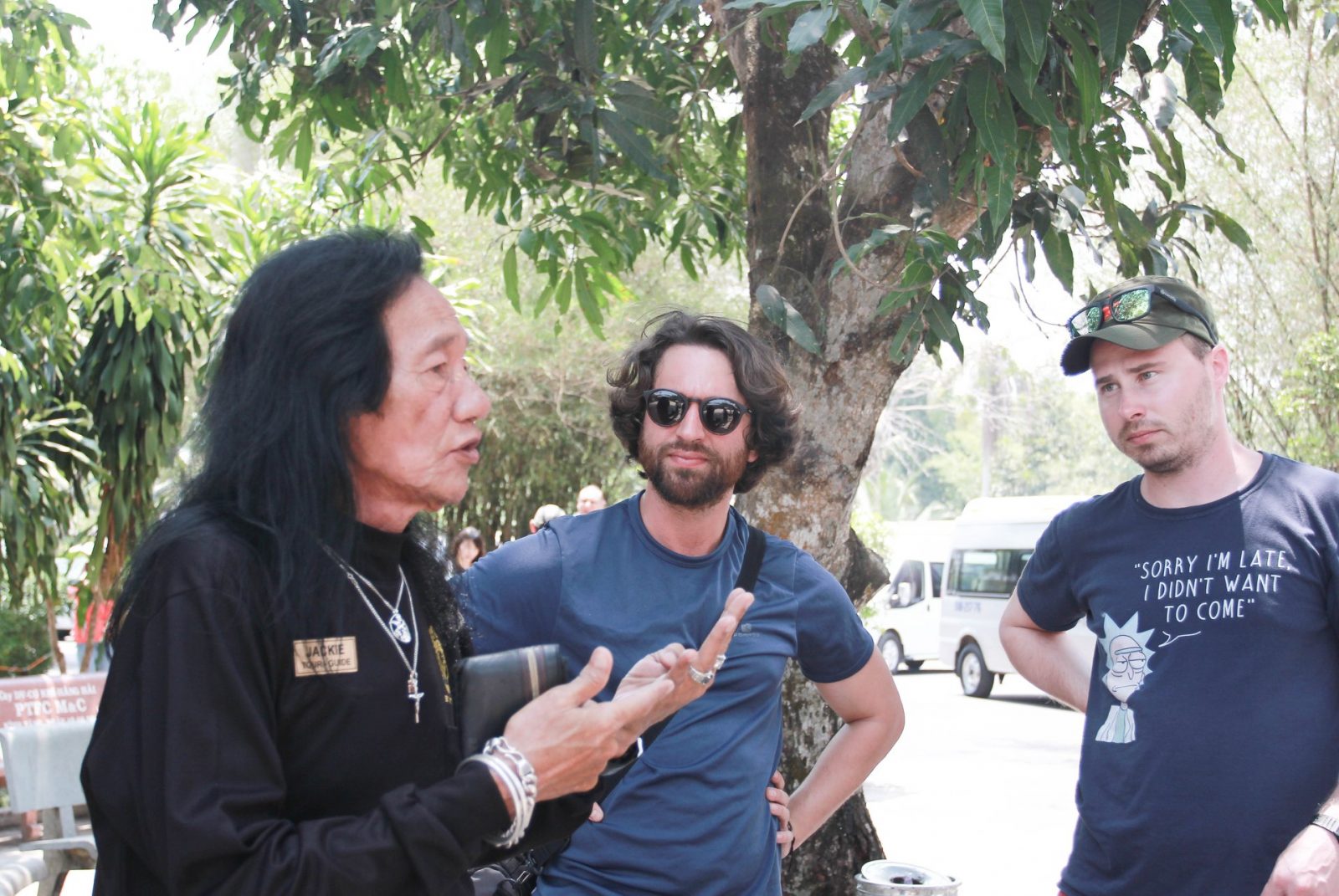 Jackie grew up in the times of the second Vietnam war. Hence, he can not only share about Vietnam history as a local but also deliver the insights about Vietnam war as insiders. We get used to knowing about the conflicts and the impact of the war in books so I believed that a history expert's real war experience would give us a new perspective. The good reviews about his passion and smooth communication skill convinced us to choose Jackie as our tour guide in this journey. We came to Vietnam with enthusiasm and curiosity.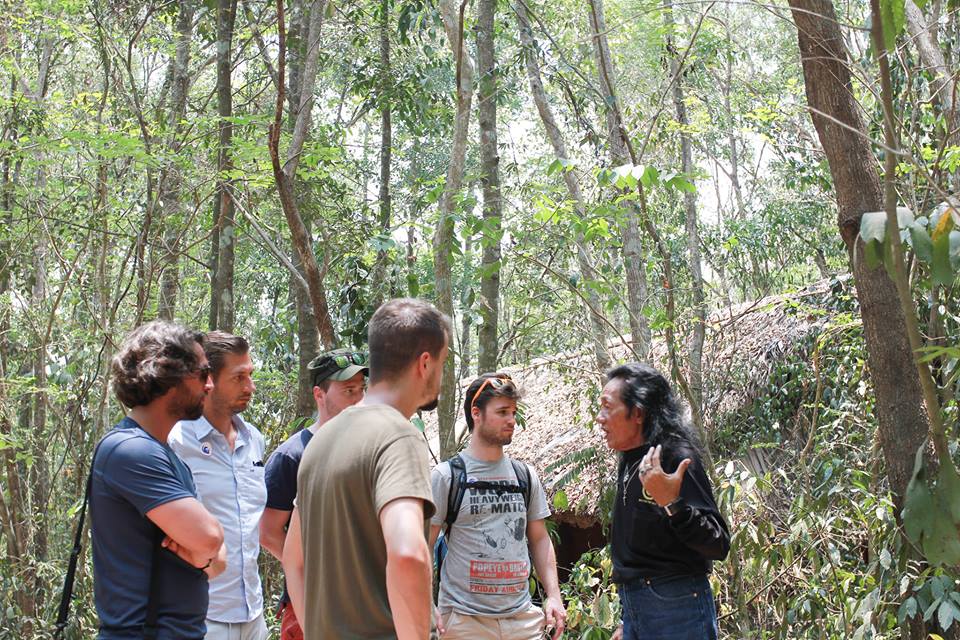 Hoc Mon Handicap Art and Craft Factory
Our kind tour guide Jackie led us to a lovely coffee shop to have a quick breakfast for getting ready for the next long journey. The first stop of our journey is Hoc Mon Handicap Art and Craft Factory in Hoc Mon, a suburban district of Ho Chi Minh City. We observed the process in which the handicapped produce crafted paintings from seashells.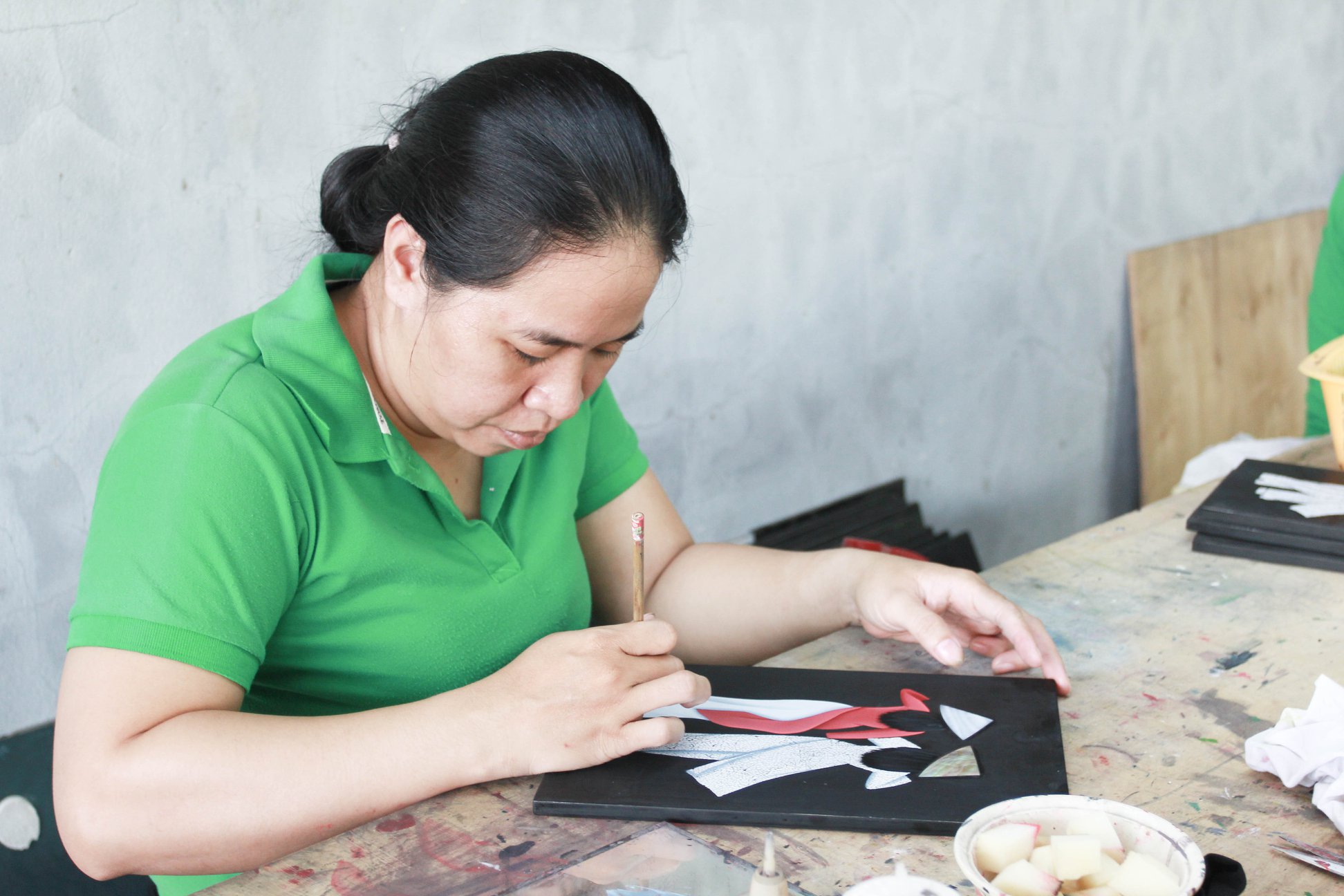 This type of art requires perfection in every detail, so the craftsman must be skillful in shaping the work with very small seashells or eggshells. Eggshells and seashells are commonly used as materials in the process of painting lacquer paintings. In addition, the basic ingredients also have pigments and Rhus Succedanea paint. The artisans also use lacquer in the technique of coloring, grinding by natural materials like coal, shells...
Cu Chi Tunnels Tour
In the road to Cu Chi Tunnels, he explained to us in detail about how Vietnamese people suffered from chemicals weapons, especially the second generation. Through his insightful perspective towards incidents and events in the wars, we were impressed with the new image of Vietnam: a heart-breaking but magnanimous Vietnam.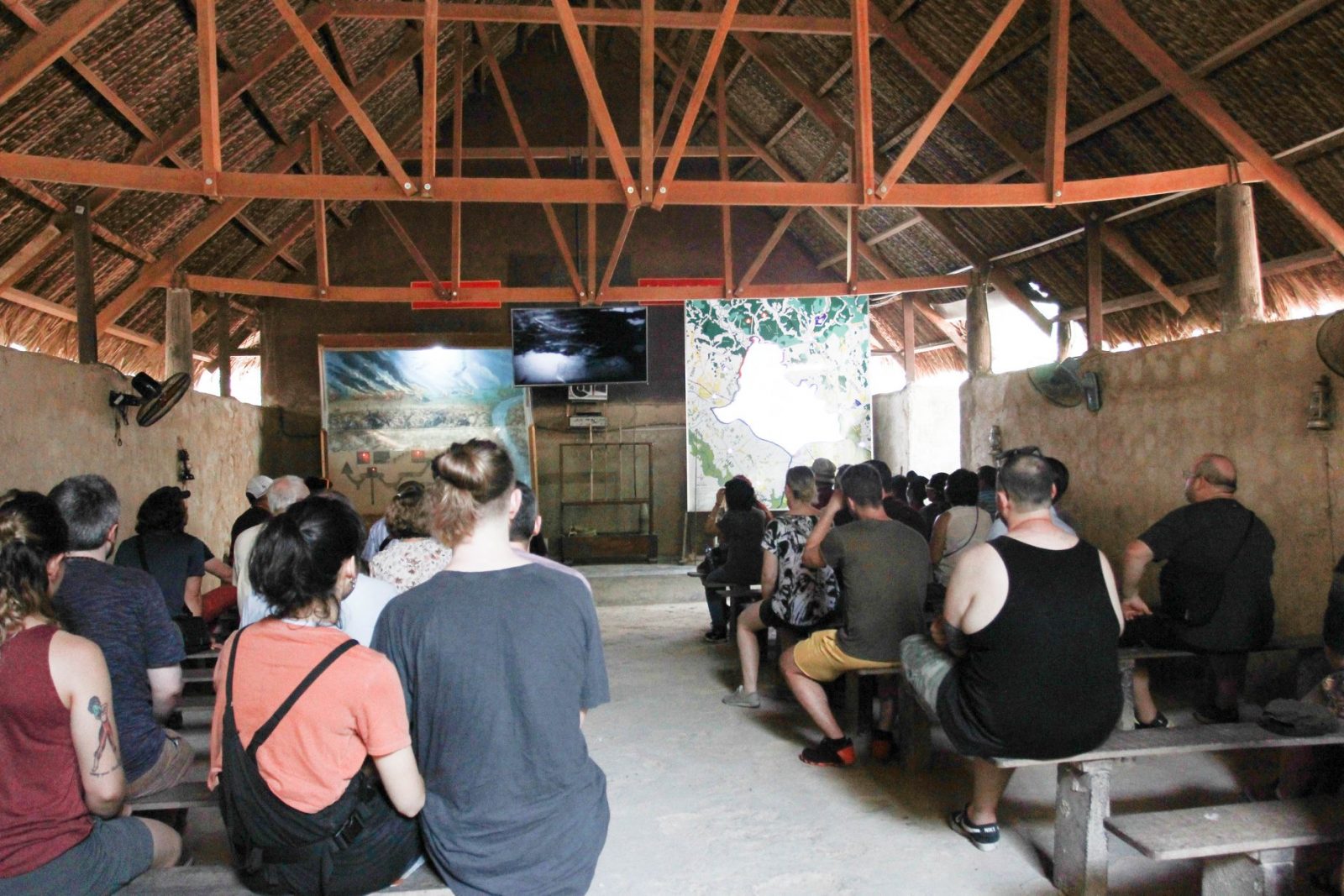 Along with the emotion aroused by the vivid storytelling style of Jackie, we climbed down the tunnel, which have been enlarged for Western travelers. Each of the different locations has specially closed gates used to stop the enemy or toxic gas and all tunnels have secret vents to the ground and are very discreetly camouflaged. We visited Cu Chi in dry season so the tunnel tour is less damp and more convenient. The lack of light scared us a little but the tour guide was truthful. He knew the ways as if he was the map himself.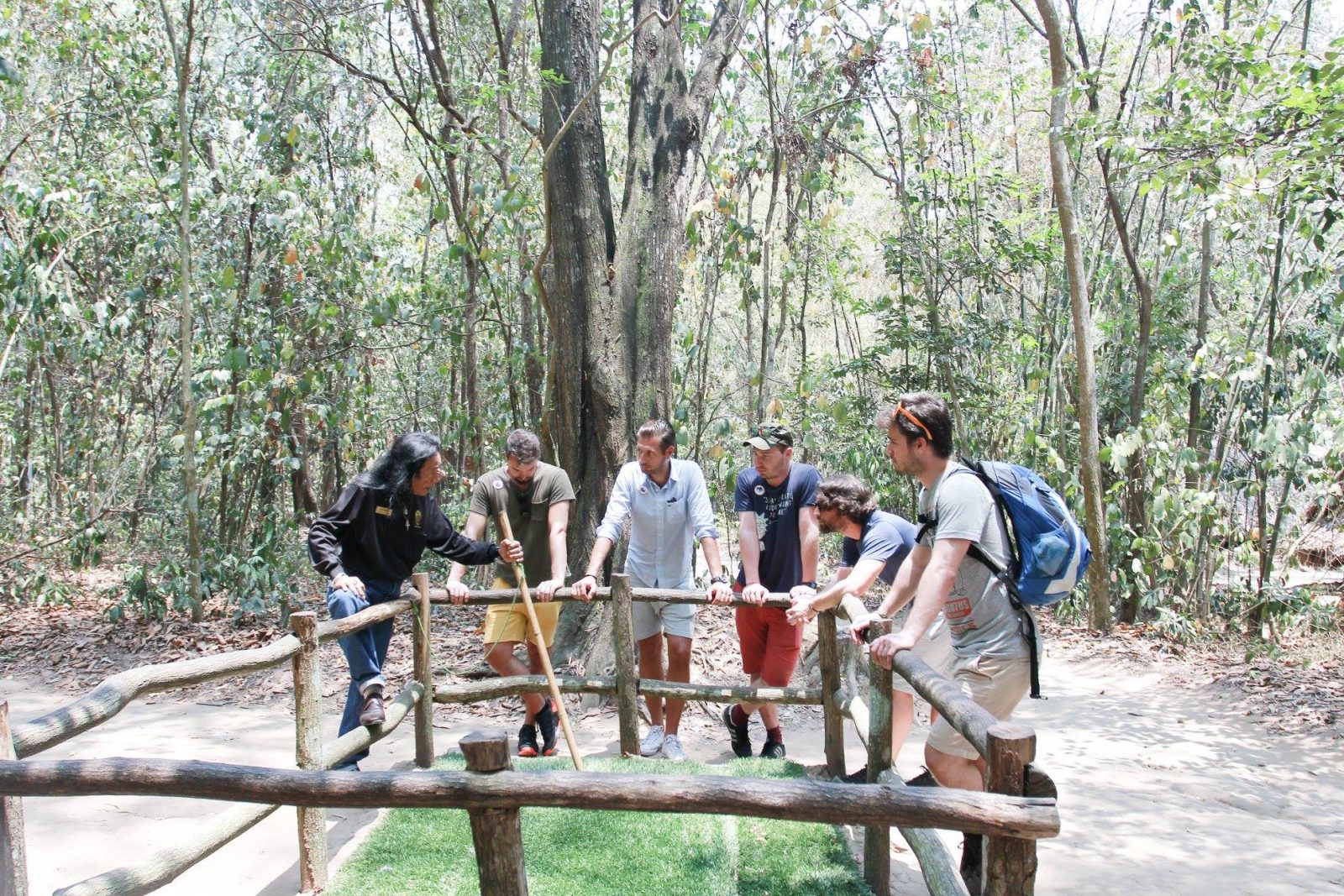 The frightening traps were death threats for many US soldiers. Jackie also introduced us soldiers' lifestyle and activities and offered us to experience the habitat and surrounding where they resided Cu Chi in the wartime. Cu Chi Tunnels is an entire underground city. It had stockpiles of firearms, ammunition, and explosives of all kinds, food supplies, battlefield facilities, and smoke-free kitchens (Hoang Cam kitchen), hospitals for the wounded, and bedrooms and shelters for women, children and the elderly. It is small but fitted with the necessary areas. I greatly admire Vietnamese soldiers for their resilience and audacity against all odds and scarcity.
Lunch at Ben Nay restaurant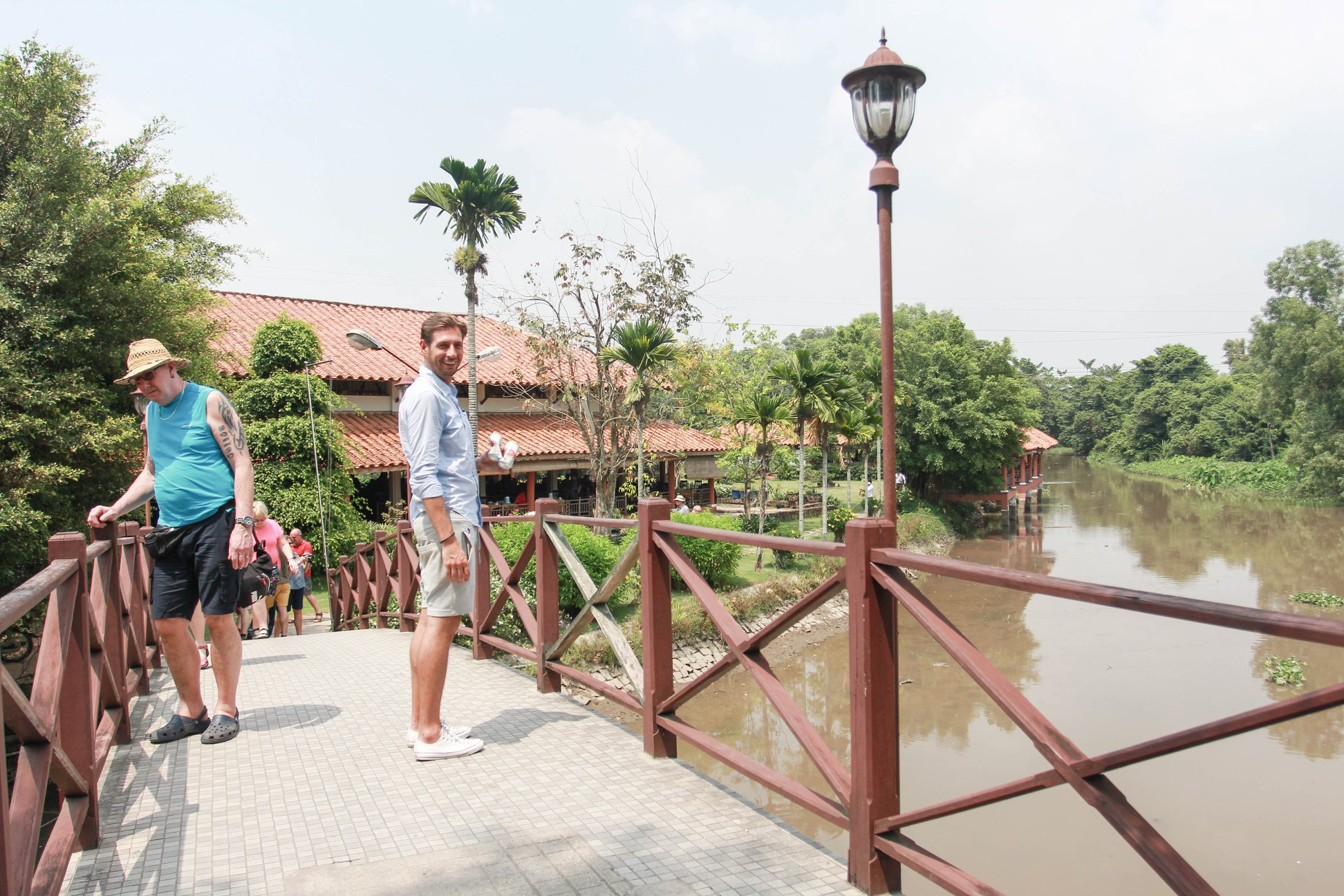 We left the tunnel area to have lunch at Ben Nay restaurant, eating water spinach served with Saigon Beer. I have heard once that Vietnam is the largest beer-drinking nation in Southeast Asia so having a unique drinking culture is a matter of course. Friends grab their glasses of beers then lift them up and toast to their heart's content. It must be cheery and loud to release all our own exhausting thought as Jackie's guide. Luckily we had Jackie as the guide during the journey. He not only actively interacted with us by making jokes to wake our group up but also cared about our well-being states. During the meals, he led the conversations so well enough to make us feel like the locals, fully enjoying our lunch like Vietnamese. We talked about our next destinations to visit in Ho Chi Minh city. Jackie gave us recommendation of historical sites  Thich Quang Dai pagoda named after the great Thich Quang Dai Buddhist priest, Independence Palace, and Ho Chi Minh Museum. Between the stories, he eagerly expressed his own opinions on Vietnam history like how he thought about Ngo Dinh Diem government. I had to say insider's perspective always clearer than foreigners like us. Luckily again, private tours offered us the chance to meet Jackie.On the way back, we talked eagerly about well-known sites along the streets such as Vietnamese tobacco and beer factory. Jackie encouraged us to relate to the equivalent industry in Slovakia. Slovakia or Vietnam, our country always has stories to tell.
Reflection
After a whole day of exploring Cu Chi, we took a rest at the hotel before preparing our packs for the next exotic destinations in Vietnam. It could be the old beautiful Hanoi or Mekong Delta, the agricultural heartland of Vietnam. However, Cu Chi tunnels tour with Jackie will always be alive in our heart. And one part of beautiful Vietnam will mark in my travel note with its woeful and majestic history.