Comprehensive guide to Hue 20 Best Hotels & Resort
Located in central Vietnam, 100 km to the north of Da Nang, Hue was the capital city of Vietnam in the 18th and 19th century. Like Hoian, Hue is appreciated with its ancient vibe. Encompassing the Imperial City, palaces, shrines, the Forbidden Purple city, Royal Theater, etc., Hue attracts thousands of visits daily to admire its traditional royal architecture. Not only being surrounded by ancient buildings, the city is also filled with luxury Hue hotel and resorts for the most comfortable stay.
Mark this article to help you plan for your next trip to the central Vietnam region, especially Hue city. These 5-star Hue hotels can ensure the best staying experience for you. Also, there's no need to worry if it's your first time to Hue. We've got your back with our Hue ultimate travel guideline.
1. Azerai La Residence
With colonial designed villas spreading over 200m on the bank of the poetic Perfume River (Huong River) Staying in a well furnished room with spacious terrace, TV, minibar, private bathroom and the scenic views of the city or river. In addition, a tennis court, pampering spa and fitness center are also available at this Hue Hotel. Within just 2 km away from Azerai La Residence, you can reach many historical sightseeing places such as Imperial Citadel, Dong Ba market, An Dinh palace. Besides, it takes you only a 17-km of driving from Phu Bai international airport.
Address: 5 Le Loi Vinh Ninh ward, Hue
Rating: 4.5/5 (TripAdvisor)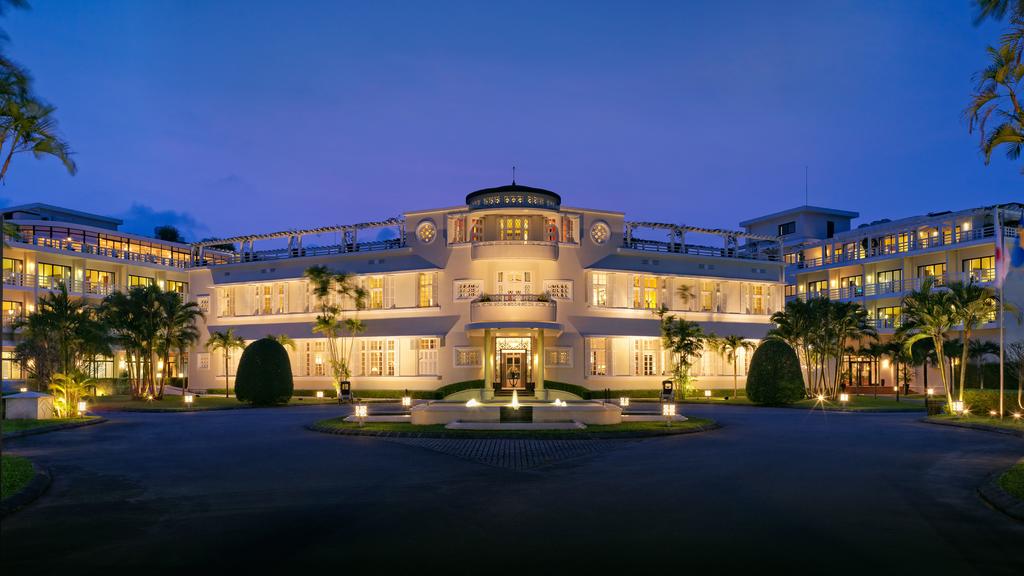 2. Sankofa Village
If you don't want to travel far to some historical sites at Hue such as Tomb of Tu Duc, Thien Mu pagoda, etc., Sankofa Village is one of the best choices for your Hue hotel. This 5-star resort provides you accommodation with first class amenities along with excellent service and dining. Located in the area famous for cycling, the hotel offers you with free use of a bicycle to ride and explore around the scenic countryside.
Address: 8 Ngoc Hoi, Huong Tra, Hue
Rating: 5.0/5 (TripAdvisor)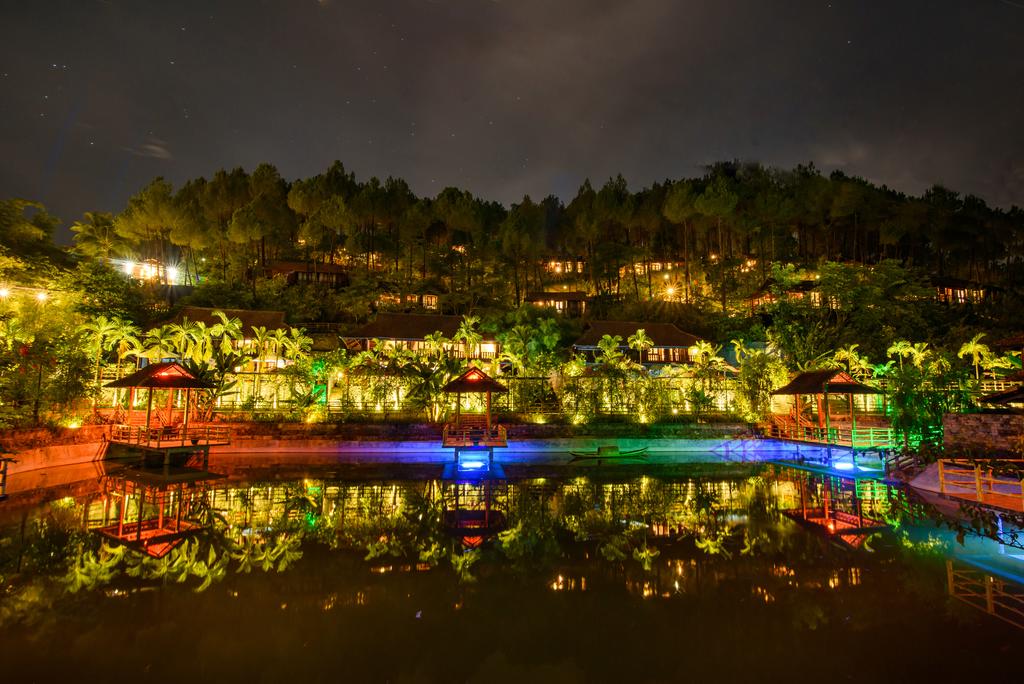 3. Alba Wellness Resort by Fusion
Offering free bikes service and free WiFi access, Alba Wellness Resort By Fusion covers natural mineral hot springs, onsen and spa facilities sitting on 2,000 sqm. A plenty of treatment activities including foot massage, Pink Himalaya salt scrub, walking meditation and yoga, as well as cycling. English and French speaking staff are available at 24/7 reception at your service and can also give advice on what to do or places to go.
Address: Phong Son, Phong Dien, Hue
Rating: 5.0/5 (TripAdvisor)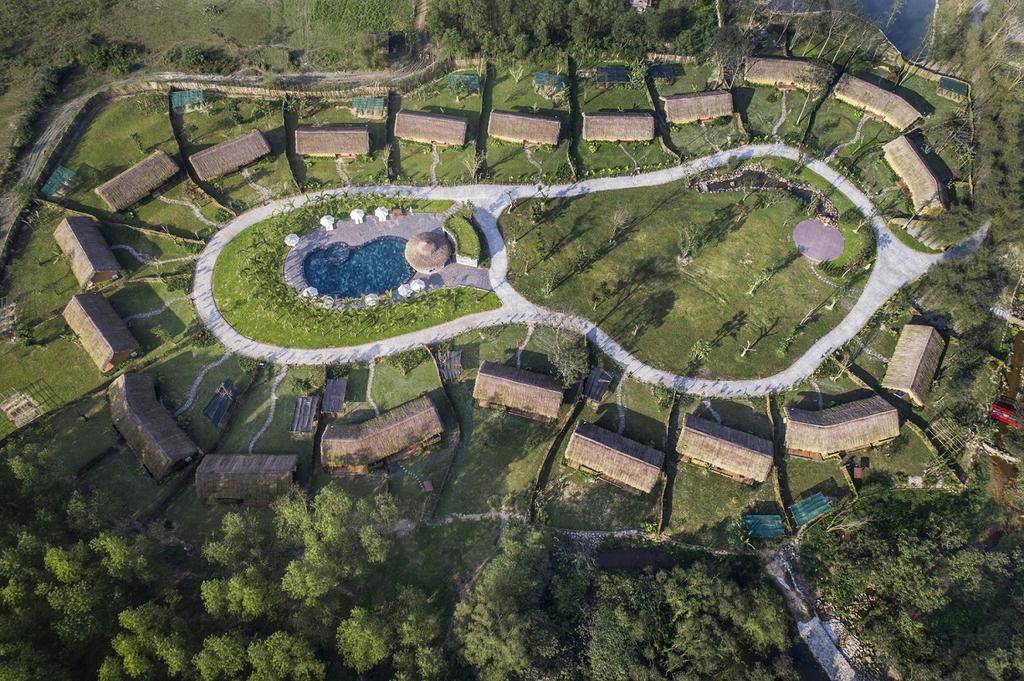 4. Vedana Lagoon Resort & Spa
This Hue 5-star hotel offers guests with luxurious staying standards. Over-water villas, free wifi, outdoor pool and wellness spa service are available at Vedana Lagoon Resort & Spa. Also, fresh seafood and magnificent ocean views are offered at the Horizon restaurant. Dining at this elegant restaurant under a sky full of stars is a must-try experience.
Address: 41/23 Doan Trong Tuyen, Phu Loc, Hue
Rating: 4.5/5 (TripAdvisor)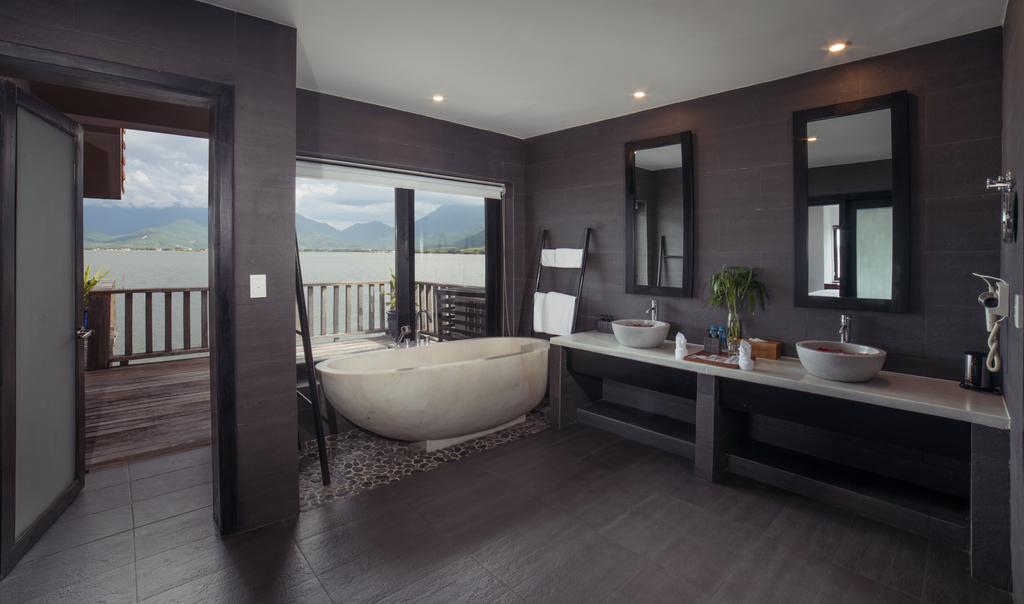 5. Indochine Palace
Situated in Hue's city centre, Indochine Palace offers capacious and contemporary accommodation with free WiFi. An outdoor pool, night club and 5 dining options are some of the facilities available. Besides enjoying your day in a picturesque and charming Hue, you can have diverse activities to experience in a poetic scenery of night. Here is our suggestion for top 10 things to do in Hue at night.
Address: 105A Hung Vuong, Hue
Rating: 4.5/5 (TripAdvisor)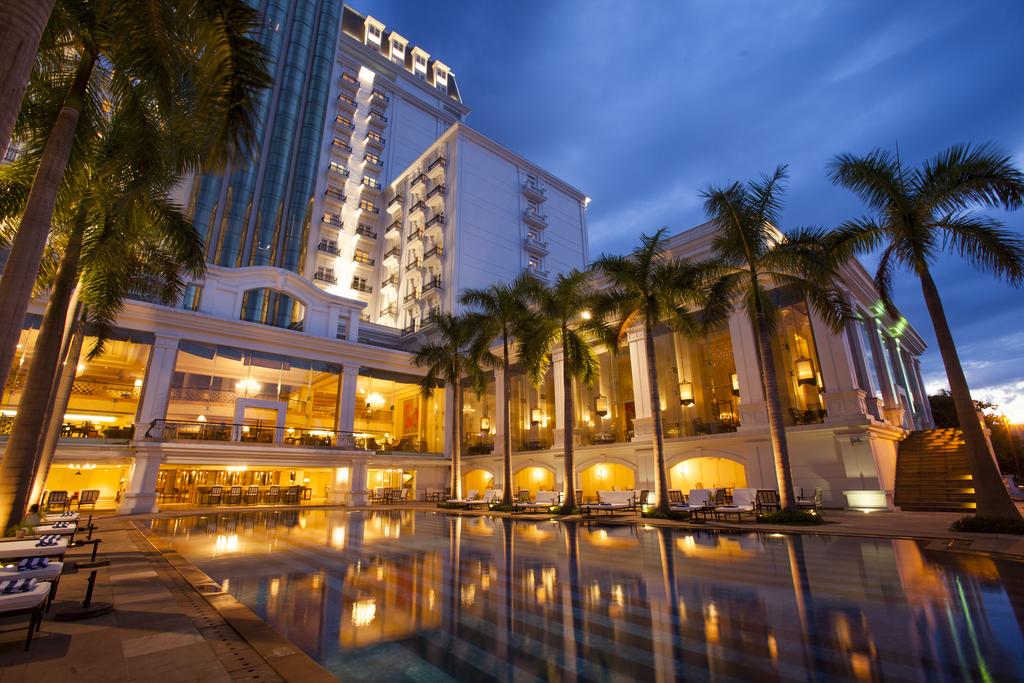 6. Ana Mandara Hue Beach Resort
Rooms at Ana Mandara Hue Beach Resort provide roomy Vietnamese-inspired design and come with private balconies with magnificent views of the city. Large and luxurious bathrooms with bathtubs are available. Also, each air-conditioned room is well equipped with necessary amenities such as satellite TV, a safe and tea/coffee making facilities.
Address: 131 Nguyen Van Tuyet, Thuan An, Hue
Rating: 4.5/5 (TripAdvisor)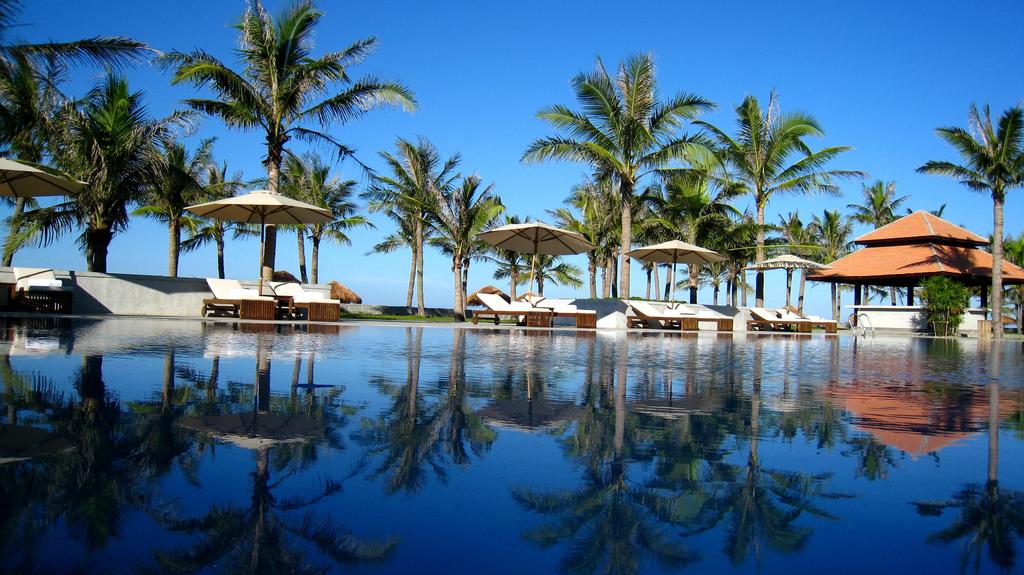 7. Imperial Hue Hotel
In just a 2-minute walk from Imperial Hue Hotel, you can find yourself at some attractive destinations such as Truong Tien Bridge, Imperial Hue Hotel. Moreover, cosy accommodation with air conditioning overlooks the charming Perfume River and features free hi-speed WiFi access, an outdoor swimming pool, 3 dining options and a bar with sweeping city views. Free parking is available. The hotel itself is a unique masterpiece in terms of appreciating the modern architecture of Eastern Asia combining with design from the Imperial City of Hue.
Address: 08 Hung Vuong, Hue
Rating: 4.5/5 (TripAdvisor)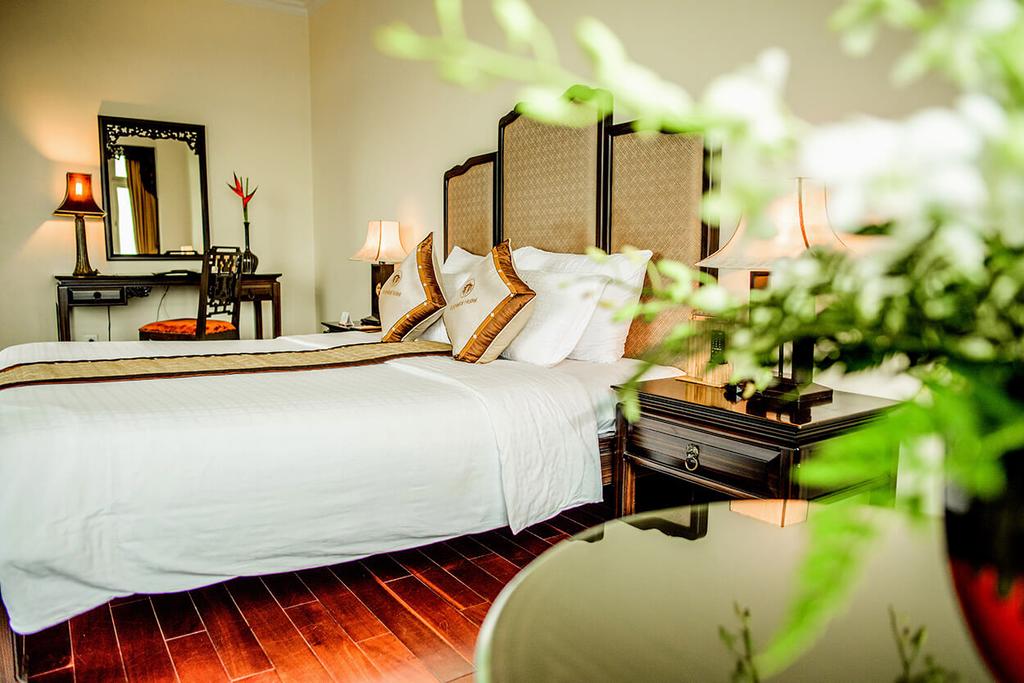 8. Saigon Morin Hotel
Featuring French colonial architecture, the hotel boasts an outdoor swimming pool and 3 dining options. Dong Ba Market and Dieu De National Pagoda are within a 5-minute drive from Saigon Morin Hotel. The nearest airport is Phu Bai International Airport, a 30-minute drive from this Hue hotel. Featuring WiFi access, all rooms are furnished with air conditioning, a desk and personal safe. Views of the city, river and/or swimming pool can be seen from certain rooms.
Address: 30 Le Loi, Hue
Rating: 4.5/5 (TripAdvisor)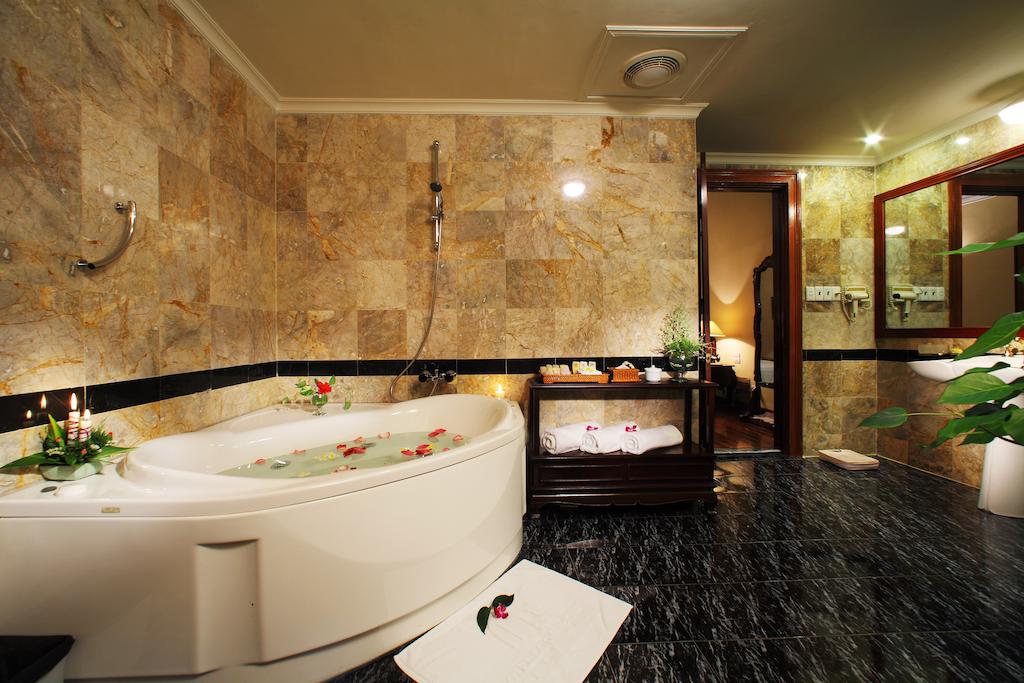 9. Pilgrimage Village Boutique Resort & Spa
Ideally located in the quiet countryside in a rustic village setting, Pilgrimage Village Boutique Resort & Spa can still provide you with high standard staying experience. It offers authentic Vietnamese culture and hospitality, extensive spa treatments, and onsite bars and restaurants. Also, shuttle buses are available for guests to travel to central Hue. Nearby attractions include tombs of Khai Dinh, Tu Duc and Minh Mang, kings of the Nguyen dynasty in the 19th century.
Address: 130 Minh Mang, Hue
Rating:/5 (TripAdvisor)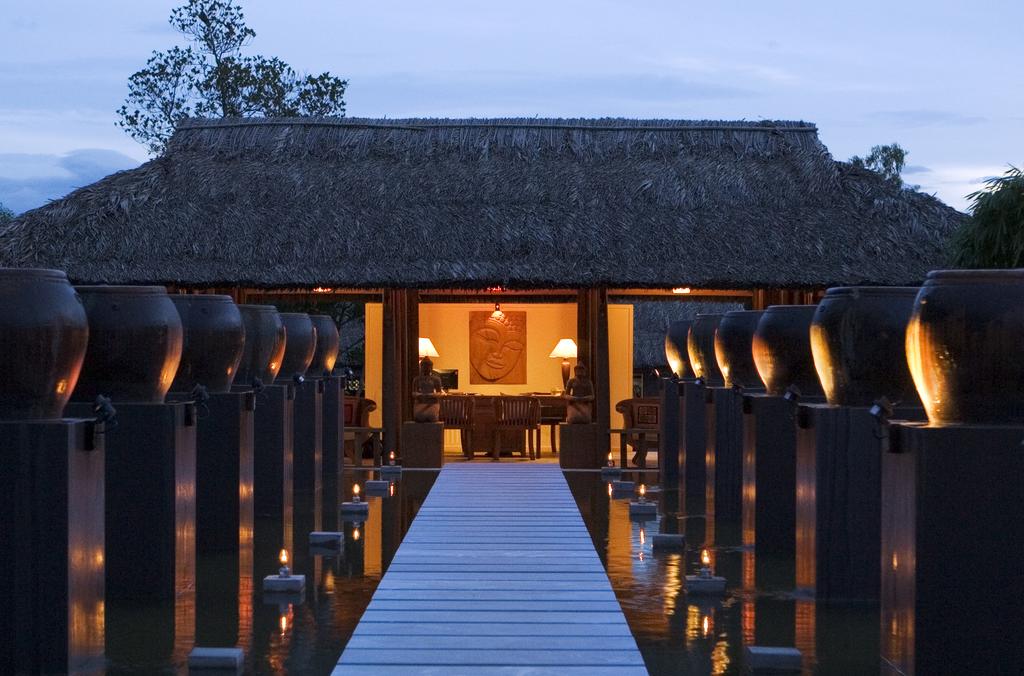 10. Vinpearl Hue Hotel
Owning a fitness centre, bar and views of the city, Vinpearl Hotel Hue is located in the heart of Hue. Among the facilities of this property are a restaurant, a 24-hour front desk and room service, along with free WiFi throughout the property. The Hue hotel has an indoor pool for you to relax on hot days. Many sightseeing spots are within a short distance from the hotel. The Museum of Royal Antiquities is 2.3 km from Vinpearl Hotel Hue, while Dong Ba Market is 2.3 km from the property.
Address: 50A Hung Vuong, Hue
Rating: 4.5/5 (TripAdvisor)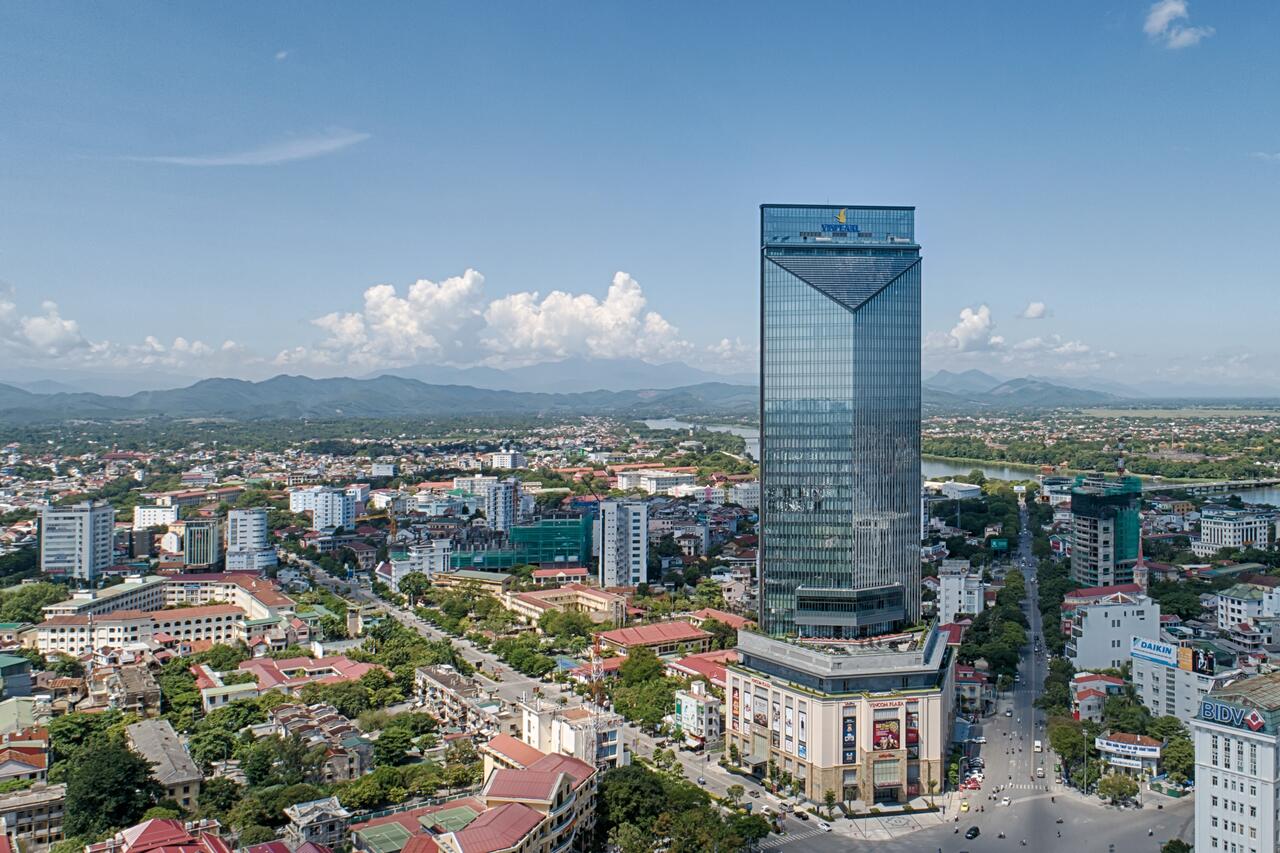 11. Eldora Hotel
Opened in 2014, Eldora Hotel is considered one of the iconic buildings in the skyline in the center of Hue. This 4-star Hue hotel has a blending design of colonial elegance and modern conveniences and provides you a luxury accommodation with excellent service. Perfectly set near many UNESCO listed World Heritage sites, the property brings you opportunities to explore Complex of Hue Monuments. Read more about this iconic site here.
Address: 60 Ben Nghe, Hue
Rating: 4.5/5 (TripAdvisor)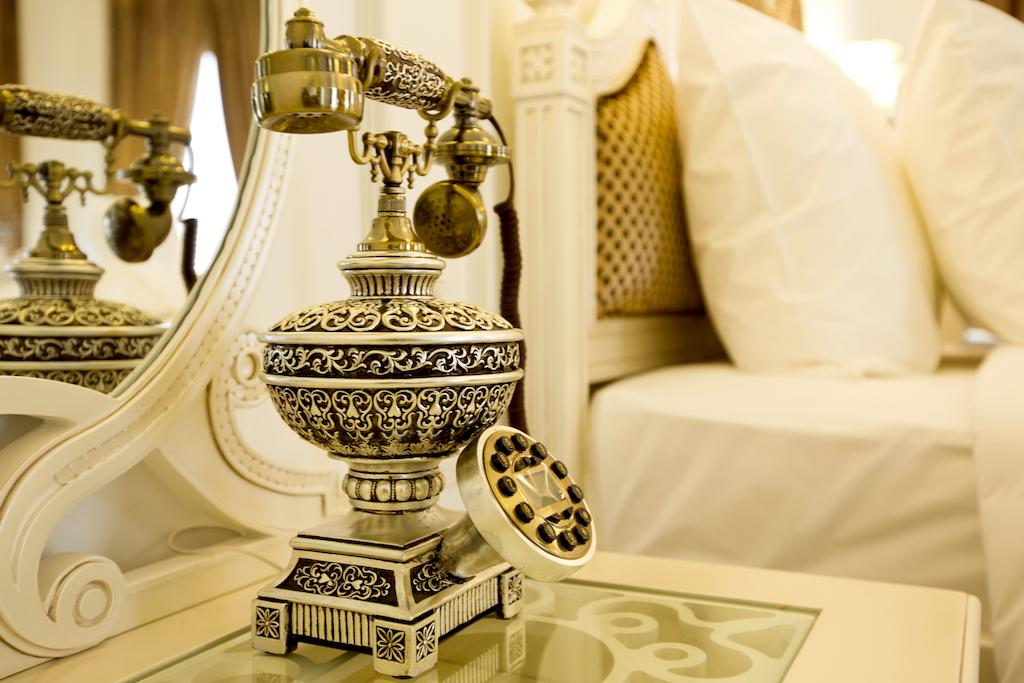 12. Alba Spa Hotel
Located just 500 metres away from Perfume River (Huong River) in Hue, Alba Spa Hotel offers comfortable accommodation in an unwind atmosphere. Featuring a pastel palette, this property offers the Alba hot and cool mineral spa pool where guests can improve their health by enjoying a bath - an age-old practice to maintain health and vigor.
Address: 29 Tran Quang Khai, Hue
Rating: 4.5/5 (TripAdvisor)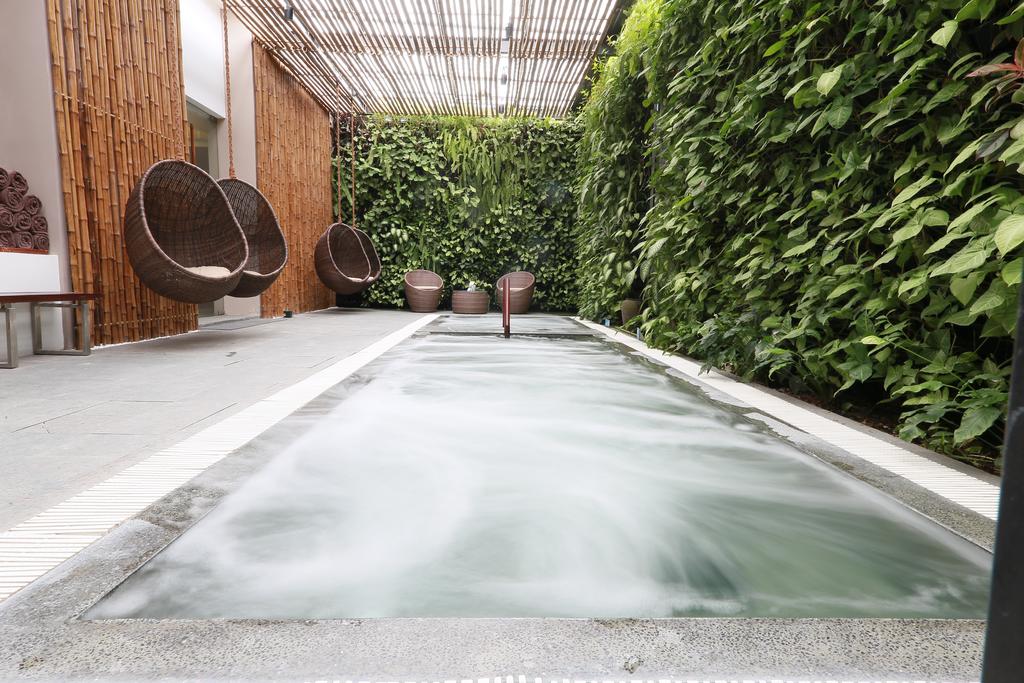 13. Villa Hue Hotel
Located in the center of the city making it a gateway access to the beautiful Perfume River and surrounding city attractions, Villa Hue is a 29-room boutique hotel. This Hue hotel is located inside Hue Tourism College and in a short distance to the main tourist area of Hue City. Featuring garden views and a seating area, air-conditioned rooms offer a flat-screen TV with cable channels and a minibar. The en suite bathroom comes with a bathtub, hairdryer and toiletries.
Address: 7 lane 66 Le Loi, Hue
Rating: 4.5/5 (TripAdvisor)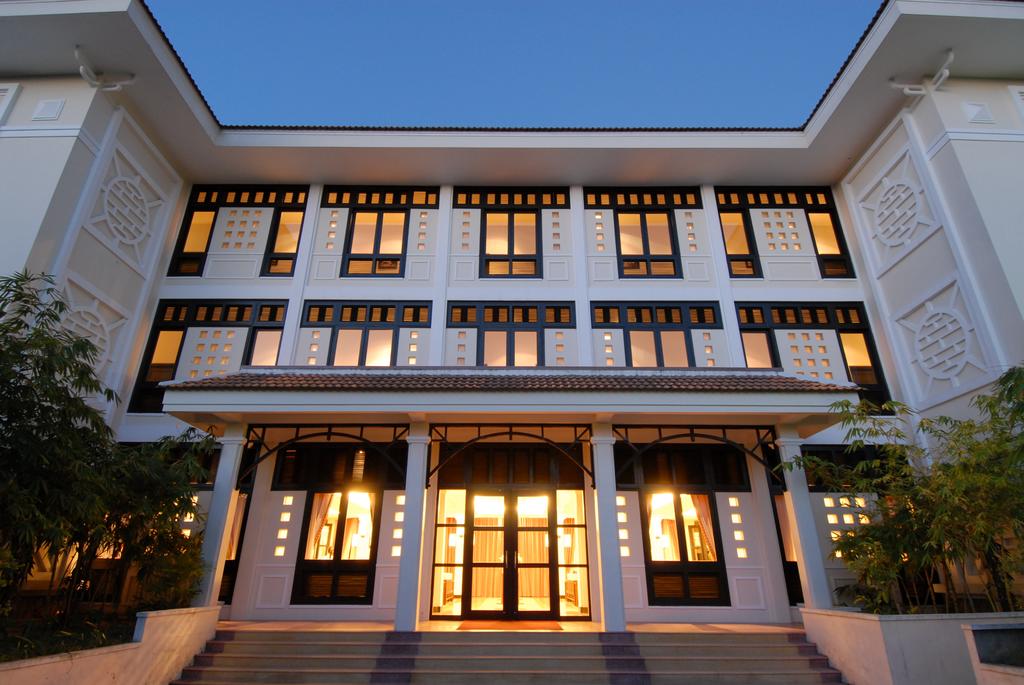 14. Moonlight Hue Hotel
Placed in the heart of Hue City with its very own indoor swimming pool, Moonlight Hue Hotel is just a 5-minute drive to the popular Dong Ba Market. Contemporary rooms are well furnished and equipped with air-conditioning. Rooms at Moonlight Hotel Hue are equipped with a flat-screen TV with satellite channels, a minibar and a telephone. En suite bathrooms include hot/cold shower facilities or a bath and a hairdryer.
Address: 20 Pham Ngu Lao, Hue
Rating: 4.5/5 (TripAdvisor)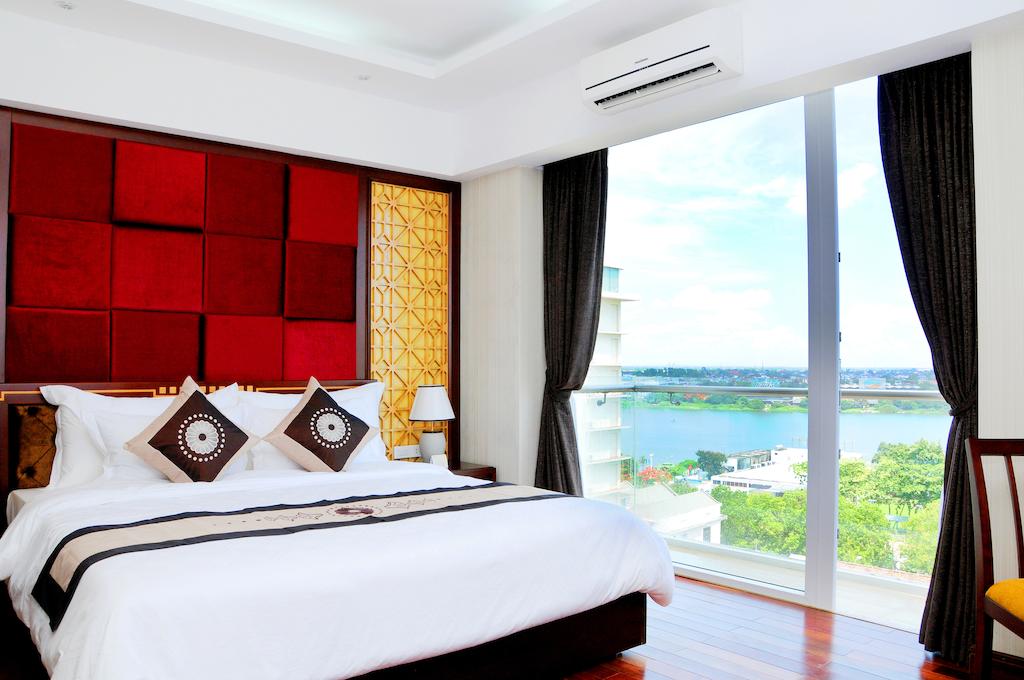 15. Cherish Hue Hotel
Cherish Hotel includes 11 floors with 98 well-equipped and spacious rooms, created from stone, brick and wood. The hotel was designed carefully and elegantly in order to bring a unwind private and comfortable space to guests. Rooms are well-appointed and fully air-conditioned. All the rooms come with a 26-inch plasma TV, a personal safe and a seating area. En suite bathrooms include bath amenities and shower facilities.
Address: 57 Ben Nghe, Hue
Rating: 4.5/5 (TripAdvisor)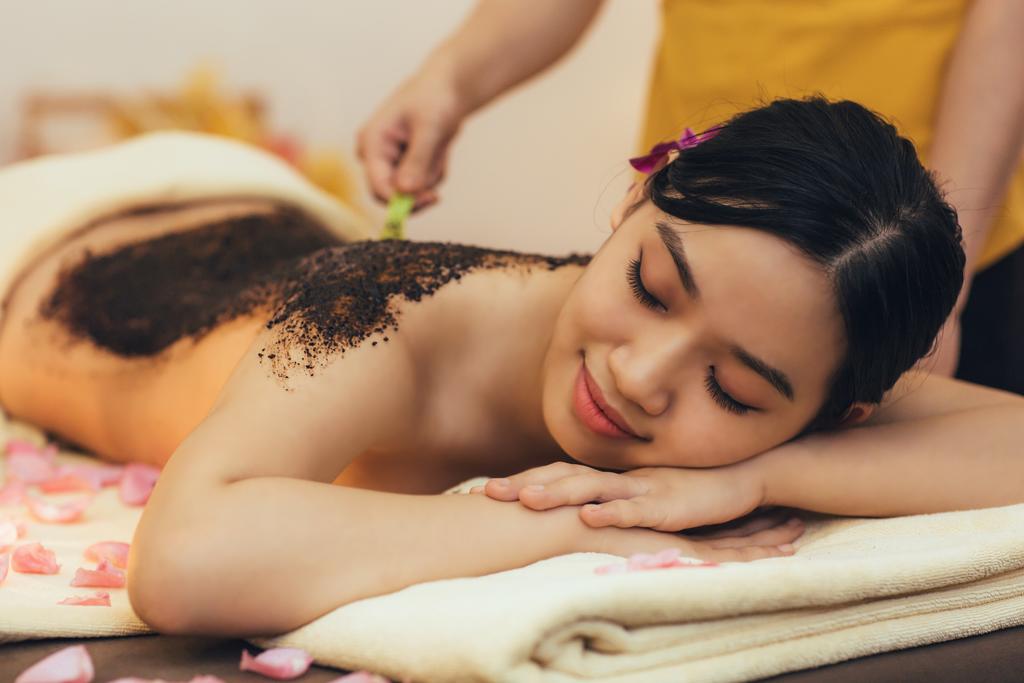 16. ÊMM Hue Hotel
Located in Hue city centre, ÊMM Hue Hotel is just a 5-minute drive to the Huong River and Trang Tien Bridge. Featuring a garden, it offers luxury accommodation and an in-house restaurant. Free WiFi access in all areas and free private parking are available. Staff at the 24-hour front desk can assist you with luggage storage. Car rental and airport transfers can be arranged at an additional charge.
Address: 15 Ly Thuong Kiet, Hue
Rating: 4.5/5 (TripAdvisor)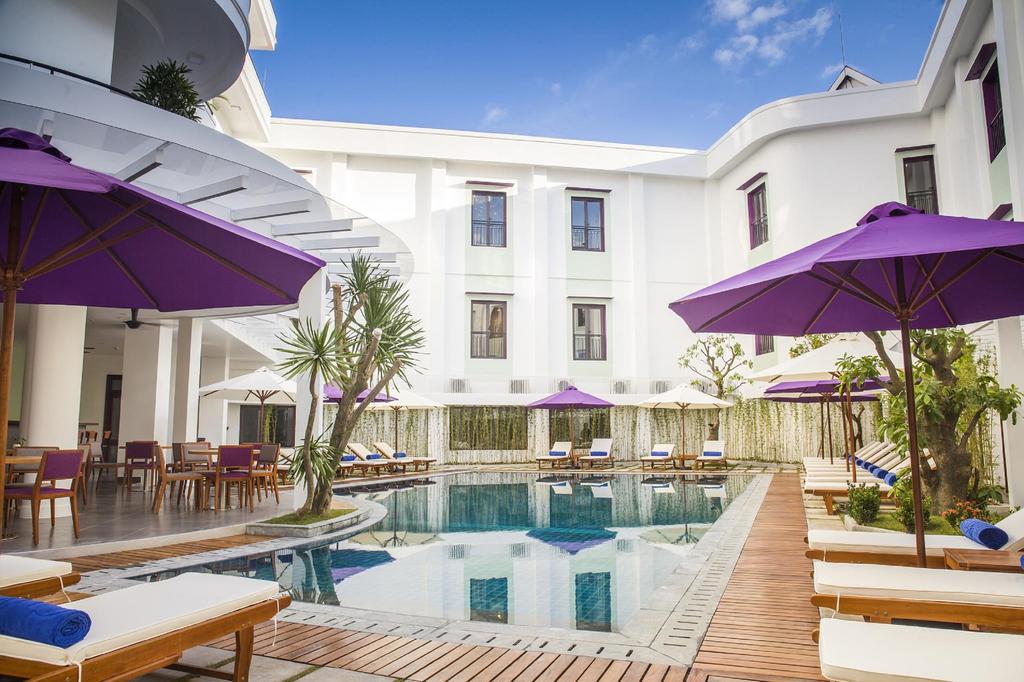 17. Midtown Hue Hotel
Guestrooms at Midtown Hotel Hue open to a balcony with city, Perfume river views. Guests can lie by the swimming pool or keep in shape at the fitness centre or get a relaxing treatment with sauna facilities, body and foot massage services in the hotel. Daily breakfast buffet is served with a wide selection of tasty foods and diverse drinks. You can admire the beauty of Hue city at nightfall from the Sky Bar on the top floor of the hotel.
Address: 29 Doi Cung, Hue
Rating: 4.0/5 (TripAdvisor)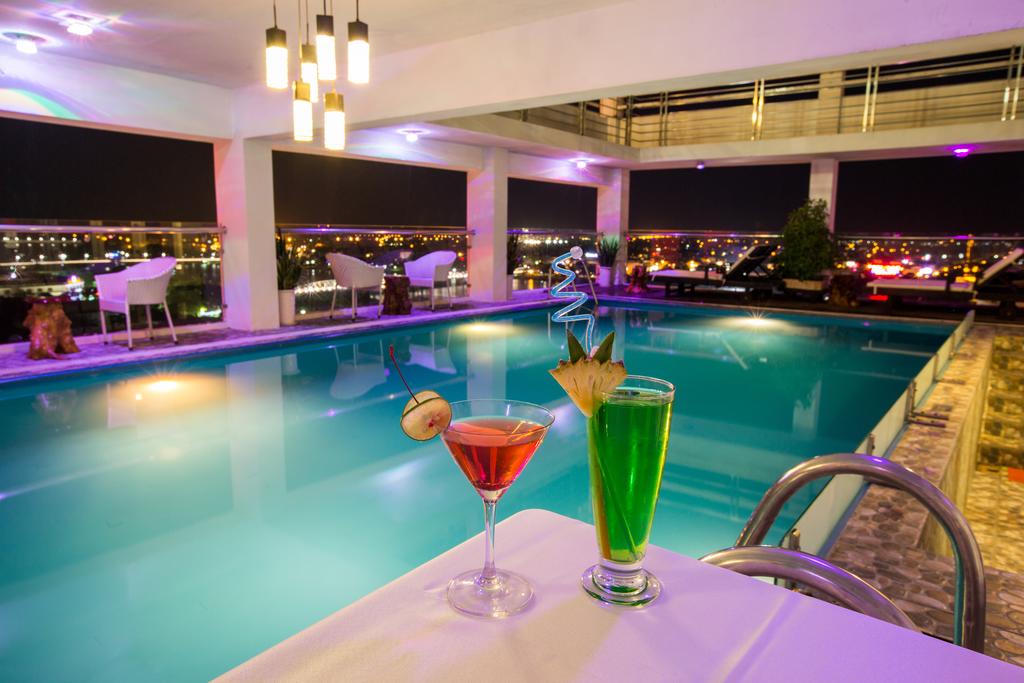 18. Park View Hotel
This 4-star hotel offers spacious accommodation, free Wi-Fi, and free parking in the heart of Hue city. Perfume River and shopping areas are nearby. Park View Hotel is 15 minutes drive away from Phu Bai International Airport. Located in the center of City and is within walking distance to tourist attractions, including the romantic Perfume River and the Forbidden Purple City, the Park View Hotel offers an ideal establishment from which to explore the inspiring city of Hue.
Address: 9 Ngo Quyen, Hue
Rating: 4.0/5 (TripAdvisor)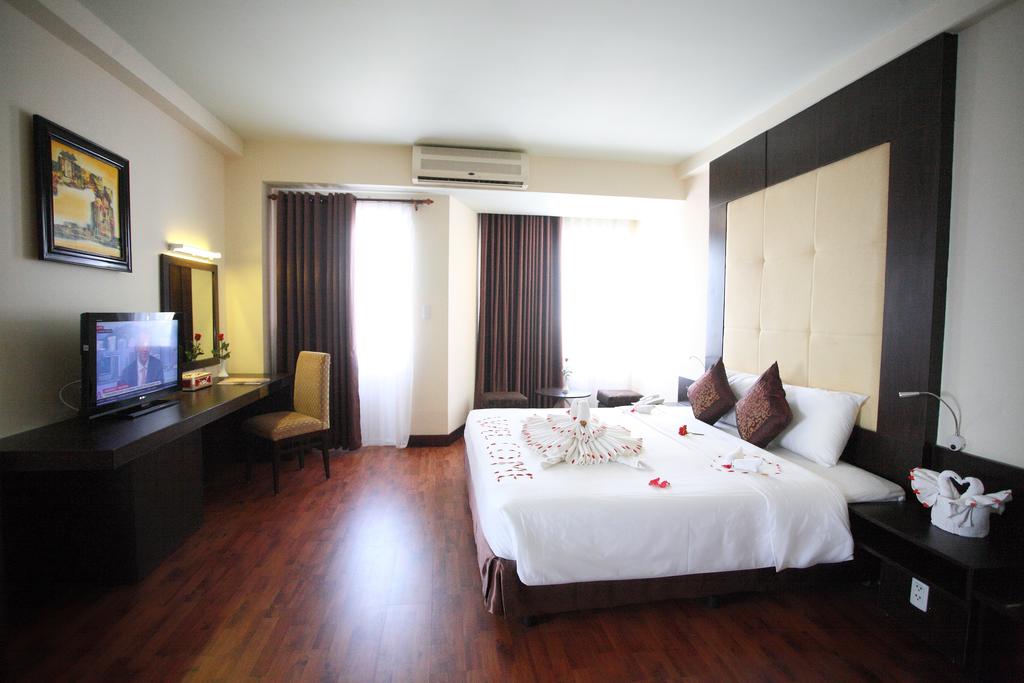 19. Banyan Tree Lang Co
On the south-central coast of Vietnam, the luxurious Banyan Tree Lang Co is a vast complex of Vietnamese royal architecture. Open courtyards, pottery and traditional Vietnamese fabrics feature throughout the resort. All the spacious villas come with a private pool and free WiFi. Guests are entitled to roundtrip airport transfer service.
Address: Cu Du village, Loc Vinh, Hue
Rating: 5.0/5 (TripAdvisor)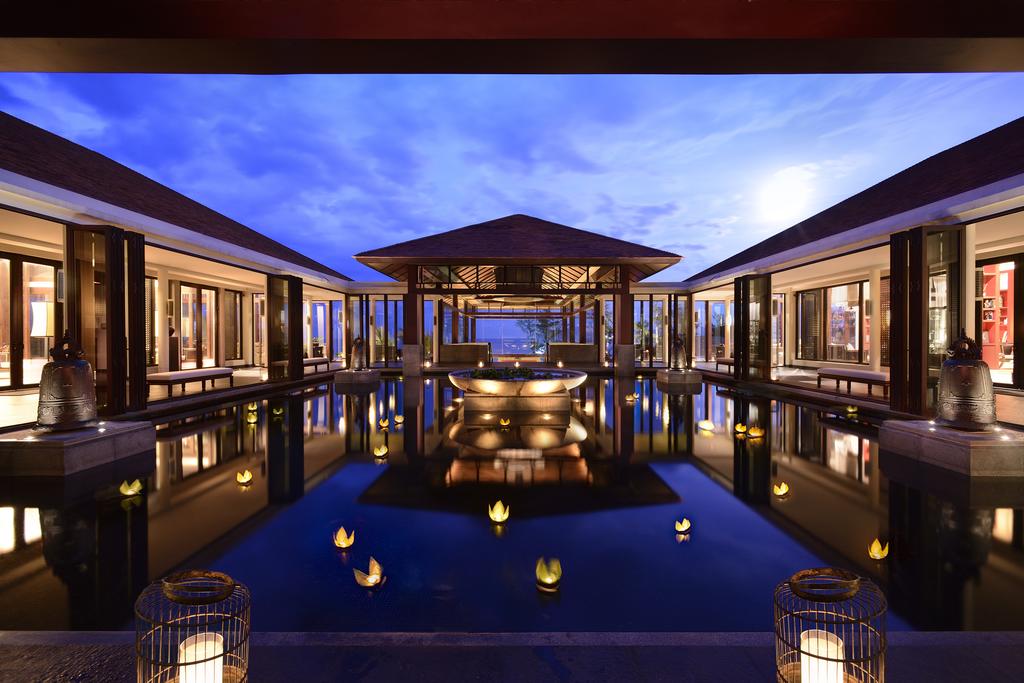 20. Angsana Lang Co
The spacious rooms, suites and lofts come equipped with a flat-screen satellite TV and DVD player. En suite bathrooms have a bathtub, hairdryer, bathrobe and free toiletries. Suites and lofts have a kitchenette and spacious living area. Nestled in the foothills of the "Truong Son" mountains, the resort in Lang Co. Vietnam looks out over a magnificent 3 km sandy beach on a crescent bay. You have found an idyllic haven in which to enjoy, relax and indulge yourself
Address: Cu Du village, Phu Loc, Hue
Rating: 4.5/5 (TripAdvisor)