Located at the eastern edge of mainland Southeast Asia, Vietnam has a charming S-shaped curve with a beautiful coast. It has a tropical monsoon climate and is a lovely destination to visit all year round. Choosing the best time to visit Vietnam depends on which parts of the country you want to visit, seasonal climates, and festive occasions.
To help you figure out the most suitable time to book your flights, here's our guide on when to travel to Vietnam.
Spring (February to April) - The best time to fly to Vietnam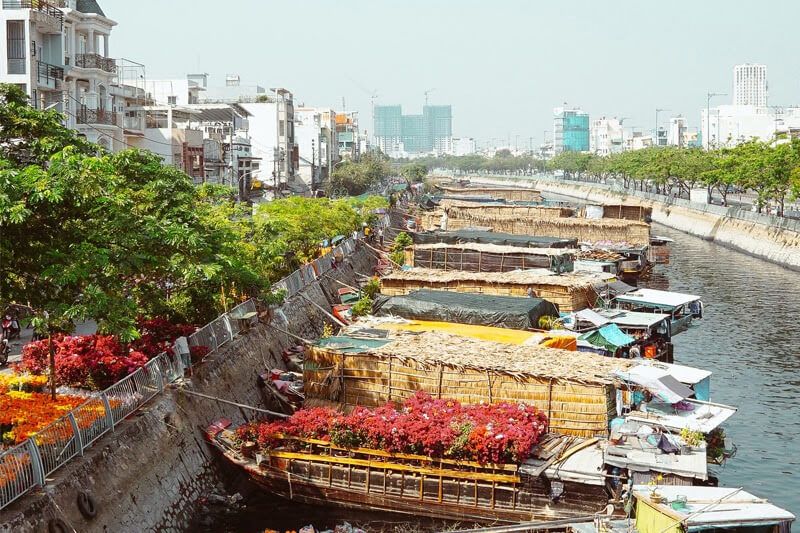 Vietnam welcomes Tet Holiday (Tet Nguyen Dan) - Vietnamese New Year from late January to early/mid- February. Based on the Lunar calendar, so the dates can vary from year to year.
The public holiday may run for one week, but it can last for a month in reality.
In the days leading up to Tet Holiday, markets, supermarkets, trade-centers are crowded with shoppers. There are decorations only sold at this particular time, so if lovely unique souvenirs from Vietnam are your cup of tea, it is an excellent chance to buy them.
In addition, a few days before mid-December in the Lunar calendar, sellers start to sell plants and flowers at flower markets throughout Vietnam. These are the best places to enjoy Tet's atmosphere.
Ho Chi Minh City (Saigon)
In Saigon, you can go to Ben Binh Dong floating flower market, which takes place on the Tau Hu canal in District 8. There are plenty of beautiful and cheap plants transferred from mainly the Mekong Delta by boats.
Hanoi
In Hanoi, Quang Ba flower market, located in Tay Ho district, is one of the biggest wholesale markets selling fresh flowers. It is a perfect place for you to capture a street decorated with colorful flowers.
Other popular places to enjoy the display of holiday flora are Sa Dec flower village (Dong Thap province - Mekong Delta), My Tho Traditional flower market, Bach Dang spring flower street (Da Nang city - Central Vietnam), etc.
However, at this time, it might be difficult for you to travel as transport is booked up and many businesses close. Here are some tips for you:
Transportation: You should ensure to book flights/buses/trains early because these transportations are often booked up in advance about two weeks before or after the Tet holiday (as people return home/travel/go back for work).
Accommodation: If you travel to big cities, there is no need to worry about accommodation because most hotels remain open. However, service prices could be high during Tet Holiday.
Banks will be closed for business during the holiday, so make sure to prepare enough cash for these days.
---
Best time to travel to Vietnam for Beach Lovers: July & August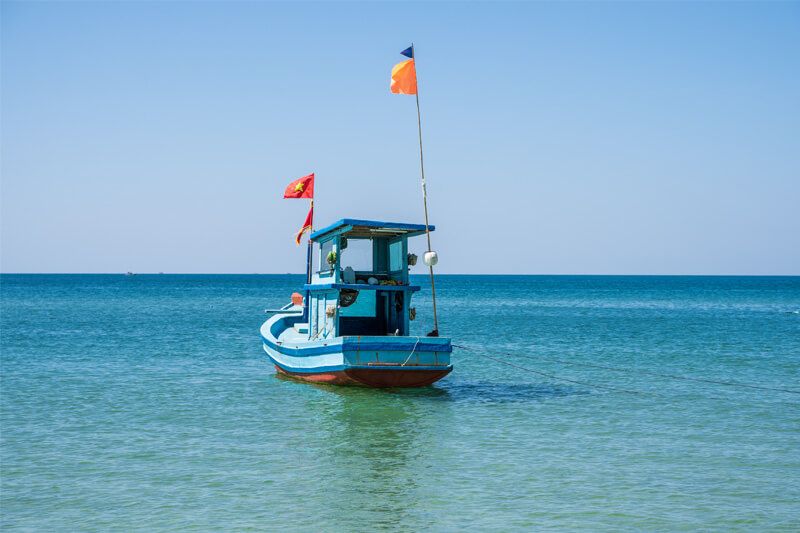 July and August are two peak months for beach vacations in Vietnam. This is an excellent time to enjoy the sunshine on the beautiful beaches, relax, and throw away any stress and worries with the cool water and refreshing wind.
In addition, you can also enjoy many engaging activities such as windsurfing and, scuba diving, just to name a few.
Nevertheless, prices often increase by up to 50% in these months, and it is also challenging to book hotels. So please make sure that you book accommodation in advance.
Apart from the far north, the country is hot and humid during the day (an average of about 35°C) but cooler at night.
Some beautiful beaches Local Insider suggest for you:
Son Tra Peninsula which is in Son Tra District is 13 km away from Da Nang city center.
Cham Island (also known as Cu Lao Cham) is about 18km offshore from Hoi An. When traveling to Hoi An, don't miss out on the chance to visit Hoi An's lantern market.
Ninh Chu is a beautiful beach located in the northeast of Phan Rang city. It takes one hour drive from Nha Trang to this attraction.
Nha Trang - The best time to visit Nha Trang is from February to August during its dry season.
Thuan An Beach is situated by Thuan An estuary. It takes only 15 minutes by car to get there from Hue city.
Con Dao - The best months to book a flight to Con Dao are March and September.
Phu Quoc Island - Bai Truong (Long beach), Ganh Dau beach, Ong Lang beach, Cua Can beach, Vung Bau beach
Don't like tourist crowds? Book a flight to Vietnam in low seasons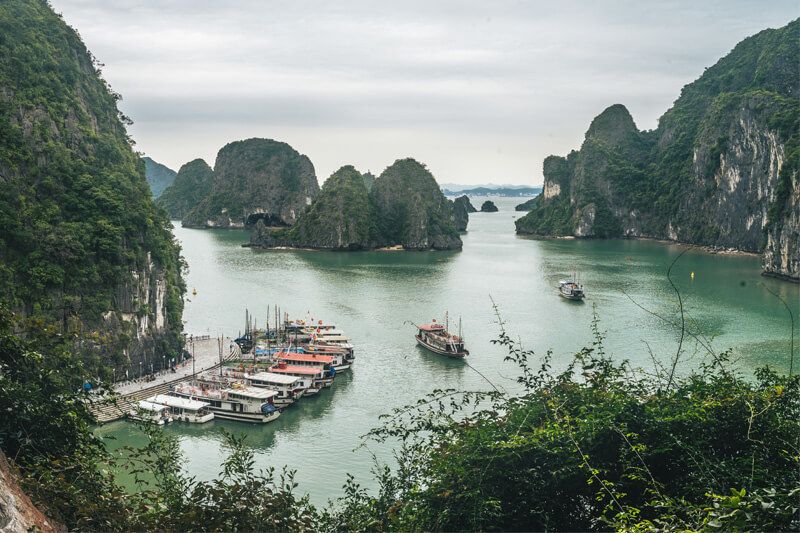 Vietnam's off-seasons fall on April - June and September - November. These periods offer varying weather when you can experience both glorious sunshine and heavy downpours in one day.
In reality, there are several excellent destinations you can visit at this time, such as Ha Long Bay, Sapa, Mui Ne beach, and Phu Quoc Island.
Ha Long Bay
Situated in Quang Ninh province, Ha Long Bay is a beautiful natural wonder of Northern Vietnam.
If you want to see all the beauty of Ha Long Bay (the most popular tourist attraction within Vietnam), these months are ideal to book a tour. The weather is relatively mice in this region. You can enjoy watching the sunset, exploring hidden caves, and kayaking.
Sapa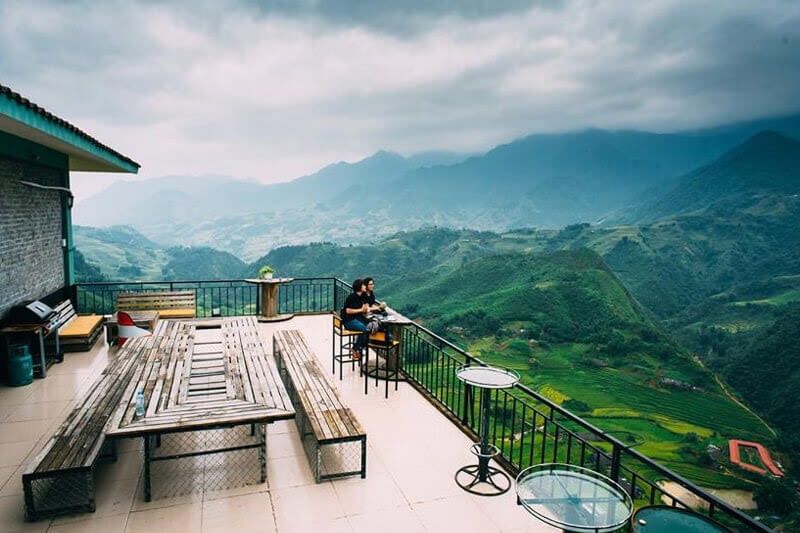 Sapa - locally known as the "town of clouds" - is an incredibly picturesque town located in the northern mountains of Vietnam. Surrounding Sapa, you can easily find a selection of local villages, homes of Vietnamese ethnic minorities, including the Dao, the Yay, the Hmong, and the Phu La.
One of the significant highlights of the trip to Sapa is the chance to have a drink in the mountain coffee shop. Imagine sipping coffee while watching the clouds over the emerald green valley. Isn't it a beautiful moment?
Mui Ne Beach
Mui Ne Beach is a group of beaches, such as Ong Dia beach, Front beach, and Back beach, a vacation area 3 - 5 hours' drive away from Ho Chi Minh city.
In addition, Lotus Lake, with the white sandy beaches stretching around the lake, is one of the must-visit places when visiting Mui Ne. Many couples visit Lotus Lake to shoot their unique wedding album.
Setting foot on Lotus Lake, you can go fishing or rent a fisherman's boat to explore the lake. This place will amaze you with the most romantic and gorgeous natural sights.
---
Best time to visit Vietnam for Coffee lovers
Caffeine cravers can not miss the Buon Ma Thuot Coffee Festival held every two years in March in the Central Highlands province of Dak Lak.
With a total area of around 204,000 hectares and an annual production of 460,000 tons of coffee beans, the Central Highlands province of Dak Lak is the country's largest coffee-growing area.
The festival strives to recognize domestic coffee growers, processors, traders and encourage the community to work together to develop the coffee culture. It is an excellent opportunity to witness the progress of producing and processing coffee.
There are many special activities such as fairs, an exhibition of coffee, barista competitions, etc. In addition, a seminar on coffee brand development with the participation of representatives from other countries, ambassadors of reputable coffee producers, and international associations in Asia attracts plenty of tourists attending this festival.
Besides, street parades, including dragon-dancing shows, elephants walking with coffee symbols, and other cultural performances, also occur during the festival
Vietnam is a stunning combination of natural wonders and cultural diversity. With Local Insider's suggestions above, we hope you can choose the best time to visit Vietnam. If you have any questions, please feel free to contact us.