Best pho in Hanoi: A complete guide to the top 10 restaurants (Updated 2023)
Pho has been considered the delicacy of Hanoi cuisine and known as one of the best food in the world. It's always an irresistible attraction to any traveler who enjoys to discover the Hanoian eating culture.
For a long time now, Pho has been considered the delicacy of Hanoi cuisine and known as one of the best food in the world. It's always an irresistible attraction to any traveler who enjoys to discover the Hanoian eating culture. That's why people say, "No trip to Hanoi is complete without eating a bowl of pho."
Hanoians eat pho for breakfast as it's delicious and full of nutrients to keep you energized for the entire morning. Pho restaurants are scattered along virtually any street, especially in the central districts. Local Insider will guide you through the ten restaurants for the best pho in Hanoi, so you can genuinely taste authentic pho like a local.
Best restaurants for beef noodle
1. Pho Bat Dan
Any Hanoi local know Pho Bat Dan due to its long queue throughout the day. It may discourage you at first, but come on, if queueing will bring you to the best pho in Hanoi, then it's definitely worth the wait, right? The beef inside Bát Đàn's pho is fresh, cooked to perfection, and well sliced.
The broth is sweet, thanks to the beef bones being carefully stewed for hours. It's exactly how you would describe an authentic bowl of the best pho in Hanoi, hence what makes Pho Bat Dan a must-visit restaurant for any pho lover. Established almost 70 years, Pho Bat Dan is known not only because of its excellent pho but also for its unique queueing culture, which has been occurring for decades and was a part of popular culture during the '80s.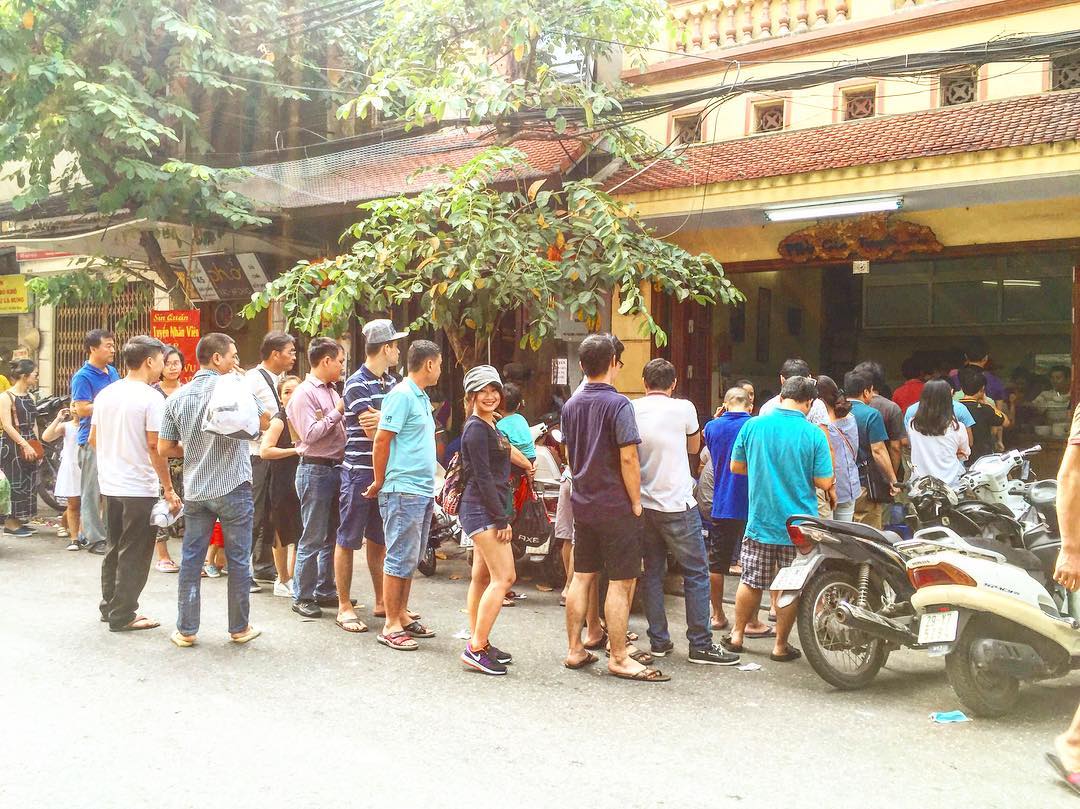 But the most exciting point is that no one seems to become impatient but rather calmly waits for their turn. It's a self-service restaurant, so you must wait your turn and take your self-served food to your table. There's no waiter to do it for you! Our tip from the locals is always to have at least one other person to go with you here. One will wait to order while the other goes inside the restaurant to reserve the seats for both.
Address: 40 Bat Dan street, Hoan Kiem district.
Price: 30,000 - 50,000vnd/bowl. Extra 5,000 for adding 1 egg.
Opening hours: 6 am to 10 am, 6 pm - 8.30 pm, it's incredibly crowded on the weekend mornings. Be sure to avoid these rush hours if you don't want to experience the endless waiting.
2. Pho Thin
Pho Bat Dan, Pho Thin is equally one of the best pho in Hanoi, although it was established after and is further from the city center. The most famous dish here is stir-fried medium-rare steak noodles. The steak is quickly stirred with ginger, onion, and garlic before being added to the bowl with the noodles. The broth of Pho Thin is a bit fattier than that of some other restaurants, but it doesn't make you feel sick.
You should eat this with additional spices such as pepper, chili sauce, vinegar, or fish sauce to make the bowl more flavourful. And let's not forget eating pho with a few sticks of Chinese cruller, then you will understand how Hanoians eat pho as a culture.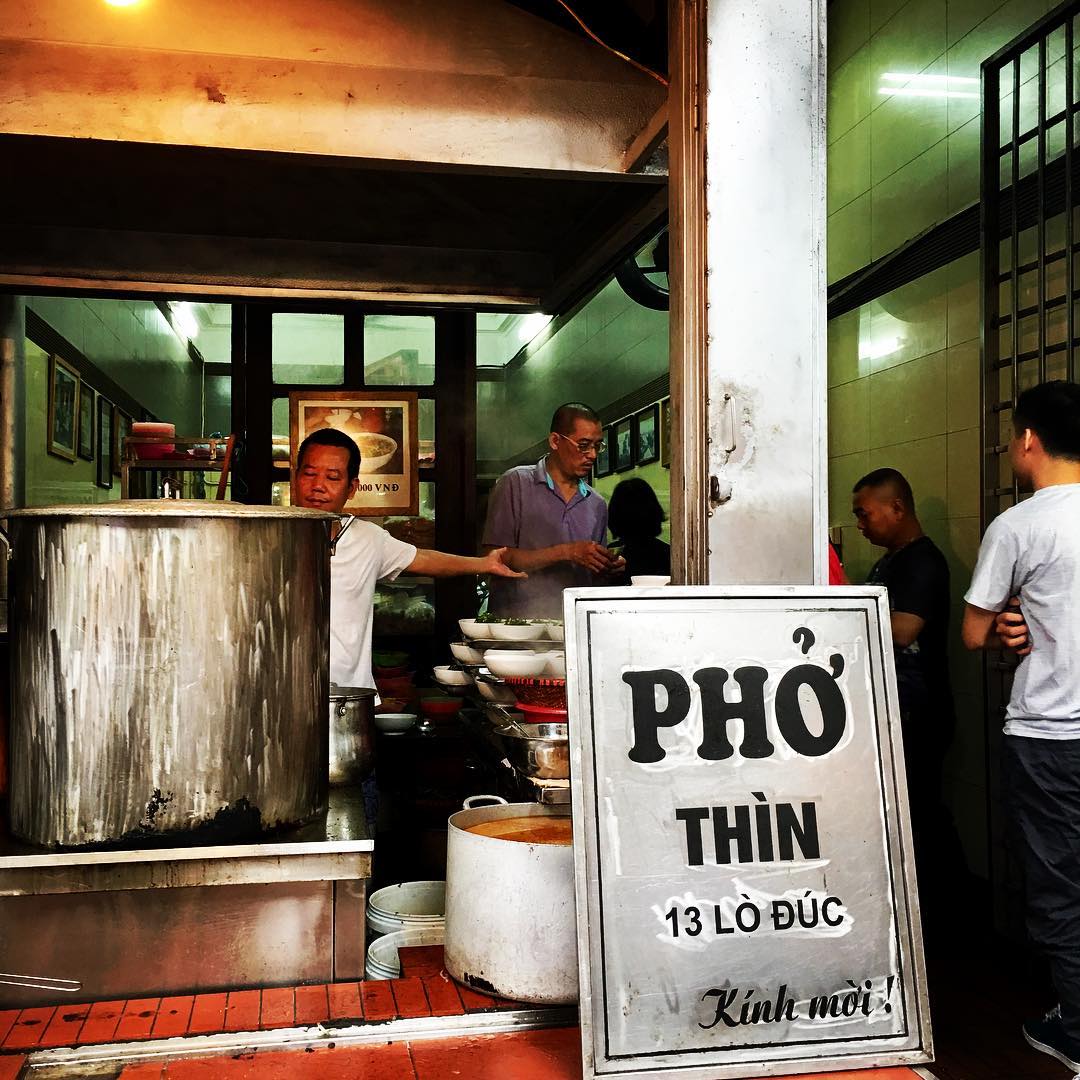 Address: 13 Lo Duc street, Hai Ba Trung District
Price: 40,000 - 60,000vnd/person. The waiter will collect your payment right after you order
Opening hours: 6 am to 8.30 pm.
3. Pho Ly Quoc Su
There are three branches but the best Pho in Hanoi, according to local eaters, is the original restaurant, located at number 10, Ly Quoc Su street. Pho here is delicious with lots of choices to serve all customer's preferences, from well done to rare steak or heel muscle. Thanks to the carefully selected ingredients, a massive plus of Pho Ly Quoc Su is the flavorful broth.
The beef here is always fresh and tender. Pho Ly Quoc Su also has positive feedback for its crunchy sticks of cruller, which helps to elaborate on the taste of your hot bowl of noodles. This "best Pho in Hanoi" restaurant is relatively small, so sometimes you have to wait for a while in rush hour. However, it has air conditioning and comfortable tables and chairs to help make customers more content, especially during the hot summer days.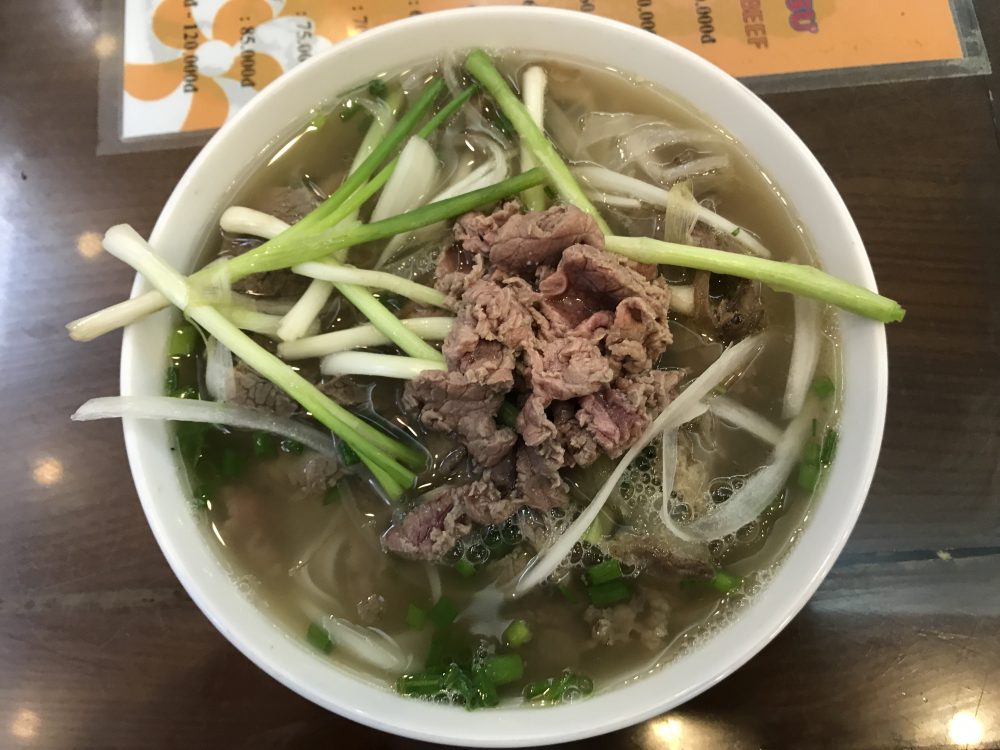 Branch 1: 10 Ly Quoc Su street
Branch 2: 42 Hang Voi Street
Branch 3: N2A Hoang Minh Giam Street
Price: 60,000 - 85,000vnd/person. It's not cheap but rather average in price for a popular authentic Hanoi pho brand.
Opening hours: 6am to 2.30pm and 5.30pm to 10pm.
4. Pho Vui
Pho Vui is located on Hang Giay street, within walking distance of the Old Quarter. If you have an opportunity to visit Hanoi and stay in this area, skip the chance to visit this interesting yet best in Hanoi to your everlasting regret. It's opposite to a vendor selling stuffed sticky rice balls and sweet soup, owned by Phạm Bằng, a famous comedian.
Pho Vui also sells beef noodles in many variations: half-done steak, well-done steak, brisket with flank and fillet beef, etc.… The broth is very flavourful and somewhat fatty, the noodles are soft, the bowl also has a lot of onions. Pho at Pho Vui is always highly appreciated by Old quarter residents, whose appetite is quite significant in comparison to your average Joe.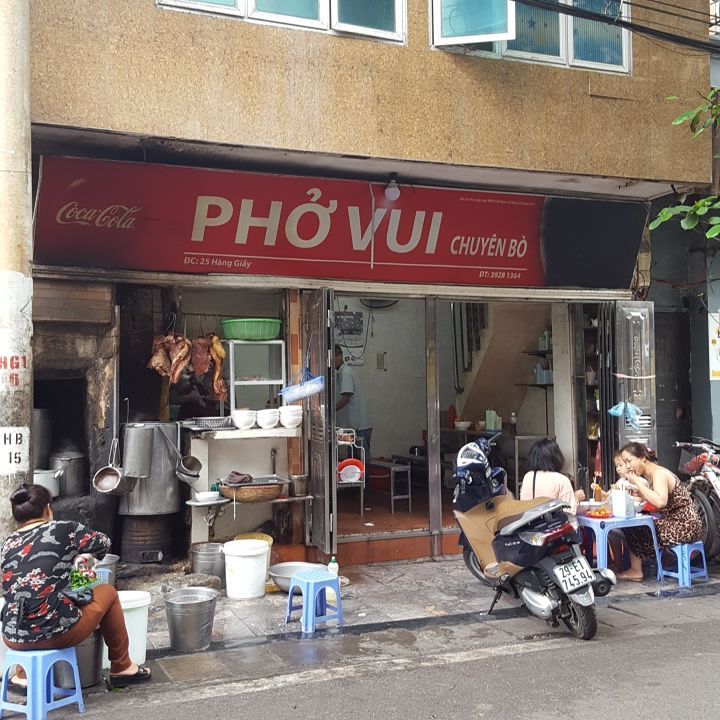 Address: 25 Hang Giay, Hoan Kiem District, Hanoi
Price: 60,000 - 85,000vnd/person. It's not cheap but average for a popular authentic Hanoi pho brand.
Opening hours: 7 am to 10 pm every day.
5. Pho Suong
Pho Suong was previously Pho Thang Loi (Victory Pho), together with Pho Tu Do (Freedom Pho) and Phở Thu Do (Capital Pho) they made the top 3 best pho in Hanoi during the old days. After years of being shut down, the restaurant came back to the market around 30 years ago, under a new name, which is Pho Suong. Suong in Vietnamese means 'satisfy', according to the owner, the restaurant was named so to trigger customers' curiosity.
It also refers to the way they want their customers to feel after eating their best pho in Hanoi. Pho Suong now has two branches, one at Trung Yen alley (Dinh Liet Street, right in the Old Quarter) and one at Nguyen Hong street. Both branches do not have large locations but still attract a huge number of daily visitors.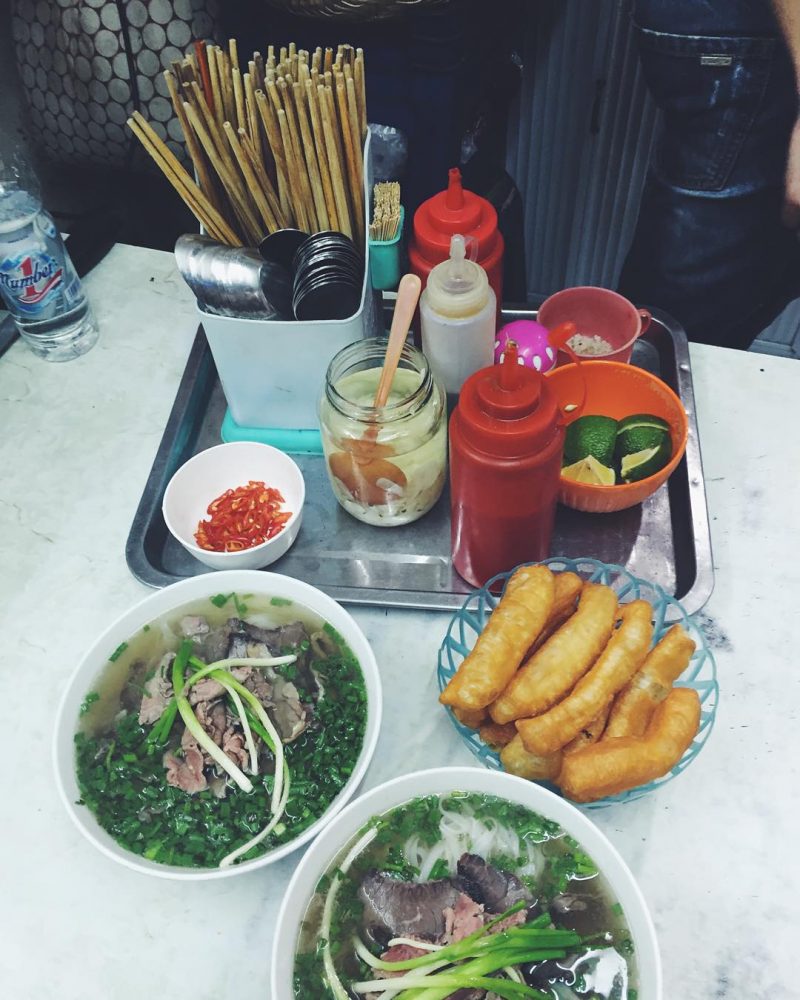 The light and sweet broth is the highlight of Pho Suong, which is made from stewing beef bones and meat for hours. The beef is also on point, well done steak is not dry and manages to retain a certain level of moisture. Each piece of beef is carefully thin-sliced, tender, and meaty.
Branch 1: 24B Trung Yen Alley, Dinh Liet Street, Hoan Kiem District
Branch 2: 1/26 Nguyen Hong Street
Branch 3: 36B Mai Hac De Street, Hai Ba Trung District
Price: 40,000 - 50,000vnd/bowl. The price is average for a bowl of best pho in Hanoi
Opening hours: 5.30 am to 11 am, 4.30 to 21.30. The restaurant opens and closes a little earlier than others.
6. Pho Nho
Pho Nho is the vegetarian option among pho restaurants in Hanoi, previously it won the runner-up position in a Pho cooking competition held by Hanoi city. Pho Nho didn't have a specific name at the beginning, but then a foreigner in Vietnam during a visit here said: "A bowl of pho to forever remember…" Since then, people started to call the restaurant Pho Nho (pho to remember) and the brand started to become familiar with Hanoian foodies.
Elastic noodle strings, tender beef slices, and the acridity of onion altogether create a simple but beautiful flavor. The sweetness of the beef and the smell of the freshly made chili sauce has helped to create an excellent bowl of pho you would struggle to find elsewhere. Some people even compare eating a bowl of Pho Nho to enjoying a piece of artwork. Besides beef noodle, the restaurant also sells chicken noodle, however, the beef noodle is more highly regarded.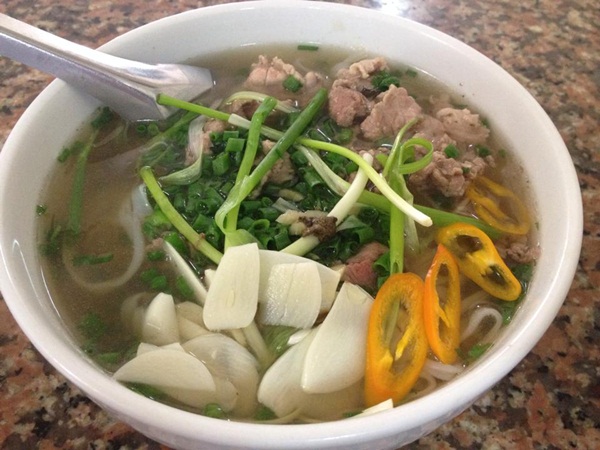 Address: 27A Huynh Thuc Khang, Dong Da District. It should take you 30 - 40 minutes to get here from the Old Quarter.
Price: 33,000vnd/bowl of beef noodle soup and 50,000vnd/serving of stirfried noodle.
Opening hours: 7 am to 10 pm.
7. The Beef Noodle Street Vendor at Hang Trong street
Located on the street side of Hang Trong street (inside the Old Quarter), the unknown Pho street vendor is usually referred to as "pho bung" (holding pho) by the locals. The vendor has no fancy tables but instead provides you with plastic chairs and tables. Sometimes, when the number of customers exceeds the number of chairs, you must hold your hot bowl of pho, hence the people ingeniously naming the vendor "holding pho".
Everything here is self-service, you are expected to bring your own chili sauce, fish sauce, and anything else you need instead of relying on the waiters. The vendor attracts not only locals but lots of foreigners, who are curious about the weird eating style that's seldom seen elsewhere. They join the crowd and enjoy their best pho in Hanoi. Locals say pho from this street vendor is very simple, but the light broth and tender beef are quite addictive.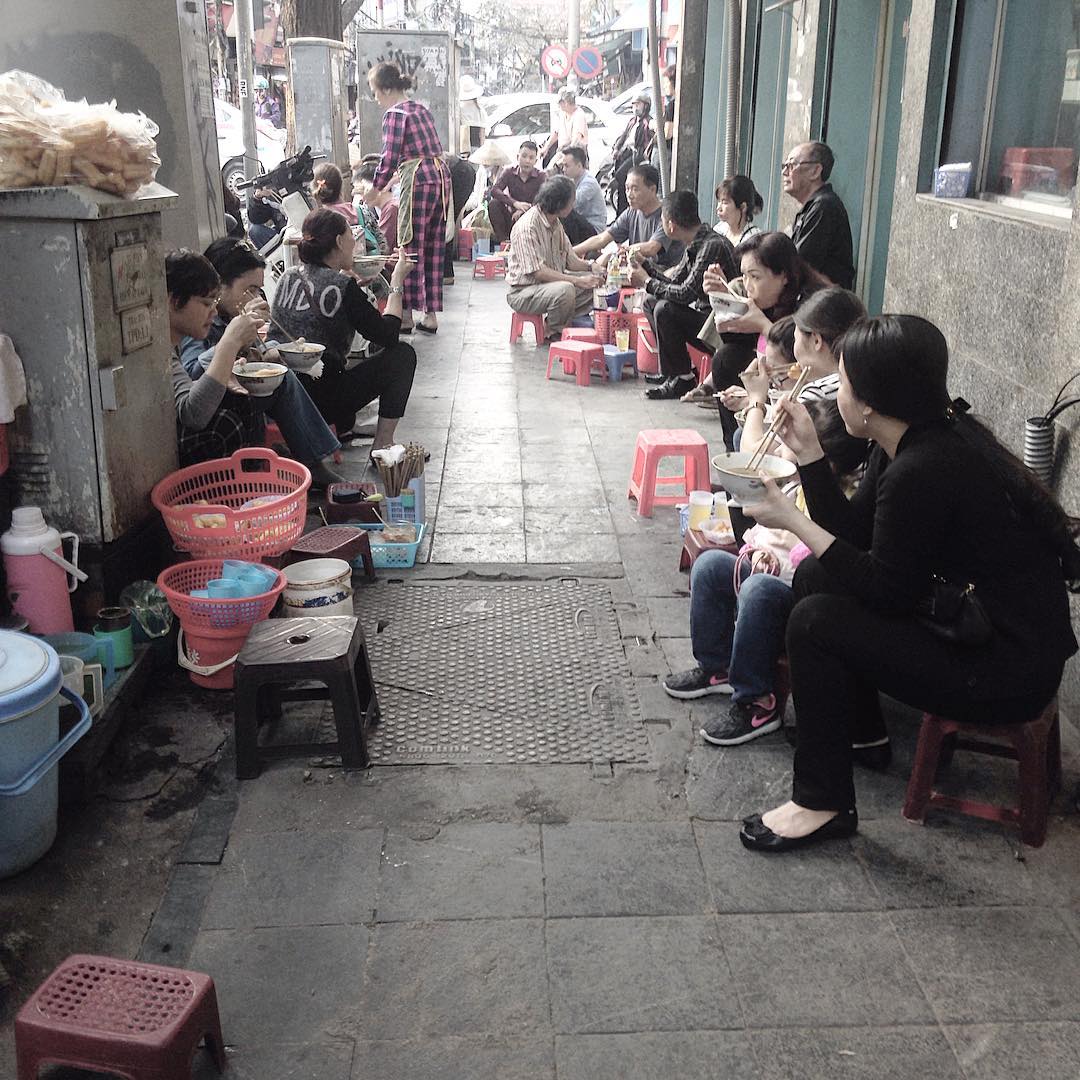 Combined with the affordable price, locals can't help but visit this vendor once or twice every week. They don't mind or bother about self-servicing, uncomfortable chairs, or holding the bowl most of the time. That's why the corner between Hang Trong and Hang Bong street is always full of people eating pho, regardless of the hot or cold weather.
Address: 1 Hang Trong Street
Price: 25,000 - 30,000vnd/bowl. The price is very affordable due to no location costs.
Opening hours: 4 pm and sold out at 8 pm most of the time.
Best restaurants for chicken noodle
8. Pho ga Cham (Cham chicken noodle)
Chicken noodle is favored by lots of people as it can be eaten all year round. For locals, Cham chicken noodle on Yen Ninh street is a dominant pho brand in Hanoi. Not only the excellent pho but also its exorbitant price will help to wow you. Many first-time visitors looking at the menu are shocked by the price here as it's double or even triple the price compared to other restaurants.
Although the high price, the generous bowl size, and high-quality ingredients will help to make up for it. The noodle strings are tender and elastic. Usually, there will be 4-5 big pieces of chicken in your bowl, meatballs, and onions. Depending on your preference, you can order eggs, immature eggs, organs, or Chinese crullers to add extra deliciousness to your serving.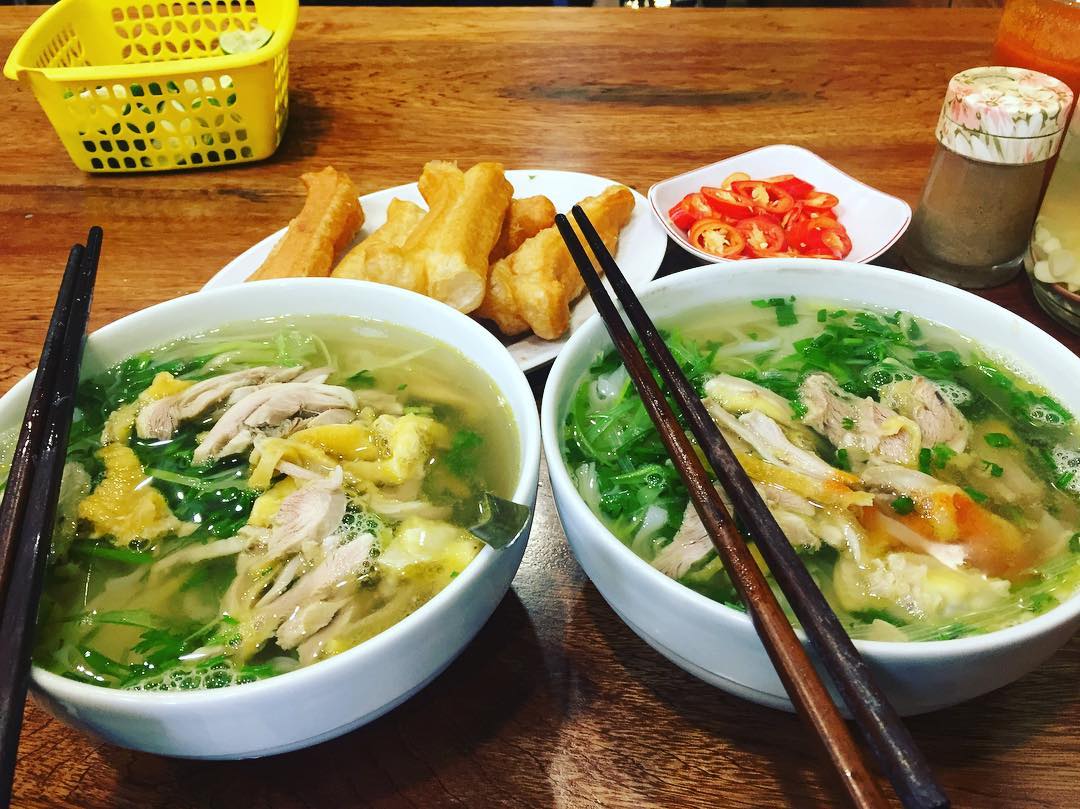 The restaurant is only 20m2, sometimes customers have to sit outside, on the sidewalk but it has its own parking area. The second floor is equipped with an air conditioner for summer. Tables and chairs are a plastic kind, a typical Hanoi style, however, it's sometimes rather inconvenient for tall people. The highlight is that the restaurant is very clean with great customer service. Are you confident to step in and grab yourself one bowl of the best pho in Hanoi at the most expensive chicken noodle restaurant?
Address: 63 Yen Ninh street price: 60,000 - 100,000vnd/serving, depending on your order.Opening hours: 7 am to 10 am or when sold out.
9. Pho ga Ban (Ban chicken noodle)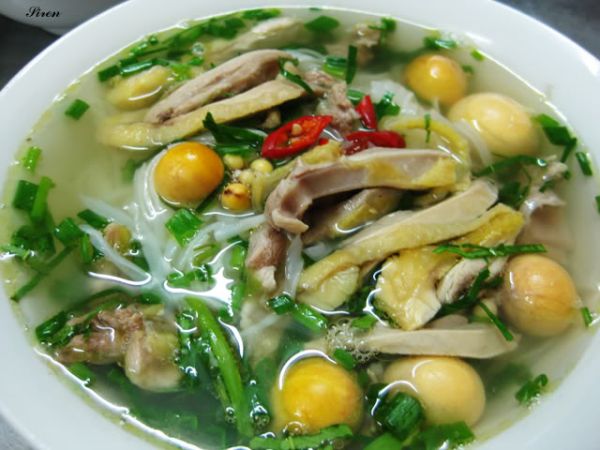 Pho ga Ban, which is named after the owner, has become popular for years because of its distinctive "chopped chicken noodle". Once you choose which part of the chicken you want for your noodle, the chef will start chopping that part into smaller pieces and add the broth into the bowl.
The chicken is boiled at an appropriate temperature so it won't be overcooked or dry out meat. Located on one of the busiest streets of Hanoi, Pho ga Ban offers a spacious restaurant to accommodate the high traffic of daily customers. When walking through the restaurants, you will see lots of chickens hanging on glass shelves, all are ready to serve.
Address: 72 Ton Duc Thang street, Dong Da street.
Price: 40,000d / bowls, however, if you order organs or immature eggs, the price will increase accordingly.Opening hours: 7 am to 11.30 pm
Bonus: Best Pho in Hanoi for rolled noodle
10. Pho Cuon Hung Ben (Hung Ben rolled noodle)
Hung Ben rolled noodle is located in Ngu Xa village, near Truc Bach lake. Each roll is hand-made yet looks even and precise in terms of length and width. Noodles here are leathery and thornless.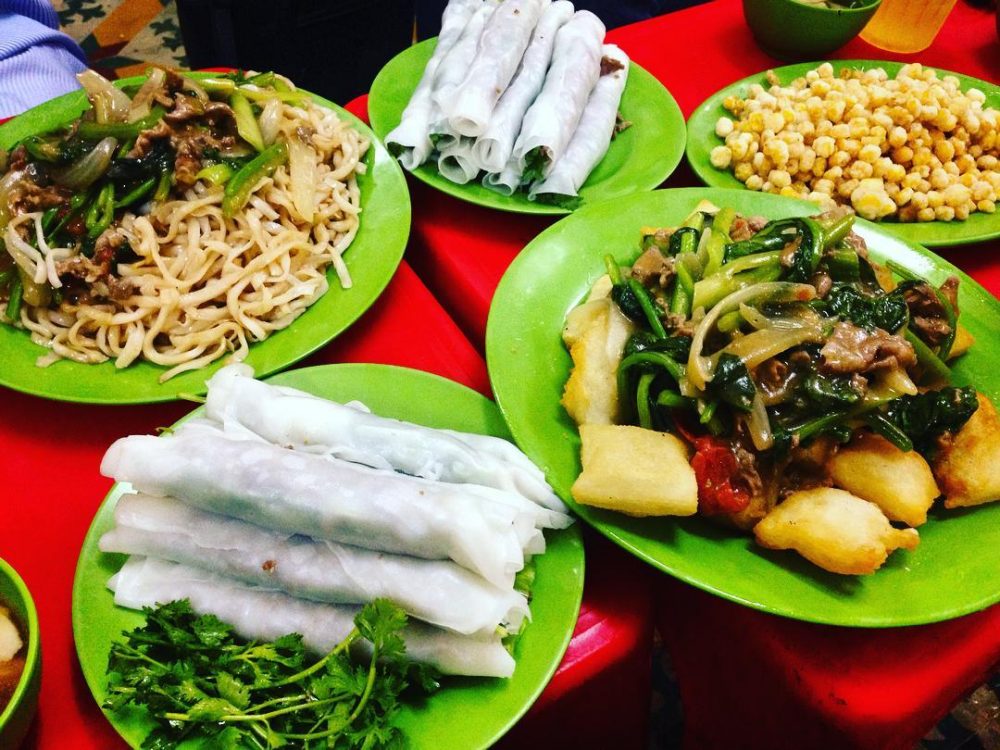 The stir-fried beef is flavourful, the meat is sweet and well blended with the smell of ginger. The top notes of the dish are from the sauce, made from fish and having sliced papaya and carrots added in. The restaurant's menu has a large variety of choices, yet the best-selling items are rolled noodles, deep fried noodle and mixed stir-fried noodle.
Address: 33 Ngũ Xá street, Ba Dinh district.
Price: 20,000vnd - 55,000vnd/servingOpening hours: 7am to 10pm