Best 20 things to do in Mekong Delta
The Mekong Delta is commonly known in Vietnam as Cuu Long – Nine Dragons thanks to the nine tributaries marking the end of the great Mekong River. It is a magical land located in the Southwestern region of Vietnam, hence the colloquial name 'The West', a loving name from those who still live in the nation as well as all the nostalgic emigrants across the globe. This amazing comma-shaped flatland, constituting a mere 13% of the overall area of Vietnam, is astoundingly responsible for more than half the annual rice produced, which is the reason for its other title - 'The Rice Bowl of Vietnam'. It is a land famous for its tropical paradises, its seemingly endless rice paddies and more importantly its inhabitants' heart-warming hospitality. Filled to the brim with excitement and wonders to behold, Cuu Long guarantees a more intimate viewpoint of Vietnam as opposed to its modern and flashy metropolises. With that said, here are best 20 things to do in Mekong Delta.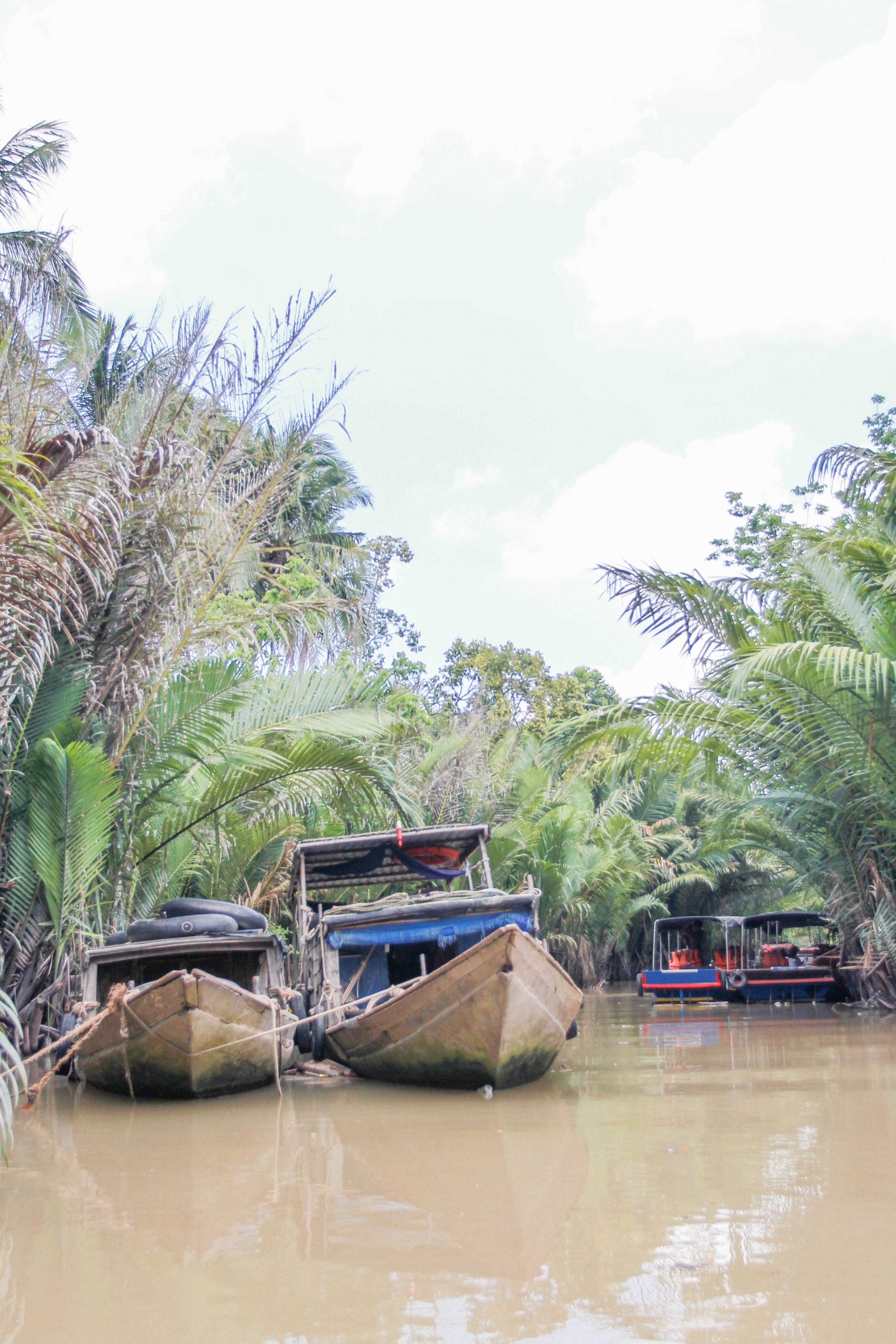 You cannot find anything fancy in the Mekong delta. But here, you can surely get your dream escape from the urban hectic life and find the inner peace of heart!
1. Try 'Banh Tet La Cam' – Purple Sticky Rice Cake
If you are well-acquainted with Vietnamese cuisine, then you are no stranger to 'Banh Tet' – Vietnamese traditional sticky rice cake. The usual assemblage includes a sticky rice outer layer, the mung bean filling with either fatty pork as the savory element or bananas for vegetarian eating, and banana leaves encapsulating everything. The wrapped package is trussed like a roast before being boiled for hours. However, what sets this type cake apart from the conventional counterpart is the addition of the Magenta Plant – La Cam. Since the plant is non-toxic and has a beautiful shade of purple, the ingenious locals came up with the idea of extracting the pigments and coloring the glutinous rice with it. The end result is amethyst-like shine of the grain and the mild sweet fragrant. 'Banh Tet La Cam', a delicacy of 'The West', is a much sought-after gift to bring home. You can get your hands on one of these at markets in Can Tho such as Xuan Khanh, An Thoi, Mit Nai. Prices depend and the weight of each one and the filling, but you can expect from 3 – 5 USD for one cake. Your Mekong Delta tour may not be fulfilling if you don't get a bite of this unique specialty.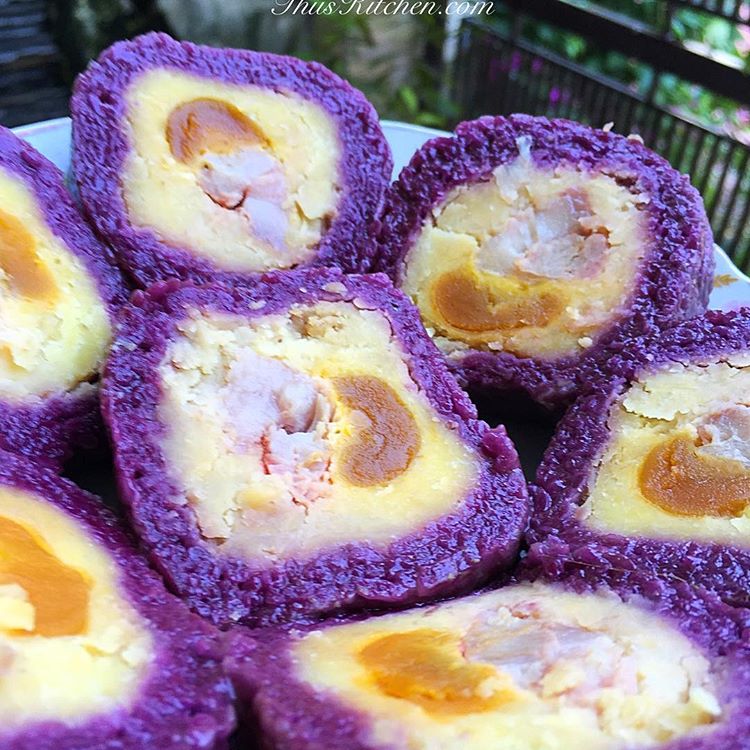 2. Satisfy your sweet tooth with Coconut Candy – 'Keo Dua'
In order to acquire this delight, one must travel to Ben Tre or 'Xu Dua' – the land of Coconut, located at the East of the Mekong Delta. The coconut tree is deemed among the most beneficial trees, yielding numerous economic gains, one of which is the manufacturing of Coconut Candy. This sweet from Ben Tre is made from fresh coconut flesh, which is shredded and pressed to extract coconut milk. The extracted goodness is then mixed with a number of ingredients. The recipe for the mixture is closely guarded a secret and entrusted only to family members. Some versions also see peanut and durian being incorporated into the end product. This mixture is then simmered for quite some time until it reaches a desirable consistency. Freshly made, the caramelized liquid is stretched into long strings prior to being cut into rectangular lozenges. Despite the age of industrialization, some manufacturers still employ manual laborers. If you have the privilege of visiting these facilities, you will be amazed at the speed in which the workers skillfully wrap the newly produced candies in just a blink of an eye. Though there are many brands, the most well-known is Thanh Long, whose products can be purchased at 212B Dai Lo Dong Khoi, Quarter 5, Phu Khuong ward, Ben Tre province with prices between 2 and 4.4 USD.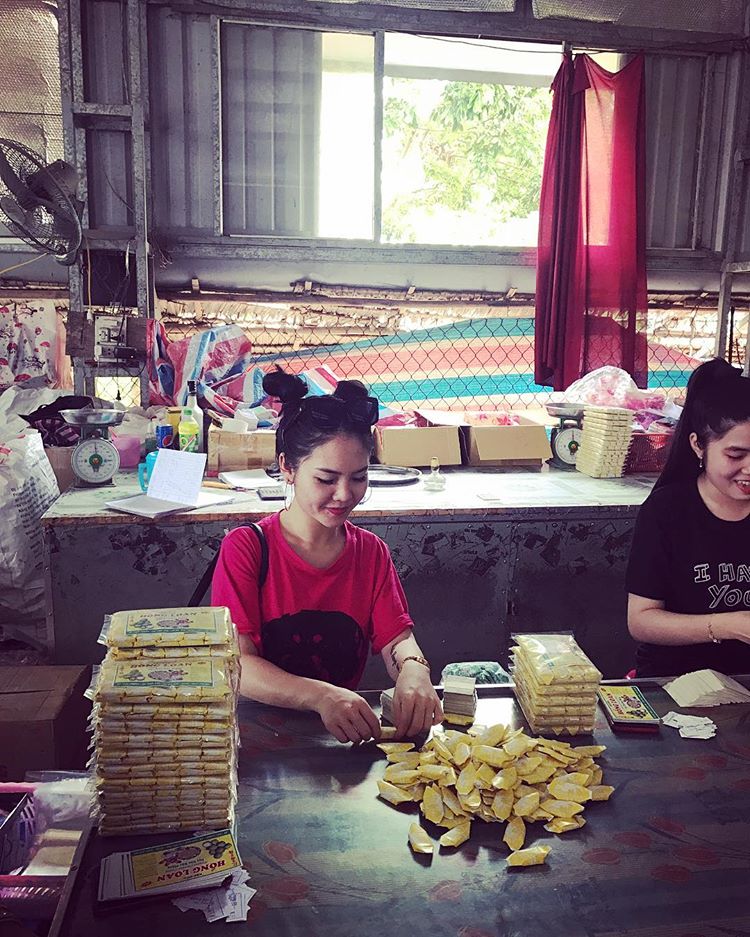 Only a native from Inspitrip can help you fully embrace the intricate beauty in the simplicity of Mekong delta.
3. Try another coconut-y delight, 'Banh Trang Dua' – Coconut milk rice paper.
Similar to its more traditional cousin – the rice papers used in spring roll – in size and shapes, the coconut milk rice paper or milk paper, however, is rather different in terms of composition which sees the addition of cassava flour, water, salt, sugar, pandan leaves and coconut milk. Whereas the normal rice papers are desiccated, almost translucent and rather fragile as they are easy to tear, this creation of Ben Tre possesses a chewy texture, retains a bit of moisture and fashions a milky sheen. They can be eaten right off the package as a sweet treat or toasted lightly over open fire to crisp up, resulting in a more crunchy texture. While the coconut introduces the main flavor, the sugar in combination with the pandan leaves enhance and accentuate it. Traditional manufacturing processes require an enormous amount of manual work. Despite the incentives of industrializing the procedure, some artisan villages, such as Cai Be, Cu Lao May and My Long, are encouraged to maintain their ways with a view to preserve this crafts and help spur tourism. If you are in Ben Tre, you should definitely visit these villages and buy authentic milk papers.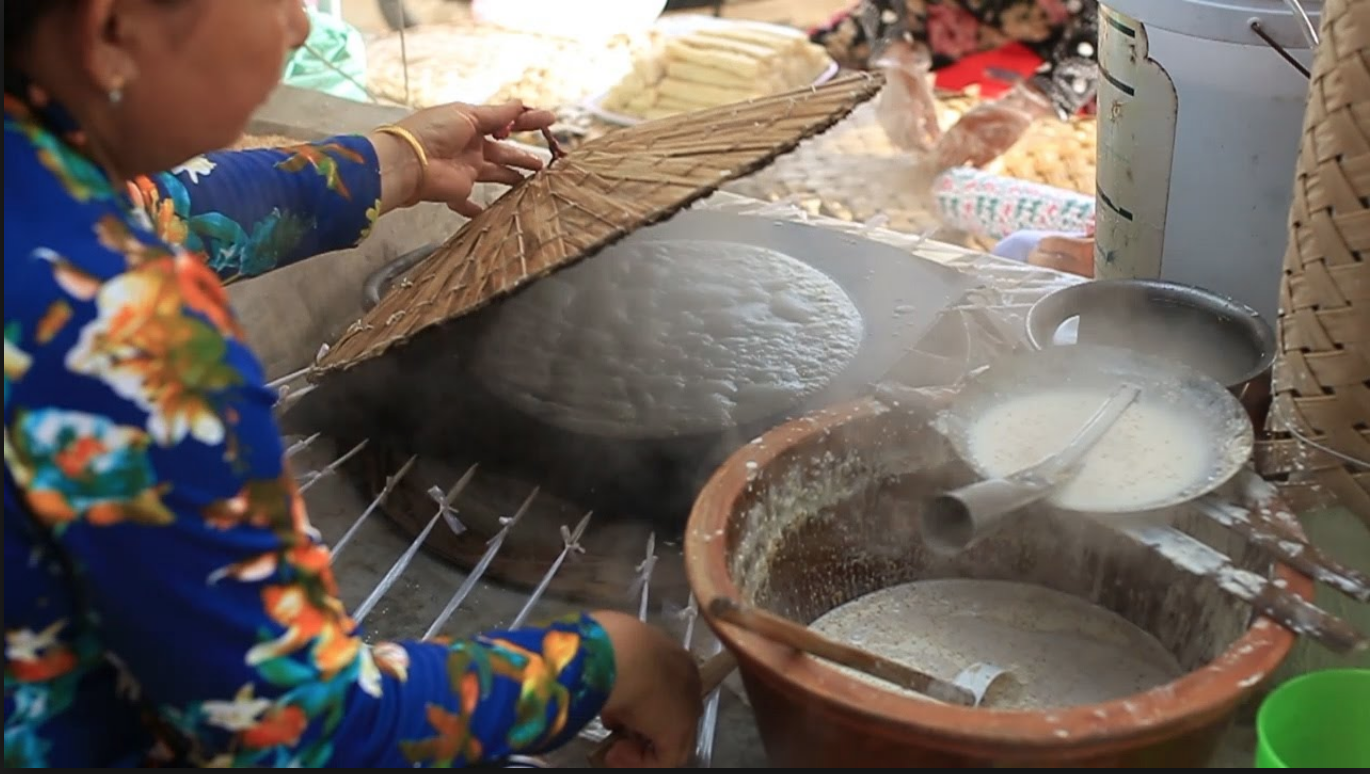 4. Have a taste of 'Banh Pia' – Vietnamese peeling flakes pastry
This peculiar treat is a delicacy from Soc Trang province and of the Chinese immigrants' invention. Contrary to the state of popularity it now enjoys in Vietnam, 'Banh Pia' actually deviated from the moon cake of the Chinese from Chaozhou which only consisted of mung bean, pork and the skin-like pastry. The word 'Pia' itself is an approximation of the word 'pi – é' which means 'pastry' in Chaozhou dialect. Here in Vietnam, the filling, which still consists of mung bean paste, also has mixed-in durian and shredded pork with salted egg yolk in the center or coconut and taro as an alternative for the mung bean. The interesting texture of the wrapping pastry outside together with just the right level of sweetness from the filling make for a warm and satisfying sensation for your palate. For commercial purposes, the manufactures' names are often printed in red on the pastries in decorative patterns which can occasionally be quite appealing. Some famous brands of 'Banh Pia' include Tan Hue Vien, Tan Hung and Cong Lap Thanh, all of which have multiple outlets across the country.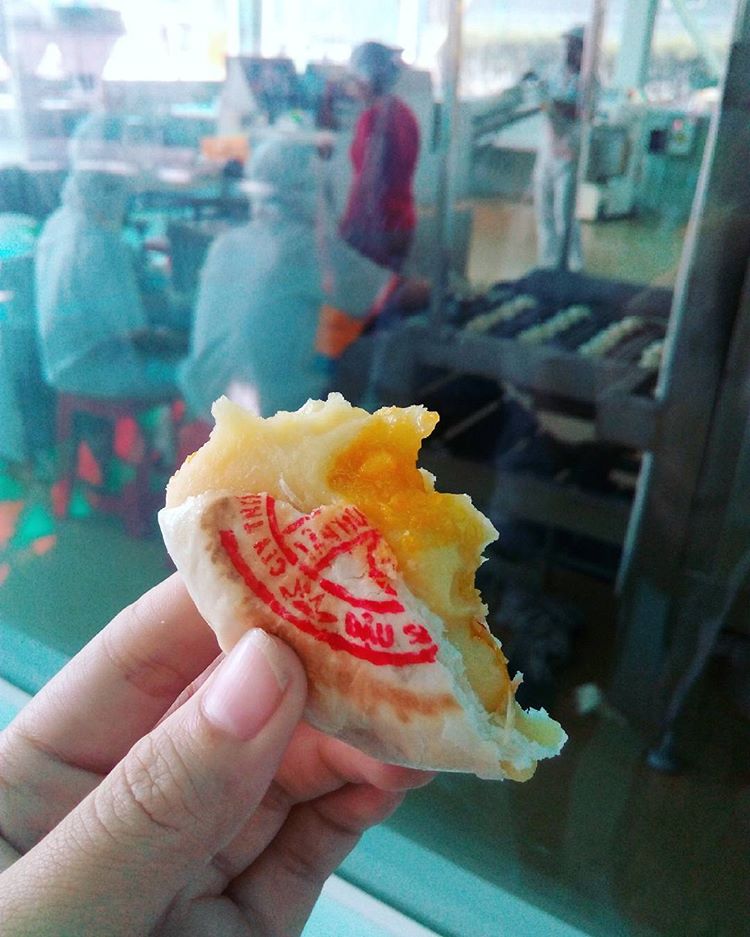 Those food looks mouth-watering enough? Why don't you treat yourself with a private tour to Mekong delta and enjoy the heavenly taste?
5. Visit Mekong Delta famed orchards
Thanks to its nine tributaries acting as arteries supplying a tremendous amount of precious alluvial sediments, Cuu Long is also praised for its bountiful orchards. You can visit these gardens while visiting the region and have first-hand experience of walking between row after row of bounteous trees, besieged by thousands of delicious fruits waiting to be picked. From the common ones such as orange or apple to the more exotic such as the like of durian or dragon fruit, Mekong Delta's orchards are inarguably a fantastic sight. In Tien Giang province you can visit Vinh Kim or Cai Be orchards while in Can Tho, you should drop by My Khanh orchard. Visitors can have a trip around the garden and at the end of the visit, they can purchase the fruit as well.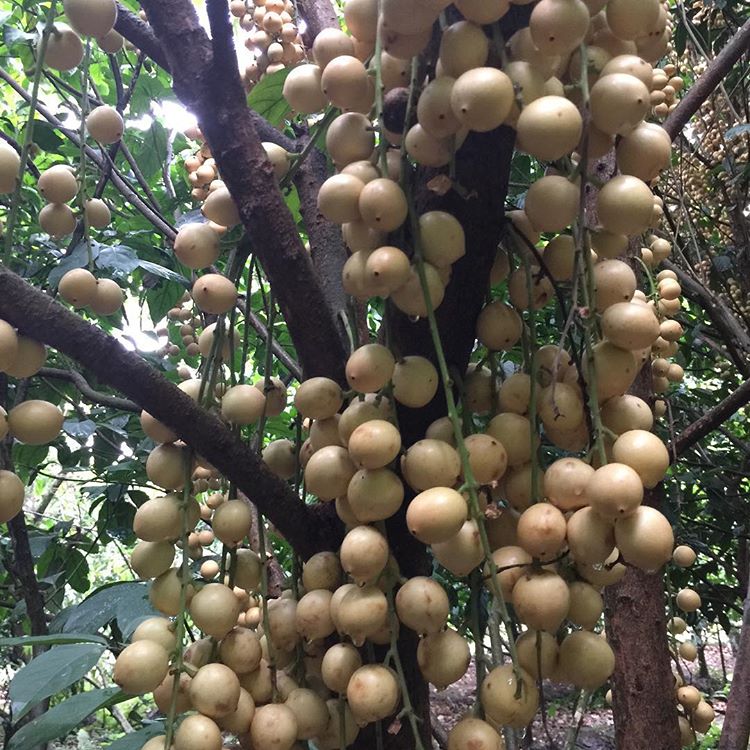 6. Visit Tra Su Bird Sanctuary in An Giang province
Located at Van Giao commune, Tinh Bien district, An Giang province, with an area of roughly 850 ha of flooded indigo forest, Tra Su Bird Sanctuary is the prime example of the natural landscape of the Western region of Hau river. Home to many rare species of faunas, some of which are of the endangered list, Tra Su is paradise of biodiversity with its own unique ecosystem. As you sit on a motorized canoe cutting a passage across the duckweed-covered surface, you will have the pleasure of enjoying a chorus of hundreds of bird while marveling at the ancient and primal ambience of your surroundings. You can also climb on the observatory tower to take in the vastness that is Tra Su Sanctuary. This spot is suitable to be added in the itinerary for your 2-day Mekong delta tour.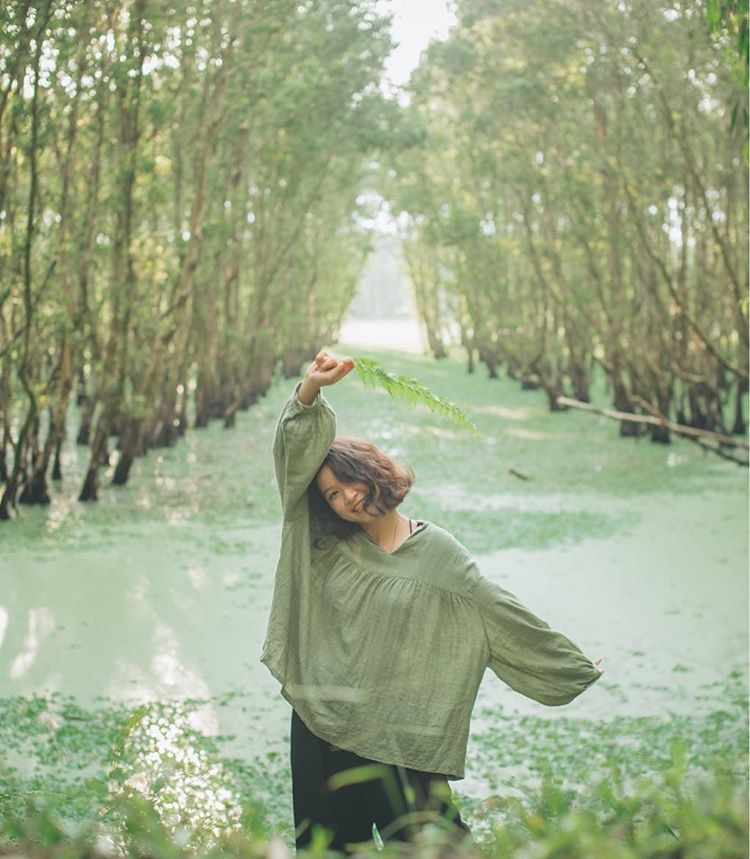 7. Visit Tan Lap Floating Village
Another perfect getaway in Mekong Delta is in the form of a primary mangrove forest located at Tan Lap Floating Village, which lies at the heart of Dong Thap Muoi. Located in Moc Hoa district, Long An province, our destination is a submerged wetland of 135 hectares in the core area and 500 hectares in the buffer zone. The location is best enjoyed during the flood season at which lotus and water lilies are at their most abundant. Upon embarking on the giant-butterfly-shape and 5-kilometer-long walk path, you will be immersed in the village's diverse ecosystem. After that, climb up the 38-meter-high watchtower to enjoy your surrounding greeneries. Entrance fee is 2.2 USD per person and be sure to travel in group as the motorboat service can be quite pricey if you choose to go alone.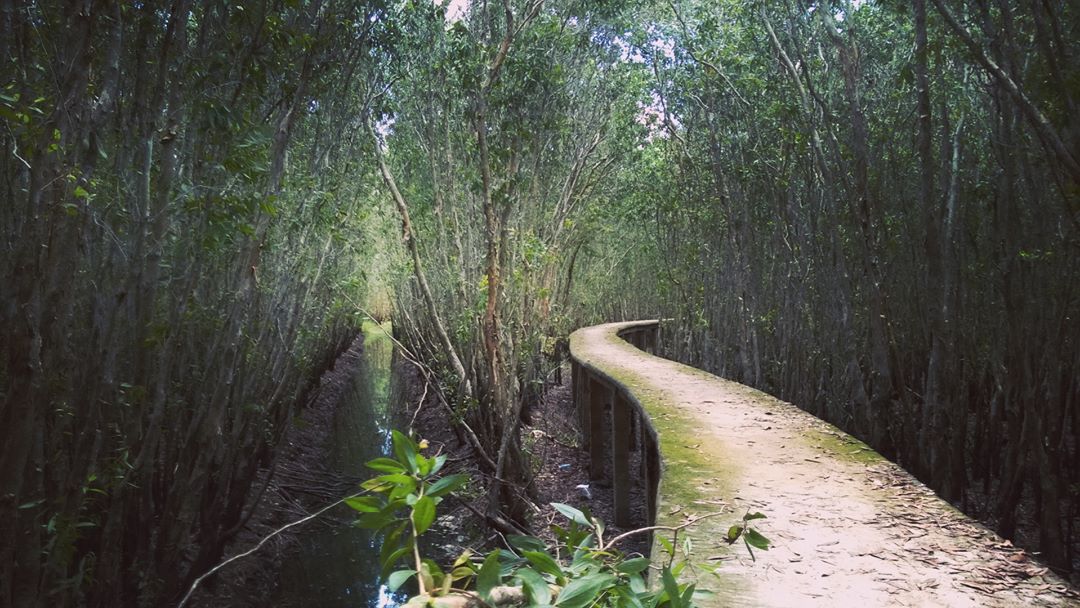 8. Explore Tram Chim National Park
Worthy of a spot on your Mekong delta day tour is Tram Chim National Park situated in the Dong Thap Muoi region in Tam Nong district in the middle of Dong Thap province. With an impressive layout of approximately 7600 hectares of forested area, this park is a biological treasure trove housing as much as a quarter of the bird population in Vietnam, which is the equivalent of 200 species of birds, some of which belong to the endangered list. The dry period between December and May promises the best experience as you have the opportunity to observe the Sarus Crane, a member of the global Red Book. Travel on a rather unique mode of transport in Southern Vietnam, 'Tac rang' – a small motorboat, to reach the 20-meter-high Vong Canh watch tower where you enjoy the entirety of the park from above. Tram Chim has recently received renovation and investment on part of the government in order to spur eco-tourism and modify it into a natural museum. The entrance fee can be anywhere between 2.6 to 17.6 USD, so it is advisable to have travel companions.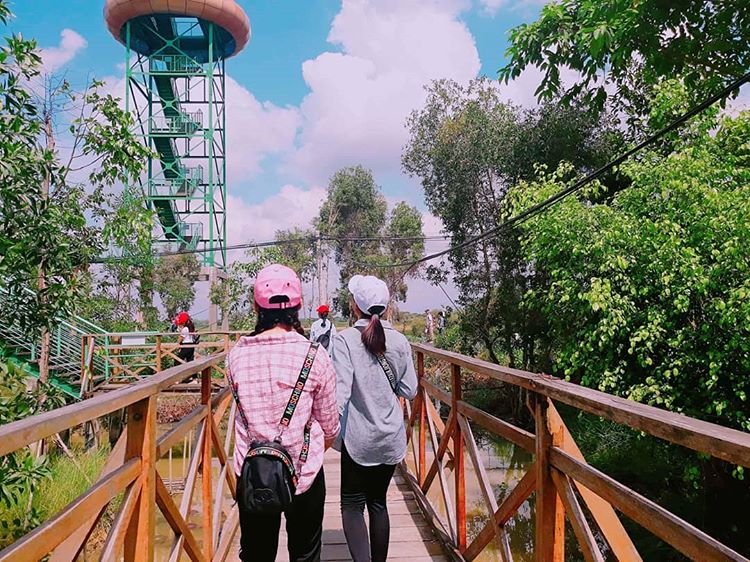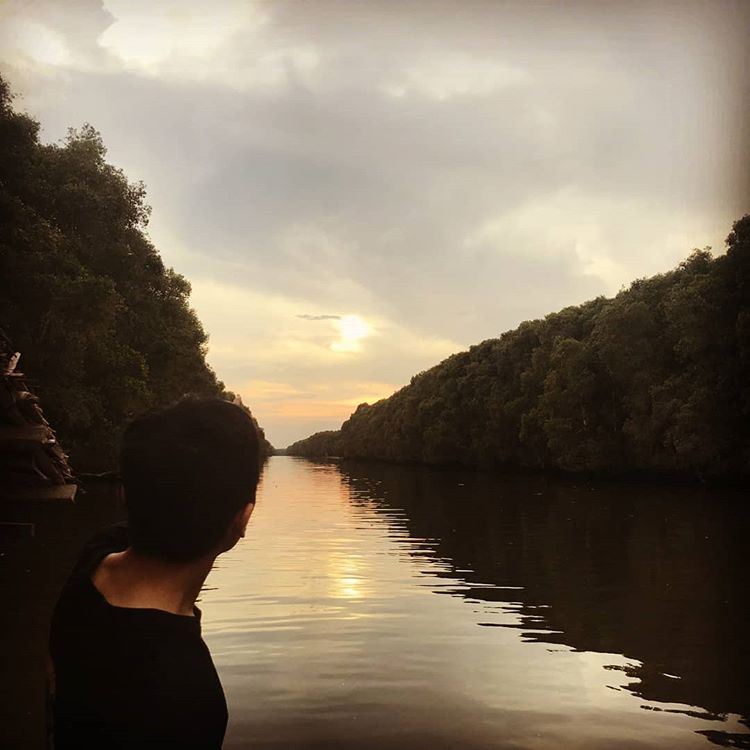 A private tour to Mekong delta will help you embrace the beauty of these spectacular spots to the fullest!
9. Visit Thoi Son Islet
Tien river is known for its for islets: Long (dragon), Lan (Chinese unicorn), Quy (turtle) and Phung (phoenix), all four of which symbolize prosperity, eternal might and the beauty of Vietnam southern watery region. Thoi Son or Lan islet is just a boat ride from the city of My Tho. Along the way to Thoi Son you will also be exposed to the daily life of locals on the two river banks while enjoying the fresh country air. Upon entering the islet, you will aboard a long canoe and navigate through the meandering passage inundated with aquatic vegetation. Just as most region in Cuu Long, the alluvial flow of the artery-like river network has endowed this land with nutrient-rich soil, fruit-laden orchards and a thriving ecosystem. From My Tho, you just need to take a boat from the pier at Number 8, April 30th Street to get to Thoi Son. Should you travel in group, the ride will cost less, between 11 and 13 USD.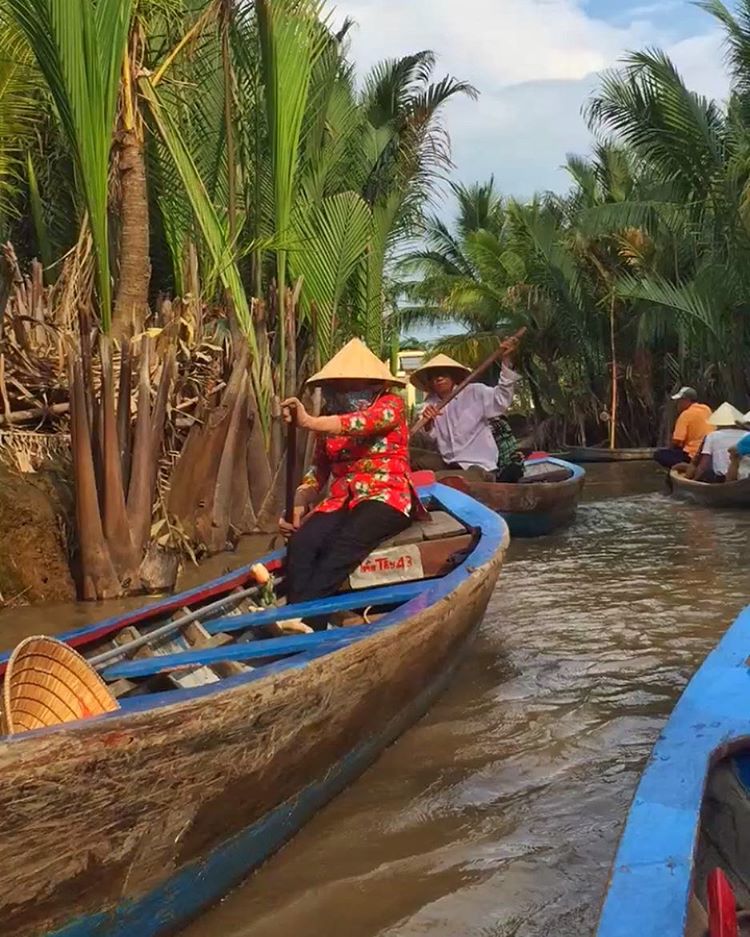 10. Be more daring at Dong Tam snake farm.
The name unequivocally gives away the fact that this is not your usual farm with herds of cattle or poultry. The farm, dubbed the 'Kingdom of Snakes', instead, sees an awe-inspiring 400 varieties of snake and other critters. Colloquially referred to as Dong Tam Snake Farm, the facility is actually called 'Military District 9 Center for Researching, Breeding and Manufacturing Medicine' and was established with a view to produce venoms as well as anti-venoms for medical and commercial purposes. Located at about 9 km away from central My Tho, Dong Tam Snake Farm will not disappoint, regardless of whether you adore snakes or cringe at the sight of these slithering reptilian hosts. With just about a dollar entrance fee, you are ready to explore this wonderful attraction.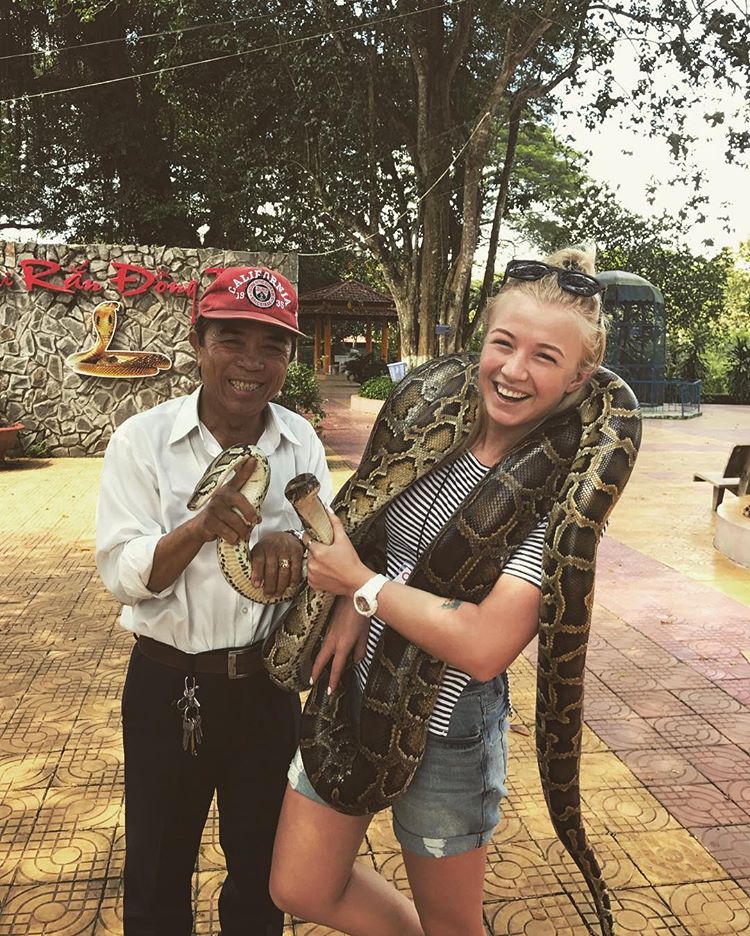 If you have been warned about the hectic and equally chaotic traffic of Ho Chi Minh City, just wait until you set your eyes on this market. The name 'Cai Rang', which means tooth in Vietnamese, has surprisingly interesting origins. The first one claims that a giant crocodile once trod these water, whose teeth were plugged into the river bank, hence the name. The other interpretation suggests that the name comes from the Khmer tongue 'Karan' – a molded clay stove, which was sold everywhere in the region at the time. The word has since been pronounced 'Cai Rang' by Vietnamese. Located at the junction of rivers, Cai Rang is a spot where merchants and vendors congregate and tout their goods, all of which are hung up so you will realise what they are selling before asking. This wholesale-specialized market is loved by visitors far and wide thanks to its unique bustling ambience and a large concentration of agricultural products in the region. Lies on Cai rang river, the market is a 6-kilometre trip from the center of Can Tho or a 30-minute boat ride from Ninh Kieu Pier. Cai Rang Market is an astounding cultural feature of Mekong Delta, without which your trip will not be complete.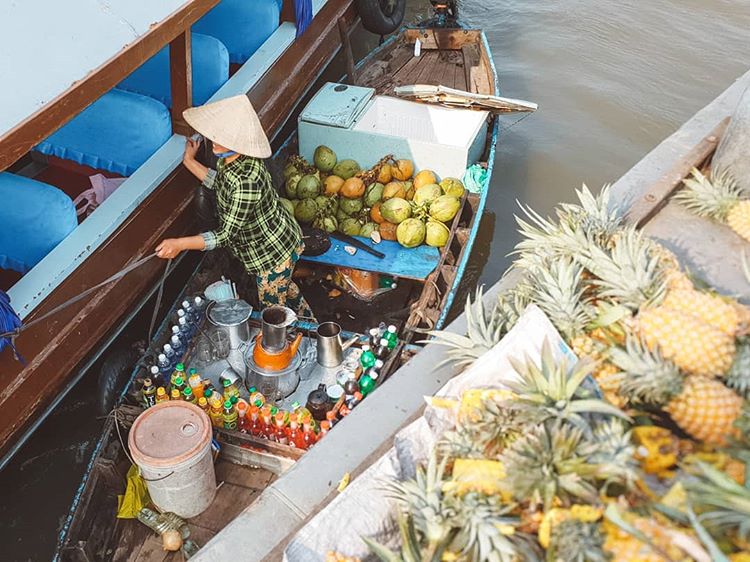 12. Visit the prince of Bac Lieu's Mansion
The man in question here is Tran Trinh Huy, the son of the self-made richest landlord of the time – Tran Trinh Trach. Through his hardship-ridden upbringing, Tran Trinh Trach managed to amass great wealth, transforming from a poor young boy to the most affluent figure in Bac Lieu. And as it is with almost every well-off individual, they seek to indulge themselves. The same goes for Trach as he had in mind the plan to erect the most lavish, most extravagant of houses. Designed by a French architect, with materials imported from France and an interior from Italy, this not-so-humble abode became home to Trach and his wife, with whom he later had 7 children. Tran Trinh Huy was supposed to be the golden child who had the most potential. However, contrary to his father's hope, Huy went on to become one of the most infamous playboys, hence his honorary title as the prince of Bac Lieu. Squandering all of his inherited wealth, he left his offsprings, the third generation of his family, destitute. The mansion now belongs to the government and serves as a tourist attraction. For the history buffs among us, this place, needless to say, is a true discovery. You can find it at 13, Dien Bien Phu Street, Bac Lieu City, Bac Lieu province. Entrance fee is just under a dollar.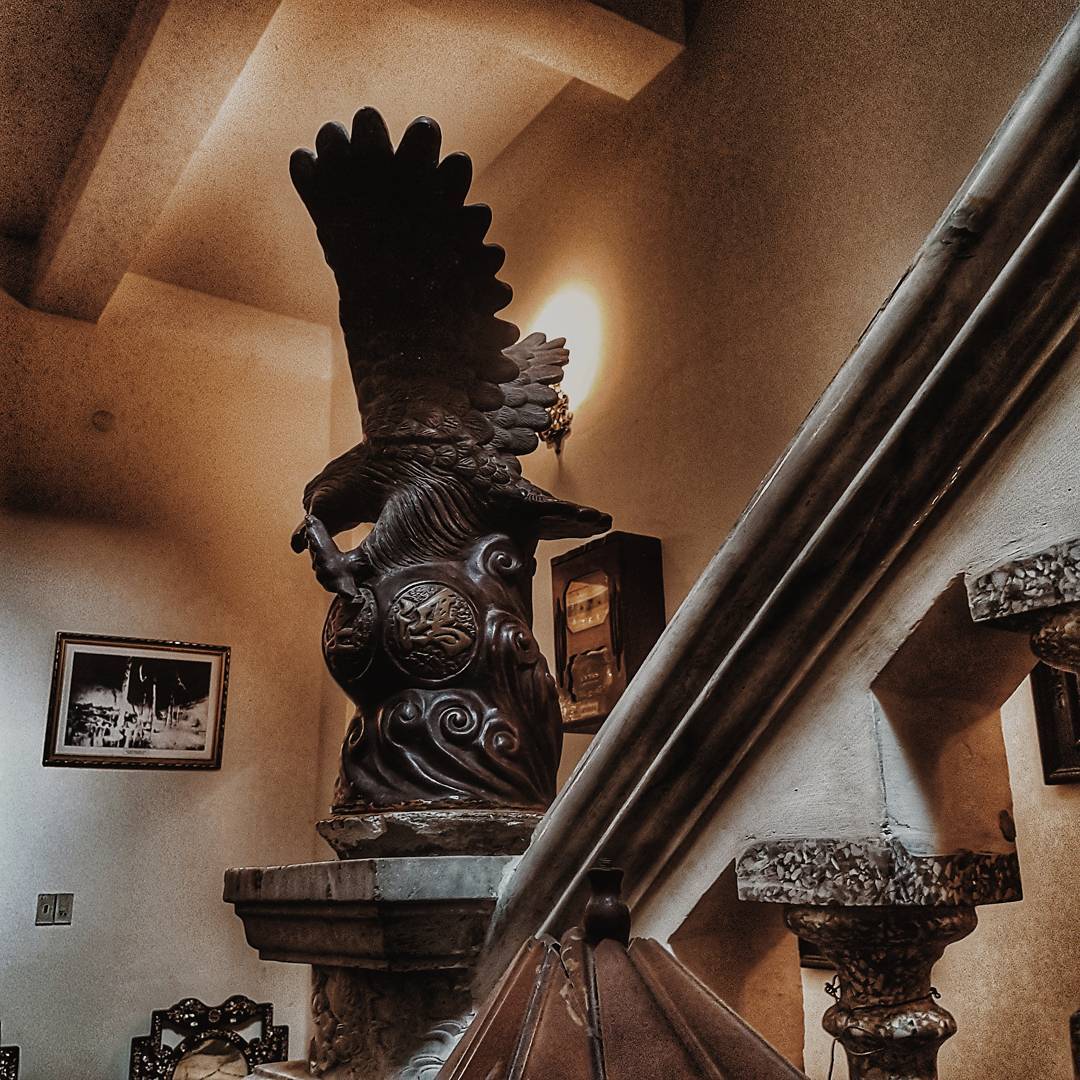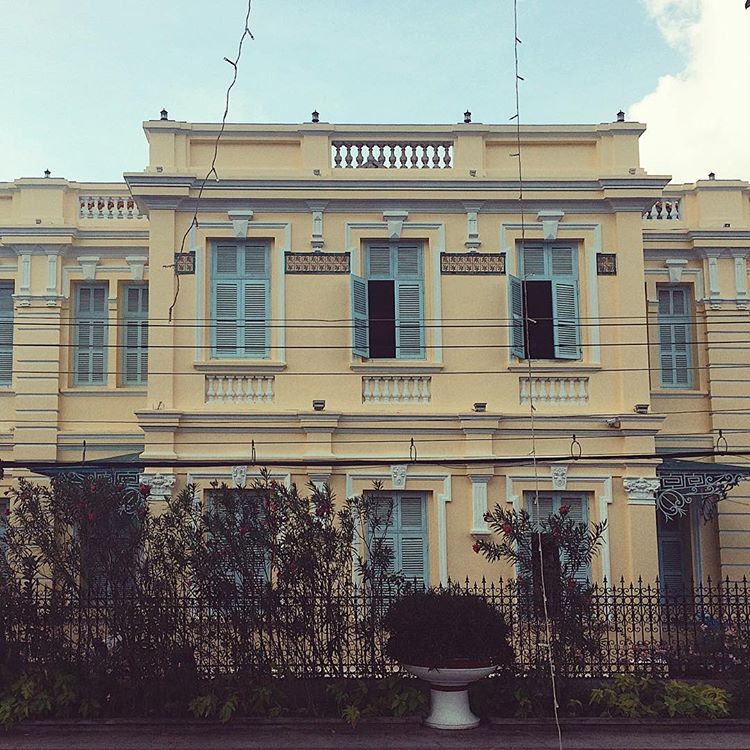 13. Make your way to Xiem Can Pagoda
Xiem Can pagoda is the largest Khmer pagoda in Southern Vietnam and of exceptional architectural splendor. Come to this spiritual destination and feast your eyes on all the beautiful multi – layered roofs accentuated by decorative figures or be rendered speechless while marveling at all the intricate frescos in fascinating religious motifs that cover the walls and ceilings. With direct ties to Khmer culture, the pagoda is a center of learning where young children are taught Khmer script, Buddhism and other cultural characteristics. Just from observing the patterns illustrated on tiles or column and you will appreciate the amount of effort put in, and the attention given to the most minute of details. The pagoda's design dons two primary colors of red and yellow in combination with other colors, which create a sense of divine grandeur while exuding tranquility and serenity. The most prominent example of this is the Inclining Buddha statue and the Great Hall. You can find Xiem Can Pagoda at Hiep Thanh commune, Bac Lieu province.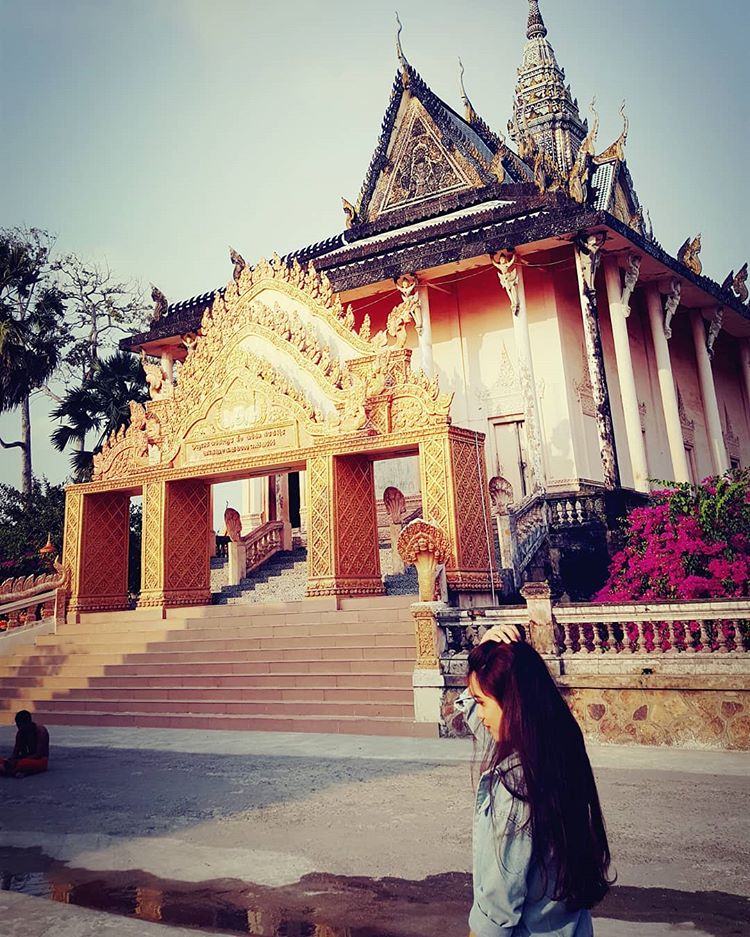 14. Visit The Bat Pagoda
The Bat Pagoda of Mahatup Pagoda is a unique blend of Vietnamese and Cambodian architecture located at Ward 3, Van Ngoc Chinh Street, Soc Trang City. If you have the chance to visit Xiem Can beforehand, then you will notice the striking architectural resemblance between the two. In the main hall the 2-meter tall monolithic statue of Buddha sits atop a lotus pedestal. The pagoda also has an interesting collection of scriptures recorded on doub palm leaves which is of significant religious and cultural importance. The Mahatup gets its name from the population of thousands and thousands of bats that inhabit the premise, hanging from the trees outside the temple. The peculiarity of these bats lies in the fact that they never go inside the main hall nor do they choose other temples as home. The monks at the pagoda consider these nocturnal critters a blessing and do their best to protect them.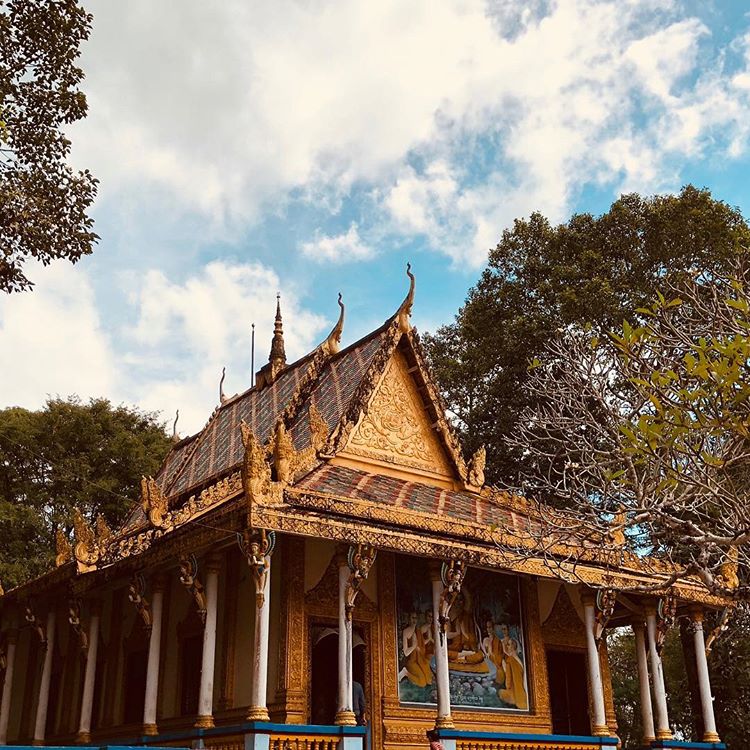 15. Visit Truc Lam Southern Zen Monastery
Beginning construction on July 16th, 2014 and finishing about a year later on May 17th, 2015, the monastery is among the largest in Southwestern region of Vietnam. In contrast to the Mahatup and Xiem Can, Truc Lam boasts an exquisite Chinese-influenced Ly – Tran Dynasty architecture on a 38,016-square-meter premise. The building of this wonder costs as much as 6.9 million USD, including an imposing Grand Hall capable of hosting 500 Buddhists, a religious library and 9-story-high tower. Truc Lam Monastery can be reached at My Nhon Hamlet, My khanh Commune, Phong Dien District, Can Tho City.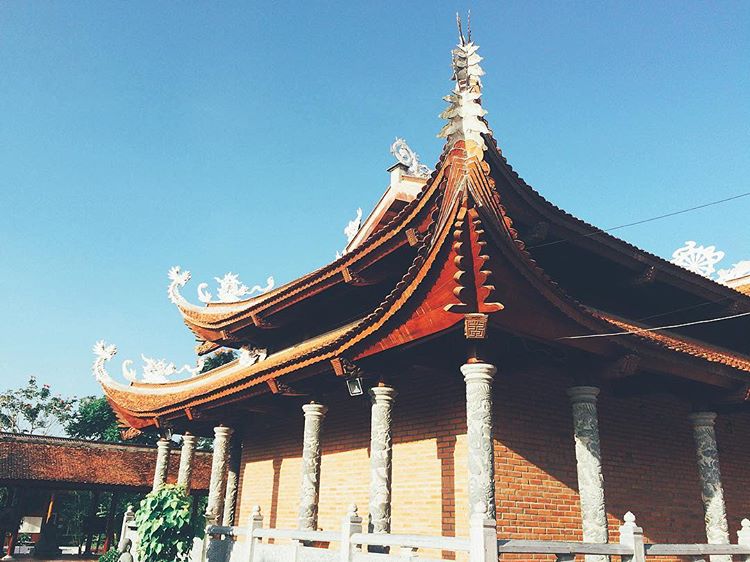 16. Visit Ba Chua Xu Temple
Ba Chua Xu or Lady of The Realm is a deity worshiped in Southern Vietnam's Thanism. An enormous Temple was erected in her honor at the foot of Sam Mountain in Chau Doc City, An Giang Province. This temple is a site of architectural, historical and spiritual significance, attracting a plethora of pilgrims from all over the country. The Lady of The Realm is synonymous to many tales from her worshipers, in which she is portrayed as a supportive and responsive goddess bestowing luck, health, protection and prosperity while inflicting horrible consequences involving broken promises. Some accounts reveal that she is a strict but fair patron who does not take kindly to disrespectful gestures, going as far as killing a person who bathed her statue 5 minutes too early during a festival. Nevertheless, she is extremely ubiquitous to the people, especially entrepreneurs. Provided their wishes are granted, pilgrims have to repay her for years to come, making a pilgrimage at different intervals. Visit this remarkable temple during the festive rainy season and you will get to witness a bustling atmosphere, sacred ceremonies and wonderful performances from the locals.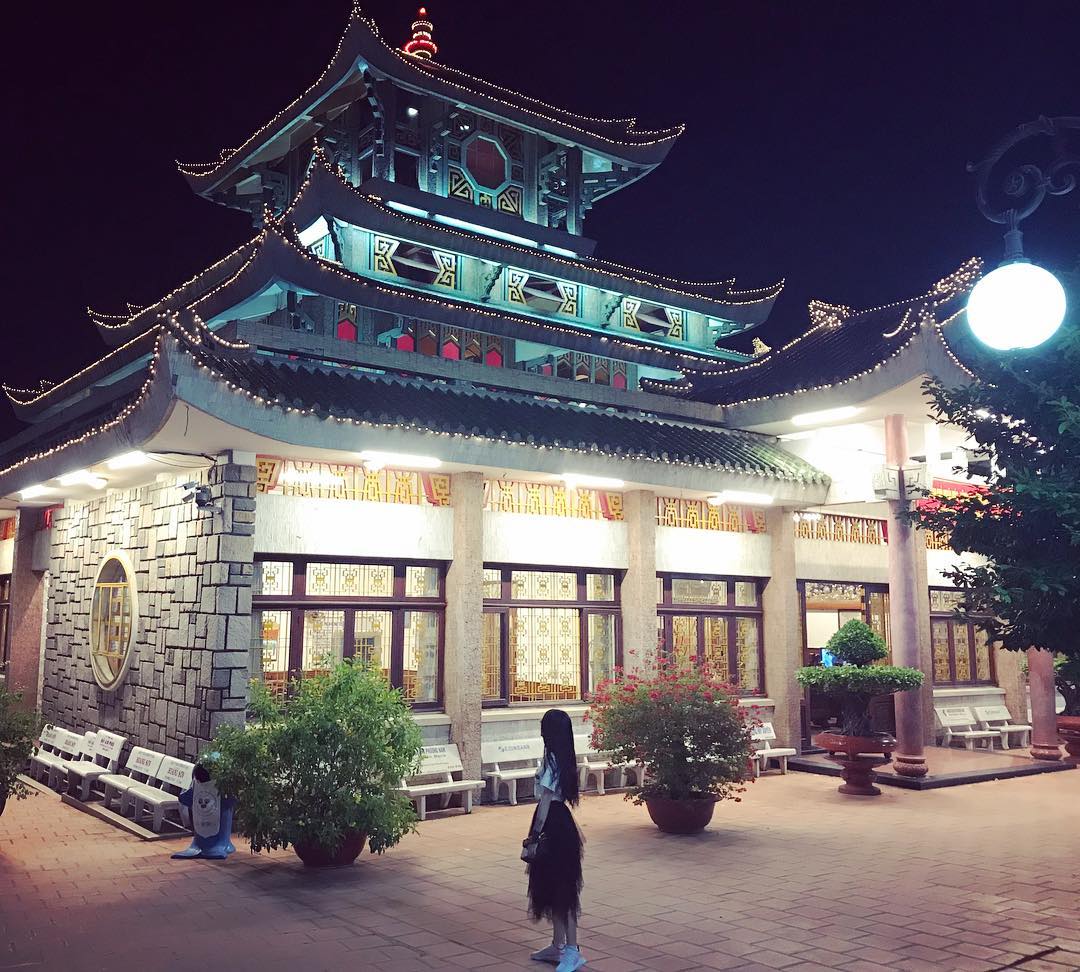 (admiring the splendor of Ba Chua Xu various temples)
17. Visit the Seven Mountain in An Giang Province
'Thất Sơn' or Seven Mountains are seven discrete mountains distributed across two districts of An Giang province, Tri Ton and Tinh Bien. The seven separate mountains are 'Thủy Đài Sơn' or 'Núi Nước' which translates to Water Mountain; 'The Forbidden Mountain' or 'Núi Cấm', where Nguyen Anh, the self-proclaimed emperor of Vietnam, sought refuge from the Tay Son rebels; 'Núi dài năm giếng' or Five Lakes Mountain, the fourth highest mountain among the seven; Ong Ket Mountain or 'Anh Vũ Sơn' ; Great Long Mountain or 'Ngọa Long Sơn', which means "reclining dragon mountain"; 'Liên Hoa Sơn' or Lotus Mountain situated in the middle of Ba Chuc Town; Co To Mountain or 'Phụng Hoàng Sơn' – Phoenix Mountain, the second highest and third longest one. Each mountain has its own distinct characteristics and breath-taking sceneries, and makes up the natural spectacle that is That Son.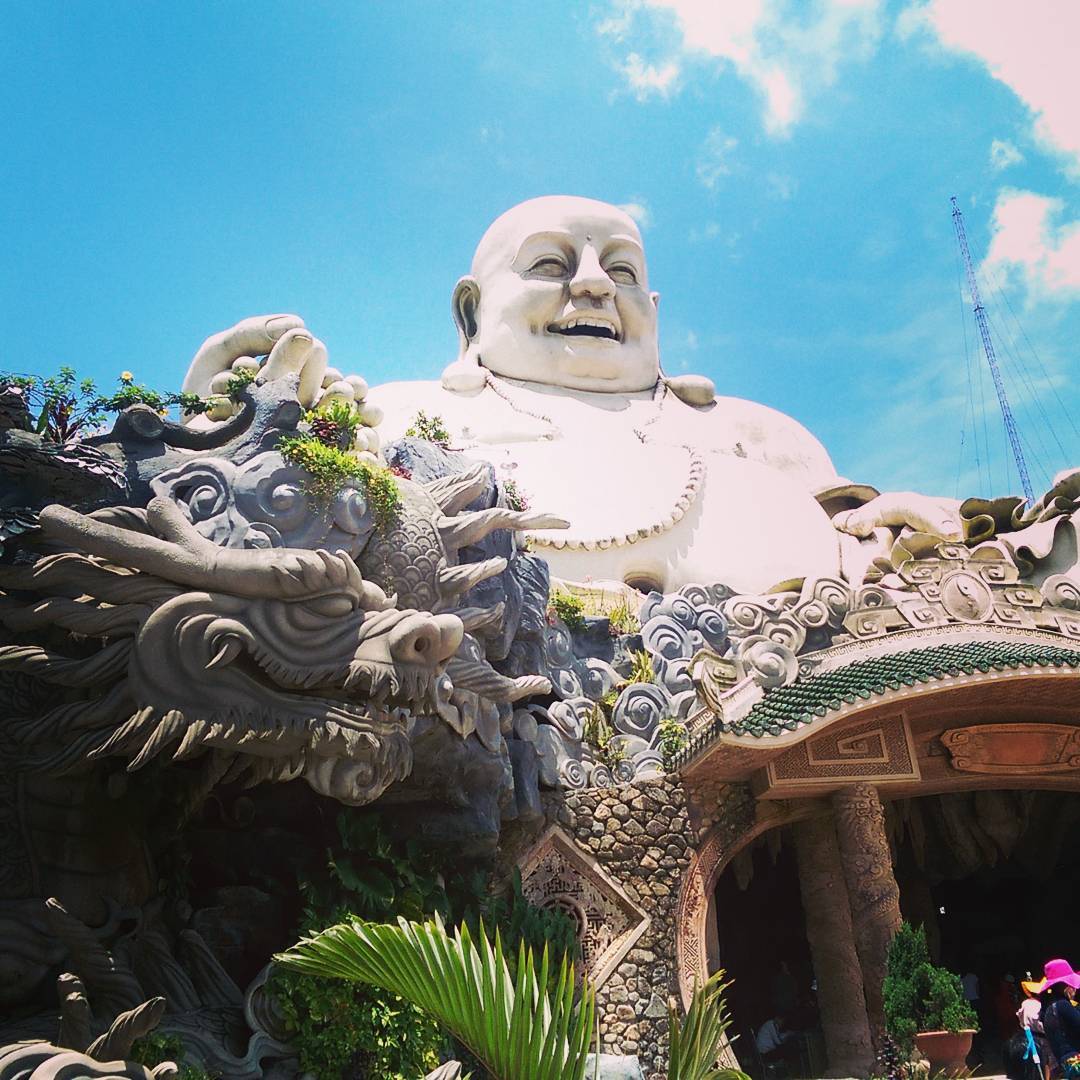 18. Travel to Cape Ca Mau
Geographically speaking, Cape Ca Mau is not the southernmost point of Vietnam. That position, however, falls to a spot at 8 degree 30 minutes latitudinal North. Nevertheless, the saying 'Vietnam occupies the length from the Friendship Pass – 'Ai Quan Nam' to Cape Ca Mau' has long been etched onto the back of each Vietnamese's mind, which popularized Cape Ca Mau as the Southernmost Tip of Vietnam. Although few travelers currently opt to journey to Ca Mau, with addition of Highway 63 and speed boat trip, the Ca Mau peninsula is fast becoming a part of many circular tours, offering authentic delta sceneries and an escape from the conventional tourist trails.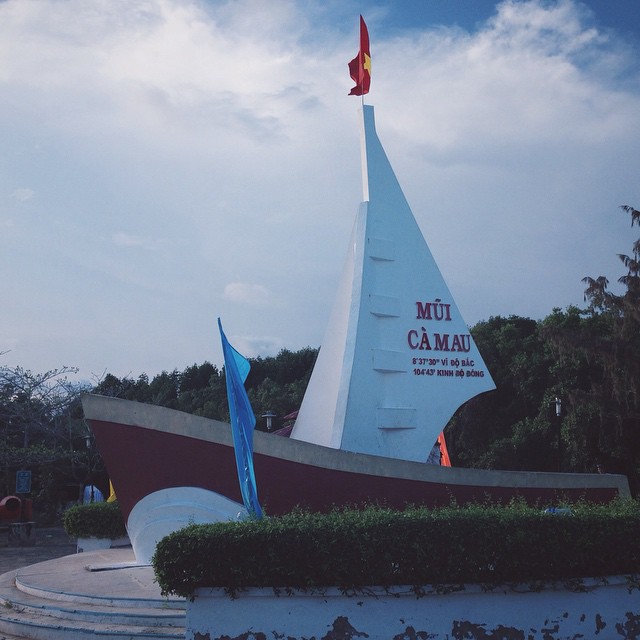 19. Visit Hon Phu Tu – Father and Son Island
The Father and Son Island is a small island comprised of two gigantic jointed boulders on a 5-meter-high bedrock rising out of the sea. The two figures residing in a slanted orientation are said to resemble a father and a son, from whom came the inspiration for the name of the island. A legend in the region spoke of a gargantuan sea monster terrorizing the water. A father and son living nearby could endure its tyranny no longer, so the father sought the creature's demise. After considering countless ways, he came to a conclusion that only by ingesting poison and offering himself can he finally rid the land of this vile monstrosity. And so he did. The son found his father's remain near the shore and broke down in tears. Unfortunately, the residual poison from the father seeped into the boy, bringing about his death. From where the two lay, up rose the two giant boulders, hence its name 'Father and Son Island'. The island is one of the most iconic examples of Kien Giang scenic landscapes and can be found off the coast of the Cave Pagoda strait, Binh An commune, Kien Luong District, Kien Giang Province.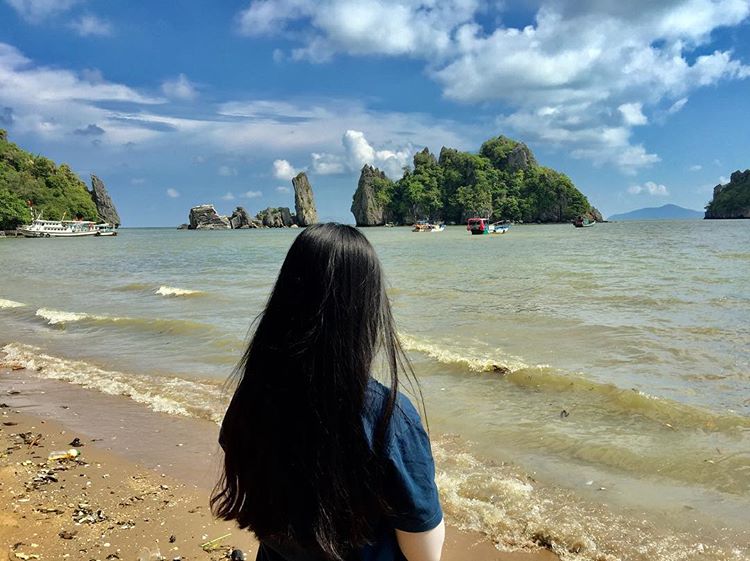 20. Have a breath-taking poolside view of delta scenic terrain.
Victoria Nui Sam Lodge is deemed the most desirable hotel in An Giang. Residing on the side of Sam Mountain and amidst the elaborate system of canals and religious architecture, the hotel is a paradise from high above, blending effortlessly into the surrounding natural lay of the land. However, along with the modern design and the collection of luxurious suites and bungalows, the hotel's crown jewel is its pool. Languidly wading in a pool perched on the mountainside while soaking in the magnificent and endless emerald rice fields below, what better way to wrap up your Mekong Delta experience? You can reach the hotel at 1 Vinh Dong street, Nui Sam ward, Chau Doc City. One suite for two adults can cost an average 58 USD per night.