Ben Thanh Market: A Guide To The Oldest Market In Ho Chi Minh City
In this guide, we will help you learn more about Ben Thanh Market as well as find nearby hang-out spots.
Any travelers who come to Ho Chi Minh City will notice a yellow complex with a large number of people going in and out. That complex is Ben Thanh Market, the oldest market in Ho Chi Minh City. People often consider it as the unofficial symbol of Saigon and the best places to explore in Ho Chi Minh city.
Let's begin exploring the one and only Ben Thanh market
Ben Thanh Market: a page in history
Ben Thanh Market was built from 1912 to March 1914. Its history is divided into two parts, the old market period and the new market period. The old market was originally built with brick and wood. Even back then, it's still one of the most crowded places in the city. But after Le Van Khoi's rebellion in 1833, the place wasn't as popular as it used to be.
In February of 1859, 2 days after the French took hold of Gia Dinh (Ho Chi Minh City's old name), the Vietnamese soldiers organized a fire attack on the whole city and burnt the market in the process. However, in 1860, the French built back Ben Thanh Market in its original location.
In 1870, the market suffered another fire, forcing the French to build it again. However, around 1911, Ben Thanh Market became old and in danger of collapsing. This forced the people to tear down the market and the French to build it in another location. Which is near the My Tho train station, that's why it's called the new market. The new market faces 4 roads, the south faces Place Cuniac Street, the north Rue d'Espagne Street, the east Rue Viénot Street, and the west Rue Schroeder Street.
Later, the last three roads' name was changed to Lê Thanh Ton Street, Phan Boi Chau Street, and Phan Chau Trinh Street. People still called the new market Ben Thanh. However, up till 1975, the name Ben Thanh only appeared in books, people often call it Sai Gon Market or New Market (to distinguish it from the old market). On July 1st, 1985 Ben Thanh Market went through an all-out renovation. Today, the market is one of the most crucial places in Ho Chi Minh City.
How to get to Ben Thanh market
Getting to Ben Thanh Market is quite easy, actually. As long as you're in Ho Chi Minh City, you can simply get there by taxi, bus or Xe om (motorbike-taxi). With the appearance of Grab (but for motorbikes) you can pretty much go everywhere in the city easily.
What you can experience around the Ben Thanh market
Today Ben Thanh Market area is mostly for tourists. There are lots of things to do in and around the Ben Thanh Market area. This section will show you what to do and what to see, so you don't have to waste your time doing intense research.
Shopping | Splurge until your wallet is drained at stalls inside Ben Thanh market
As mentioned above, this market is at the top of any list regarding tourist attractions in Ho Chi Minh City. You can find almost anything here including souvenirs, trinkets, clothes, hats, coffee, coffee filters, tea, shoes, purses, snacks, fresh fruit, art, dodgy electronics, toys, jewelry, nodding cat figures, etc. So if you want to buy something, it's very important that you know how to haggle.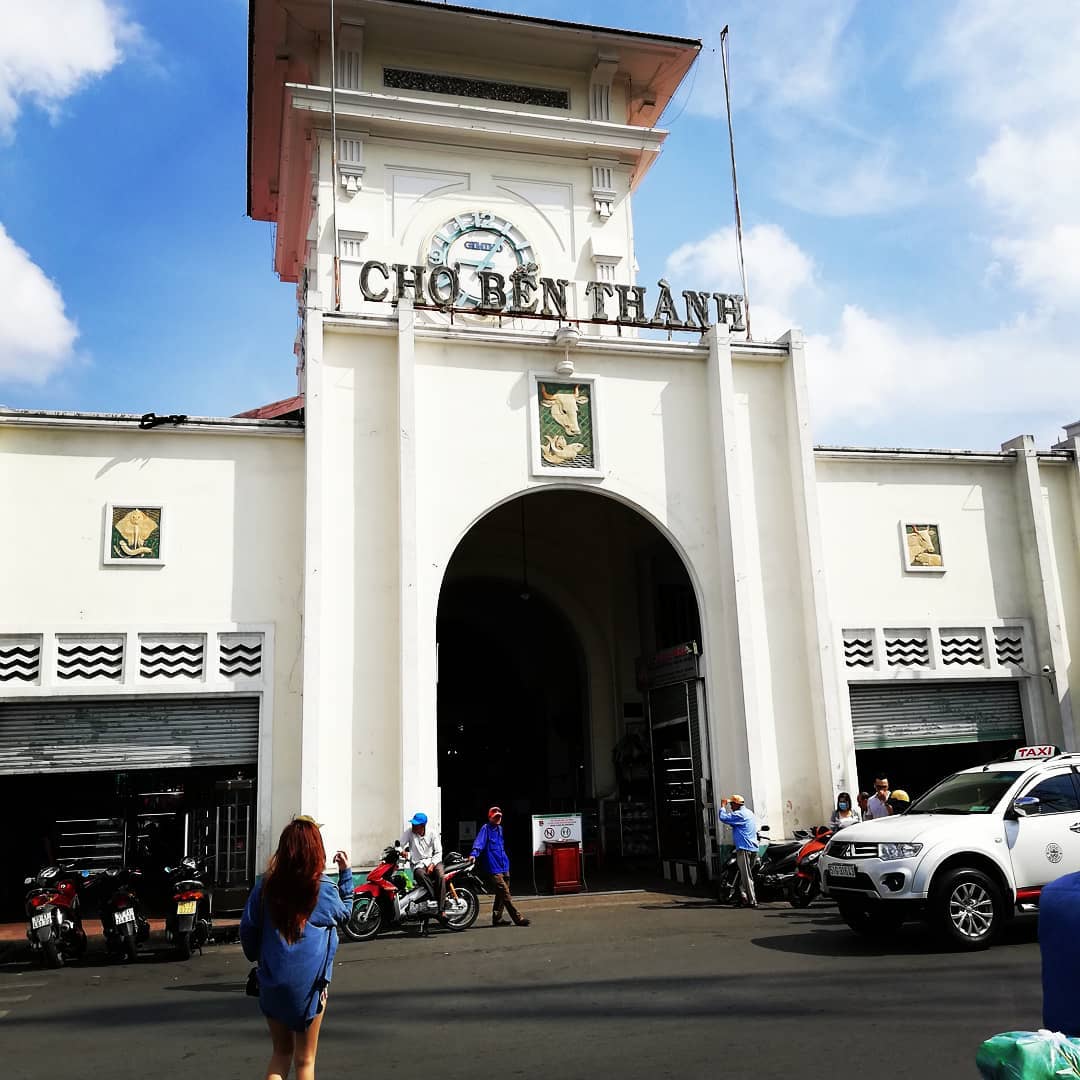 When you're haggling in Ben Thanh Market, always let the traders say their price first, then you can lower the price to around ⅔. After that, you and the trader can work out a reasonable price for both of you. Secondly, if the traders don't agree to your price, just walk away.
There are a plethora of other shops that sell the exact same item, you can easily find a better deal. And most importantly, always pay and haggle in VND, the traders won't lower the price if you pay in USD due to the drastic difference between USD and VND ( 1 USD ~ 20,000 VND).
Eating
You can also try local Vietnamese foods in the eating section of the market. There's a large set of options for you, such as bun rieu cua and hu tieu. If you feeling adventurous, you can try hot vit lon (balut as it is often called), which is boiled duck/chicken embryo.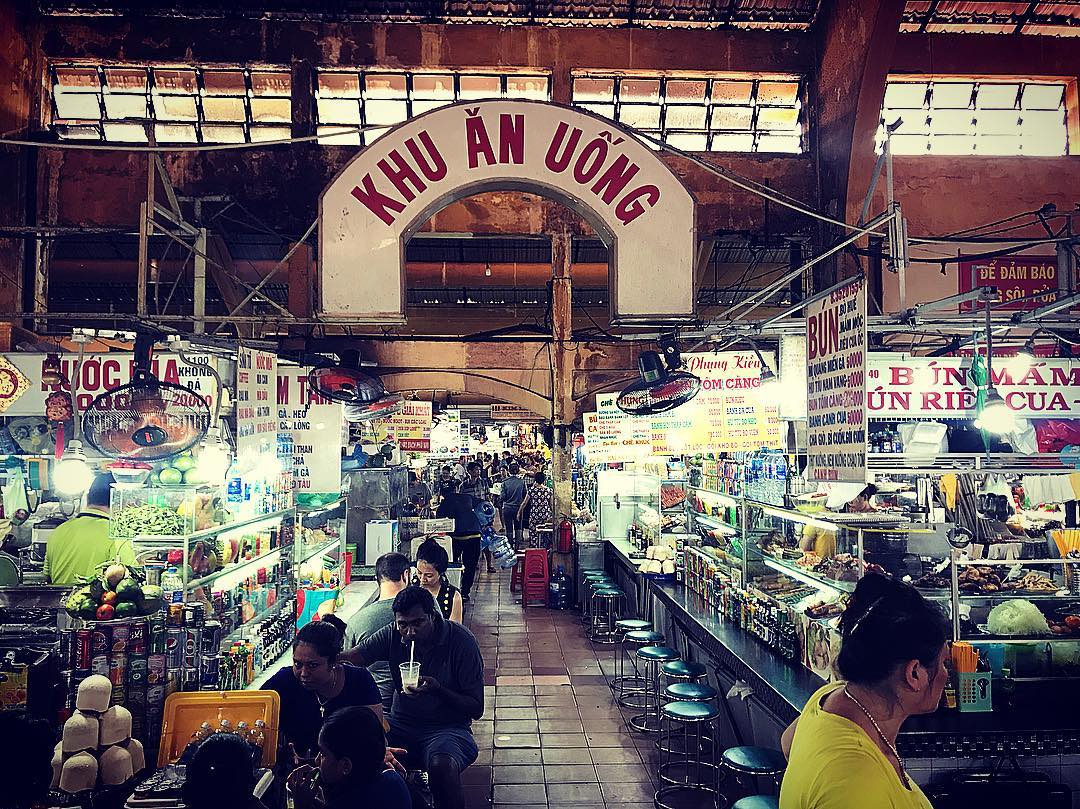 The market closes at around 5-6 PM and that's when the night market starts to set up outside. With even more things to do at night, this place seems like an endless source of entertainment.
Explore the Ben Thanh Night Market
Ben Thanh Night Market is just as popular as the normal market. From 5-6 PM to 10 PM, traders set up their stalls on the east and west sides of the market, with a wide array of goods for you to choose from. From traditional clothing to pottery, just like the day market, you can find lots of things here.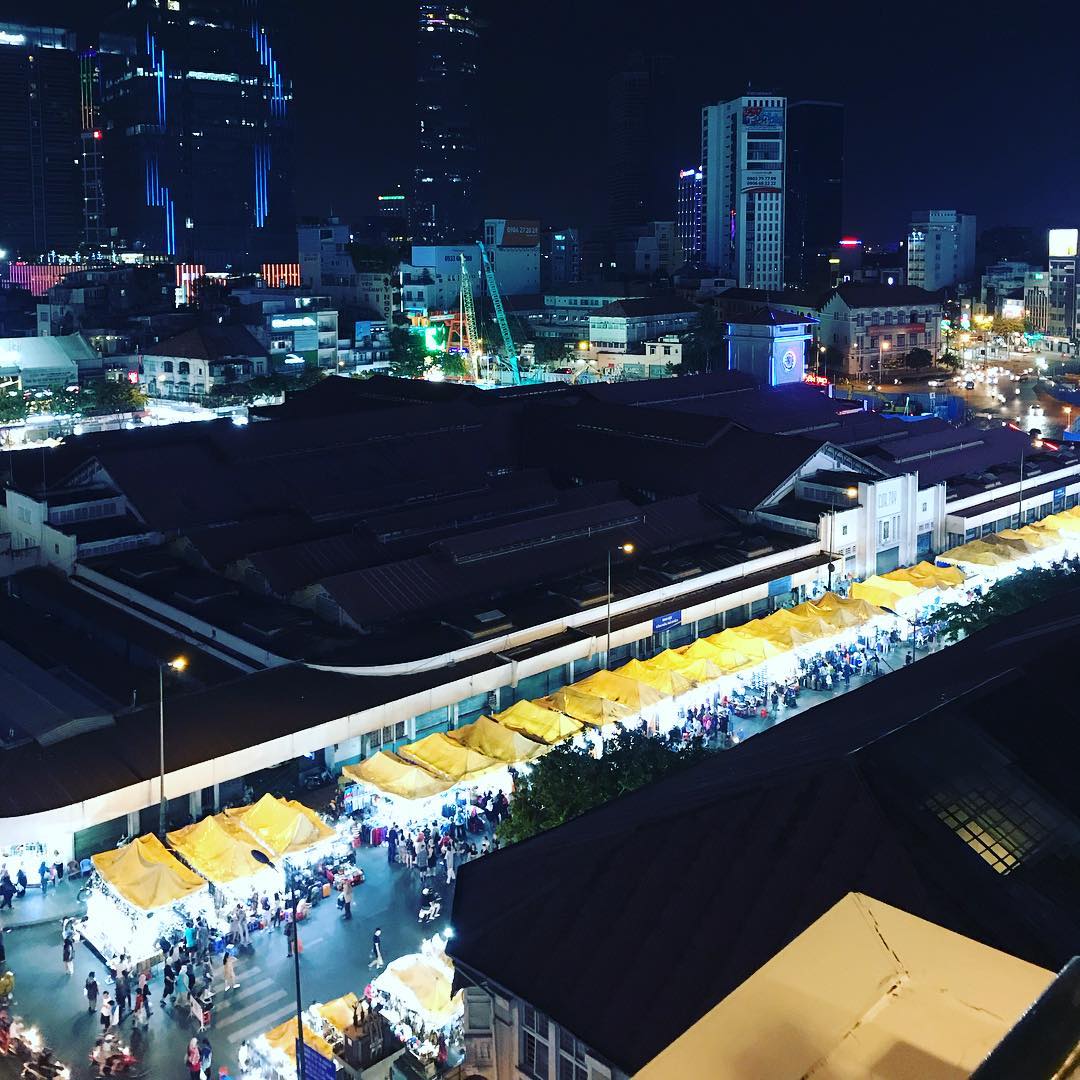 The food section is also changed for the night. So it's perfect if you want to grab dinner before heading out for the night or just want some snacks. Tourists can spot Bun Cha or Pho, from the North, Banh Nam, little-steamed rice cakes the Central, or Bánh Xèo, crispy rice pancakes from the South, along with plenty of other delicacies. The dining experience here is also quite different, you can see the cook make the food in front of you. The night market is perfect whether you want to take a night walk or looking to buy some goods.
Find some cool ornaments on "Antique Street"
Only a few hundred meters from Ben Thanh Market, you can find this place on Le Cong Kieu Street. People consider it the oldest street in Ho Chi Minh City, at about 200m long, it sells all kinds of antiques.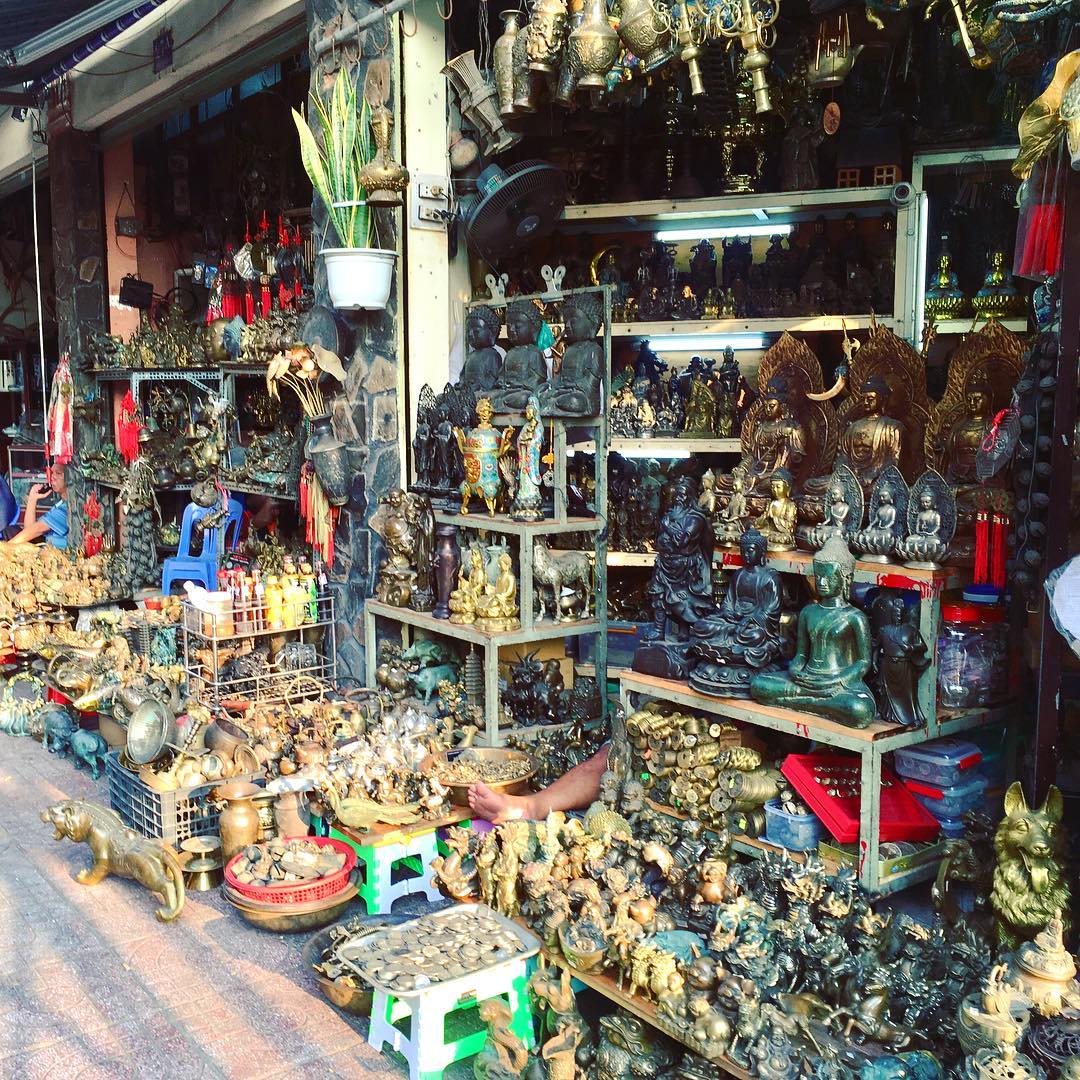 Shops here don't have nameplates, but they're numbered so customers can find what they're looking for. For example, you can find ceramic and pottery antiques in shop number 19, 21, and 23 while furniture can be found in shop number 15 and 36. The shops are usually open from 9 am to 5 pm and attract many collectors and tourists alike. You can sometimes find antiques here at a cheap price. This place has become a unique feature of Ho Chi Minh City due to its economic benefits and the many cultural and historical values that it brings.
Explore the religious richness in Mariamman Temple
The temple is very close to Ben Thanh Market, traders from India built it in the late 19th century. This temple is a sacred Hindu Temple dedicated to the goddess of the Rain 'Mariamman'. This place is the only Hindu temple in Ho Chi Minh City and people believe it can grant good luck and wealth to its visitors.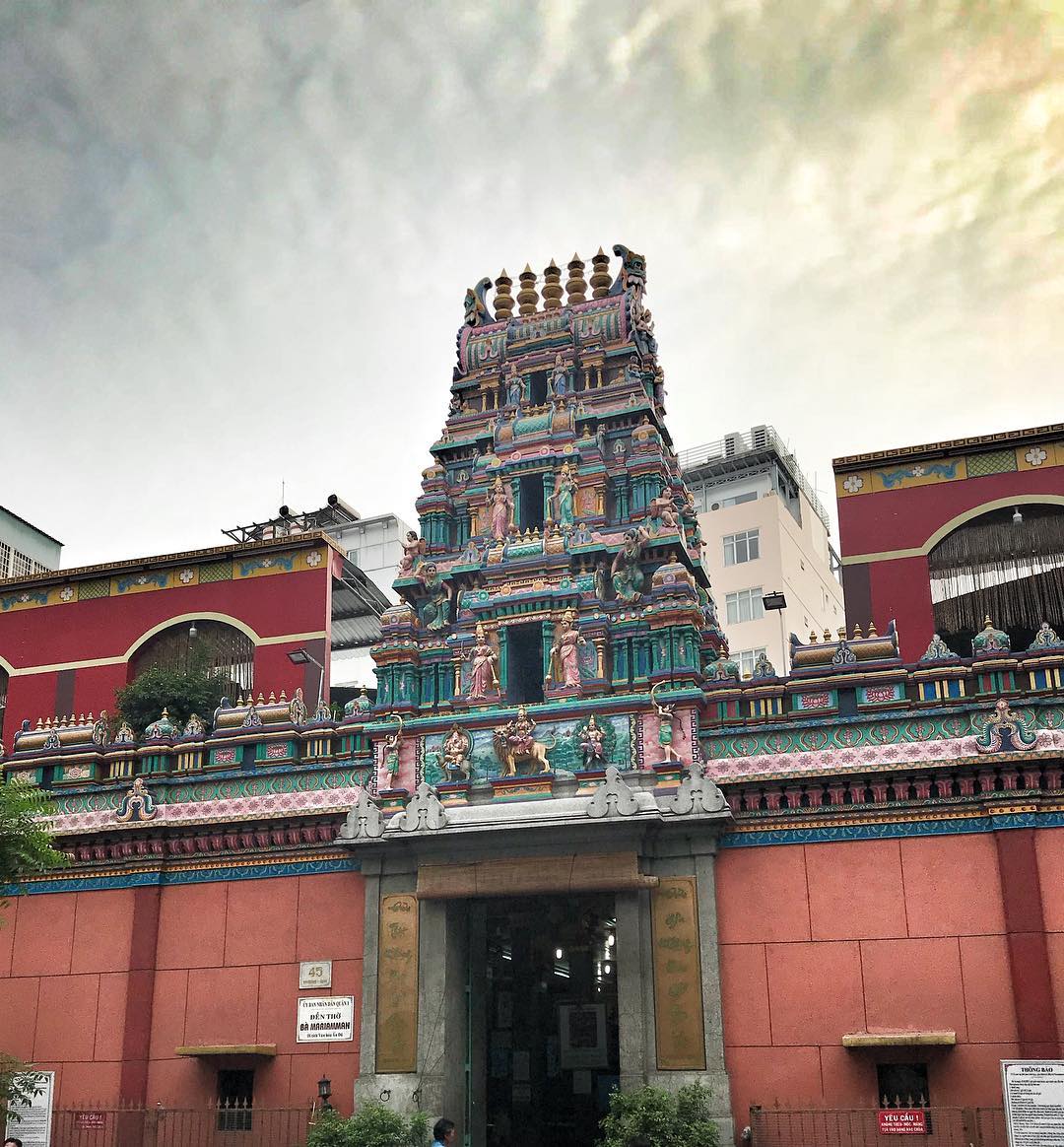 On the outside, its wall is decorated with a collection of god and goddess statues like Mariamman, Vishnu, Brahma, and Ganesha. Its main hall, the Rajagopuram, stand high at 12 meters. Inside, you can see a statue of Mariamman, protected by her two protectors Maduraiveeran and Pechiamman.
To enter the temple, you need to wear proper clothing and always remember to take your shoes off. You can win favor from the goddess by offering things such as incense sticks, jasmine, lilies, and gladioli, all of which you can buy at the entrance. The temple is free to visit and is open from 7 am to 7 pm.
Indulge yourself in the romantic atmosphere of the Fine Arts Museum
Just like many of the other attractions before, finding this place is very easy due to it's also in the Ben Thanh Market area. The Ho Chi Minh City People's Committee established it in September 1987. The Fine Arts Museum of Ho Chi Minh City is set inside an elegant 1929 French colonial villa.
This museum is for those who are interested in Vietnamese art and culture. It's filled with valuable Cham, Indian, and Khmer artifacts that were created between the 7th and 17th centuries. There's also a large selection of prints for sale at the shop, which you can purchase from around 100,000 VND. The opening hour is 9 am to 5 pm, from Tuesday to Sunday.
The entrance fee is also very cheap at 30,000 VND (1.25 USD) There are various other spots for you to explore, relax, and buy souvenirs such as The House of Saigon, Mekong Quilts, Cafe Apartments and so much more.
Local tips for your trip
Try and visit Ben Thanh Market in the morning. You can get better deals in the morning due to many traders offering "morning price" which is their first sale of the day. They believe it can bring them luck. In the morning, the vendors are also in a better mood, so bargaining can also be a bit easier. If you're just there to look around, then stop and look for a few minutes and move on to the next store.
Looking at and touching the goods for too long can anger the vendors. Remember to always keep an eye on your valuables, petty thefts are the most common problem in such a crowded tourist attraction.