Bangkok's top 20 places for food - a guide on where and what to eat in Bangkok
Thailand is one of the most popular destinations amongst globetrotters with all over the world. Impressive culture, lovely people, and affordable price are what put this country on the map. However, it is Thai food that makes it such a heavenly city and seduces visitors' hearts. Bangkok, in particular, is where has the best food hubs in the whole country and here is a guide on where and what to eat in Bangkok.
Bangkok Food Tours with local guide
Book now!
1. Try whatever you are in the mood for in Khao San Road.
It is more than just one road. Though Khao San Road is where you can find the most activities, there are small side streets that lead to bars, pubs, and hotels. As Khao San Road is a hub for backpackers, you will never run out of food to try. The road, like the entire area, is busy day and night, giving visitors the chance to try lovely Thai dishes, or even indulge in Western food, like pizza, KFC, McDonald and so on. Tourists will find countless food stalls, beer bars, pubs, restaurants, budget-friendly hotels and travelers from every corner of the world. It should be a free tour here. Try whatever you are in the mood for, eat and drink wherever you feel like and explore any street you want to. Visiting Khao San Road is a great combination of having a fun time meeting people and satisfying your tummy. Khao San Road also has a wide range of local things to do in Bangkok; thus in addition to good food, you can also experience Thai signature service such as Thai massage.
The street is open until 2 AM only. If you plan to stay up all night, it is better to plan for another destination afterward.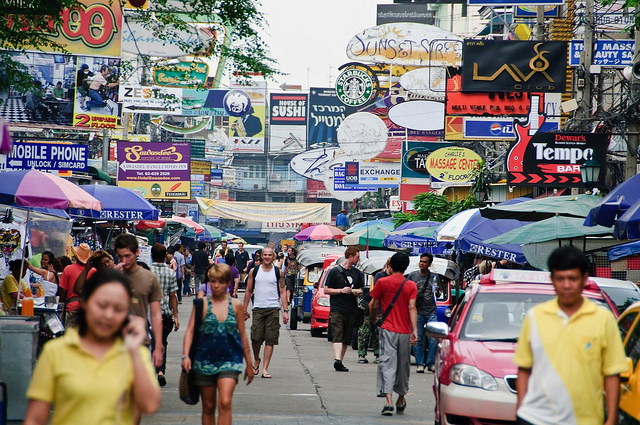 2. Soi Rambuttri: an non-touristy alternative to Khao San road
Running parallel with Khao San Road, Soi Rambuttri is much less crowded of an area. If you are not into sweating in congested traffic and suffering in the crowd, shoulder to shoulder with other pedestrians, Soi Rambuttri is a safer choice. Since the area is not heavily promoted yet, it has fewer tourists and more locals. Street food here is better than in Khao San Road and it's open all night. To arrive at Soi Rambuttri, you can go from Khao San Road to Thanon Chakrabongse. Ask any locals and they will show you. It takes about 30 minutes to walk through the street, however, the mix of restaurants, cafes, bars and shops here is great enough to keep you entertained for hours.
Bangkok Food Tour by tuk-tuk
Explore now!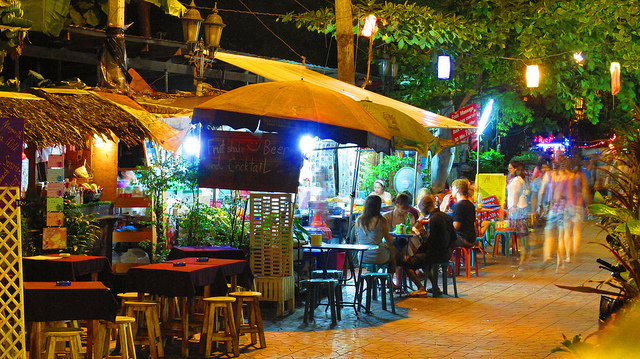 You can also visit Bangkok night markets such as Chatuchak weekend market, JJ Green and Ratchada train night market for tasty street food.
3. 38 Sukhumvit: relish both Thai and Chinese culinary essence
An area that has been made famous recently among tourists, 38 Sukhumvit remains a famous food street of locals. Unlike the two aforementioned destination, 38 Sukhumvit offers tourists mainly food and drinks, of which most come from Thai and Chinese cuisine. The area consists of lines of food stalls, and small wobbly tables and chairs on the food path where customers happily enjoy the food. As the street was formed to serve locals at first, the quality of food here is resident's approved, meaning hygiene, authenticity and the chefs' skills are long-term qualified by Thai people themselves. Not only is the food is delicious, but the price is also affordable. People are funny, friendly, and used to communicating in English with tourists. Here on 38 Sukhumvit, "Pad Thai Fire Look" is the gem. Even locals consider this is one of the best Pad Thai stalls in the city, therefore it is always crowded. However, for the taste, it is 200% worth it. After eating a big meal, don't forget to enjoy fruit smoothies, or fresh coconut, which cost only around 20- 40 baht. You can also order to take away. There is no reason not to pay this yummy street a visit and treat yourself to a lovely night with Thai cuisine. Bangkok street food is always ready for you to discover and get a bite!
The business here normally runs from 18:00 till morning.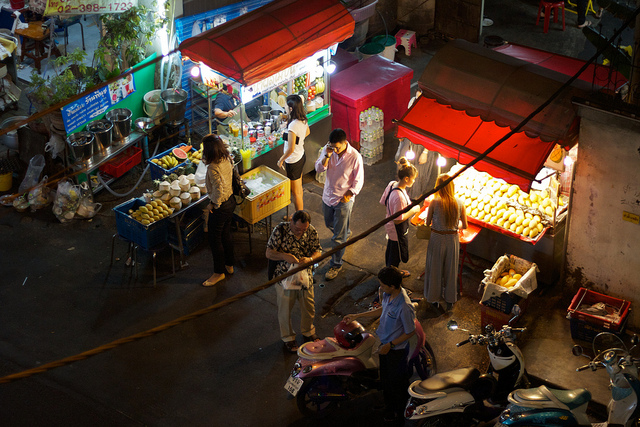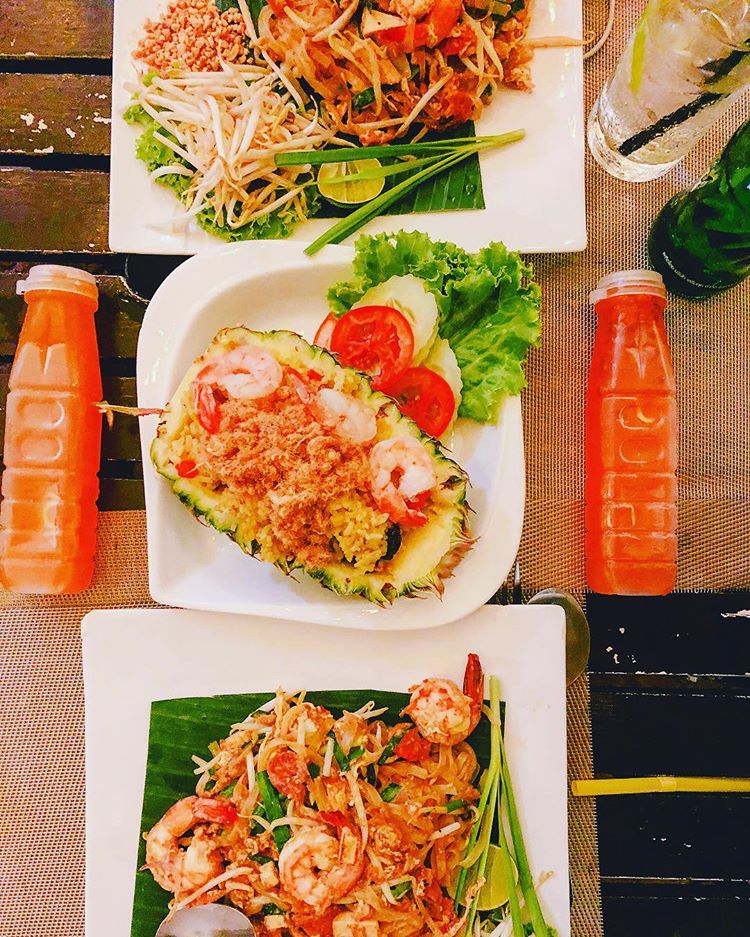 Way too hungry already? Let's calm your stomach with voracious tasty Thai food with Inspitrip now!
4. A food tour around Chinatown will satisfy your stomach for sure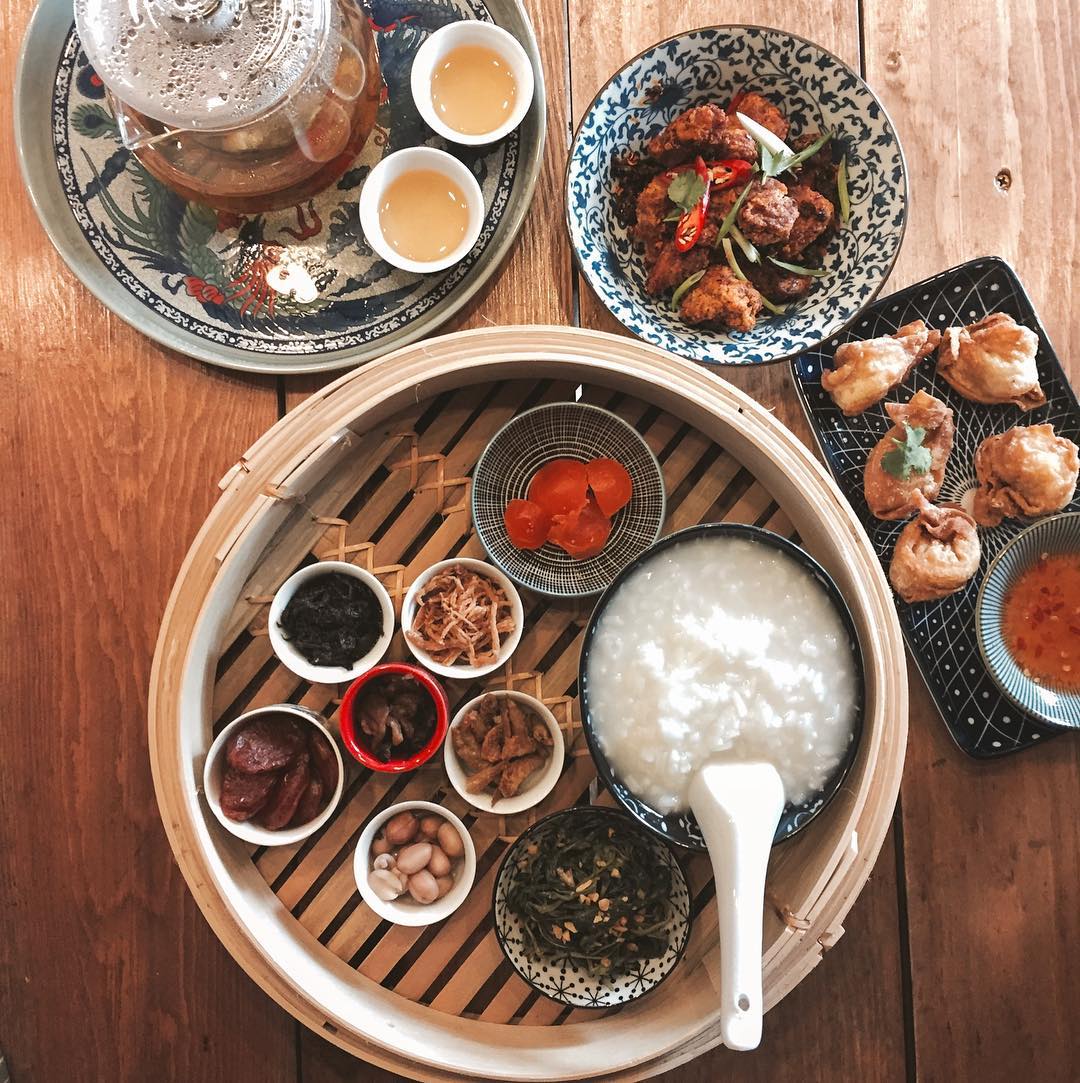 China Town will satisfy all your food needs. Bangkok's Chinatown is one of the largest Chinatowns in the world, with a history of more than 200 years. It is now not only the hub of Chinese culture in Thailand but also a place where you can find the purest, most authentic Chinese and Thai cuisine. Any gastronomer can be won over by the delicate dishes that are unique to this area. Chinatown can be overwhelming for first-time visitors due to its gigantic abundance of food choice. The true gems can be hidden in small corners, which in most cases, are popular amongst locals only. Thus, getting a food tour by experienced locals in Chinatown is definitely not a bad idea. Plus, only locals who have knowledge of Thai cuisine can help you understand the history as well as the meaning behind each special dish. Here is the list of 20 top must-try dishes in Chinatown and information regarding locals help.
Food discovery at Chinatown Bangkok
Go now!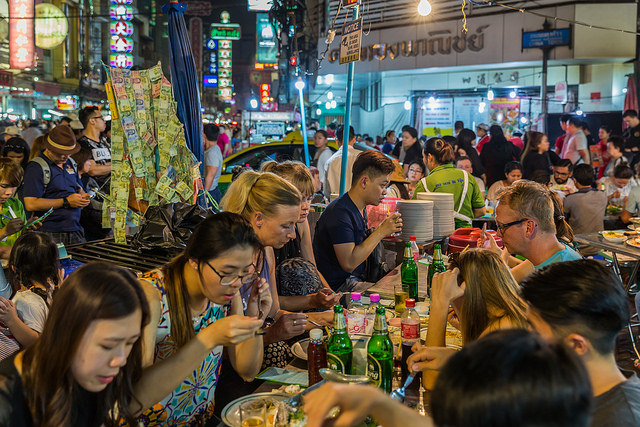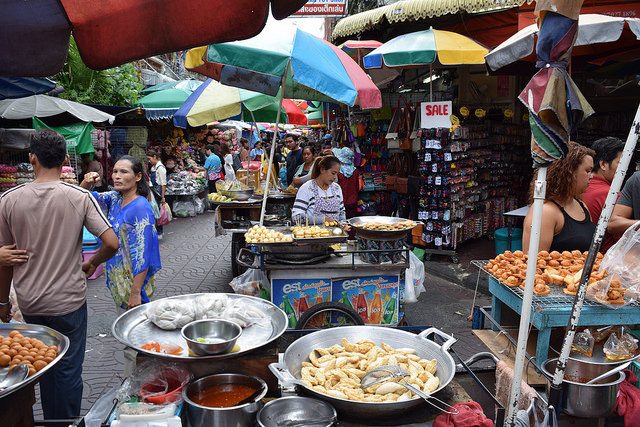 5. Rattanakosin: the vibrant royal district with excellent Pad Thai
Also known as Old City, located right in the heart of Bangkok, Rattanakosin is the oldest area in Bangkok and houses most of the important historical sites of the city. The hustle and bustle of Bangkok are definitely illustrated here. This royal district is always filled with light, locals, travelers and food lovers. Here situates the best Pad Thai restaurant in the country (more like all over the world); Pad Thai Pratu Pee, or Ghost Gate Pad Thai. It is always a must destination for anyone who sets foot in the city. Beside Pad Thai, there are plenty of national famous restaurants that you shouldn't miss. The streets in the area are quite small, despite the giant size of the whole district, therefore, Bangkok Tuk Tuks make the best form of transportation. A lovely occasion to gain a full Thai experience! Here is a little help for a tour in Rattanakosin.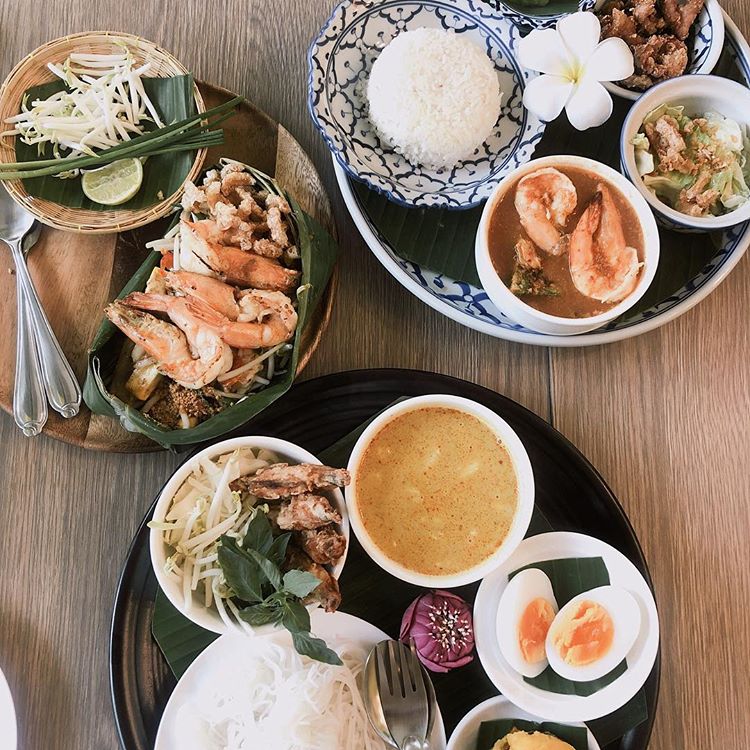 A Chef's guide: Bangkok Backstreet Food Walking Tour
Click for more details!
6. Vertigo- Banyan Tree Hotel: Top-notch restaurant for vanity seekers
If you are looking for a top-notch restaurant that can give you a luxurious experience, a breathtaking view and unforgettable moment, Vertigo is the top choice. Located on the 61st floor of Banyan Tree Hotel, the restaurant gives customers a view of the whole city from above. Not only that, the significant view comes together with the fanciest menu. Beside Thai tradition dishes, customers can find a range of high-quality dishes, rare food and drink options that are prepared by international qualified chefs. The western food here is absolutely the highlight, comparing with Thai's. It will be costly, but definitely worth it if you decide to try. It is highly recommended to book beforehand, as commonly this place is filled with customers, so often times the waiting queue runs outside.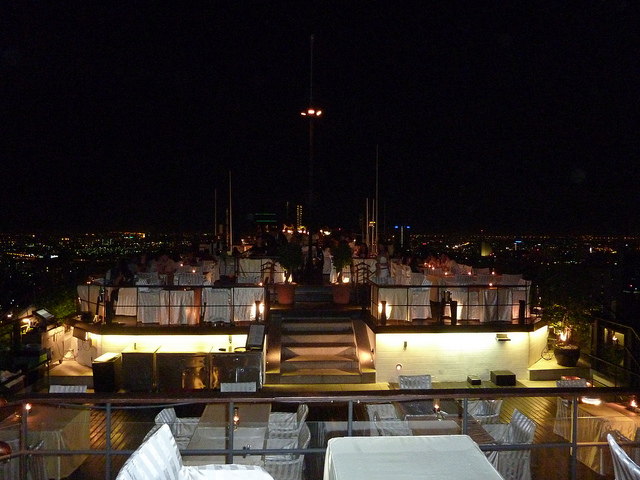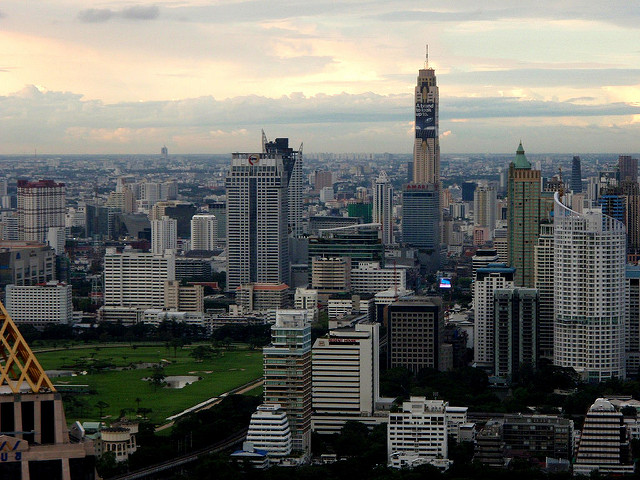 7. Arun Residence Restaurant: a romantic dinner with your significant other
Located right on the Chao Phraya riverside, the restaurant has the most desirable spot in the whole city. Right across the river is Wat Arun, one of the 3 most famous, gorgeous temples in Bangkok, and the pride of the residents. Dining at Arun Residence Restaurant is definitely an astonishing experience, especially when tourists can make it there to see the sunset. The view, combining with the restaurant's atmosphere and decoration create a perfect, romantic and elegant moment that you will never forget. The food here, however, is not the highest-ranked in the city. The menu is quite simple, including both Asian and Western food options, however, limited to just basic dishes.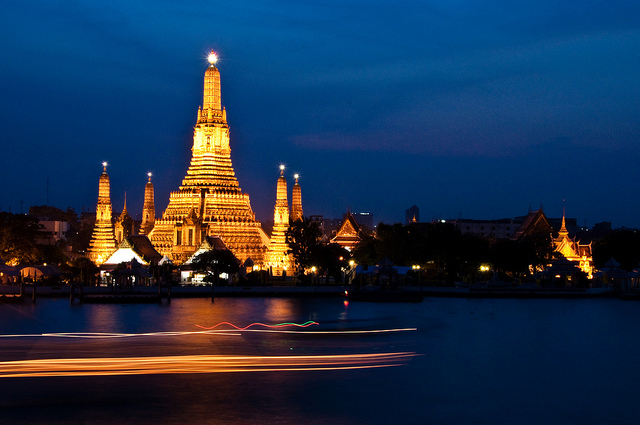 8. Lek Seafood Silom
Get yourself ready to eat the best fish dishes in Asian cuisine. Lek Seafood Silom is the king of seafood in town. The menu is very simple, down to earth, however, the restaurant carries the highest quality and most authentic recipes in every dishes. Shrimp, fish, crab, clams, you name it. Every plate served is prepared by the most high-skilled and experienced local chef. If you have or have not tried Tom Yum soup before, try it here. Be careful in setting the bar high this high, because there is no way to go lower after Lek Seafood Silom. Tourists should keep a local mind here because the restaurant comes with plastic wobbly tables and chairs, local funny staffs and of course, very loud and proud Thai style.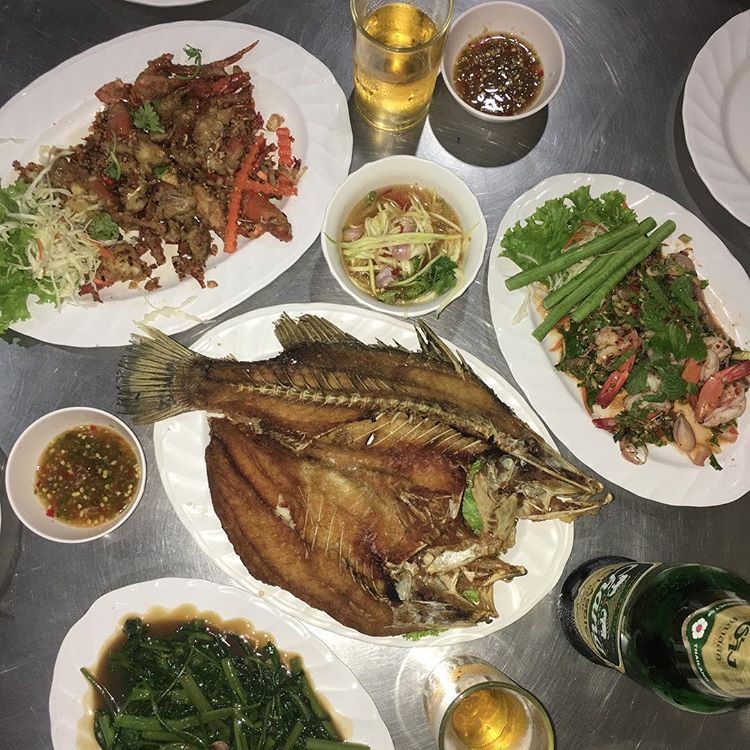 9. Wattana Panich Restaurant: where you can find the best beef noodles in Thailand
Wattana Panick restaurant is one of the affordable yet high-quality Thai restaurants in Bangkok. Come try the best beef noodles in Thailand. Even though the restaurant only offers one main dish, it is still one of the most loved restaurants in the city. Tourists can easily recognize the restaurants by gigantic stew pots right at the front of it. These pots are always kept hot and bubbling, ready to serve the long line of customers continuously coming. The beef stew is the main base of the dish and tourists can choose from three noodle options, including large, flat 'sen yai', medium-sized 'sen lek', or hair-thin 'sen mee' noodles. The price of this dish is also really lovely, 80 baht for a basic bowl, 100 baht for an extensive one.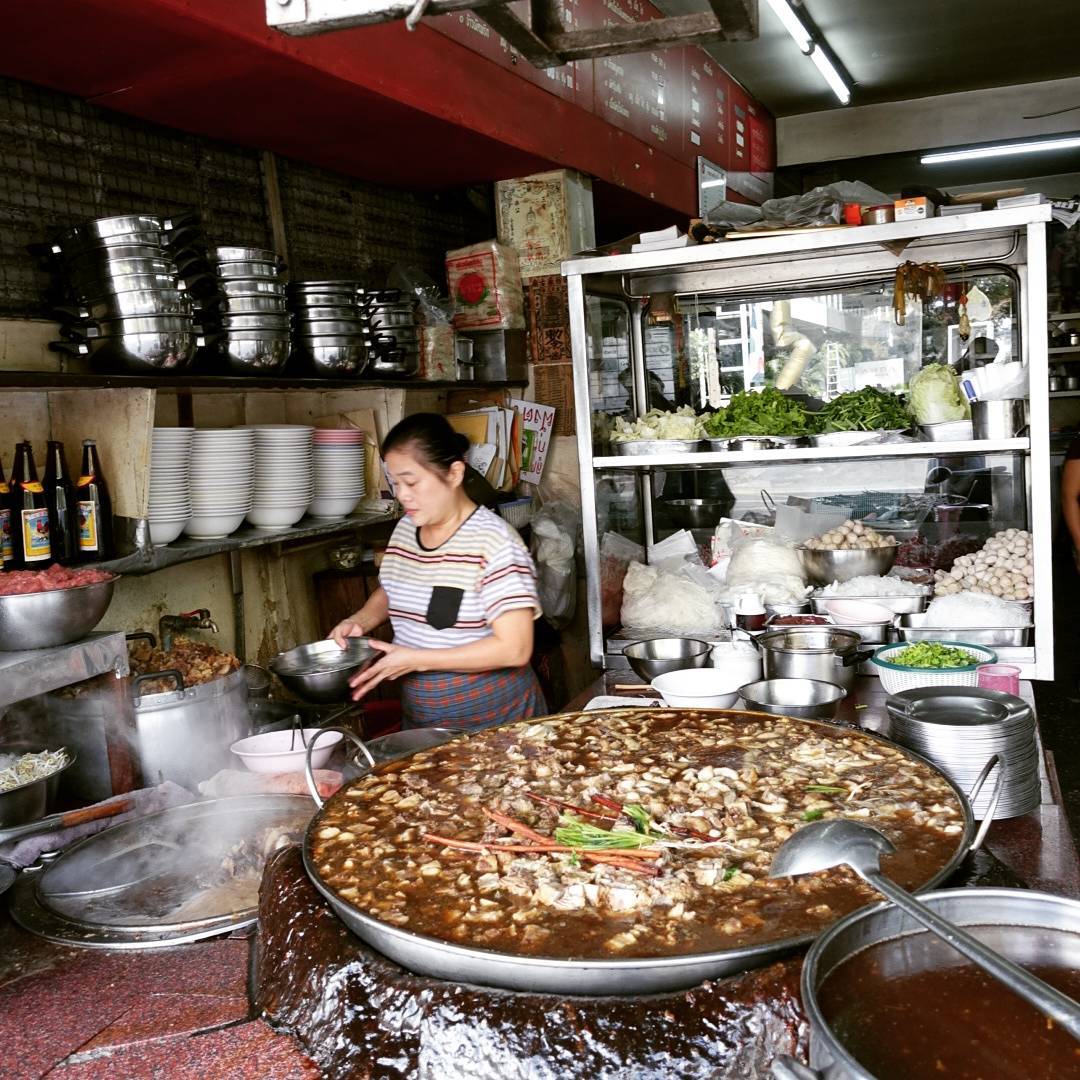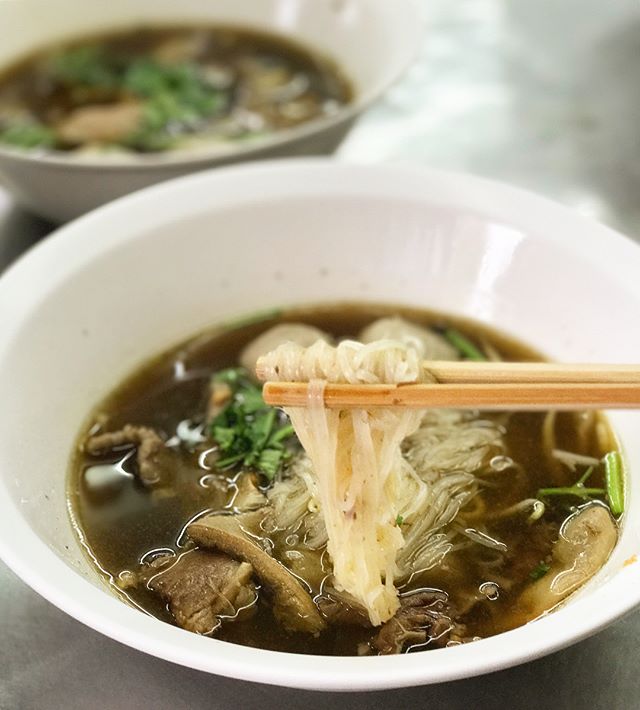 10. Bo.Lan: eating Thai food with extra luxury
Not your regular daily restaurant, Bo.Lan is more a luxurious and advanced option to experience Thai food. The co-owners of the restaurants, Duangporn Songvisava, and Dylan Jones have transformed Thai cuisine into a delicate art, focusing on combining the original Thai dishes to create a luxury and flavourful food party. The food is served in set menus, including 6 courses each. There are 3 sets, which are a basic menu for 1980 baht (not including tax or service), a reduced option for 1680 baht ++ and a vegetarian set for 1980 baht as well. If you are a gastronomer who is looking for nuances in Thai cuisine, in particular, Bo.Lan is the perfect destination.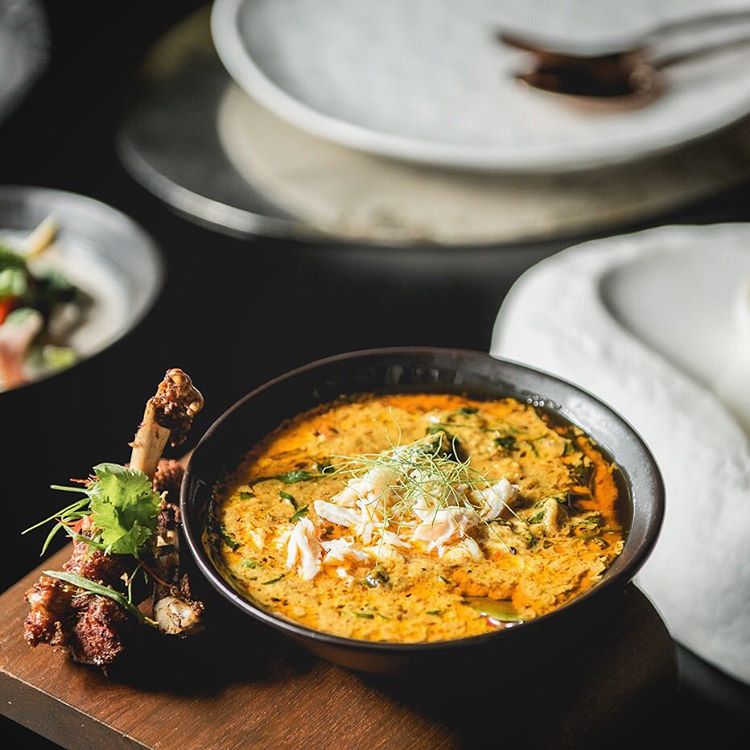 11. The Never Ending Summer: how strange to dine in a warehouse!
Quite a weird name, but this restaurant is one of the best dining spots with unique architecture and decoration. The place used to be a warehouse that has since been renovated into a restaurant filled with tree and plants. The Never-Ending Summer serves original Thai cuisine, however, it also carries a nice touch on contemporary European food. Amazing food and a beautiful green theme setting together with a modern and trendy atmosphere make this restaurant a favorite spot for young generations, mostly workers or young families. The restaurant also has an exhibition section and a bookstore, making it a great relaxing destination.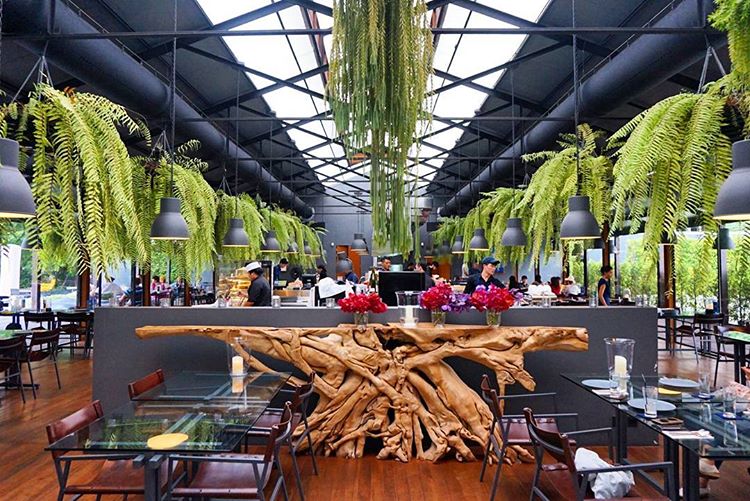 Beautiful decoration in the restaurant. (Instagram: jeehea_ch)
Above are the most stand-out restaurants in the author's opinion. Below are a few alternatives that would be worth a try if you are in town.
Zong Pet Paloe. Specialized in dishes made from DUCK.
Le Du Restaurant. Modern Thai restaurant run by a young creative group of chefs. The taste is internationally influenced and would be a new experience.
L'Atelier de Joel Robuchon. Best French restaurant in Bangkok
Gaggan. A beautiful Indian restaurant, owned by a famous and experienced chef- Gaggan Anand.
Ginza Sushi-Ichi. A great destination for Sushi lover.
Enoteca Italiana. The most successful Italian restaurant in Bangkok. Romantic, professional and luxurious.
Water Library Chamchuri. Significant decoration restaurant that serves European style food.
Baan Khun Mae (Siam Square). Right in the heart of Siam Square, the restaurant serves Thai cuisine that fit universal taste, preventing tourists from being overwhelmed with overpowered spice and taste.
Sala Rim Naam. The restaurant serves original Thai cuisine, combining with authentic performing art. While dining, customers can enjoy Thai dance or battle art. It also has a lovely view towards the river.
Here are dishes that you should never miss in Bangkok/ Thailand
Pad Thais
Pork/ Beef Stews
Papaya Salad
Tom Yum Soup/ Noodle
Wonton Noodle
Mango Sticky Rice
Fish Soups
Roasted Duck
Kway Chap
BBQ (meat or seafood)
Thai Hot Pot
Coconut desserts.
There you have it. The top 20 most wonderful and worthy restaurants to try out in Bangkok. The list gives you options from budget-friendly to costly ones while also covering Asian and Western cuisine. Bangkok is definitely not only a cultural hub but also an economic hub of Asia. It is amazing how this city maintains the pure and strong background while growing its stylish and sophisticated aspects of a modern city. The choice definitely should be based on what tourists want as an outcome of your food trip in Thailand. If you want to be local, eat and experience the moment as real Thai local, it is recommended to spend more time exploring Thai food streets. If you want to try a luxurious food and top-notch service at a (relatively) low price compared to Western countries, definitely book a table in one of those aforementioned pricey restaurants above. It doesn't matter what you choose to experience in Thai cuisine, the outcome will be the same: HAPPY TUMMIES, SATISFIED VISITORS.