Bai Tu Long Bay - The hidden alternative to Ha Long Bay
Bai Tu Long Bay is every bit as beautiful as its famous neighbor - Ha Long Bay. In some ways, it's actually more stunning since it's only in its initial stages as a destination for travelers. Improved boat transport to the scattering of resorts here means the area is quickly growing in popularity with domestic tourists, but the bay and its islands are still unpolluted and relatively undeveloped. For Western travelers, it's a laid-back alternative to the touristy bustle of Halong Bay. There's much more to northeast Vietnam than Halong Bay. The sinking limestone plateau, which gave birth to the bay's spectacular islands, continues for some 100km to the Chinese border. Bai Tu Long Bay is located some 30km to the east of Vietnam's number one attraction, Ha Long Bay, but is less visited thanks to its harder-to-reach location and fewer accessible caves. The rewards, however, are worth the little extra effort it takes to get here. Visiting Bai Tu Long Bay is a more peaceful experience, with extra time for kayaking and swimming among the awesome rock formations that assume all manner of fanciful shapes across this ocean landscape. Some of the larger islands also feature forest reserves rare species.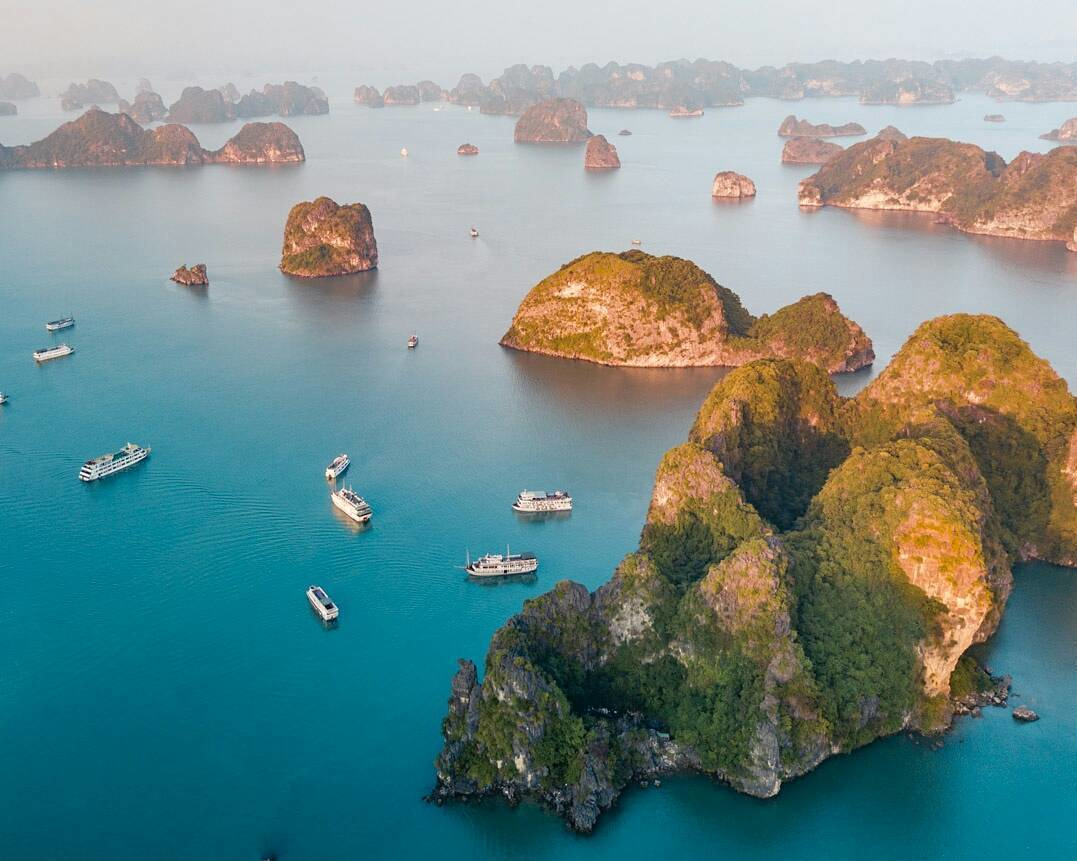 DESTINATIONS TO EXPLORE The area immediately northeast of Halong Bay is part of Bai Tu Long National Park. In this big area, visitors can find pristine natural landscapes. Even now, Bai Tu Long remains an extensive unexplored area. Bai Tu Long has many attractions to visit: Cong Do area, Vung Vieng fishing village, Thien Canh Son cave and Tra Gioi beach. There are also some populated islands; Quan Lan, Ngoc Vung, Cong Dong, and Cong Tay with many beautiful beaches. In addition, Bai Tu Long Bay National Park is rich in biological diversity, home to much different flora and fauna.
Cong Do Area
Covering an area of nearly 23.4 square kilometers, Cong Do Island is a great work created by the Mother Nature with a large number of concentrated coral reefs, underground lakes inside karst mountains, underwater caves, and large beaches. The coral reef ecosystem here is extremely outstanding with more than 700 meters in length and 300 meters in width and there are many rare species of coral. Especially, a wide coral reef on the southwestern of Cong Do Island displays a myriad of colors. For that reason, there is a plan to develop this area to become an impressive zone for scuba-diving and snorkeling. Besides, having many lagoons, Cong Do is also a home of many sea-life species such as squid, fish, shrimp, crab, and so on.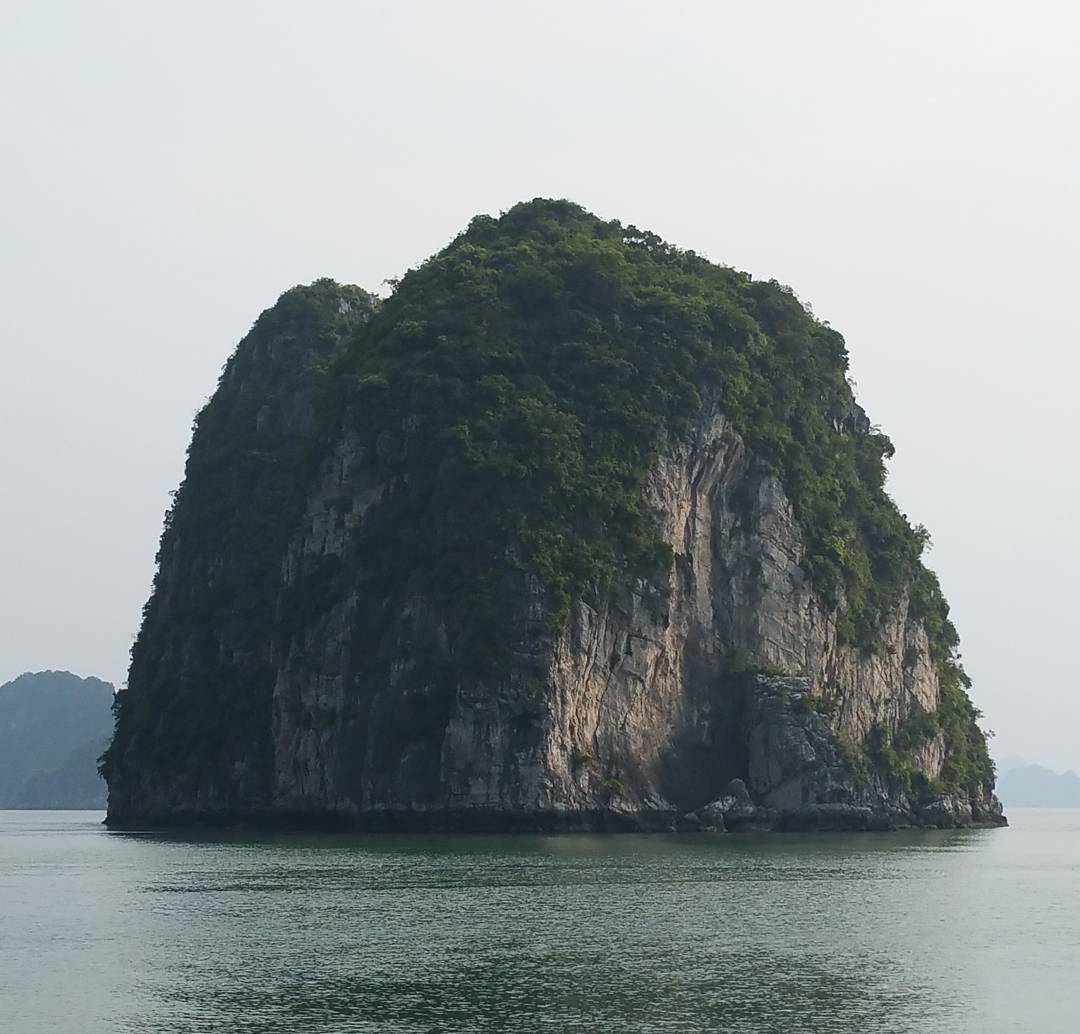 Cong Do is an ideal place for swimming thanks to its many beautiful beaches with emerald waters and white sandy banks like Tra Gioi Beach, Cay Bang Beach, Cat Oan Beach…In addition, travelers can enjoy trekking up to the hill to admire the panoramic view at the top of the hill. Hidden lagoons and airy space also make the area more ideal for kayaking.
Vung Vieng Fishing Village
Beyond the limestone peaks of the World Heritage site Ha Long Bay – Bai Tu Long Bay, long before tourists arrived, the Vung Vieng inhabitants had started their lives in coexistence with the sea. Settling down in a community 20 km from the mainland, some of the families been here for generations, attached to the waves and tides, a floating life without a single concern about how much the cost of rent fluctuates.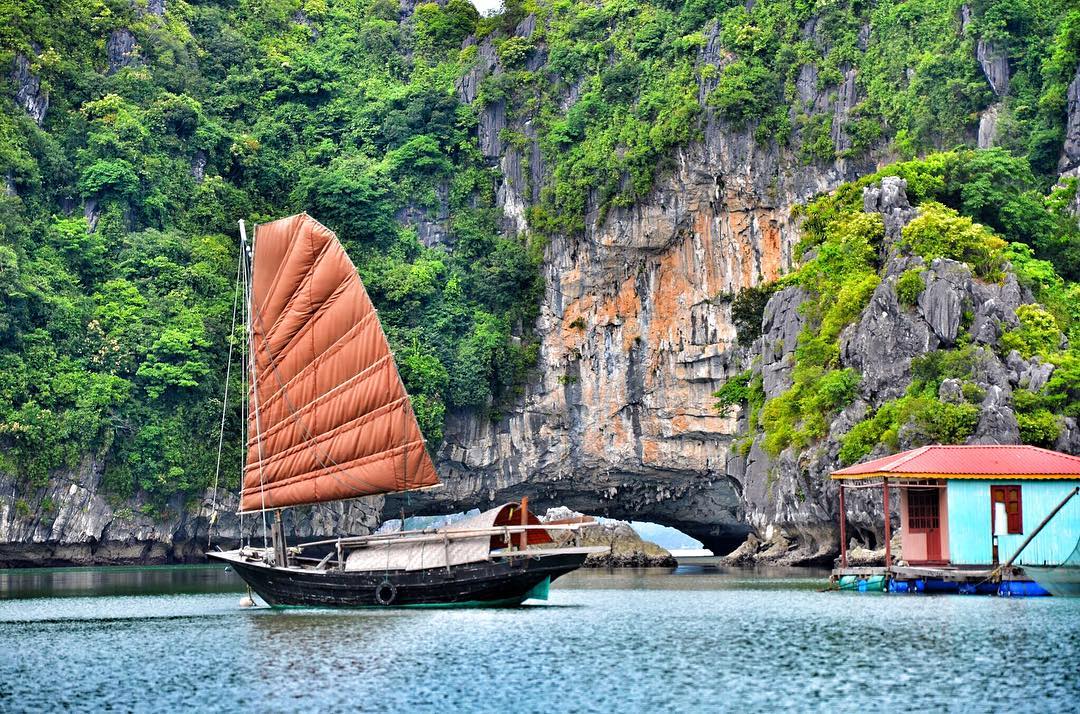 Exploring the heart of Bai Tu Long Bay, where Vung Vieng floating village is located, you are not only be immersed in the quiet and peaceful atmosphere, surrounded by the rocky mountains but also in the process of discovering the cultural distinctions when talking to the fishermen, who are happy to show you their traditional fishing tips, dropping and pulling the net.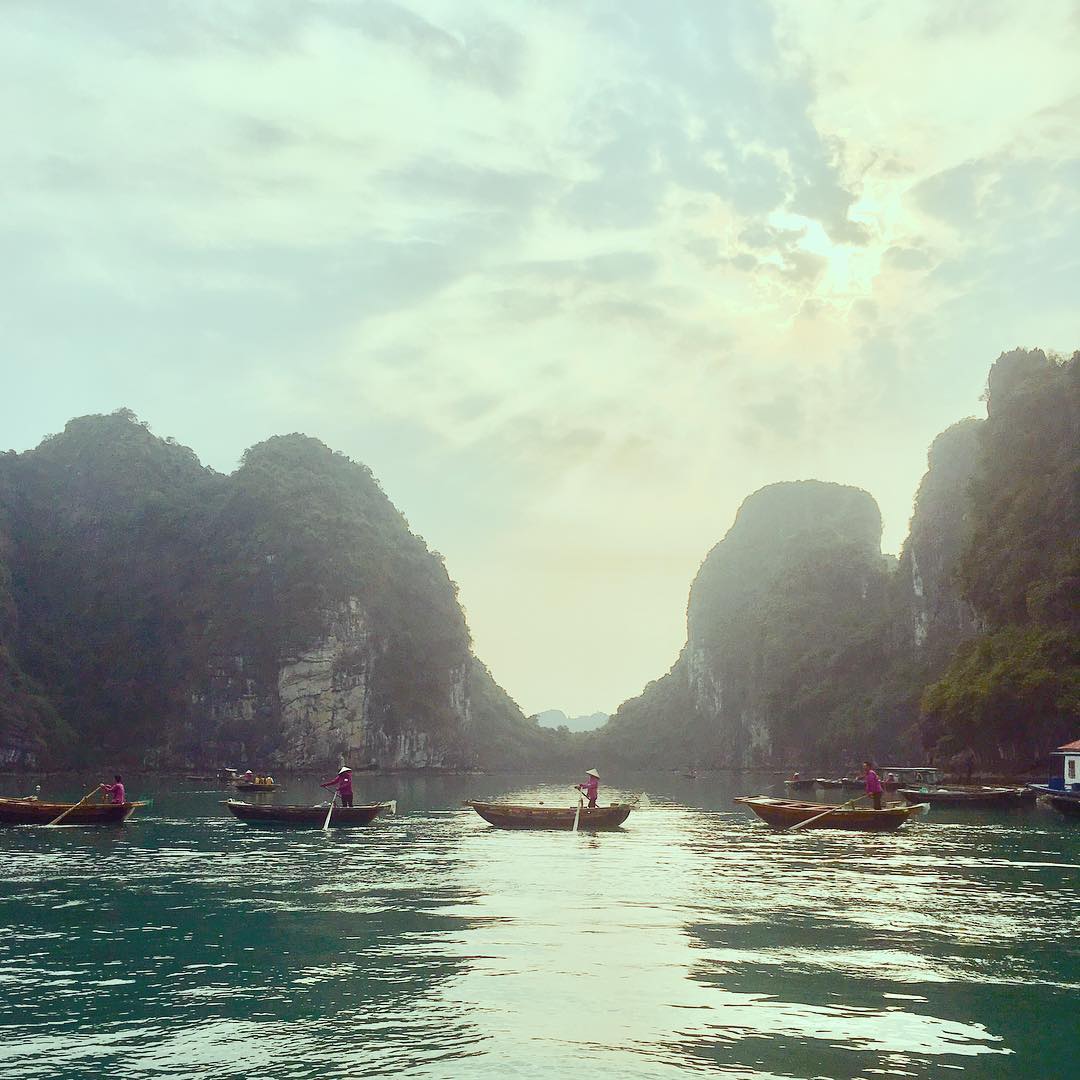 Just like other floating villages located in Ha Long Bay, Vung Vieng Village can only be approached by sea after a few hours' journeys; local people make a living here at the low demand: limited drinking water bought from the large vessel every week, transportation is by small rowing boat, even school children have to make their daily journey by boat, there is only one elementary school in the area so children at Vung Vieng only attend school in few years before going to the mainland if their parents want them to keep learning at a higher level. .
Thien Canh Son Cave
Thien Canh Son Cave is a wild cave located in Bai Tu Long Bay, in the center of Cong Do island. It attracts so many tourists both domestic and overseas with its rare natural beauty, pristine limestone stalactites and beautiful surrounding landscape. Visitors have the opportunity to enjoy the mysterious beauty of gorgeous rosin's system hanging inside the cave. The entire ceiling shines with thousands of glittering stalactites, creating unique images: the stone statues, stone dragons, and flowers are likely to make an ideal world.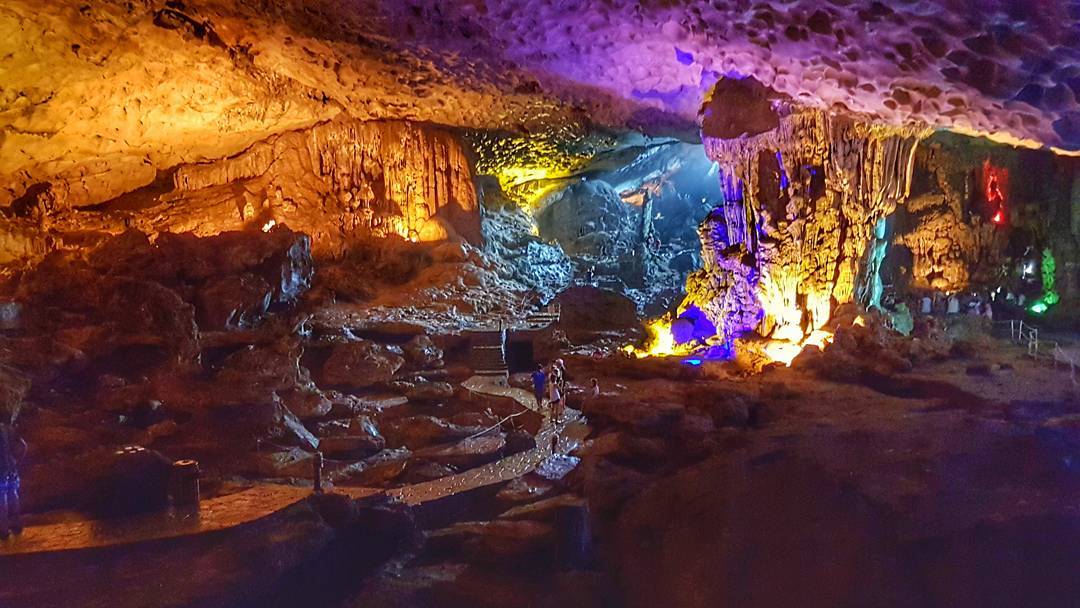 Out of the cave, visitors will be surprised with the stunning scenery of Bai Tu Long Bay and Ha Long Bay from above. At the foot of the cave, there is the beach with calm blue water and soft white sand. Lush, diverse flora cover rock islands from the foot to the top.
Tra Gioi Beach
Tra Gioi beach belongs to Tra Gioi islet in Bai Tu Long Bay, Quang Ninh. This islet is newly discovered, hence it offers clear beautiful beaches with a tranquil atmosphere. Tra Gioi beach is really a great place for relaxing and immersing yourself into nature fully without any disturbance. As with other beaches in Bai Tu Long Bay, at Tra Gioi beach, tourists will be treated with a dreamy beach including white soft sand, crystal blue water, and amazing scenery of nature. The beach is not very large because it is surrounded by imposing mountains. From here, you can have an overview of Bai Tu Long Bay, which includes a huge number of different islets and a vast expanse of blue water.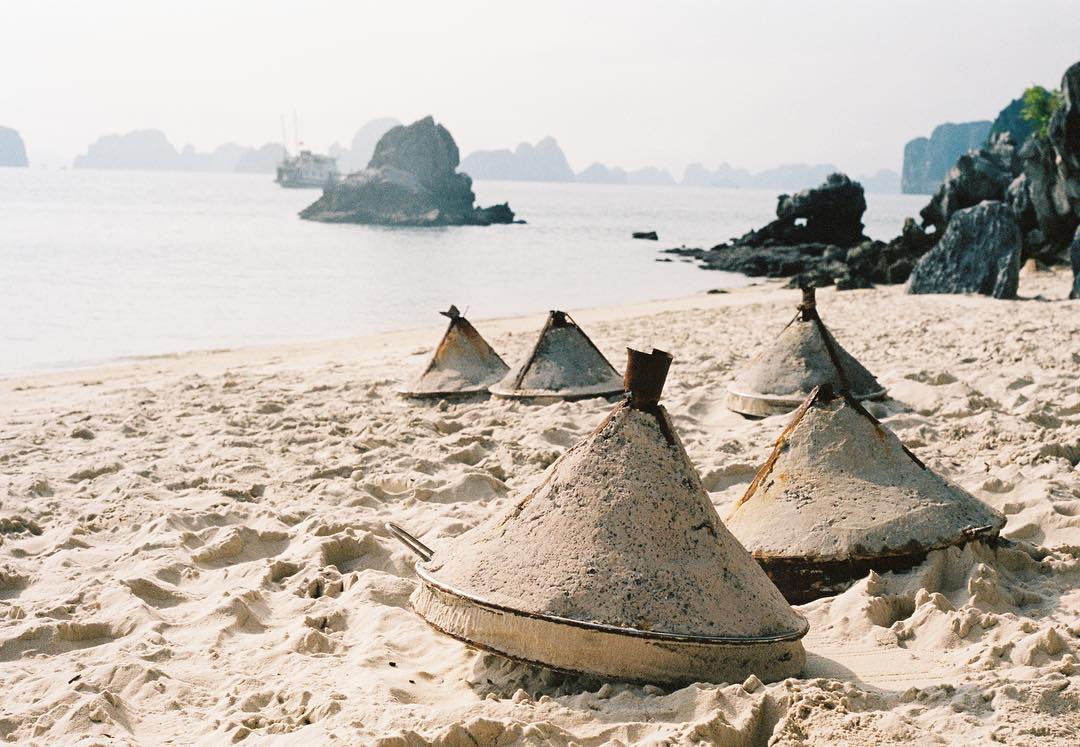 Swimming in the cool water, lying on deckchair to sun-bathe and tasting fresh coconut milk are must-do things when you visit a dreamy beach like Tra Gioi. Besides, a rowing boat is also a good choice to reach local villages and understand more about their floating life. SOME TRAVELING TIPS While Bai Tu Long Bay is a great place to visit, it gets pretty cold from December to February, and from August to October, the bay is subject to occasional typhoons causing trips to be canceled. Also bear in mind that two-day, one-night trips include only an afternoon and a morning in the bay, so three-day, two-night trips are preferable if you have the time.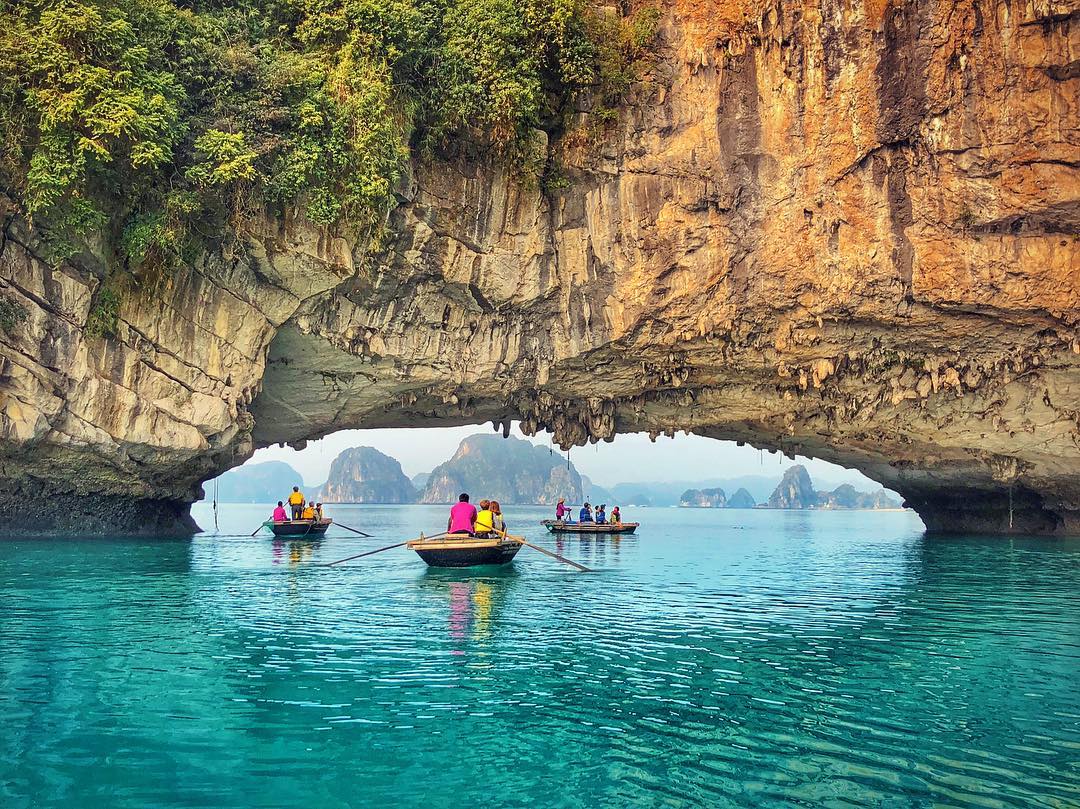 It's always easier if you're traveling with a local tour guide or going on a tour that covers these destinations. With local English speaking tour guides, transport, entrance fees, and lunch are covered in the cost of the Inspitrip tour and guaranteed to give you an unforgettable experience.