For anyone whose interests are palaces, markets, pagodas, temples, and great food, Thailand is the perfect place for you. This country has always been a great place to travel to, and if you want to explore the Northern region of Thailand then Chiang Mai will be the perfect base of operation. From here, you can get access to a plethora of great day trips. There are so many things to do in Chiang Mai, it can make you feel a bit overwhelmed, but we're here to give you the information and recommendations on the best things to do in Chiangmai. I hope that this guide can help you plan the best adventure in Chiang Mai. Let's get started!
Some information
For those who don't know, Chiang Mai is the largest city in all of Northern Thailand. It's also the most culturally significant city in Northern Thailand. Chiang Mai is the number one choice for the main base of operation for many travelers in the Northern part. It has an area of ~40,000 km2  (~15,500 sq mi) and the population of around 160,000 people. In late 2017, the UNESCO awarded Chiang Mai with the title of "Creative city". TripAdvisor also put this place on its list of "25 Best Destinations in the World" in 2014.With lots of things to do in Chiang Mai, tourists can never get bored while in the city. Backpacking through Chiang Mai is pretty great as well. Whether you come here on a budget or with money to spend, you will find there are a plethora of things to do in Chiang Mai; the place is full of culture, with dozens of beautiful temples and pagodas. The people here are very friendly and the food here is to die for. Chiang Mai creates a relaxing vibe with its beautiful landscape, making tourists fall in love with it. There are so many things to do in Chiang Mai, it makes some people very confused. Make sure you plan your trip here ahead to ensure a great adventure. If not, you can easily get stuck here for days without wanting to leave. Some people just want to spend a few days here, and then end up staying the whole week. There's just something here that charms every single person passing through. Here are some recommendations on things to do in Chiang Mai to help you plan your trip.
How to get to Chiang Mai
There are many ways to reach Chiang Mai from Bangkok. Depending on your preferences and budget, there's always a way to get you there. For those who want to reach Chiang Mai fast and without much hassle, a direct flight from Bangkok to Chiang Mai takes around 60-70 minutes. Even if you factor in the time it takes to reach and leave the airport, it's still considerably faster. The only drawback of this option is the cost. As long as you can get a ticket from one of Thailand's budget airlines, you'll be ok. The price may vary, the cheapest flight with promotions is around 1,000 THB (~US$ 30.00), but tickets can also climb as high as 5,000 THB (~US$ 157.00).Traveling by train is a great choice as well. On the train, you will have plenty of time to sightsee and think about things to do in Chiang Mai. The scenery in Thailand is mesmerizing and wonderful. Depending on the number of stops, the ride can take from 12 to 15 hours. The upside is that there are around 6 trains to Chiang Mai and vice versa. For backpackers and budget travelers, a 2nd class ticket is good enough. You can find tickets for 800 THB (~US$ 25.00) without AC. For AC, you'll have to pay a bit more. There's also the first class option with usually costs around 2,000 THB (~US$ 60.00).Last bus not least, the bus. Buses from Bangkok to Chiang Mai usually take around 9 and 12 hours. Price and schedule change depends on your choice of buses. Typically, there are twelve 2nd class buses every day. They take about 10-11 hours and cost 450 THB (~US$ 14.00). First class buses provide AC, comfortable chair, and toilet. Their tickets usually cost 100 THB more than the 2nd class buses. Remember to spend your time on the bus wisely by thinking about things to do in Chiang Mai!
Top things to do in Chiang Mai
It's very hard to choose. Whether you want to explore the cuisine, the history, the culture, or the sights, Chiang Mai's got you covered.
Visit Doi Inthanon National Park - The Roof of Thailand
From the center of Chiang Mai, you can travel to the highest point in Thailand. At Doi Inthanon National Park you get a spectacular view from the highest point in Thailand. The mountain itself is home to over 360 species of birds and trees and plants. Around the park, you can see a large number of beautiful and breathtaking waterfalls. With many famous waterfalls like Wachirathan, Mae Ya, Mae Klang, and Siritharn. They are definitely a sight to behold. Surrounding yourself in greenery and fresh air will definitely do your body a favor.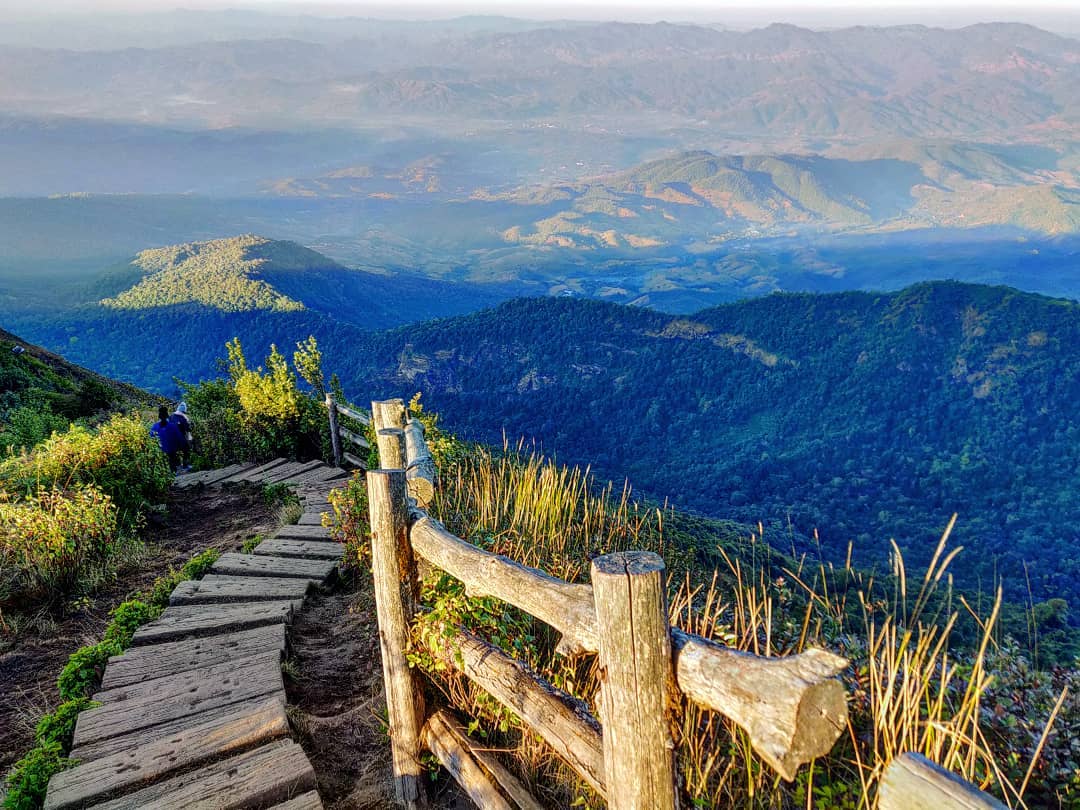 There are also many hiking trails at the park. A famous trail here is the Kew Mae Pan Nature Trail. It takes you through the forest of the park. Along the way, you can find signs with information about the wildlife and the ecosystem here. There are plenty of places to rest too. After you finish hiking, maybe you can do a bit of sightseeing at the highest point in Thailand. It attracts visitors from all over the world. It's easy to get here as well, there's a road from the entrance going all the way to the top. Overall, the Doi Inthanon National Park is a guaranteed great time. It's definitely one of the best things to do in Chiang Mai.
Explore The White Temple of Chiang Rai
Visiting the White temple of Chiang Rai is a must on any list of things to do in Chiang Mai. The White Temple, some people call it Wat Rong Khun, is definitely a weird building. It's one of the most iconic temples in Thailand. The temple itself is the work of a local artist/architect Chalermchai Kositpipat. Although the building is surrounded by surreal art, it's actually a place of worship for Thai Buddhists. The art covers both the inside and outside of the temple. It takes almost 10 years to renovate and decorate the temple. This temple is an absolute marvel to see, which explains why it's a busy tourist attraction.
Read more: A detailed guide to Wat Rong Khun – White temple in Chiang Rai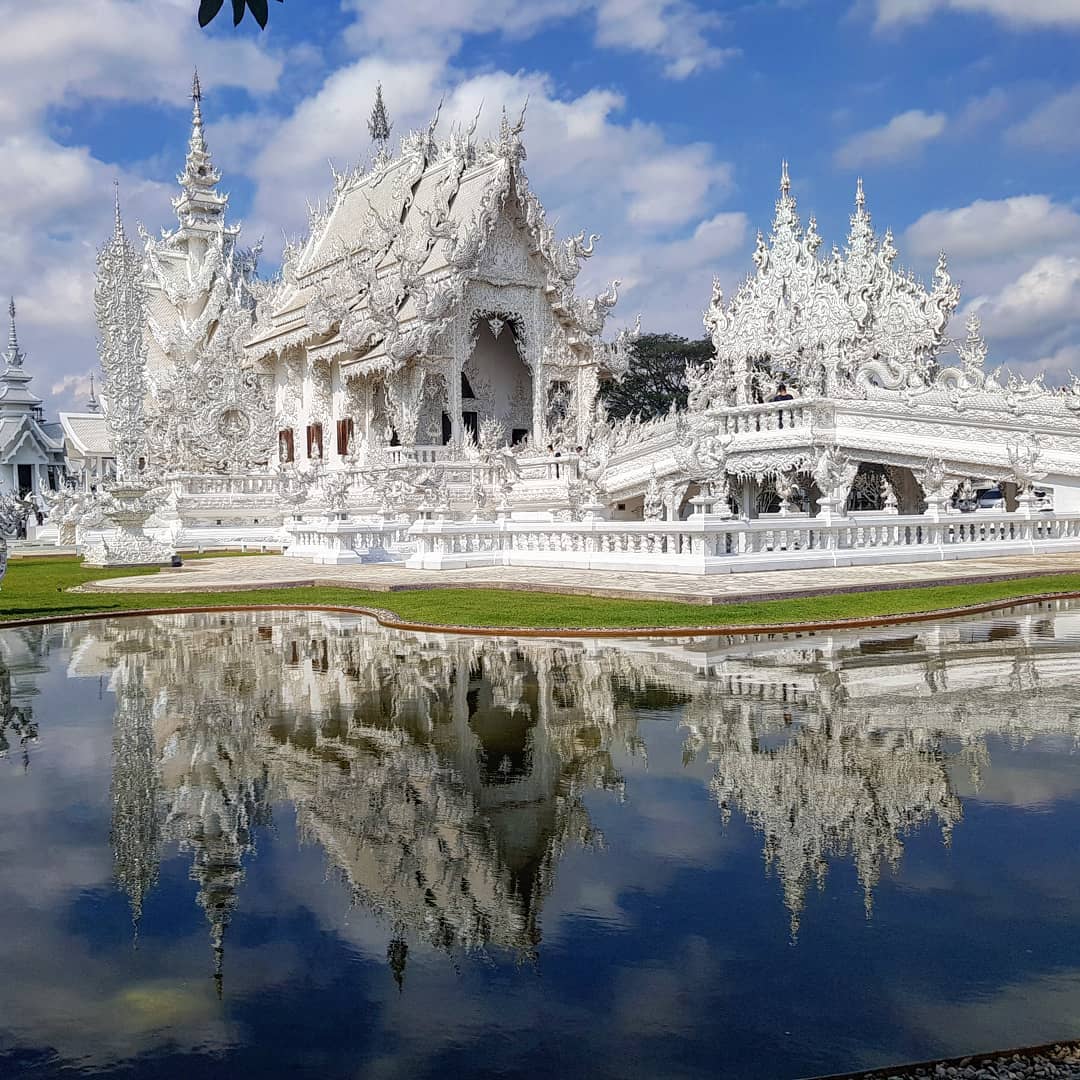 This place is usually very crowded around mid-day, so remember to get here early if you can. To get to this great temple, just take a green bus from Chiang Mai for around 200 THB (~US$ 6.00). But if you just visit this place, then your trip will be kind of short. It's best to visit this place as a part of a day tour from Chiang Mai. With the tour, you can visit many other great places as well. You will have a guide to the temple as well, giving you the chance to ask any questions that you have.
Visit Wat Doi Suthep Temple
On the list of things to do in Chiang Mai, Wat Doi Suthep Temple always stand at the top. People say you haven't truly come to Chiang Mai until you visit this place. The temple was built in 1383. A few years earlier, people enshrine a Buddha statue in Wat Suan Dok Temple but it split in two. Magically, the broken piece was just as large as the original piece and people called it a miracle. Afterward, King Ku Na ordered the construction of a new temple to honor the miracle. Unsure of where to build it, the King sought divine guidance. He put part of the statue on his white elephant and sent it into the jungle. The elephant climbed to the top of Mount Doi Suthep and refused to go any further.
Read more: A detailed guide to visit Doi Suthep Mountains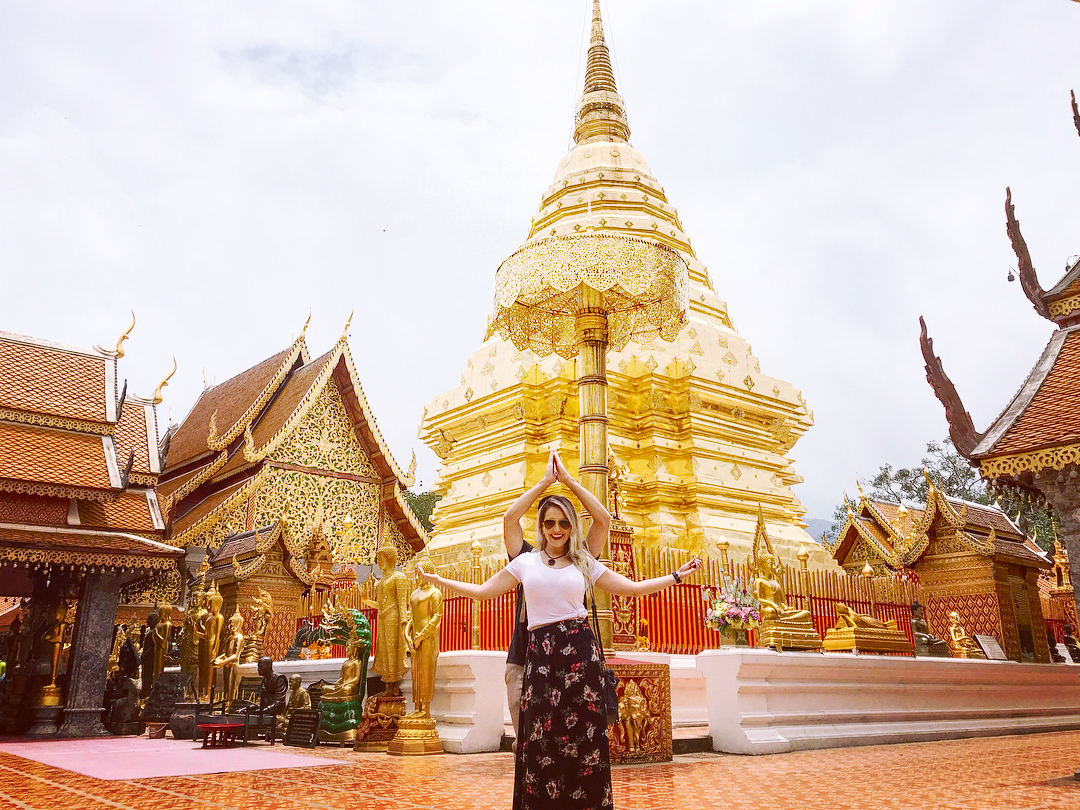 When visiting the temple today, you can see many magnificent sights highlighted by the main temple. On the final stretch to the temple, you will walk through 306 steps up the snake staircase. It's definitely a great thing to see and take pictures of. There are so many things to keep you busy at Wat Doi Suthep Temple. From a replica of the famed Emerald Buddha Statue to a large golden pagoda. There's also the International Buddhism Center. Overall, this place is definitely worth it with its cultural impact, so remember to pay a visit to Wat Doi Suthep Temple.
Visit the Hill-tribe villages
Get ready for an unforgettable experience when you visit the hill-tribe villages. It's an experience straight out of National Geographic. You may have seen from pictures and images online for their decorative neck rings. People call them long-necks for their, well, long necks. We suggest you get to know the women here, they are extremely interesting but know that the rings don't actually make their necks longer. Instead, they push their collarbone and shoulders downward. Many of them established their traditional villages as war refugees from countries nearby. The Karen people are famous for their textile making skill. They will be happy to sell you an authentic handmade blanket or scarf.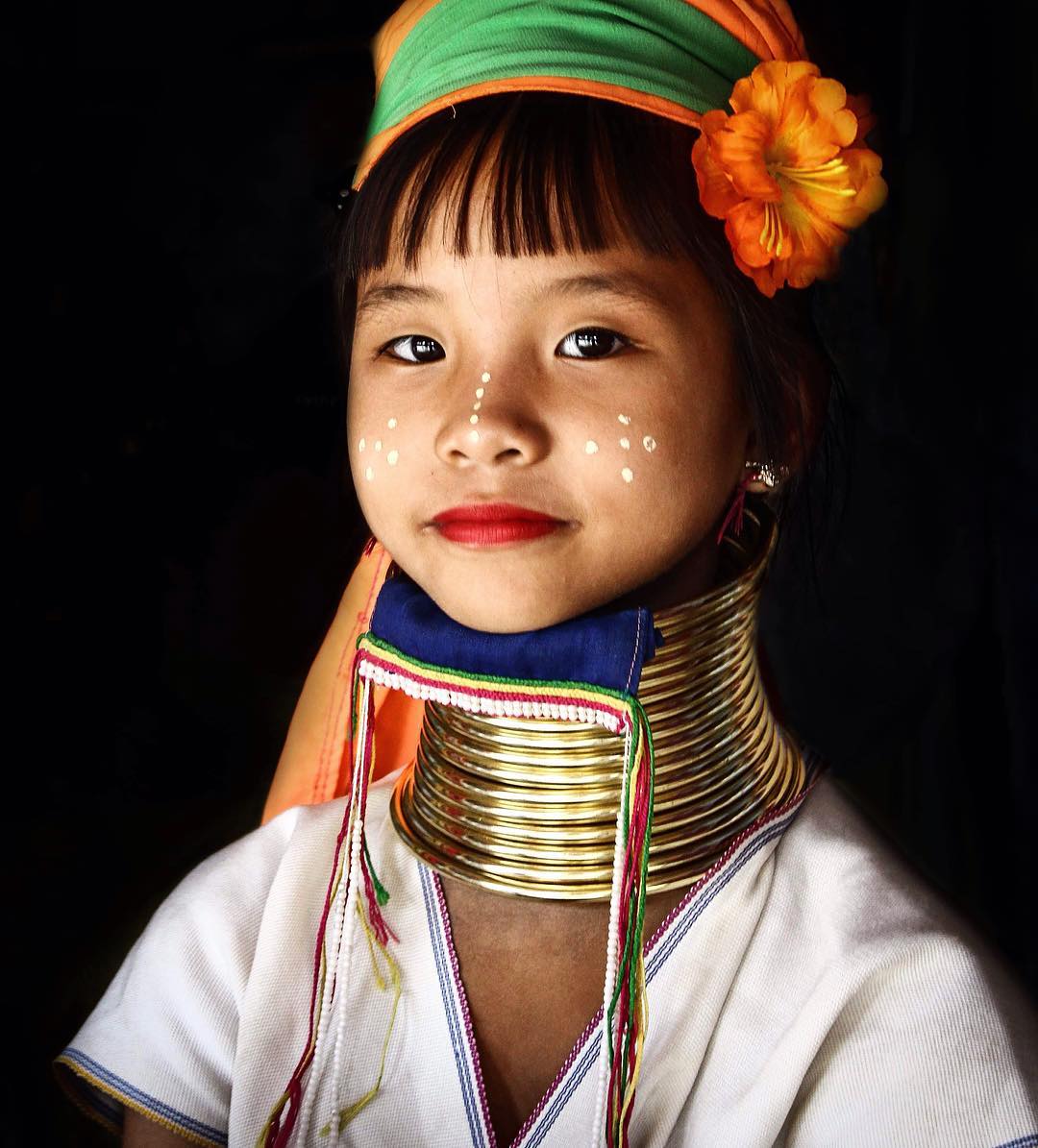 For those who aren't able to come to the authentic Karen villages near the Golden Triangle, you should at least visit the Exhibition Village near the Tiger Kingdom to experience the Long Neck culture for yourself. There are many other Karen villages near Chiang Mai as well. The Ban Sop Had at Doi Inthanon National is adequate, but don't expect to find women wearing brass neck rings there. For the best experience try visiting the Meo, Akha (big earrings), Karen (long necks).
Explore the food culture of Chiang Mai
Last but not least on our list of great things to do in Chiang Mai: how about strolling around Chiang Mai for a food tour by bike? Extremely distinct from regular Thai food, traditional Chiang Mai cuisine, or Muang Food, is mouthwatering and very delicious. To have an authentic experience, try exploring the backstreets and alleyways of Chiang Mai. Stop by food stalls and food markets to get a taste of the Chiang Mai cuisine. Make sure you start by tasting some fresh fruit juice from Miss Nong. She's been selling juice from her stall for almost 10 years. Her juice will be great company for your food adventure.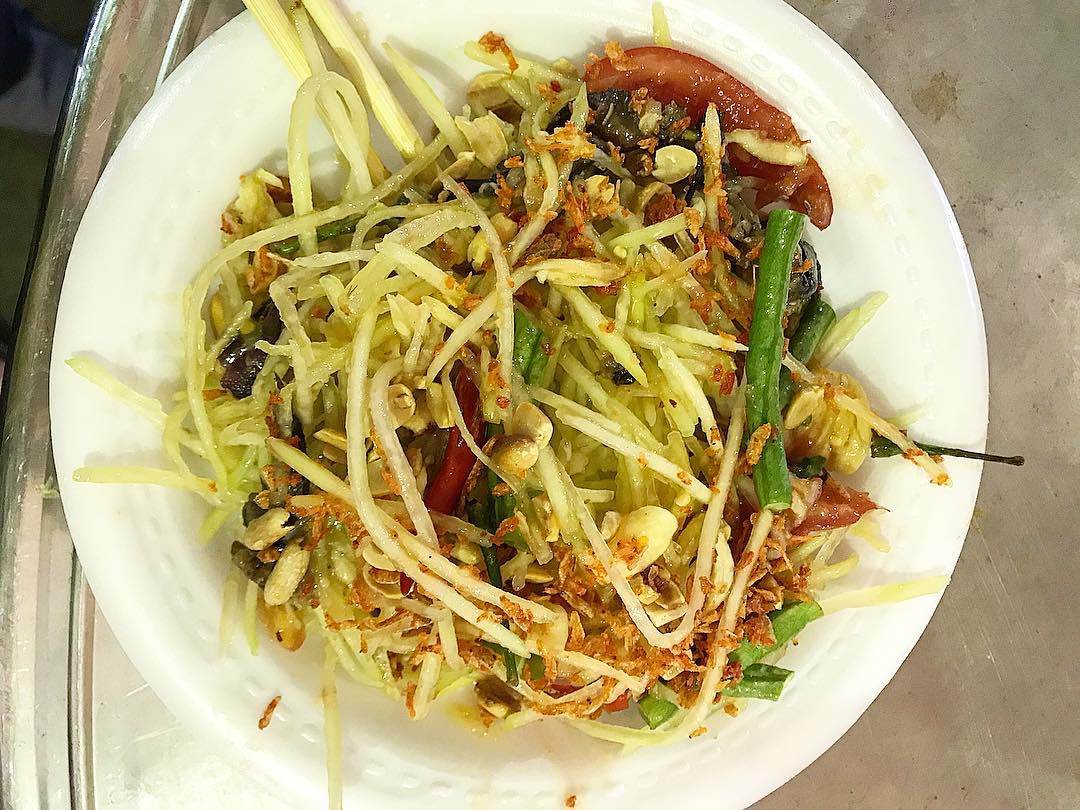 When you find a food market, try and find a green papaya food stall. Here, you can order some Chiang Mai style "Son Tum" for dinner, they are to die for. Afterward, explore the market itself to experience the greatness of Northern Thailand cuisine. There are stalls selling curry, stew, and soup, and if you are lucky, you can find a chili paste stand and observe the process of chili-paste-making. For dessert, try having some exotic tropical fruits, it's not every day that you can taste them. If you're feeling adventurous, you can have some bugs or snakes, they're famous Thai snacks.